Calendars are the ultimate and most basic way of keeping track of time. As a project manager, it's absolutely vital that you incorporate one into your toolkit. But, it's not just any normal calendar you should be after. For the sake of simplicity and your sanity, you should definitely use an editable calendar.
Why are editable calendars so great?
Have you ever written with a permanent marker, smudged a letter or two, and wished you could change it? The sad reality is that you now either have to roll with it, or start all over. With an editable calendar, you don't have to scrap your hard work all because of a simple mistake. You can simply make the correction and move on.
Maybe, it's not even a mistake at all. What about when your fellow team members call in sick, or have to make an emergency trip? With an editable calendar, you can easily update the schedule to meet everyone's needs.
Another benefit of an editable calendar is that it's an online tool. No more paper and pencils. You can access the calendar anywhere at anytime, as long as you have your device with you, and let's be honest, most of us have some sort of phone or laptop with us at all times.
How to use Toggl Plan as your editable calendar
Toggl Plan is the perfect online tool for making your editable calendar. It's both simple and beautiful. Not to mention, it's just as easy to edit your calendar as it is to create it.
After you've created your calendar, all it takes is a few quick clicks to update your team in real time. Want to assign a task to a different person? Just left click the task on your timeline, drag it to the new person assigned to it, and drop it in place. Need to update some data on a current task? Simply click the task and the information window will pop up. You can now edit and update the information attached to the task.
As a project manager, you have a lot on your plate. There will be times when you make a mistake when creating a schedule, or maybe you won't have time to update the schedule at all. The good news is that with Toggl Plan, you can give editing permissions to the team members you trust. Having an editable, interactive calendar that your team can use as well causes them to be more involved in the entire process that follows a project.
The good news doesn't stop here, however. Remember when we mentioned those useful features? There are tons of unique features that make Toggl Plan way better than a more traditional calendar:
Milestones
Milestones are the checkpoints placed strategically after each leg of the project. They provide many uses, but are mainly used to divide a project up into more manageable segments. As a project manager, you'll appreciate being able to stop for a moment to assess the project so far, and determine where to take it next. Milestones also make it easier to budget and schedule, as you now have a much smaller window to manage.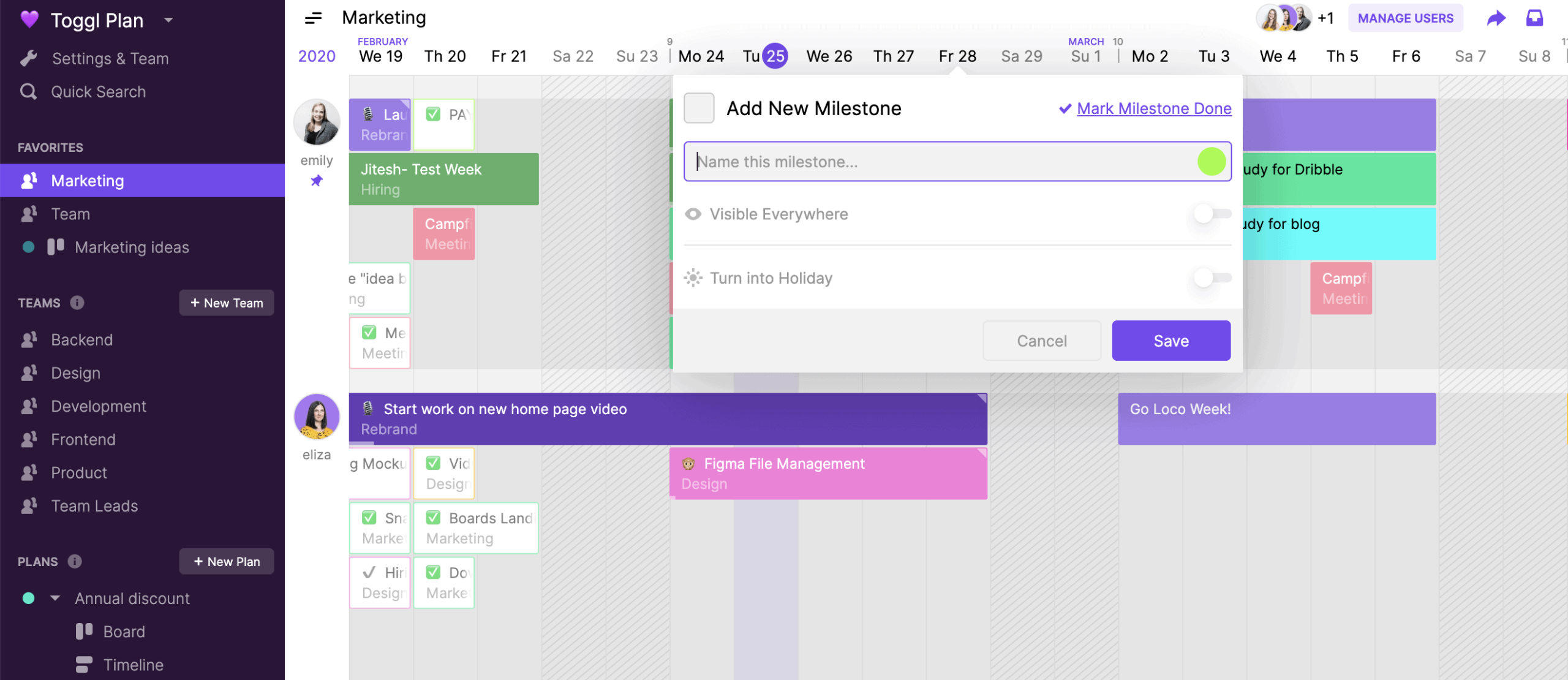 Toggl Plan includes a milestone feature that'll make all that was mentioned above happen at the click of your mouse. All you have to do is find the date for your milestone, click it, and name the milestone. Now, when your team members log in to view the calendar, they'll immediately see the milestone ahead, and plan their personal time accordingly. Have a big holiday coming up? Toggl Plan automatically recognizes major holidays and makes sure everyone else does, too.
Checklists
Keeping track of your tasks is a big deal. With a checklist, you'll get a visual reminder of what you should be doing as well as a way to check it off the list once it's complete. It helps avoid confusion and keeps you on track.
Toggl Plan offers a checklist feature to help you keep track of all the subtasks that need to be completed. On your editable calendar, when you create a task, a window will pop open. In the bottom left corner, you'll notice a little button that says "Checklist." From here, all you have to do is click, and start typing out your checklist. It's a great way to divide any task into smaller steps so that you can assure that the whole task is done thoroughly and with great detail.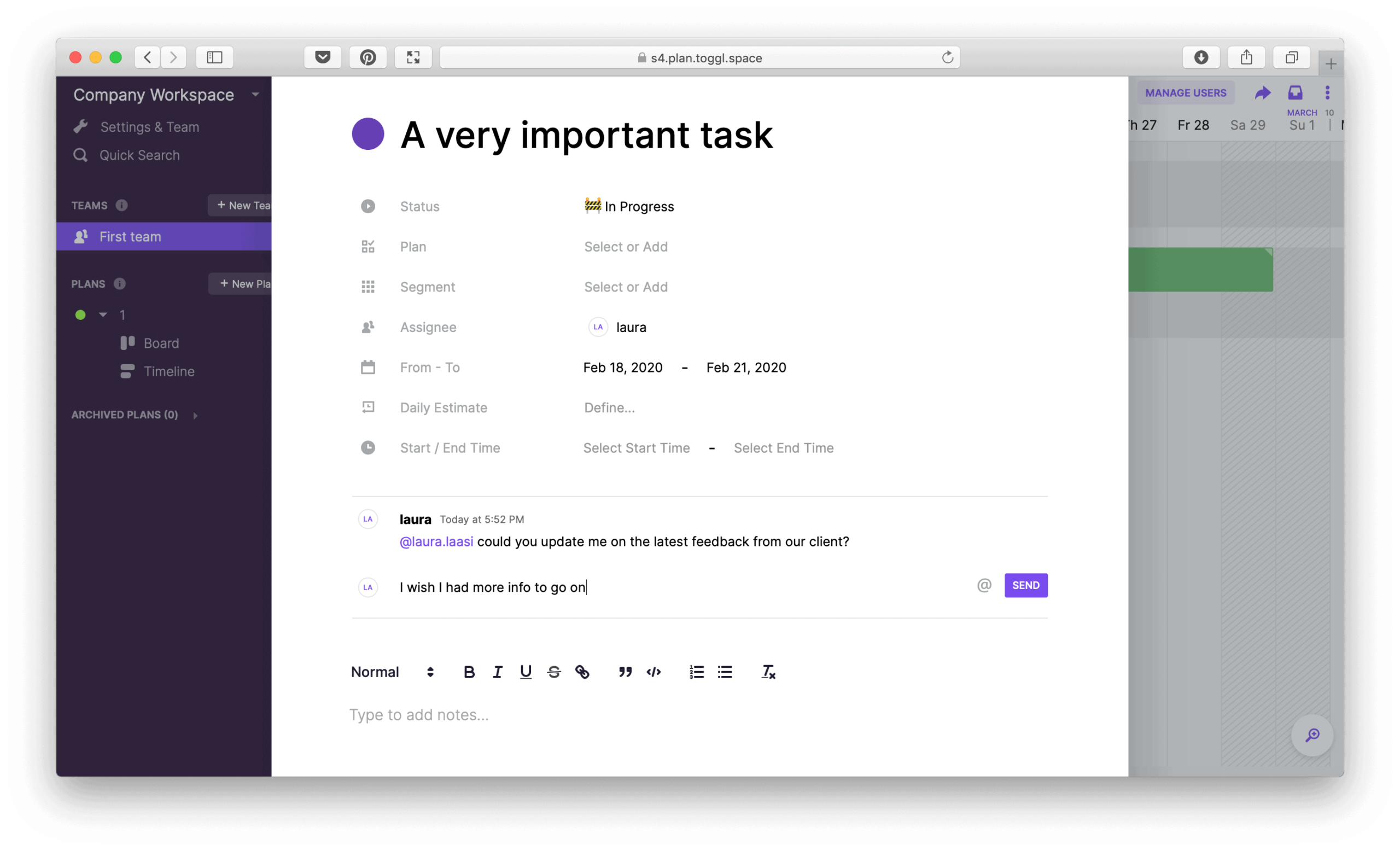 Custom colors
Custom colors might seem like a useless feature at first, but they're actually quite the opposite. Toggl Plan allows you to assign custom colors to anyone's timeline. In fact, there are 45 pre-set colors to choose from or you can use the color pick to select your own branded color palette. Instead of someone logging on and having to search for their name out of the potential dozens of other names, all they have to do is scan for their color.
In the same way, you can use the different colors to determine the priority of tasks or indicate when the deadline for a given task is approaching. There are lots of possible applications for using custom colors.
Integrations
Toggl Plan also integrates with helpful apps like Slack and Toggl, which are both beneficial for keeping up with your tasks and projects.
Slack is a great tool for communication, and offers both video and text chat channels. When you integrate it into Toggl Plan, you'll get Slack notifications straight from the main interface, so you won't have to keep swapping back and forth. In terms of real-world use, having all your major apps combined into one interface saves time. It takes all of the effort that you would otherwise use towards managing multiple applications and saves it for something more important.
Toggl Track is the best for time tracking. When you can track time, you can look for ways to improve it. Time tracking tools are especially helpful for anyone that's paid by the hour, as you can get the exact times you clocked in and back out. Being able to integrate a tool like this into Toggl Plan is just the icing on the cake.
The best editable calendar for teams
With all of the helpful features above, it's safe to say that Toggl Plan is the best choice for anyone looking for an editable calendar. It's simple to use, comes with loads of features that you'll love. Try Toggl Plan for free for 14 days by signing up here.
Like many other people, Zach McDaniel gained his knowledge of management and project management through research and necessity. He believes that the most interesting thing about project management, management, and productivity is that there are so many different strategies, so there's always something new to learn and share.