With work-from-home becoming a norm, it's more critical than ever to manage team availability and workloads. Shared calendar apps can help you stay on top of your team's schedule.
Remote team members often work across time zones and on flexible schedules. However, a schedule that fits one person may not suit everyone.
For example, normal work hours for you are perhaps play time for someone else. Or, a working day for you could be a public holiday in another country.
Now, as a manager, you could still force a schedule on your team. But think for a moment of the consequences
Best case, this results in burnout. Worst case, you lose a team member.
A shared calendar app is a useful tool to manage team availability and plan work better.
In this article, we'll look at the top shared calendar applications.
Toggl Plan is a beautifully simple work planning tool. It comes with all the features you need to manage work — timelines, Kanban boards, custom task workflows, and more.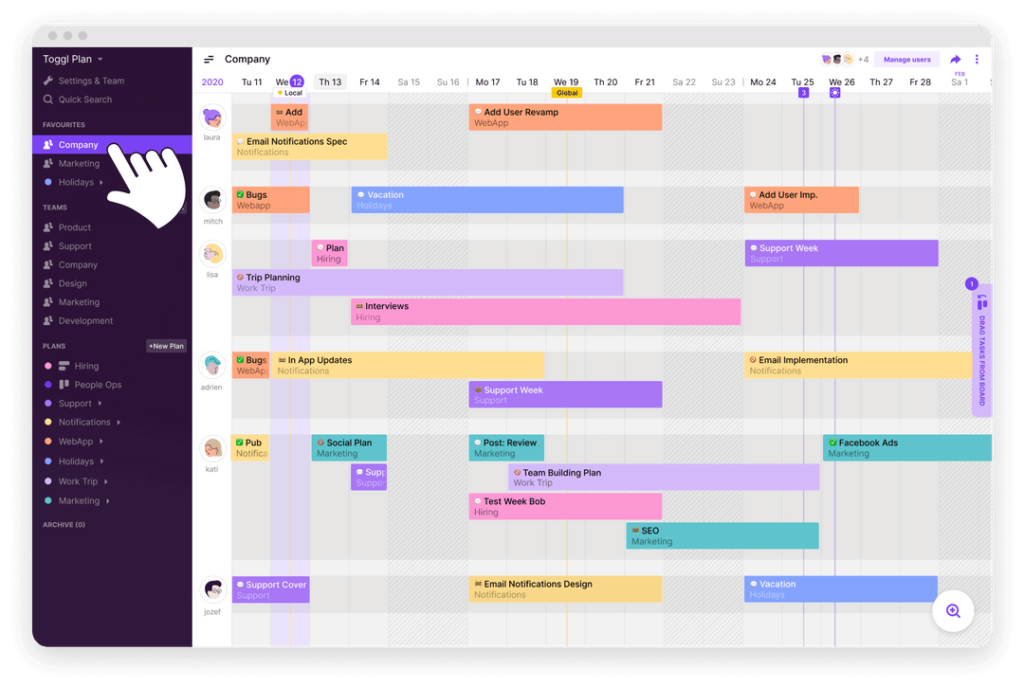 Shared calendar app features in Toggl Plan
Create unlimited Project timelines to plan work schedules, public holidays, vacation days, and time-off.
Create unlimited shared timelines to track and adjust your entire team's schedule. See who's available and who's working on what.
Track important deadlines with color-coded milestones.
Zoom-in on a week, month, quarter, or year to get a detailed or a high-level overview of your team's schedule.
Integrate with popular calendar tools like Google Calendar.
Track time spent on work activities using the Toggl Track integration.
Manage your team on the go with mobile apps.
What does Toggl Plan cost?
Whether you're a free or a paid user, Toggl Plan comes with an unlimited number of Plan and Team timelines.
Paid plans are very affordable and range from $9 – $15 per user per month. Upgrading to a paid plan gets you better access control and time-tracking.
Teamup is a group calendar app. With Teamup, you can organize teams, schedule work, and manage team availability.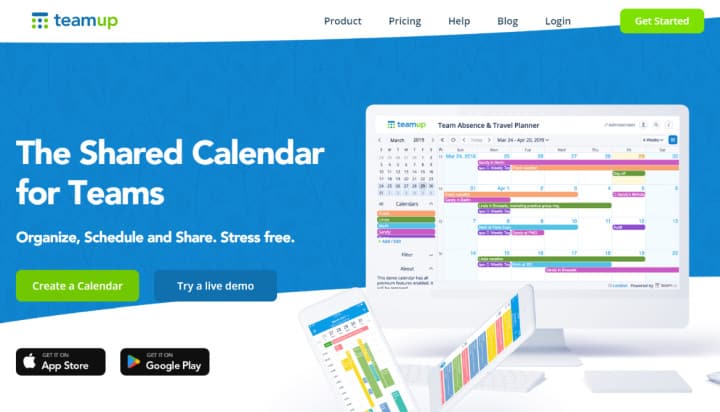 Teamup's group calendar app features
Organize your people into teams. Create secure calendar access for each individual or team.
Visualize the who's working on what, across teams.
Avoid back-and-forth emails to check availability with a clear calendar view.
Create and share events either publicly or privately.
What does Teamup cost?
Teamup's free plan comes with up to 8 calendars.
Paid plans range from $8 – $80 per month. Upgrading to a paid plan gets you more calendars and advanced features, including daily agenda, file uploads, and custom event fields.
Trello is a popular Kanban-based task management tool. However, using the calendar add-on, you can also use Trello as a shared team calendar.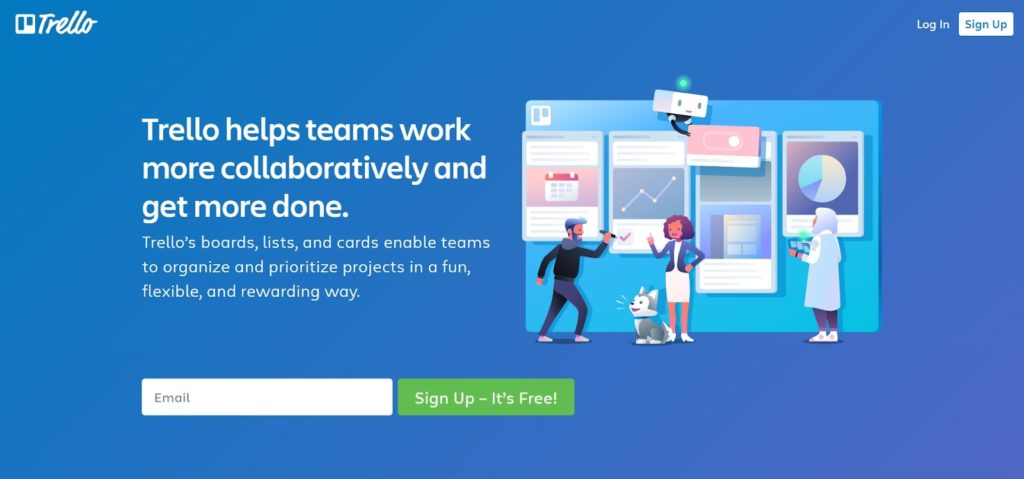 Shared calendar program features in Trello
Create up to 10 shared team boards in the free plan and unlimited boards in paid plans.
Use the free calendar powerup to visualize your work as a shared team calendar.
Set deadlines for calendar tasks. Get visual clues when a deadline is approaching or is overdue.
Zoom-in on a week or a month to get a detailed or a birds-eye overview of your team's workload.
Generate calendar feeds that you can import into other calendar apps.
How much does Trello cost?
Trello's free plan comes with up to 10 team Kanban boards plus a free calendar powerup.
Upgrade to a paid plan, if you need more Kanban boards or powerups. Paid plans range from $12.50 – $17.50 per user per month.
Asana is an all-in-one project management tool. You can use the calendar view or the timeline view in Asana to manage your team's calendar.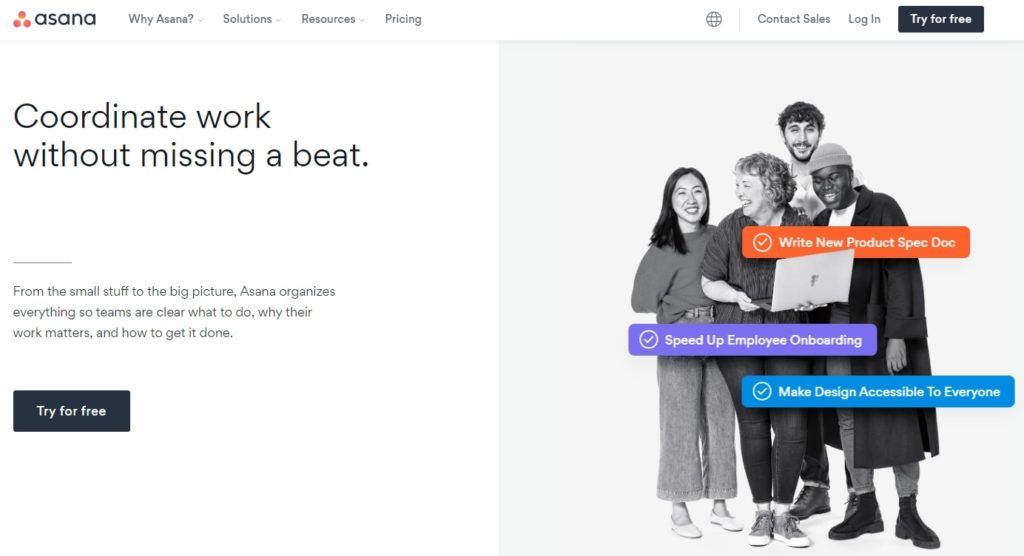 Group calendar features in Asana
Create unlimited projects with up to 1000 tasks for free and unlimited tasks when you upgrade to a paid plan.
Visualize team tasks on a calendar or a timeline. Gantt timelines are available in paid plans only.
Sync with other calendar apps including Google Calendar, iCal, and Outlook.
How much does Asana cost?
With Asana's free plan you can manage unlimited project calendars and up to 1000 tasks. In addition to the list view, you also view tasks in a collaborative calendar view in the free plan.
If you need more tasks or the timeline view, upgrade to a paid plan. Paid plans range from $13.49 – $30.49 per user per month.
Wrike is another project management tool that comes with a calendar view. The Calendars feature in Wrike makes it easy to track and plan work.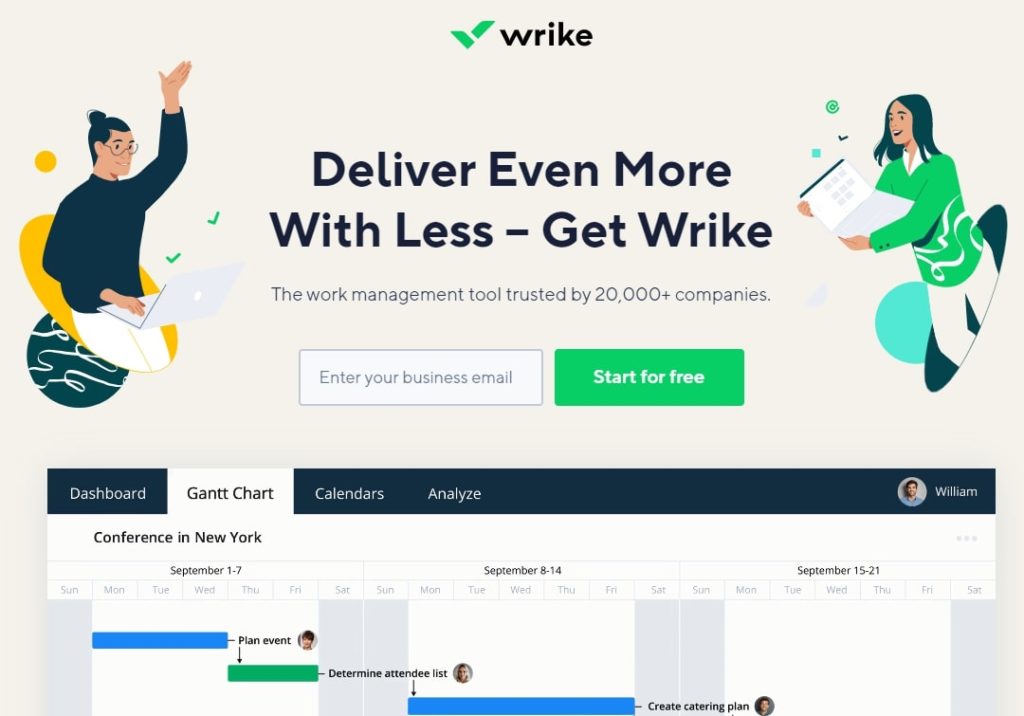 Team calendar app features in Wrike
Keep track of specific projects or teams by collating calendars.
Color-code calendar events with status, audience, or channel.
Zoom-in on a month, quarter, or year.
Share calendars real-time internally or with external stakeholders.
How much does Wrike cost?
Wrike's free plan does not come with shared calendars.
Upgrading to the $24.80 per user per month, Business plan, gets you shared calendars and Gantt chart timelines.
Basecamp is a popular work collaboration tool among creative teams. Along with to-do lists and team messaging, Basecamp also has a Schedule feature to manage important events for your team.
However, Basecamp does not have an easy way to visualize your team's schedule.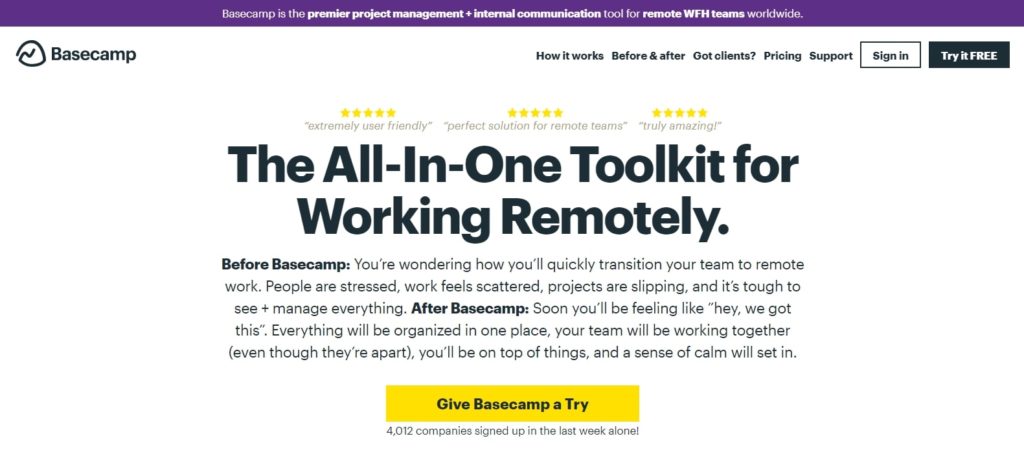 Shared group calendar features in Basecamp
Create a scheduled event for a team project. Make multiple-people responsible for the event.
Add recurring events for activities that repeat regularly.
Send automated notifications for approaching or overdue events.
Synchronize your team's event schedule with external calendar syncing apps like Google Calendar, iCal, or Outlook.
What does Basecamp cost?
Basecamp has a free personal plan with up to 3 projects and 20 team members. If you need more, upgrade to a paid plan which costs $99 per month for unlimited team members.
Google Workspace Calendar is an extension of the basic calendar you get with your Gmail account. The Google Workspace version adds more team scheduling features.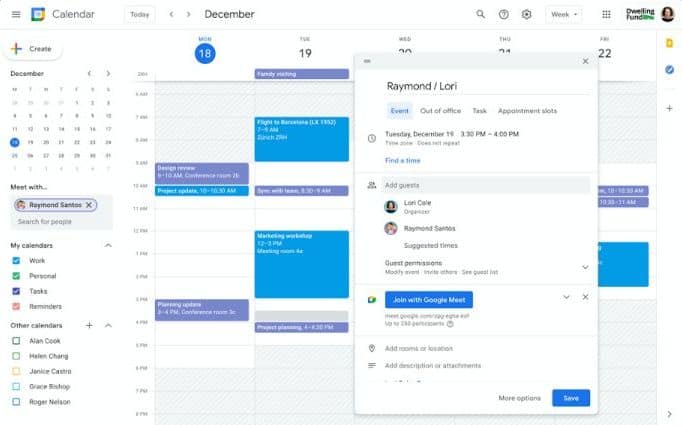 Team calendar features in Google Workspace Calendar
Book shared resources such as meeting rooms.
Visualize co-worker schedules in a single calendar to schedule events based on their availability.
Share calendars publicly or with limited access.
Access calendars from all devices, including tablets and smartphones.
What does Google Workspace cost?
Google Workspace Calendar comes along with your Google Workspace subscription. The subscriptions range from $6 – $18 per user per month. You get more storage and better security in the higher plans.
Microsoft Outlook comes as a part of the Microsoft 365 suite of tools. Microsoft 365 is a set of work management tools like Google Workspace. MS Outlook is primarily an email tool. But, it also has a powerful shared calendar.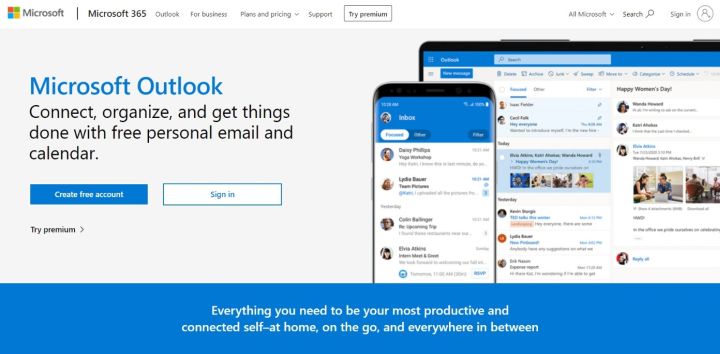 Shared calendar program features in MS Outlook
Group calendars into folders. Share folders with specific individuals, teams, or projects.
Share your availability calendar publicly or with specific teams within your organization.
Capture tasks on the calendar, prioritize them, and track them with Microsoft To-do.
What does Outlook cost?
MS Outlook is a part of the Microsoft 365 suite of tools. The cost of the Microsoft 365 suite with Outlook ranges from $12.50 – $20 per user per month. However, you need an annual commitment to subscribe at this price.
Calendly is a calendar sharing application that helps you book appointments without back-and-forth email communication. Like other tools on this list, Calendly is a shared calendar, however, it's more popular among solo workers than teams.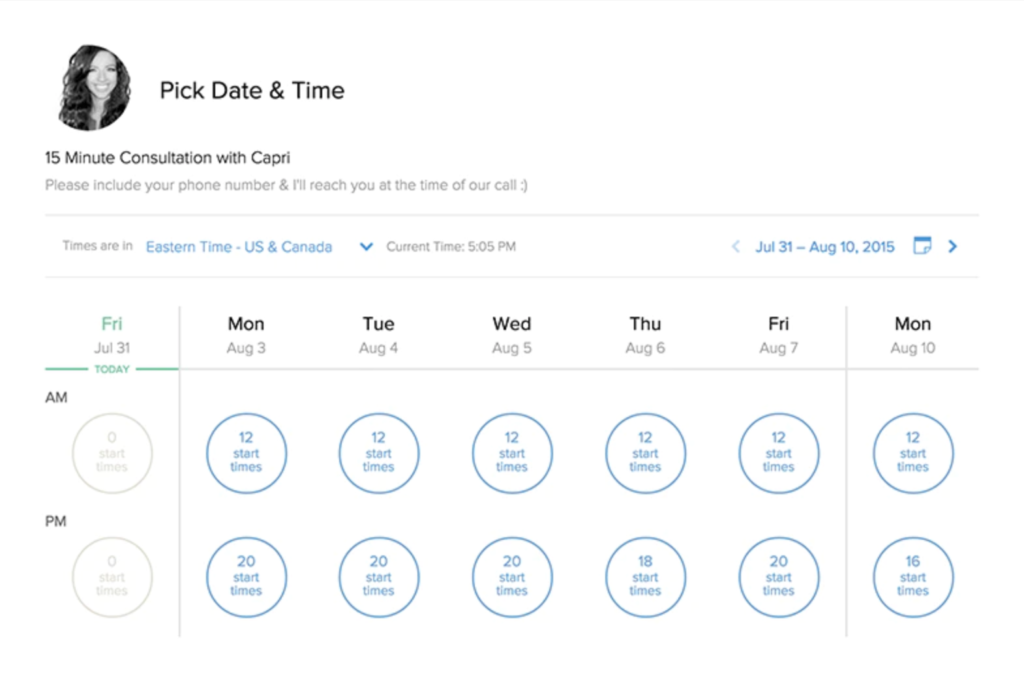 Calendly's scheduling features
Schedule one-on-one, round-robin, or group meetings.
Add buffer time before and after meetings.
Improve no-show rates with email and text message reminders.
Avoid the rush by limiting last-minute meetings and setting daily meeting limits.
Automatically schedule meetings based on the attendee time zones.
How much does Calendly cost?
Calendly's free plan is limited to a single calendar per user.
Paid plans range from $8 – $12 per user per month. Upgrading gets you up to 6 calendars per user and advanced features like SMS text notifications.
If your team is constantly on the move, you might want to consider using a mobile app like TimeTree. This free group app is great for sales teams or on-location customer service teams.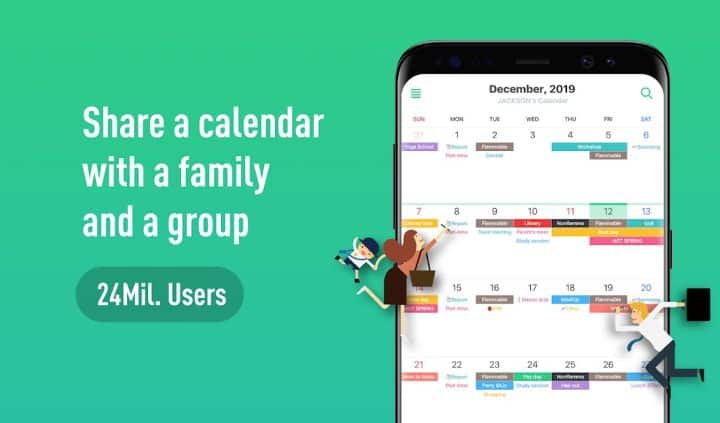 Group calendar app features in TimeTree
Create a shared calendar with your team and have it automatically sync up with individual calendars.
Send reminders to everyone in your team about specific events.
Share notes and to-do lists with your team.
Share events via messaging tools and other social media tools.
Top shared calendar for iPhone, Android, and PC.
What does TimeTree cost?
All of TimeTree's features are available for free.
How To Choose From The Best Shared Calendar Apps?
So far, we've looked at the best calendar apps available today. But which one of these is right for you?
Features to look for in shared calendar apps
Finding the right team calendar app depends on your needs. However, there are a few common criteria you need to consider before investing in a calendar app.
Compatibility with your existing workflow software: The calendar app needs to work well with your existing work management tool. Or, it'll become too expensive to implement the shared calendar solution.
Ease of use: The shared calendar tool should make scheduling and collaboration easy with minimal upkeep effort. Or, you'll have to bear the expenses to onboard and train your team.
Cross-platform availability: Depending on your team's needs, you may need a calendar app that works across devices. For teams that are always on the move, mobile apps work best.
Automatic sync-ups: The shared calendar should automatically sync up with all your team members' schedules. Keeping this information up to date in real-time is especially critical for mobile teams.
Keep these features in mind before you decide on a shared calendar app. Ideally, you want a tool that takes care of both — day-to-day work management as well as your team calendar.
Consider using Toggl Plan as your shared team calendar
It comes with all the features you need to manage everyday work and keep your team in sync. Plus, it's intuitive, drag-and-drop interface means your team will actually enjoy using it every day.
With over a decade of experience in content marketing and SEO, Jitesh shares actionable tips for digital service teams to deliver projects profitably on the Toggl blog.