The 2nd quarter of 2020 has flown by quickly, but at the same time it also feels like a lifetime. Remember all the changes from the beginning of the year? Boards, comments, multi-assign… It feels like they've been here forever.
With the huge rebranding and boards launch in the 1st quarter, our focus over the past few months has been on continuation of ongoing projects and interface improvements.
If you've missed any updates over the past three months, you'll find them all here now. Just keep reading!
Product Updates
Task Popup
With the variety of task properties available, the task popup got a bit overwhelming for users who didn't use everything on a daily basis. To remove clutter and make the product simpler to grasp for new users, we've made it possible to show and hide task properties at your own will. For example, you can only choose to see Statuses, Segments and Tags in your task popup.
Secondly, we've added a separate expanded view for task popups – this works both as a fix for task sharing bugs that appeared with boards launch and also as a cleaner way for sharing tasks. To navigate the expanded view, just click the diagonal arrows in the top-right corner of the task popup.
Third, we've also added information about who created the task to the left-top corner of the task popup (applied only to new tasks created post-launch) and made it easier to plan tasks to yourself by pinning you always to the top of the assignee list.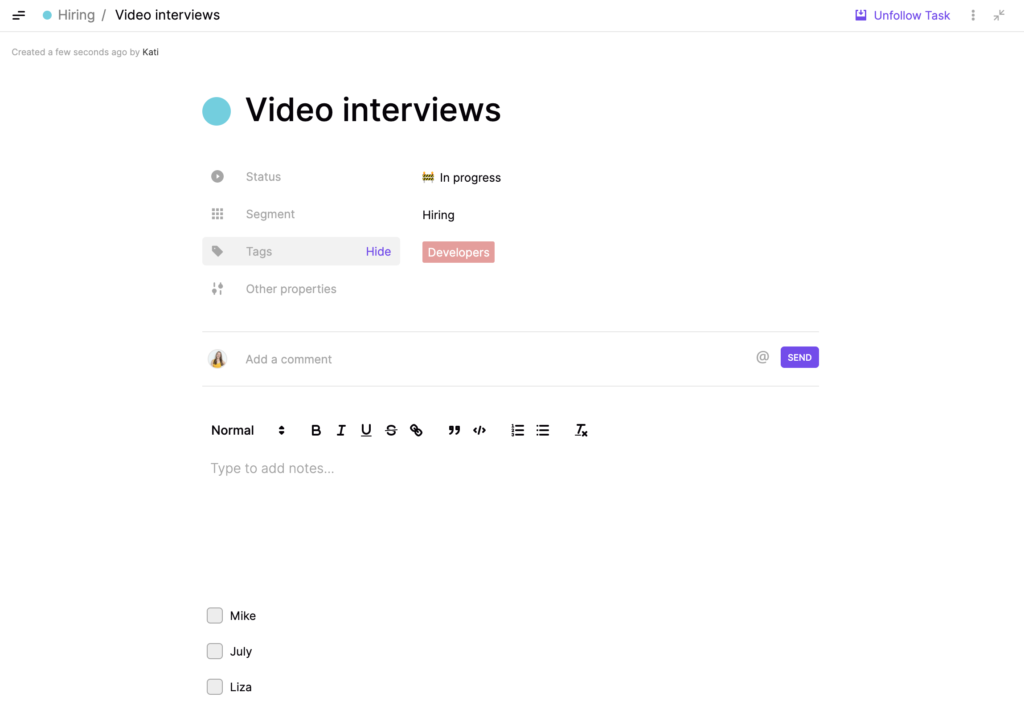 Finally, we've also made keyboard navigation smoother in the task popup in general, and more specifically when navigating between checklist items. If you want to add a new task with just a task name, you can now simply hit Enter after finishing typing the title to save and close the task right away.
Daily Overviews
Daily overview emails are a great way to grasp what you have on your plate, all within the comfort of your inbox. While these email overviews have existed for years already, we've now updated their content to include tasks on boards and revamped their appearance to make the information easier to read.
The daily overview emails contain information about the following (if there is something to report):
Milestones today
Tasks planned for today
[new] Overdue tasks from past 14 days
[new] Assigned unscheduled tasks
To receive daily overview emails, go to My Profile and enable "Get Daily Overview E-mails". You can also choose the time of delivery, just make sure you've set your timezone in your profile above. Once enabled, you will get the email every day (if there's something to report).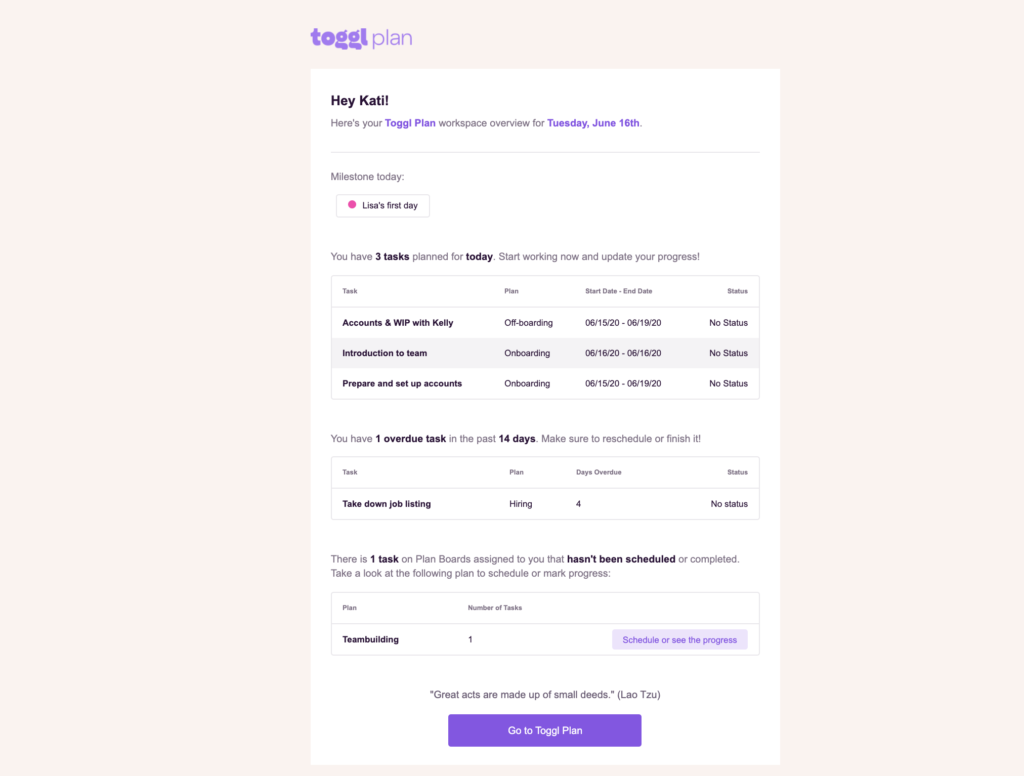 Weekly Summaries
While daily overviews are all about what you have to do, the weekly summaries gather up the information on everything that has happened in your Toggl Plan workspace over the past week.
Similarly to daily overviews, the weekly digest got a revamp in both, content and appearance. The updated version contains the following information (if there's something to report):
A count of tasks finished last week – both scheduled on timelines as well as unscheduled on boards.
Milestones from last week
Plans with tasks scheduled for last week and information on plan progress, how many tasks were done, date of last update etc.
Unscheduled plans worked on last week, counting plans on boards that include tasks Done last week and providing a familiar overview on plan progress, how many tasks were done last week, date of last update etc.
Upcoming milestones in the new week.
To keep the email content manageable, we're counting only Plans where tasks have been marked Done in the past week as "worked on". Also, for now, Done only applies to the default status "Done" that can also be faded in the timeline. We're working on making it more customizable in the near future.
To subscribe to weekly emails or double check your status, go to My Profile and enable "Get Weekly Digest E-mails". Once enabled, you will get the email every Monday (if there's something to report).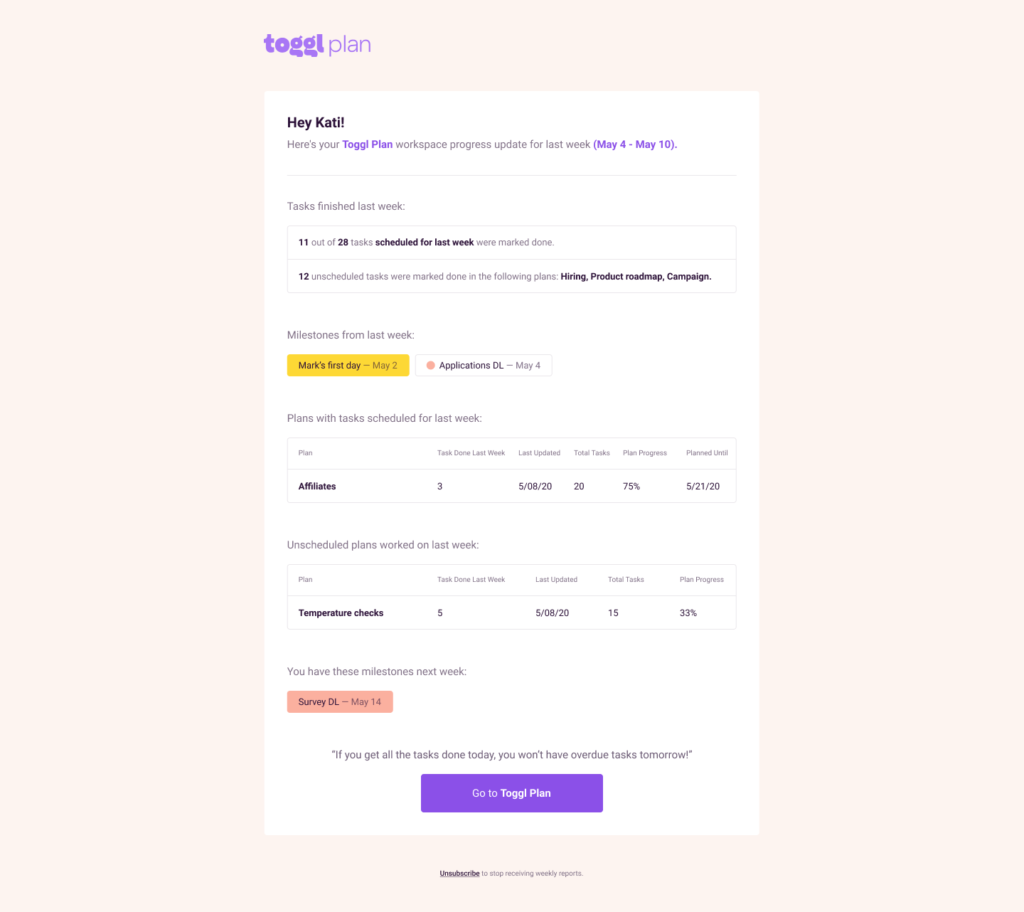 Data Import
Getting started with a new project or a new tool can be intimidating. There's a lot to set up and many tasks to add to Toggl Plan. The good news is that if you already have a list of tasks in a spreadsheet or any tool that exports as .csv, you can now use data import to set up your new project at once in Toggl Plan. You can also use this for any existing projects, if you have a lot of tasks to add at a later stage.
Data import can be found in boards view:
For new Plans you'll see the import button on the empty board.
For existing Plans you can import tasks from the 3-dot menu in the top right corner.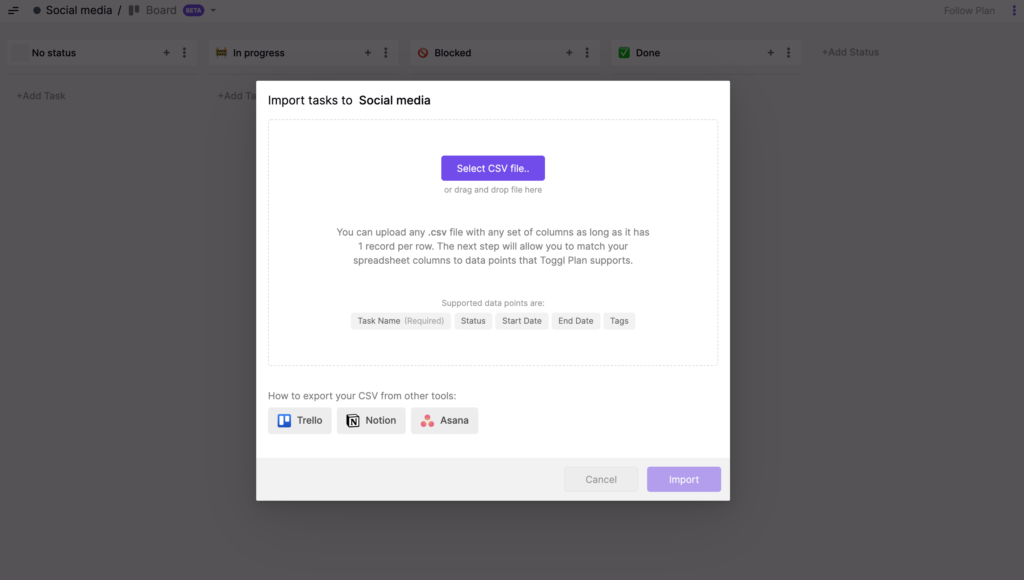 Following Plans and Teams
While we introduced the concept of following tasks already at the beginning of the year, we've added a bulk-option to follow a whole plan or a whole team at once. This means that instead of having to follow all tasks one-by-one, you can simply choose to follow (or also unfollow) everything within a single plan or team view. As you're following a plan/team, you'll receive email notifications of changes (new dates, assignees, notes etc.) to all tasks within said view.
This new following capability can be beneficial for example to project managers who need to keep an eye on project progress and can now do it with a single click.
Ongoing Work in Progress
Remember how we were looking for a Mobile App Engineer at the end of last quarter? Well, since that we've found a great addition to our team and a lot of work has already been done towards updating and aligning our mobile app with our webapp. Hopefully, we'll be able to start revealing some fruits of labor bit by bit in the upcoming quarter.
We are continuously working on the board view live sync and improvements to get it out of Beta.
Our development team is also working on a huge rewrite that would improve our product performance and speed even more and help keep it top level in the future as well.
Other
Finally, we've also made efforts to make our user interface easier to navigate and understand for new users. To do this, we've worked on our onboarding flow as well as added useful tooltips and pointers for new users. We've taken profile settings, user management, and help links and made them more readily accessible on the new sidebar, cleaning up also the collapsible sidebar focused on your projects and teams.
We've also improved notifications settings for supporting changes made to tags as well as for Slack notifications.
Final Words
It's fair to say quarter 2 has been a quarter of many improvements and we're happy to say there's lots more to come.
Since it is summertime, we hope you've all managed to plan your vacations early in advance while still managing to keep up everything that's needed in the workplace. Feel free to check out how to manage your team's vacation requests in Toggl Plan – it's also how we do it ourselves.
Until next time!
Kati Kuustik is a marketing and analytics specialist at Toggl Plan, where she helps the product and marketing teams better understand user behavior in order to translate that into valuable product updates and effective campaigns.