Looking for a Trello alternative that's easy to get started, helps your team deliver projects, and comes within your budget? In this article, we compare 10 of the best Kanban software and project management tools to help you decide.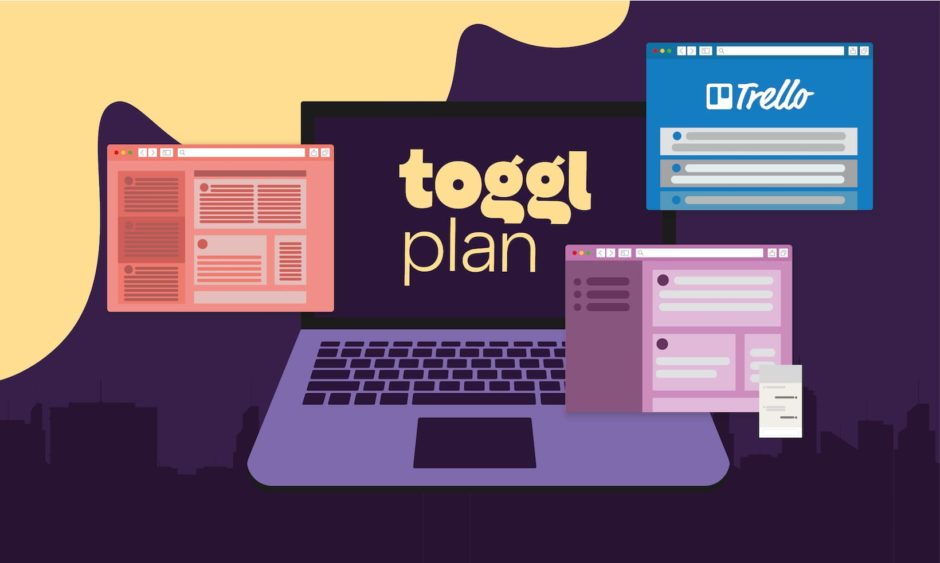 Trello is a task management tool for agile teams.
Despite Trello's popularity as a simple, Kanban tool, it has some major shortcomings. There are three main reasons why users look for Trello alternatives:
No planning features: Trello is great a simple task management. But it has no features for project planning. Trello makes it difficult to plan projects longer than a couple of weeks.
No team management features: It's difficult to see team workloads on a Kanban board. Unlike other tools, Trello does not have a timeline view. This makes it difficult to see who's overwhelmed and who's overworked in your team.
Not budget-friendly ― Trello costs 30 to 40 percent more than its alternatives. Premium Trello plans start at $12.50 per user per month.
In this article, let's look at the 10 best Trello alternatives that offer the best of Trello and then some more.
6 Key Features to evaluate Trello Alternatives
Trello's biggest strength is its simplicity.
That's why most teams outgrow Trello's limited features or don't see enough value. In either case, you don't want to switch to a tool that's difficult for your team to use.
Here're the features that make sense when choosing an alternative to Trello.
Project Planning
Any project that's going to be longer than a couple of weeks is going to need some planning.
You'll need to see a quick overview to see how various project tasks fit together. You'll also need to set milestones for important dates in your projects. That way, everyone in your team is aware of when things are due.
People Management
As important as task planning is, it's even more critical to plan for people who'll work on these tasks.
For example, you want to know ― who's on vacation, who's overworked, and who's overwhelmed. While people don't mind putting in extra effort every once in a while, no one likes to be overworked all the time. What's more, overworked team members can drag down the productivity of the entire team.
Team Collaboration
Having powerful collaboration features ensures that every team member is on the same page regarding the project status and reduces the chances of miscommunication.
The collaboration capabilities include setting up a workspace, assigning tasks, sharing files, adding comments, tagging team members, and sharing your task progress with the team. While team chat is a desired feature, it's not a must-have as long as the tool is capable of keeping all team members on the same page.
Time Tracking
How much time is spent on each activity helps the organization measure performance against the benchmarks. This enables you to identify productivity issues and reasons, which you can then appropriately resolve.
Similarly, if you are working with third-party agencies or freelancers who charge by the hour, time tracking is a vital feature that lets you track the billable hours correctly.
Intuitive User Interface & Experience
Intuitive UI/UX in our context means a simple drag-and-drop interface that lets you change the status of a task by merely moving the card from one list to the other.
Presenting data in different formats helps users get a better understanding of the project. For instance, Gantt charts or timelines visualize the tasks and project schedule and help you understand the tasks you need to prioritize in a glimpse.
Your online Kanban board should enable your team to get things done. And not waste their time fiddling around with the application.
Integrations
Take any of the best Kanban apps, and you'll still find that it still lacks certain features. That's where integrations can help.
Third-party integrations add more features to the Kanban app. Integrations with file sharing, time tracking, communication, browser plugins, and calendar apps simplify and automate a bunch of activities that would otherwise require manual input.
10 Online Kanban Software Apps that can Replace Trello
If you're in a hurry, here's a quick summary of the ten best Trello competitors. Below this table, you'll find a brief overview of each Trello alternative.
Trello Alternative
Price From
Pros & Cons
Toggl Plan
$9
/user/mo
✔️ Plan timelines
✔️ Workload management
✔️ Milestones
❌ Fewer integrations
Airtable
$12
/user/mo
✔️ Flexible database tool
✔️ Ready templates
❌ Bigger learning curve
Asana
$13.49
/user/mo
✔️ Plan timelines
✔️ Workload management
✔️ Milestones
❌ Expensive
Jira
$7
/user/mo
✔️ Code repository integration
✔️ Bug tracking
❌ Complex for non-software teams
ClickUp
$9
/user/mo
✔️ Time tracking
✔️ Team messages
❌ Bigger learning curve
ProofHub
$50 /mo
✔️ One price for unlimited users
✔️ Proofing & approvals
❌ Fewer integrations
Notion
$10
/user/mo
✔️ Document collaboration
✔️ Gantt timelines
❌ Not just for task management
Kanboard
Free
✔️ Open-source
✔️ Self-hosted
❌ Needs IT support
Restyaboard
$8.5
/user/month
✔️ Open-source
✔️ Import tasks from Asana/Trello
❌ Dated user interface
OpenProject
$5
/user/month
✔️ Gantt chart timelines
✔️ Issue tracking
✔️ Time tracking
❌ Bigger learning curve
Most of these tools offer the Kanban board feature for free as a part of their suite, and some of the tools here are, in fact, better than Trello. Your pursuit for apps like Trello ends here.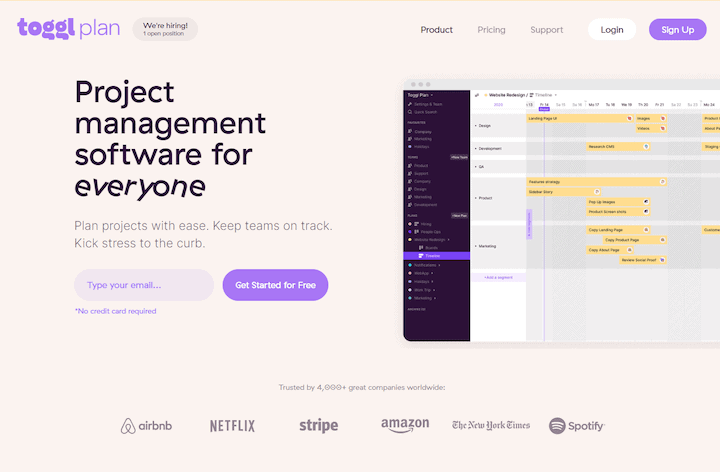 Toggl Plan is a simple, beautiful project planning and execution software that serves as a great Trello alternative.
It comes with more or less the same Kanban board features that Trello offers. In addition, it also offers a strong suite of project management features that can be broken down into three areas, i.e., project planning, team management, and task tracking.
Project planning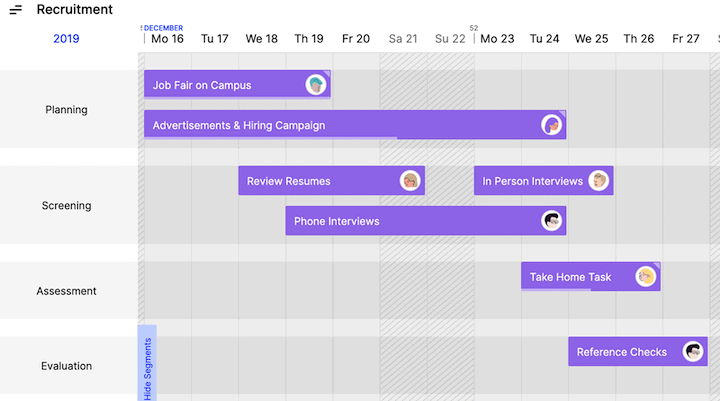 The application offers two views to visualize the project, viz., Kanban boards and timelines (similar to Gantt charts).
The boards feature in Toggl plan also serves as an idea board for capturing, organizing, and prioritizing your team's ideas.
This, in turn, helps anticipate the tasks and risks during the project planning and execution phase.
The timeline view is great for planning long term projects. On the timeline view, you can add tasks and move them around using a simple drag-and-drop interface. You can also mark important dates as project milestones. And finally, you can zoom in on a week, month, quarter, or year to get a quick overview of the project.
To sum up, the timeline view helps you plan and schedule tasks without any stress.
Task Tracking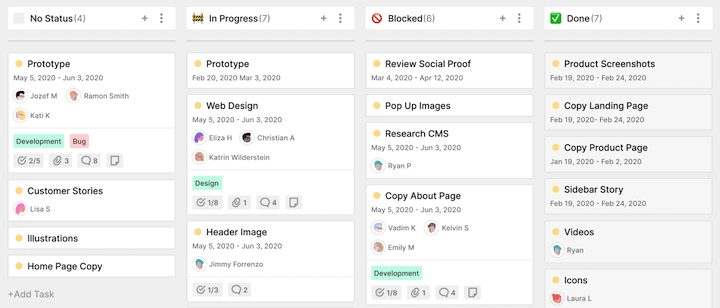 Tasks can be added and updated from both ― the timeline view or the board view.
In addition, you can also schedule recurring tasks on a daily, weekly, monthly, or annual basis from the timeline.
In both views, tasks can be assigned to one or more team members, have start and end dates, include effort estimates, and can be classified using tags. Tasks also have a status, which makes it easy to track progress.
You can also add a to-do list to a task to improve task completion quality. And team members can collaborate by adding file attachments and task comments.
Team Management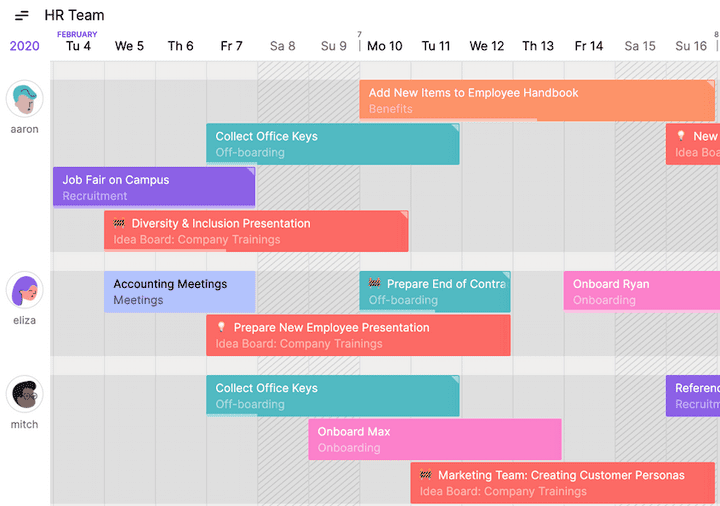 In addition to a task timeline, Toggl Plan also has a team timeline. The team timeline gives a quick visual overview of team workloads, tracks team availability, and improves team accountability.
This, in turn, helps manage project risks and optimize team productivity.
Integrations
Toggl Plan also comes with a Chrome extension and has integrations for:
Slack ― Improve chat collaboration across team members.
Google Calendar ― For managing shared team calendars.
Toggl Track ― Simple time tracking and reporting tool.
Github ― For software development teams.
Free plan includes: Essential project management features for solo users.
Upgrade if: You have a team and want access to premium features such as the annual view (in the timeline), custom colors, more storage space, assigning tasks to multiple users, etc.
Here's how Toggl Plan compares against Trello and Asana.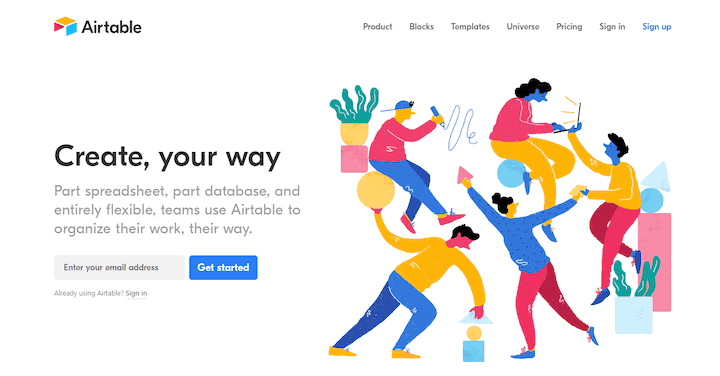 Airtable's central idea is to organize the database in a spreadsheet format.
Users can modify the spreadsheet view as a kanban board, grid, calendar, and gallery. Along with alphanumeric data entry, Airtable also allows you to add checkboxes, drop-down lists, images, and notes for each entry/task.
Although Airtable is similar to Trello when it comes to Kanban, it offers more features. For instance, the Airtable Blocks feature offers comprehensive app-like functionalities that you can use in your projects to create better workflows.
The application integrates with Mailchimp, Instagram, Evernote, Slack, Dropbox, Google Drive, etc.
Free plan includes: Unlimited databases with 1200 records per database and 2GB attachment space, along with real-time collaboration features.
Upgrade if: You want to have more records and more storage space. Although premium plans begin at $12 per user per month, to get advanced features like Airtable Blocks, styling, branded forms, password-restricted shares, you need to subscribe to their Pro plan starting at $24 per user per month.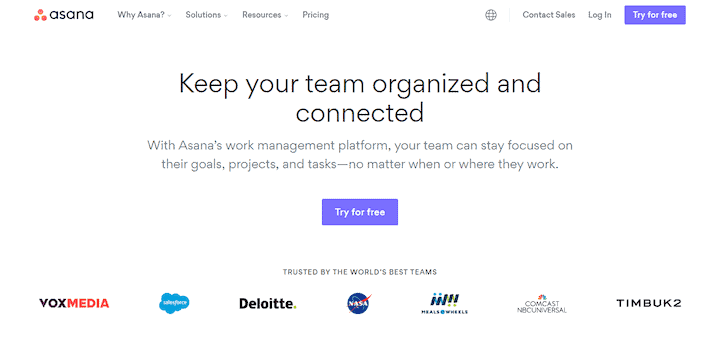 While Asana is a work management platform, we can still consider it as one of the main alternatives to Trello. You can manage individual tasks or full-fledged projects using Asana.
You can visualize the tasks and projects in the form of lists, kanban boards, timelines, calendars, etc.
When adding tasks, you can set the deadline, add followers, set the priority, assign it to a user, and move between the online Kanban boards. You can write custom rules (for example, you can automatically assign a task to a specific member if its priority status is changed) so that the project deadlines are met on time.
Team members can also set up forms so that tasks are assigned in a streamlined manner with all details furnished before starting on the task. Users can view the workload of each team member for a particular project in a specific time period to understand individual productivity.
Asana also offers a template gallery for common use cases such as bug tracking, editorial calendar, and product launch to help users set up projects in a breeze.
Asana integrates with Jira Cloud, Salesforce, Adobe Creative Cloud, MS Office 365, Google Calendar, and 100+ applications.
Free plan includes: Tasks, list, board, and calendar view, basic integrations, and collaboration for up to 15 team members.
Upgrade if: You are looking for advanced search and reporting, custom fields, work forms, rules, milestones, private teams and projects, advanced integrations (such as Adobe Creative Cloud and Power BI), and workload management.
The paid plans come as premium ($10.99 per user per month), and business ($24.99 per user per month), along with a custom enterprise plan.
Learn how Asana fares against Trello and Toggl Plan.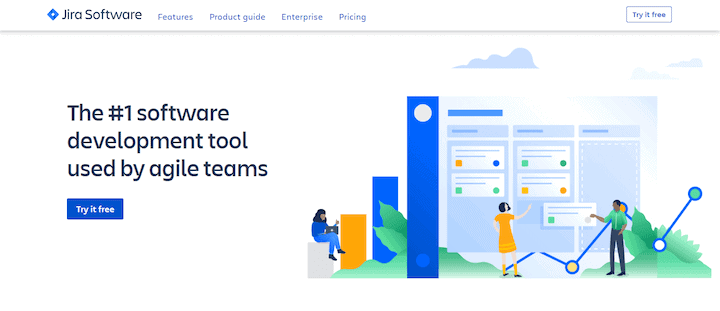 Jira is arguably the best Kanban app for software development teams that use the agile methodology. In fact, Trello and Jira belong to the same parent company — Atlassian.
Teams can use Scrum boards, Kanban boards, and Gantt charts to organize software development projects. The tool also offers built-in reports like sprint charts, burnup charts, version reports, and velocity charts.
With Jira, you can get information from different tools into Jira to understand the development pipeline. Developers can use Jira Query Language (JQL) to create custom filters, integrate with developer tools, define workflows, and automate processes using Jira's APIs.
Free plan includes: 10 users, 2 GB storage, Scrum and Kanban boards, agile reporting, customizable workflows, and third-party integrations.
Upgrade if: You want additional storage and users along with better support and advanced features like anonymous access, audit logs, advanced roadmaps, etc.
Premium Jira plans start at $7 per user per month.
ClickUp is a feature-rich productivity app that allows you to manage projects, processes, goals, and tasks. It serves as a kind of a composite product suite comprising of a range of features.
Features such as recurring checklists, tasks, and automation bring in efficiency in the project management process. You can view the tasks in the format of agile/Kanban boards, lists, calendars, timelines, or boxes.
Although ClickUp provides a native time-tracking feature, you can integrate it with Toggl to get a more refined view on reporting.
ClickUp seamlessly integrates with Slack, GitHub, GitLab, Google Drive, Dropbox, Zapier, and plenty of other products.
Free plan includes: Unlimited tasks and users along with 100 MB of storage space. You also get 50+ Native integrations, ten monthly automations, and the time tracking feature.
Upgrade if: Unlimited storage is important to you. The premium plans also offer unlimited integrations, dashboards, custom permissions, goals, portfolios, and custom fields.
The unlimited plan starts from $9 per user per month, and the business plan offers additional features starting $19 per user per month.

ProofHub is one of Trello's biggest competitors. It's another comprehensive project management software with a wide array of features.
The Trello alternative lets users view projects and tasks in Kanban boards, Gantt charts, and calendar views. The task management feature is similar to other project management tools from this list.
When it comes to collaboration, ProofHub lets you assign custom roles to each team member and assign a project manager to each project. You can also chat with your team members and initiate topic-wise discussions. Using the built-in markup tool, users can provide feedback in the most accurate way possible without any confusion.
Along with these features, ProofHub is a multilingual tool that offers a centralized repository to store files, a note-taking tool, white-label software (which allows you to personalize the UI according to your brand style guide), and restricts access from unauthorized IP addresses.
You can integrate Freshbooks, iCal, Google Calendar, Dropbox, Google Drive, and OneDrive with ProofHub.
ProofHub does not offer a free plan.
ProofHub provides two flat-fee plans: essential ($50 per month), and ultimate control ($150 per month). All advanced features like white labeling, custom workflows, custom roles, restricting unauthorized access are provided under the ultimate control plan.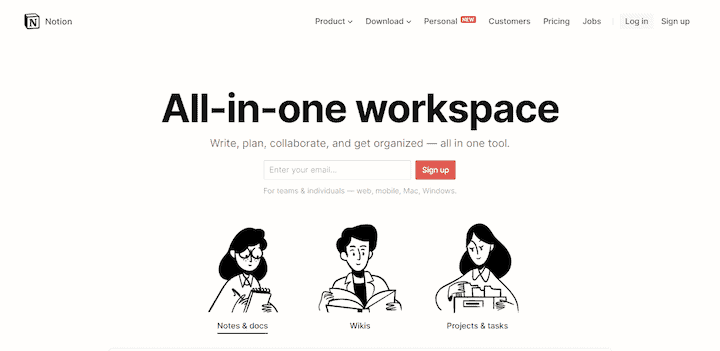 Notion is a versatile note-taking and collaboration application due to its extremely flexible UI and customization possibilities.
You can use it as a note-taking tool or build content repositories. But here is where Notion gets interesting. You can also create projects and tasks using Notion and view them in Kanban board, list, and table views.
Its markdown editor and drag-and-drop functionality allow you to embed more than 50 apps inside Notion pages.
Notion has an extensive set of use cases that are practically impossible to cover here, but it's worth mentioning Notion as a free Kanban board tool in the market.
Free plan includes: Unlimited pages and blocks, file uploads up to 5 MB, starter templates, 40+ block content types, Kanban boards, galleries, tables, lists, and calendar views.
Upgrade if: You want it to use in a team and require unlimited members and collaborative workspaces. The free plan only caters to an individual user. Notion's premium plans begin at $10 per user per month.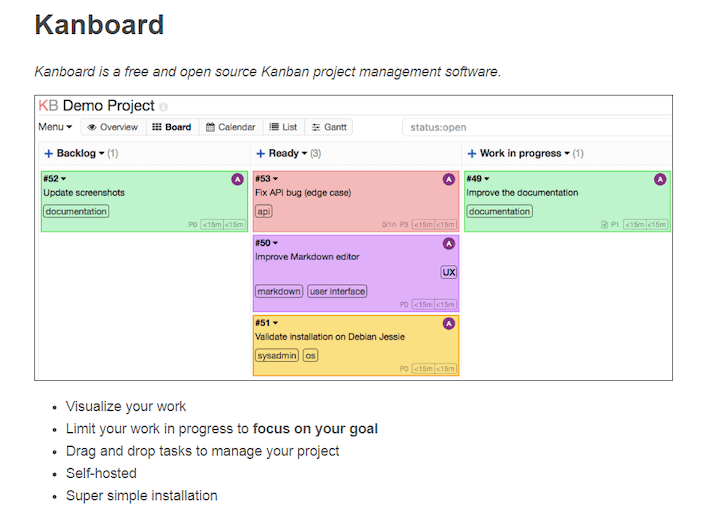 Kanboard is a minimal, open-source Trello alternative. This means the tool is free to use, and you can make changes in the product itself if you have adequate programming skills using Kanboard's code repositories.
This self-hosted, free Trello alternative has a fairly basic set of features and focuses on an overly simplistic UI to help you focus on goals without any distractions.
Like any Kanban tool, it allows you to drag-and-drop tasks from one list to another to change their status.
Kanboard allows you to add subtasks within each task and assign complexity, estimated time to it. You can further add comments, documents, categories, etc. You can automate workflows and search/filter tasks based on the description, due date, category using custom code.
While Kanboard is completely free, users can support the product by making a donation.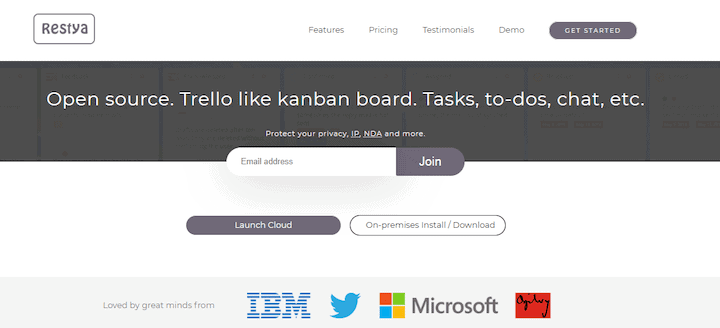 Restyaboard is another free Kanban software that is also an open-source Trello alternative.
However, it is a dual-licensed software. This means, while you can use the software for free, if you want to modify the core files, remove branding, or redistribute it, you need to buy its commercial license.
The tool lets you add tasks and visualize them in Kanban boards, grids, lists, calendars, and Gantt formats. Restyaboard also offers features like offline sync, API explorer, and chat.
You can also integrate third-party apps and automate workflows within Restyaboard through Zapier.
Free plan includes: A cloud or on-premise download and allows you to add unlimited users along with more than five basic plugins.
Upgrade if: You want to make changes to the source code or remove the branding. Restyaboard also offers power-up packages that consist of advanced plugins to simplify usability.
OpenProject is an open-source and free Kanban software, primarily used for software project management. The application helps organizations throughout the project lifecycle.
Users can plan and schedule projects using the Gantt charts and calendars, add tasks, track bugs, and use Kanban boards for agile and scrum project management.
OpenProject also comes with time tracking, cost budgeting, and reporting features.
Free plan includes: A downloadable software package that contains all features.
Upgrade if: You want to move to OpenProject's cloud solution along with premium features and support. The paid plans start at approximately $5/user/month and require the organization to have a minimum of five members.
Choosing from the Best Trello Alternatives
It sure is hard picking a favorite tool from the 10 Trello alternatives.
Like every team, your team has its own workflows, budgets, and needs. Hopefully, this article has given you a starting point from where you can start evaluating a couple of options. And finally, settle in on a project tool that your team can enjoy using every day.
As you begin your evaluation journey, you definitely want to give Toggl Plan a try. It comes with everything your team needs to deliver projects. What's more, Toggl Plan is easy to get started with and something your team will actually use.