As a business owner or team manager, do you ever find yourself wishing you had four arms to streamline your daily efforts?
Whether you're running a business on your own or you have a group of employees to assist you, there always seems to be something that has to be done. And after you complete a scheduled task in one place, you often have to close that window and open a new app to do the next one.
What is Work Management Software?
Also known as workflow management software, you will likely look at three different websites and get three completely unique definitions when trying to learn what this term means. The main reason is that work management software encompasses a wide range of services, which are all compiled into one effective program or app.
Most commonly, work management includes managing projects, tasks, and other crucial processes to your company's success. Along with these basic needs, the most useful work management software also includes features such as:
File sharing
Visual timelines
Team communication
Resource distribution
Analytics and reports
And more
Although there are seemingly endless search engine results claiming to offer helpful task management software, only a select few can effectively increase your team's productivity with these extra services. Check out this comprehensive list to see what the top options are online today
1. Toggl Plan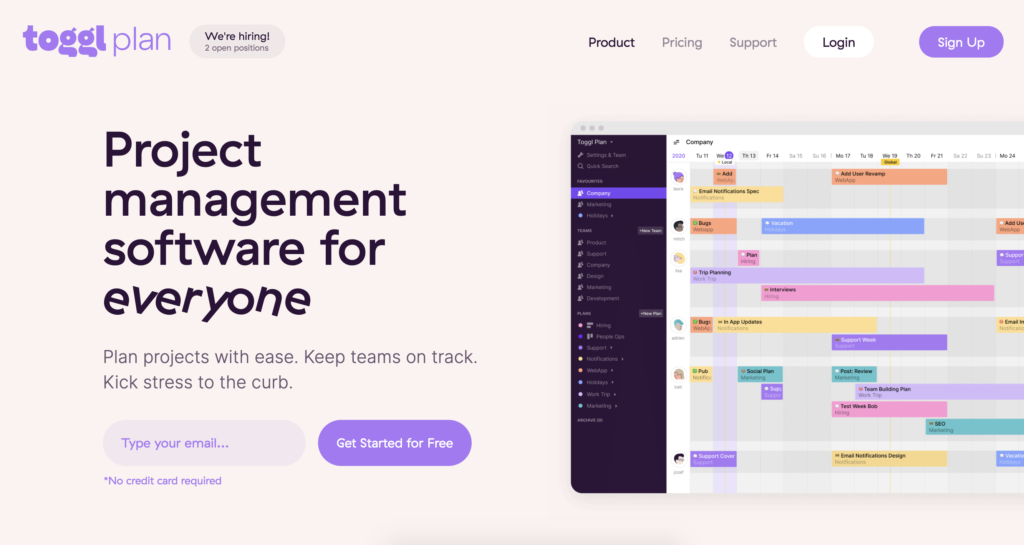 Why You'll Love It: Among the best work management software options, Toggl Plan has become a staple for thousands of teams across the globe. With incredible project planning features, innovative task management, great collaboration tools, and other useful functions, it will quickly find its place into your daily routine. The user interface is colorful and easy to learn, making it a simple addition to any team's tech stack.
Arguably the most useful feature is the ability to get an overview of your project calendar with views that range from daily all the way up to a year in advance. Navigate your way through projects and making changes with a simple click of the mouse.
But that's not all. Toggl Plan also gives you an overview of your team's work schedule, even across projects. That way you can visualize your team's capacity to take on more work. At the same time, you can also get an overview of your team's workloads and prevent overwork and burnout.
Pros: Multiple people have access to your plans with options for color-coding and the chance to see a wide overview of your projects.
Cons: Some features are only available to users with a paid plan beyond their free option for up to 5 users.
2. Workfront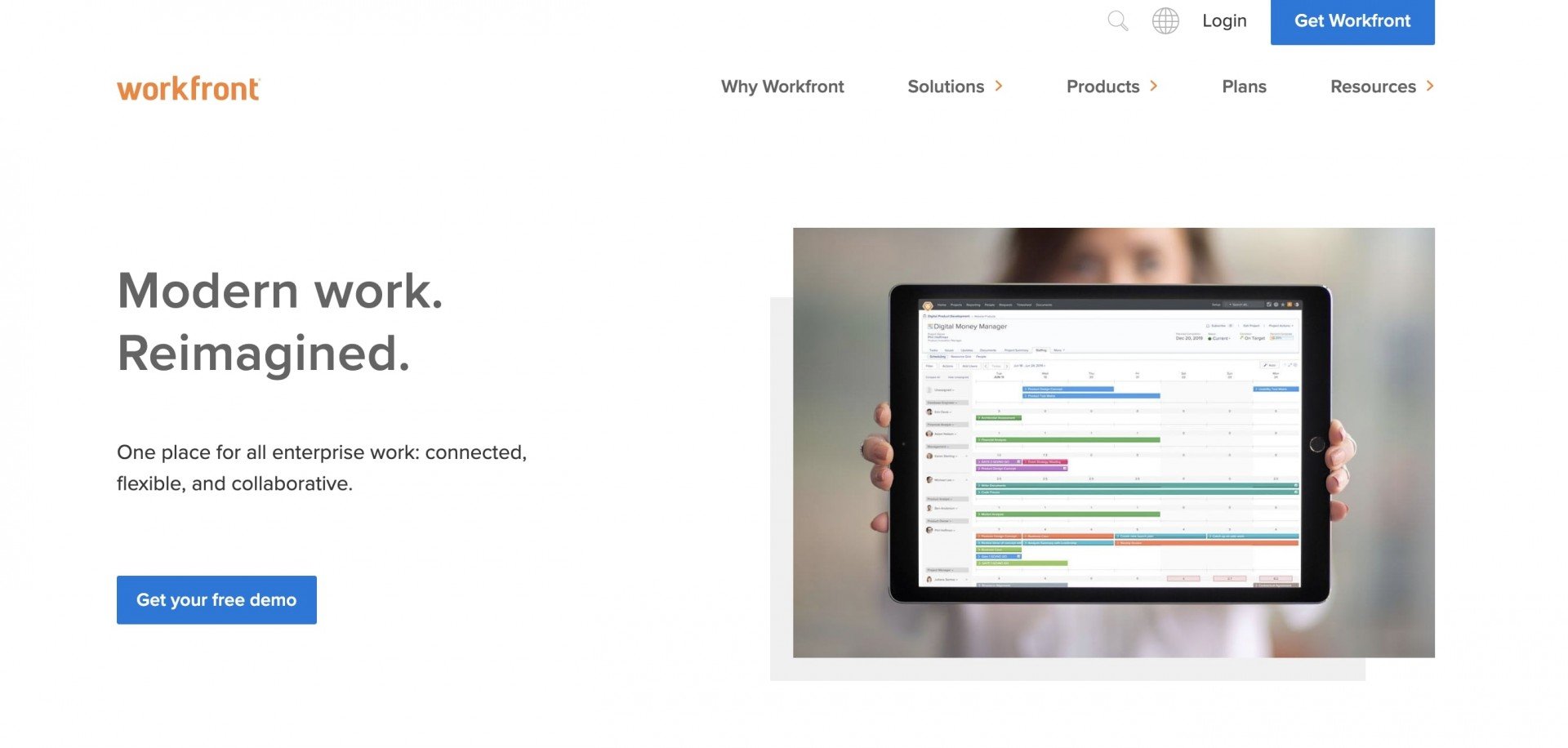 Why You'll Love It: As a self-identified "work management solution", the team at Workfront has created a system for everything from planning and tracking to collaboration and more. Offering services that are catered to marketing agencies, IT teams, and other professional services, their task management software allows groups to streamline many of their processes.
Features offered on their platform make it easier to collaborate with both teams and clients, while also tracking projects and workflows.
Pros: Some users have said they've been able to consolidate as many as four different programs into one thanks to the versatility offered by this program.
Cons: Their solutions are generally more effective for large enterprise companies and the pricing reflects that fact.
3. Samepage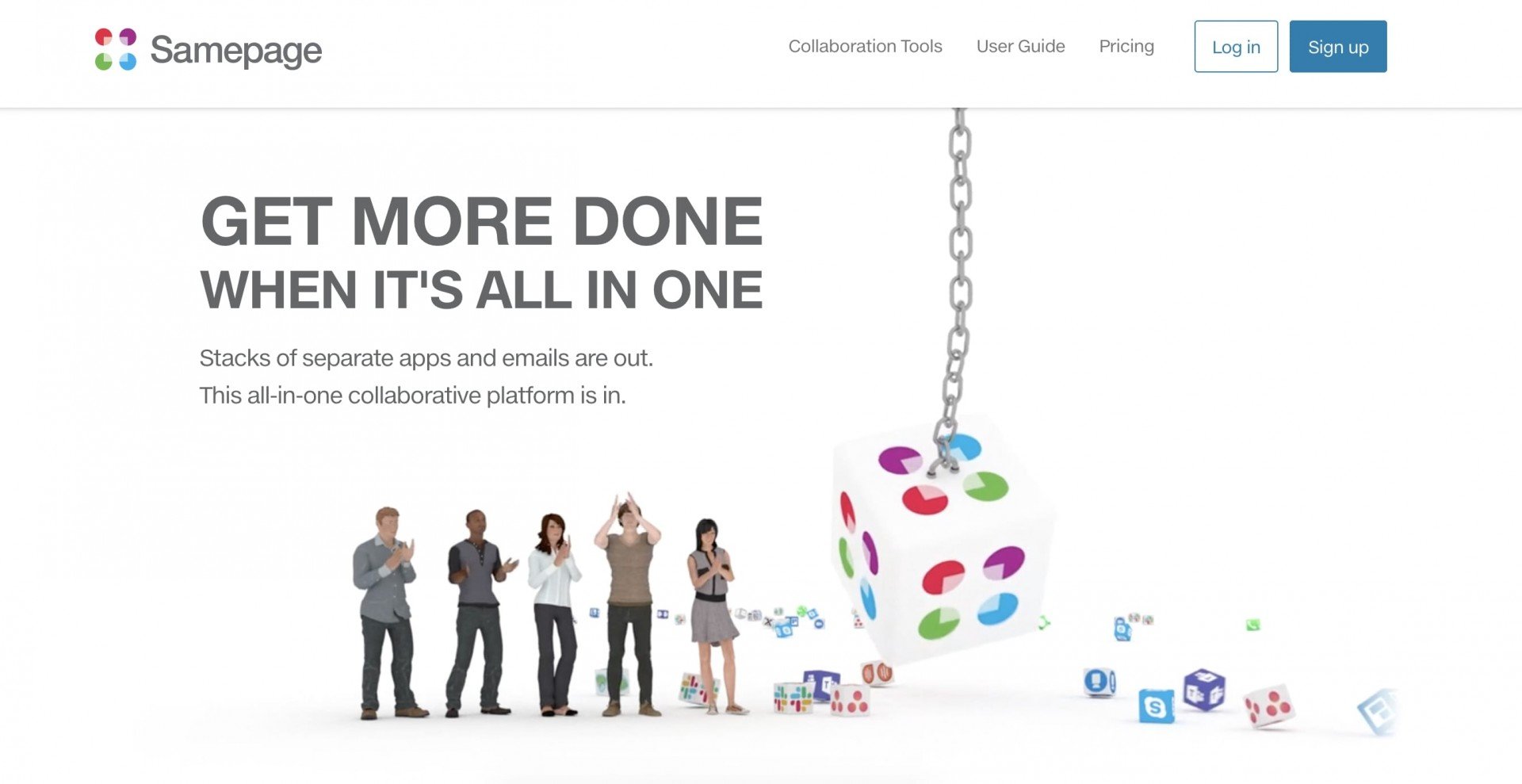 Why You'll Love It: The goal at Samepage is to limit the number of apps a business has to use for them to be successful. To fulfill this need, they've compiled video conferencing, group chat, document sharing, task functionality, and other collaborative features all into one project management app.
Following suit with its name, team members will always be able to stay on the "same page" when using the innovative work management software provided through this system.
Pros: With so many functions, teams are able to create their own identity with Samepage to decide exactly how they want to use it.
Cons: Looking at the other side of the pro mentioned above, users who don't already have a system in place will have a difficult time using this app when they first start.
4. BigTime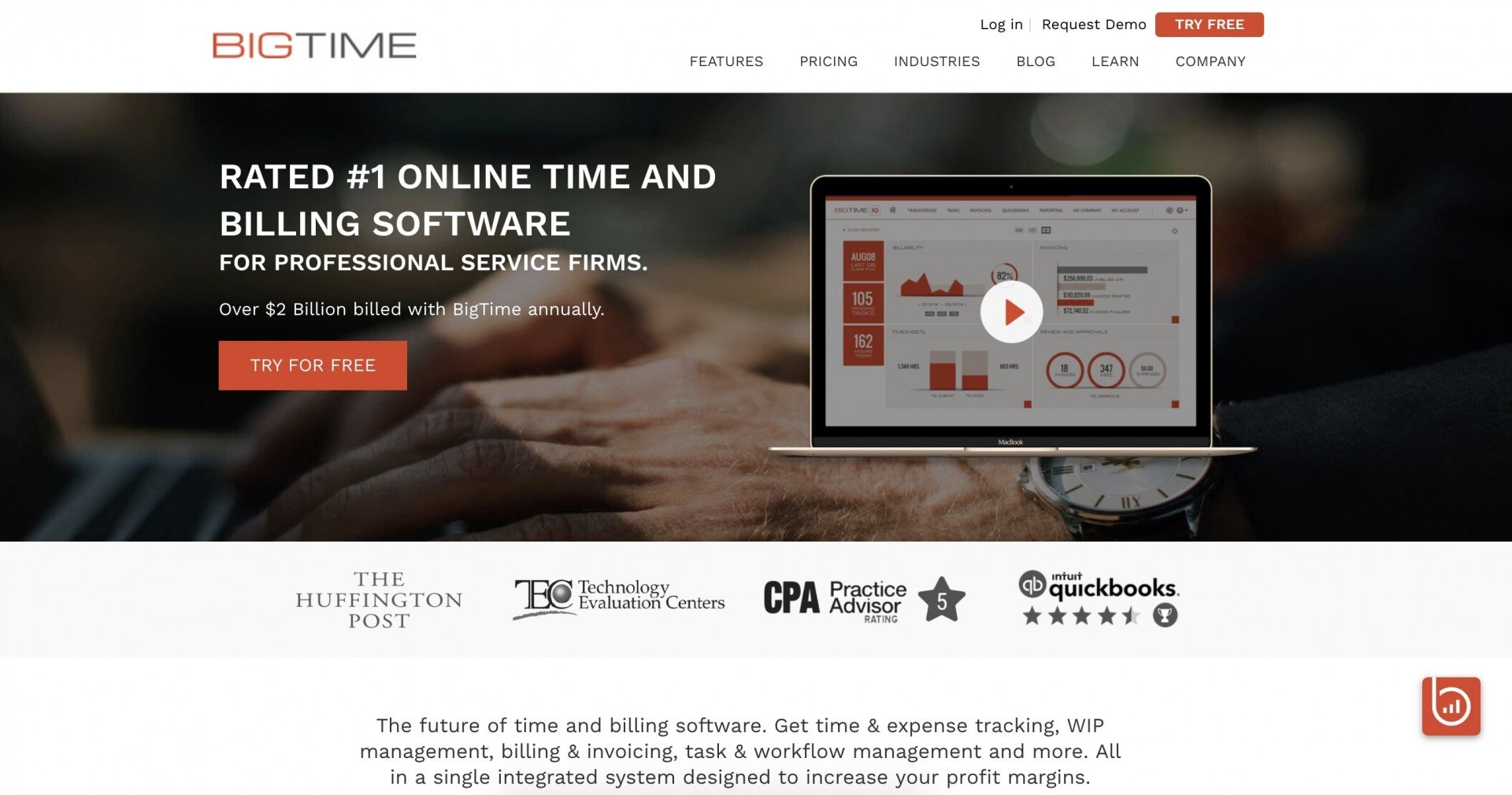 Why You'll Love It: With a specific niche in the professional services industry, BigTime has a focused intent on deadlines and budget information. It offers ways to track time and organize workflows, while also managing budgets and expense details.
Once you're able to set your staff's responsibilities, the app offers keen insights through its effective reporting system as well.
Pros: The support team offers training to ensure your implementation process goes smoothly, so you don't have to go through it alone.
Cons: Due to its set fields the app focuses on, there are limitations for teams on the outside of these specific industries.
5. Process Street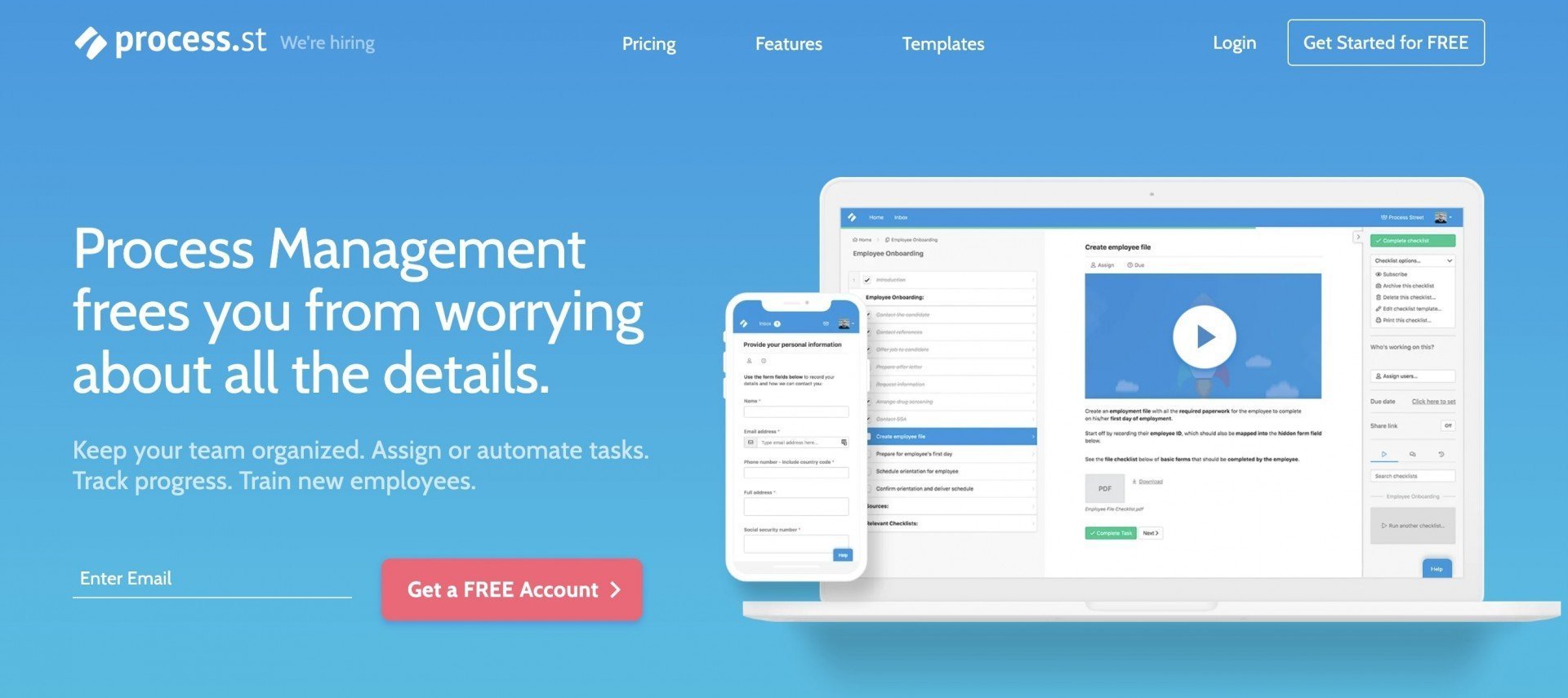 Why You'll Love It: Self-dubbed as a "process management" software, Process Street has been established to help teams get organized and stay that way over the long term. Their task management features tools to help people in your group assign projects and track them from start to finish.
From workflows and procedural changes to checklists and collaboration, you'll be able to run almost everything you need in one place.
Pros: This software can be integrated with more than 400 other apps and platforms, giving you the flexibility to manage as much of your work as necessary through their setup.
Cons: Many of the administrative controls are only available in the paid version, so confidential information will need to be kept separately unless you're using a premium plan.
6. Mavenlink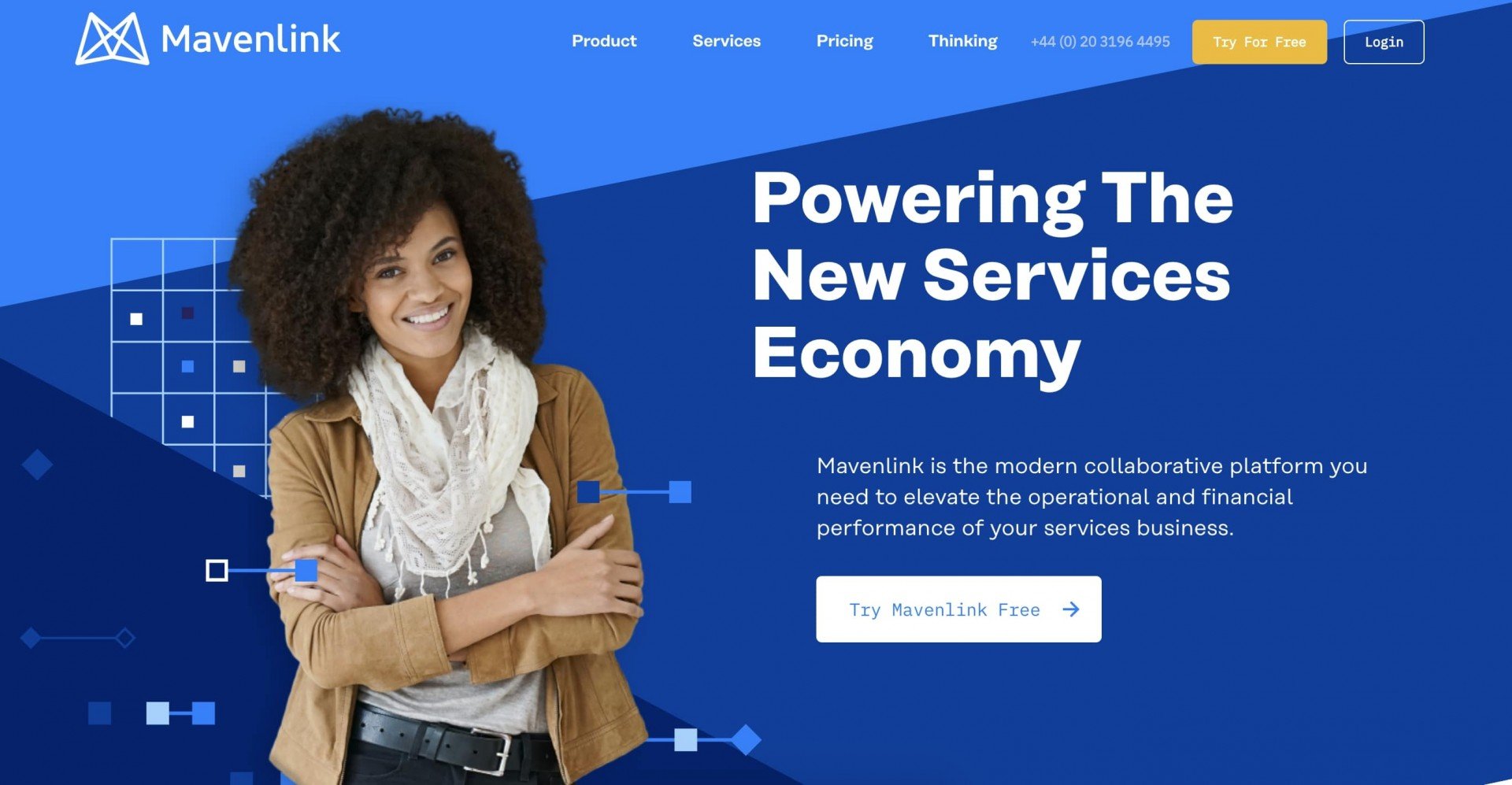 Why You'll Love It: Mavenlink offers more within its walls than a simple work management software option. With this app, your team can always keep each other up-to-date with communication tools, tracking time features, budget analysis, resource control, and more. The system covers each stage of the project lifecycle to ensure everyone in your group doesn't miss a beat from A-Z.
The platform's user-friendly interface is helpful for service businesses who need a solution for their program management.
Pros: Among the top-rated features in this app, most are pleased with the data reporting options for everything from custom metrics to team performance.
Cons: If you plan on using Gantt Charts as part of your process, this software has had a few complaints concerning usability and functionality.
7. Workamajig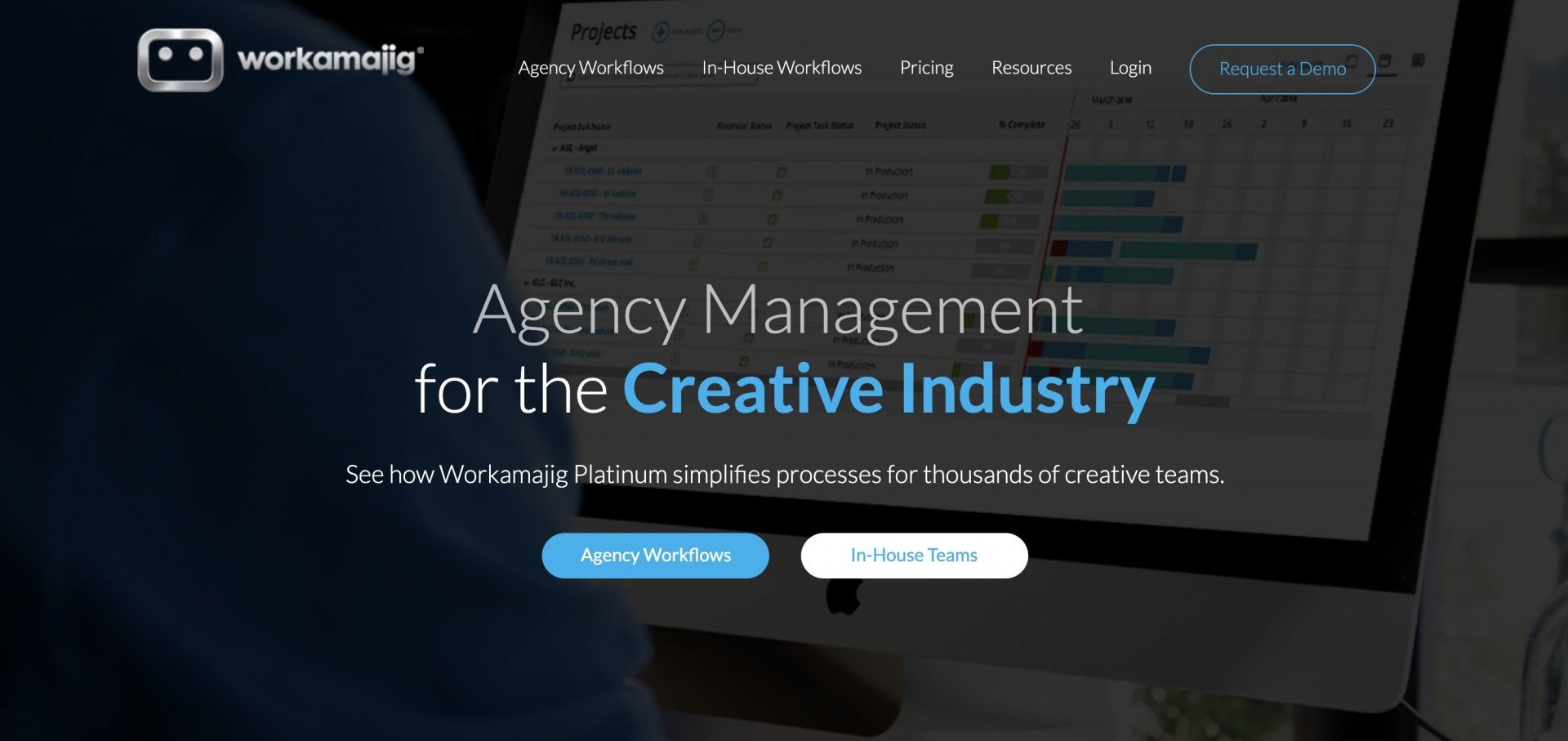 Why You'll Love It: Placing a particular emphasis on creative industries, the Workamajig software is more of a collaboration solution with task management options attached. It is designed to help with project management, budgeting, and scheduling for agencies in advertising, graphic design, and more.
The program can be integrated with your current CRM, accounting software, and other tools to ensure a seamless transition into use.
Pros: This software takes things like spreadsheets out of the equation by offering more clearly designed pages of data to make it a simple process to track and manage projects.
Cons: A few users have complained about the simplicity of available features, which make it a bit difficult to manage larger tasks.
8. ProWorkflow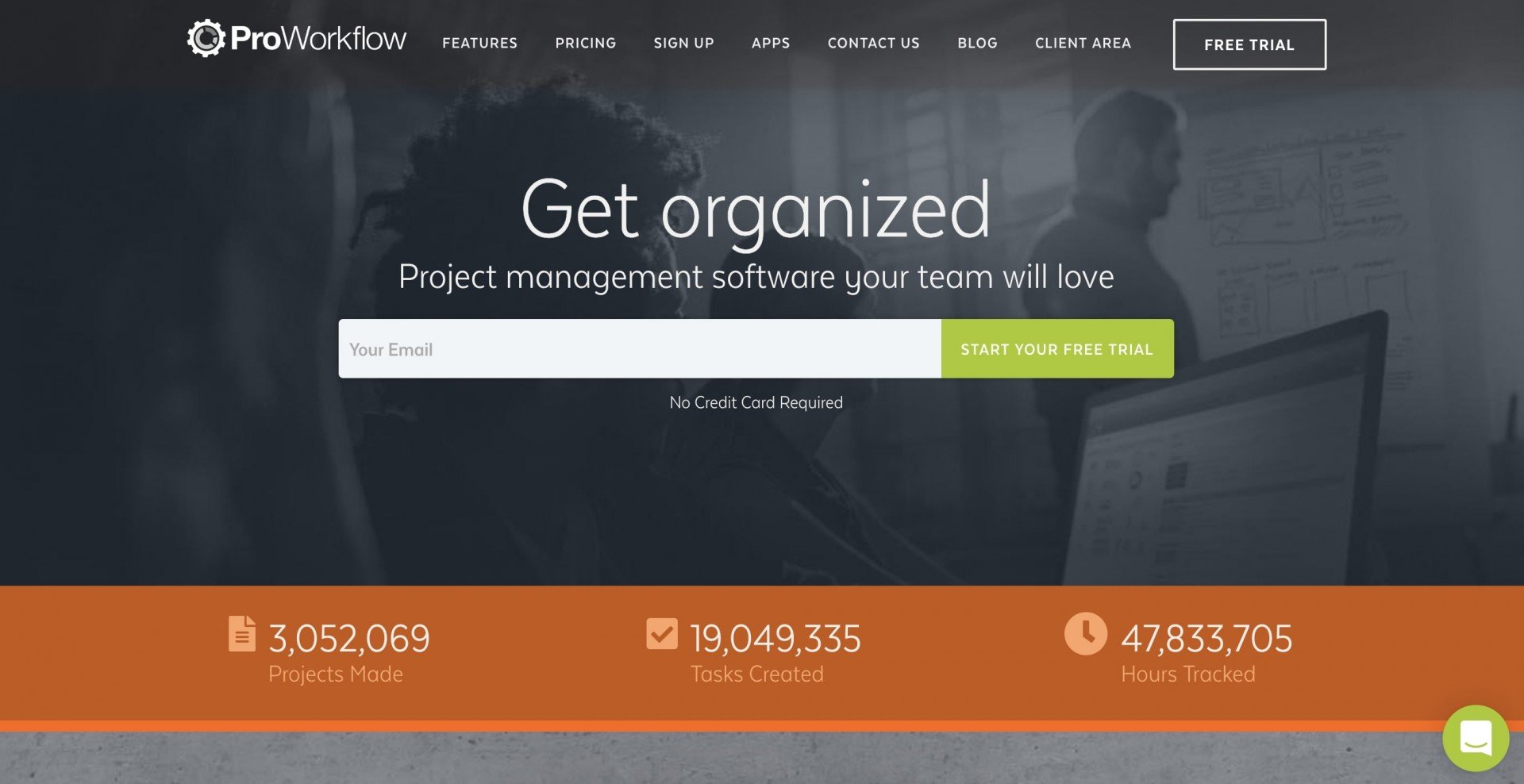 Why You'll Love It: Offering solutions that assist everyone from small companies to large corporations, ProWorkflow is a project management app that assists with project timelines, and resource management, as well as staff and client collaboration and reporting. With numerous useful integrations and customizable dashboards, millions of projects have been completed with this work management software.
Whether you need to manage invoices, track time, share files, or organize your sales process, you'll find ways to use this effective program.
Pros: Many users enjoy the widgets which can be customized and added to your systems making it easy to utilize its features anywhere.
Cons: The financial reporting and other accounting software isn't as comparable to some of the other options on this list.
9. Clarizen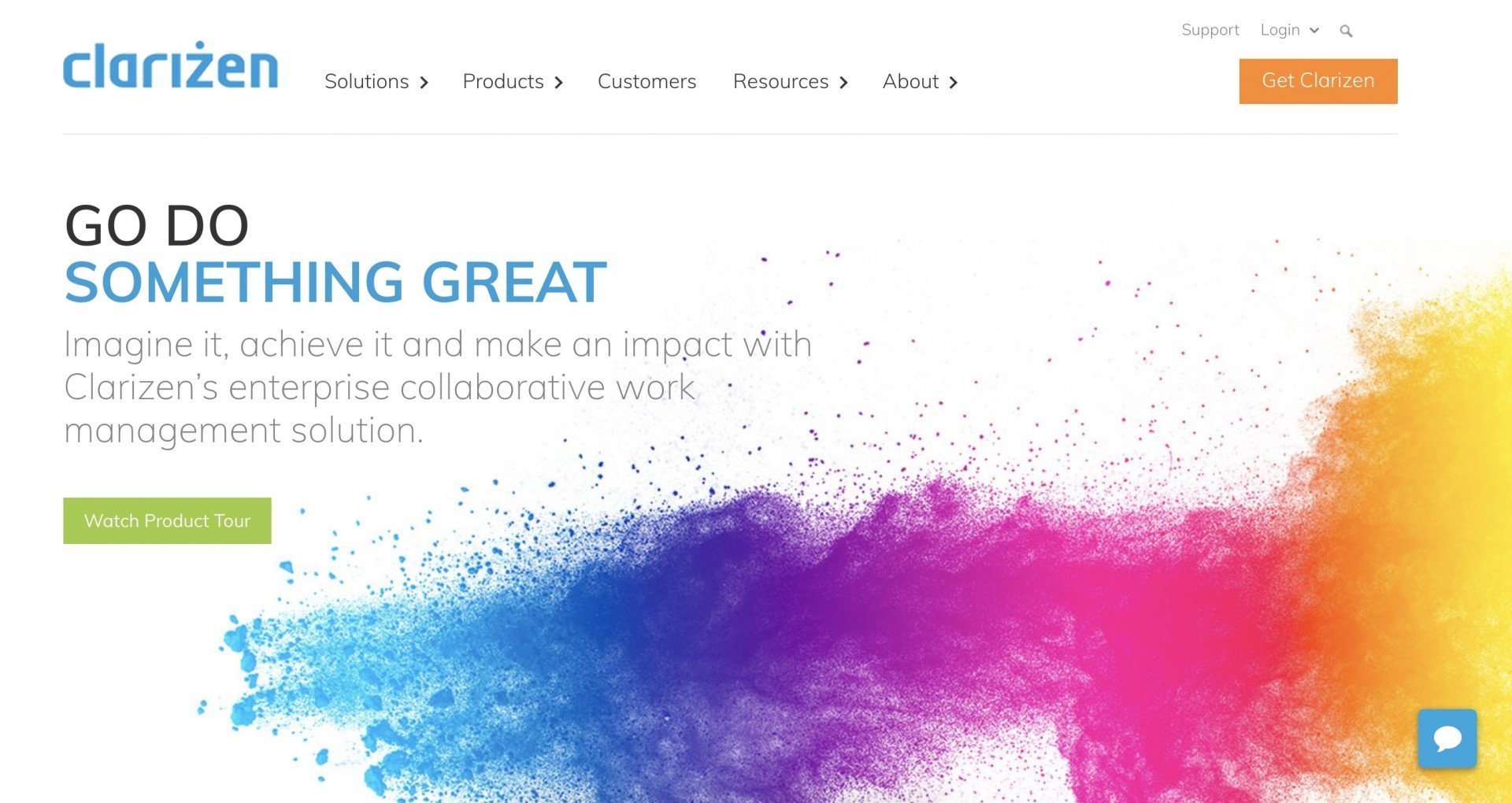 Why You'll Love It: If you've made it past the small startup phase and have built an enterprise-sized company in need of task management software, Clarizen may be worth a look. Designed with big business in mind, it was created to help large groups stay aligned and keep their focus on the major goals at hand.
With one of the most customizable programs currently available, Clarizen helps companies create a workflow specifically designed for their exact needs. The agile features and great reporting tools ensure everything is set up precisely the way you want it.
Pros: As mentioned above the flexibility and customization you can do in this platform is easily the biggest benefit available when using it.
Cons: Though there is a 30-day free trial, it is among the most expensive options on this list. You'll need to request more information to get pricing for your specific needs.
10. FunctionFox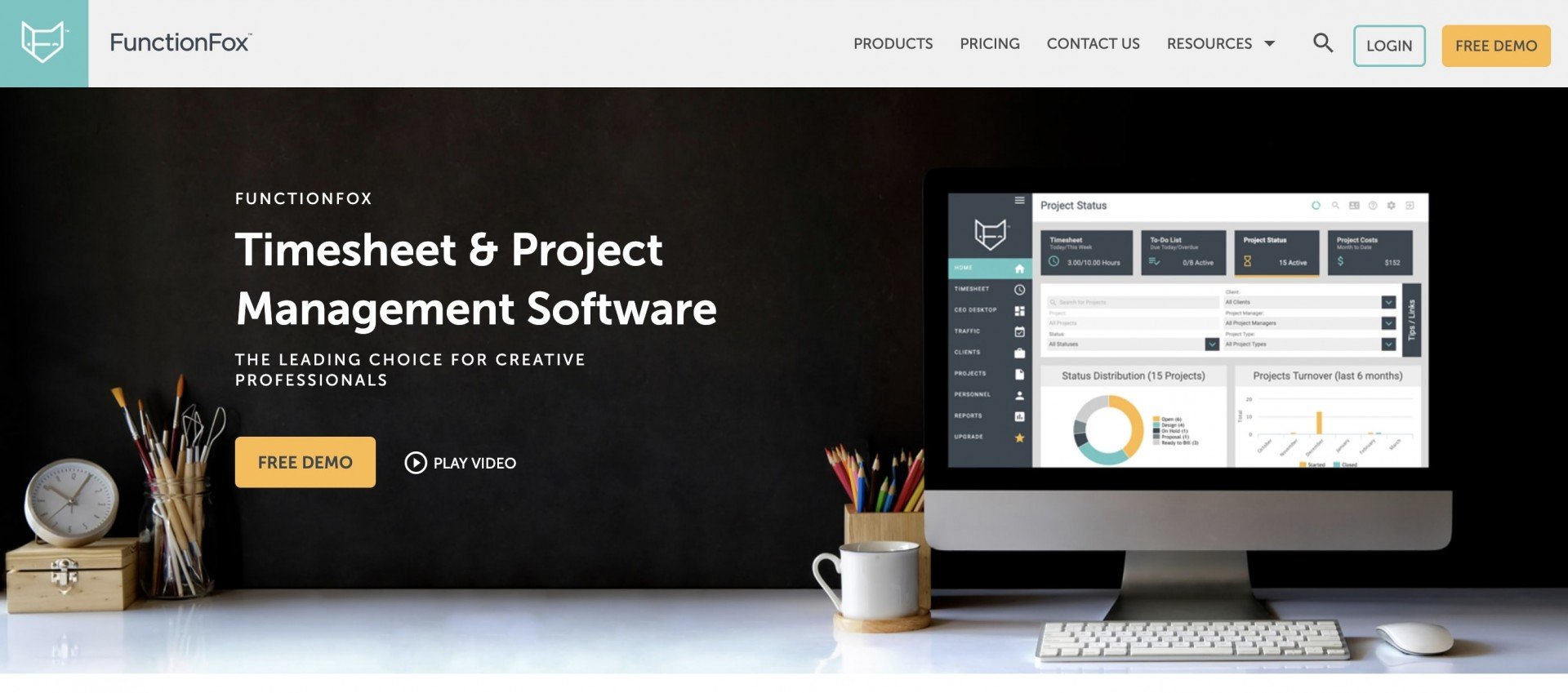 Why You'll Love It: Reeling back in from the enterprise conversation, FunctionFox gets back to basics with their program management option. It offers easy-to-use timesheets, clear budgets, concise resource management, and the ability to set assignments to the necessary team members. Organize collaborative workspaces and set up flexible reports to keep track of the information you need to monitor.
The simplicity of the software makes for a smooth transition when transferring details, which saves you the time and headache of a complicated integration process.
Pros: A great interface for startups who are beginning their operating procedure development and don't want to spend a great deal of effort learning another application.
Cons: At this time, FunctionFox doesn't offer Gantt Charts, setting it a few stages behind most of the other software previously mentioned.
Choose the Best Work Management Software for You
The list above covers a wide range of choices you have to assist with your team's workflow. While a handful of them could likely fulfill each of your current needs, you'll only need one of them to use in the long run. Many of the apps offer free trials, giving you the opportunity to test them out before coming to a concrete conclusion.
Try as many as you want and see which work management software is the one for you.
To keep up with all the most recent updates at Teamweek, make sure you follow us on Twitter and like us on Facebook!
Logan Derrick is a full-time business writer and content marketing strategist. For years, he has worked closely with several project management professionals, learning from them and increasing his own knowledge of the industry. Having held multiple management positions in fields ranging from customer service to marketing, Logan has found a passion for helping others learn about project management, marketing, and the powerful tools available to professionals today.