"Where do you see yourself in 5 years?"
Anyone who has ever been in a job interview or a performance review with their manager has likely heard at least one variation of this question. And yet, many applicants and employees continue to provide dry, unsure answers due to their limited thought regarding their career goals.
Instead of providing stereotypical answers such as making more money, being better at your current job, or maybe getting a promotion, why not decide what you want to do next and start setting professional goals to help you get there?
Let's take a look at both short-term and long-term career goals, what they are, how to set them, and some ideas to get you on track to set your own!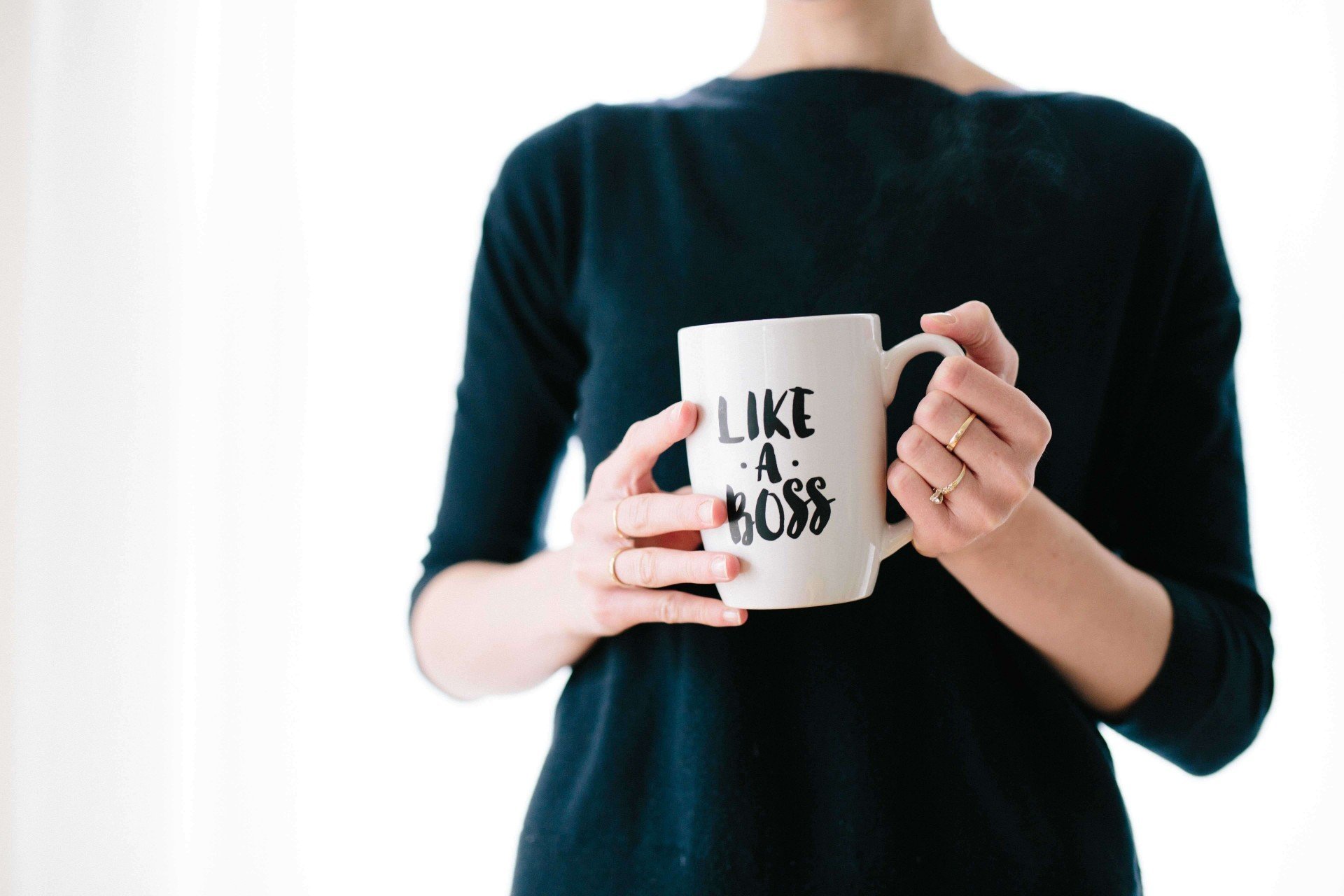 What Are Career Goals?
While most may think career goals are simply defined by the position or job they want to have, the actual goals are the steps you should take to reach that end result. This means setting both short-term and long-term milestones which will direct you down the necessary path and lead where you want to be.
Once you determine your desired career, whether it's as a CEO, manager, or business owner, it will be much easier for you to recognize the stepping stones to end up in that role.

How to Set Goals
You've probably tried to set at least one New Year's resolution at one point or another, right? If you're like more than 80% of the population, they presumably didn't last very long.
So, now that you know what you want to do, how can you combat the odds stacked against you and set goals you'll be more likely to keep?
If you haven't heard of SMART goals before, now is the time to educate yourself on this incredible concept of goal setting. SMART is an acronym which stands for:
Specific
Measurable
Achievable
Realistic
Timely
Essentially, the idea is to break down large goals into smaller bite-size pieces that follow these notions. As you organize the steps and schedule out your intentions for each milestone, you'll be amazed to see how much easier they are to reach.
Tools like Toggl Plan provide access to create a planning process, which allows you to set everything up exactly how you need it as you track your goals. The creative design and user-friendly interface will help you stay engaged as you are moving through each step. With overviews that cover weekly, monthly, and even annual outlooks, you'll be able to monitor everything whether you're working on short-term or long-term career goals.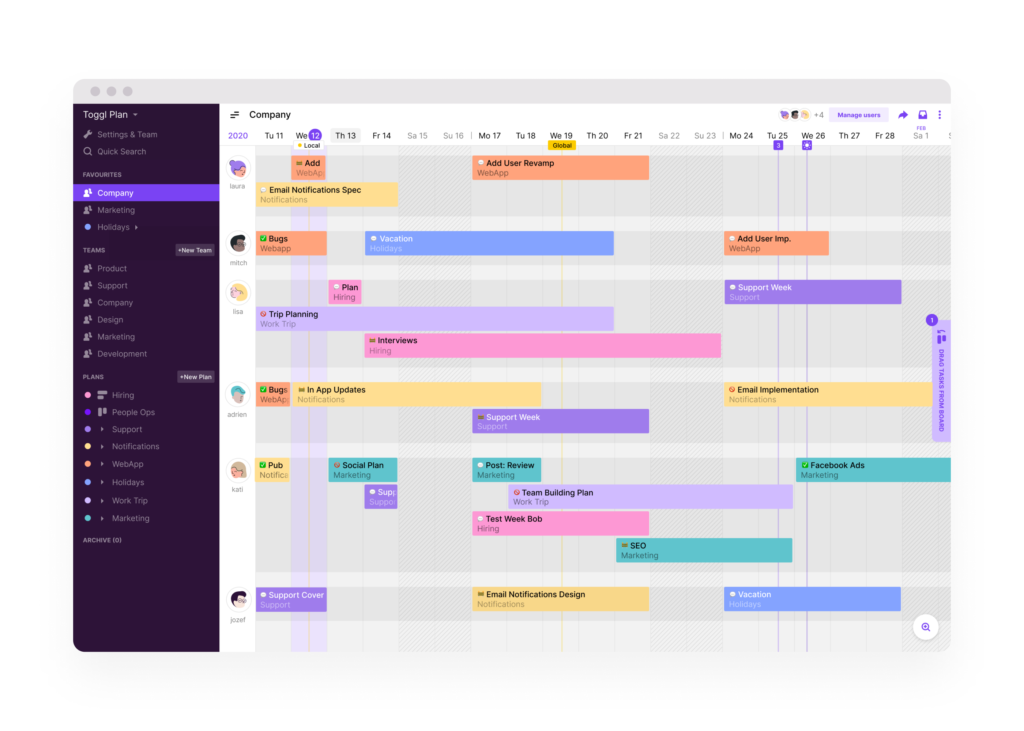 Speaking of which, why don't we take a look at some examples of each? Maybe they'll help spark a few ideas for you to start compiling your own goals and aspirations.
Career Goals Examples (Short-term & Long-term)
Short-term
1. Gain a New Skill
No matter your current industry, there are hundreds of companies in the world looking for people with a variety of talents and abilities. The more diverse your skill set the better chance you'll have of impressing your current managers or potential employers.
Now keep in mind, this doesn't mean that learning kickboxing will get you further ahead in the insurance industry, for example. Make sure the new skills fall under professional development goals that are related to the field you are interested in. Identify things that will get you ahead of the competition and make it easier for you to move up the ranks.
2. Boost Your Networking Abilities
Your capacity to network with people and develop influence will often make and break your ability to progress and reach your career goals. The process of networking is much more than simply talking to individuals you work with. It is about developing social and professional contacts with whom you can exchange insights and information.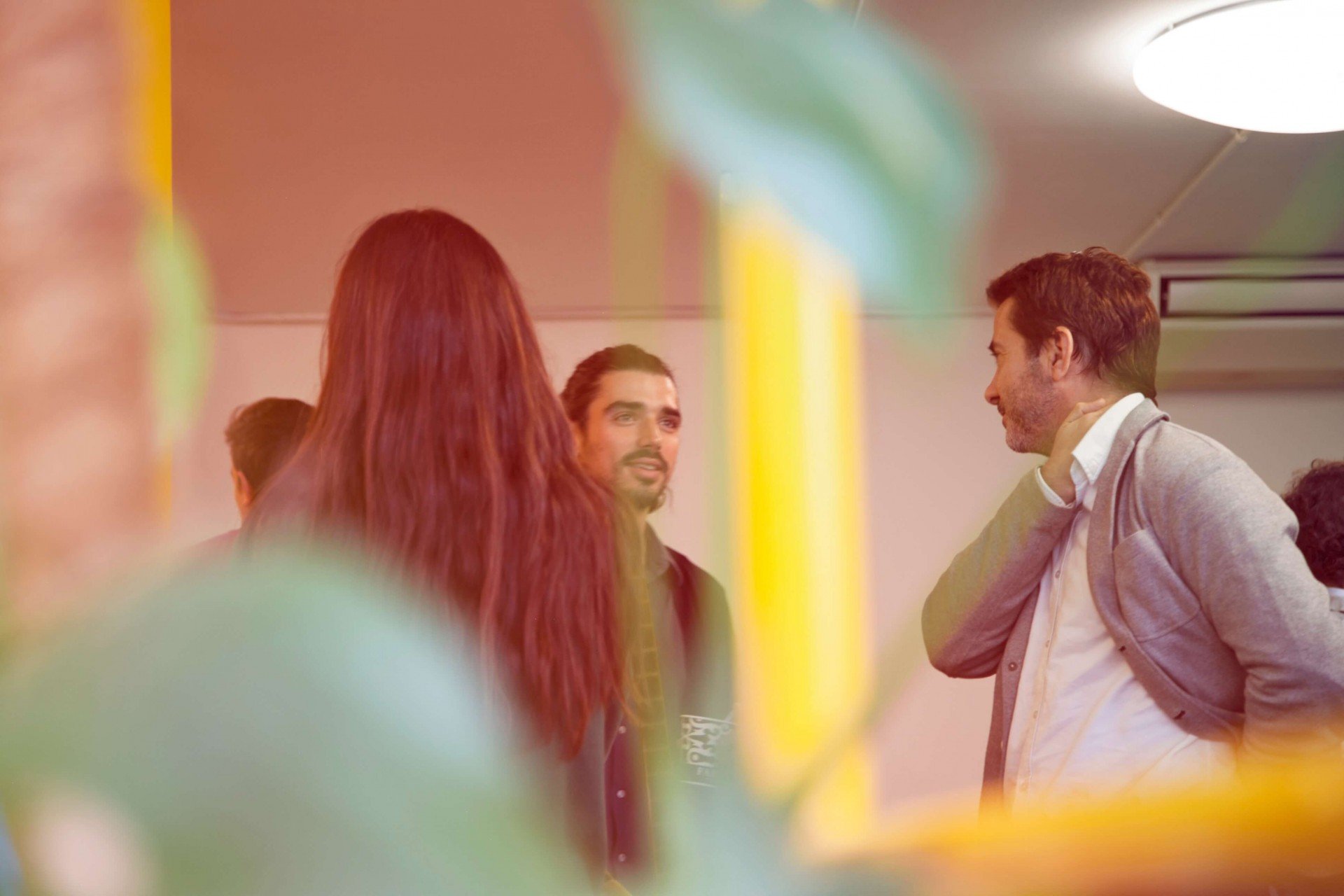 Start out by networking more often with people you already converse with on occasion. As you improve, you'll feel more confident in starting conversations with leaders and other influencers in your field. This has the potential to open up numerous opportunities and get your name out there.
3. Intern with a Large Company to Gain Experience
Did you know many majorly successful people began their careers as unpaid interns in their fields? People like Steven Spielberg, Oprah Winfrey, Tom Hanks, and Conan O'Brien all started as interns at the bottom of the totem pole. These apprenticeship or co-op opportunities provide access to invaluable work experience, a look into the job market, and a large number of people end up being offered positions with the company.
Whether you are a freshly graduated college student or someone who is looking to change fields, an internship may be the best way to get a close look inside your desire industry.
4. Start Your Own Business
While the process of building a business may be considered more of a long-term career goal, there's nothing stopping you from at least starting it today. The internet has made so many aspects of being an entrepreneur easier as it becomes more user-friendly on a daily basis. It seems anyone can create their own website and offer anything from products to client services.
If your professional goals include running your own company, there's no time like the present to develop your plan and start taking the steps to build it. Decide what you are passionate about and look for opportunities to disrupt the industry by starting a business.
5. Improve Your Sales or Productivity Numbers
Everyone has unique KPIs they are trying to achieve on a daily, weekly, or monthly basis. What can you do to boost your numbers and statistics? Take a step back to identify any practices that aren't having a positive impact on your bottom line and remove them from the equation to make yourself more productive.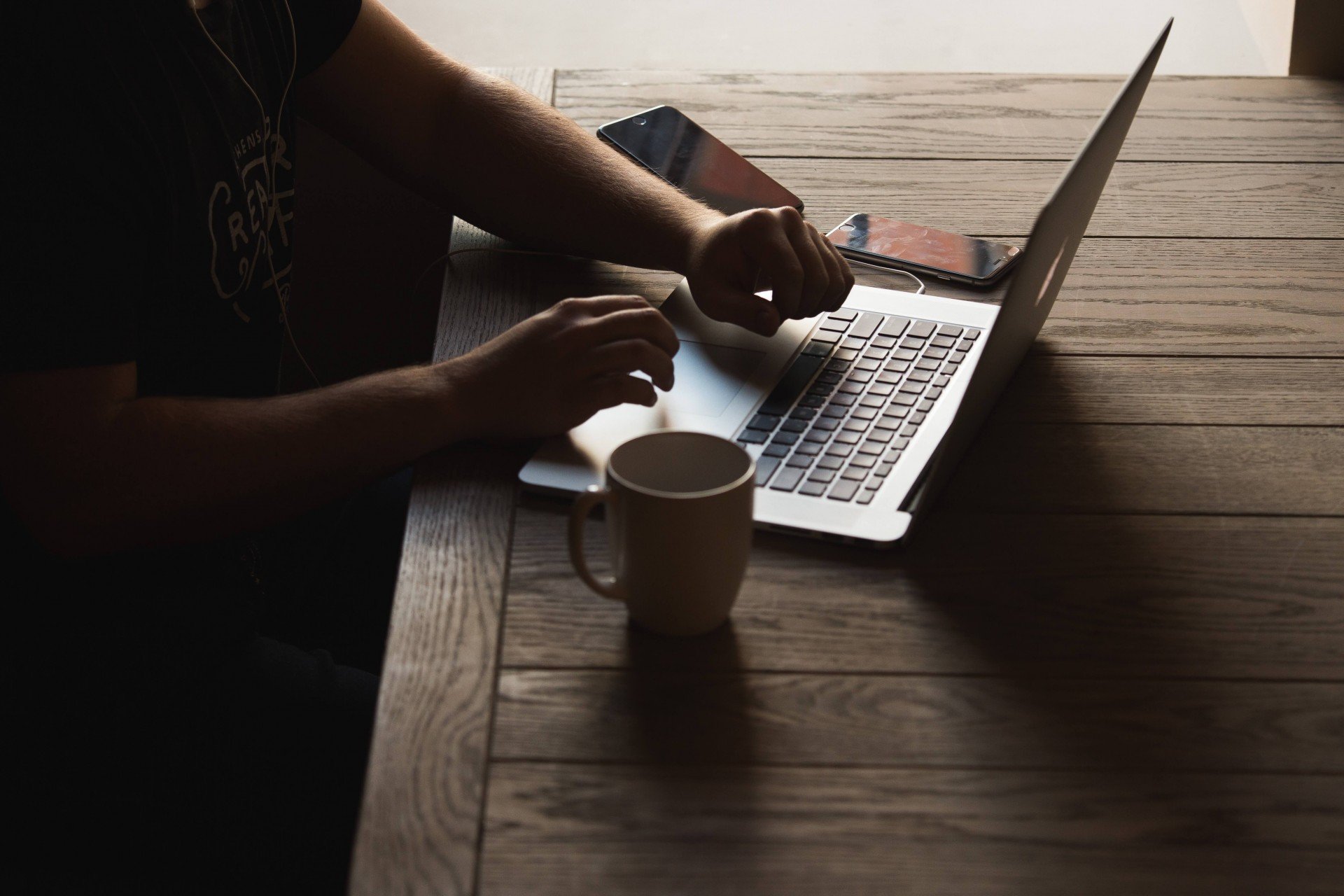 As you develop good habits and aim your efforts in the right direction, you'll be surprised to find the numbers rise as well.
Being more productive is often about working smarter rather than working harder, too. Look into whether tech solutions like machine learning and robotic process automation (RPA) could help you be more efficient.
Oftentimes, all it takes is a manager seeing someone who is productive to their role for them to offer a pay increase or even a promotion.
Long-term
1. Earn a Degree or Certification
While the education system is a constant topic of scrutiny, people with a college diploma will likely always have an edge over those who don't, as long as they have the work ethic to back it up. The deciding factor will typically relate to the industry you want to end up in and how high up the ladder you want to climb. Though there are exceptions, research will show you that most Fortune 500 CEOs have a degree.
University provides the ability to gain knowledge of the holistic side of business, making it easier for graduates to grow in their field and understand details others may not. As far as long-term career goals go, this one can have a 2-6 year commitment paired with a hefty price tag. You'll need to do your research and prepare yourself accordingly.
2. Make a Career Switch
Are you unhappy in your current job situation? Do you feel like you're in a dead-end role with no room to move up or grow? The previously mentioned idea of earning a degree can be one of the first steps of switching careers, but it isn't always necessary depending on your intentions.
Enjoying your work and feeling passionate about what you do are two of the most common career goals across the board. If you don't feel that, it may be time to start looking elsewhere. Do your due diligence as you find new options so you know what to expect and what it will take to reach that new position.
3. Become an Expert in Your Field
Nowadays it seems like everyone is claiming to be an expert in something or another. Though the term is considered one of the most subjective concepts in the world, the BusinessDictionary has defined expert as an individual who has gained enough knowledge and spent enough time in a particular field to be the most helpful in the "fact-finding, problem-solving, or understanding of a situation".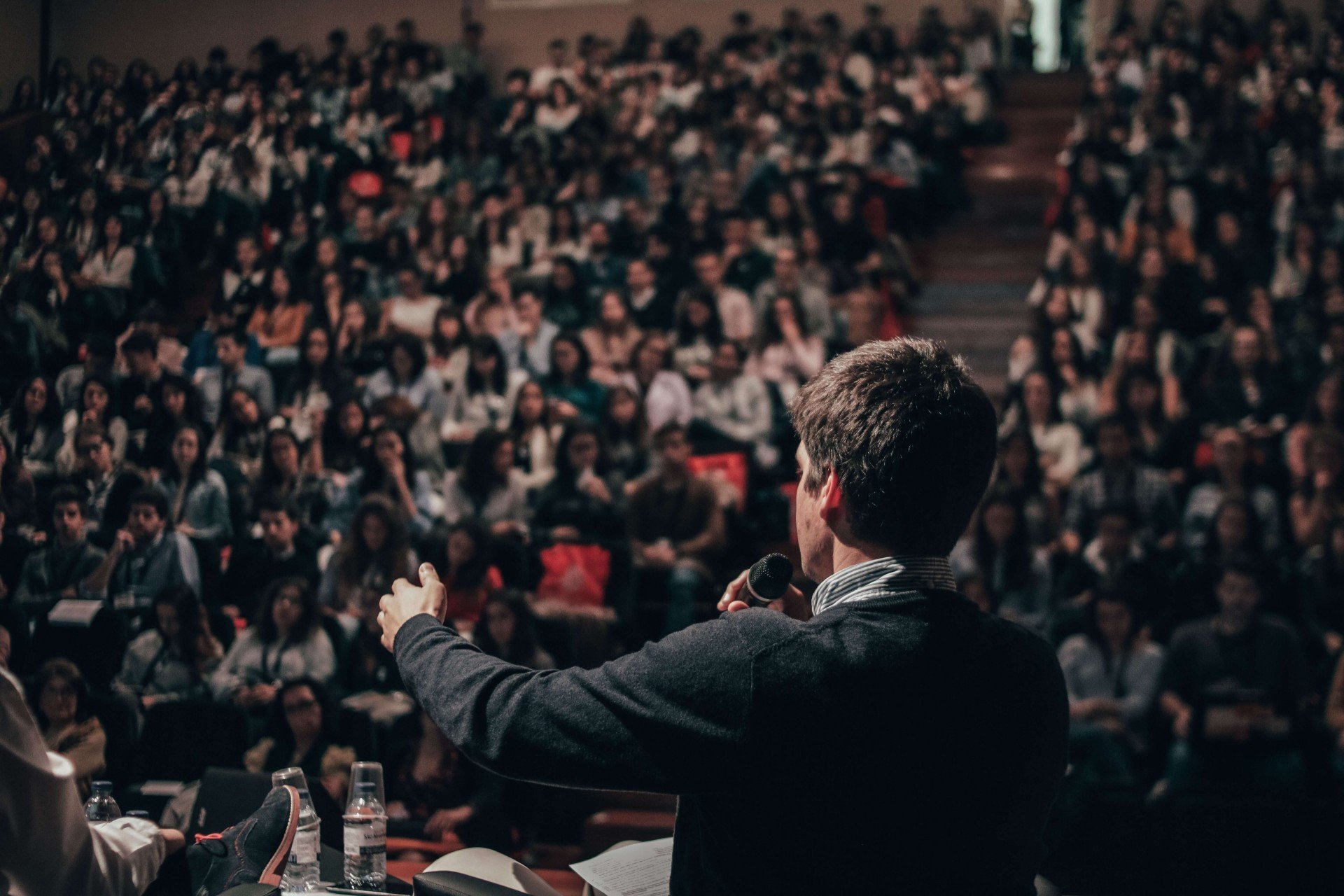 With this in mind, if you can prove yourself as an expert, you'll have more earning power and become more of an asset to your employer.
4. Reach a Leadership Position
Do you feel like you were made to lead and motivate a team to be their most productive and effective? Any great leader knows it takes so much more than simply telling others what to do, for them to be successful. There are a few key characteristics people can develop to prove they're meant for that type of role:
Gain a general knowledge of everything you can learn in your industry.
Own your failures and share the credit of your successes.
Accept that there will always be someone who knows more than you do about certain subjects.
Work harder than everyone else on the team, no matter your position.
Adapt to changes as they arise.
Establish strong communication traits.
Learn how to effectively delegate tasks.

5. Win a Prestigious Award in Your Industry
There are highly reputable awards handed out in nearly every industry you can think of. With well-known honors like The Nobel Prize, The Academy Awards, and The Pulitzer Prize to more industry-specific options like the Stevie Awards, Thrillist Awards, or SCORE Awards are there any merits you'd like to receive?
Whether your employer offers special distinctions or you're striving to accomplish something for a third-party company, career goals don't get much more motivating than to be recognized with a prestigious award for your efforts.
Set Career Goals and Use the Proper Tools to Achieve Them
You have at least ten examples of career goals now to get the gears turning and set some for yourself. Do any of these suggestions sound like something you'd like to accomplish? Or did one of them give you an idea for something else?
When it comes to your professional development goals, take some time to decide what is next on your to-do list. From there, identify the short-term and long-term steps you need to follow that will help you make it a reality.
And if you want the perfect tool to help you manage them, make sure you sign up for Toggl Plan!
Logan Derrick is a full-time business writer and content marketing strategist. For years, he has worked closely with several project management professionals, learning from them and increasing his own knowledge of the industry. Having held multiple management positions in fields ranging from customer service to marketing, Logan has found a passion for helping others learn about project management, marketing, and the powerful tools available to professionals today.