Ever felt like hiding behind a chair in a team status meeting because you forgot to do the one thing your team needed?
I did. And, trust me, you'll never forget that sinking feeling.
There are hundreds of things to do at work—managing projects, attending meetings, collaborating with your team, etc. And with more people working from home than ever before, personal commitments find their way in too.
Thankfully, you have checklists—a simple way to keep up with all your responsibilities. And in this article, you'll learn about the best daily checklist apps and templates that can help you get work done without feeling overwhelmed.
Here's what we'll cover:
What is a daily checklist?
A daily checklist is a simple task list.
It gives you a list of to-do items that need to get done on a given day. A task list can be for work or home. Also, it can be for an individual or a team.
Benefits of using a checklist include:
Brings clarity to work with a clear list of action items for the day.
Gives a sense of purpose to your day.
Improves productivity with better organization and tracking. You don't have to constantly switch between work and managing work.
Provides a sense of accomplishment as you check off a task and motivates you to move on to the next one.
Brings accountability to your day-to-day work.
Best online daily checklist apps
Keeping track of work needs more than a scrap of paper and pen.
You need to collaborate with coworkers, keep them in the loop, and share your work items with them. Plus, you need to collaborate across locations and time zones. Thankfully there are many online checklist apps that you can use to manage your daily work.
Let's look at the best checklist apps.
Toggl Plan is a beautifully simple work management tool. It helps your team deliver work on time without overwork or the last-minute rush.
With Toggl Plan, you can create work plans using timelines and Kanban boards. Also, you can add milestones for important dates in your schedule.
Scheduling tasks is as easy too. You can plan one-time or recurring tasks using simple drag and drop. And, you can work together on tasks with teammates using file attachments and comments.
Last but not least, you can attach a checklist to a task. This helps your team improve productivity and task completion quality.
Team timelines help you visualize your team's schedule and workload. Just like scheduling, you can adjust team calendars or rebalance workloads using simple drag and drop.
Top features:
Plan your work, projects, and task schedules on drag-and-drop timelines.
Organize, schedule, and manage tasks using work timelines or Kanban boards.
Schedule one-time or recurring tasks.
Keep all task-related information in one place with attachments, descriptions, tags, checklists, and more.
Collaborate with multiple team members on a task using comments and file attachments.
Color-coded milestones—shared across multiple timelines.
Manage team availability, work schedules, and workloads using Team timelines.
Get real-time notifications in-app and via email when something changes on a task.
Share a read-only view of the timeline with stakeholders who don't want to be bothered about the details.
Use the Toggl Plan Chrome extension to add tasks from anywhere on the web.
Integrate with Google Calendar, Slack, and Toggl Track to track time on tasks.
Platforms:
Online, Android, and iOS apps
Pricing:
Forever free plan: for solo users.
Team plan ($9/user/month): For teams who want to work together along with time-tracking integration with a 14-day free trial.
Business plan ($15/user/month): For teams who work with external clients, need single sign-on and data export with a 14-day free trial.
Try Toggl Plan for free. No credit card is required.
Google Keep is a free checklist app that helps you manage notes and checklists using a simple interface.
You can add notes and ideas in Google Keep. In addition, you can create simple to-do lists and share them with your team.
The biggest advantage of Google Keep is the speed with which you can add personal notes, ideas, and to-do items, even on the mobile app. Plus, you can add location-based reminders. This makes it handy for people who work in the field, outside the office.
It also comes with a Chrome extension with which you can quickly add notes directly from your web browser.
Top features:
Create unlimited notes, voice memos, lists, and reminders.
Create drawings and picture notes.
Integrates with Google Drive.
Use Optical Character Recognition to scan text directly from images.
Clip notes, URLs, and images using the Google Chrome extension.
Platforms:
Online and mobile apps
Pricing:
Free with your Google account
Trello is a Kanban-based, drag-and-drop, visual task management tool.
Tasks in Trello are organized on a Kanban board. Each column on the board represents the task status. Statuses can be as simple as to do, in progress, and done. Or you can customize them to match your task workflow.
As your team works on a task, they move the task to the next status column.
With Trello, all kinds of information including notes, ideas, diagrams, etc. can be stored directly on the task. Plus, you can add a checklist directly to a task.
You can extend Trello's features using power-ups and integrations with other work management tools. In addition, Trello also comes with task automation to save you from spending time on mundane work.
Top features:
Simple, drag-and-drop Kanban board to manage tasks.
Attach files, labels, custom fields, and checklists to a task.
Enhance features using power-ups and integrations with other work management tools.
Automate mundane task workflows using simple if-then-else logic.
Organize task boards into workspaces.
Visualize tasks using the calendar, timeline, and map views.
Platforms:
Online and mobile apps
Pricing:
Forever free plan: for up to 10 task boards
Standard plan ($5/user/month): for teams to collaborate and manage work
Premium plan ($10/user/month): for teams that work on multiple projects
Enterprise plan ($17.50/user/month): for large teams that need more security and controlled access.
ProcessStreet helps you manage your team's workflows using checklists and procedures.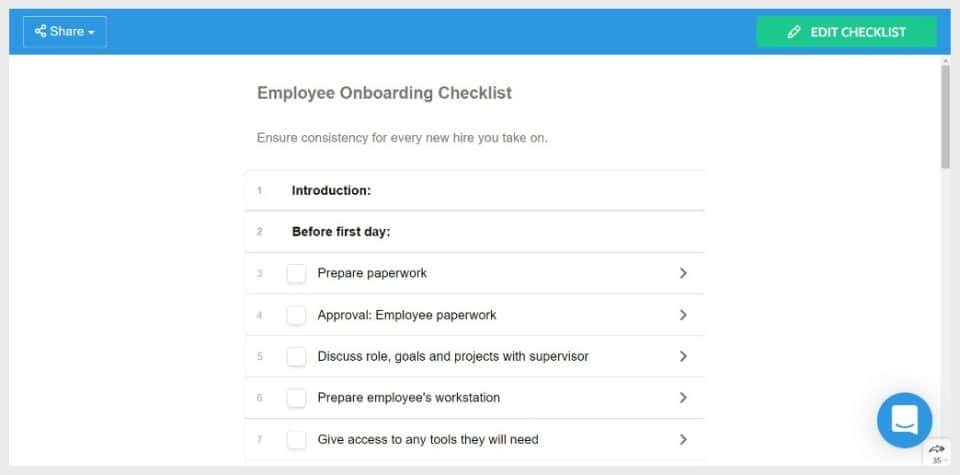 With ProcessStreet, first, you create a workflow, for example, an employee onboarding workflow. Each workflow includes a checklist that your team needs to complete.
Next, you run an instance of this workflow. For example, when a new employee joins your team, you'll run the employee onboarding workflow.
Finally, the new employee and other necessary team members collaborate and get this workflow done.
Once created, these workflows can be scheduled to repeat or run when needed.
You can also include an approval process within a workflow. ProcessStreet makes it easy to set up single-step, multi-step, or sequential approval processes.
Top features:
Document processes and create custom workflows.
Run a single instance of a workflow or schedule recurring workflows.
In-built single or multi-step approval process.
Conditional if/then logic to create dynamic workflows.
Use forms to collect structured data during the workflow process.
Activity feeds to keep track of who's doing what.
Platforms:
Online application
Pricing:
Forever free plan: Create and run 1 workflow at a time.
Pro plan ($25/user/month): Unlimited workflows, runs, approvals, reminders, dynamic due dates, and conditional logic.
Enterprise plan: Pro plan features plus single sign-on, API access, and automation.
Todoist is a simple to-do list tool to manage and organize your work and life.
With Todoist's quick-add feature you can quickly capture tasks for your to-do list. You can schedule one-time tasks or have them recur periodically. Plus, you can highlight your most important tasks by setting priority levels.
Organizing tasks is easy too. You can add tasks to sections. Plus, tasks can also have sub-tasks. Finally, you can tag your favorite sections and projects for easy access.
Top features:
Quickly capture tasks and sub-tasks.
Organize tasks by priority levels into sections and projects.
Schedule one-time or recurring reminders for tasks.
Visualize tasks as a Kanban board.
Use labels and filters to quickly find tasks.
Match your style and mood with 10+ color styles.
See activity history and visualize progress using charts.
Platforms:
Online and mobile apps.
Pricing:
Forever free: for up to 5 projects and 5 collaborators per project.
Pro plan ($4/user/month): for up to 300 projects and 25 collaborators per project + reminders and filters.
Business plan ($6/user/month): for up to 500 projects and 50 collaborators per project + reminders, filters, team inbox, and team billing.
Any.do is a to-do list app with a planner, calendar, and reminders.
To manage your tasks, Any.do comes with simple to-do items. You can organize these tasks into lists and categories. Also, you can prioritize them by how soon you want to get to them—today, tomorrow, or someday later. Finally, you can also add reminders.
Top features:
Capture and manage tasks with simple to-do lists.
Prioritize tasks by urgency.
Organize task lists into categories.
Collaborate on task lists with your team members.
Set one-time or recurring task reminders.
Daily planner to help you plan your tasks for the day.
Platforms:
Online, desktop, and mobile apps.
Pricing:
Forever free plan: for simple to-do lists.
Premium plan ($5.99/user/month): To-do lists, daily planner with recurring, location-based, and WhatsApp reminders.
TickTick is a multi-platform app that works as a task management tool.
With TickTick, you can add one-time or recurring tasks. Adding tasks is super easy using voice input. Also, you can forward emails to the app and convert each email into a task.
Tasks are organized into folders and lists. In addition, you can also tag tasks and assign them one of the four available priorities—high, medium, low, and no priority.
Top features:
Add tasks via voice notes, email, and even Siri.
Smart date parsing to convert natural language into due dates.
Create multiple reminders for critical tasks.
Add location-based reminders.
Organize tasks into folders or lists as well as tag them.
Visualize tasks on a calendar.
Platforms:
Online and mobile apps.
Pricing:
Forever free plan: for simple to-do checklist items
Premium plan ($27.99/user/month): to-do lists, full calendar functionality, subscription to third-party calendars, custom filters, see progress charts, and more.
Top free printable daily checklist templates
Sometimes a simple printed checklist is handy too.
There are hundreds of downloadable checklist templates available on the internet. These are available as PDF files which you can print and use according to your needs.
And if you're not happy with the available templates, it's fairly simple to create your template using Microsoft Word, Google Docs, and Excel.
Here are my top 3 free printable daily checklist templates.
Note: The non-editable version is available for free. You can print the free version and use it as a checklist. For an editable PDF each template costs around $2.
This simple checklist template allows you to organize your to-do items into 4 different sections.
You could organize them by categories such as home, office, school, etc. Or, you can organize them by urgency—today, tomorrow, later this week, and someday.
The printable PDF is available in various standard sizes including A4, A5, Letter, and Half-letter.
If you're looking for something minimal, you'll love this template.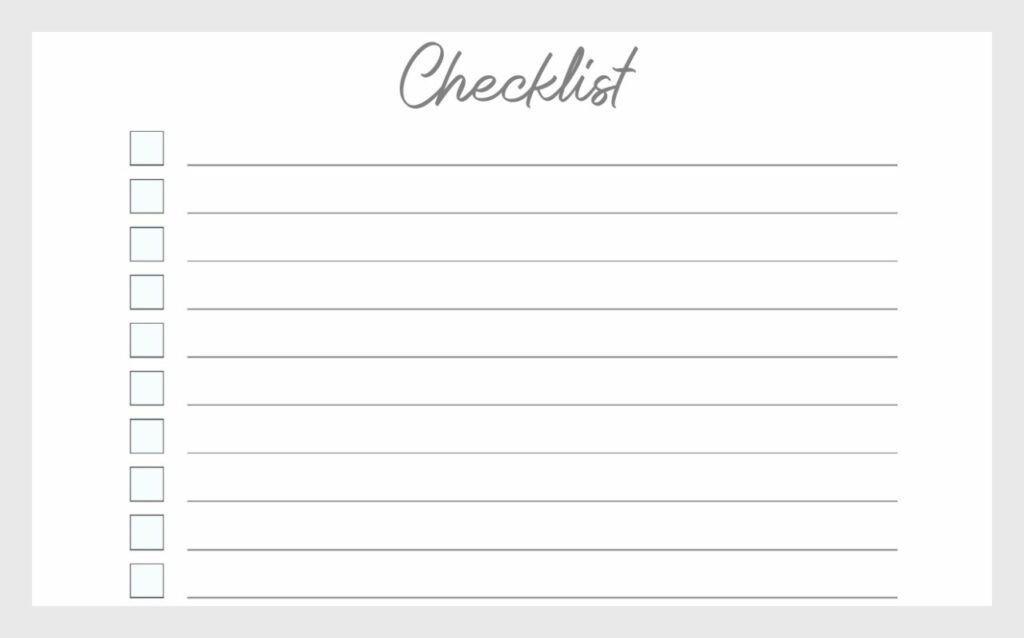 You can write to-do items or checklist items in a single column. Each item is a neat checkbox that you can happily tick away once you're done with your task.
The PDF template is printable and can be downloaded in standard paper sizes including A4, A5, Letter, and Half-letter.
Tracking task items for an entire week is a breeze with this printable to-do list template.
You can generate a to-do list for an entire week from the link above. In addition, you can add priority tasks to the top of the list as well as take notes.
Like the other two templates, this PDF is also printable on standard paper sizes.
How to choose the right daily checklist tool?
Choosing the right tool can be quite difficult. Let's look at some ways to make this decision easier.
Should you use checklist software or a template?
Templates are great for informal lists. They're simple, can be printed on standard paper, and used almost anywhere.
However, for work settings, a printable checklist template won't help. They're messy and aren't very collaboration friendly. You'd be better off using one of the above checklist software.
Finding the best daily checklist app
Ask yourself the following questions to determine the best app for your needs:
Does it meet your team's needs?
Do you and your team like the user experience?
Does it help your team become more productive and organized?
Can you integrate it with your existing work management tools?
Does it fit your budget?
The answers to the above questions are easily found. Most tools offer a free plan or at least a free trial. Try these tools with your team before picking the one that you like.