A product roadmap helps organize and communicate a product's vision to all stakeholders. In this article, you'll learn how to build a product roadmap from scratch.
Plus you'll also learn about:
What is a product roadmap & why is it important
The types of product roadmaps
The 4 steps for making a product roadmap
Product roadmap examples
Best practices for creating a product roadmap
Product roadmap templates
And, Web-based product roadmap tools
Let's start:
What is a Product Roadmap?
A product roadmap is a visual tool to ideate, plan, and communicate the evolution of a product over time.
Product roadmaps are high-level documents. Typically, product owners prepare roadmaps.
In product management, a product roadmap sits high, in the product strategy phase. Thus, a roadmap often includes high-level timeframes instead of exact dates.
Also, product roadmaps are evolving documents. And, they are not bug-reports, product ideas, and feature requests.
A product roadmap's goal is to communicate product initiatives and strategies to both stakeholders and product teams.
Why do you need a product roadmap?
For a business, a product roadmap outlines a product's growth path towards meeting business objectives. On the other hand, a product roadmap serves as a guide to plan and execute initiatives for the development team.
Further, a product roadmap brings clarity by:
Communicating product initiatives and build consensus
Prioritizing product initiatives and tasks
Managing business resources across these initiatives
Creating transparency and accountability
Tracking product progress towards meeting business objectives
Types of product roadmaps
Based on the audience, there are two types of product roadmaps — goal-based and feature-based. Both roadmaps contain the same product initiatives. However, they differ in detail and the level of granularity.
Goal-based roadmaps: The primary audience for goal-based roadmaps are business owners and external stakeholders. Therefore, the objectives or goals behind the initiatives are documented too.
Feature-based roadmaps: Internal teams and developers are the audiences of feature-based roadmaps. Thus, these roadmaps focus on product versions and features that'll go with each version.
Also, product roadmaps can be categorized based on the visual tool used. This can be boards or Gantt timelines.
In addition, roadmaps can be classified as Waterfall or Agile product roadmaps based on the product development methodology.
Finally, businesses that have several products also create a product portfolio roadmap. A portfolio roadmap helps businesses organize product initiatives for overall business goals.
How to Build a Product Roadmap?
The process of creating a product roadmap is called road mapping.
It starts with understanding the business objectives and ends with a featured-based, granular product roadmap for the team. Here are the steps:
Step #1. Align business vision & objectives
First, talk to internal and external stakeholders of a product. These include:
Customers
Business owners
Sales teams
Customer support teams
In addition, you may also want to look at the market and the competition.
Next, using these inputs, create consensus for the product's vision among all stakeholders.
Finally, identify measurable goals or objectives that will drive the product towards the vision.
For example, a startup may decide on the following business objectives to improve its revenues:
Improve customer retention
Improve customer lifetime value
Get more referral customers
Step #2. Create a high-level, external roadmap
At this step, product owners and managers identify initiatives that can help fulfill the business objectives.
Next, a cross-functional team of developers, decision-makers, and customers ideate, estimate, and prioritize product initiatives. The impact on business goals and the availability of resources decides the priority of initiatives.
Finally, the initiatives are added to a board or a timeline.
External stakeholders would prefer a high-level roadmap, typically created using visual idea boards. A high-level roadmap is mapped on a tentative timeline, instead of specific dates.
To illustrate, here's how a goal-based product roadmap looks like: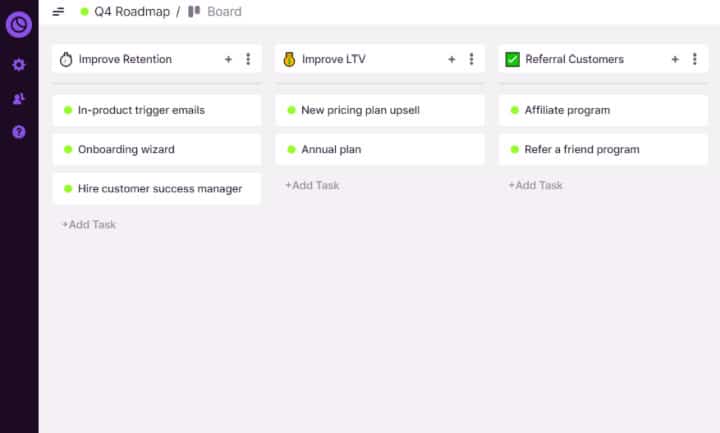 On the other hand, here's how a feature-based product roadmap looks like: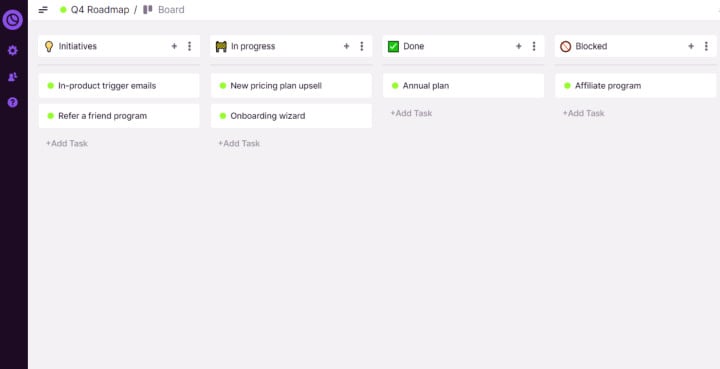 Step #3. Create a granular, internal roadmap
Internal team members will need a more granular overview of the roadmap compared to external stakeholders. They will need details about when specific features will be shipped as well as important milestones along the way.
A Gantt chart based timeline is perfect for this.
Gantt charts are horizontal bar charts. A Gantt timeline displays the product initiatives on the Y-axis and the dates on the X-axis. Each bar on the chart represents an initiative. The bar spans the chart horizontally from the start date to the end date.
Here's how the Gantt timeline roadmap looks like: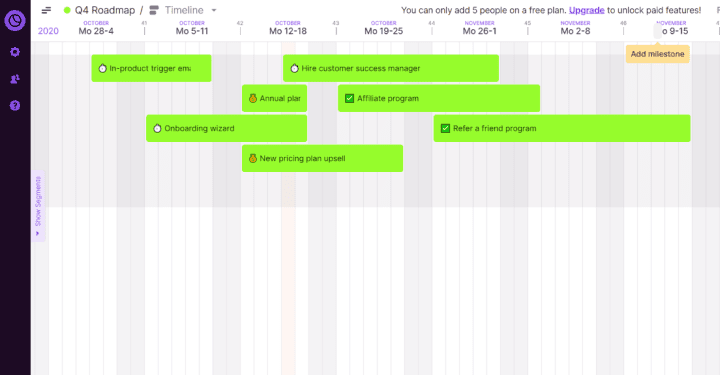 Step #4. Develop, deliver, review and repeat
The Gantt timeline roadmap is further expanded into a detailed project plan with tasks and milestones.
Next, team members follow this project plan to develop and deliver the initiatives.
Finally, the delivered initiatives are measured against the business objectives and the product roadmap building process starts again with new objectives and initiatives.
Product Roadmap Examples
Here are some examples to help you understand how product roadmaps look like in the real world.
Buffer
Buffer is a social media publishing tool.
They publicly share their product initiatives with customers. Customers vote on features. Top-voted features go into development. Each initiative goes through the following steps:
Exploring
In Progress
Done
And, Leave it for now
Here's how Buffer's product roadmap looks like: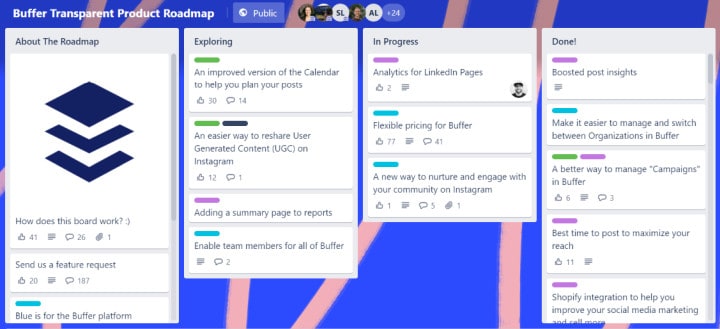 Trello
Trello is a Kanban-based task management tool.
Unlike Buffer, Trello does not seek feedback from users. However, it publishes quarterly feature updates.
Here's what Trello's roadmap looks like: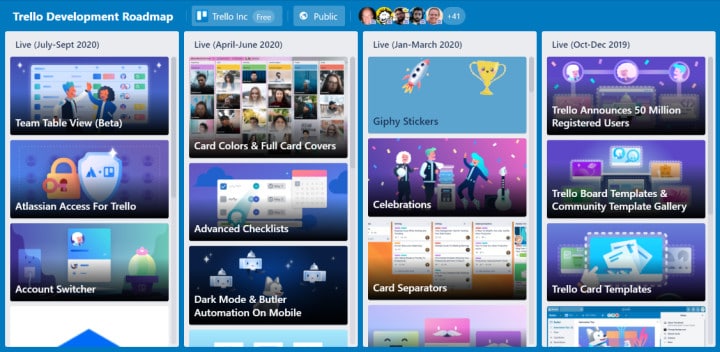 Frase
Frase is a new content research tool.
They wanted to build trust and show long-term commitment towards customers and partners. That's why they made their roadmap public.
Frase's roadmap workflow is similar to Buffer. However, their product initiatives have a slightly different workflow. Plus, they also include Known Product Bugs in their public roadmap.
Here's what Frase's roadmap looks like: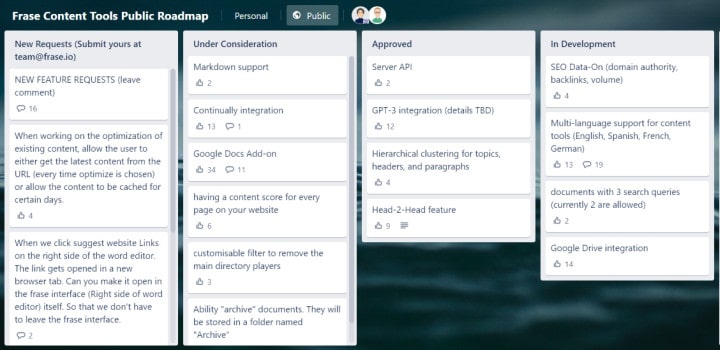 Product Roadmap Best Practices
Ultimately, a product roadmap serves as a growth map for your product and thus your business. Plus, it also serves as a communication tool for stakeholders.
With these in mind, here are some best practices to follow when creating a product roadmap.
Use visual tools
A product roadmap communicates a product's vision, objectives, and initiatives to business executives, customers, and the team.
That's why it must be easily understood.
While documents and spreadsheets are widely used for documents, a product roadmap needs visual tools to get the point across. That's why it's best to use visual tools like boards and Gantt timelines.
Scroll down further to look at web-based tools you can use to build visual product roadmaps.
Create a custom roadmap version for each audience
We've already seen how to create a board or a timeline-based roadmap depending on whether your audience is internal or external.
In addition, you may need more customized versions of the roadmap.
For instance, you may need to create a roadmap for your marketing and sales teams. This version of your roadmap will be somewhere in between the granular, product team roadmap, and the high-level stakeholder roadmap.
Share the roadmap with all stakeholders
Your roadmap organizes and communicates critical information about your product.
For business executives, it shows how the product aligns with business goals. And, for your team, it provides a way forward.
But it's more powerful when you share it with your customers.
Public roadmaps transparently communicate what customers can expect from a product
It provides an opportunity to engage with customers
Asking for customer feedback shows customers that you value their input
And, it demonstrates your commitment to continuously improve a product
Product Roadmap Templates
So far, you've seen: what is a product roadmap, its types, and how to create one. Next, we'll look at some templates and tools you can use to create a product roadmap easily.
Traditionally, product managers made roadmaps using Spreadsheet and Presentation software.
However, creating a roadmap in office software is time-consuming and feels like a chore. Second, documents are not easy to work collaboratively with other stakeholders. And third, keeping the constantly evolving roadmap updated is a big task.
Still, you'll find a lot of Office templates for creating both board and timeline-based product roadmaps online. Here are some of the best ones:
If you need something even more simple, check out our articles about how to create Gantt timelines using Excel and Google Sheets.
Web-based Product Roadmap Tools
Compared to templates, web-based product roadmap tools offer greater flexibility. They are easy to edit and update as priorities change. Plus, most online tools make it easy to work collaboratively on roadmaps with other stakeholders.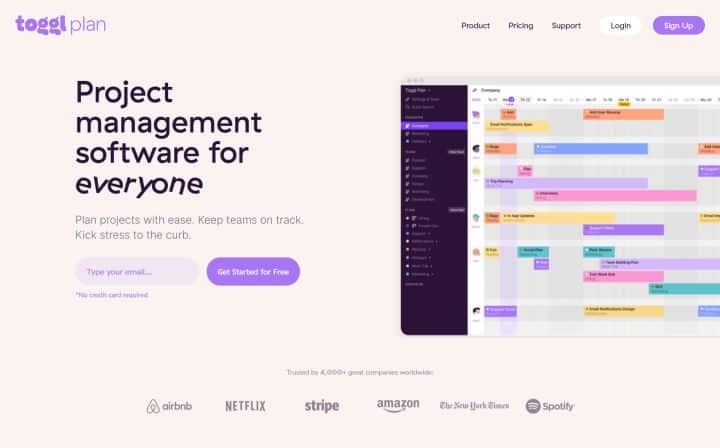 Toggl Plan is a beautifully simple project management tool. It comes with both board and timeline views to create product roadmaps easily. Further, you can expand a roadmap into a detailed project plan, track task progress, and manage your team's workload.
Its drag and drop, customizable, boards and timelines make it a breeze to create new roadmaps or update existing ones. Plus, you can share a read-only view of the roadmap publicly with your customers.
You can create unlimited roadmaps and plans with the free plan. Paid plans start at $9 per user, per month.
Trello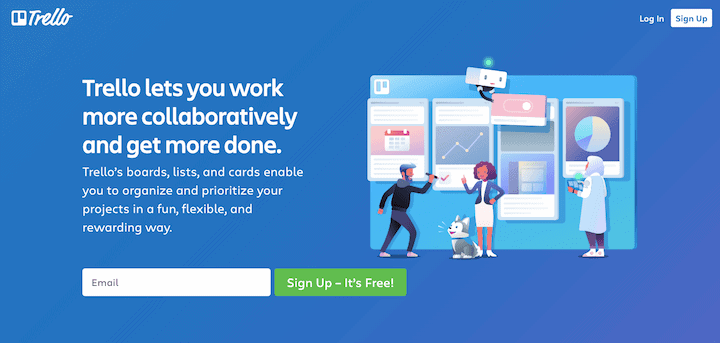 Trello is a popular task management tool.
Its board-based interface makes it easy to create high-level roadmaps. However, it doesn't come with a timeline. Which makes it less useful for internal roadmap planning.
Trello comes with a free plan that limits you to 10 private boards. Paid plans start at $12.49 per user, per month.
Craft.io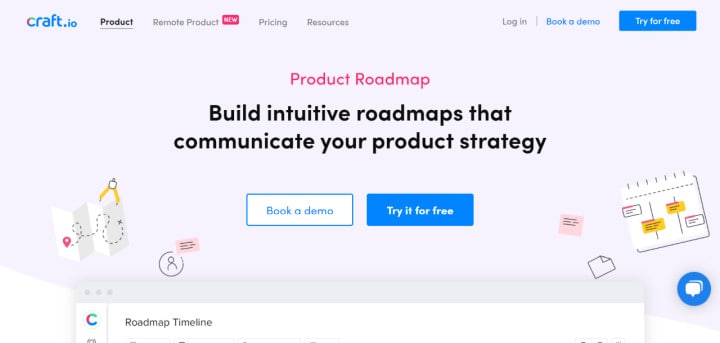 Craft.io is a specialized road-mapping tool. It comes with a customizable timeline feature and offers much of the same features as Toggl Plan.
It doesn't have a free plan. However, all paid plans come with a 14-day trial period. Paid plans start at $49 per user, per month.
ProductPlan
ProductPlan offers many of the same features as Toggl Plan and Craft.io. It comes with a drag and drop and customizable timeline which you can use to create a roadmap. In addition, it also offers a portfolio roadmap view. The portfolio roadmap view is useful for businesses with multiple products.
Like Craft.io, it has a 14-day free trial. But, no free plan. Paid plans start at $49 per user, per month.
FAQs About Building Product Roadmaps
How do you create a product roadmap in Agile?
The steps to creating an Agile product roadmap are very similar to the steps outlined above. Plus, the goal-based roadmap is common to both Agile and Waterfall methodologies.
However, there's a slight difference in how feature-based roadmaps are created in Agile.
In Agile, the product life cycle is divided into fixed duration iterations. Product initiatives are picked for an iteration and delivered by the team. Each iteration focuses on delivering initiatives that have the largest impact on business objectives.
Unlike Waterfall, this creates a flexible process that can be driven by business and customer input.
What inputs should you use to build your roadmap?
As discussed earlier, a product roadmap requires alignment between all stakeholders about the product's vision and goals. Stakeholders can be internal or external.
In addition, the following inputs are needed:
Customer feedback
Inputs from the sales team
Support requests
Competitor analysis
Market insights
All of these together help identify the product initiatives. And these initiatives, when delivered, validate and fulfill the vision and goals.
Who is responsible for a product roadmap?
The product roadmap is a high-level document that maps a product's growth path. Thus the owner should be someone who can bridge the gap between business and delivery. It follows that the product owner is the best person to own the product.
In single product businesses, the business owner doubles up as the product owner as well.
How do you communicate a product roadmap?
In the best practices section, we've already discussed why the product roadmap should be shared with all the stakeholders.
Internally the product owner is responsible for communicating the roadmap to the business owners. In addition, product managers and other team members should always have access to the roadmap.
Externally, high-level roadmaps are made publicly available to customers. As a result, businesses get better customer engagement and feedback.
What does a product roadmap look like?
A product roadmap communicates the why and what behind product initiatives.
For business stakeholders, this is a high-level, goal-based product roadmap. On the other hand for product teams, a roadmap is often granular and feature-based.
Visual boards and timelines are simple tools you can use to visualize a product roadmap.
Here's the example public roadmap from Buffer we discussed above: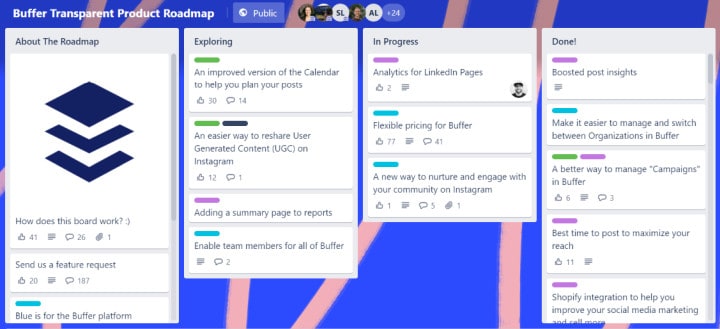 Build a Product Roadmap Collaboratively
In this article, we've looked at what is a product roadmap and its types. Further, we looked at how to build internal and external product roadmaps in 4 steps, i.e.:
Align product vision and objectives
Identify product initiatives to create a high-level roadmap
Create a granular, Gantt timeline roadmap
Deliver the initiatives and repeat
In addition, we looked at templates and tools that you can use to create a roadmap.
While templates are great to start with, they are not flexible. Also, they are hard to keep updated collaboratively.
Instead, you can use a free tool like Toggl Plan to create unlimited product roadmaps.
Get started with Toggl Plan for free

Jitesh is an SEO and content specialist. He manages content projects at Toggl and loves sharing actionable tips to deliver projects profitably.