Are you a project manager looking for a project budget template? You're in the right place!
Creating a project budget is relatively straightforward. But not all project managers can successfully manage and track a project's budget.
Use this free project budget spreadsheet to track the financial details of your next client project.
Free project budget templates
This free project budgeting template focuses on tracking hours for specific tasks within a project.
Download your Google Sheets template or Excel template.

Project budget template elements
Let's look at the different elements of this simple project budget template.
Hourly rate
Pretty self-explanatory. Enter your hourly rate. This will calculate the project costs and show you how profitable the project was once you've delivered the project.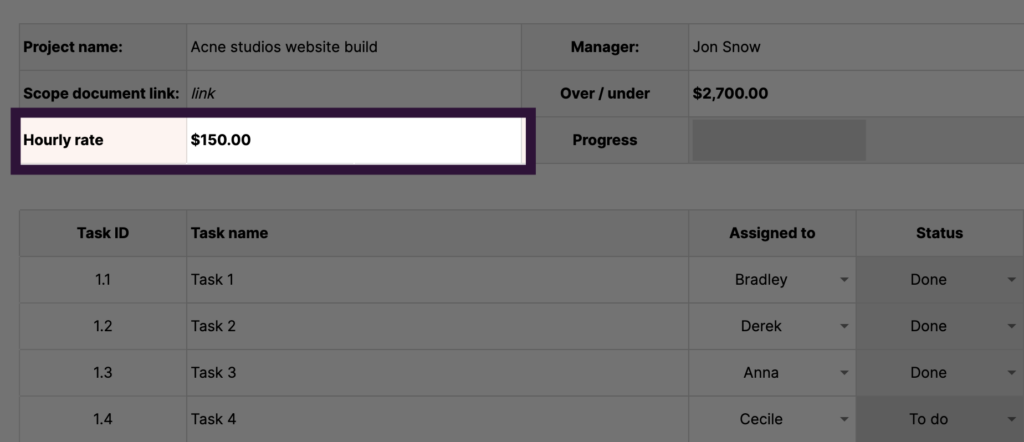 Task ID and name
Task IDs and names are based on using our Work Breakdown Structure template as part of a project cost estimation process.
If you don't use the WBS template, enter the names of each task you need to complete to deliver the project.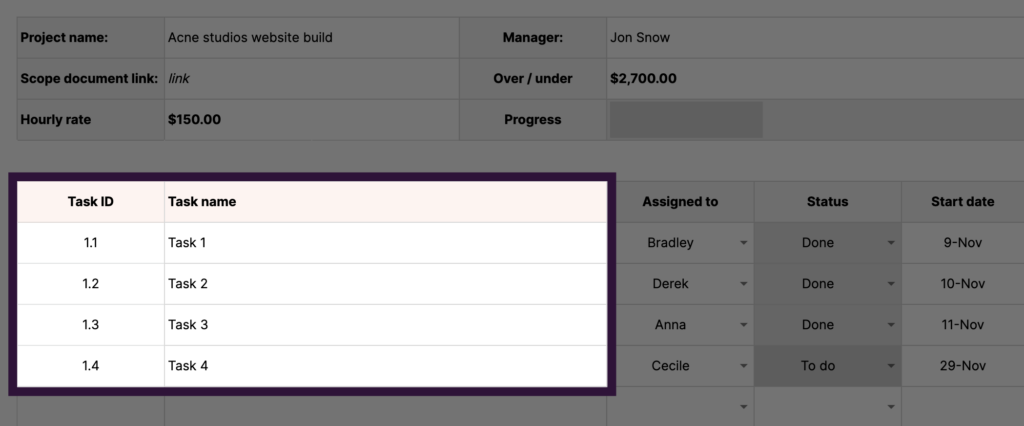 Assigned to and status
Assign each task an owner if need be. This will help to know who is accountable for each task.
The status of each task can be updated as the project progresses. This will then update the progress bar in green above.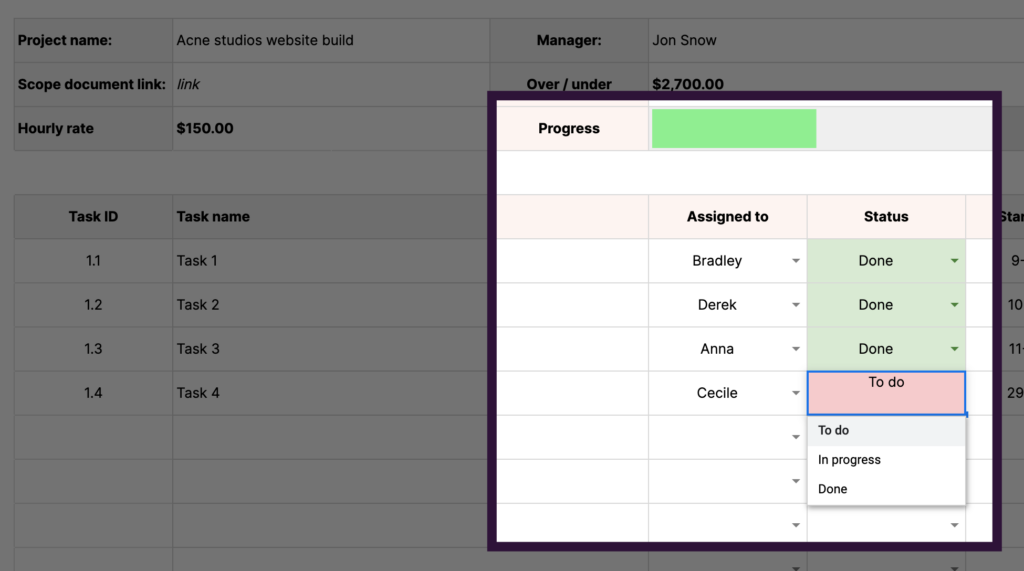 Estimates and actuals
Estimated hours are based on the hours you and your team estimated for each task when you scoped the project out.
The estimated cost will be automatically calculated based on the hourly rate you enter.
Actual hours and costs are automatically generated once you start tracking time on the project.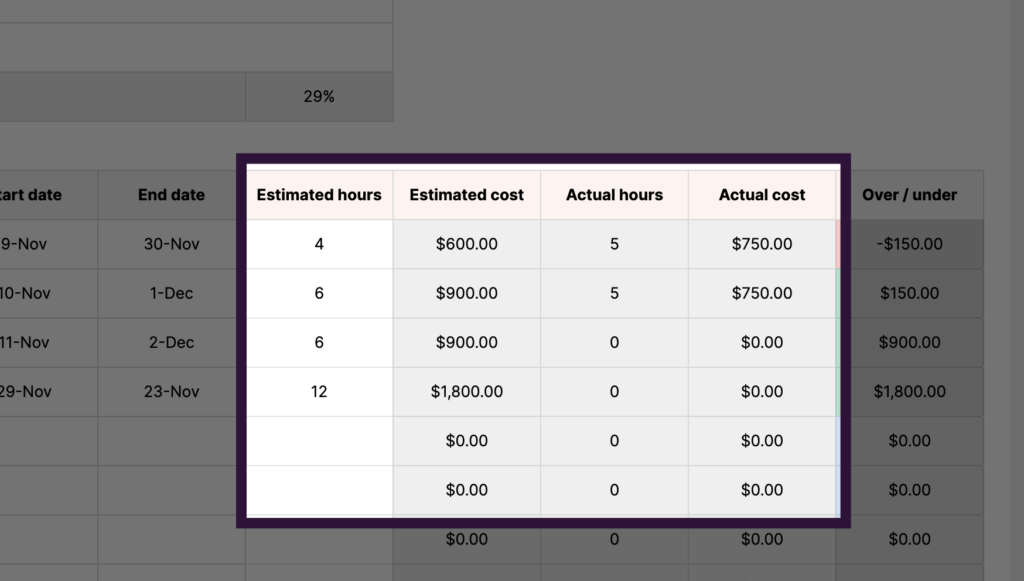 Profit
The profitability for each task will be automatically calculated based on actual hours minus estimated hours.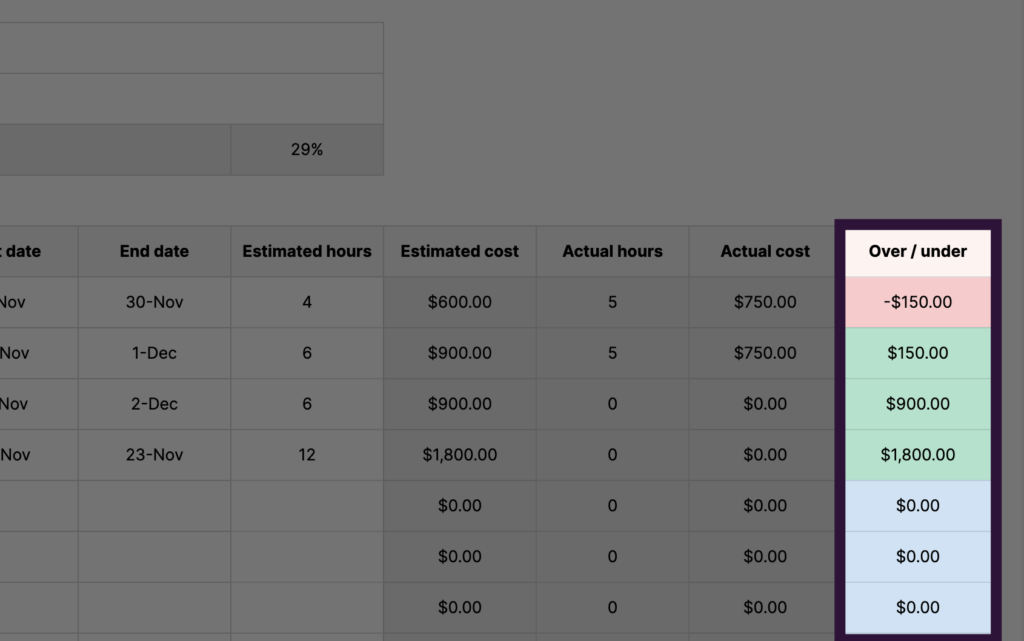 Totals
The total for all columns will be displayed at the bottom of the spreadsheet. The cell on the right-hand side will show you how the project is making or costing you as you track hours against each task.

How to track a project budget with this template
The first step is to enter the project tasks and their estimates inside the 'Budget' tab.
Note: this template works best if you follow the project estimation process in our project cost estimating post.

This will then calculate their estimated cost based on the hourly rate you enter.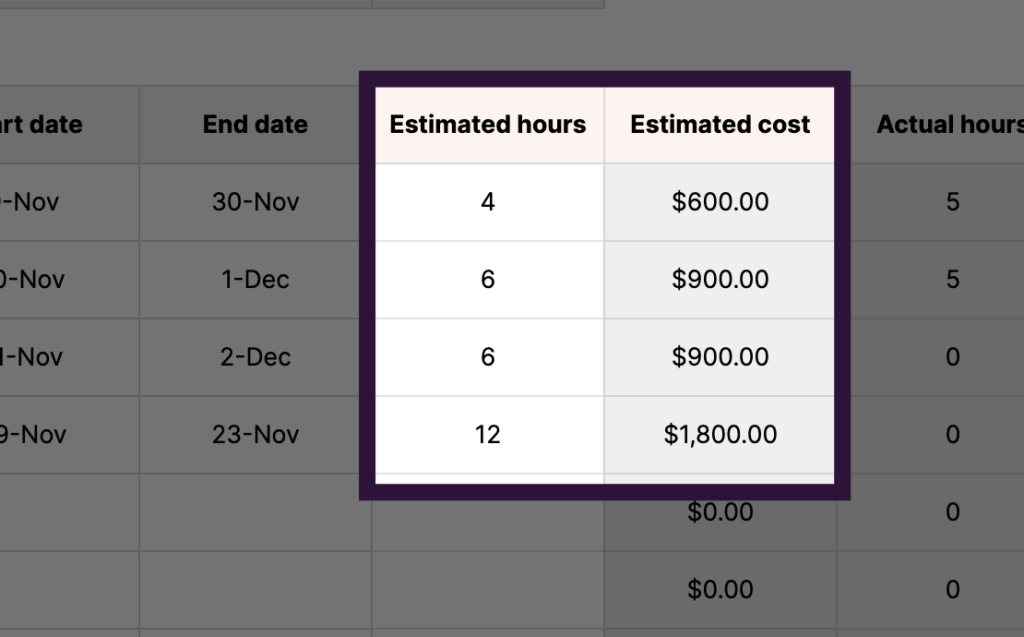 Once you've done this, you can start tracking time for each project task via the 'Tracker' tab inside the project budget template.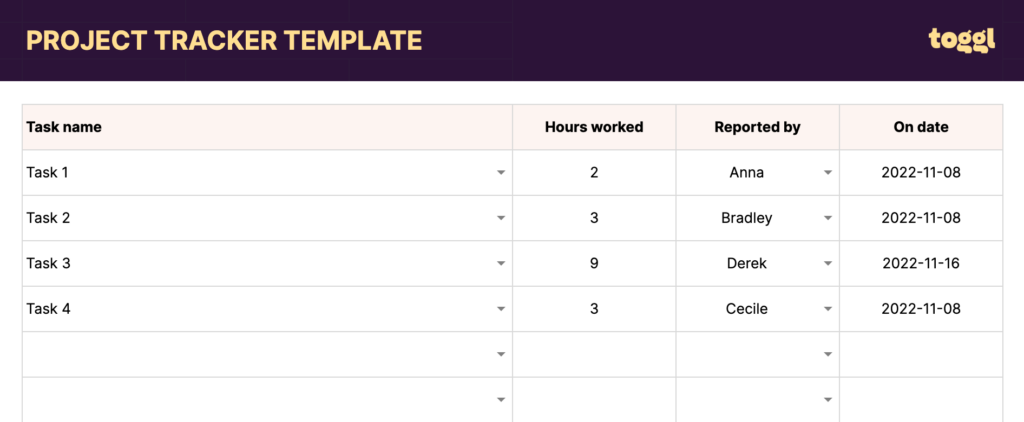 Enter it here whenever you or your team spend time on a specific project task.
This will automatically update the 'Actual hours' and 'Actual cost' columns in the 'Budget' tab within the template.
Note: The task dropdown inside the 'Tracker' tab automatically pulls in the tasks you entered in the 'Budget' tab.

Once you've completed the project and tracked time against all tasks, the total project cost and profit will be displayed at the template's bottom (and top).

When to use this project budget template
Here are a few scenarios in which you can put this template to good use.
Work Breakdown Structure – Use a WBS to establish what tasks (and how long they will take) for each client project. Transfer the tasks over once done to set your baseline project budget.
Projecting cost estimation – Use the template as part of your cost estimation process to create a baseline budget for your clients.
Project budget tracking – The obvious one! Use this budget spreadsheet template to track actual vs. estimated costs as part of your general project management process.
Project budgeting software — the better alternative
Are spreadsheets your best option for tracking the budget of a project?
Probably not.
Don't get me wrong — our project budget template is solid.
But I've chatted with a few agencies and freelancers that use spreadsheets to track their time – and they always say how chaotic they are.
Files get copied.
Some go "missing."
Formulas are unintentionally edited.
People don't tend to fill them in all that much.
You're unable to quickly get insights you can leverage (more on this later).
Thanks to time tracking software, tracking project budgets have never been more manageable.
Project time tracking software is the best for keeping track of hours worked — especially for teams that work on client projects and tasks all day.
Unlike spreadsheets, many of the best time tracking apps come with features that help to automate and streamline the entire project budget-tracking process.
Using Toggl Track, you can track project performance and assess project profitability in real-time.
How to track your project budget in Toggl Track
It's time to ditch the budget tracking spreadsheet. Follow this simple process to track your project budget with Toggl Track today.
1. Add your project details
Head to the Project tab and click '+ New project' in the top right-hand corner and:
Enter the project name
Select the client (or add a new one)
Select time estimate
Select task-based estimate (click 'Estimates and billing options)
Click 'Billable'
Enter the fixed fee (your total estimated cost)
Hit enter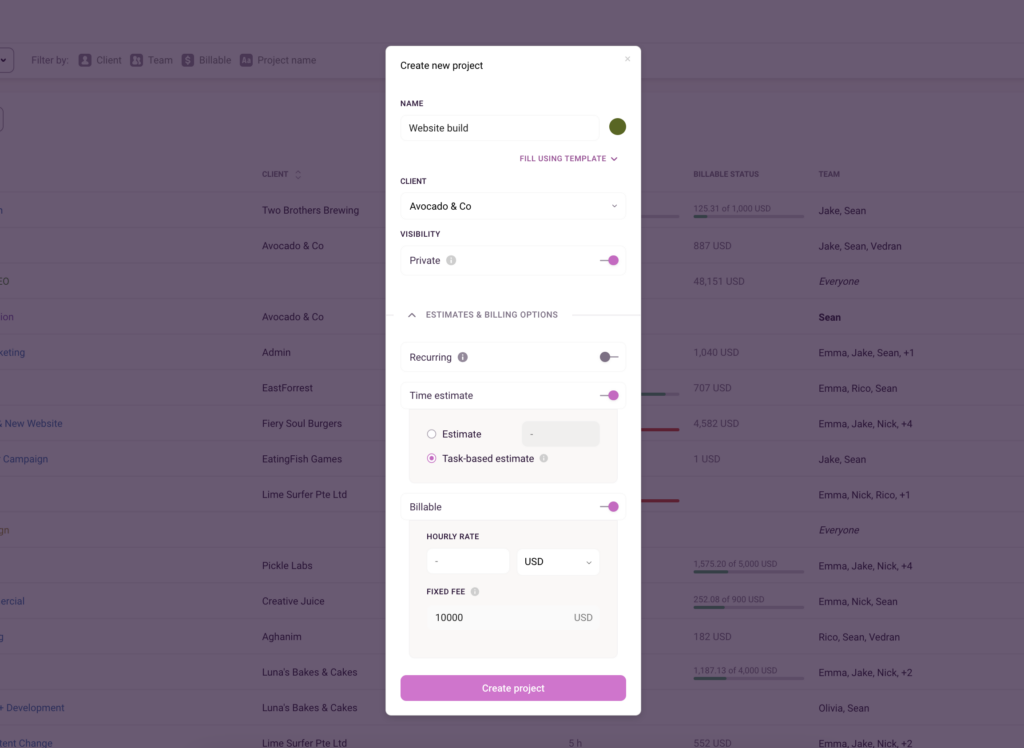 2. Add your project tasks
Click on the project you've just created and head to the 'Tasks' dashboard.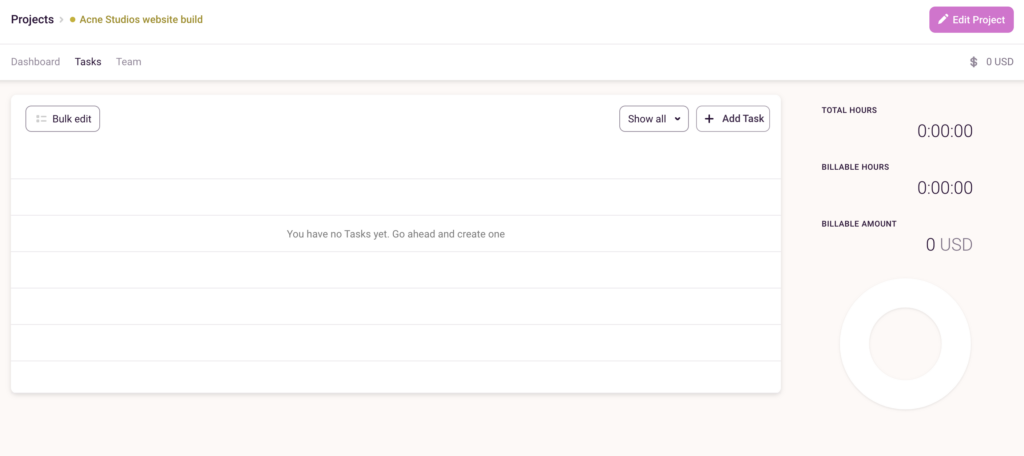 Add each project task and hit enter. Once you've added all tasks, you can add time estimates for each.

Adding estimates for each task will automatically calculate your total project time estimate (remaining hours).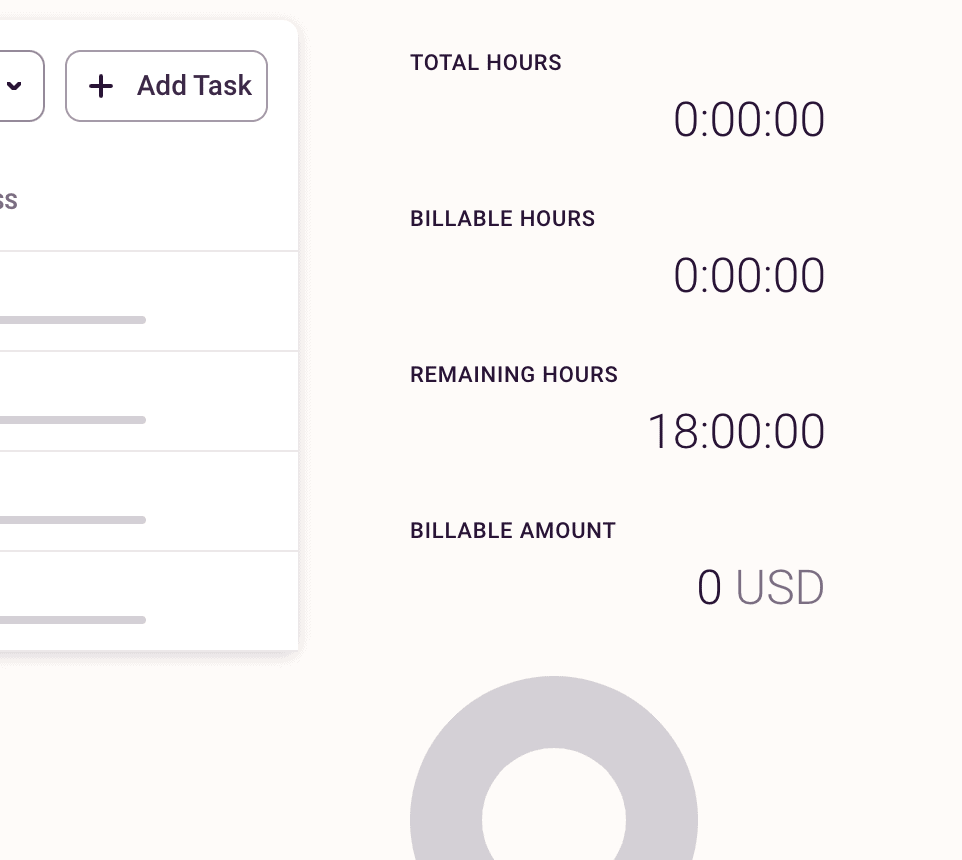 3. Track time spent on your project
You and your team can quickly start tracking your time against the project by entering a time entry description and hitting the timer button.
It takes a few seconds to switch the timer to a different task (especially if projects and tasks are already set up).
Type in your "time entry description"
Find your client
Select what "project" you're working on
Start the timer
4. View project performance in real-time
Once you or your team accurately tracks time against the project, you can use the Project Dashboard to view your progress status. Project Time Estimates lets you view whether you're over on hours or on target based on the estimate you set. If you've exceeded the time estimate, the time tracked will turn red.

You can access several charts by clicking on individual projects within the Project Dashboard.
The Billing Amounts chart shows the progress against the fixed fee amount set for the project.


The Time Tracking Chart will show a forecast for project completion based on the project estimate and the hours clocked for that project so far.

Below these forecasting charts, you will also see a bar and pie chart representing current data containing total clocked hours, billable hours, and remaining hours (based on the project estimate).