Project budget management is the process of planning, allocating, tracking, and controlling project resources throughout a project's lifecycle.
But creating a project budget that works for you and your client is an art form. It's the profitability of each project that will decide if your business sinks or swims. 💰
So in this post, you'll learn how to create and manage a winning project budget like a pro.
What is a project budget?
A project budget is the total cost of all the tasks, activities, and materials associated with a client project.
A well-defined project budget helps you track the estimated costs versus the actual cost. And you can use it to track project expenses and reduce the likelihood of running out of resources or going over budget.


Top tip:
Project budget vs. estimate—what's the difference?
A cost estimate approximates what the project (or piece of it) will cost. The budget is the final cost that's allocated to the project.
The estimate is more of a ballpark figure, and the budget provides hard edges. You can't go over-estimate, but you can go over budget.
Typical project costs
Project costs will vary from business to business, so we'll stick with the most common ones:
| Item | Description |
| --- | --- |
| Labor | This includes salaries or hourly rates for team members working on the project. |
| Subcontractors and freelancers | If the project requires additional expertise or resources, you may need to budget for subcontractors or freelancers. |
| Software and tools | Consider the costs of any specialized software or tools required for the project, such as design tools, project management software, or analytics platforms. |
| Travel and meetings | If the project requires on-site visits, client meetings, or other trips, include the costs for transportation, lodging, and meals. |
| Production expenses and materials | This may include costs for printing, photography, video production, or other materials needed to create deliverables for the client. |
| Contingency budget | Set aside a contingency reserve to cover unexpected expenses, risks, or changes in scope that may arise during the project. |

Top tip:
You may also want to consider adding a percentage to the final project budget to cover indirect costs—such as your business's overhead expenses (rent, utilities, employee training, etc.) 
Generally, you can use a percentage range between 10% to 30% of the total direct costs to cover indirect costs—but this will vary from business to business.
Techniques for estimating a project budget
Before you go ahead and rush into creating a project budget, it's wise to get familiar with the different budget estimation techniques.
There are a wealth of proven project estimation techniques, but here are the ones we think will be most helpful to you:
Expert judgment
Analogous estimation
Top-down estimation
Bottom-up estimation
Expert judgment
This one is pretty self-explanatory.
Start with your team and add use SMEs if you have knowledge gaps. Expert judgment is helpful when you don't have historical data, or the project is simple enough.
But the biggest downside to this approach is the subjectivity—one person's estimate could be wildly different from yours, for example.
This is where historical data can be useful…
Analogous estimation
Analogous estimating is a pretty easy way to determine how much something might cost.
You look at similar projects you've done and use them to create a ballpark estimate for the project.
But be careful; this is only a reliable method for estimating a project budget if you can access past project data and the project isn't overly complicated.
Using Toggl Track, you can view past project data using the Report Dashboard.
You can access data at project and task-level such as:
Total tracked hours
Total billable hours
Total cost in labor
You can use this to put together quick estimates of costs and time.

Top-down estimating
Top-down estimating looks at the high-level project scope and budget, avoiding digging into the nitty-gritty of the work to create a ballpark estimate.
It is a form of analogous estimating, where existing knowledge of similar projects is used in the estimation process to produce a ballpark figure for the total cost.

Top tip:
Top-down estimating can also involve the client setting the budget—this means it's up to you to allocate funds to different tasks, phases, or deliverables.
Top-down estimating can be super efficient and straightforward but often needs more detail and nuance. Plus, if the client has a tight budget, it can be challenging to fulfill the goals and objectives of the project.
Bottom-up estimating
Bottom-up estimating considers the time, cost, and effort for each task within the project. It then adds it up to create an estimation for the entire project.
It's best to use a combination of a Work Breakdown Structure (WBS) and historical project data when using this technique.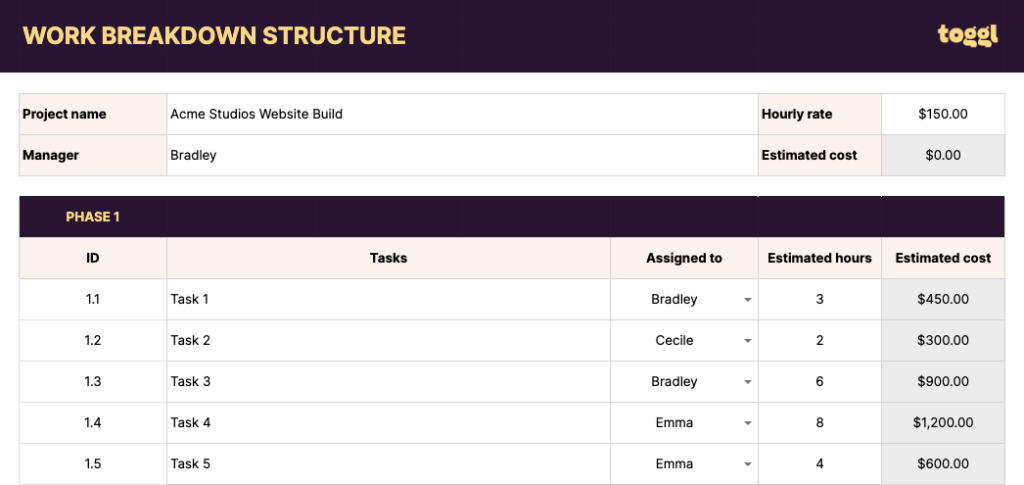 This approach is much more detailed and accurate but can be incredibly time-consuming as it requires more input from your team.
Project budgeting tools
Here's a list of tools you may find helpful when creating and managing your next project budget.
Work Breakdown Structure (WBS)
A Work Breakdown Structure (WBS) is a way to break down a project into smaller, manageable tasks. That way, you can estimate the cost of individual tasks or phases to create a far more accurate budget for your client and statement of work.
You can use our free WBS template for this.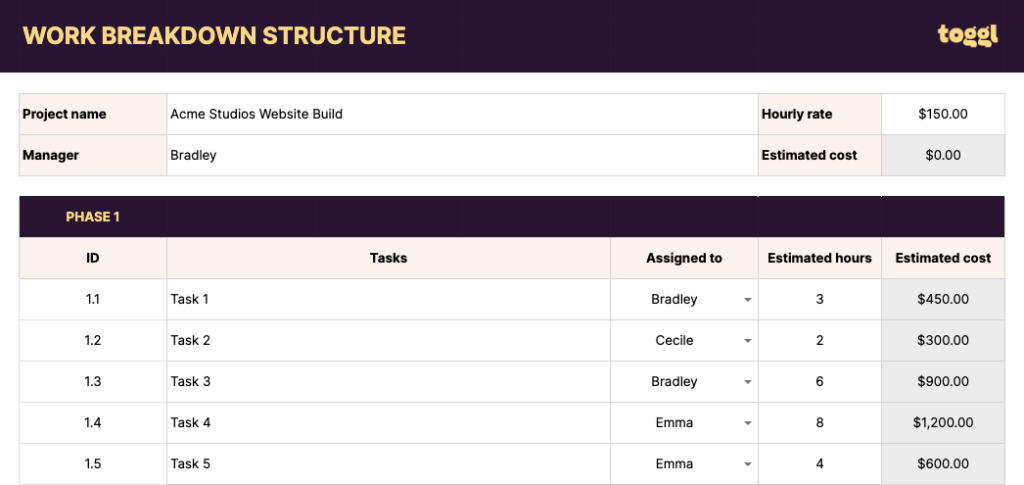 But creating a detailed WBS can take time—so it's best to create one for projects when:
You fully understand the project requirements.
The client is committed to working with you and signing an SOW.
Learn more about the different types of project budget estimates in the 'When to create a project budget' section.
Spreadsheets
Using a spreadsheet to create a project budget is a practical way to organize and track your project's expenses.
Spreadsheets are great for creating and managing project budgets as they are versatile, efficient, and user-friendly.
Our WBS template incorporates project costs, so feel free to use that as your template.
Once the project has started, you can use our free project budget template to track expenses. The template focuses on tracking hours for specific tasks within a project and includes columns such as:
Estimates hours
Estimates cost
Actual hours
Actual cost
Over / under (budget)
I'd recommend you check out the 'Free Project Budget Template' guide to learn how it works best.

Project budgeting tools
You can also incorporate a project time tracking tool into your project budget management process.
You can use Toggl Track's Project Dashboard for your cost estimation process. You'll get access to historical project data you can use to create quick estimates.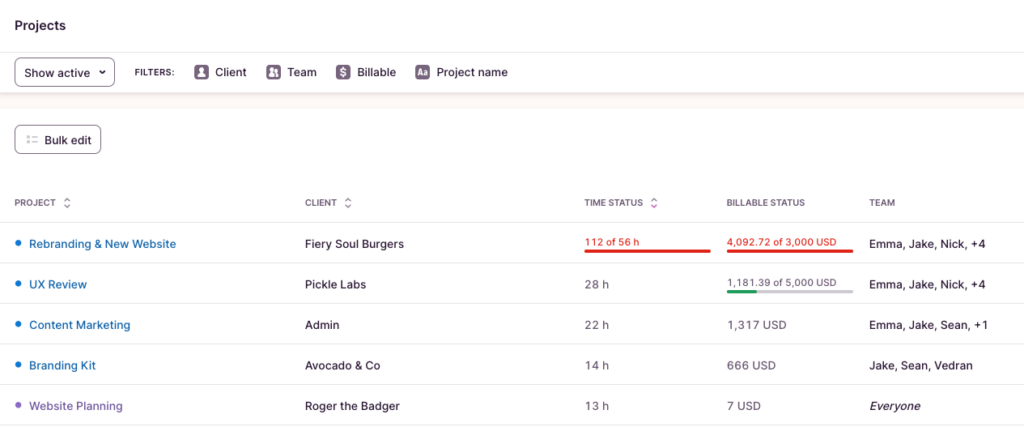 The Project Dashboard will let you dig into data such as:
Total time tracked
Total billable amount tracked
Task level time and costs tracked
Once the project is up and running, you can easily track expenses and assess profitability in real-time.
You can use the Project Dashboard to track the project's expenses (labor and contractor costs) against the fixed fee you set.

How to create a project budget in 7 Steps
A typical project budgeting process may look like this:
Define the project scope and client requirements
Break down the project into tasks
Create a cost estimate for each task
Build your project budget estimate
Add a project buffer and contingency fund
Get approval from the client
Track and monitor the project budget
Note: for a more thorough step-by-step guide on cost estimates, please head over to our project cost and time estimate guide.
1. Define the project scope and client requirements
The first step in managing a project budget is knowing what must be done to deliver the project successfully.
This should be done during the project's discovery phase, and you will best be able to define the project scope once you've gathered all project requirements.
Defining the project scope will give you a lot of necessary info like:
What's going into a project (resources)
What's coming out of it (deliverables)
What needs doing (tasks)
How long will it take (timeline)
Everything the client is requesting
2. Break down the project into phases and tasks
The key to protecting any project budget is knowing the exact tasks you need to complete to deliver the project.
Once you've collected all project requirements and defined the project scope, you can break the project down into manageable phases and tasks.
The best way to do this is to use a Work Breakdown Structure (WBS). This will help you uncover everything you need to know to get the project over the line and protect the budget.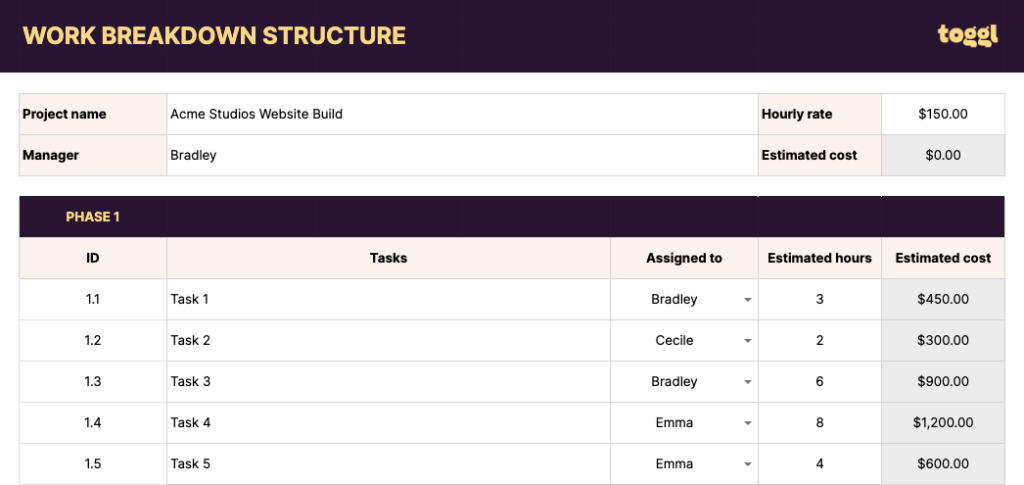 But what to list? What about the little tasks? How deep to go? Check out our guide 'Work Breakdown Structure: A Guide For Agencies' to learn more.
3. Create a cost estimate for each task
Now that you know what tasks are involved, you can start understanding the time and costs associated.
Here's an overview of different project estimation techniques for this step.
| | |
| --- | --- |
| Analogous estimation | You look at similar projects you've done and use them to create a ballpark estimate for the project. |
| Top-down estimating | Looks at the overall scope and timeframe to create a high-level estimate. |
| Bottom-up estimating | Breaks down the project into smaller tasks to create a more accurate estimate. |
| Expert judgment estimating | Creates estimates based on your knowledge, a team member, or an outside consultant or subject matter expert. |
Say you're using the bottom-up estimation technique. You can use the WBS template to build cost and time estimates for each task.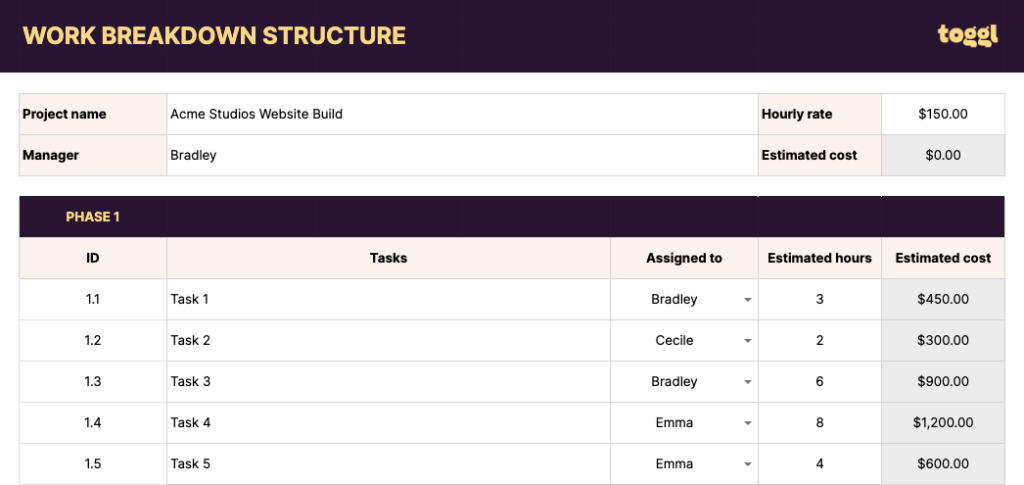 Alternatively, using Toggl Track, you can use historical project data to help speed up this process. You can use the Reports Dashboard to analyze what went into them, including resources, time, and cost.

This is especially great for any project work consistent in scope, hours, and effort required.
4. Build your project budget estimate
With your list of potential project costs in hand, it's time to start estimating the cost of your entire project.
You can approach a budget estimate in three ways:
Using the WBS template provided
Use past historical data to create a quick estimate
But say you used the WBS template from above. You may have something that looks like the image below.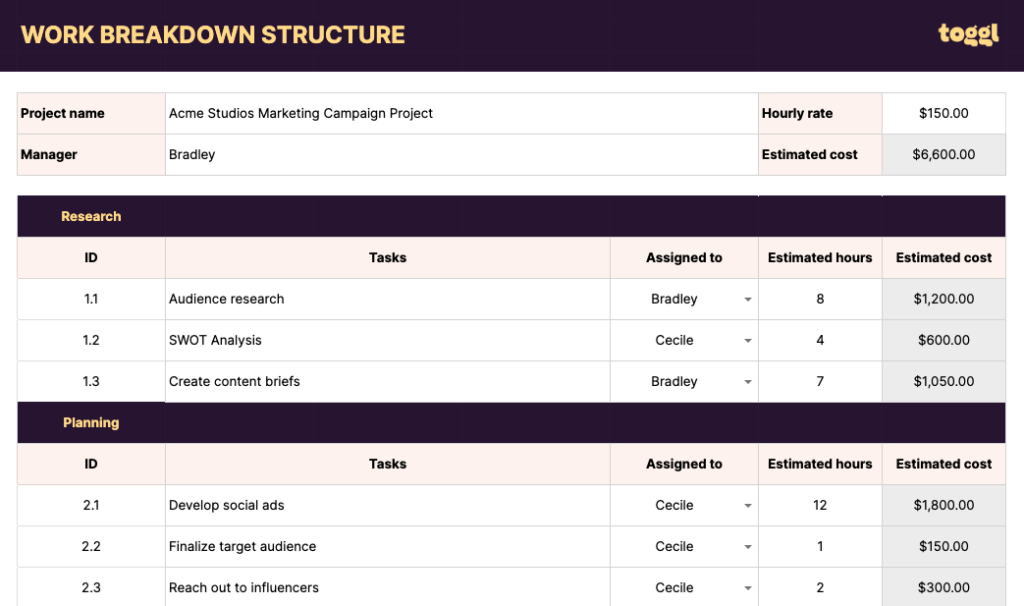 Look at your final number and review it, and review it again. Check it for accuracy by speaking to your team and reviewing similar past projects.
5. Add a project buffer and contingency fund to protect profits
Not everything goes as planned, so expect the unexpected.
A project buffer will help account for anything that could go wrong within the project. It will be a much-appreciated cushion for minor issues and sudden changes.
Issues like:
Sudden changes
Moving objectives
Increases in material costs
Note: we'll look deeper at some of the issues above and how to deal with them below.
Your project buffer will also cover any little expense you didn't (or couldn't) account for — the unknown unknowns.
How much of a project buffer should you add?
Experts recommend adding about 10% – 20% to your project estimate. Check out the video below for more tips on this.
The better solution to adding buffers to your project cost estimates is to mitigate the impact of project risks by estimating for it upfront.
This can be done by adding a 20% contingency fund to your estimate to account for change and risk.
Don't build this into your estimate; add it as a separate line item. This helps set a precedent and educates your client that changes to scope equate to additional costs from the contingency fund.
This means you can say yes to your clients a lot more, with a small caveat that you'll be using the additional budget for it.
6. Get approval from the client
The last step in the project budget creation process. By now, you should have a project budget you're happy with. So it's time to get this sent to the client for approval.
If you're creating a project budget as part of a proposal, remember to include the following:
| | |
| --- | --- |
| Expected outcomes | Describe the client, their products, and other information relevant to the project |
| Priorities | Describe how the expected outcomes are prioritized |
| Constraints | List any constraints that the client has expressed or are agreed upon mutually |
| Deliverables | List the deliverables to be delivered as a part of the proposed solution |
| Meeting expected outcomes | Describe how your proposed solution meets the expected outcomes |
| Working around constraints | Describe how your proposed solution works around constraints |
Need a project proposal template? Download our free one here.
After a client has reviewed your proposal/budget, listen to their feedback and make adjustments until you reach a budget that everyone can agree on.

Top tip:
Do clients often say your price is too high? Check out this video below.
7. Track and monitor the project budget
Once the project is underway, track project expenses against the budget to ensure you stay on track.
In the agency or freelancer world, this will typically mean keeping track of costs such as:
Your labor costs/team labor cost
Your project expenses (materials, software, contractor costs, etc.)
If you're comfortable with spreadsheets, you may want to use our project budget tracking template to manage the overall budget.

But are spreadsheets your best option to control project costs?
Probably not.
I've chatted with a few agencies and freelancers that use spreadsheets to track their time – and they always say how chaotic they are.
Formulas are unintentionally edited
People don't tend to fill them in all that much
You're unable to quickly get insights you can leverage (more on this later)
Thanks to time tracking tools, tracking project budgets have never been more manageable.
Unlike spreadsheets, many of the best time tracking tools come with features that help to automate and streamline the entire project budget-tracking process.
Using Toggl Track, you and your employees can quickly start tracking your time by entering a time entry description and hitting the timer button.
It takes a few seconds to switch the timer to a different task (especially if projects and tasks are already set up).
Type in your "time entry description"
Find your client
Select what "project" you're working on
Start the timer
Once you or your team accurately tracks time against the project, you can use the Project Dashboard to track your progress against the project budget.
Project Time Estimates lets you view whether you're over on hours or on target based on the estimate you set. If you've exceeded the time estimate, the time tracked will turn red.

The Time Tracking Chart will show a forecast for project completion based on the project estimate and the hours clocked for that project so far.

The Billing Amounts chart shows the progress against a fixed fee amount (the project budget) set for the project.


Below these forecasting charts, you will also see a bar and pie chart representing current data containing total clocked hours, billable hours, and remaining hours (based on the project estimate).

Want to see how profitable each project is?
Head over to the Insights Dashboard—it's designed to give you more details about the profitability of your projects and team members.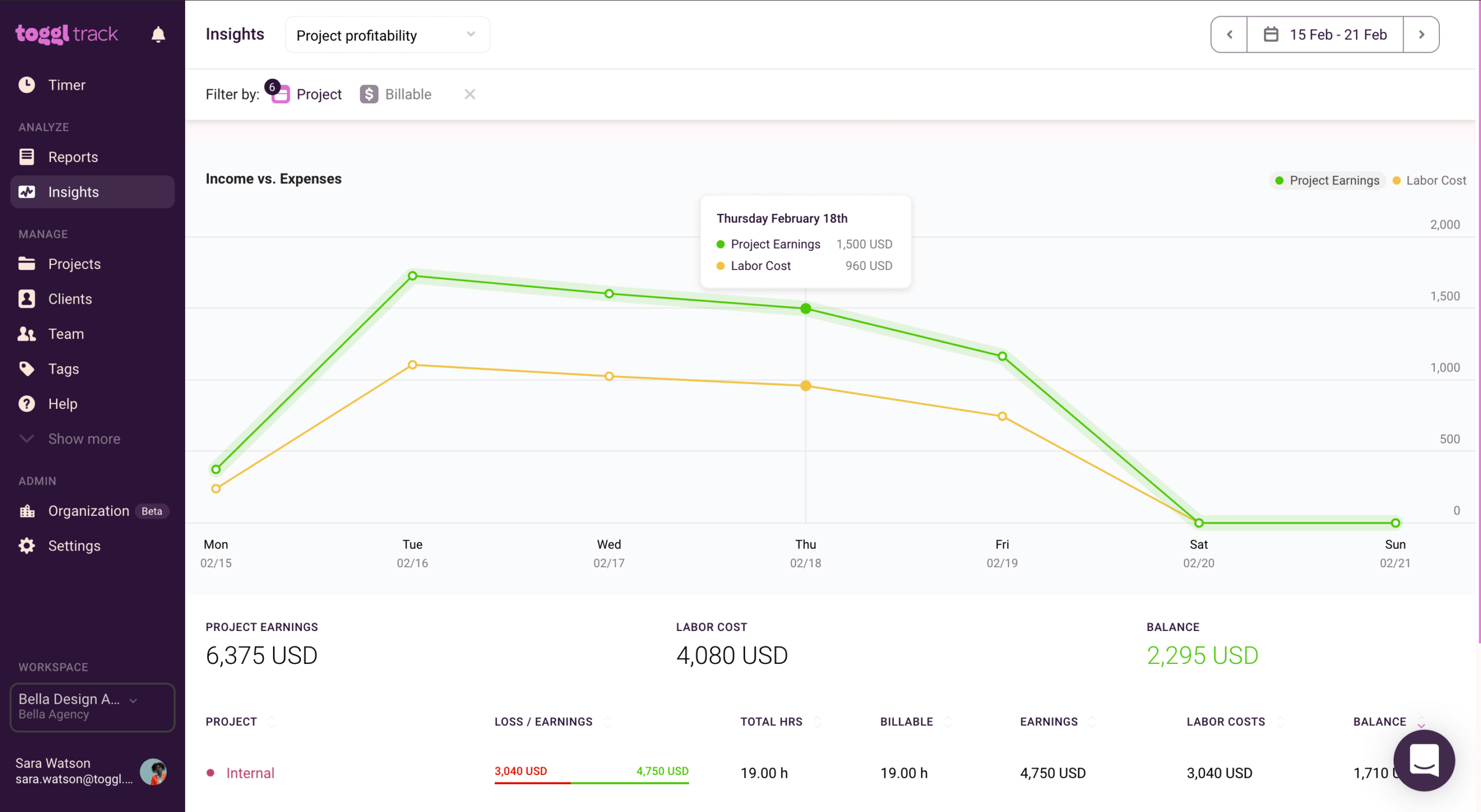 Top tip:
You can better monitor a project's budget using Alerts in Toggl Track. You can set up Alerts to be triggered based on a time estimate or a fixed fee.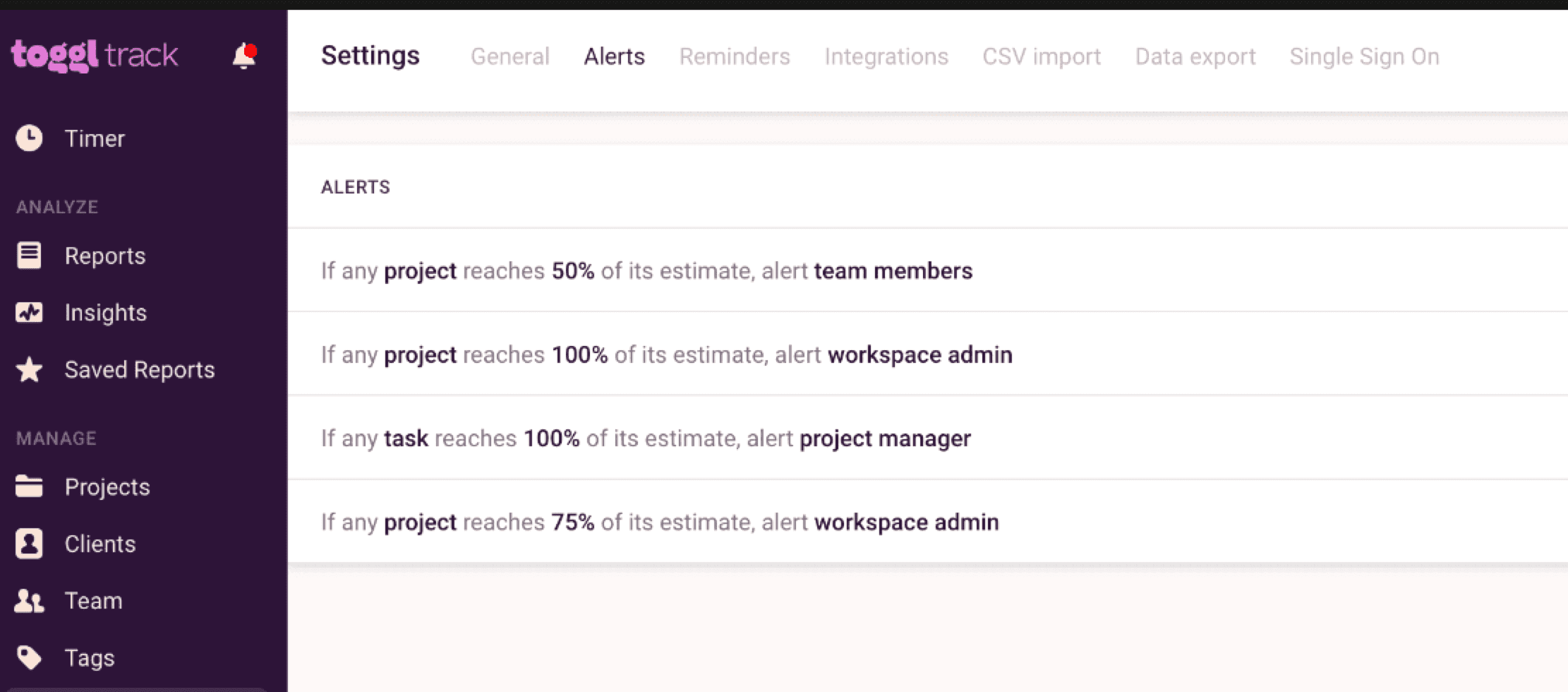 When to create a project budget
You probably spend a lot of time creating proposals and going through an entire sales cycle, only to be told the client isn't interested in working with you.
Want a hack to save you some time during this process?
Here are three different types of budget estimates you should consider:
Ballpark estimate – The client needs to know if the project is possible, but you need more information to give a proper estimate. So you can do this by giving them a ballpark estimate of the project's cost based on expert judgment or historical data ($80k-$140k).
Budget estimate – Suppose the client is happy with the ballpark estimate. In that case, you may ask for more information about the project to assemble a more accurate estimate and plan using a WBS or historical data. Your revised estimate may change to $90k-$130k.
Statement of work estimate – Assuming the client is still good to go, the final step in the estimate refinement is creating a detailed WBS using your team and historical data to make your final budget estimate. This is the cost you should include in your SOW. You may adjust your estimate to $100k + a 20% contingency fund.
Why do projects go over budget?
Your project budget will inevitably hit a snag no matter how well managed. So let's look at some top reasons project budgets go overboard and what you can do to prevent them.
Additional client requests
It's easy to get tied up in client-pleasing.
They ask for another web page–sure! They ask for another revision–you got it!
If you aren't charging for the "little extras" you'll risk going over budget.
You will inevitably face them—but knowing how to deal with additional requests is critical here.
Here are three ways to best handle additional requests:
| | |
| --- | --- |
| Understand the intent behind the request | Understanding why the client is asking for additional work is essential. You may realize there is a more straightforward solution you can add without additional costs to the client. |
| Accept the additional request and charge accordingly | You can accept the request and inform the client that additional resources are needed. |
| Let it slide. At no extra cost | Acknowledge that the request is outside of the original scope. But as it's easy, let it slide and dress it up as a "favor". Let them know that any more significant requests will have to be charged. |
It's healthy to set boundaries with clients. Charge for little extras, or acknowledge the request and let them know it will cost extra. Communicate with them, and both parties will be better for it.
Sudden changes
Unexpected changes can take a bite out of your budget.
These additions could be something that wasn't included in the initial planning or a sudden need to adapt due to unforeseen circumstances.
Unplanned changes can include:
Lacking specific resources and materials
A team member leaving the project
A team member was sick
Vital tasks that were forgotten and, as a result, never added included in the budget
Protecting yourself from people leaving your business or being off sick is hard.
But you can use as much past project data and as you can get your hands on to protect budgets and profits better.
This may mean reviewing old project plans, past cost estimates or better understanding the potential risks of each project.
All this information will help you make better decisions on budgeting for and managing your projects.
Poor planning
Yes, poor planning can lead to a poorly planned budget. Another disaster averted by Captain Obvious.
In all seriousness, this is a crucial point to stress.
60% of projects have a scoping document, defined methodology, and undergo risk management.
This means that 40% of projects don't have a solid plan. That's 400 projects out of 1,000. 💀
The best way to prevent this is to plan, schedule, and review each project. Preferably with multiple team members to get several sets of eyes on it.
Here's a project schedule laid out in Toggl Plan.
Comb through your project's plan carefully, assessing time, project costs, and risks as you go.
Double-check and triple-check your project before you waste boatloads of time and money.
A session or two of reviewing a project plan will allow you to spot potential problems ahead of time and ensure everything's water-tight.
The moving target
Goals and objectives moving constantly can de-rail any project.
You may find yourself in a situation where your trying to get a deliverable over the line, but the client keeps moving the goalposts.
Meaning you spend more time on each task than needed.
How do you deal with this?
Stop everything you're doing immediately.
Get clarity from the client.
Stop all work on the project immediately and get clarification from the client asap. You're going to burn through the budget if not.
How?
Send them an email or give them a call and say something as simple as:
"In the interest of keeping this project on track and within budget, I need some help clarifying our goals and direction moving forward."
You must let them know that you are mindful of their budget and time.
Spend time revisiting the project scope and SOW (your safety net) and ask the client, "are these still our goals and objectives?"
If not, then you can acknowledge the new direction and charge accordingly.
Project budget best practices
Wondering how some of the pros manage their budgets?
We reached out to several agency owners and project managers about what they do to keep a project budget on track.
Here are some of our favorite tips:
Be transparent with the client
James Nesbitt of Myth, an app and software development agency, puts client transparency at the top of his list.
"A big part of project budget management for us is being incredibly transparent with our clients from the outset and again once a project is underway.
This all comes down to your onboarding process and taking the time to cover all project aspects extensively with the client to ensure that both parties are on board with expectations about the required deliverables."
The best way to tackle this is to:
Following the steps above means you're not going into a project afraid of additional requests that will likely lead to a spiraling budget.
Create a risk management plan
One of the most common challenges in project management is fighting off project risks from consuming your budget.
What do common project risks look like?
Here's a quick summary of project risk examples for you skimmers:
| Project risk | Description |
| --- | --- |
| 1. Scope creep | Changes to a project's scope after starting |
| 2. Blowing your budget | Spilling over your estimated budget |
| 3. Project delays | Tasks take longer than estimated |
| 4. Not enough resources | Not having the necessary resources to complete a project |
| 5. Lack of clarity | Unclear requirements, scope, or communication |
| 6. Client issues | Inaccurate expectations and miscommunication from stakeholders |
| 7. Contractor delays | Contractors not being accountable |
| 8. Unrealistic deadlines | Unrealistic deadlines your team can't meet |
| 9. Low performance | Burnout and poor project goals lead to work just not being done |
| 10. Inexperienced workers | Inexperienced team members are assigned to projects that carry a lot of weight |
| 11. Poor risk management | Identifying and preparing for all of these risks 😉 |
Common project risks will inevitably creep toward a project budget, so a risk management plan is crucial.
This is what Simon Bacher of Ling App has mastered to keep his projects on track:
"Without a comprehensive risk management plan, unexpected risks get out of hand, which will only inflate project costs over time… I create and implement a yearly risk management plan based on historical and projected risks."
The best way to defend yourself against project risks is to:
Collaborate with your clients
Who knew that communicating with clients would be beneficial to keeping a project budget on track? 🤡
John White of Complete White Label, a link-building and content marketing agency, stresses the importance of working with your clients from the outset.
"Setting these targets collaboratively with our clients has led to fewer budget overruns since it improves our ability to plan efficiently, allowing us to allocate resources and time better, ultimately narrowing the budget."
What can you do to get the client involved?
You should both work on the following:
Create your project plan and timeline internally, then share it with your client for feedback.
Use Toggl Plan to create a visual timeline to share with your clients.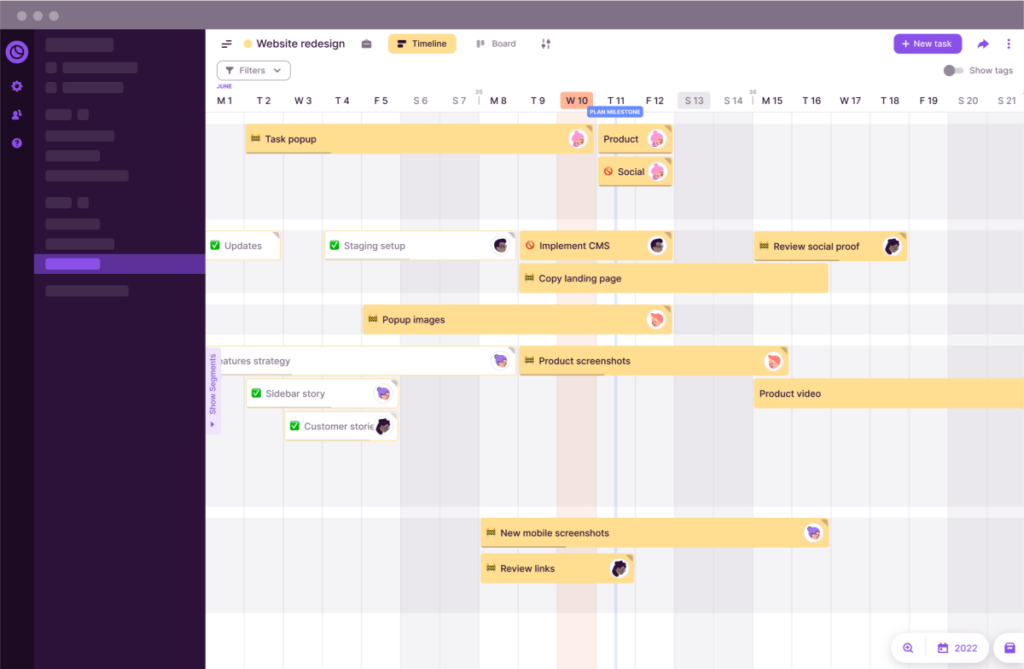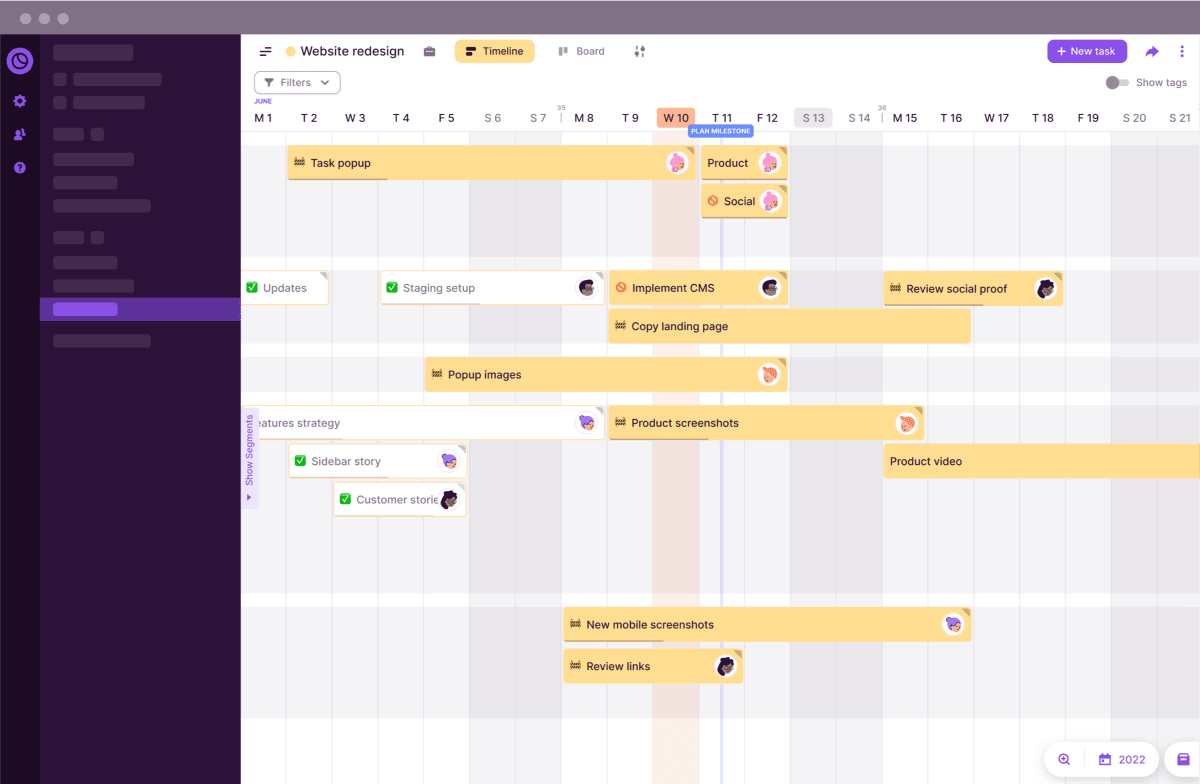 Shared timelines are read-only. This means your client cannot edit the timeline in any way. They can, however, view the entire timeline together with tasks and milestones.
Have regular check-ins with the client
Communication with your client shouldn't stop when the project has started.
One strategy Ryan Mckenzie of Tru Earth uses to manage a project budget is periodic project status check-ins with key stakeholders.
"These check-ins helped me identify scope creep or other issues that could lead to the project being over budget. During these check-ins, it's essential to assess progress and ensure everyone is on the same page regarding any changes in scope or timeline that could increase costs."
How often should you check in with your client?
Honestly? It depends. 🤷‍♀️
There are two main factors to consider:
The length of the project
The size of the project
A multi-year project might only require a status report every quarter or every six months. But a project that lasts six months? Monthly reporting is probably a good cadence.
While keeping management or your client informed of the progress is essential, project reports often take time. So creating them too often might be considered wasteful.
But then there is the second element to consider—the project's size.
Straightforward projects like creating a one-page flyer probably don't need much reporting.
But something as complex as a website build, mobile app, or branding campaign may require regular updates. So writing a project report every month or quarter is worthwhile.
But don't go overboard with project progress reports. Too much project reporting can be problematic. You don't want to drown yourself with admin work when your time could be better spent on profitable work. Try and apply some common sense.
Create a detailed statement of work
A statement of work (SOW) is probably the most important document in any project.
Why?
It helps to:
An SOW is a document that Rocco Brudno, a content and SEO consultant, is all too familiar with.
"Clients often have different expectations of what to expect once a project starts. So getting project details ironed out from the start can significantly reduce the variables that create out-of-scope work and ensure everyone is on the same page."
In disputes or disagreements, your SOW is the document you should refer to if you think your client is requesting work out of scope.
Track project progress and expenses
Tracking project progress using project management software is another way to help keep project budgets on track.
Maria Harutyunyan, Co-founder & Head of SEO at Loopex Digital, champions this approach:
"One strategy that has helped me keep client project budgets on track is utilizing project management software to ensure visibility and accountability across the project lifecycle…having an overview of everything related to a single client project makes it easy for everyone involved in the team (including clients) to stay updated on progress."
Toggl Plan allows you to organize tasks on a Kanban board format and provides a clear overview of task statuses.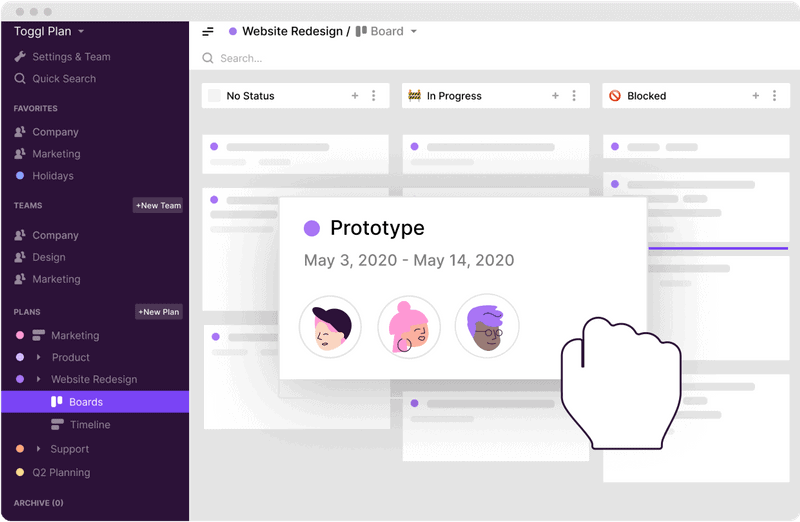 The Kanban board helps you to protect your project budget by allowing you to:
Reorder and prioritize upcoming tasks with our simple drag-and-drop interface.
Prioritize tasks during sprints without focusing on time estimations.
Segment all tasks based on their current status for the best project overview.
Or, you can switch to a project timeline view that can be used to schedule and track a project from start to end.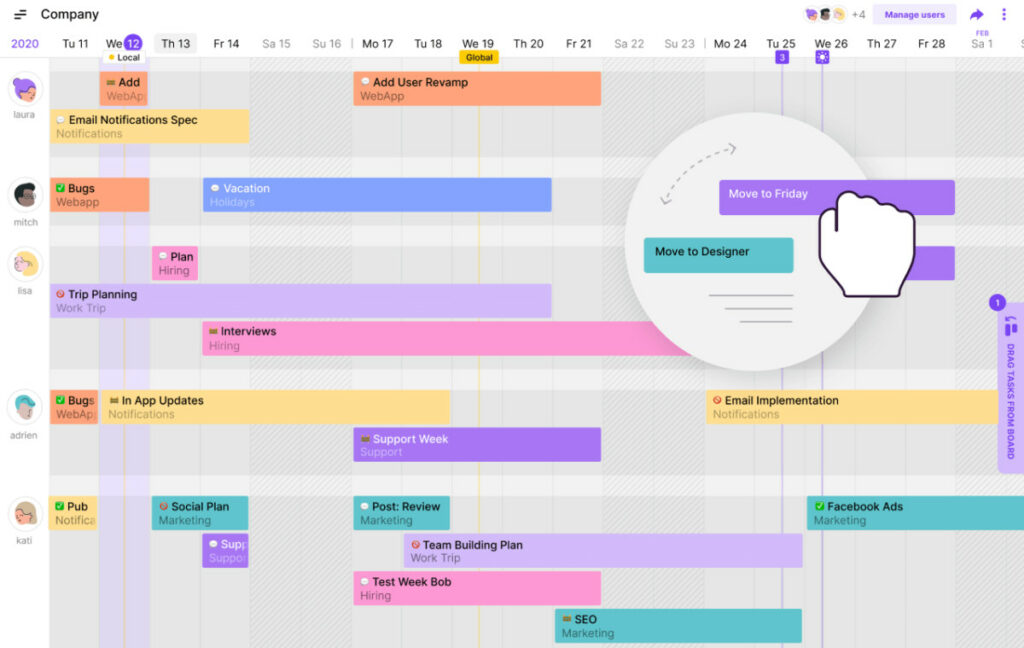 The timeline view helps you to protect your project budget by allowing you to
Get a clear overview of who's doing what and when.
Visually track tasks from start to finish as they get done.
Schedule tasks without conflicting with other projects, time off, and public holidays.
Create color-coded milestones and optionally make them visible across projects to meet deadlines.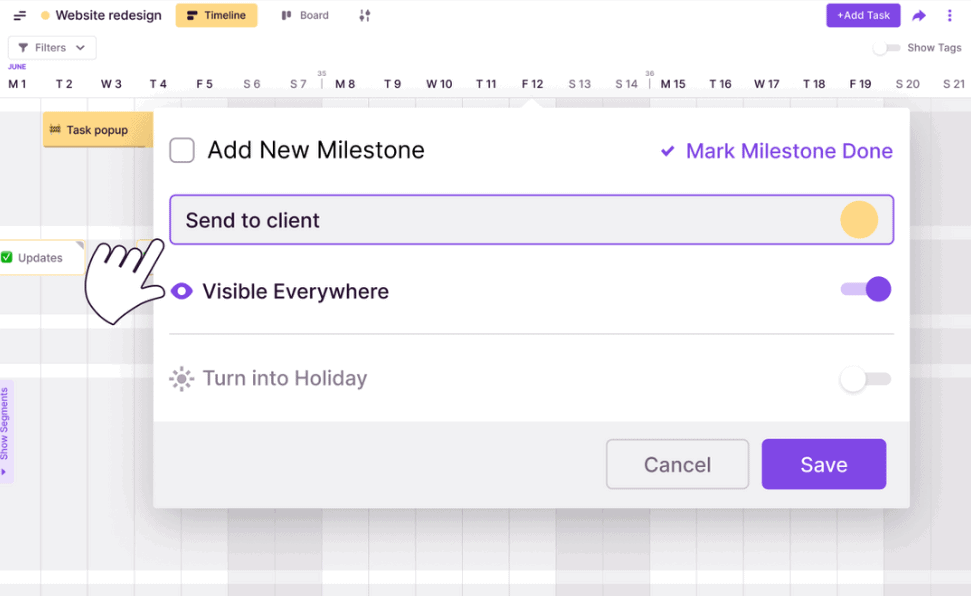 Top tip:
Toggl Plan integrates seamlessly with Toggl Track to help you better track your project costs and protect your budget.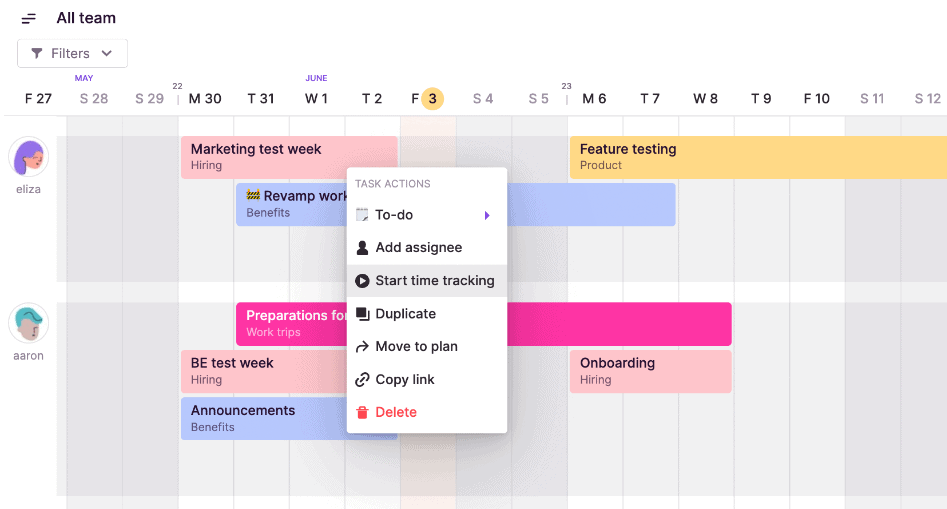 Turning projects into profit
Money no longer gets to pull your puppet strings. It's long overdue that you control your money.
For more reading on cost estimation and budgeting in project management, go check out our guide on estimating the cost of a project.
Want to learn more about managing projects?
Check out the following guides:
Sean is a Content Marketer at Toggl. He's been involved in SEO and Content Marketing since 2017. Before working for Toggl, Sean ran SEO at a digital marketing agency—so he's all too familiar with time tracking and project management.