As an agency or a consultancy project manager, you have to manage client expectations for successful delivery. A project communication plan helps you with better stakeholder management and a smoother project planning process.
While it may seem like another project document to maintain, done right, a communication plan:
Sets stakeholder expectations
Gives stakeholders visibility into the project
Increases productivity by eliminating unnecessary meetings
In this article, we look at:
Let's dive in.
What is a project communication plan?
Fifty-five percent of managers agree that effective stakeholder communication is a critical success factor in project management.
Despite this, the PMI report reveals that many organizations do not emphasize putting effective communication measures in place. A startling 7.5 percent of a project's budget is at risk because of this.
That's where a communication plan can help.
A project communication plan outlines what, when, and how project information will be shared between the project team and stakeholders.
Some examples of shared project information are:
Task-related questions and answers
Progress and status updates
Feedback, etc.
What goes into the communication plan?
A good communication plan for project management answers:
Who are the collaborators and stakeholders that need access to project information? Having this documented plan in place makes it easy to understand who needs to be contacted for questions, feedback, and progress updates.
What project information is shared with the stakeholders? Project requirements, status updates, and feedback are examples of information to be shared.
When is this information shared? What are the specific dates or recurring events when you'll share project information with clients? Project managers can plan project schedules according to these milestones.
How is the project information shared? What are the tools and channels? What formats are used? How is the feedback captured?
Importance of a communication plan in project management
If you're a small team manager, a communication plan may feel like yet another document to create and maintain.
However, that's not the case.
A communication plan helps you get all the stakeholders, including clients, team members, and freelancers, on the same page.
Here's why you need a communication plan for your projects:
Standardizes project communication processes: A communication plan is a written document that team members can refer to for communicating with stakeholders.
Sets and manages stakeholder expectations: Clients like to stay on top of a project's progress without getting involved in day-to-day activities. A documented plan tells clients when to expect status updates.
Improves the project team's productivity: A communication plan gets rid of unnecessary meetings. It also discourages clients from requesting progress updates now and then.
Increases visibility for stakeholders: With the communication plan in place, stakeholders have a clear understanding of what's expected of them at which stage in the project's lifecycle. 
Provides opportunities for feedback: Clients also know when to expect deliveries and when they need to provide feedback. That way, you can save a lot of time on scheduling and organizing feedback meetings.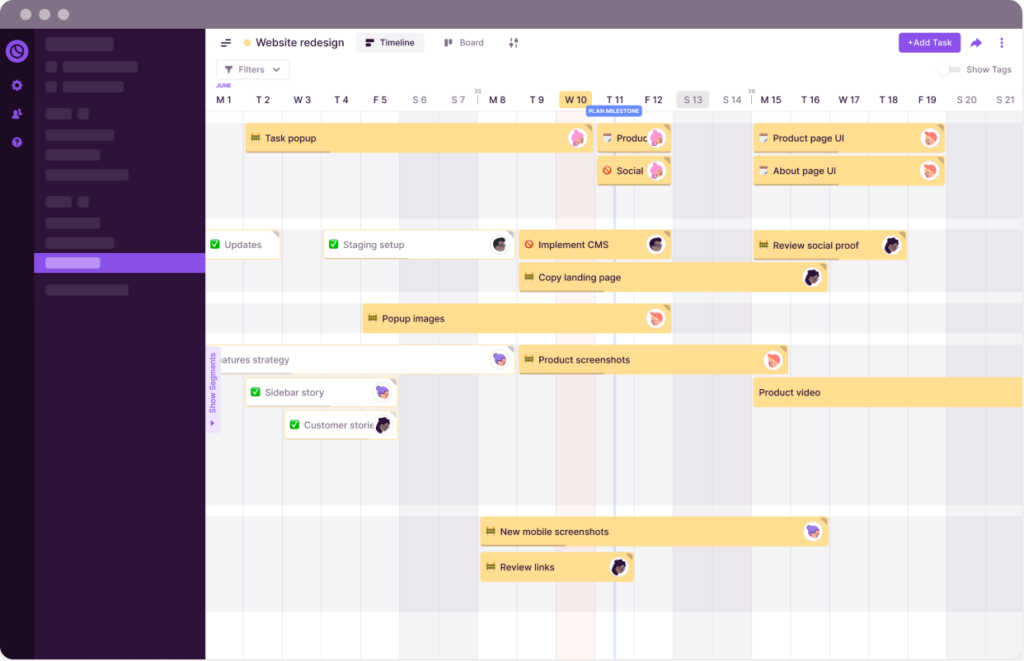 How to create a project communication plan?
So far, we've looked at the what and why of a stakeholder communication plan. Next, let's look at how to write a communication plan.
A typical stakeholder communication plan includes:
Information about stakeholders, team members, and their roles
Types of information to be shared
Methods used to communicate this information with stakeholders
A plan to schedule meetings and share this information
Step #1: Start with a project communication plan template
Create a simple template using Google Docs, Microsoft Word, or use this pre-made template.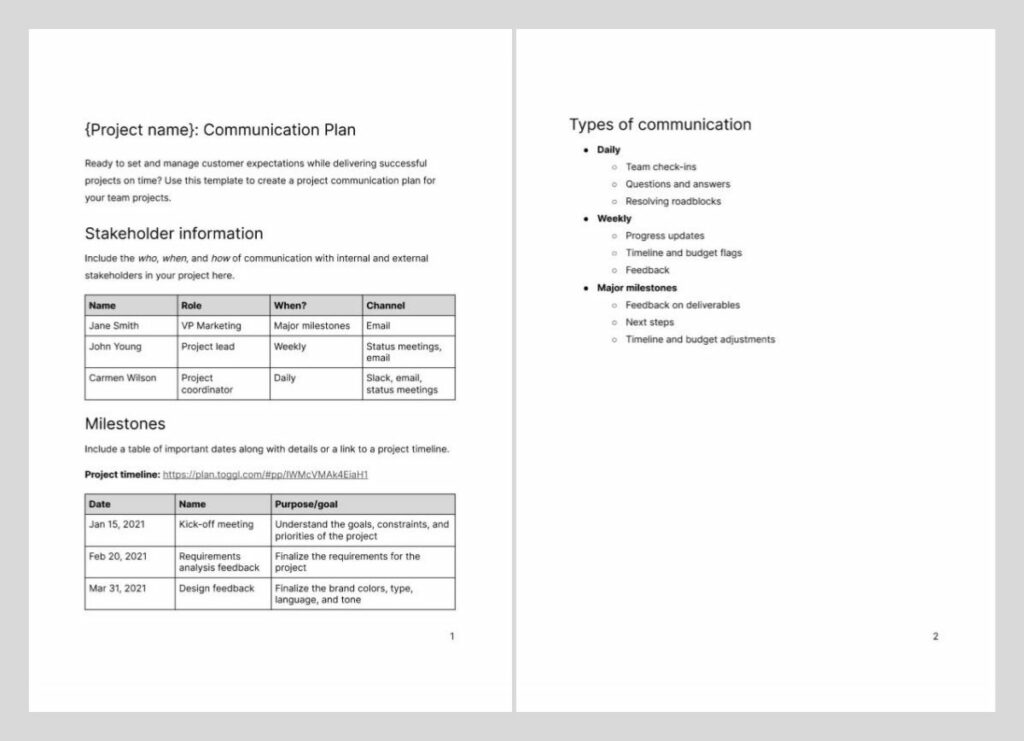 Instead of starting from scratch, use this template to create your communication plan. You'll find this template works for most projects with minimal changes.
The template contains three sections:
Stakeholder contact information
Important milestones
Types of project information
Here's how you can fill these sections:
Step #2: Identify project stakeholders
First, identify all the stakeholders, including clients, team members, and freelancers involved in the project's communication. Then list down when you'll share project information with each stakeholder along with how it's shared.
A table view is a convenient way to document this information.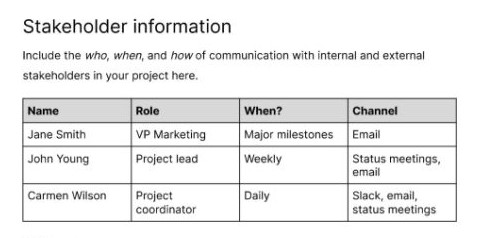 Step #3: Identify important milestones
Next, identify important dates in the project's lifecycle where you expect inputs and feedback from clients and other stakeholders.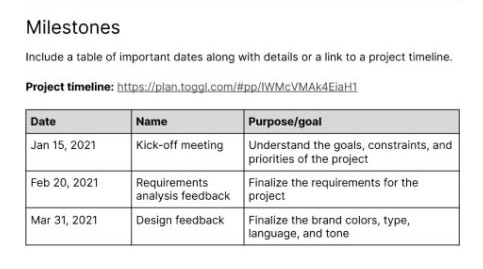 You can use a spreadsheet or a table view. However, a timeline with clearly defined milestones is a better, visual way to communicate with stakeholders.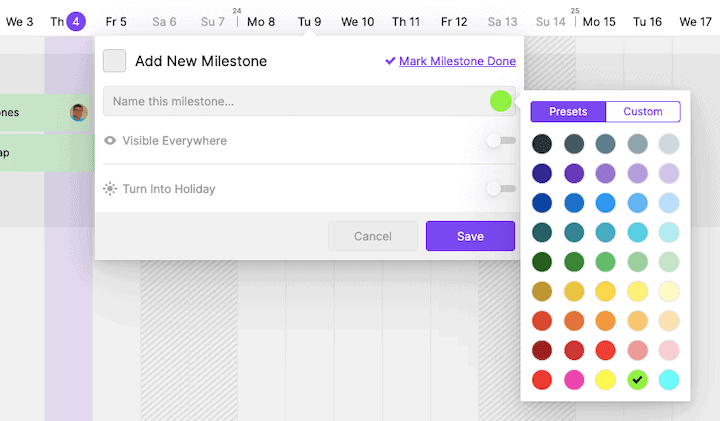 To identify critical milestones:
Divide your project into phases. Phases are identified based on the project management methodology you choose for a project. At the end of each phase, your team should deliver a part of the project to the client.
Map these phases on a timeline. Lay down the phases on a timeline or a calendar based on your team's availability and capacity.
Identity dates during and after these phases where you need client inputs and feedback. Add color-coded milestones at these dates, clearly explaining what you expect from the client.
Finally, share the timeline with the stakeholders and confirm if these dates work for them.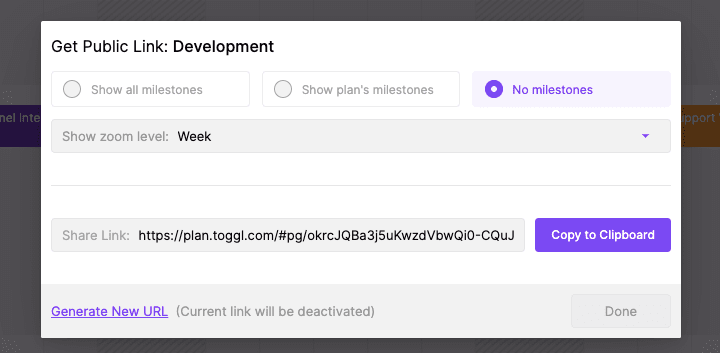 Step #4: List down the types of project information shared
Finally, identify the different types of project information to be shared with the stakeholders. Segment this information by the frequency with which it'll be shared—daily, weekly, monthly, or major-milestone updates.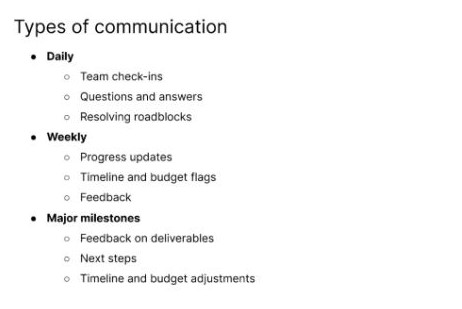 Project communication tools
When creating your project's communication plan, you also want to look at the tools you'll use. Check out these 12 free and paid collaboration tools.
For project collaboration and communication, you may want to consider:
For virtual meetings, consider:
For quick updates, Q&A, and feedback, Slack is a proven messaging tool. It also integrates with most of the above tools.
How to use the communication plan in your project team?
Now that you have a plan and tools let's look at using the project communication plan to manage client expectations and deliver successful projects.
Share the plan with your stakeholders. Get agreement, particularly from clients, if the plan works for them. If not, adjust the plan to suit their schedule.
Share the plan with your project team. Let everyone know what needs to be communicated to whom and when. Answer any questions your team may have about the plan.
Adjust the plan where necessary. Often schedules get thrown off because of unforeseen circumstances. Adjust your project schedule along with the communication plan and communicate the changes with the stakeholders and your team.
Clear communication equals successful projects
A project communication plan helps you set and manage customer expectations, manage scheduling risks, and deliver successful projects on time. It also helps your team stay on top of work to meet deadlines.
Jitesh is an SEO and content specialist. He manages content projects at Toggl and loves sharing actionable tips to deliver projects profitably.