Effective requirements gathering is the best way to control project costs, stay on schedule, and deliver a project you and your team are happy with.
It's a relatively straightforward process — but it's often overlooked, skipped, or poorly executed.
But gathering project requirements doesn't have to be overly complicated. This guide will teach you different ways to collect project requirements, how to collect them, and when.
What is requirements gathering in project management?
Requirements gathering is the process of understanding what tasks need to be completed to deliver the project on time, within budget and scope, and to the client's satisfaction.
It can be tricky, but when done correctly, it ensures everybody is on the same page about what should go into delivering the project successfully.
There are two main requirements:
Business requirements — "What is the goal?"
Technical requirements — "How do we accomplish it?"
For example, the business requirements of a marketing project may be to "increase leads by 20%." The technical requirements will include completing tasks to deliver items such as social ads and lead magnets to target customers with special offers.
Purpose of gathering project requirements
35% of failed projects cite inaccurate requirements gathering as the primary cause of failure.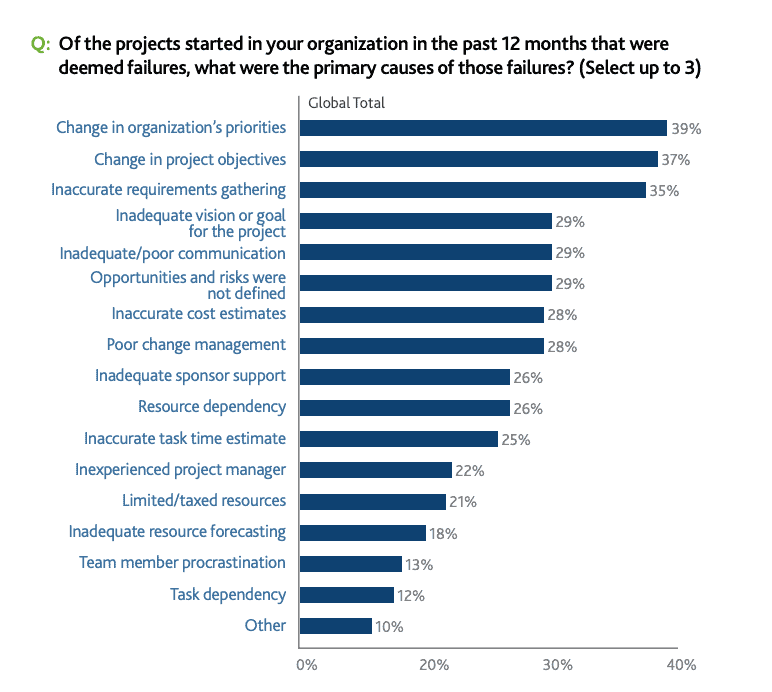 So gathering project requirements isn't just necessary — it's one of the most critical processes in the lifecycle of a project.
Gathering project requirements will help you to
To stay organized as you grow and juggle projects, you need to build a process that collects, translates, and shares requirements from the client to the team so you can get it right time after time.
How to gather requirements for a project
It's worth pointing out that all projects differ, so there is no "best" way to gather them.
The guide below is a loose framework on which to base your processes.
A six-step requirements gathering process
Decide when you will gather project requirements
Assign roles to collect project requirements
Talk with project stakeholders
Review and analyze project requirements
Get approval from project stakeholders
Re-estimate the project costs
Build out your project plan
Monitor and track project progress
1. Decide when you will gather project requirements
When you decide to gather project requirements will depend on how much information you managed to collect during your project intake process.
But the best case scenario would be to
Sell your project with a variable price range
Carry out a project discovery to fully understand project requirements
Re-estimate and refine the project scope, cost, and timeline
Sell each project phase of the project at a flat rate
If not, you can
Sell a discovery at a flat rate
Sell the rest of the project based on your findings
Note: project discovery is the process of gathering requirements about a project to help people involved understand its vision, goals, and scope. Collecting project requirements is a part of this process.

Top tip:
Avoid selling a whole project for one fixed price. The only time you should do this is if you've done the project a thousand times before and know exactly what kind of effort is involved, there are no surprises, and the outcomes will always be the same.
2. Assign roles to collect project requirements
This will depend on your business and team size.
Freelancer? That's on you
A small agency? Potentially the CEO
Growing agency? A project lead or account manager
The best-case scenario? Get a project lead and a domain expert involved.
But be aware that the domain expert/s will, and should, change depending on the type and complexity of the project.
Personalities and strengths play into this in a big way. For example, don't hold them over the fire if your lead developer is terrified of direct client communication. Take the lead and have your developer create a list of questions you can ask the client, and be sure you fill all the gaps in the communication flow.
3. Interview project stakeholders
Once you've identified key client stakeholders, meet with them to get an idea of what they're hoping to get out of the project.
Understanding what the client wants to achieve is critical, as this will be the deciding factor behind what deliverables you create.
Your goal here is to understand fully
What issue the client is facing?
What's the purpose and goal of the project?
What does success looks like to them?
What deliverables do they expect to receive?
Who will need to be involved in the project?
How much it will cost to deliver?
How long it will take to deliver it?
What risks and constraints may you encounter?
But the tricky thing is that clients don't always know what they want, so they come to the pros (you) to figure it out.
Broad questions like "What are the requirements?" or something even deeper like "Are you looking for an X system with a Y interface via Z software?" will get you the same reaction.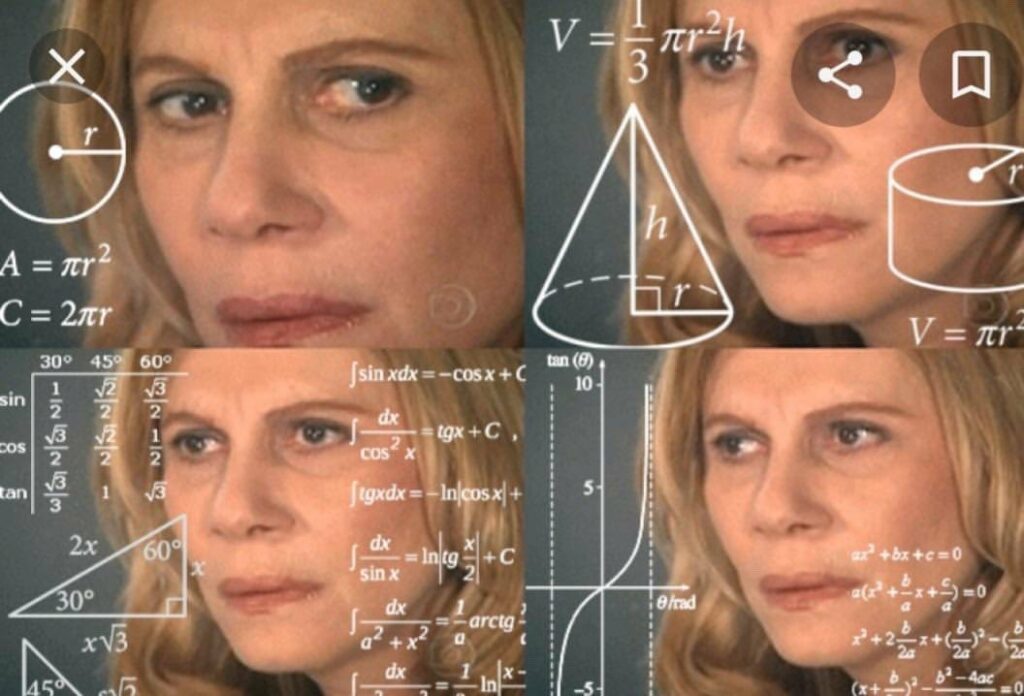 So what do you do instead?
Ask the client questions about what they want and hope to accomplish. Then translate the desires, goals, and objectives into deliverables, a timeline, and a budget you and your team can work with.
Try asking questions such as
"What problem are we trying to solve?" (and resist adding "and how do we solve it?"—that isn't their job)
"Can you describe [current solution] for me?"
"What are the pain points/issues with the current process?"
"What would an ideal experience for [project topic] look like?"
The goal is to ask the kinds of questions that describe the requirements regarding business needs — as they will provide more actionable info for your team.
Remember that you likely will only understand some of the project's scope from the first interview. You may have to interview a few stakeholders to fully understand the project's scope.

Top tip:
Supplement the interview by creating a thorough and interactive questionnaire you send to the client before the meeting. You can create a basic questionnaire by using Google Forms.
4. Gather and document your findings
This step is called requirements management. It's about taking all the info from above and shaping it into something that makes sense for you and your team — and is achievable for your business.
You can streamline this step by using a project requirements template.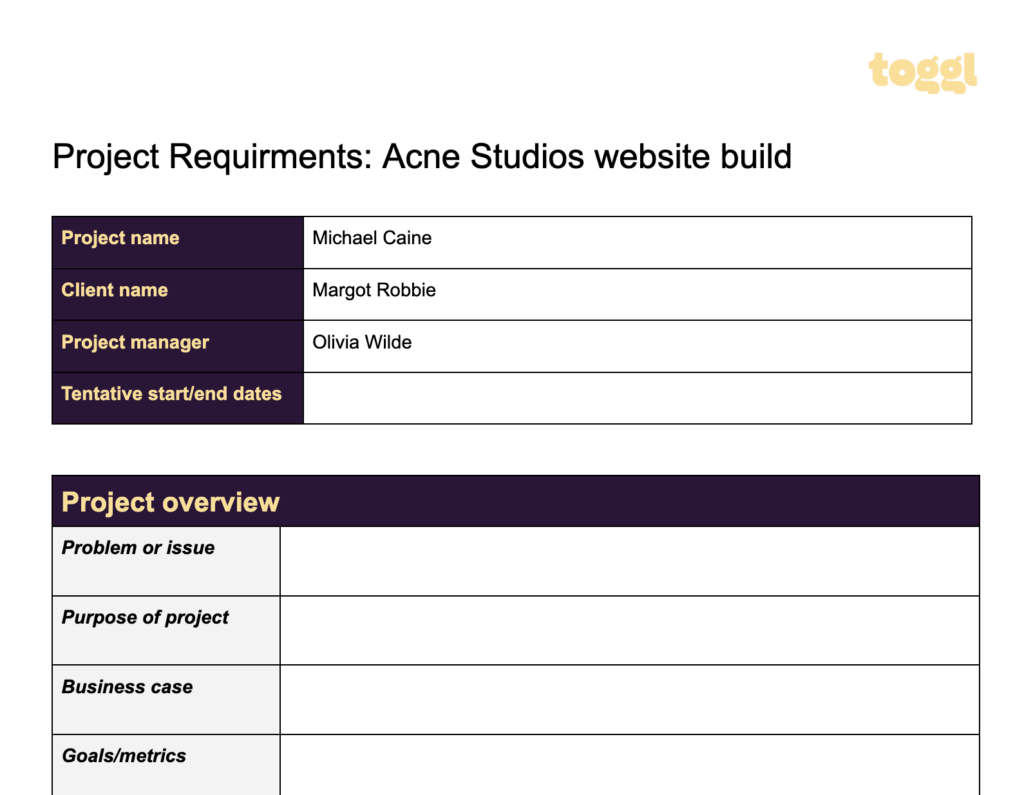 Depending on the project's complexity, you might have to speak with multiple stakeholders to fully understand the project scope of work — as each may have different requirements.
But remember that not all project requirements are necessary for success.
Ask yourself — Is this requirement essential to achieve the business goal?
This is where you assess if the project requirements are:
Inconsistent or duplicated
Not feasible based on resources and logic
These two points are significant factors that can frustrate your team, waste their time, and cause delays.
Remember to identify and assess project risks as part of this process. Get your team together for a brainstorming session to figure out how to reduce those risks to ensure you stick to the project timeline and stay within budget.
5. Break down the deliverables into smaller chunks
Once you understand the project goals and objectives better, you can start to determine what effort needs to go into the project to deliver it successfully.
Use a Work Breakdown Structure (WBS) to break the project into manageable phases and tasks.
What is a WBS?
It's a hierarchical outline of the tasks required to complete a project. The WBS "breaks down" the structure of a project into manageable deliverables or phases.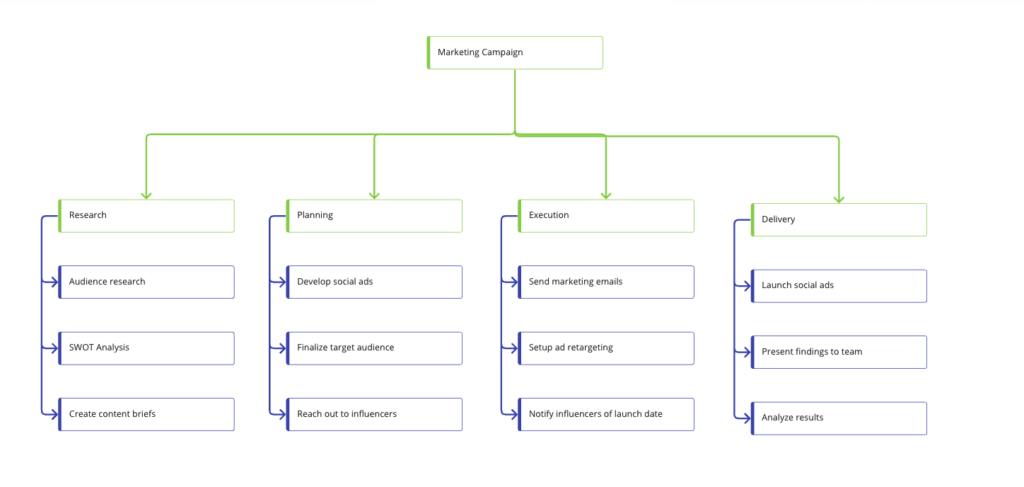 It helps organize, visualize, and manage projects more efficiently. It serves as a framework for detailed cost estimation and control and an overall project schedule guide.
You can download our free WBS template below.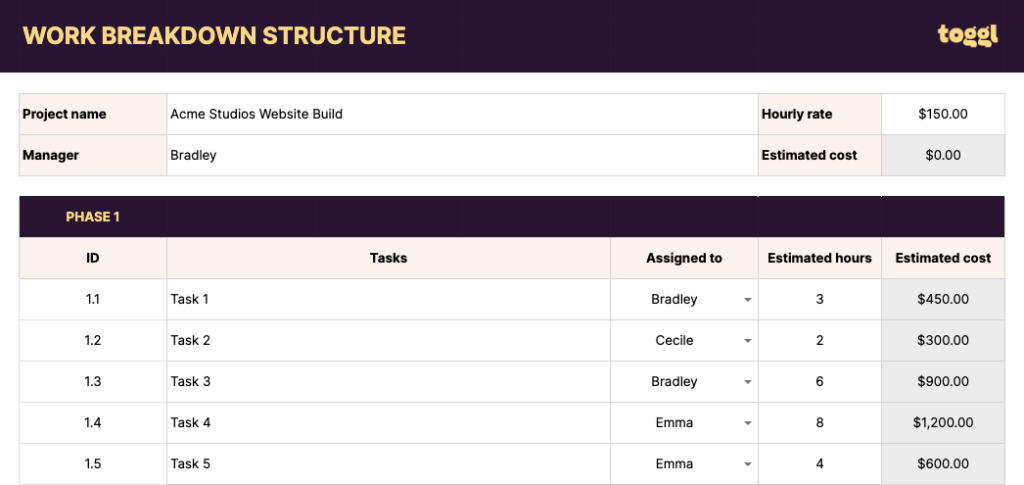 This will help you understand what resources are needed for the project, as well as help to create an initial project timeline and project budget.
6. Create your baseline budget and timeline
Once you fully understand the scope of work, you'll need to create your baseline project budget and timeline.
You can do this by allocating costs to each task within your WBS.
Or, if you're using Toggl Track, you can access past project data within the Project Dashboard to pull together a quick baseline estimate.

Task-level data can also be viewed within the same dashboard.

7. Get approval from project stakeholders
Meet with the client to present your baseline estimates. Get their feedback, ask more questions, clarify requirements, and get approval to start.
Don't worry if this conversation leads back to step 3 and then back again to step 4 — yes, this might feel like a game of tennis where you're the ball.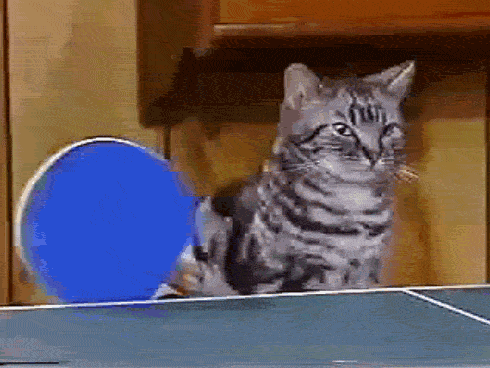 It's all part of the process. Good project requirements gathering may mean a lot of back and forth with a client.
But this remedies this expensive and infuriating process of reworking project deliverables long after the deadline because "that wasn't quite what we wanted!".
Important note: find out who has the final say in project requirements, so make sure you ask and find out.
8. Create your statement of work
Once you grasp everything well and the client is happy with your estimates, it's time to create and sign a statement of work.
This document should include all information you've collected in the previous steps.
Your SoW acts as your safety net if the project gets somewhat out of control. It should outline project tasks, deliverables, timelines, and costs for the client and anything out of scope.
The 5 Whys: How to uncover the info you need
The 5 Whys technique asks "why" until you get to the root of a problem — i.e., the need.
Commonly, it's thought that five is the number of "whys" it takes to get to the core issue of a situation. It will help you and the client understand what the project needs to accomplish.
Here's what the 5 Whys might look like during a project requirements gathering meeting.
Although this example only takes four (it won't always take five to get to the heart of the issue!).
Client: "We want a new website."
Salesperson: "Why do you need a new website?"
Client: "The old one doesn't work for us anymore."
Salesperson: "Why does the old website not work?"
Client: "Our business has changed."
Salesperson: "Why has your business changed?"
Client: "We're handling more customers than we used to."
Salesperson: "Why does the old website not support more customers?"
Client: "The old website lacks automation for key transactions, so our staff has to do everything manually."
You've now reached an identifiable problem, which translates to a clear project requirement.
What happens is that people don't always express the root of the problem while they're talking.
Often, the problem is so ingrained and obvious that we forget to say it out loud. 🤷
The 5 Whys help you identify the client's core issue and create a tangible solution.
Other methods to establish project requirements
While the steps outlined above should help, they might be enough.
Most clients won't fully understand what they want from a project initially. It may be a basic concept, an end deliverable, or a simple idea.
But it's your job to rework their idea and turn it into a viable solution you can deliver within their budget.
So what do you do if the client isn't giving you much to work with?
Try the methods below and see how they fit into your process. You'll find what methods work best for you in time, so start experimenting with your team and see how it goes.
Send the client a questionnaire
Use your expert judgment
Mind map with your team
Use historical project data
1. Send the client a questionnaire
Questionnaires can be helpful if the client has a team of people working on the project with you.
They provide three main benefits:
They give stakeholders time to process questions and leave detailed answers, ensuring nothing gets left out
They're an efficient way to manage a project with many stakeholders
They save time during the interview or discovery session
But no. 3 might be the most crucial point.
Getting thoughts, ideas, and problems out there ahead of the interview will save time, keep the conversation goal-oriented, and provide valuable context to your discussion.
2. Mind mapping with your team
Mind mapping is a visual type of brainstorming. A mind map is a diagram of notes to help your team generate ideas and classify information.
You place your main project objective in the center of the diagram. You then branch off into categories and details.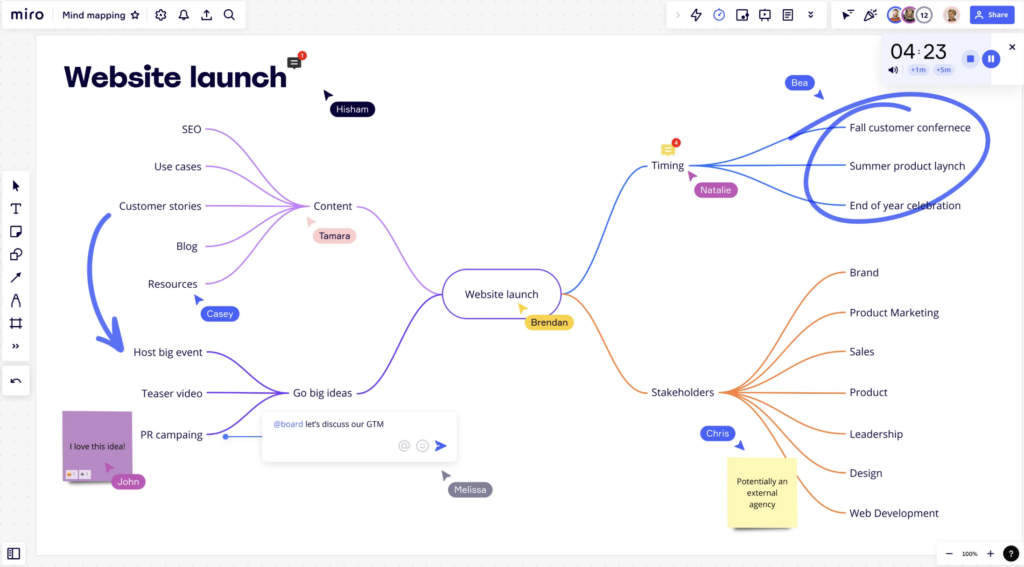 Creating a mind map is a simple process that can help your team layout ideas quickly but keep them organized.
Build your mind map with these steps:
Create a central idea
Build branches coming off of it to show core ideas derived from the central point
Create secondary and tertiary branches coming from the core ideas
Continue this, connecting any relevant ideas
This allows free, uninhibited expression where you can just put thoughts to paper (or screen).
Historical project data
Looking back at similar past projects is like having a tiny subject matter expert on your computer.
Digging through past projects to see what tasks they contained, their outcomes, and their milestones will give you solid insight into what a project like this needs to be successful.
This is what reviewing a past project looks like in Toggl Track: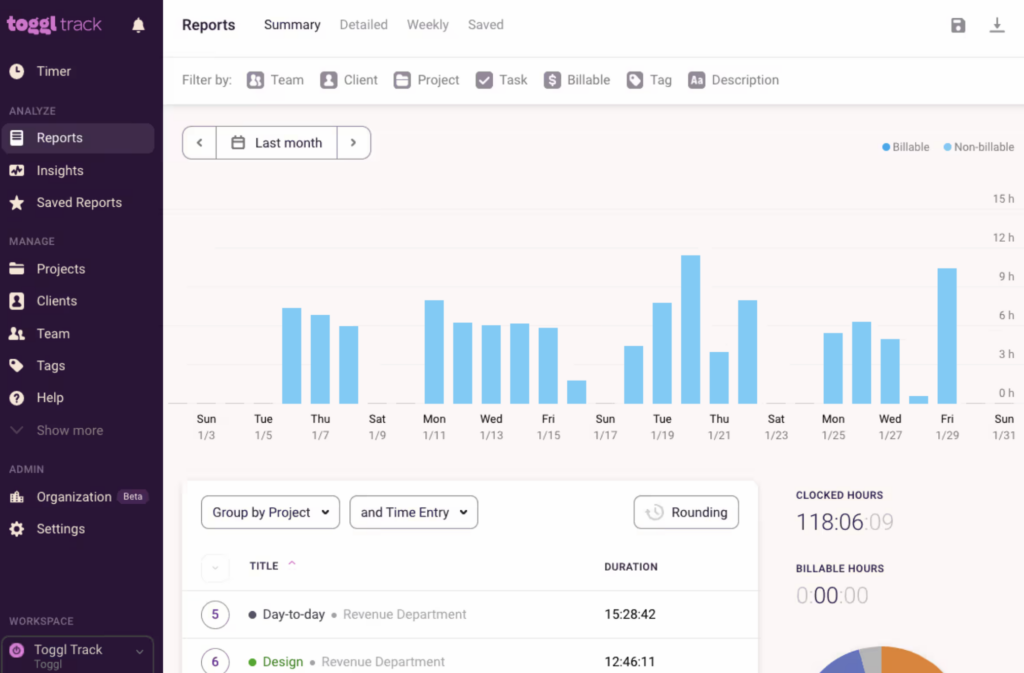 Toggl Track's online time reporting gives you clear visibility into past projects and their accomplishments. They allow you to review the deliverables, overall time, budget, and other details you tracked.
A time tracker is super helpful for accurately collecting requirements. Every project tracked is another piece of valuable data for your team.
When to gather project requirements
This will depend on your stage in your project intake process.
Is the client shopping for estimates? You may be better off giving them a ballpark estimate first.
Does the client have the budget and want more information from you? You should skim through this process to establish a high-level budget estimate.
Is the client ready to work with you? You should go through this process to gather all project information to create a more comprehensive estimate and timeline.
Check out our article 'How to Estimate the Cost of a Project in 8 Steps' to learn more about the different estimates you can create.

Top tip:
But one thing worth doing in every project, big or small, is a discovery.
What is project discovery?  
Discovery is a phase in project management that involves creating a shared understanding of what work should be done, project constraints, risks, audience needs, project features, and brand and technical requirements. 
Note: project discovery is just the name used to describe the process of collecting project information and requirements.
The project discovery helps you to understand better and anticipate the:
Known knowns – you know what you know (or think you know)

Known unknowns – you know what you don't know

Unknown knows – you don't know what you know

Unknowns unknowns – you don't know what you don't know
The discovery phase also allows you and your client to build trust and establish a shared understanding of the project — allowing you to create a more accurate project cost estimate.
Learn more about how and when to conduct project discovery and research here.
Gathering project requirements is a skill to hone
Collecting project requirements in project management is crucial to repeatable success. It keeps project scope in line, satisfies stakeholders, and lets you comfortably stay within budget and deadline.
It may feel a little daunting going into a discovery call when you know it's your job to ask the right questions and gather the correct information for your team — but it's a skill you can hone.
It won't be long before you have a defined methodology and a repeatable process to use time and time again — which helps you and impresses the client. 😎
For the next steps, check out our blogs on project cost estimating and project time estimation.
Sean is a Content Marketer at Toggl. He's been involved in SEO and Content Marketing since 2017. Before working for Toggl, Sean ran SEO at a digital marketing agency—so he's all too familiar with time tracking and project management.