As mentioned in an earlier post, resource planning begins with devising a plan which outlines the necessary resources for your project. Toggl Plan works great for visualizing and planning, but if you want to try out Gantt charting, there are plenty of options out there. We picked GanttProject since it is a free and open source project management tool that can be downloaded online. Your work can be exported as CSV,PDF, HTML, PNG. Some people find it a bit difficult to manage, others downright overwhelming, but if you can tackle this one, the others are a walk in the park. This is a great exercise to put those wonderful lists you made while reading our previous article. Start off by creating your project:
Step 1. Creating your project
Project > Properties >
Name and description [Here you can fill out basic information about your project.]
Calendar [Set the project start date, establish weekends and days off]
Resource Roles
Let's say that you have a software project in mind. The roles you appoint will be available whenever you add a new resource. Here are a few roles in no particular order: Project Manager, Business Analyst, Software Developer, Designer, Marketing Manager, Tester, Database Administrator, Quality Assurance Analyst, and so on. Make sure you know exactly what your project needs in terms of staff and human resources. If you are unsure, check online hiring websites to see job listings in your field.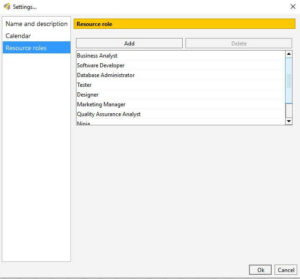 Step 2. Listing your resources
Go to Resources > New Resource (or hit CTRL+H or Right-Click on the Resource Chart Plot for shortcuts). You will notice how you have to insert the name and personal information of your team members along with their days off. Using a very fine random name generator we came up with our team of experts, plus a ninja! This is how it will look like as a list:
Alexandra Martin – Project Manager
Ian Andrejew – Software Developer
París Bernal Velázquez – Business Analyst
Kenneth P. McGee – Database Administrator
Petronio Bellucci – Tester
Clara C. Lee – Designer
Stefan Junker – Marketing Manager
Yuan Tsui – Quality Assurance Analyst
Arichikurukuto – Ninja
Well, to quote Marry Poppins, "In every job that must be done. There is an element of fun". Your resource chart should be as detailed as possible since it will come in handy later. Feel free to add 'Freelancers' and other fields that you think you might need. Another helpful option is that you can assign these roles as 'Coordinators' in the 'Task Properties'. During the project, you can simply look one team member up and see which task or phase they have to complete or coordinate.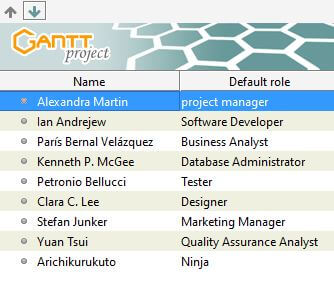 This leads us to the next step.
Step 3. Creating your Gantt tasks
Go to Tasks > New Task (or hit CTRL+T or Right-Click on the Gantt Chart Plot for shortcuts). We followed a very basic outline from Planning to Marketing. This is so simple you can almost visualize the Critical Path. Feel free to name and color-code and select patterns as you wish. You will notice that you can create tasks, milestones, predecessors, but most importantly assign 'Coordinators' in the 'Resource' tab of the Gantt task. For more info on what these mean, check out a previous post. You can edit them, rearrange them, change the dates, drag and drop, and many other things. Experiment with these a little. You will see that the planning phase should not be a mortifying experience.
Helpful options and features
You can share the workload between different roles by assigning different units. In the 'Resource Chart', there's an overview of the total workload. If a particular unit is color-coded as red, it's overloaded. If it's green, then it's under-loaded. In this manner, you can accurately plan to use your resources efficiently.
You can add dependencies by clicking on the 'link' icon in the Gantt Chart section, or by dragging an arrow from one bar to another in the Timeline Plot. You can also zoom in and out for better visualization.
There's also a button in the upper right corner of the timeline called 'show critical path', so you won't have to think about it yourself. More about it, here.
Moreover, there's a 'Baselines' options, which enables you to see which task is on schedule, which was completed earlier than before, and which is was completed later than before. You can assign colors to make it more visual.
For a simplified Gantt chart, select 'PERT Chart' from View > PERT Chart. It shows you the Name, Start Date, End Date, and Duration. It has a nice and sleek flow.
Step 4. Saving and exporting your project
After you hit Project > Save, go to Project > Export and select your preferred extension. The PDF encompasses Tasks, Resources, Gantt Chart, and the Resource Chart, which could turn out to be a quick report for an unexpected meeting. True, the design is not a work of art, but the JPEG and PNG pictures serve their purpose. For an aesthetically-pleasing timeline, check out Toggl Plan. But if you set your mind to use GanttProject, you can change the settings and design of your GanttProject template by going to Edit > Settings and selecting either > Gantt Chart or > Resource Chart. You can also change the font, language, and date format of your template.

GanttProject may seem overwhelming at first, but you can play with it for a little while until you get acquainted with it. So, now you know how to plan your human resources using a Gantt chart. What's stopping you to plan your next great idea?