Explore tips to help you stay productive while working remotely. A guest post from the 100% remote team over at SimpleTexting.
At SimpleTexting, our entire workforce is remote. Digital nomads and homebodies alike, our staff coordinates day-to-day activities across time zones, cultures, and troublesome café wifi.
While a unique opportunity, remote work isn't without its challenges. The biggest obstacles by far are how to motivate productivity and manage time with staff around the world.
As the resident time experts, we're thrilled that Toggl allowed us some space to share our favorite time management tips for remote workers and staff on-the-go.
Did you know that between 2005 and 2017, there was a 159% increase in remote work? If you don't already WFH (work from home), these tips may still come in handy. Because if the data tells us anything, it's that remote work will only continue to grow.
Grab a coffee, and settle into SimpleTexting's top seven productivity tips for workers on-the-go!
1. Prioritize Your Tasks
When you start your workday, it's tempting to knock the simplest things off your to-do list first: check emails, social media, pet the dog—the usual pre-coffee routine. However, many productivity experts are in agreement that this isn't the most effective approach.
Following the "eat the frog" methodology, it's actually better to start your day with the highest priority tasks you're often tempted to push off to later in the day. Your focus wavers as the day goes on. This makes these tougher tasks even more of a challenge. In order to see your best outcomes, you want to tackle your Goliath first.
2. Block Distracting Web Pages
If you've ever lost an hour or two of your life down an Instagram rabbit hole, you're not alone. Recent studies show that online distractions can cost the average worker close to 2.5 hours of work productivity every single day! The easiest way to prevent distraction is to remove the temptation. You don't have to delete yourself from social media or sports news sites. But you can temporarily block them.
Website blocker tools such as Freedom or StayFocusd exist to help remove the temptation for you. Simply set a window of time you wish for distracting sites to be blocked, and poof. So long time-suckers. Once again, when there are no nosy coworkers to look in on your screen, this added accountability tool can be a necessary step.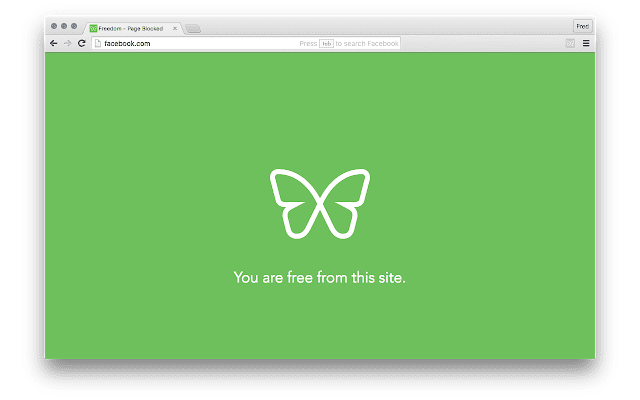 3. Utilize Rewards
When you work a few feet from your kitchen, you may as well utilize it! Working in a system of rewards for sustained periods of productivity is a psychologically proven positive reinforcement method. At least 78% of people report feeling more productive after a reward. Of course, everything in moderation.
In order to keep your brain from feeling sluggish, you may want to sub out ice cream scoops for some carrots and hummus every now and again. And if food doesn't excite you, consider using music, stretching, or a quick, fun video as your incentive.
No matter what you choose, it's important to give yourself micro-moments to look forward to throughout the day.
4. Send SMS Reminders
Does your work calendar look a little bit like this?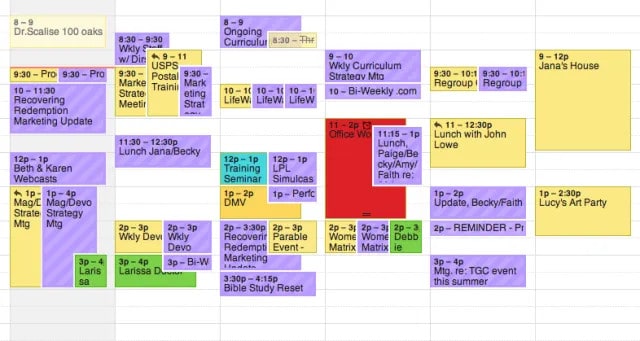 Let's face it, busy schedules often result in things falling through the cracks right into professional limbo. Our email inboxes are often just as full of unread messages in need of attention. So, in order to make sure important reminders don't get lost in the shuffle, utilize text alerts. 
Mobile is the ideal platform for remote workers. You can schedule your text messages on-the-go with SimpleTexting's mobile app and, if you track your time with Toggl's mobile app, you can log the time you spend organizing your calendar and setting text reminders. For staff who are on the road a lot and may not have ready access to their email or calendar, texts are a great way to ensure that important information is visible and accessible.
Both mobile apps are completely free, with no features hidden behind a paywall. For Toggl, data sync is even available right out of the gate, as well as a graphic report of your time tracked. There's also an in-app calendar integration feature that adds your calendar events as tracked time entries!
5. Try The Pomodoro Technique
Across the SimpleTexting team, one of our favorite time management tips is the Pomodoro technique. This workflow technique simply breaks down your productivity into timed 25-minute intervals. After each 25-minute work period, you're rewarded with a five-minute break. Once you complete four 25-minute "Pomodoro" sessions, you're rewarded with a longer 20-minute break.
We love that we are able to use Toggl's tracking reminders as a way to hold us accountable. It's like having a virtual supervisor with all of the encouragement and none of the pressure! A built-in Pomodoro timer is also available in the Toggl desktop app and through the Toggl button extension.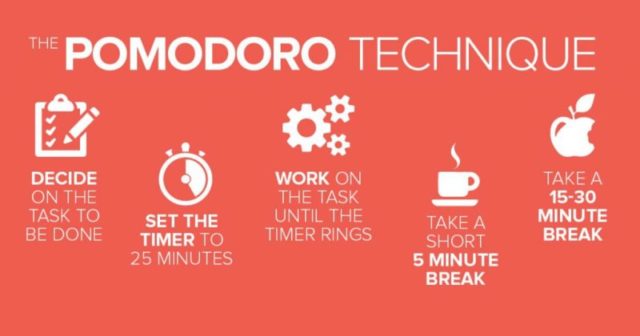 6. Skip The Meetings
Even though we work remotely, that doesn't mean we're forever freed from all meetings. A great deal of time for remote workers is often taken up by unnecessary meetings created just to compensate for the lack of face-to-face contact. The effectiveness of these meetings, however, is somewhat murky. Advocating for more purposeful meetings can yield much higher productivity.
If you're not sure a topic warrants a meeting or not, just use this handy flow chart!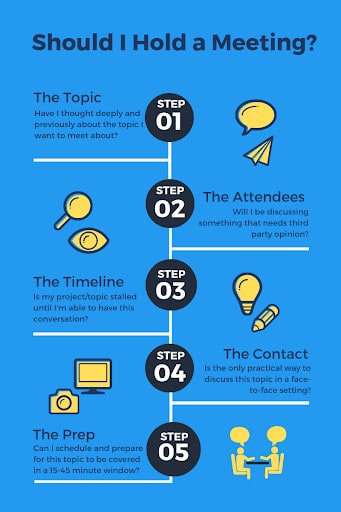 7. Try Some Voice-To-Text Tools
Remote work can shave considerable time off of your daily commute—my personal commute from bedroom to the office takes approximately 3 seconds! However, that doesn't mean you don't spend time away from your computer or out of the car. So, how do you make sure time on-site or behind the wheel doesn't equate to time lost?
Enter voice-to-text tools. Products like Apple Dictation, Dragon, and Gboard can help you capture thoughts and notes on-the-go with just your voice. With a simple Bluetooth connection, you can turn car rides into a creative space to brainstorm, share feedback, or manage schedules.
Closing Thoughts on Remote Productivity
The mobile workplace is evolving. Offices are transforming into optional co-working spaces. Boardrooms are being swapped out in favor of living rooms. And your nosy coworkers can now be replaced with text alerts and time tracking software for a much more sophisticated and autonomous work day.
If there was ever a time to boost your personal work ethic and accountability, it's now. Not sure where to start? Try Toggl for free for 30 days and see how you can supercharge your productivity in the new year thanks to time-saving features, robust reporting, and simple project management.
And, as always, SimpleTexting offers two weeks completely free. Communication has never been simpler!