As an agency owner or project manager, you constantly juggle projects and deadlines. At the same time, you have to keep your creative teams running like a well-oiled machine.
It's a catch twenty-two—balancing workload without compromising quality or overloading your team with work.
Imagine:
You've just landed a fantastic new project that demands 200 hours of video editing wizardry. But hold on. Most of your video editing ninjas are either sipping cocktails on sandy shores or deeply engrossed in other client projects.
Your brain's already whirring with questions like:
Who can handle this project? You don't want to overwhelm anyone. And you definitely don't want to see your team's superpowers burn out due to excessive workloads.
When can we kickstart this project? Your available editors are already jam-packed with existing campaigns. You want to ensure your team can give this new client and project the attention they deserve.
When can we confidently promise delivery? Meeting deadlines is your agency's unique ability. You're determined to avoid any last-minute rush or overworking your team.
But more importantly, where do you look for this information?
Fret not. We've got your back.
We're excited to announce Toggl Plan's newest resource planning feature:
Introducing the new Availability overview
The Availability overview is a simple and visual way to understand your team members' availability over a given period—the next week, month, quarter, or between custom dates.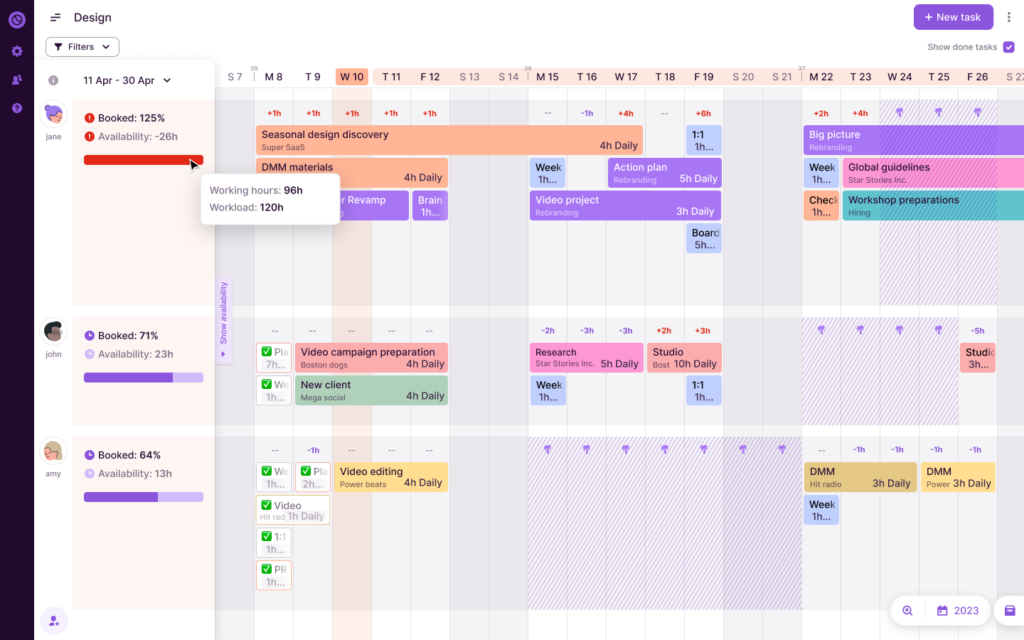 It's a drawable panel on a Team timeline view. With one click, you can open the panel and see the following for each team member:
Workload: Identify over or under-booked team members. Balance workloads by moving over tasks in the Team timeline.
Available capacity: So when new work comes in, it's no longer guesswork. You know exactly who can take it up and when they can start.

Top tip:
Open or close the Availability overview panel by clicking the 'Show availability' tab on a Team timeline or using the 'S' keyboard shortcut key.
By default, you see the availability data for the next 30 days. But you can easily customize this using the From-to dates input on the panel.
When the panel is open, you can also see the dates in the selected period highlighted on the horizontal axis of the Team timeline. This way, you can focus on the balancing timeline instead of returning to the panel to check the selected period.
As before, you can see the daily availability above the swimlanes on the Team timeline for a more granular overview.
How is the available capacity calculated?
All calculations in the Availability overview panel are only for working days.
Weekends and time-offs, such as public holidays and vacation days, are excluded from the calculations. As a result, you get the right insight into your team's capacity every time.

Top tip:
To see your team's accurate availability and capacity:
First, set each team member's working hours and country-specific public holidays in their user settings.
Next, use the Time off feature to plan off days.
And finally, schedule tasks with Time estimates. If the Time estimate property is not visible on the Task card, access it from a Task card's menu. You can also make Time estimate visible on all tasks from your profile settings.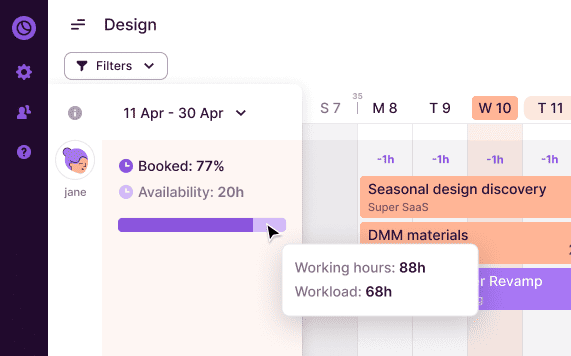 The available capacity is calculated by subtracting the team member's assigned tasks' estimates from the total available hours. It's calculated in hours.
Available capacity = Total available hours - Assigned tasks' estimates
Who has access to the Availability overview feature?
The Availability overview feature is available only on the Business subscription plan.
Level up your team's capacity planning
Want to be among the first to try out the new availability overview?
Sign up for a free 14-day Toggl Plan trial or upgrade your subscription to the Business plan.
And don't forget to share your feedback about what you love and what we can improve. Let us know at support@plan.toggl.com.
Jitesh is an SEO and content specialist. He manages content projects at Toggl and loves sharing actionable tips to deliver projects profitably.