Basecamp is a popular remote team collaboration tool. It has some fantastic features — to-do lists, file sharing, and chat — to facilitate team communication.
But, it doesn't offer a lot when it comes to project planning, task tracking, or people management. As more teams prefer working remotely than ever before, these features have become non-negotiable.
That's why we compiled a list of Basecamp alternatives that come with better project and task management features.
In this article, you'll learn:
Top remote collaboration challenges
Reasons why Basecamp may not be right for you
And, the top 15 Basecamp alternatives
Let's get started.
5 challenges that make remote team collaboration difficult
Flexible schedule, absence of commute, and location independence is what makes remote work attractive. But, remote teams, especially those forced to work remotely, are struggling with productivity and collaboration.
In a survey by Buffer and AngelList, team collaboration and communication was the biggest struggle for remote teams.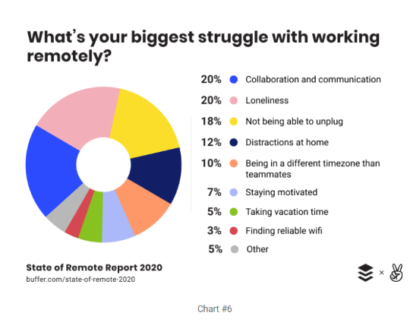 Let's look at the top five reasons that make remote team collaboration challenging.
1. Project management
The difficulties in communication and coordination complicate project management for remote teams. Without clarity on project milestones, task completion, and workload, teams will have a tough time meeting project deadlines.
A project management app can help streamline project activities, manage tasks, and deliver the project on time.
2. Working across timezones
Each remote team member works as per their timezone. While this is liberating for the individual, not everyone is available on a singular schedule. To resolve this, many teams prefer hiring people from specific geography or timezone.
A plausible alternative to this is to ensure that team members have visibility on the entire team's schedule. This way, they can work in a way that streamlines team coordination without compromising their personal work schedule.
3. Asynchronous communication
Teams that were forced to go remote are finding it tough to collaborate as they are working from different locations. For instance, a designer may have to wait for the copywriter's inputs to finalize the changes. This process is inefficient.
Instead of relying on emails exclusively, teams need to implement a collaboration suite that includes project management, communication, and file storage software. Also, make sure whether the existing apps integrate with the collaboration software.
4. Tracking productivity
Project managers need to track task completion to ensure the project stays on the timeline. Team members are concerned with individual productivity. The lack of a robust project management tool makes it tough to measure these metrics.
Project management software lets you customize workflows, visualize task timelines, and workload. Custom workflows shed light on the task status and timelines help you track productivity.
5. Workload management
The 2020 State of Remote Work by Buffer and AngelList also noted that remote team members are struggling with loneliness, distractions, and unplugging from work. The skewed work-life balance impacts productivity in the short-run, and it can lead to burnout in the long run.
Scheduling time-off and taking vacations are effective to fend off burnouts. But more importantly, setting a strict daily routine will enable individuals to stay productive during work hours. Incorporating Cal Newport's work shutdown ritual can help them unplug from work on time, preventing burnout.
6 reasons why you may want to look at Basecamp alternatives
Basecamp offers a suite of collaboration tools — chat, to-do lists, and centralized file storage. These tools work really well on their own for a specific way of work.
However, Basecamp may not work for your team. Here's why:
1. No workflows
Each Basecamp feature works well for a specific task. You can chat with team members, work on to-do lists, and share files.
But, there's nothing in Basecamp if you follow a workflow. This means you can either:
Adapt to Basecamp's way of work
Or, create a mental workflow model, train your team to use it, and hope things work out.
2. No overviews
Basecamp has a Schedule feature to keep track of deadlines. But, there's no way to get a quick visual overview of what's happening in the project.
This works great for teams like Basecamp where there are no project managers or external stakeholders.
This may not work for you if:
Your team needs a project manager
Or, your clients need to see what's happening with a project
3. No planning features
Basecamp comes with to-do lists to help you manage tasks. But, there's no way to plan a task timeline or allocate resources for a task.
To-do lists work great for simple projects. But for even slightly complex projects Basecamp's to-do lists can fall well short.
Basecamp's to-do lists may not work for you if:
You need to plan a task timeline.
Or, you need to work with resources that are shared across teams.
4. No task management
Basecamp to-do lists are great for managing simple tasks. This means you can add to-dos, assign them to team members, and add deadlines.
But, for most teams that not enough.
Depending on your workflow, tasks may have statuses that are more than just done or not done. Or, you may want a checklist to ensure task quality. In some cases, stakeholders may need an estimate for a task or the project.
Basecamp lacks these task management features.
5. No workload management
Workload management helps you distribute work fairly across the team. As a result, you can ensure that no one is overworked or underwhelmed. At the same time, as a manager, you can get work done with maximum efficiency.
Basecamp lacks features that help you visualize your team's workloads. In addition to Basecamp, you may need a calendar tool to find available team members and assign them tasks.
5. Can be expensive
There is no free plan for Basecamp, other than the Personal plan. After a 30-day free trial, you'll be charged $99 per month, whatever your team size.
Great for teams with 20+ members. But, for small teams, this may feel a lot more expensive.
You may need to put in some training in place to get started with Basecamp. As a result, you may have to spend some more on onboarding costs.
Top Basecamp alternatives for remote team collaboration
We've looked at remote team collaboration challenges, and why Basecamp may not be the right tool for you. After that, let's now look at the best Basecamp alternatives for your team.
Toggl Plan is a beautifully simple project planning and collaboration tool. Its interface is intuitive and straightforward. As a result, your team will get started quickly and use it daily.
Let's look at some key features:
Timeline project planning & management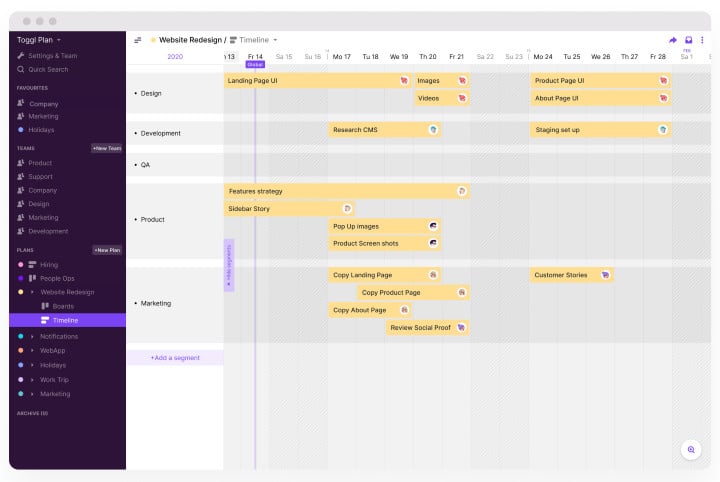 The Project Timeline feature makes it a breeze to plan and manage projects. And, the drag and drop interface makes it easy to create an early-stage project roadmap or a detailed task plan.
In addition, you can also set up milestones on the timeline to track important deadlines.
Above all, one quick look and everyone can quickly get an overview of what's happening, when it's happening, and who's going to make it happen.
Simple, powerful task management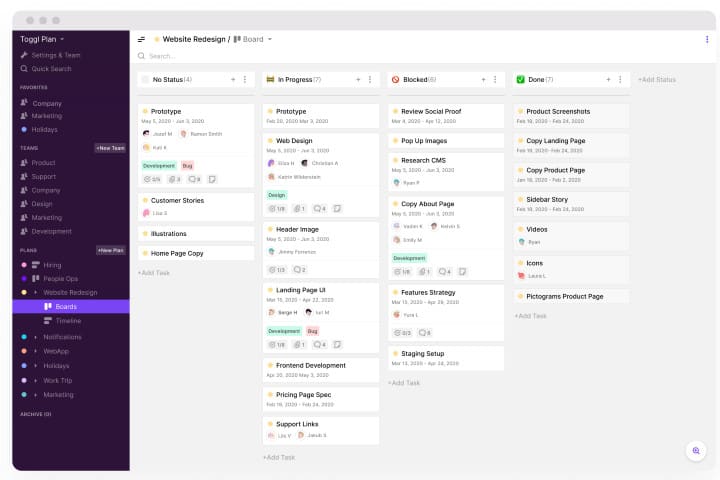 Unlike Basecamp, which can be very rigid, Toggl Plan can be customized to match your team's workflow.
You can customize task statuses, set deadlines, add subtasks, and define task estimates. Plus, you can tag tasks and classify them into segments.
And, very conveniently, tasks can be tracked and managed both from the timeline and the board view using simple drag and drop.
Team collaboration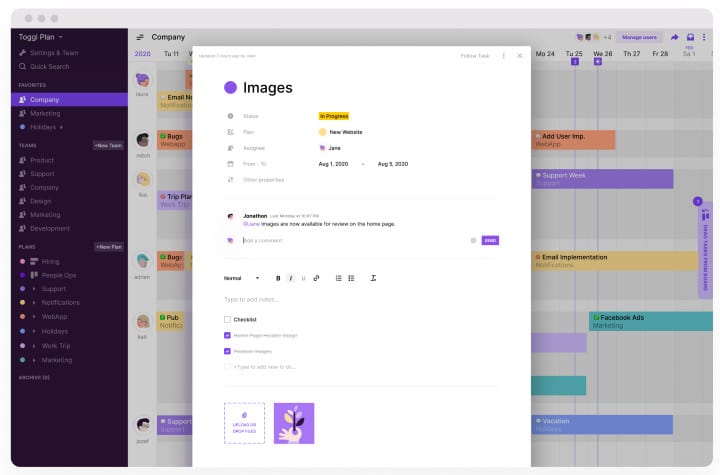 With Basecamp, project information is spread across chats, to-do lists, and shared files. On the other hand, with Toggl Plan, everything's in one place. All task-related information is on the task card itself.
In addition, multiple team members can be assigned to a task. Who, then collaborate with task comments and file attachments.
Team workload management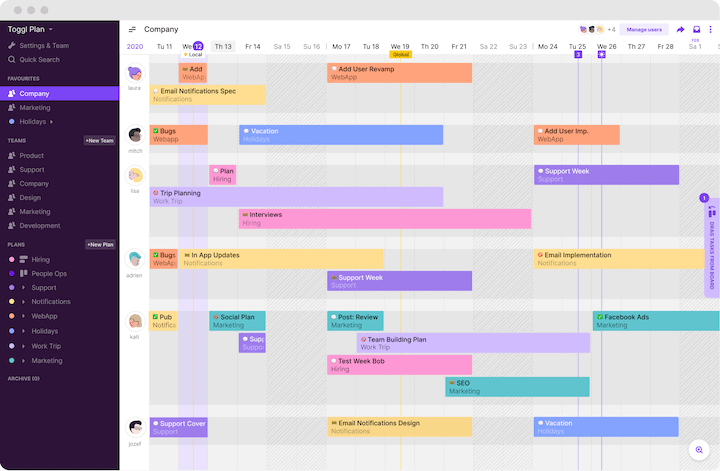 In addition to the project timeline, Toggl Plan also has a Team Timeline. This timeline is where you can quickly get visibility about who's working on what. Even, across projects.
That way you can ensure that none of your team members feel overworked or burnt out.
Pricing
Toggl Plan is free for solo users with unlimited projects and tasks. The team plan costs $9 per user, per month. The premium plan comes with additional features such as team planning, recurring tasks, and time tracking.
Try Toggl Plan risk-free for 14 days
2. Asana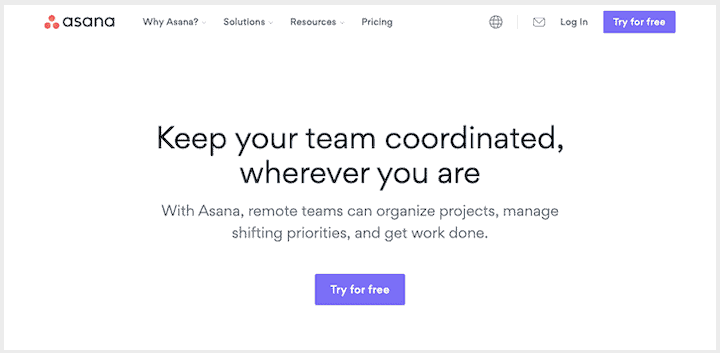 Asana is a leading project management tool. And, probably among the top Basecamp alternatives. That's why it's used by big, complex teams for planning and delivering projects. On the other hand, small, non-technical teams may find it clunky and overwhelming.
Features
Multiple project views — calendar, timeline, and task list. That way you can choose a view that suits your team's workflow.
View comments, requests, etc. in their respective inboxes. As a result, collaboration is as simple as an email.
Set rules to automate routine tasks.
Pricing
The free plan allows you to collaborate with 15 users. The premium plan starts at $13.49 per user, per month.
3. Trello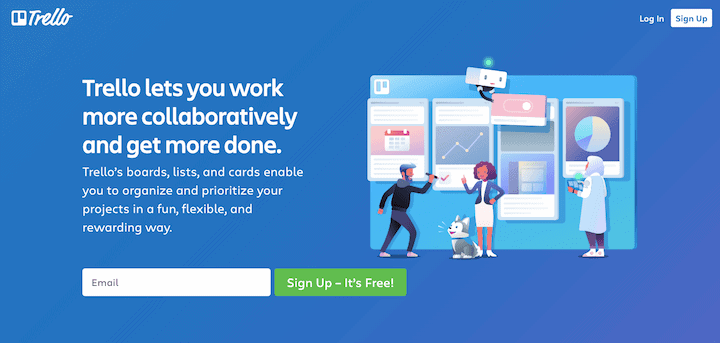 Trello is a kanban-based alternative to Basecamp. It comes with a free personal plan. As a result, its quite popular among freelancers and small teams. However, it doesn't have planning or workload management features.
Features
Organize your projects by creating customized workflows
A humongous library of built-in and community-generated project templates
Set rule-based triggers and commands to automate project activities
Pricing
Free for up to ten collaborative boards. The paid plan starts at $12.50 per user, per month.
4. ClickUp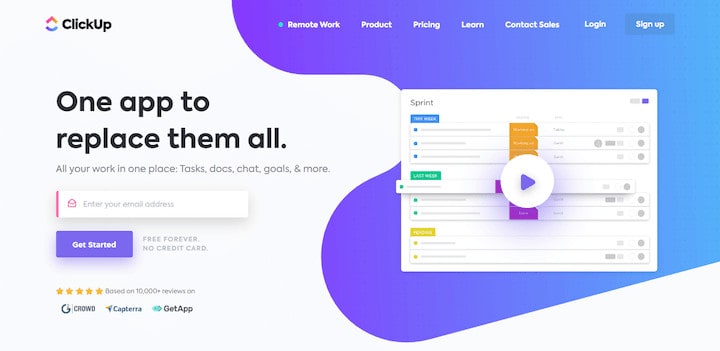 ClickUp is overwhelming compared to other Basecamp alternatives. That's because, it every feature for managing a team — HR, marketing, finance, sales, and development functions.
Features
Provides process, task, time, and project management features
The collaboration aspect includes multiple assignees, threaded-comments, guest access, track edits, and find out who's online
The workload chart helps with efficient resource allocation.
Pricing
The free plan includes unlimited tasks and users. But you need to get ClickUp's Business plan ($9 per user, per month) for more storage and better privacy and security.
5. Monday.com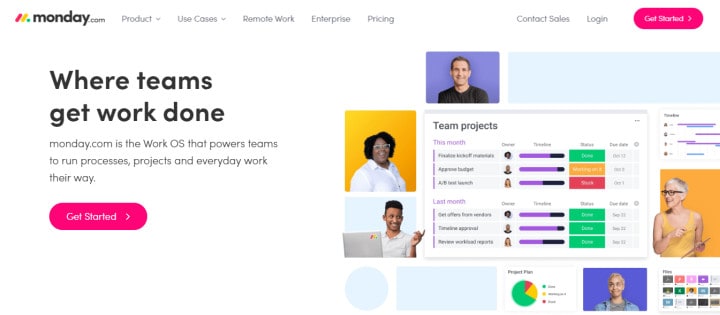 Monday.com is one of the top alternatives to Basecamp. It comes with features that are similar to Basecamp. But, also offers powerful work tracking and analytics features.
Features
Track task progress and workload for better resource allocation
The Zoom integration allows you to link the recording of the meeting directly to the team meeting board
It comes with built-in customizable templates to improve remote work collaboration.
Pricing
The pricing is structured in a multiple of five users. The basic plan for five users starts at $39 per month.
6. Proofhub

Compared to other Basecamp alternatives, ProofHub is almost a clone of Basecamp in features, UI, and pricing.
Features
Discussions and chat features enable you to communicate with the team and clients under pertinent tasks/projects
With the help proofing, you can annotate files, leave feedback, manage version control, and approvals
You can assign custom roles to optimize project workflow
Pricing
ProofHub charges flat monthly or annual fees like Basecamp. The essential plan costs $45 per month when billed annually.
7. Wrike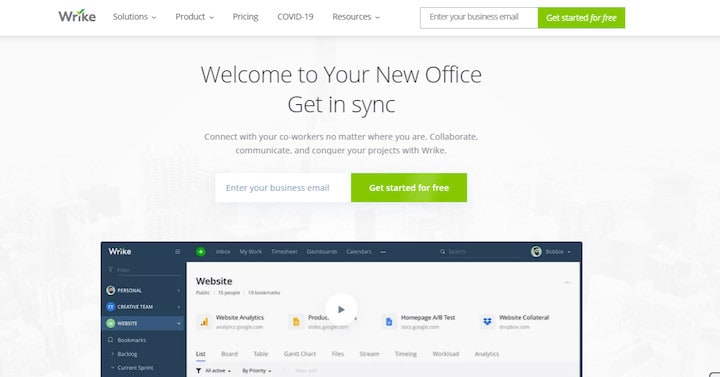 Wrike is an excellent tool for conventional, large-team project management. This Basecamp alternative helps remote teams collaborate better through customizable dashboards, shared calendar, and live task editing.
Features
Visualize personal workload via calendar and timeline views. Prioritize tasks by sorting tasks by deadline and progress. Pin important tasks at the top
Review files in real-time, tag concerned people to send personalized notifications. Manage approvals and keep the latest version available through version control
Custom request forms allow you to convert comments and chat questions into tasks and projects.
Pricing
Wrike is a partially free Basecamp alternative with a free plan for five users. However, full collaboration tools are only available in its paid plans starting $9.80 per user, per month.
8. TeamGantt

Teamgantt is the most unique among these Basecamp alternatives. It provides managers and stakeholders a great overview of work using Gantt Charts.
Features
Similar to Basecamp, you can view tasks, documents, conversations, and team availability in a single place.
The drag-and-drop interface simplifies project planning.
You can see team workload as the number of tasks per day and on a timeline to manage resources without overburdening them.
Pricing
TeamGantt is another tool in the list of free basecamp alternatives. Its free plan covers three users and one project. A team of five people can start using the tool at $51.50 per month. However, the pricing goes down with each additional user.
9. Workzone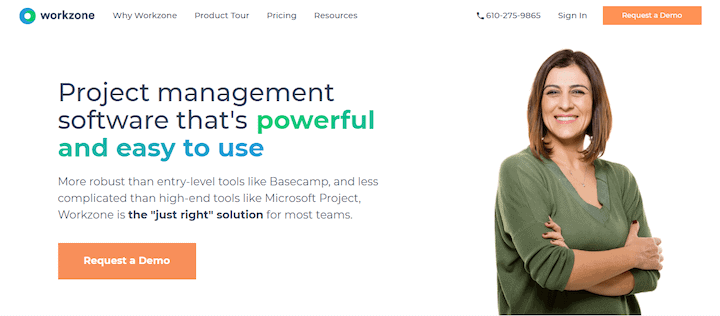 Workzone is a comprehensive alternative to Basecamp. That's because it comes with features right from need assessment, customization to training.
Features
View task dependencies. Get notified on tasks that need urgent attention.
Track project progress using the timeline view and receive timely workload reports.
Collaborate better through secure file sharing, markup tools, version control, and easy approvals.
Pricing
Smaller teams (1-4 members) are charged $40 per user, per month. For teams of 5+ members, the plan starts at $24 per user, per month.
10. Scoro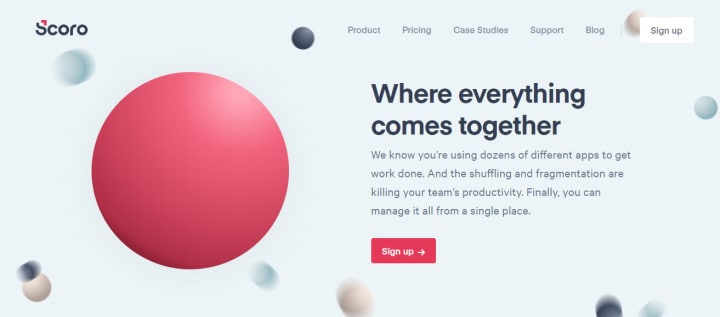 Scoro is an end-to-end business management software. In other words, it is useful for companies looking for one software to run their business.
Features
Seamlessly plan your projects using the nifty, drag-and-drop planner
View important project details like tasks, time spent, finances, and files in one place
Use project templates and task bundles to automate recurring aspects of project management
Pricing
The paid plan starts from $26 per user, per month with a minimum onboarding of five users.
11. Mavenlink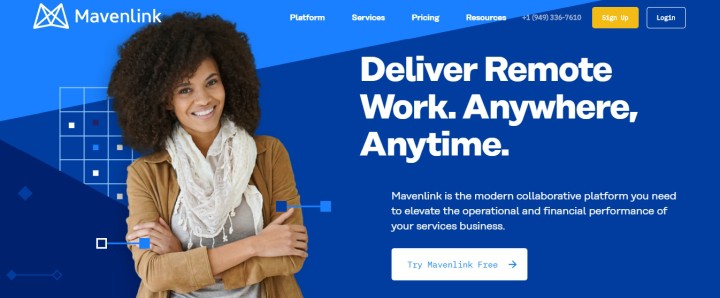 Mavenlink is a collaboration platform that focuses on project management, team collaboration, resource management, project accounting, and business intelligence.
Features
View the entire project portfolio on a single screen.
Extensive resource management includes information on the skills, planned time offs, workload, projects, and demand of individuals
Customize project communication to assign access rights appropriately.
Pricing
Mavenlink does not publicly disclose its prices. But, you can request a quote from their website.
12. Teamwork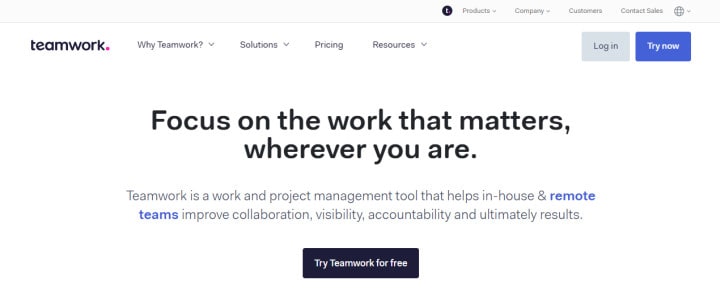 Teamwork is like the enterprise version of Basecamp.
With Teamwork, teams can set up customized dashboards and reports to track project KPIs. Also, project managers can view the daily workload of team members and allocate tasks to prevent the team from getting overwhelmed.
Features
Teamwork Chat enables remote teams to communicate on projects, tasks, and files
Track task and project progress using kanban boards
Use custom project templates to get projects up and running in no time.
Pricing
Free for five team members, including two projects. Pro plans start at $10 per user, per month. Further, you can also get the complete Teamwork bundle that includes CRM and other collaboration software at $35 per user, per month.
13. Bitrix24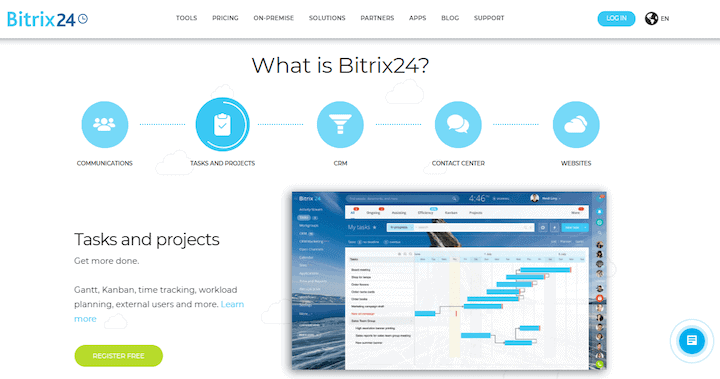 Bitrix24 offers a product suite that caters to different business functions — communication, task management, CRM, support, etc.
In addition to a hosted solution, Bitrix also comes as an on-premise solution for self-hosting. In other words, you can host Bitrix on your own servers for security compliance.
Features
Automatic and manual time tracking for remote teams
Task templates and task dependencies help immensely with task management
Use project workgroups for better project planning and management.
Pricing
The free plan supports basic project management with a few collaboration capabilities. On the other hand, premium plans start at $15.36 per month.
14. Paymo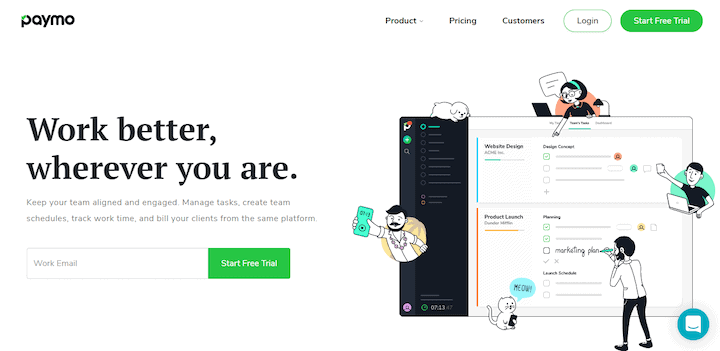 Paymo is a useful Basecamp alternative when it comes to project management. It is another collaboration app with an exhaustive list of offerings to help remote teams work better.
Features
Team scheduling covers workload management, employee and project schedules timeline, and a built-in leave planner.
The activity stream keeps the team updated on what everyone's working on. Users are notified whenever they're assigned a new task.
Robust reporting feature. You can generate time and user reports and further export or share them.
Pricing
Paymo offers a free plan for individuals. However, teams need to buy their paid plans starting $8.95 per user, per month.
15. Notion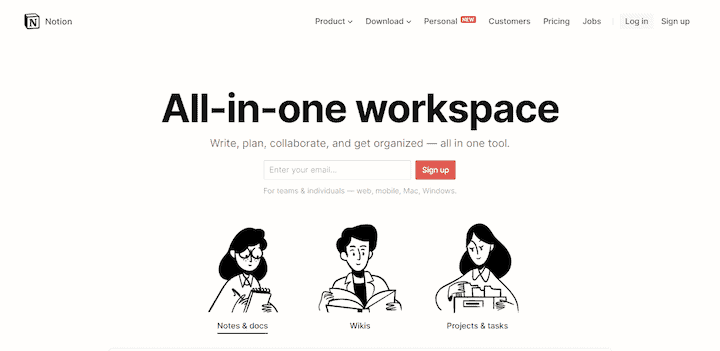 Notion is a strong Basecamp competitor when it comes to collaboration. However, it's document-based collaboration is quite different from other tools. As a result, your team may need some time to get used to Notion.
Features
Collaborative documents allow users to work simultaneously on the same document without confusion
Plan projects using kanban boards. Visualize them in a grid or calendar to get a better understanding
Notion is among the few apps with desktop software.
Pricing
The team plan costs $8 per user, per month.
Choosing the Right Basecamp Alternative
We have covered a wide array of Basecamp replacement collaboration tools. Further, we have seen apps that cover right from the bare essentials of collaboration to end-to-end project management.
As a result, you should now have some idea of what tool would work best for your team. Take the ones you like for a spin. Subsequently, you can choose the one that fits best with your workflow.
And, don't forget Toggl Plan. It comes with all the team collaboration features of Basecamp and is as simple to use. Plus, it also has planning, task, and people management tools.