At first sight, an entrepreneur's work is dream-like. You get to be your own boss, you make your own schedule and you cash in on the profit. You get to do what you want to do when it comes to work as well.
There's one small detail: it isn't always so.
An entrepreneur's work is much, much more difficult than that. It involves countless hours spent trying to get people to buy your product or your services. Entrepreneurs also need to make sure they get paid in order to be able to run the business. Also, they're often faced with hard choices and a high degree of uncertainty.
All in all, being a successful entrepreneur is no easy feat. At any given moment, an entrepreneur is juggling clients, tasks, teams, products – trying to get things done.
This is why having the right tools in place can make a world of difference. These can help entrepreneurs plan and organize their work so this becomes more manageable. What's more, most of these are available online, which makes them easily accessible from any device connected to the internet.
Without further ado, here are our top online work planning tools for entrepreneurs.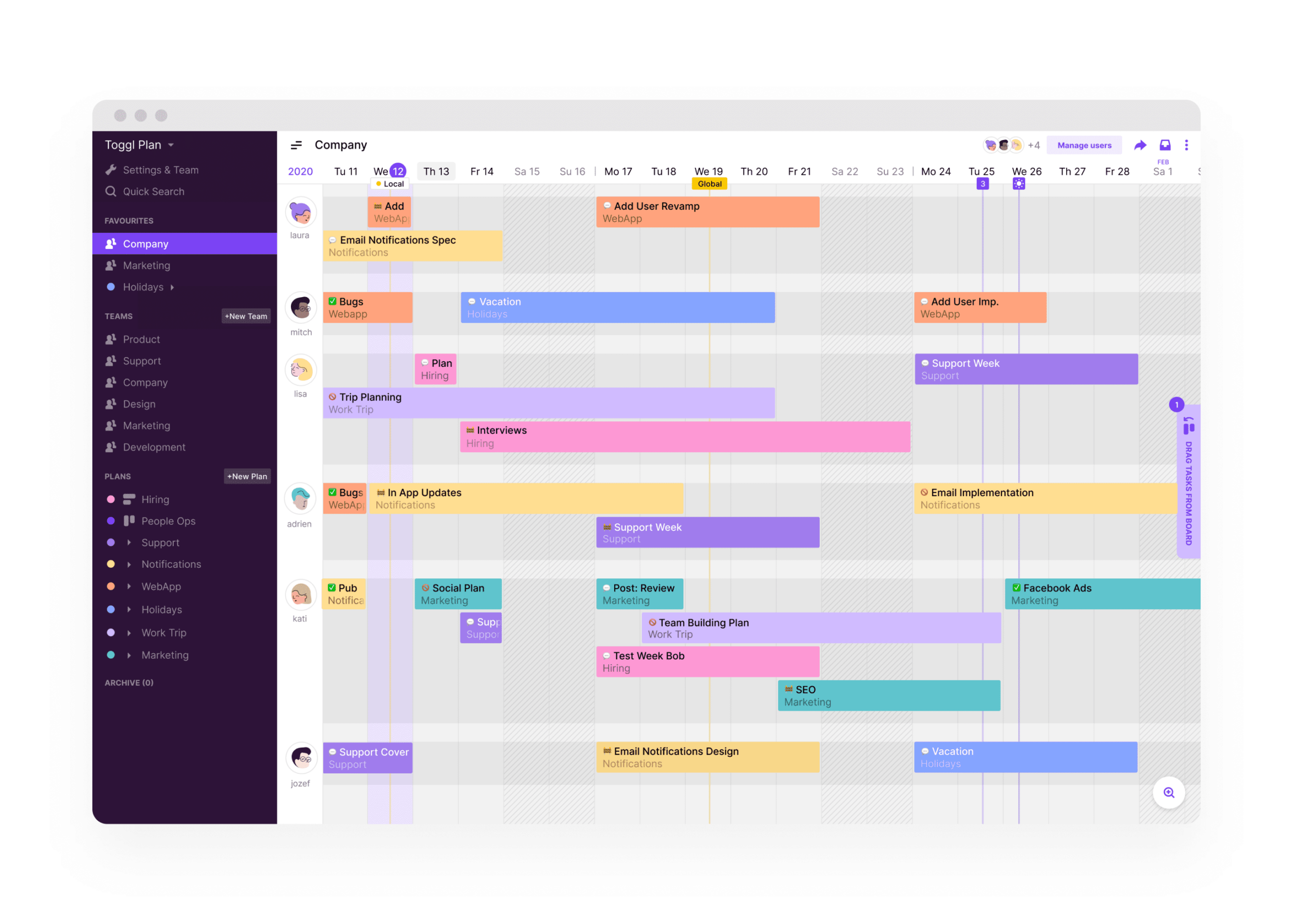 When planning their work, entrepreneurs need to be able to set deadlines and to mark important milestones. Not only is Toggl Plan a great tool for that, but it can also be used to plan and manage projects and resources.
What's more, entrepreneurs can also add collaborators or employees as team members in order to keep an eye on everything. By creating projects with milestones, it's easier for entrepreneurs to stay organized and on top of everything. What's more, it's fairly easy to use and employs Gantt-chart visualization which makes it easier to keep track of things.
Entrepreneurs can use Toggl Plan to create product/delivery roadmaps, to plan their resources and to create important milestones. Additionally, they can import to-do list items from Trello boards right into Toggl Plan to save time. Toggl Plan is free for solo users. For teams, pricing plans start at $8/user per month. Try it free for 14 days here.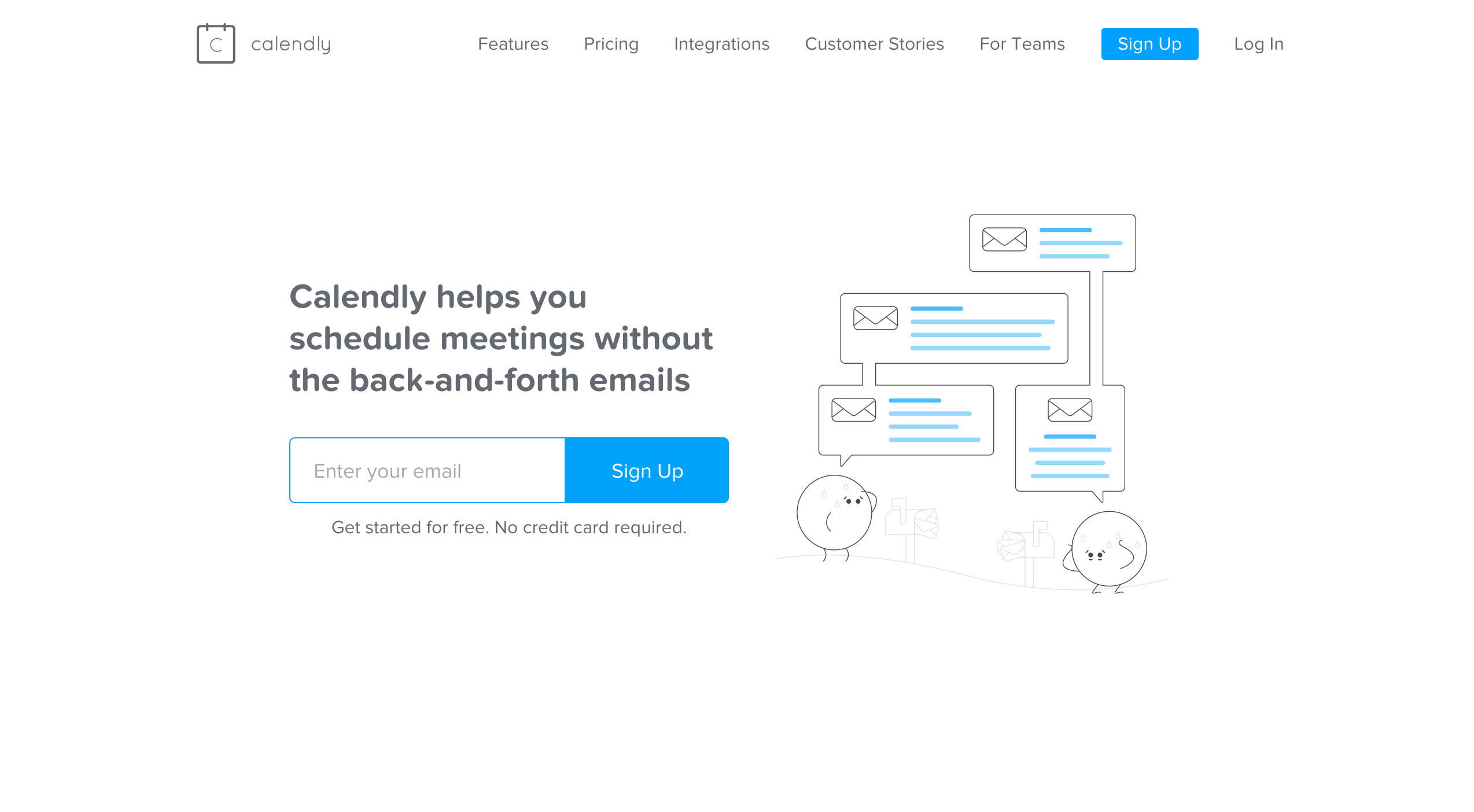 Planning and scheduling meetings can result in a lot of back and forth on availability, especially when there are different time zones involved. With Calendly, scheduling a meeting couldn't be simpler. Entrepreneurs need to put in their availability, their openings and time slots (30 minutes, an hour etc). Clients, team members or collaborators can see when there's an opening and schedule a meeting. What makes Calendly great is the fact that it automatically detects and displays the user's time zone so they don't have to constantly check the local time.
Also, entrepreneurs can set buffer times to make sure that meetings don't overlap. It can be used to book sales calls, demos, one on one meetings or even team meetings. Calendly also integrates with personal calendars, works on all devices and can be customized. It can be used for free and premium plans start at $8/month per user. Try it out here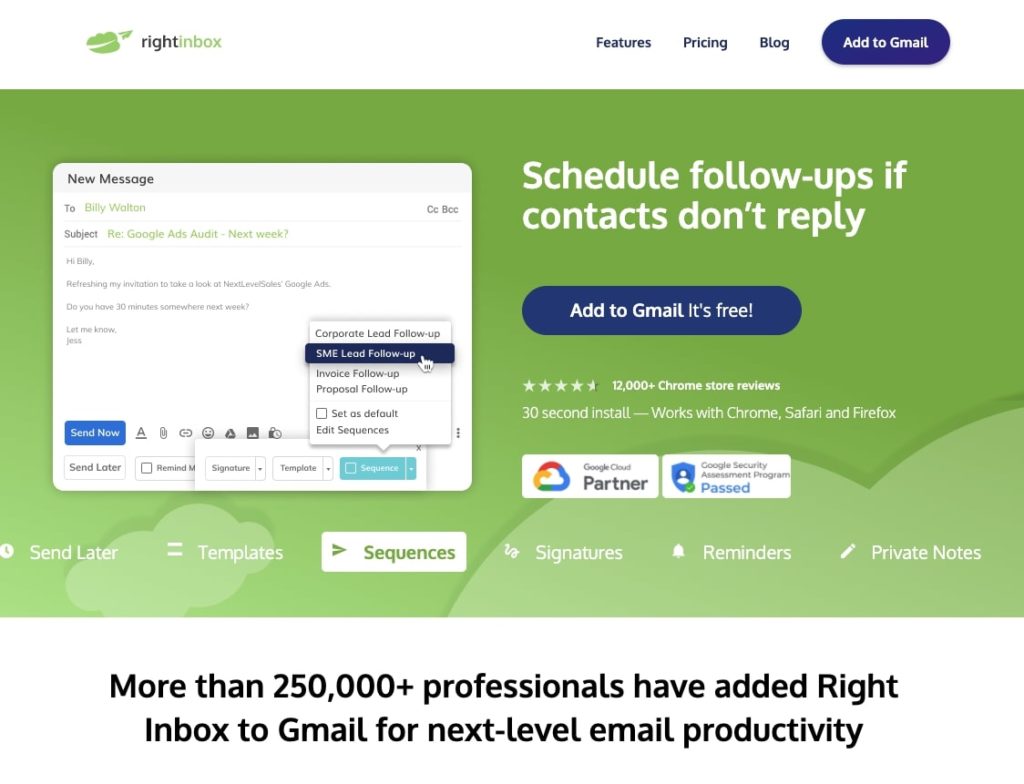 Right Inbox is a Chrome extension that plugs straight into your Gmail inbox with 11 features in total that can bring your email productivity to the next level.
Right Inbox is used by over 250,000 professionals. From email tracking and email monitoring to email management, you'll see why Right Inbox is one of the most useful Chrome extensions today. Users can set up email follow ups automatically within Gmail or set email reminders so they never lose track of important messages. The recurring emails feature also allows users to save time by automating repetitive emails.
The free plan allows for up to 10 credits per/month. For professionals out there paid plans start at $7.95/month if paid monthly or $4.95/month if you sign up for an annual subscription.. Check out Right Inbox here.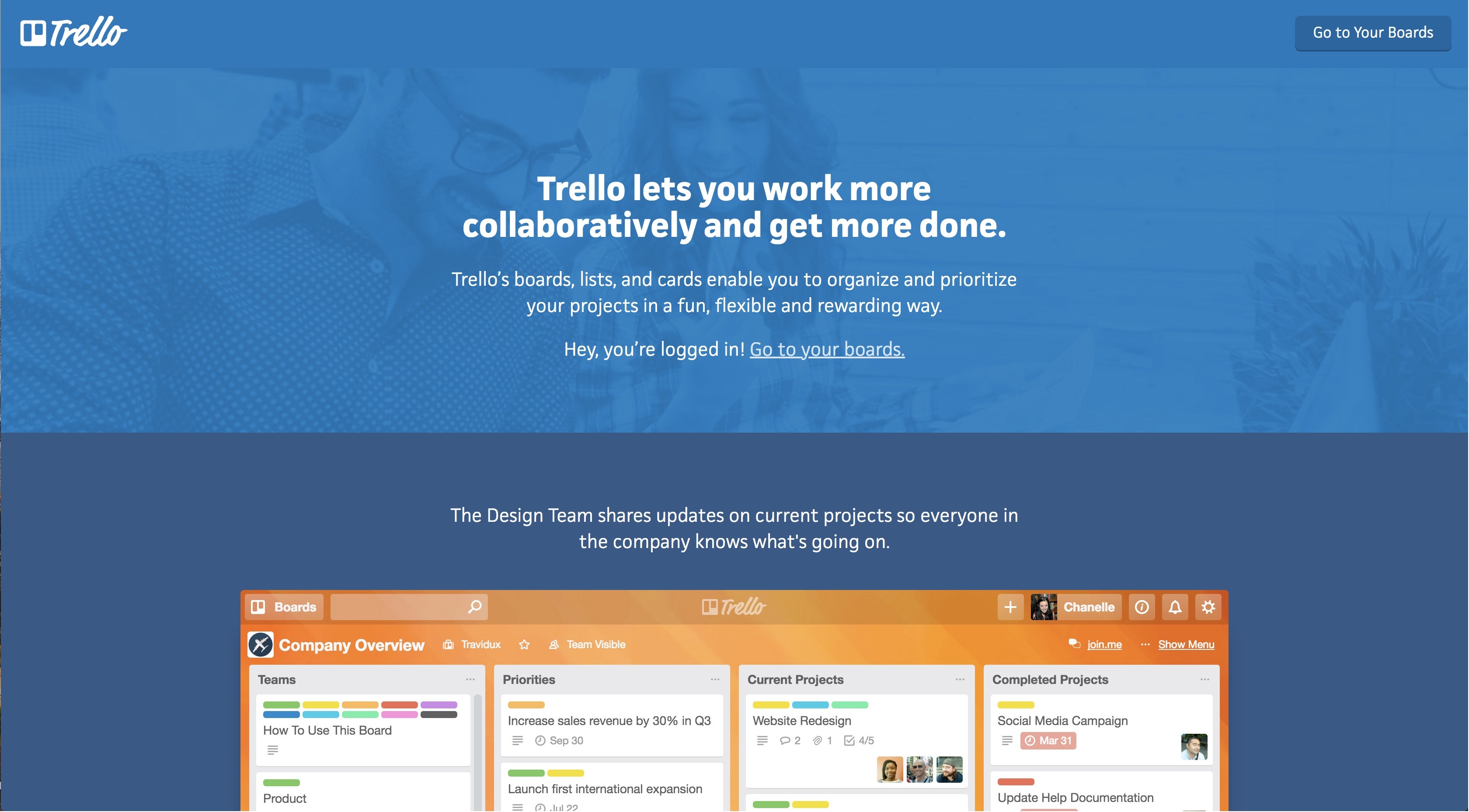 Getting things done starts with outlining what needs to get done. Creating a to-do list is one of the first steps to organizing and planning your work. While Evernote may be a popular list-creating tool, we like Trello better. Boards seem a bit more flexible than notebooks and to-do lists. Entrepreneurs can use Trello to create different to-do lists, according to criteria: projects, clients, marketing, accounting etc.
While Trello is great for personal productivity and managing team tasks, it does fall short with no project planning or team management features. For some startup teams this might mean looking for alternatives that offer better features at a lesser price.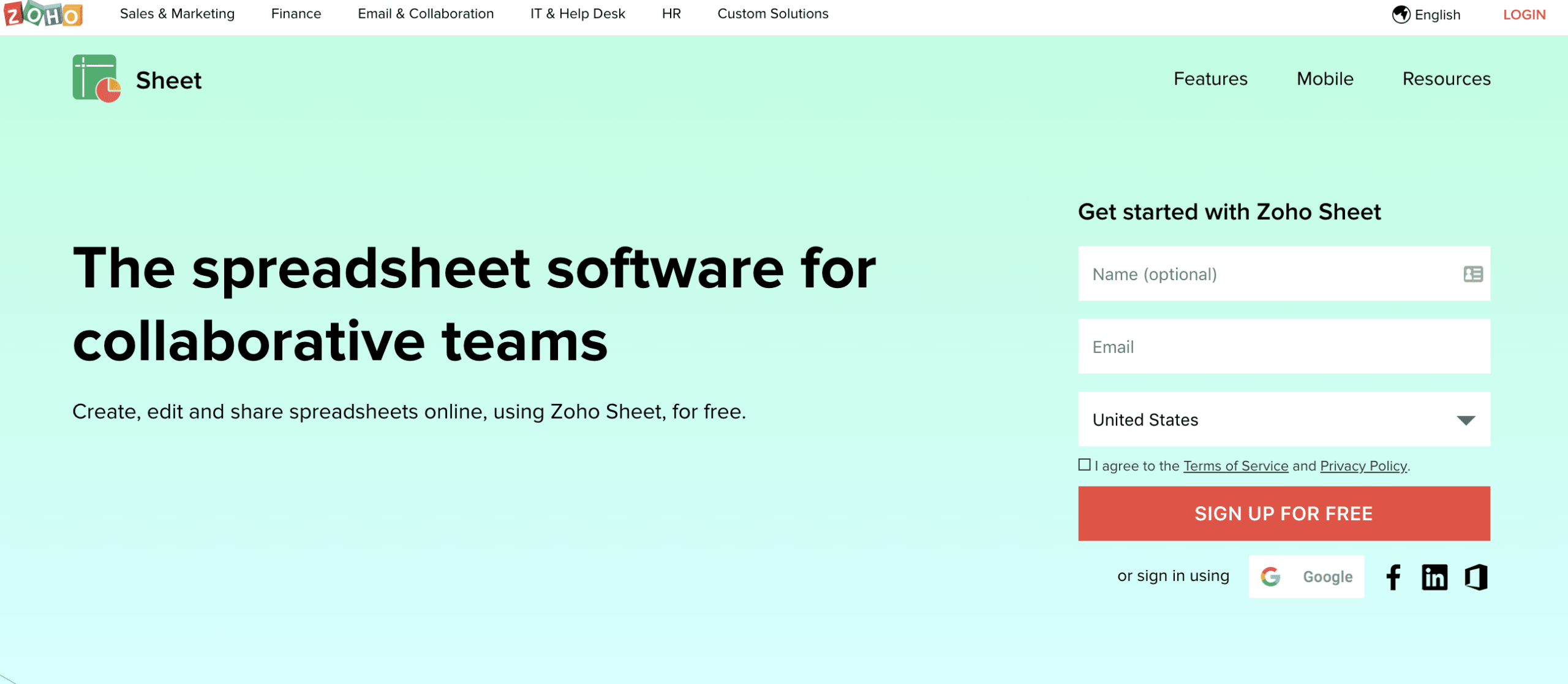 Managing prospects and clients is one of an entrepreneur's most time-consuming tasks. While email might be great for start, in the long run, a customer relationship management (CRM) tool is a lot more efficient. CRMs can help entrepreneurs keep tabs on what you need to do after contacting a potential customer in order to close more sales. Even if it takes up some time for setup and getting used to, a good CRM can help entrepreneurs organize their work by planning follow-ups with potential customers and calls with existing ones.
We recommend Zoho CRM because it's pretty flexible. It comes with Google Apps integrations, making it easier to sync with important documents or personal calendars. It also provides automations flows, scheduling features and blueprints for steps that can be used to close prospects. What's more, it also comes with reporting features that allow entrepreneurs to measure their sales performance. Zoho comes with a free plan that allows up to 10 users. Premium plans start at $14/user/month. Check out Zoho CRM here.

In order to be able to organize and plan their work better, entrepreneurs need to know what takes up the most time. To this end, time-tracking apps are a must. Toggl is one of the most popular time-tracking apps. It comes with an online, browser-based option, along with iOS and Android apps.
Using the browser extension or the online app, entrepreneurs can log in the time they spend on various activities. The reports will then provide insight into what takes up the most time. Once they have that information, they can make changes in order to spend more time on profitable activities. What's more, it can also be used for team. The free plan allows for up to 5 users. Premium plans include access to features such as timeline and budget insights and start at $9/user per month. Check out Toggl Track here.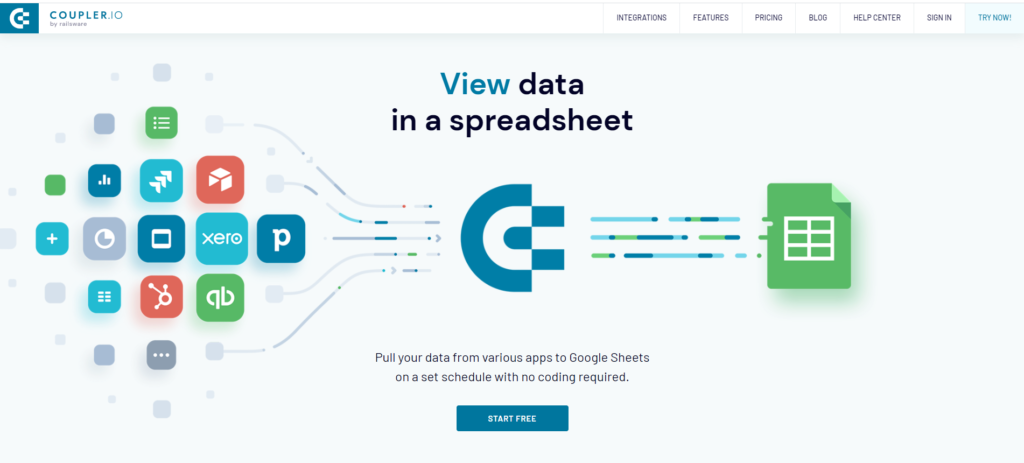 This data transfer tool helps you to automate data flow and optimize various business processes. It gets data from a bunch of places (e.g Airtable, Xero, HubSpot, Jira, and other applications) into a Google Sheet on a set schedule without the need for coding.
As we add more and more tools to our tech stacks, it's helpful to have something to pull it all together. A lot of people still love to use the power of spreadsheets for things like analysing business metrics, or sign ups / leads data. You'll find it much easier to make plans and set goals with a single up-to-date source of data.
So whether you're simply using it to have a data backup, or using some of the more complex features like importing JSON to google sheets, take a look and see if it's for you.

Coupler.io has a free-forever version, with paid plans starting at $19 per month (annual) or $24 per month (monthly).