With the world delivering more and more projects remotely, having a project management software tool that works for your team is critical to success. If you also consider that 1 in 6 IT projects have a cost overrun of 200%, those tools need to not only connect teams but help them stay on track too!
ClickUp is a project management software tool used by organizations across the globe. Whilst it claims to be a single solution for all of your work needs, for some project teams it isn't the right fit.
In this article, we're going to look at 10 of the best ClickUp alternatives. We'll review their functionality, design, and price to see exactly why they're a great alternative as well as how they may better serve the needs of your team!
Here's a glance at what we'll cover:
It's time to jump in!
Why look for a ClickUp alternative?
It's fair to say that those who love ClickUp deliver some great results using their tools. But, when you take a look at some real reviews, not everyone believes that ClickUp fits into their team as seamlessly as they'd like. Here's why:
Functionality. Despite its feature-rich portfolio, some users find the array of functionality hard to use in practice. If you need to do a number of things well, ClickUp may be for you. But for those that need to do specific things perfectly, ClickUp didn't offer the depth of functionality that some teams need.

Design / UI. One of the key areas ClickUp customers get stuck is with the user interface. Similarly to functionality, lots of features lead to a lot of options. This inevitably causes confusion. If you prefer a cleaner and more intuitive design, an alternative may be what you need.

Support. A number of reviews also mention a lack of onboarding support from ClickUp, leaving their teams feeling isolated. If you've got a large team with limited technical capability, a provider which offers better support packages may be a better fit for you.
The above are three broad reasons you may be considering a ClickUp alternative. There of course may be many other reasons that are specific to your team too. Either way, let's take a look at some of the best alternatives and exactly how they compare to ClickUp.
At a glance: comparison table
Not got time to look at each of our recommended alternatives? The handy comparison table below gives you a quick glance at the tools we've picked out and how we think they improve on ClickUp.
| Tool | Starting from | Where it beats ClickUp |
| --- | --- | --- |
| Toggl Plan | Free | Better for capacity planning, and for simple visual overviews |
| Asana | Free | All-in-one feature set paired with better support |
| Trello | Free | Simple design for Kanban projects |
| Monday.com | $8 per user, per month | Stronger 'all-in-one' feature set |
| Samepage | Free | Simple, one page design for collaboration |
| Mavenlink | Price on Request | Detailed feature set for complex projects |
| Wrike | Free | Better automation of task management |
| Zoho Projects | Free | Low price as part of the Zoho suite |
| Jira | Free | Better for software development teams |
| LiquidPlanner | $45 per user, per month | Advanced AI & automation features |
10 Best ClickUp Alternatives
Toggl Plan
Toggl Plan is built for simplicity. Whilst Toggl Plan has a range of features to manage work end-to-end, it focuses on giving users a simple birds eye view of team capacity. You can easily see if team members are overworked (or underworked), and see when people will be available to pick up the next client project.
Why is it a good ClickUp alternative? Capacity planning & visual overviews
Simplicity wins again here for those who find ClickUp too complicated. Toggl Plan's user interface is beautifully designed and easy to pick up no matter how tech savvy your team is. The drag-and-drop functionality means it only takes a few clicks to keep things up to date.
In addition, Toggl Plan is excellent in managing team workloads. You can see at a glance what everyone is working on, how busy they are, and how their work is going.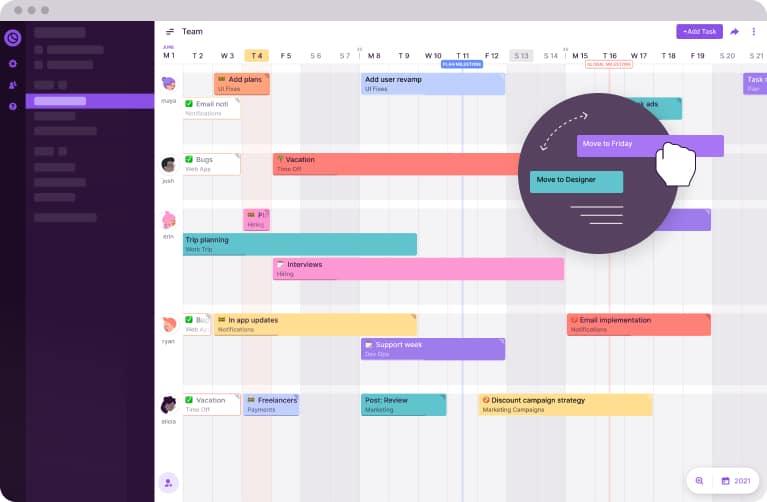 Toggl Plan offers dedicated customer support as well as a great spread of functionality at an affordable price.
Key Project Management Features
Manage the capacity of the team to optimize workloads.
Easily plan project timelines and key milestones with drag-and-drop.
Work flexibly.
Collaborate with multiple team members with comments and tags.
Share documents & file attachments directly in tasks.
Break things down step-by-step with task checklists.
Integrate with Toggl Track for time tracking
Price
Toggl Plan comes with a limited free plan. Paid plans start at $8 and $13.35 per user per month (annual), or $9 and $15 (monthly). The higher pricing tier offers additional features for bigger teams and those who need more control or privacy.
Get a 14-day free trial of everything Toggl Plan has to offer.
Trello
Whilst Trello can't be classed as a complete project management software, if you deliver using Kanban boards, you're in luck! Trello is immensely popular for agile teams and its single view simplicity is easy to get up to speed with. Those who need some automation will also benefit from adopting Trello thanks to their Butler feature.
Why is it a good ClickUp alternative? Better for simplicity
Project teams love Trello because of its simplicity. It gives a simple view of what needs to be completed and what's already been done. Whilst one of ClickUp's great features is its price, Trello also offers great value, especially with its free offering.
Key Project Management Features
Simple design and user interface make it easy for teams to use.
Visually manage projects through Kanban boards and calendars.
Keep all your project documentation attached to project tasks.
Customise Trello to fit with your business processes and terminologies.
Speed up workloads with Trello's Butler automation.
Pricing
The free plan comes with up to 10 project team boards. Paid plans start at $12.50 per user, per month delivering unlimited boards, access for observers and integration for tools such as Slack.
Monday
If you've been in the market for project management software before, you'll definitely have come across Monday.com. Another 'all-in-one' offering, you'll see many similarities between Monday.com and ClickUp. Monday.com also benefits from a wide range of integrations with tools such as Outlook, Slack and Zoom.
Why is it a good ClickUp alternative? Functionality & design
Monday.com has a slight maturity edge on ClickUp. Whilst both platforms share a similar feature set, Monday's often work slightly better in day-to-day action. Monday also strikes a slightly better balance of keeping their user interface clean despite those many features.
Key Project Management Features
Deliver projects across lists, timelines and boards.
Slot Monday into your project processes with custom fields and statuses.
Collaborate on tasks with clients through comments, chat and email.
Automate process flows, updates and alerts to speed up delivery.
Report on project progress, delays and team capacity.
Pricing
There's no free plan with Monday, with their 'Basic' subscriptions starting at $8 per user, month with a 3 user minimum. 'Standard' and 'Pro' packages add additional features for an increased per user price.
Asana
Like ClickUp, Asana claims to put everything you need together in one app. By combining lists, timelines, and boards it ensures teams deliver what they need to do. Asana's simple design also helps new teams to get up to speed quickly, especially when coupled with their highly rated onboarding support.
Why is it a good ClickUp alternative? Better functionality & support
You'll find a similar feature set between Asana and ClickUp, with the former further bolstered by its many integration options. Asana are well-known for their great customer support so those who struggled with ClickUp's complexity should find the experience better with Asana.
Key Project Management Features
Manage projects with either lists, timelines or boards.
Detailed task management features features such as assignee and due date.
Manage team performance, capacity and workload.
Integrate with tools you already use, such as Zoom.
The 'free guests' feature allows you to collaborate with external clients.
Scheduled status updates to align with your project reporting.
Pricing
The free plan has limited functionality for project teams of up to 15 people. Paid plans start at $10.99 per user, per month and unlock enhanced reporting, security and team management features.
Samepage
As the name suggests, Samepage's ultimate goal is to get everyone working together. Through their unique 'one page' collaboration, Samepage combines traditional project management with one page document management. This keeps communication all in one place in the hope that your whole team really will be on the same page.
Why is it a good ClickUp alternative? Simple design
Again, for those that find ClickUp's interface a little confusing, this is a great alternative. That one page ethos means there aren't many different areas to get confused by and just one single place to deliver great results!
Key Project Management Features
Keep delivery on track with one-page task management.
Use boards to plan your project's key tasks.
Collaborate on documents directly within Samepage.
Built in communication tools, including video conferencing.
Get support assistance directly within the Samepage tool.
Pricing
The free plan is perfect for basic projects. Paid plans start at $7.50 per user, per month for those that need more advanced task management, security and administrative features.
Mavenlink
Mavenlink is one of the most detailed project management tools on the market, perfect for complex, enterprise-level projects or programmes. Mavenlink gives you a variety of options to manage your project tasks with advanced features also available for areas such as business intelligence.
Why is it a good ClickUp alternative? Good for complex functionality
Despite all those features, Mavenlink stands up to the day-to-day stress of complex projects. Where ClickUp may not quite deliver on all their features, Mavenlink will!
Key Project Management Features
See the end-to-end picture with project and programme timelines.
Manage team capacity with team resource management.
Enhanced budget and risk management capabilities.
Report on project progress automatically.
Pricing
Pricing is available upon request with four different tiers available: Team, Professional, Premier, and Enterprise.
Wrike
Wrike are becoming more and more popular thanks to their fully featured project management solution. Wrike's numerous customization options ensure you have a system that moulds to your team's way of working. Powerful features for reporting and automation also ensure you deliver on time and keep clients happy.
Why is it a good ClickUp alternative? Good for team collaboration
Wrike is great if you're looking to simplify the way your team collaborates. There's a lot here for automation and approvals so if your focus is task management, you'll find Wrike has the edge over ClickUp.
Key Project Management Features
Deliver projects across boards and timelines.
See who is doing what with team workload management.
Pre-set, customizable project templates help you get started quickly.
Capture rich project information through customizable webforms.
Pricing
Teams of up to 5 can get started on Wrike for free. Professional, Business & Enterprise packages add additional features, starting from $9.80 per user, per month.
Zoho Projects
If you're looking for a cheap tool to deliver basic project management features, take a look at Zoho projects. Built within the Zoho suite, Zoho Projects lets you plan timelines, track workloads, and create complex automations. For those who want to deliver on the go, the Zoho mobile app will keep you connected wherever you happen to be.
Why is it a good ClickUp alternative? Low price
Zoho's wider functionality makes it a great enterprise solution, especially when optimising systems across large businesses. If you need basic project functionality, and already use Zoho, adding Zoho Projects to the mix is very cost-effective.
Key Project Management Features
Track critical and dependent tasks through the Gantt Timeline.
Automate task and delivery updates to save time.
Deliver on the go with the Zoho Projects app.
Track project costs with integrated time tracking.
Integrate into the wider Zoho suite as well as external apps such as Slack.
Pricing
The free plan allows up to three users and two projects. Paid plans start at $2.50 per user, per month and will bring your project team features such as budget control and automation.
Jira
Jira is well-known within the software development community as a great tool to manage your delivery. It combines functionality for tracking tasks, releases, bugs and requirements all within a simple user interface. Jira also integrates into its parent tool, Atlassian, as well as many other external tools such as Slack and Gmail.
Why is it a good ClickUp alternative? Better for software teams
Jira is a great alternative to ClickUp if you're looking for functionality specific to software development. If you're managing project teams of 500+, Jira is also very cost effective.
Key Project Management Features
Keep progress under control with task management.
Use boards to manage product or development backlogs.
Customise fields and statuses to match your way of working.
Automate project tasks to deliver faster.
Schedule reports to monitor project progress.
Pricing
The free plan allows up to 10 users to access standard software delivery features. Paid plans are charged on a per user, per month basis or a flat annual rate based on specified user number bandings.
LiquidPlanner
If automating the project management process is important to your team, we'd recommend checking out LiquidPlanner. The platform's intuitive AI engine, automatically manages task delivery, re-prioritisation and re-allocation based on configured rules. LiquidPlanner offers a number of fantastic support packages supporting setting up that advanced automation.
Why is it a good ClickUp alternative? More complex functionality
That automation makes LiquidPlanner a powerful tool for delivering projects and programmes. This sort of functionality is unique in the market and will be especially useful at enterprise scale.
Key Project Management Features
Task management features to deliver your projects.
Keep team capacity balance with workload management.
Automated scheduling and prioritisation makes portfolio management simple.
Schedule and export beautiful project reports.
Enterprise risk, issue, and dependency management features.
Pricing
LiquidPlanner has no free plan. However, if you want to give it a try, you can opt in for a free trial before progressing to a $45 per user, per month paid plan.
How to Choose a ClickUp Alternative
Now you've seen some of the best ClickUp alternatives on the market, it's time to start thinking about how to choose one! Here's some key steps to take to ensure you make the right choice:
Step #1: Map Out Your Requirements
With so many tools on the market, it's important to fully understand and document exactly what you need first. Get together with the team to understand how you think a software tool can help you deliver better and faster.
Remember that your requirements aren't just about functionality, also consider what you and your team need in terms of system design and customer support. Consider the things ClickUp doesn't do well if you're already using the system to ensure your alternative fixes those problems.
As always, it's best to write your requirements down to formalise the thinking.
Step #2: Shortlist The Alternatives
With your requirements fully understood and documented, it's time to start looking at all of the alternatives. Take the time to get to know each tool but also remember to look at external resources and customer reviews to get the full picture.
If you're the decision maker, also keep in mind the software costs to ensure they fit into your budget. Again, remember that costs aren't just the monthly user licences, consider any onboarding or ongoing customer support you may also need!
At the end of this step, you should hopefully be down to around 3-5 finalists.
Step #3: Trial Run
With the finalists decided upon, it's time to get hands on with the tools. Most of the ClickUp alternatives offer a free version. Take advantage of this to get familiar with the features, design and support offering from each tool.
If you can, try to simulate an end-to-end project to ensure the tool delivers in a real life situation – you don't want to take on a tool that hasn't been fully tested.
Now you'll be ready to make a final decision. Choose the ClickUp alternative that works best for your team and enjoy delivering some great projects moving forward!
That completes our ClickUp alternatives round up. Whether you're using ClickUp already or just want to consider some options, there's a number of project management software tools on the market to suit every need.