With a market share of just 10 percent, Mac OS ranks a distant second after Microsoft Windows. Understandably, there are not many native options available when it comes to Gantt chart software for Mac.
However, more teams today work remotely. As a result, there are a lot of online project management software options available.
In this article, you'll learn:
What is Gantt chart software?
What are the benefits of Gantt chart software?
Best Online Gantt chart software tools for Mac
Best Desktop Gantt chart software tools for Mac
How to find a perfect Gantt chart software for your needs?
Let's dive in:
What is Gantt Chart Software?
A Gantt chart is a project management tool. It helps project managers visualize a project's schedule. As a result, Gantt charts are critical tools for planning a project's timeline.
Gantt chart software automates the process of creating Gantt charts for project management. As a result, Gantt chart software is also called project planning, project management, or project scheduling software.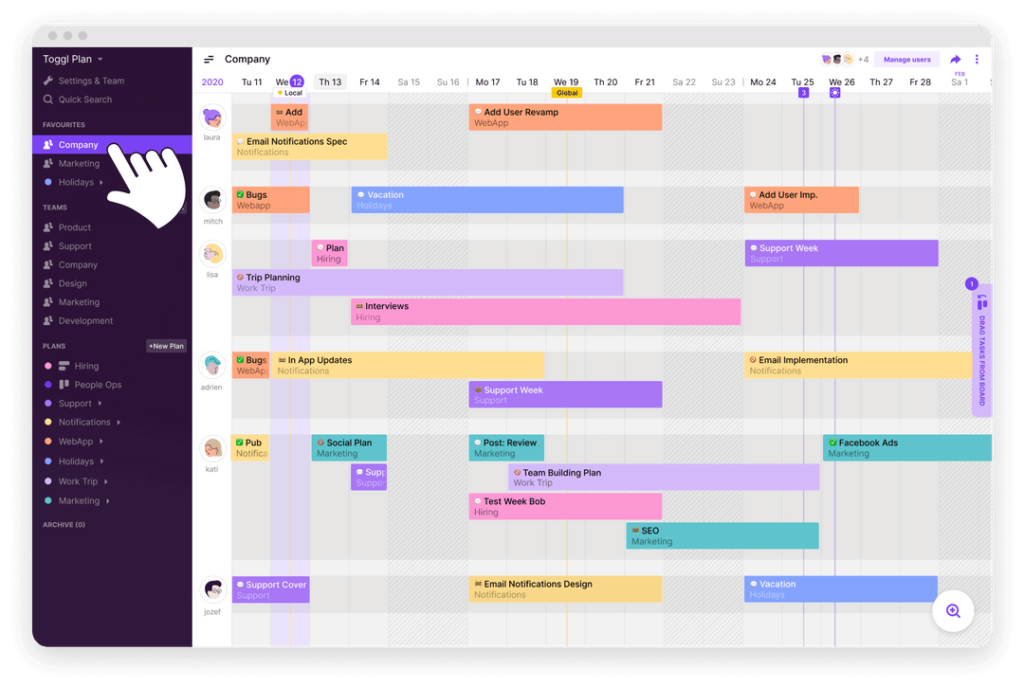 Besides, you can also schedule resources and add milestones. Plus, some advanced Gantt chart software tools also help identify the critical path of a project.
Most project managers traditionally used desktop spreadsheet tools like Microsoft Excel or Numbers on Mac OS.
Also, some managers used advanced project management tools like Microsoft Project.
But, online project management software makes it easy to create collaborative Gantt charts and project plans from anywhere.
What are the Benefits of Gantt Chart Software?
Using a Gantt chart software has many advantages over using Excel or Numbers. These include:
Standardization
You can use a spreadsheet in many different ways to plan and manage a project. On the other hand, using specialized software means your entire organization uses the tool in the same way. Unstandardized use results in significant onboarding and training costs.
Collaborative Planning
Most Gantt chart tools make it easy to share and collaborate when making project plans. Multiple people in your team can work at the same time on a Gantt chart. As a result, you save much time working in parallel instead of sequentially.
Tracking
As the project moves into the execution phase, it becomes crucial to track its progress. Project management software makes it easy to follow tasks, even if your project needs a customized workflow.
Collaboration & Communication
According to Capterra, 66 percent of project teams communicate with clients using a project management tool. Project software also helps the team communicate and collaborate on tasks internally.
Distributed Work
Online Gantt chart tools make it easy to work from anywhere in the world. Plus, your team members can keep all their task updates in one place. As a result, team members can look at what is already done and take it from there. Keeping all the project information in one place saves time spent on status meetings.
Desktop vs. Online Gantt Chart Software
Today, there are two primary types of software for making Gantt charts — desktop-based and online or cloud-based. Here's how they compare:
Features
In the early days of low availability and slow internet, desktop project management software became widely-used for its rich feature-set. However, with high-speed internet availability, online tools can compete head-to-head with any desktop tool.
Collaboration
Desktop tools are excellent for single managers who don't have to work on a project plan collaboratively. Online Gantt chart tools make it easy to share and collaborate on project plans.
Cost
Desktop Gantt chart software is often expensive. That's because most online tools have a free plan for small teams. Plus, desktop software usually costs more than online tools.
Data Security
Online project management software makes it easy to access your project data from anywhere and on any device. Advances in security technology mean your data is safe and is available 24×7. Desktop software data is often vulnerable to viruses and computer crashes.
Compliance
Projects in specific industries need to comply with privacy and security standards. For example, projects in the defense and healthcare industries need to follow particular standards. In other cases, regulations like EU GDPR need to be complied with. Again a lot of cloud-based project tools are catching up to these standards.
Best Online Gantt Chart Software for Mac
We've already seen how online Gantt chart software has an advantage when it comes to working with a remote team. In this section, we'll look at some of the top online tools you can use to create Gantt charts.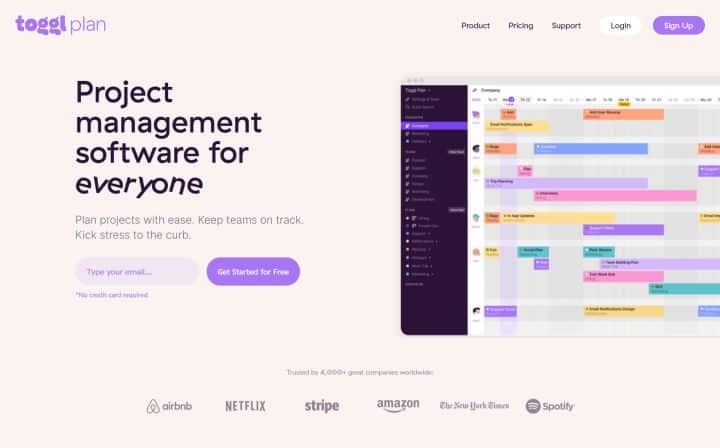 Toggl Plan is a beautifully simple project management tool. Whatever your technical background, Toggl Plan makes it easy to plan projects of any size using Gantt charts.
Features
Drag-and-drop Gantt chart timeline for planning projects
Color-coded milestones to deliver a project on time
Team Gantt charts for managing your team's workloads
Zoom-in on a week, month, quarter, or get a birds-eye view of the annual timeline
Collaborate on tasks and get them done right from the timeline
Import/export a timeline in CSV format
Segment tasks by department or workflow
Price
The free plan is good for unlimited projects and individual users.
Teams can try out Toggl Plan with the 14-day free trial. Paid plans start at $9 per user, per month. Additional features in paid plans include team planning, recurring tasks, access control, and time tracking.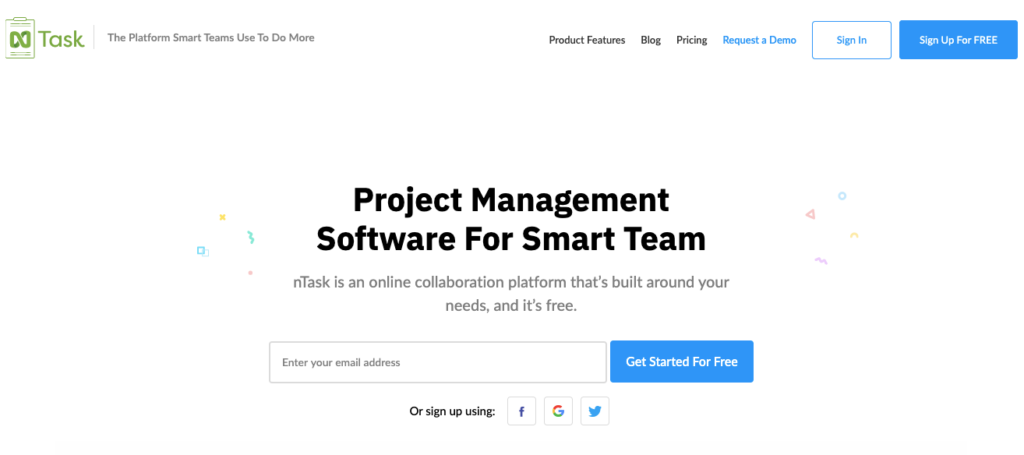 nTask is an online Gantt chart software that helps you plan tasks, projects, issues, and risks for your business. Create task dependencies, track project budget, manage workflows and resources for your projects in one single app.
Features
Drag and drop timeline
Team collaboration on projects
Create start to end, end to start, start to start, and end to end dependencies for tasks
Set milestones to track goals
Calendar, list, grid, and board view
Price
nTask has a 14-day free trial. Affordable paid plans start at $2.99 per user per month.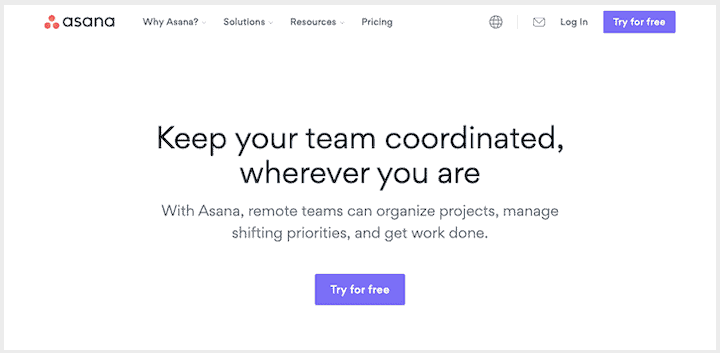 Asana is a swiss army knife of project tools. It comes with multiple alternative views for the timeline, including task lists and calendar. However, Gantt charts timelines are not available in the free version.
Features
Project Gantt chart timelines (available in paid versions only)
Task management from the timeline
Task dependencies
Milestones for timely project deliveries
Price
The free plan comes with unlimited projects for up to 15 team members. However, it does not have the timeline feature, and you can create a limited number of tasks. Paid plans start at $13.49 per user per month.

TeamGantt is an online Gantt chart tool. It makes project planning, tasks management, and workload management easy from the timeline.
Features
Drag & drop project timeline
See multiple projects on the same timeline
Visualize team workloads
Work collaboratively on project tasks
Price
The free plan is good for one project and up to 3 users. Paid plans start at $24.95 per user per month.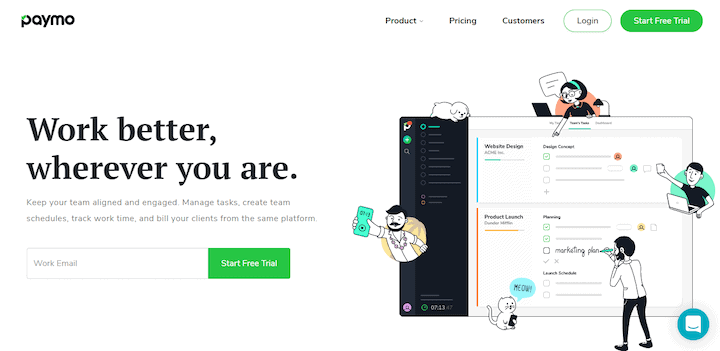 Paymo is an online project management tool with a focus on time tracking and invoicing. Gantt chart-wise, you can create dependencies and identify the most critical tasks, but only on the paid plans.
Features:
Drag and drop timeline
Create dependencies between tasks
Account for lead and lag time
Critical path
Export timeline as PDF/PNG format
Pricing:
The free plan comes with a few task and time tracking limitations, but it's free up to 10 people. Gantt charts are only included in the top tier plan which starts at $15.79 per user per month.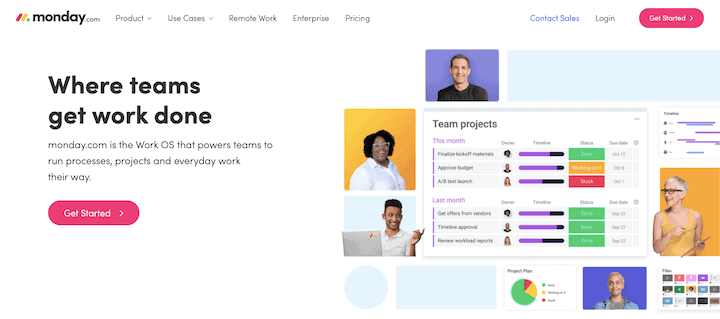 Monday.com is more of a collaboration tool than a Gantt chart software. However, it does come with a timeline view for your project tasks. Note that the timeline is just a way to visualize tasks. You can't do much on the timeline itself.
Features
Timeline view for your project's task list
Get tasks done from the task list
Collaborate with other team members on task
Price
Monday.com has a 15-day free trial. Timelines are available from the Standard plan, which costs $12 per user per month. Plus, you have to pay for a minimum of 3 users.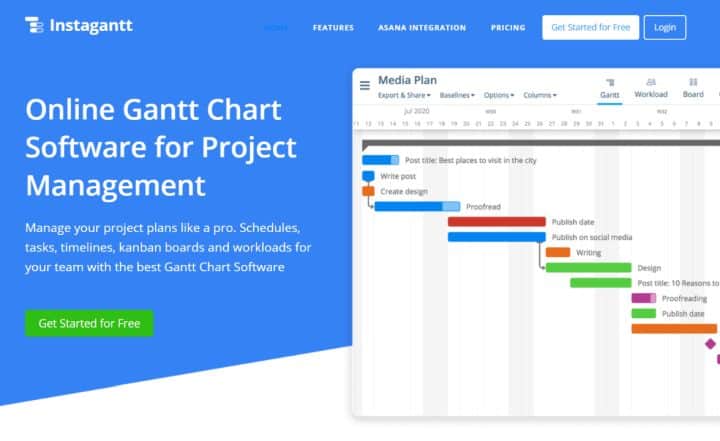 Instagantt helps you manage your project plans and schedules using task lists and timelines. It comes with the following features:
Features
Create project schedules by dragging tasks on the timeline
Create task dependencies
Manage project milestones using Baselines
Get tasks done by working on task lists collaboratively
Price
Instagantt has a 7-day free trial. Paid plans start at $5 per user, per month.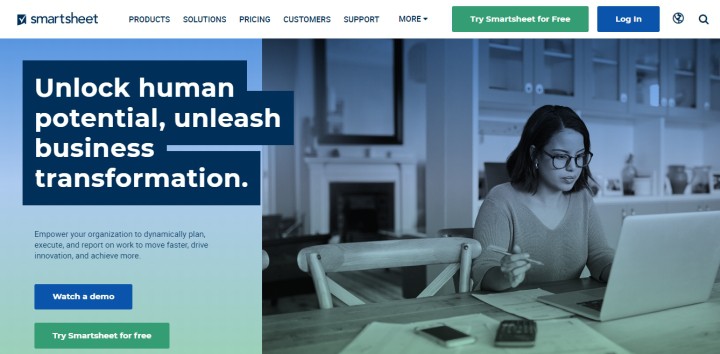 Smartsheet offers a spreadsheet-like user interface. In addition, it also has timeline planning, resource management, and task management features.
Features
Create a timeline for each project phase
Manage resource and tasks from the timeline
Project template for various industries
Price
Smartsheet comes with a 30-day free trial. Gantt charts are available in the Individual plan, which costs $14 per user, per month, billed annually.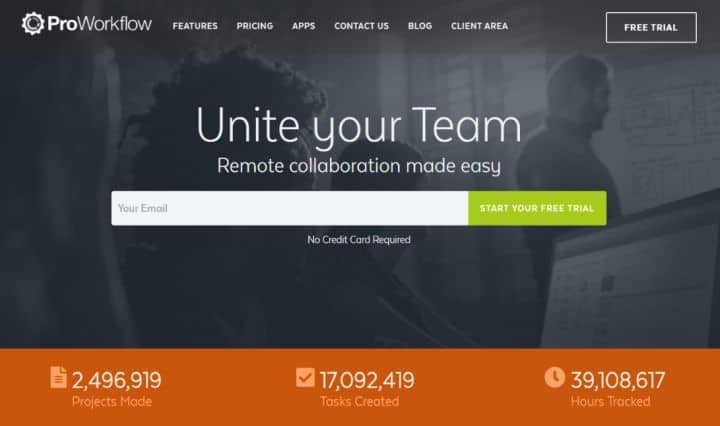 ProWorkflow makes remote collaboration easy. It also comes with timelines, task management, and timesheet management features. However, it may feel overwhelming for small teams and simpler projects.
Features
End-to-end project timeline view
Time and cost tracking
Workload and resource management
Price
ProWorkflow comes with a free trial. Timeline management feature is available only in paid plans that start at $20 per user per month.
Best Desktop Gantt Chart Software for Mac
Desktop Gantt Chart planning software is great for one-manager teams that don't need to collaborate.
In such cases, the manager plans a project, communicates daily tasks to team members, and updates project progress, all on his own. We found the following Gantt chart software for Mac computers that may work for such teams.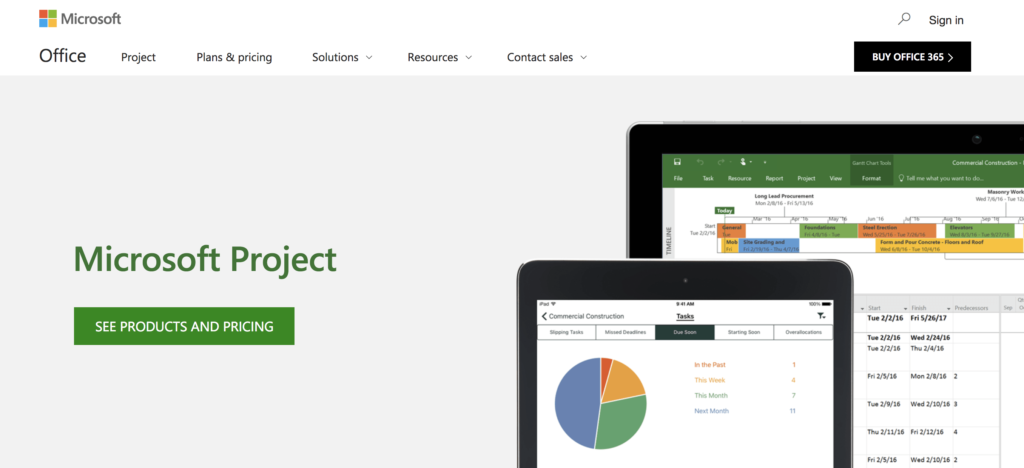 Microsoft Project is available along with the Microsoft Office 365 For Mac bundle. However, you need to pay additional subscription charges for Microsoft Project over and above Office 365 charges.
Features
Gantt timeline view for planning projects
Pre-built reporting to track project progress
Resource & timesheet management
Enterprise resource planning and management
Task collaboration and communication
Price
Microsoft project has no free plan.
The timeline view is available in all paid plans. But, a desktop client is available in the Project Plan 3 paid plan and above.
Project Plan 3 costs $30 per user per month. Besides these charges, you'll also need to pay for the Microsoft 365 subscription.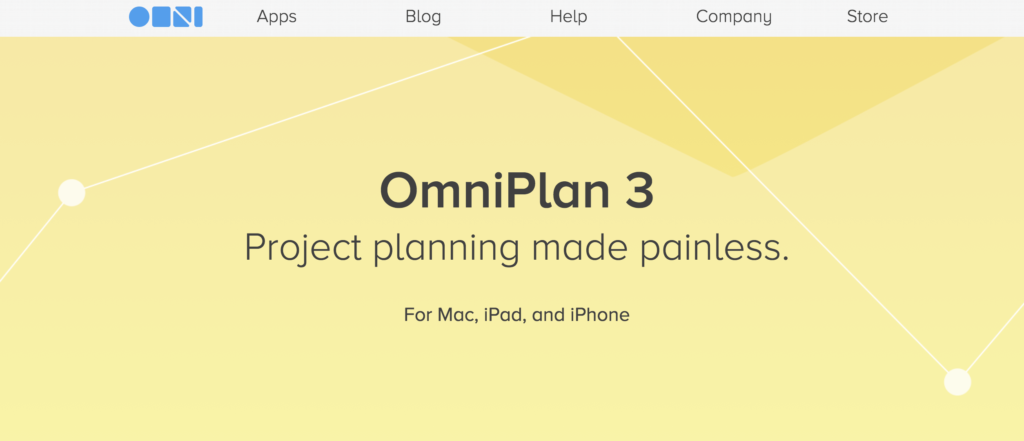 Omniplan is a native project management application for Mac OS. It comes with project planning, task management, and resource management features.
Features
Project planning with Gantt chart timelines and critical path
Task management
Resource leveling and sharing management
Cost/effort estimation and tracking
Works on iOS devices
Price
Omniplan has a 14-day free trial. The monthly subscription starts at $19.99, and the lifetime license costs $399.99.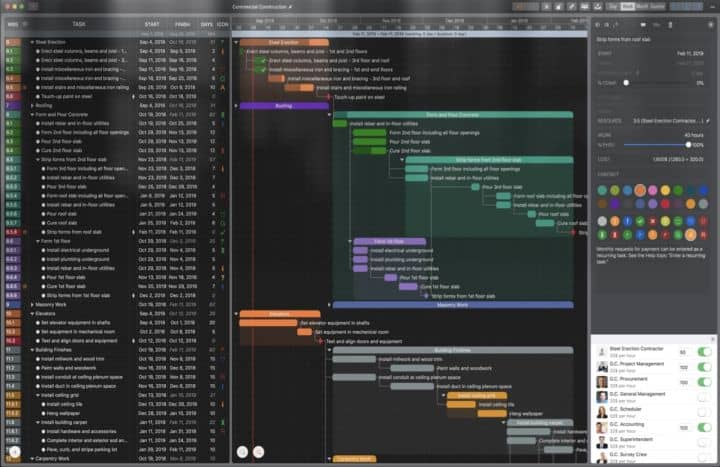 QuickPlan is another native Mac application for project management. It comes with project planning features similar to Microsoft Project.
Features
Timeline planning with Gantt charts
Tasks and dependencies management
Integrations with MS Excel, iCal, and MS Project
Price
QuickPlan does have a free trial period. And paid licenses start at $47.99.
How to Find a Perfect Gantt Chart Software for your needs?
We've looked at what a Gantt chart software is and also looked at the top 10 tools available for Mac devices. But how do you go about choosing the right tool for you and your team?
Step #1: Choose between desktop & online
First, you need to decide if you want to with a desktop or an online tool.
If you don't need collaboration features, need specific integrations, or are more comfortable using desktop applications, you may want to go with a desktop application. However, in most cases, an online tool is always a better choice.
Step #2: Shortlist tools based on budget & needs
Make a list of your requirements, decide on a budget, and match it against the above tools list.
For example, all the tools above offer timeline planning and task management features. But, some of these do not come with resource management, reporting, or time-tracking features.
At the end of this step, you should have a list of 2-3 tools that fulfill your needs.
Step #3: Choose from the shortlisted software tools
Again, most of the Gantt chart software tools have either a free trial or a completely free version. Try the shortlisted tools with your team. Find out which one suits your workflow the best.
Finally, choose the version that works best for you.
In conclusion
using Gantt chart software is critical to your project's success. Whether you go for an online tool or a native desktop tool is up to you. Choose a tool that best suits your project planning, task management, and resource management needs.
Jitesh is an SEO and content specialist. He manages content projects at Toggl and loves sharing actionable tips to deliver projects profitably.