As a marketing agency, your job is to convince businesses to invest significantly with you for their marketing campaigns.
And show how their investment will pay off in spades if they go with the right agency (you 😉).
But getting prospective clients to trust you is hard—60% of digital marketing spend was wasted last year.
So, how do you ensure your clients are confident and excited to sign a marketing contract with your agency?
With a strong marketing proposal.
With this article, you'll know how to write a compelling marketing proposal. So your clients know exactly where their money is going, what to expect from working with your company, why your approach is going to work, and how long it'll take to see results.
When done right, a marketing proposal is a roadmap and the catalyst for an exciting and rewarding project.
So let's dive in.
What is a marketing project proposal?
A marketing proposal is a written document that outlines the marketing campaigns you'll execute for a client. It includes the strategies, budgets, and timeframes for each campaign. Its purpose is to convince the prospect to become a customer.
Marketing proposals can be specific to a marketing project/campaign or a monthly retainer service.
As we mentioned before, the goal of the proposal is to explain every part of your marketing plan. This helps convince decision-makers to sign off on the project and hire you as their experts.
But the benefits of a marketing project proposal go beyond the clarity they offer both you and the client when preparing to launch a marketing campaign.
It's also a telltale sign that you know what you're talking about. As a result, marketing campaigns help build trust as well.
Consider this:
Organized marketers are 674% more likely to report success.
Marketers that set goals are 377% more successful than their peers.
This means that creating a solid marketing proposal is crucial when it comes to convincing clients of your ability to meet deadlines and deliver results.
How to write a compelling marketing proposal?
Before we dive into the crucial components of every marketing proposal, here are some tips to keep in mind:
| Tip | Benefits |
| --- | --- |
| Proposal length | A five-page proposal has about a 50% chance of closing. A 30-page proposal, on the other hand, has a 35% chance of closing. |
| Images | Using images improves the close rates of marketing proposals by 23%. |
| Videos | Video use in proposals increased 31% in 2020. |
And now the nine steps:
1. Research your client and send a questionnaire
It's pretty simple: know your client and build the proposal around them.
You can start by centering your proposal around your client's pain points and goals.
To do this, you need to know what these are.
Ask your prospective clients about their marketing challenges and needs
That's right. Before you even start writing your marketing proposal, you should ask your client some preliminary questions.
The specific details will depend on what marketing service you're providing, but in general, these are the sort of questions you should be asking:
What does success look like for them?
What have they tried so far?
How is your agency going to make a difference?
While you're waiting for your client to spill the details, it's time to be a sleuth.
Review their website, social media, and other online profiles
This will give you more context about your client's marketing direction so far, what's worked and what hasn't, and where your marketing agency can really take them further.
Once your client has responded to your questions and you've got some clues from their marketing strategy so far, you can confidently put your winning proposal together.
2. Write an executive summary
An executive summary for a marketing proposal is a concise document that gives your client an overview of what you're going to do for them.
You want your client to take one look at the executive summary and easily understand what you are bringing to the table.
What goes into a good marketing proposal executive summary?
Introduction: Tell the client what they can expect from the proposal.
Company or team description: Introduce the dream team. Reveal your superpowers, how they can solve the client's problem, and convince them that you can save the day.
Market trends: Show that you've done your homework, and mention market trends relevant to the client's industry to give them an idea of where they stand with the competition.
Products or services: List the products or services the marketing plan focuses on, and explain why/how they solve customer needs. Emphasize their unique selling propositions.
Financial planning and projections: Itemize financial information like expenses for marketing activities. Include the overall budget and your planned allocation.
Conclusion: End with a brief – but strong – statement that recaps your strategies and expected results. Your goal is to entice the client to read the rest of the marketing proposal.
Tips for writing the executive summary
Be consistent in formatting so that when the client refers to the executive summary, they can easily find the relevant section in the body of the plan. One way to do this is by using the same text for headers/sections.
Use your brand voice. While marketing plans are generally formal, don't hesitate to show your team's personality and creativity. This is a chance to give the client a glimpse of how you can convince their customers with your voice.
Write the executive summary last. This will ensure that you cover all the points in the marketing proposal.
3. Outline the strategy and goals
Now it's time to get into the juicy details of your proposed marketing campaign:
what the goals are
and how you're going to reach them.
For example, you're presenting a marketing proposal plan to a business that wants to reach more young customers in their 20s and 30s. They want "more growth and brand awareness on Instagram."
Your goals are the "what":
Increase followers by 1.6% per month
Attract more female followers in their 20s and 30s
Achieve an average of 0.68% engagement rate for each post
When writing down goals, make them SMART: specific, measurable, achievable, realistic, and timely.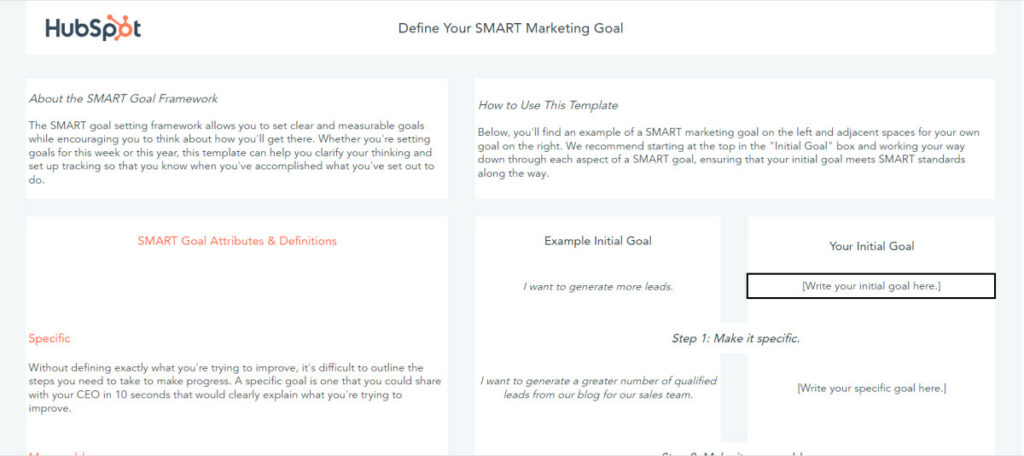 Your strategy is the "how":
Publish two organic posts per day—one photo post and one carousel post
Partner with influencers and publish one influencer post per week
Use location tagging for posts
Run promotions on specific products once a week
Use Instagram ads to target female users in their 20s and 30s
Be as concrete and as specific as possible so the client knows exactly what they're getting.
4. Determine the scope of work
The scope of work section of a marketing proposal explains what the clients will get for their money. Not in terms of results but in terms of actions. What will you actually do for them?
For example,
Create a six-email sequence
Send it to 120 prospects at two-week intervals
Measure results using open rate (how many emails were opened) and click-through rate (how many links in the email were clicked on)
Putting these in writing is crucial.
If the client later decides to expand the project's parameters and asks for more over shorter intervals, your copywriters and designers might find themselves stretched thin.
That's how 92% of projects fail – because of scope creep. By clearly establishing the scope of the project in the marketing proposal, you define the limits of the project.
When the client asks for more, you can refer to your marketing proposal and make the necessary argument that an increase in the scope of work must come with a correspondingly larger budget and longer timeframe.
5. Indicate the timeframe and deliverables
In this section, you should outline what you'll deliver in your marketing project and when the client can expect to see the deliverables. For example,
Website pages
Blog posts
Google Ads
Organic social media posts
TikTok videos
Or, if it's an ongoing project, you explain the intervals at which they can expect deliverables (for example, monthly).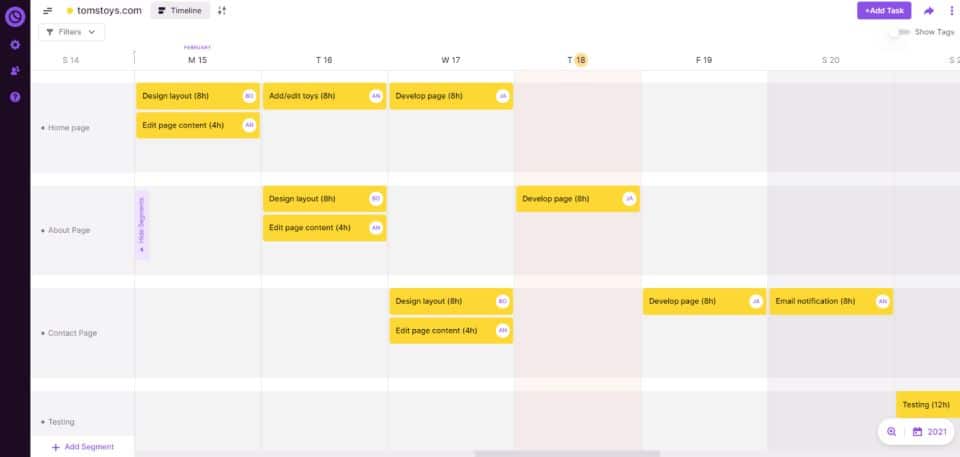 Also, this section lets the client know when they can expect to receive approval requests. You don't want to work hard all month only to fall two weeks behind your schedule because the client didn't get around to approving what you delivered.
With this knowledge, your client might assign an employee to take time at the beginning of every month for approvals.
6. Define and describe key budget items
In this section of the marketing proposal, you outline the estimated cost behind every service that you will provide your client.
Let's say you're proposing a content marketing campaign and SEO optimization. The services would then include:
Content audit
Keyword research
Content optimization
New content creation
Link building
Each of these services comes with a price tag, but selecting the right number can be tricky.
If you underestimate how much time your employees will need for each of these actions, you might end up losing money.
In addition, you may also want to budget for tools, templates, and vendors you may need to hire to execute these campaigns.
7. Determine the metrics and measurements
Every marketing proposal must include the metrics and measurements that will be used to determine what the marketing campaign has achieved.
Metrics should directly correspond to the goals set in step 1.
Say you're creating a social media marketing proposal. If you're going to run an ad campaign, you'll want to measure the following:
Impressions: This metric measures the number of times your ad is placed on the screen for people to see. It tells you how many views the ad gets (without people interacting with it), which may offer insight into how to optimize your posts.
Reach: If "impressions" counts the number of views, then "reach" measures the number of people who've seen the ad. For example, if the same person sees your ad twice, that counts as two impressions, but reach only counts this as one person.
Click-through rate: This metric measures the number of clicks your ads generate. CTR is measured by dividing total clicks by total impressions.
Cost-per-click: This metric measures how much each click on your ads costs. You calculate the cost of the campaign by the number of clicks multiplied by the CPC.
Custom conversions: This metric measures the number of people sent to your website and become customers, leads, or sign-ups. You calculate this by dividing total custom conversion by impressions.
Cost per conversion: Measures the cost of each conversion. You calculate this by dividing the total cost of your campaign by all the conversions that have taken place through Instagram (or whichever channel you are analyzing).
Return on ad spends (ROAS): This metric measures the return on your marketing investment. You calculate it by dividing the total revenue by the total costs of the campaign.
Metrics quantify the results of your marketing campaign. You will want to present these in a way that the client understands exactly how your solutions are working.
8. Introduce the team members and platforms involved
In this section of the marketing proposal, you identify the people who will work on this campaign.
You add this section for four main reasons:
To specify who will be in charge of which part of the project
To provide contact details of team members
To describe the frequency of communication
To explain what communication tools will be used including project management software
With this information, you establish the point person(s), so the client knows who to turn to in case of specific queries or problems. You avoid potential issues such as crossed wires.
Describing the frequency of communication lets the client know how often they can expect the project manager or various team members to check in for discussions to keep everyone on the same page.
9. Add the terms and conditions
The terms and conditions of a marketing proposal cover the agreement between a marketing agency and a client from a legal perspective.
They go into detail about how you will deliver your services, who is accountable for what actions, and what happens if you or the client fails to meet any obligations.
Since you are responsible for creating the terms and conditions, you want to be fair and show your client you are looking out for both parties' interests.
What does the agreement include?
Statement of work: This section lays out the services the marketing agency will provide, ensuring that the scope of those services is clearly defined and the client's expectations are aligned accordingly.
Client obligations: Marketing agencies often require access to the client's social media accounts, website, and email to perform their services. This part states all the necessary information and documentation the client must provide for the marketing agency to perform its services.
Intellectual property: Clearly defines who owns the intellectual property brought to the relationship (either the agency's or the client's) and who owns the intellectual property developed during the relationship.
Limitation of liability: Defines the degree to which the service provider will be liable in case something goes wrong. This is in the best interest of the marketing agency as it limits the amount of money they can be sued for.
Termination: All agreements have to include a clause defining how the agreement can be ended. This exists to ensure the service provider can't cancel the contract in the middle of the project, and at the same time, it ensures the client can't cancel the service before its completion without paying.
We know this section doesn't sound exciting.
But an oversight in the terms and conditions can cause serious problems further down the road. So it's best to consult a legal advisor for this section.
Marketing proposal tools and templates
We've shown you what to put in a marketing proposal, now let's take a look at the tools you can use to create and share it with your clients.
By taking advantage of user-friendly, automated, and scalable platforms, you can streamline the creation of your marketing proposals – so this won't be such a headache next time around!
Let's examine three popular tools: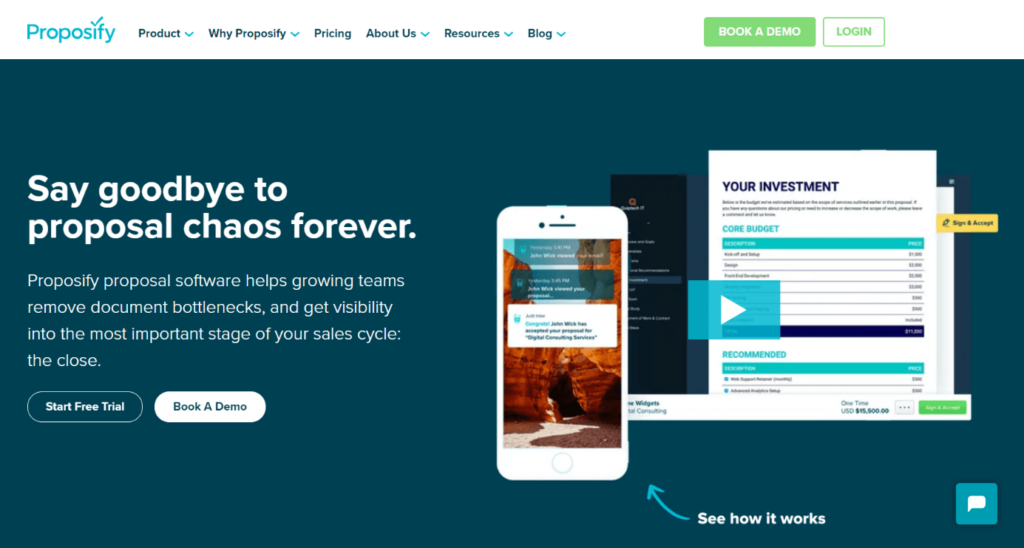 Proposify comes with the following features:
A central library of proposal templates: a collection of pre-made proposal templates for users to select and customize
Content approvals: team members can choose from pre-approved templates
Analytics: gives information like whether the client has seen the proposal (and which pages) and how much time the client spent on reading the document
Interactive pricing: clients can pick the exact services they need that match their budget
E-signature: this enables the client to sign the contract digitally.
Proposify offers two pricing plans:
| | |
| --- | --- |
| Plan | Cost (billed annually) |
| Team | $49/user per month |
| Business (for teams of 10 or more) | $590 per month |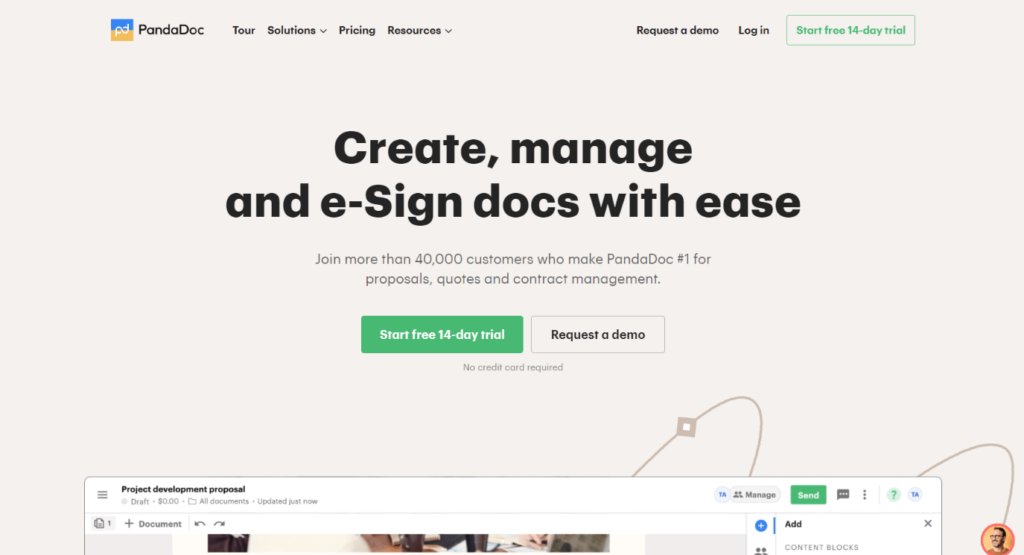 PandaDoc has 750+ templates in its content library. It offers:
Custom themes
Product visuals
Video embeds
The marketing proposal template also includes analytics features that allow you to track the performance of individual marketing proposal templates and determine which version is the most effective.
You can check out the community gallery, which shows the templates businesses in the same industry use to see what the most successful companies are doing.
PandaDoc offers four pricing plans:
| | |
| --- | --- |
| Plan | Cost (billed annually) |
| Free e-sign | Free |
| Essentials | $19/month per user |
| Business | $49/month per user |
| Enterprise | Custom |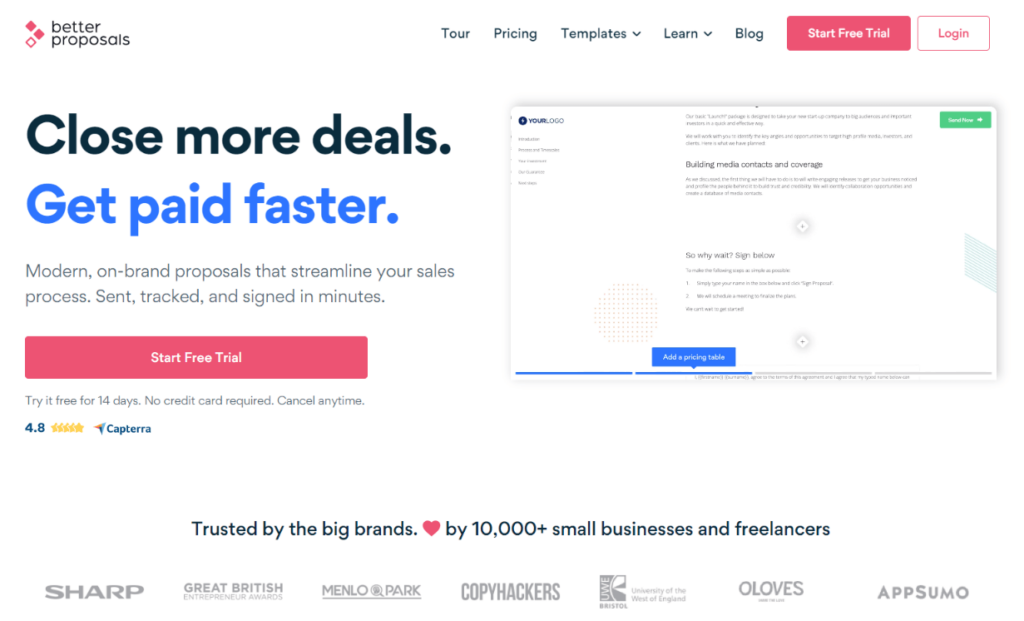 Better Proposals offers fully customizable marketing proposal cover pages and pre-written texts for each section of a marketing proposal. You can tweak these texts to meet the details of your proposal.
The template also includes:
Helpful automation eg. when calculating costs
Digital signatures
Pre-written contracts
Better Proposals offers three different pricing options:
| | |
| --- | --- |
| Plan | Cost (billed annually) |
| Starter | $13/month per user |
| Premium | $21/month per user |
| Enterprise | $42/month per user |
Create your first winning marketing proposal
Marketing proposals can be a tricky business.
How do you demonstrate to clients that your marketing agency is the one to invest in? With a thorough marketing proposal, you'll have the confidence to pitch your campaign and turn your new client into your next success story.
In this article, you've learned the 9 essential steps that go into making a marketing proposal. Use these steps to create your first winning marketing proposal.