Nobody likes doing paperwork, no matter what services you sell or the industry you're in. But the most important document of any client project is a statement of work (SOW).
Getting it right is an essential first step in a client relationship. It helps prevent misunderstandings and project management problems.
It also makes a solid first impression "these guys know what they're talking about!"
So how do you get it right?
Don't worry.
By the end of this blog, you'll know what a statement of work is, why it's essential, what to include in an SOW and how to create one.
Let's go!
What is a statement of work?
A statement of work (SOW) is a document that describes the objectives, deliverables, and requirements for a project or task. It typically includes details such as the scope of the work, the timeline, and the resources required to complete the job.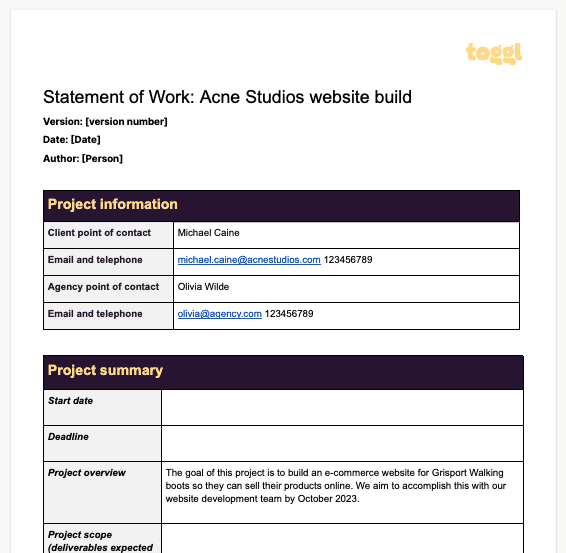 Note: keep reading to grab your free SOW template!
Is a statement of work the same as a contract?
A statement of work (SOW) is different from a contract. An SOW is a document that outlines a project's specific tasks, deliverables, and timeline.
A contract, sometimes known as a master service agreement (MSA), is a legally binding agreement between you and your client that outlines the terms and conditions of your relationship.
A contract often includes an SOW, but it's not the same as a contract itself.
| SOW | MSA |
| --- | --- |
| A detailed description of the work to be performed in the project | A legally binding document |
| Defines the specific objectives, deliverables, tasks, and timeline | Specifies the scope of work, budget, timeline, and deliverables |
| Serves as a guide for project execution | Outlines the terms and conditions of the relationship |
| May be included as part of a project contract | May include a project statement of work (SOW) as an annex or attachment |
How important is a statement of work?
Do you really need a statement of work?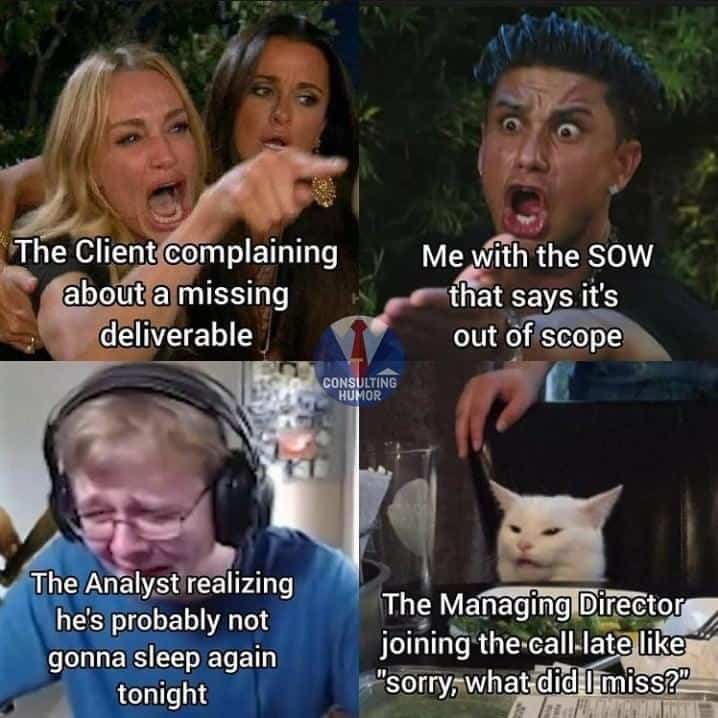 Short answer? Yes.
Please create one. It'll save you a world of pain later.
The failure to write (or correctly write) an SOW is all too often why clients and businesses end up in conflict.
Ultimately, an SOW is not to catch a client out — but to level set on exactly what's being done, how, when, and how much it'll cost.
Check out any Reddit thread about SOWs, and you'll find comments like the ones below.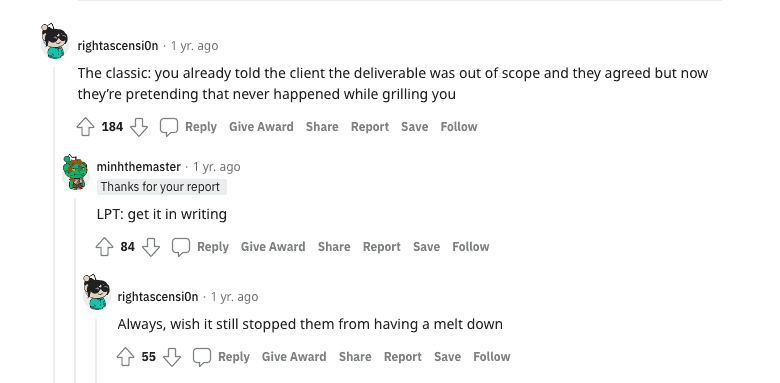 Ultimately, an SOW helps to:
Clarify the project's scope and expectations (including what will be delivered, when, and how).
Ensures that everyone involved in the project has a shared understanding of what needs to be done.
Provides a roadmap for the project — helping to keep the project on track and within budget.
Establish accountability and responsibility for delivering specific project outputs.
Serve as a reference for later evaluation of the project's success.
So what's the bare minimum standard for an SOW?
What to include in your statement of work
It's worth reiterating that the depth and details of your SOW depend on your industry, agency, project size and type, and your general approach.
Our focus here will be on an SOW for creative agencies and freelancers.
So let's talk about what you need in your SOW.
This is the shortlist:
Overview
Project scope
Milestones and due dates
Project budget
Billing schedule
Assumptions, constraints, and risks
Change requests
Note: you can grab a free SOW template in the next section.
1. Project overview
This one is pretty straightforward. You need to write down the following:
What the project is
Why it's happening
What it will achieve
Here's a template you can use:
The goal of this project is to build/create/provide [the what] for [the who] so that she/he/they can [the why]. We aim to accomplish this with [the how] [the where] by/on/before [the when].
Example:
The goal of this project is to build an e-commerce website for Grisport Walking boots so they they can sell their products online. We aim to accomplish this with our website development team by October 2023.
2. Project scope (and what's outside it)
The scope definition, also known as a scope statement, communicates what you will deliver, when you deliver it, and at what cost.
It also states what you won't include in the project to protect you from scope creep.
Given how nearly 50% of projects experience scope creep, you don't want to leave your scope up for interpretation.
Draw the line around your project scope in the SOW to ensure you're fairly compensated for your work.
List out your deliverables and emphasize that any work outside of this will cost extra. 💰
[agency name] will [type of work] for [name of client] through the following deliverables/phases.

[deliverable/phase one]
[deliverbale/phase two]
…
This can go in the summary section of your SOW (free template below!).

Only provide a high-level summary at the beginning of your SOW. Save the detail for each deliverable/phase for the 'project phases' section.
How much detail should you provide?
You may want to add a description for each phase similar to the one below.
Website mockups (Meeting & Figma)

[agency name] will create two unique website mockups for [name of client] website. Each mock-up will be designed to work across all devices. The client will choose one mock-up to move forward with. (2 rounds of revisions permitted) …
Which can look like this. 👇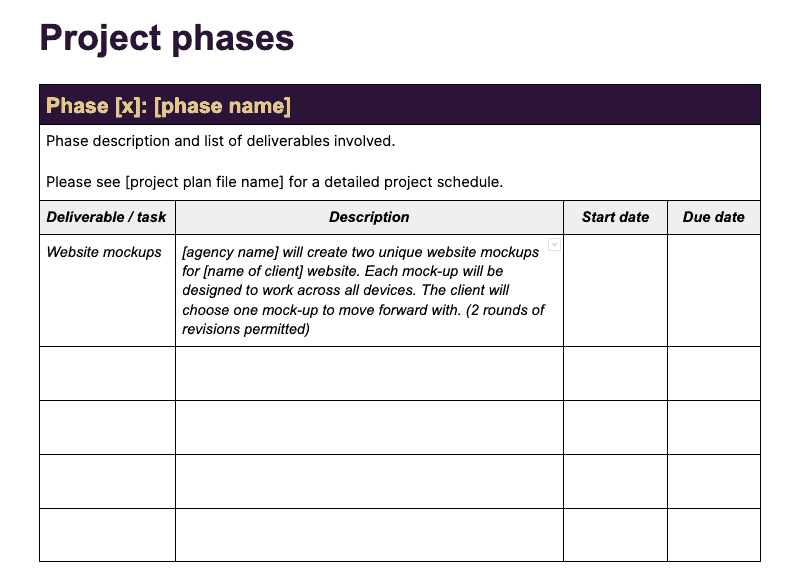 3. Milestones and due dates
About 37% of projects fail because their milestones and objectives weren't clearly defined.
Your statement of work document can prevent that.
Here's an example of what you can include:
How long the project will last
When you will be sending the deliverables
How long the client has to review them and request changes
Significant project stages and milestones
Pro tip: include some extra room in the timeline if a task is delayed or you have an emergency to sort.
Note: there is a section in our SOW template specifically for this.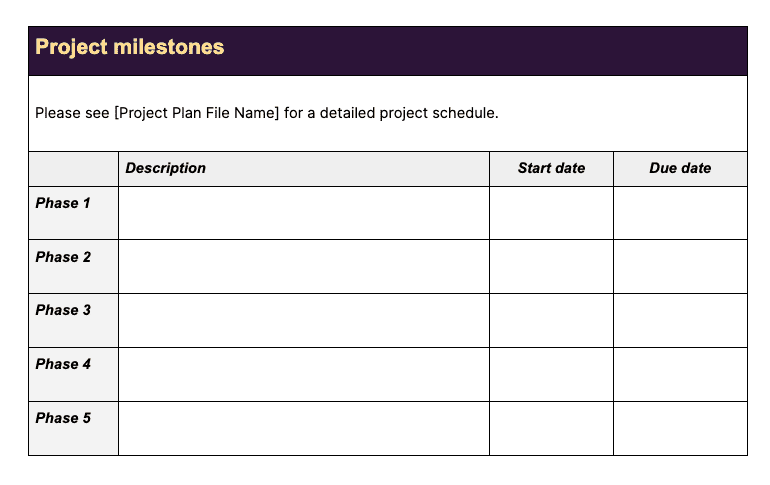 Top tip:
If you're using Toggl Plan for your project planning, you can share the project timeline and key milestones with your client via a link.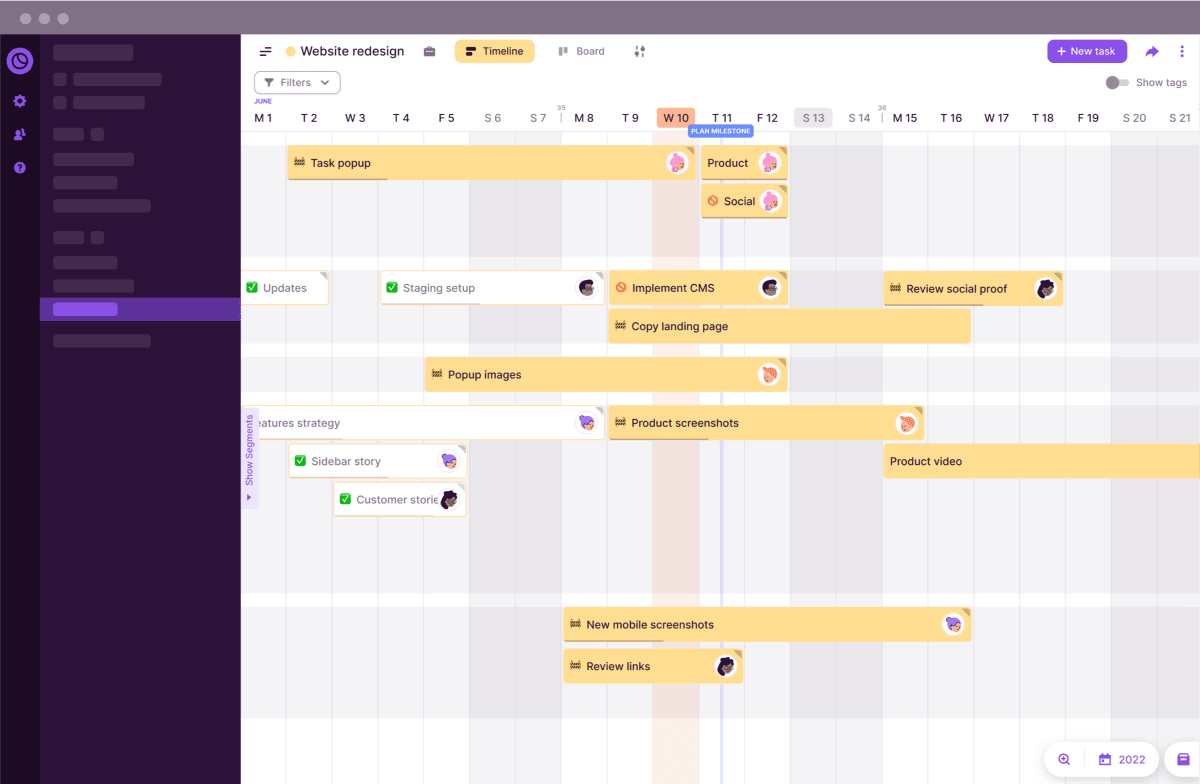 4. Project budget
In this section, you'll go over the estimated costs based on your rate, scope, timeline, and any other variable you might factor into the final price.
Your cost estimates should reference the scope and timeline to ensure you specify what's included in the cost and what isn't.
A typical project estimate will be made up of the following components
Tasks – what's going to be done
Resources – Who's going to be doing it
Duration – how long it will take
Rate – how much will it cost to deliver the project
Tools and software – what tools and software will be needed for the project
Note: remember to consider all direct costs (related to one specific project) and indirect costs (ongoing costs related to multiple projects).
Need help on estimate project costs? Check out the blog below.
5. Billing schedule
List the payments related to the project and how they will be delivered upfront, over time, or after completion.
For example, you may want the client to pay after completing a milestone or on a phase.

6. Assumptions, constraints, and risks
Client projects rarely go to plan. But you can help make the ride smoother by considering the project's assumptions, constraints, and risks.
| | |
| --- | --- |
| Assumptions | Things you believe to be accurate and which you build into the project plan. For example, the project scope will not change throughout the life cycle. |
| Constraints | Things you know to be true, and must be accounted for in the plan. Project constraints are limitations like the budget, schedule, or resources imposed on the project. |
| Risks | Any unexpected events that can affect your project, both positively and negatively. Such as consultant or contractor delays or estimating and scheduling errors. |
Note: this part of the SOW doesn't have to be overly complicated. But the more complex the project, the more time you should spend considering the items above.
As long as you have a thorough project planning process, you should be comfortable with identifying assumptions and constraints here.
But what about project risks?
How do you get ahead here?
Start by developing a risk management plan. A thorough risk management plan will involve the following:
Identifying project risks
Assessing the impact of the risks
Developing a risk response strategy
While risk is impossible to eliminate, a well-developed project risk management plan will reduce not only the likelihood of an event occurring, but also the significance of its impact.
7. Change requests

You've nailed your project planning and developed a solid risk management plan. But you still get emails from the client that say something like…
"Can we add this to the project? It's just one more change! It won't take that long!"
You say yes to a handful of small project changes, and before you know it, you're pushing due dates back, and your project profit margins are evaporating.
How do you prevent this from happening?
State in your SOW that anything outside of scope will cost extra (time and money) and create a simple change request process when those requests eventually come in.
Not sure how to deal with additional client requests? Check out the video below from The Futur.
Statement of work template
Download our free SOW template below.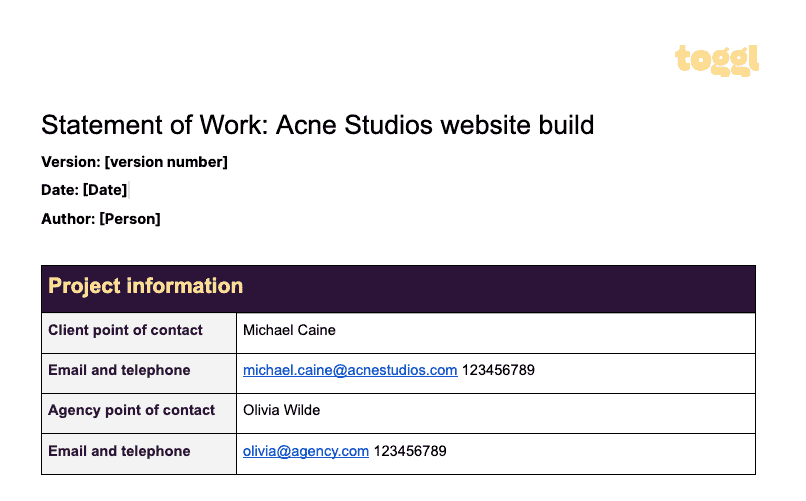 How to write a statement of work
Use our free SOW template and follow the steps below to write a statement of work worth reading.
1. Define the purpose and scope of the project
What's the purpose of the project? What work needs to be done to get the project over the line? What resources will you need? What software or hardware will you need?
These questions can be answered by gathering project requirements during the discovery phase to help you understand the project's purpose and scope.
Gathering project requirements isn't just necessary — it's one of the most critical processes in the lifecycle of a project.
Gathering project requirements will help you to
Understand the scope of work
Identify and assess all project risks
Accurately estimate the cost of the project
Create a project timeline the client is happy with
Effectively allocate and manage project resources
Not obliterate the project budget on irrelevant "requirements." 
To stay organized as you grow and juggle projects, you need to build a process that collects, translates, and shares requirements from the client to the team so you can get it right time after time.
2. Create a Work Breakdown Structure
Once you know what work is required for the project, you can begin to break down the project into more manageable phases and tasks using a Work Breakdown Structure (WBS).
A WBS can integrate scope, cost, and deliverables into a single tool.
The two main types of WBS are:
Deliverable-based
Phase-based
Deliverable-based Work Breakdown Structures show the relationship between project deliverables (blog posts, animations, and software) and the project's scope (the work needed).
Here's an example of a part deliverable-based WBS for a marketing campaign.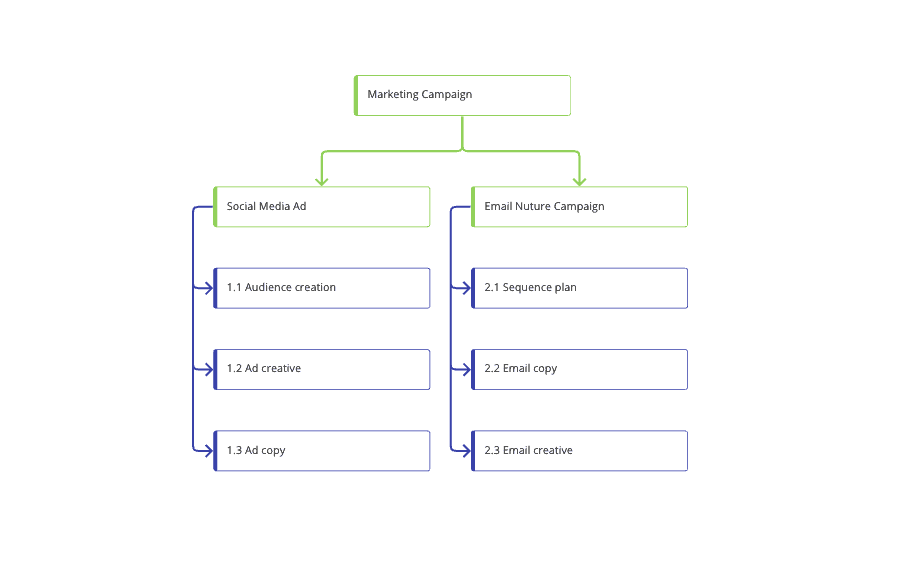 Here's an example of a phase-based WBS for a marketing campaign.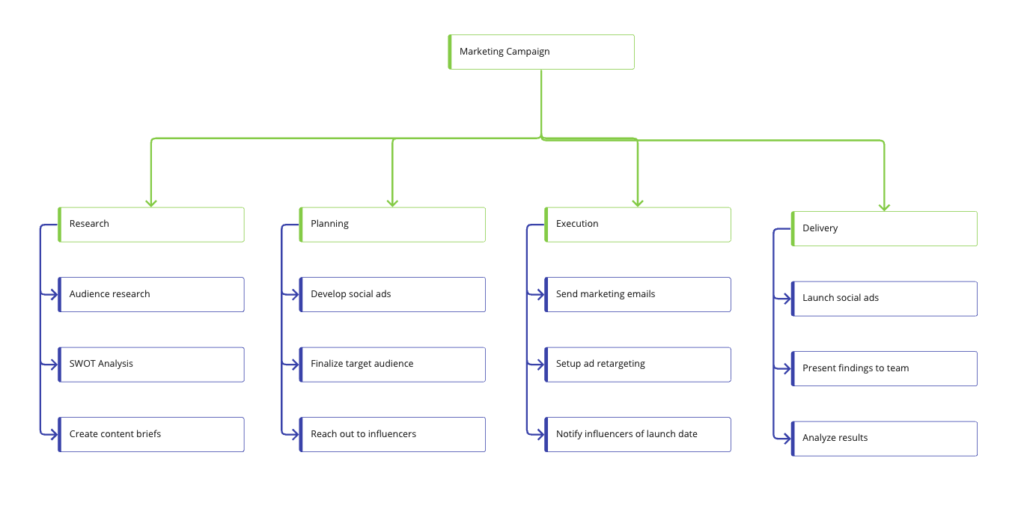 This WBS describes each step taken to complete the work within each phase.
It's entirely up to you what type of WBS you use — but creating one is critical for any project to be successful.
3. Create your project cost estimate
Estimating the cost of a project and creating a budget that works for you and your client is practically an art. Clients want more for less, and you want more significant margins.
You should be able to quickly estimate the cost for the entire project using a simple WBS template.
Assign costs to each task within your project to create an estimate that makes sense for you and your client.
Here's what a WBS could look like with estimated hours and costs.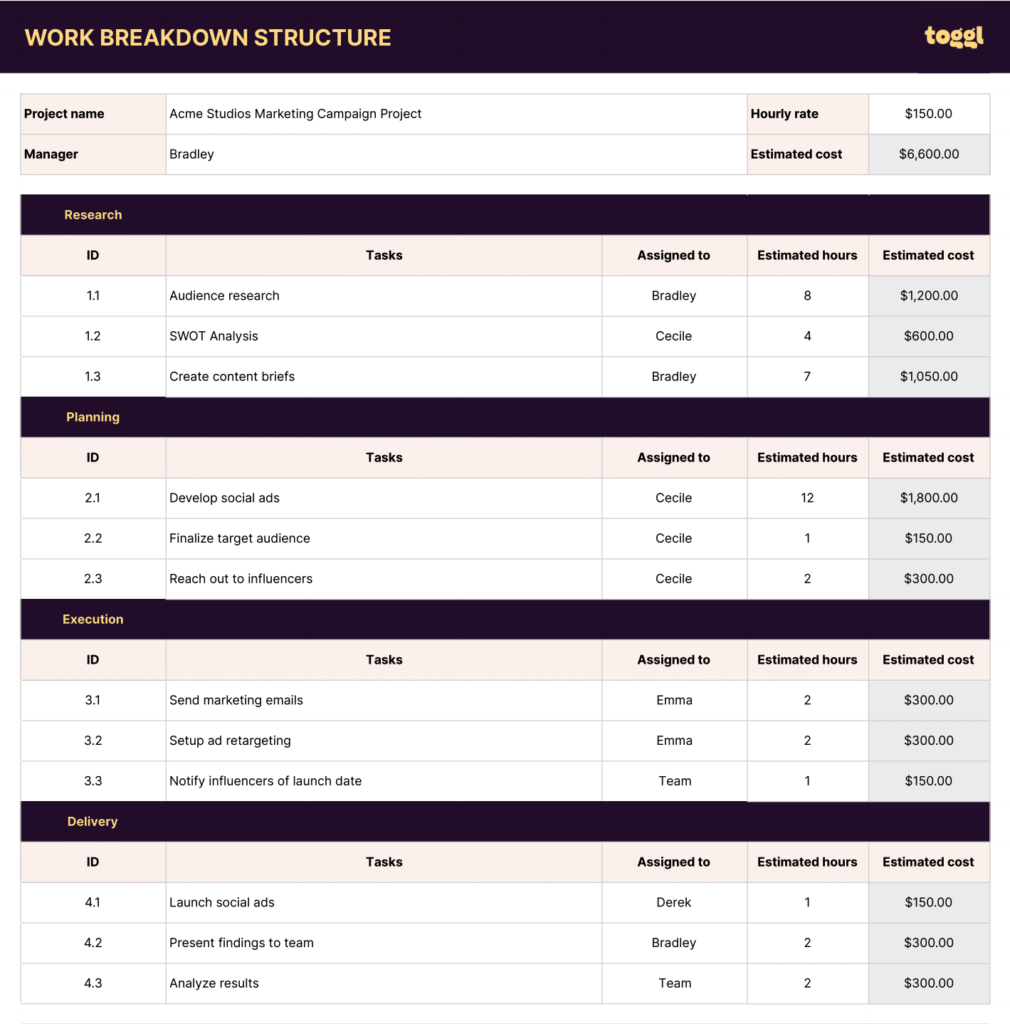 Or, if you're using time tracking software, you can dig into your data to pull up similar past projects for quicker cost and time estimates.
Toggl Track lets you quickly access past project data via the Detailed Report. You will get an in-depth look at the tracked time and cost of current and past projects.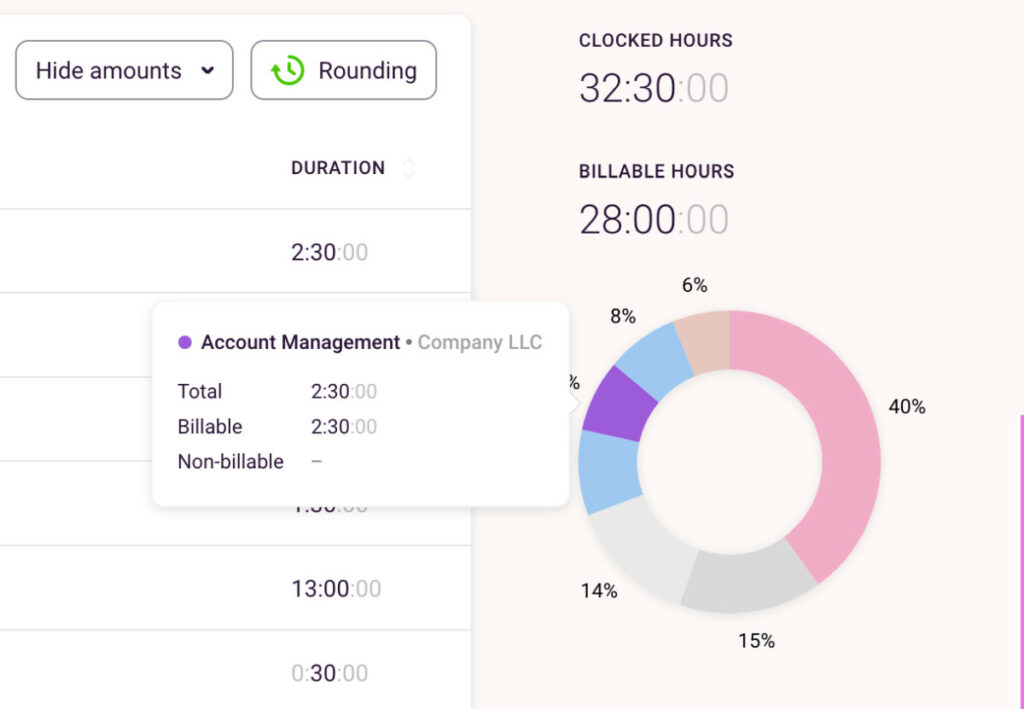 Top tip:
Consider what stage you are at in the project lifecycle before committing to a final SOW cost estimate.
Think about creating the following estimates for your next client project:
The client needs to know if the project is possible, but you need more information to give a proper estimate. So you can do this by giving them a ballpark estimate of how much the project will cost ($80k-$140k).
Suppose the client is happy with the ballpark estimate. In that case, you may ask for more information about the project to put together a more accurate estimate and a project plan with an estimated timeline. Your revised estimate may change to $90k-$130k.
Statement of work estimate
Assuming the client is still good to go, the final step in the estimate refinement is pulling together the SoW, which will include the estimate and total project budget. You may adjust your estimate to $100k + a 20% contingency fund.
4. Create a project schedule
Using a WBS, you should know how long the project will take based on the number of hours you estimate for each task.
This will allow you to create your project timeline to help you set critical milestones and due dates for you and your team.
To create a timeline, you can use something as simple as pen and paper or a timeline software tool to create interactive timelines.
With Toggl Plan you can add, schedule, and assign project tasks and milestones with simple drag-and-drop functionality. You can then share this timeline with clients to help them visualize the project timeline better
Here's a timeline example for a web design project.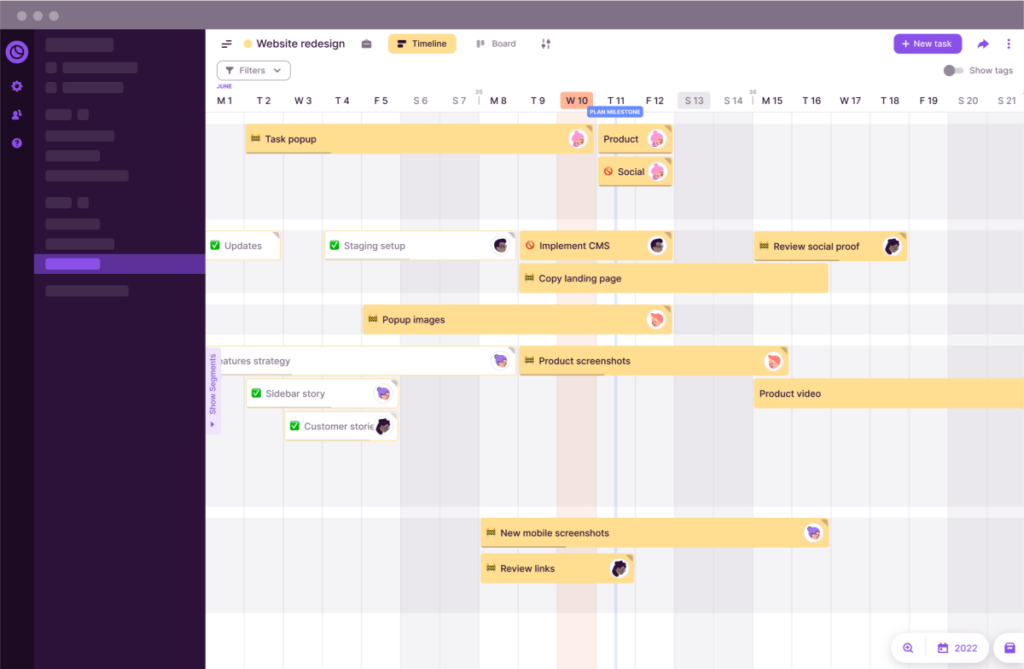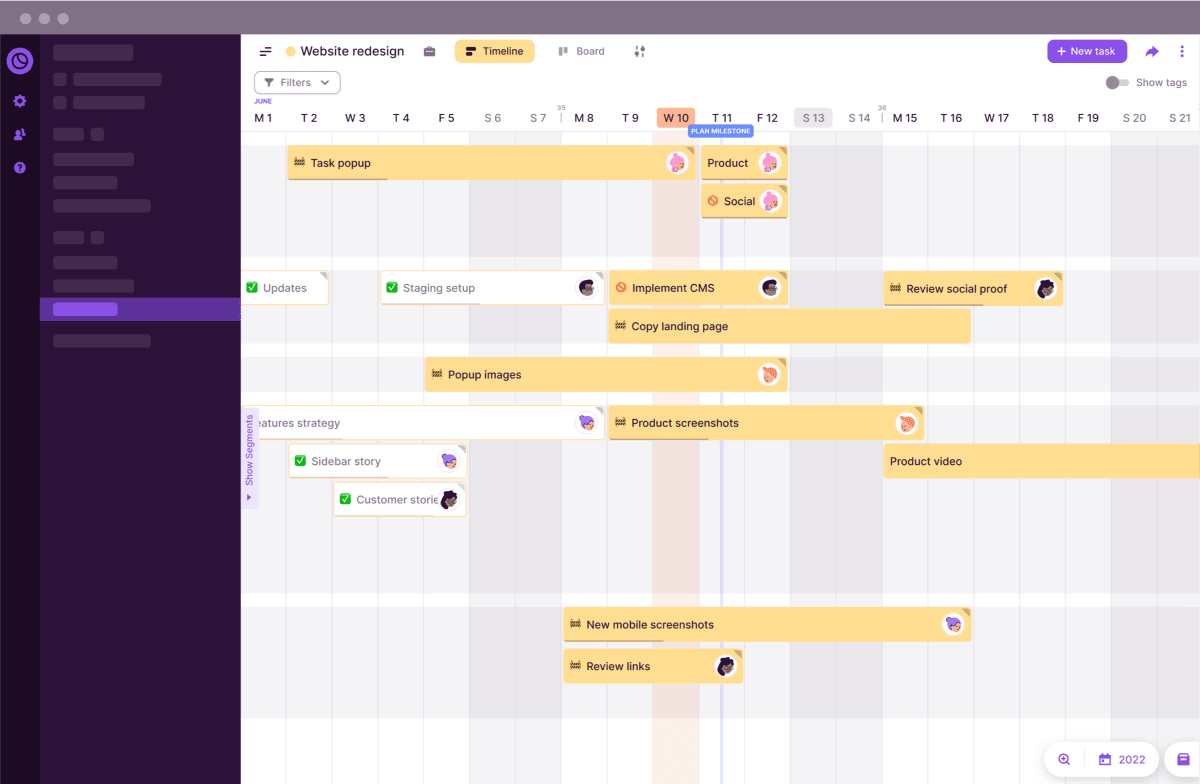 5. Check internal resources
Consider internal resources when planning your project. Make sure to factor in your team's current workload and each member's availability in terms of daily working hours and billable utilization.
Why?
If your team is already at capacity, you may need to consider working with contractors (which is a potential project risk!).
You can assess team capacity by looking at your current project workload.
How?
You can use resource planning spreadsheets — or this can be done by navigating to team timelines in Toggl Plan.
This will help you to see your team's work schedule in one place. You can schedule tasks without conflicting with other projects, time off, or public holidays.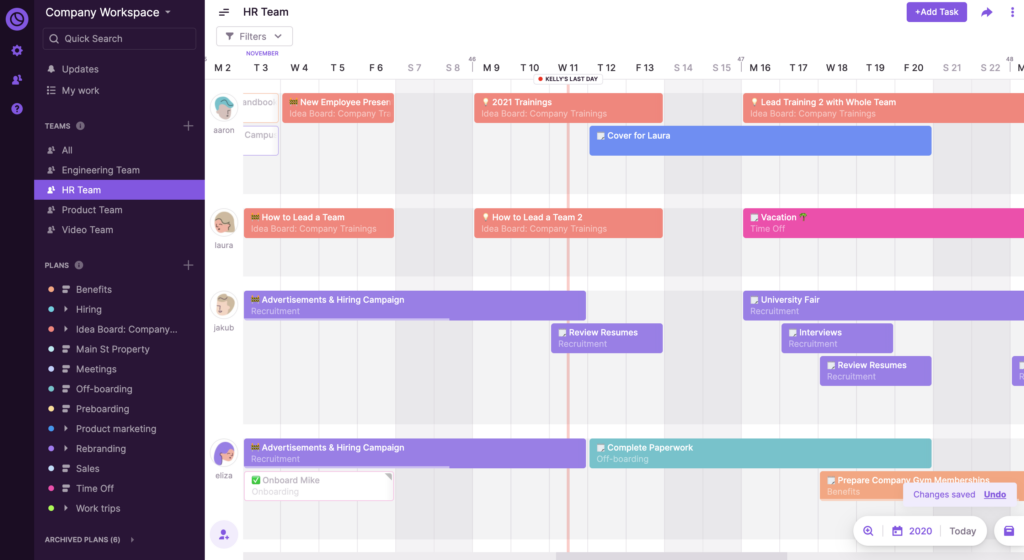 6. Establish key milestones and deliverables
Once you have assessed team resources and created your project timeline, you should establish key project milestones.
Add milestones to your timeline to keep your deadlines visible to everyone.
To add a milestone in Toggl Plan:
Click on a date in the header you wish to add a milestone to
Add a name that's easy to understand for everyone
Choose a color to know what project the milestone belongs to at a glance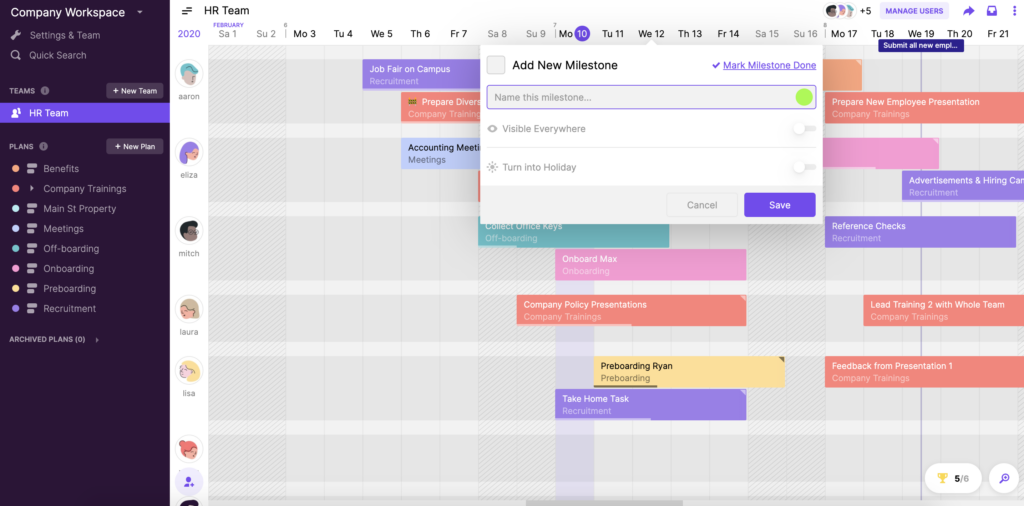 Using project planning tools is a great way to visualize better timelines, schedules, and milestones for your entire project.
You can plot critical milestones on your project timeline as you complete each phase. Or, if you work based on deliverables, you could use the completion date of each deliverable as your milestones.
7. Assess project risks
You and I both know client work never goes 100% to plan.
There is always something lurking in the dark — waiting to derail your entire project.
Not accounting for project risks will likely mean the client (or you) will blow a hole in the project plan at some point.
Here are some examples of a few project risks for you skimmers out there:
| Example | Description |
| --- | --- |
| 1. Scope creep | Changes to a project's scope after starting |
| 2. Blowing your budget | Spilling over your estimated budget |
| 3. Project delays | Tasks take longer than estimated |
| 4. Not enough resources | Not having the necessary resources to complete a project |
| 5. Lack of clarity | Unclear requirements, scope, or communication |
| 6. Stakeholder issues | Inaccurate expectations and miscommunication from stakeholders |
| 7. Consultant or contractor delays | Contractors not being accountable |
| 8. Aggressive deadlines | Unrealistic deadlines your team can't meet |
| 9. Low productivity | Burnout and poor project goals lead to work just not being done |
| 10. Putting inexperienced workers on high-stakes projects | Inexperienced team members are assigned to projects that carry a lot of weight |
| 11. Poor risk management | Identifying and preparing for all of these risks 😉 |
The best project managers consider all project risks and create strategies to prevent them from happening — or at least soften the blow if your budget trickles over or you miss a deadline.
How?
By making project risk assessment common practice for all project work.
A statement of work — your secret weapon
A statement of work is a critical document for any client project. It provides a clear understanding of the project's objectives, deliverables, timeline, and budget.
Having a well-defined statement of work in place can minimize misunderstandings, reduce mistakes, and keep any project on track.
Looking to take your project management skills to the next level? Check out our guides below!
Sean is a Content Marketer at Toggl. He's been involved in SEO and Content Marketing since 2017. Before working for Toggl, Sean ran SEO at a digital marketing agency—so he's all too familiar with time tracking and project management.