Today, 97.6 percent of employees want to work from home. As a result, communication becomes the biggest challenge for teams. Using the right set of team communication tools can help overcome this challenge.
In this article, you'll learn about the best communication platforms. Here's what we'll cover.
Let's dive in:
Remote Team Communication Challenges
While working from an office, there are many opportunities to communicate. Team meetings, water-cooler chats, coffee-breaks all make it easy to access information. Plus, you can always hop over to a colleague's cubicle.
But, when most of your team is working from home, none of these opportunities exist. Remote team communication needs to be more deliberate. And you have to overcome the following challenges:
Work-Time Differences
Remote workers value flexibility. Working from home gives them the freedom to work from anywhere. At the same time, they can also schedule work around family hours and errands.
For teams working across time zones, differences in work timings can be even more pronounced.
As a result, you can't expect a quick response.
Instead, work has to be planned in a way that you have all the information you need before you begin working. Or, your team will end up waiting for information, resulting in productivity loss.
Missing Contexts
With in-office communication, you have an opportunity to pick up both verbal and non-verbal signals. Plus, it's easy to ask for access to the information you need before beginning work.
With text-based communication, you can rarely know how your colleagues feel. Thus, emotional context is often lost in digital conversation.
Remote teams need to find ways to connect emotionally with team members.
Lack Of Transparency
No matter where your team works, information coagulates in department and location silos. Remote teams are even more prone to creating such information silos.
When team members communicate 1:1, this information is hidden from other team members. Other team members cannot access information. Communication becomes opaque, and productivity suffers.
On the other hand, when information is centralized and accessible to all team members, communication becomes transparent, and work productivity improves.
When remote teams use effective communication software, they can overcome these challenges. Next, let's look at the best communication tools for remote businesses.
Types Of Communication Tools
The two major types of communication tools are synchronous and asynchronous communication tools.
Synchronous communication software is used for real-time communication. Video call and conferencing software are examples of synchronous communication platforms.
On the other hand, asynchronous communication tools facilitate communication where you don't expect a real-time response. Email and project management communication apps are examples of asynchronous communication platforms.
Communication software can also be classified depending on its use. For example, in this article, we'll look at:
Project Management Communication Software
Document Collaboration Tools
Feedback Management Software
Instant Messaging Apps
Voice & Video Conferencing Tools
Emergency Contact Tools
Asynchronous Team Communication Software
Every team, in-office or remote, needs a solid mix of synchronous and asynchronous communication.
Unlike synchronous communication, asynchronous communication doesn't happen in real-time. Communicating parties aren't expecting an immediate response.
Asynchronous communication helps deal with the challenges above. That is why a remote team mostly needs asynchronous communication.
Let's look at the top asynchronous team communication software.
Project Management Communication Tools
Whether you're working on a client project or building a product, project management tools help you communicate and keep all project information in one place. That is why most project teams use a PM tool to communicate internally and with clients.
Toggl Plan is a beautifully simple team planning and project management tool.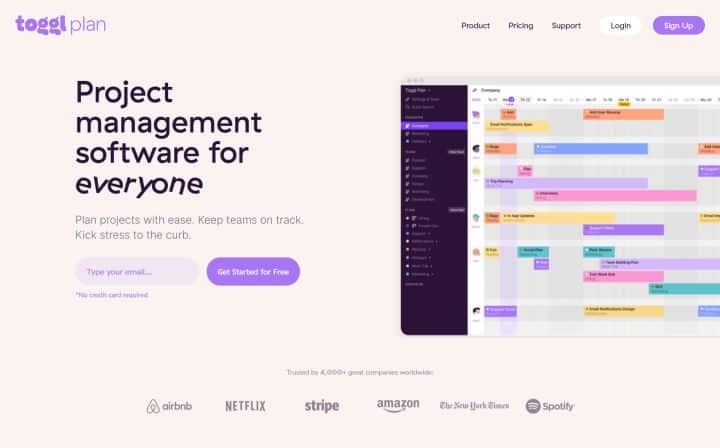 With Toggl Plan, you can plan, manage, and track your projects on timelines or task boards.
You can visualize what needs to be done and by when using the project timeline. You can also share it in a read-only mode with your clients. That way, you can keep your clients up to date about what's happening in the project.
Task boards make it easy to manage your team's workflows visually. Team members can communicate on tasks using task comments. Besides, they can attach files and documents to a task.
Toggl Plan is available for the web, iOS, and Android platforms.
Price plans range from $9-$15 per user per month. You can sign up for a 14-day free trial to try out Toggl Plan's features.
Alternatives to Toggl Plan include Trello and Monday.com.
If you're mainly looking for team collaboration features, Basecamp could be a good choice.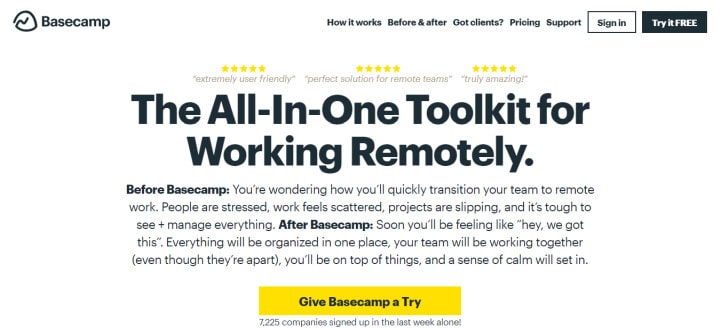 With Basecamp, you can manage project tasks using simple to-do lists. You can either mark tasks as either done or not done. Team members can comment to discuss tasks.
Basecamp also has a calendar feature to track critical dates in the project schedule.
With Basecamp, you get message boards, team messaging, and file sharing features for team communication.
Basecamp is a web-only platform with a single-price plan. It costs $99 per month for an unlimited number of users.
Alternatives to Basecamp include ProofHub and Hitask.
Document Collaboration & File-Sharing Tools
Teams often need to work together on documents and files. As a result, document and file sharing tools have become essential collaboration software.
Whether you're building a team or a project wiki, document collaboration platforms help you keep versioned copies of information accessible in one place.
Previously called G Suite, Google Workspace is a collection of tools that make workplace communication and collaboration easy.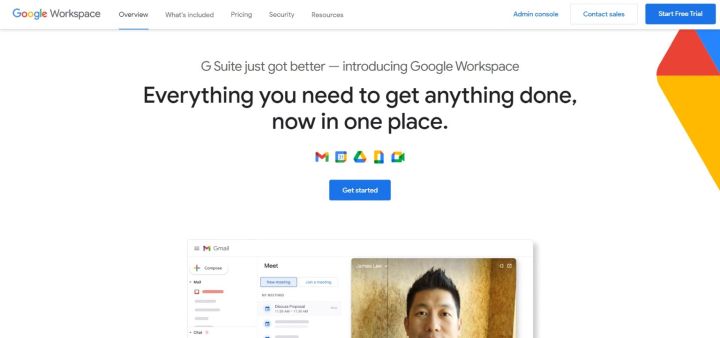 With Google Workspace, you get tools to create and edit documents, spreadsheets, and presentations.
Your team members can edit these documents together or add comments and suggestions. Google Workspace keeps all the document versions stored securely on the cloud.
You can share the documents within your team or even publicly.
In addition to document collaboration, you also get instant chats, video conferencing, and email.
Google Workspace is available on the web, iOS, and Android platforms.
Price Plans range from $6-$18 per user per month, depending on the storage space and the number of video meeting participants.
Alternatives to Google Workspace include business communication software like Microsoft Office 365 and Zoho Office Suite.
Huddle is an enterprise-grade document collaboration platform.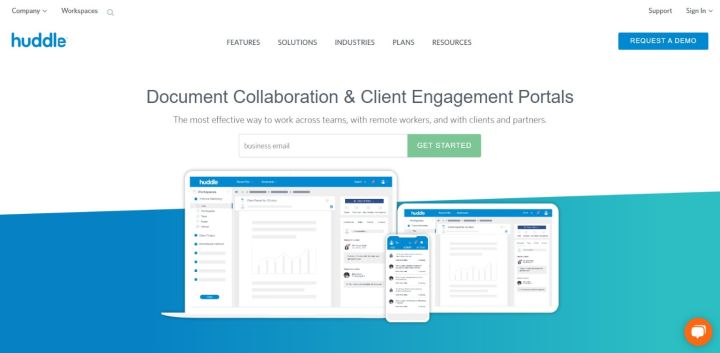 It provides shared workspaces where teams, partners, and clients can come together to work on text documents.
Everyone has access to the latest version of the document with Huddle managing version control.
You can send document change requests and add document-specific tasks. Plus, you can also manage the entire approval process.
Huddle provides branded client portals to give your clients a consistent experience.
It works on the web, iOS, and Android platforms.
Price plans are not available on their website. You have to request a demo to learn about their prices.
Alternatives for Huddle are Pandadoc and DropBox.
Feedback Software
As discussed, one of the significant challenges in remote communication is the missing emotional context. It's hard to know how your colleagues and clients feel from just text messages.
Feedback tools help you gauge your team's emotional state. Besides using feedback tools, you can periodically survey your team members to discover ways to improve your workflows.
Feedback management software is also a useful customer communication tool. When talking to customers, please be mindful of sensitive situations. Follow these best practices to communicate with customers.
ContactMonkey is an internal communication tool that integrates with Gmail and Outlook.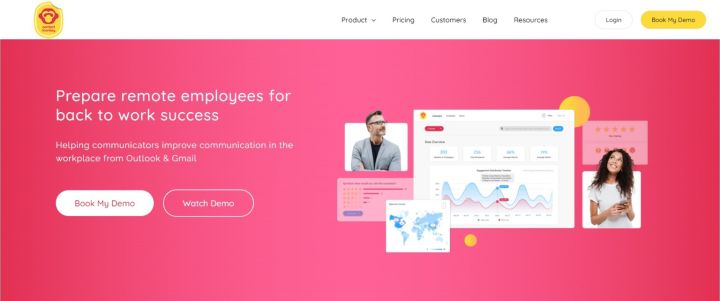 With ContactMonkey, you can create newsletters, collect feedback, and track email performance.
There are numerous options to conduct surveys, including NPS scores, star ratings, emoji ratings, and thumbs up/thumbs down.
You can send surveys via newsletters. And, you can design newsletters using the template library and the email builder.
Finally, you can measure the survey results and email campaign performance for an individual respondent or the entire campaign.
Other than employees, ContactMonkey also has a sales tool where you can track your external emails.
ContactMonkey is a web-only tool.
Price plans are not available on the website. However, you can request a quote.
A comparable alternative to ContactMonkey is Yesware.
Responsly is a feedback tool to get inputs directly from your website's users.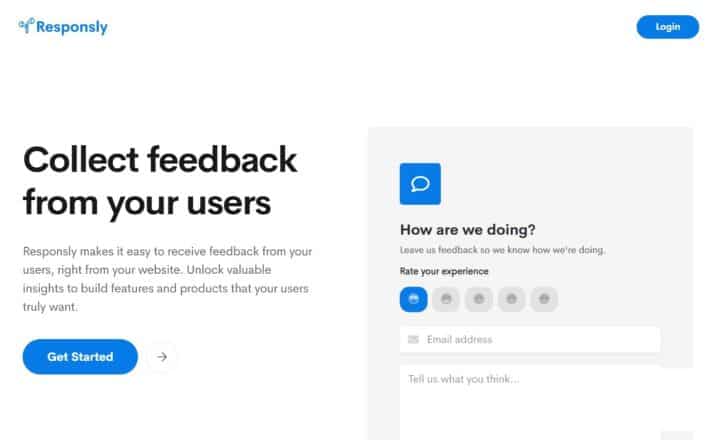 With Responsly, you can create feedback campaigns for WordPress, Shopify, Gmail, and many other platforms.
You can accept feedback with text-based answers or even use emoji-based ratings.
Responsly is a web-only tool.
With Responsly's free plan, you can create up to 3 feedback campaigns. The paid plan costs $15 per month for unlimited campaigns.
Alternatives to Responsly include Hotjar and UserZoom.
Instant Messaging Apps
Instant Messaging apps are great for quick, short communication messages. Whether you want to make a brief announcement or ask a question, a chat application can help.
Because chat apps are so handy, there's a tendency to overuse these tools. As a result, important information can get buried below chat messages. That is why it's best to use a chat app along with other asynchronous messaging tools.
Let's look at two popular team messaging apps.
Slack is a popular instant messaging app for teams.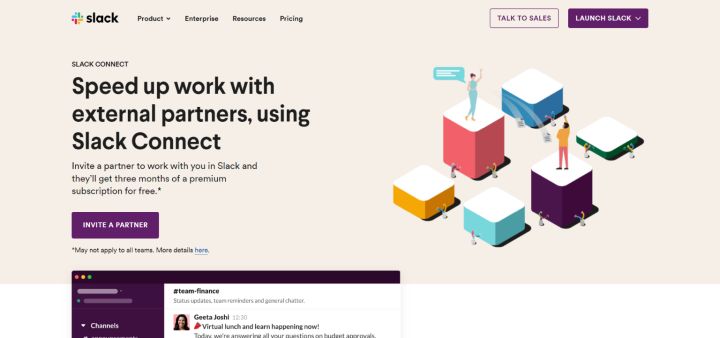 With Slack, you can chat 1:1 with a team colleague or start a conversation channel with many team members.
Channels provide a convenient way to keep all the information about a topic or a project in one place. Along with instant messaging, you can also share files.
Slack also offers face-to-face video calls.
What makes Slack popular, though, is its many integrations. Slack can integrate with almost all project management, document collaboration, and video communication platforms.
Also, using Slack's API, teams can make their custom workflows within Slack.
Slack is available for all platforms — Android, iOS, Windows, and Web.
Price plans range from $6.67-$12.50 per user per month. With the free tier, you can get access to the last 10,000 messages.
Slack alternatives include team communication software such as Chanty and Flock.
Synchronous Team Communication Software
Even though remote teams thrive on asynchronous communication, there's no denying the value of face-to-face communication.
Synchronous, 1:1 communication is critical to delivering complex information, sensitive topics, and meeting your team's emotional needs. Synchronous communication software is the closest you can come to mimic physical in-office communication tools.
Video call software and VOIP apps are effective communication tools for synchronous communication.
Video Communication Platforms
Whether you want to conduct a monthly 1:1 with a team member or host an all-hands meeting, video calls make face-to-face communication simple.
Video communication is effective for social meetings, campfires, and other fun meetings in your virtual office. It's also effective when discussing sensitive or complex topics.
Let's look at some video app options.
Microsoft Teams is a popular video call, chat, and collaboration tool. It's perfect for teams that already use the Office 365 suite.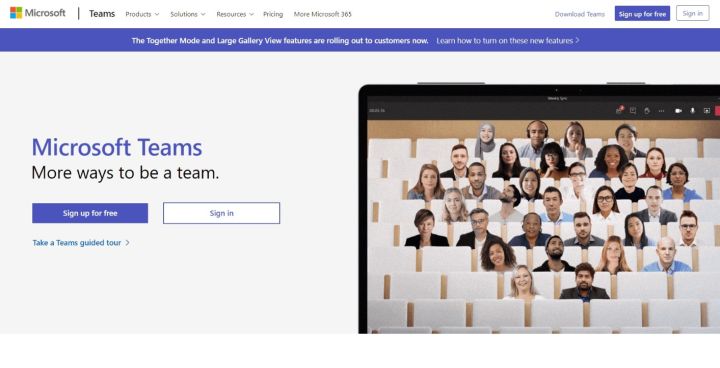 With Teams, you can chat with groups, share files, and collaborate on Office 365 documents. If you're on the go, you can also reply using voice messages.
Also, you can do voice and video calls with your team or conduct 1:1 meetings.
You can also host virtual events such as webinars and online conferences. Using PowerPoint live, you can deliver a unified content, audience, and speaker experience.
Microsoft Teams is available for Windows, iOS, and Android platforms.
Price Plans range from $5-$20 per user per month (with an annual commitment) depending on storage and the number of users. There's also a free plan available with 100 participants and 60-minute call duration limits.
The closest alternative to Microsoft Teams is Cisco Webex.
Zoom is undoubtedly the most popular video conferencing app out there.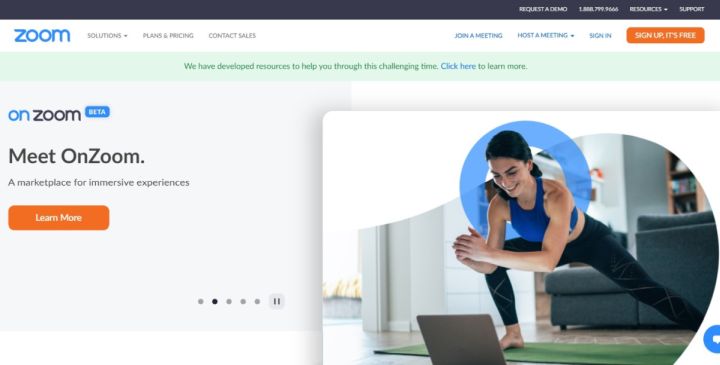 With Zoom, you can conduct unlimited 1:1 and group meetings.
It comes with built-in collaboration tools for screen sharing and co-annotations. It offers filters, reactions, polls, music, and video sharing to make meetings enjoyable.
You can also record meeting videos locally or on the cloud. Plus, you can generate automatic, searchable transcripts.
Zoom integrates with all the calendar apps. So you can schedule Zoom meetings right from your calendar.
For larger groups, Zoom allows you to split team members into Rooms. That way everyone can take part in meaningful discussions.
Besides, it also comes with add ons to host webinars and virtual events.
Zoom native apps are available for the web, Windows, iOS, and Android.
Price plans for Zoom video calling range from $14.99-$35 per month. The free plan limits you to 100 participants and 40 minutes of meetings.
Popular Zoom alternatives include Microsoft Teams, Google Meet, and Skype.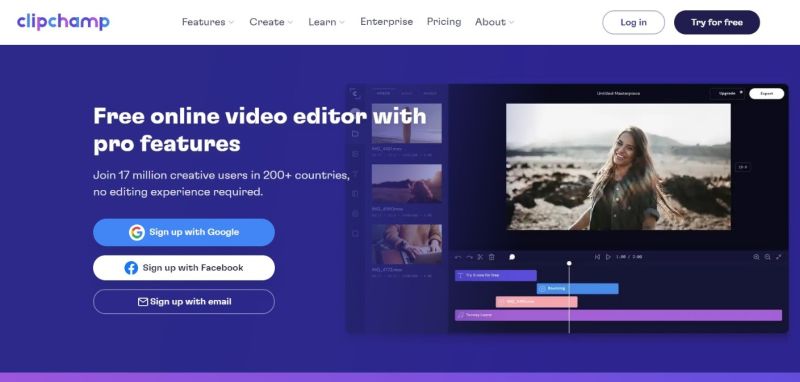 ClipChamp is a free online video editor. Teams can work together on video projects using ClipChamp Teams.
This editor comes with a Google Chrome extension. So you don't have to worry about software installation hassles. But you can also download ClipChamps for Chrome OS, Windows, iOS devices.
With premium plans, you also cloud sync and brand-kit features. These features ensure that your team can collaborate better and produce videos that stay congruent with the brand.
Price plans for ClipChamp start at $9 per month. Other than premium features and stock media, you also get better quality video exports in the paid plans.
Alternatives to ClipChamp include online video editors like Veed and InVideo.
Emergency Communication Tools
Sometimes asynchronous and planned synchronous communication doesn't always serve the purpose. For example, in case of service disruption you want to immediately contact developers.
In such cases, teams must decide on an emergency communication process and tool.
VOIP solutions and group messaging services are examples of emergency contact tools.
Skype to Phone is an affordable VOIP solution. Using this service, you can make international phone calls.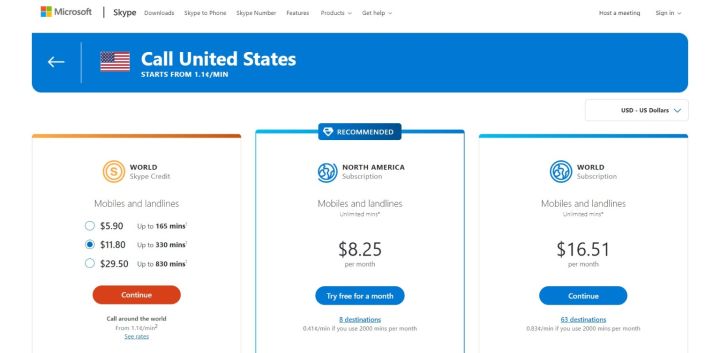 With Skype, you get phone call packages for most countries/regions around the globe. These packages differ from country to country.
Skype to Phone is available for the web, Windows, OSX, iOS, and Android platforms.
Packages range from $5.90-$29.50 in the USA, depending on minutes of usage.
Alternatives to Skype are WhatsApp and Facetime.
Note that it's critical to establish what makes up an emergency. Or you'll end up with wasted money and annoyed team members.
Final Word On Team Communication Tools
Remote team communication tools help improve team productivity.
Asynchronous communication software helps overcome time zone differences, reduce communication overheads and improve productivity.
While the majority of remote communication happens asynchronously, you cannot ignore synchronous communication. Video and voice calling tools are critical for face-to-face contact and emergencies.
Your team may not need all the tools mentioned above. Using effective communication tools and processes will help you improve your team communication.
Jitesh is an SEO and content specialist. He manages content projects at Toggl and loves sharing actionable tips to deliver projects profitably.