As the recruitment sector becomes more and more digital, pre-recorded video interviews are fast becoming the new normal. And given that 72% of people would choose video over text during the hiring process, if you're not on board, you absolutely should be!
We're going to give you the full rundown on pre-recorded video interviews. We'll look at exactly what they are, how they work and their benefits for both recruiters and candidates. For our recruiters, we'll also pull out some of the best pre-recorded video platforms on the market, ready for you to implement into your business straight away!
What is a Pre-Recorded Video Interview?
A pre-recorded video interview is a digital alternative to a traditional interview. During a pre-recorded video interview, both the recruiter and candidate each record their own parts of a question and answer exchange.
Both parties will do this by using the camera and microphone on their respective computer/smartphone, typically through a dedicated recruitment software tool.
Pre-recorded video interviews have been around for a while, but their popularity has massively increased during the covid-19 pandemic.
Many people think that a pre-recorded video interview is used in place of a face-to-face or online interview, but they're wrong. A pre-recorded video interview is used towards the beginning of the recruitment process, slotting in as a replacement to screener/phone interviews.
Using them at this early stage allows recruiters to get an upfront view of a candidate's soft skills, something that is hard to assess through an application or resume. For this reason, pre-recorded video interviews are very popular for customer-facing roles such as sales or technical support.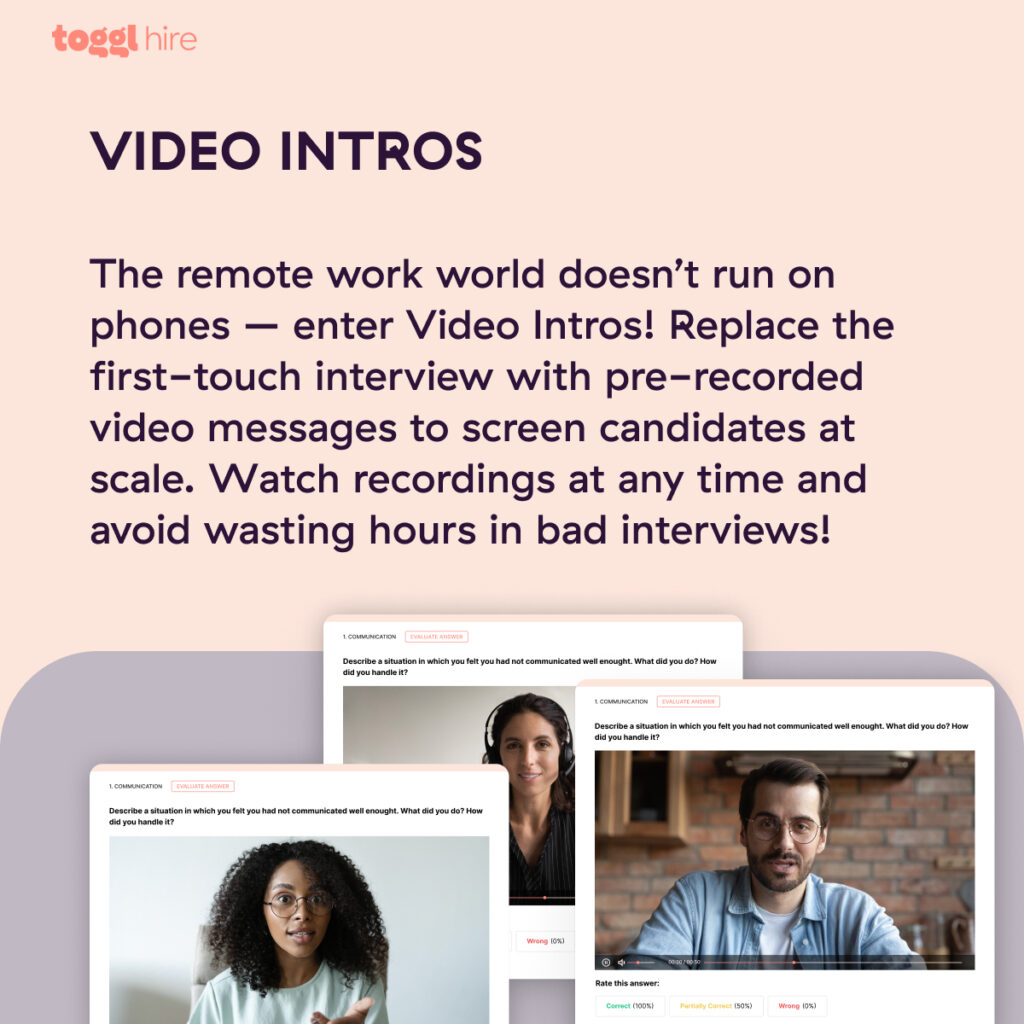 How Do Pre-Recorded Video Interviews Work?
So, now we know what a pre-recorded interview is, you might be wondering exactly how they work in practice. Here's a run-through of how a pre-recorded video interview works end-to-end. 
Once a job vacancy is posted, and applicants have applied, the recruiter will filter through those applications and decide which candidates to take forward to the next stage.
Traditionally, this next step would be a phone/screener interview. But, this stage is now where the pre-recorded video interview comes in as a modern replacement.
A recruiter will start by setting up their end of the pre-recorded interview by going into their chosen recruitment software and configuring their questions. Whilst you can simply enter questions as text, to deliver an authentic pre-recorded experience, the recruiter should record those questions in video format.
Depending on the recruiter's objectives, they may set up just one or two questions, or go for a more intensive experience and configure five or more. Once completed, it's time to get the candidates involved.
Recruiters can now invite candidates to complete their answers. Candidates will receive an invitation to connect to the hiring platform, sometimes creating a dedicated account in the process.
One by one, candidates will work through each of the questions, recording their responses using their camera/microphone. Depending on the setup, they may get the opportunity to do a couple of practice questions or have the ability to re-record their answers until they're perfect!
Once complete, the candidate will submit their pre-recorded video interview answers ready for assessment. Recruiters will then choose the candidates they want to take forward, often moving them to the final interview or assessment centre stage.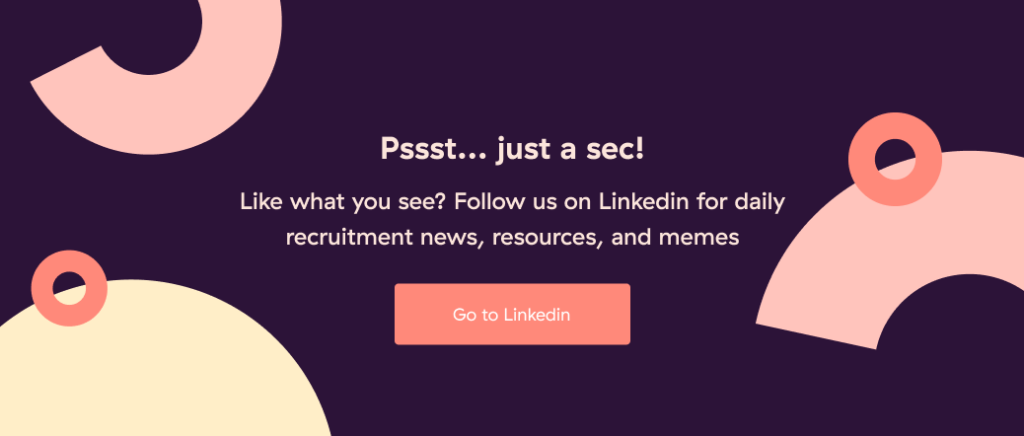 The Benefits of Pre-Recorded Video Interviews (For Recruiters & Candidates)
Pre-recorded video interviews are becoming more and more popular both for recruiters and candidates. Here are some of the key benefits to both parties when adopting pre-recorded video interviews.
For Recruiters:
Saves Time. As a recruiter, your time is limited, so you need to do everything you can to process as many candidates at once. One pre-recorded video interview can be sent to multiple candidates, saving time on individual phone or screener interviews.

Better Insights. Pre-recorded interviews give you a much richer insight into the soft skills of a candidate. Especially in roles where those skills are essential, getting this insight early on means you only take high-quality candidates forward to the critical assessment centre and final interview stages.

Improves Time to Hire. The faster you can process and progress the right candidates, the faster you can fill a role. Long hiring times are one of the most frustrating parts of recruitment, so eliminate that pain point by speeding up your process with pre-recorded video interviews.

Greater Visibility. With a phone/screener interview, it's only those individuals in the room who get to experience the candidate's performance. A recorded interview can be shared with the entire team, meaning you can gather consensus on the right candidate's to take forward.
For Candidates:
Showcase Skills. As a candidate, a video interview provides an excellent opportunity to stand out right at the beginning of the recruitment process. Showing off what makes you special is hard over the phone or on a resume, so use video answers to be creative and stand out from the crowd.

Flexibility. If you're still working in your current role, finding the time to attend interviews can be difficult. Pre-recorded video interviews can be completed at a that suits you as the candidate. This not only helps you feel more comfortable but gives you time to practice and prepare immediately before.

Better Insight to The Company. Especially for companies who record their questions, pre-recorded video interviews give candidates an insight into the face of the company. This helps you feel more relaxed but also re-confirms that the company is a good fit for them.

A Platform For Personality. Certain candidates don't have exactly the right set of skills for the job, but make up for that with a great personality. Pre-recorded video interviews provide certain 'atypical' candidates with the platform to show off their personality and put you in a better position to win the job role.
Pre-Recorded Video Interview Best Practices (For Recruiters & Candidates)
For recruiters and candidates alike, pre-recorded video interviews might be a new and daunting experience. Here are a few best practices to ensure a great experience all around!
For Recruiters:
Record a Welcome. To help your candidates present their best selves in their answers, start by recording a welcome. Let them know a bit about the company, the role and even yourself as a recruiter. You can also talk about why you're using this interview format and what you expect of them in their answers to help get the best responses.

Allow For Practice. In the real world of work, it's not often that people are put on the spot and only get one shot at completing a task. So, why make your interviews like that? Give candidates the chance to get comfortable with a practice question or two, allowing them to settle into the interview format ready for the next questions.

Provide Additional Context. Just like any other interview format, give the candidate what they need to prepare ahead of time. You should still provide additional information about the company and the role before the interview, including links to your website or social media channels if necessary.
For Candidates:
Get Prepared. Do not take pre-recorded video interviews for granted! Just because you are not sat across from someone doesn't mean it's not serious. You should do all the same research on the company, the job role and your own skills to ensure you're prepared with solid answers for every question.

Professional Environment. Make sure your environment is set up to record the best answers possible when it comes to completing your pre-recorded video interview. Sit in a quiet room, ensure your computer is on a stable surface and dress professionally to guarantee you're putting your best foot forward in every regard.

Take The Opportunity to Practice. If a pre-recorded video interview gives you the opportunity to practice, absolutely take it! Take the time to compose yourself for the questions ahead and ensure your camera and microphone are working correctly with the interview software. It's better to mess up or find a fault during your practice question than the real thing!
5 Pre-Recorded Video Interview Tool Picks
If you're a recruiter reading this article and you're sold on pre-recorded video interviews, you're in luck! Here are our top 5 picks of the most popular pre-recorded video interview tools on the market.
Here at Toggl Hire, we have our very own version of pre-recorded video interviews. Video Intros is easy to set up, record and distribute to your candidates, allowing them to showcase their communication and presentation skills for roles that are customer-facing.
Video Intros are designed with your candidates in mind too. We help you record your own introduction and video questions to create a more engaging experience for everyone involved. Not only that, directly from the Toggl Hire dashboard you can provide feedback to candidates on their performance if you aren't taking them forward.
Why not check out our 30-second Video Intros explainer video to find out more!
Spark Hire's video interviewing platform is a great solution for those looking to take their entire interview process online. Alongside their live interview features, they offer recruiters the ability to configure pre-recorded video interviews for their candidates.
Spark Hire's customers like the platform's flexibility, with the ability to create text or video questions whilst allowing for bespoke thinking time configurations and limits on the number of candidate retakes.
Hire Vue's in-depth recruiting platform is an excellent choice for those looking to revolutionise their entire end-to-end recruiting process. Outside of traditional pre-recorded video interviews, the tool is also great for those looking to add a game or skill-based assessments to their process too.
The tool is optimized for both computer and mobile and boasts a range of big-name clients, including Unilever and Sodexo. You can get started pretty quickly, too, thanks to their range of pre-defined interview templates, all of which are customized for particular job roles.
Hireflix is one of the world's best one-way video interview platforms. In fact, the sole purpose of their platform is to perfect the art of the pre-recorded video interview.
Hireflix prides itself on making the end-to-end process as simple as possible, both for you and your candidates with beautifully simple UX design. The platform also has numerous integrations with the tools you already use, such as Slack and BambooHR.
RecRight's mission is all about helping you recruit the right people faster. The combined ATS & pre-recorded video interview platform seeks to make the front-end of your recruitment process as slick and straightforward as possible.
Easily record your questions and get them out to candidates to gain their responses. As a recruitment team, you can easily comment, rate and tag candidates based on their feedback to ensure you're taking the best candidates forward as quickly as possible.
Summary
Pre-recorded video interviews are fast becoming commonplace in the recruitment process. For recruiters, they offer a great way to quickly get an insight into a candidate's soft skills early on in the recruitment process. For candidates, it provides a great platform to showcase what makes you different in a fun and engaging way.
There is a range of great pre-recorded video interview tools on the market, offering simple solutions which can be implemented into your business straight away. At Toggl Hire, our Video Intros feature provides a simple and effective way to know your candidate's soft skills alongside their traditional skills testing.
Juste loves investigating through writing. A copywriter by trade, she spent the last ten years in startups, telling stories and building marketing teams. She works at Toggl Hire and writes about how businesses can recruit really great people.