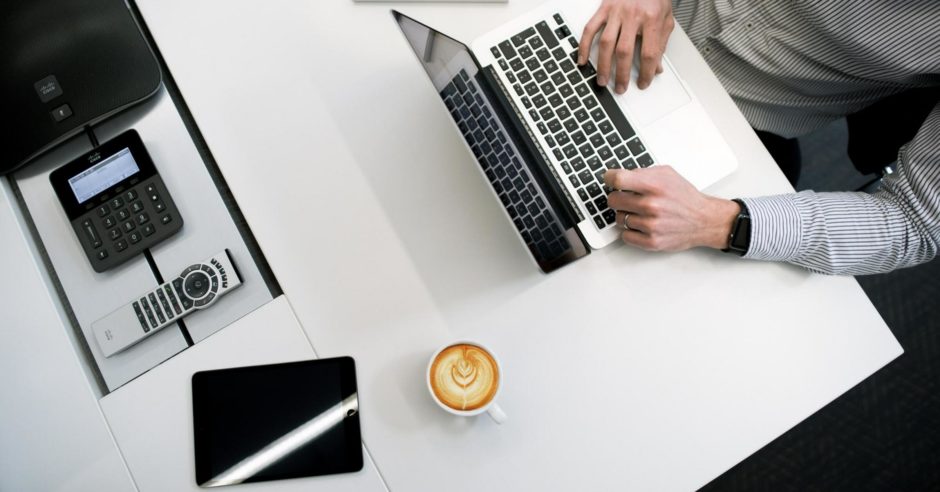 Project management software is the single most important tool in your arsenal as a project manager. Every project manager has their own style, which means that there is a different fit for each. Take Wrike, for example. Wrike is a great project management software designed with many helpful features. However, there are various Wrike alternatives that may better suit you in your project management needs.
1. Toggl Plan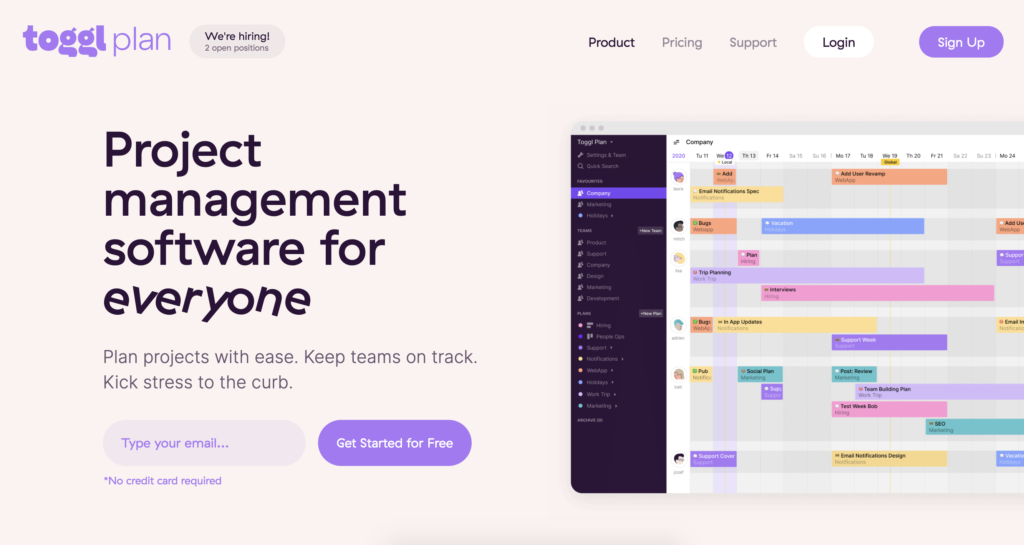 Toggl Plan is the best all around project management software. Based off a simple Gantt chart,  Toggl Plan is designed to be fast and easy to navigate. It's rich with features, which makes scheduling and editing timelines a breeze. Let's go over some of the amazing features:
Having all your tools in one place sounds like a dream. Toggl Plan works hard to make that dream a reality. You'll be able to get Slack notifications, import all your plans to your daily calendar, and link Toggl Plan to any online tool with th e Chrome extension.
The timeline is the most important tool within your project management software. Toggl Plan offers the ability to not only create a detailed timeline, but share it with your team as well. Within the timeline, you can add details, notes, and links to provide additional information for any task.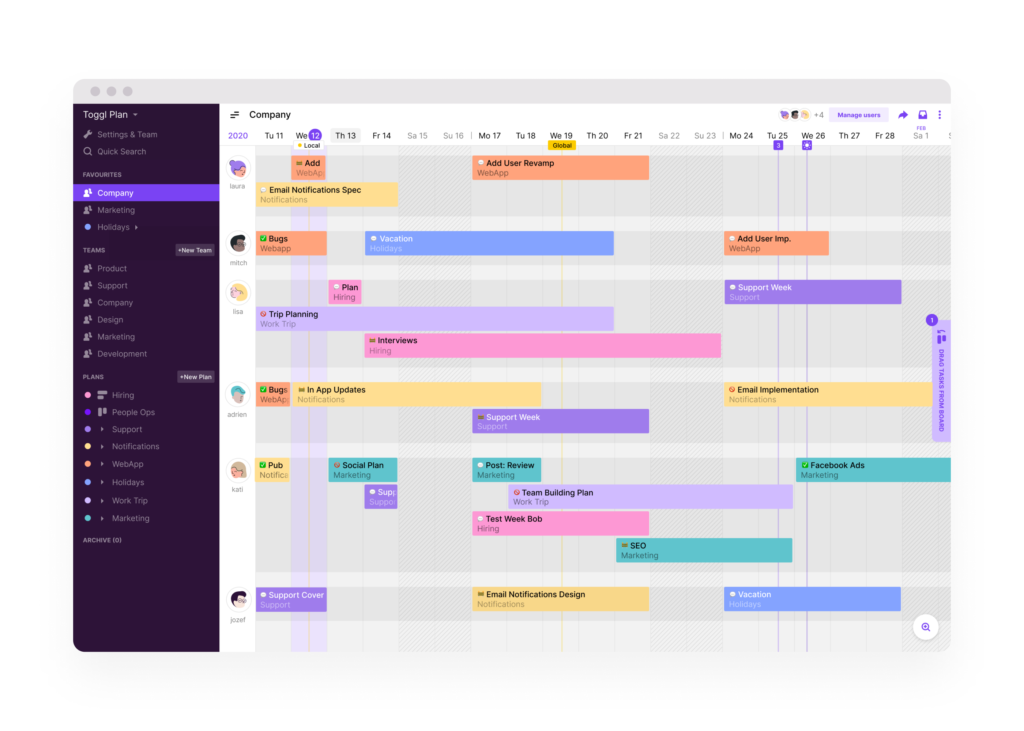 Had enough with the same colors every week? Spice it up and use the custom colors to give your timeline a little flare. Give any task a specific color to represent a certain person or the urgency of the task.
One of the most popular practices in project management is breaking the project down into smaller pieces. By doing this, you've basically set small goals or "milestones" for everyone to look forward to. With Toggl Plan, you'll be able to select any date on the timeline, and set it as a milestone for everyone to see. It's a great morality boost and it's as easy as a few clicks.
We all know that it can be easy to lose focus on projects when you have multiple tasks at hand. Built within Toggl Plan's software is an annual overview feature that allows you to zoom-out and get a "bird's-eye view" of the entire timeline. You'll be able to schedule effectively for weeks or months ahead.
With all of these impressive features, you might expect a hefty price tag, right? Fortunately, Toggl Plan thought about that, too. It's free for up to 5 users and offers competitive prices for project management software. You've heard the phrase "the best bang for your buck?" Well, Toggl Plan is the best bang AND the best buck, making it #1 on the list of Wrike alternatives.
2. Trello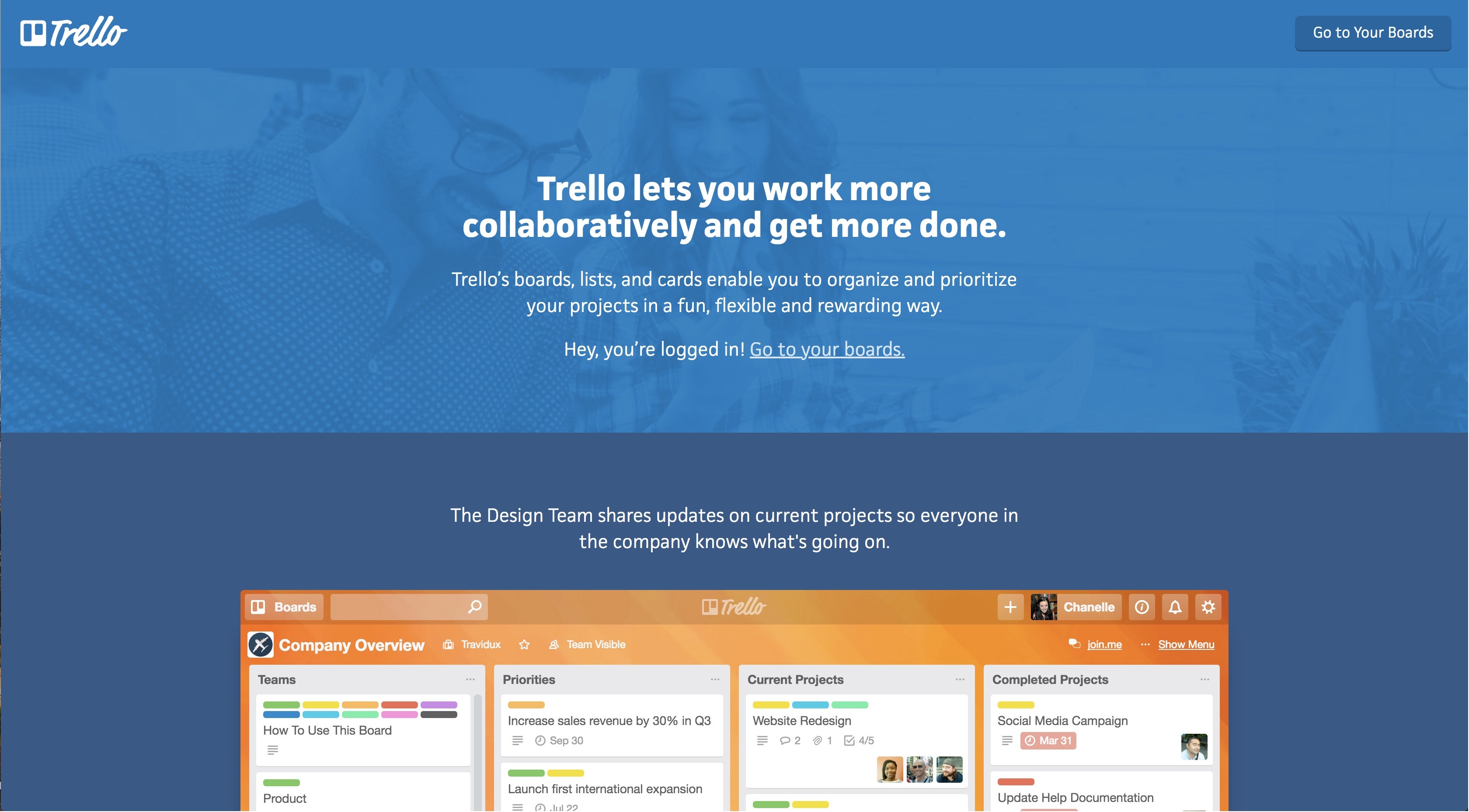 Project managers will agree that simplicity is their best friend. Trello tackles that idea by using boards and lists instead of the typical timeline. You could argue that boards and lists might complicate the management process, but it's actually quite the contrary. The interface is so ridiculously easy to use. It's a simple, left-to-right, drag-and-drop system. Trello definitely has a lot to offer:
As stated before, simplicity is your best friend in this industry. Whether it's the drag-and-drop function or the easily understandable interface, Trello is a great software choice that's perfect for new project managers.
Trello offers three levels of service: free, business class, and enterprise. There are many additional features with each tier of payment, but the free version offers a lot as well. Again, another reason why it's so great for new project managers.
Whether you are a veteran in project management or using another software, Trello is a great way to help organize your schedule.
[bctt tweet="Choosing the right project planning tool can be a task in itself. Luckily, we've done a bit of the legwork for you." username="toggl plan"]
3. JIRA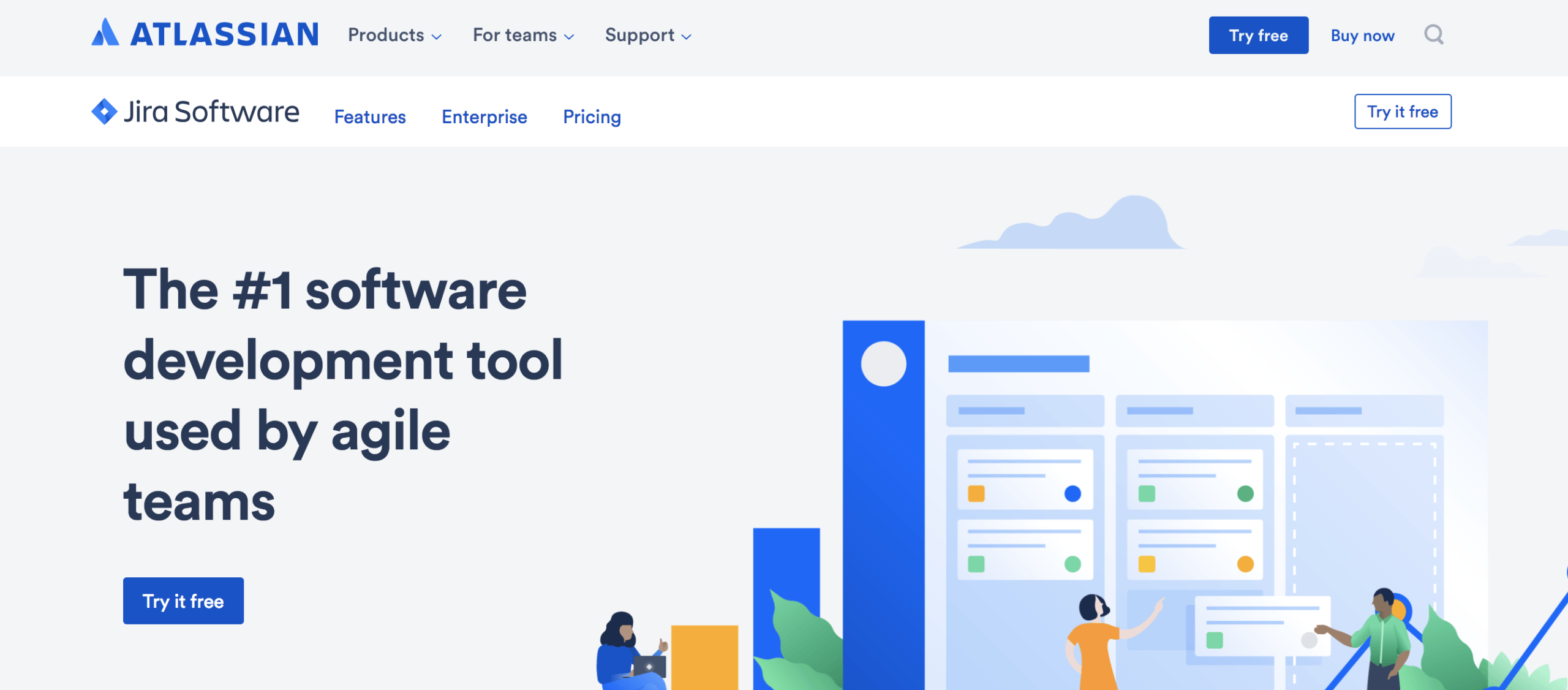 JIRA was designed specifically with programmers in mind. So much so, that it is possibly the most well known name in program project management. There are many features that make JIRA a great choice for program project managers:
Keyboard shortcuts are extremely helpful when working on tedious projects. You'll spend less time navigating the interface and more time with your hands on the keyboard.
GitHub is easy to integrate into JIRA, which makes documenting and product version control a lot easier.
What really sets JIRA apart is the fact that the software is based on the Agile methodology. Agile is ideal for programming because it creates development cycles. At the end of each cycle, you and your team can test the current state of the product, and plan which direction to take it next.
JIRA caters primarily to programmers, which is something that a lot of project management softwares don't do. However, it's certainly a great option for anyone looking to implement Agile into their team's workflow.
4. Microsoft Project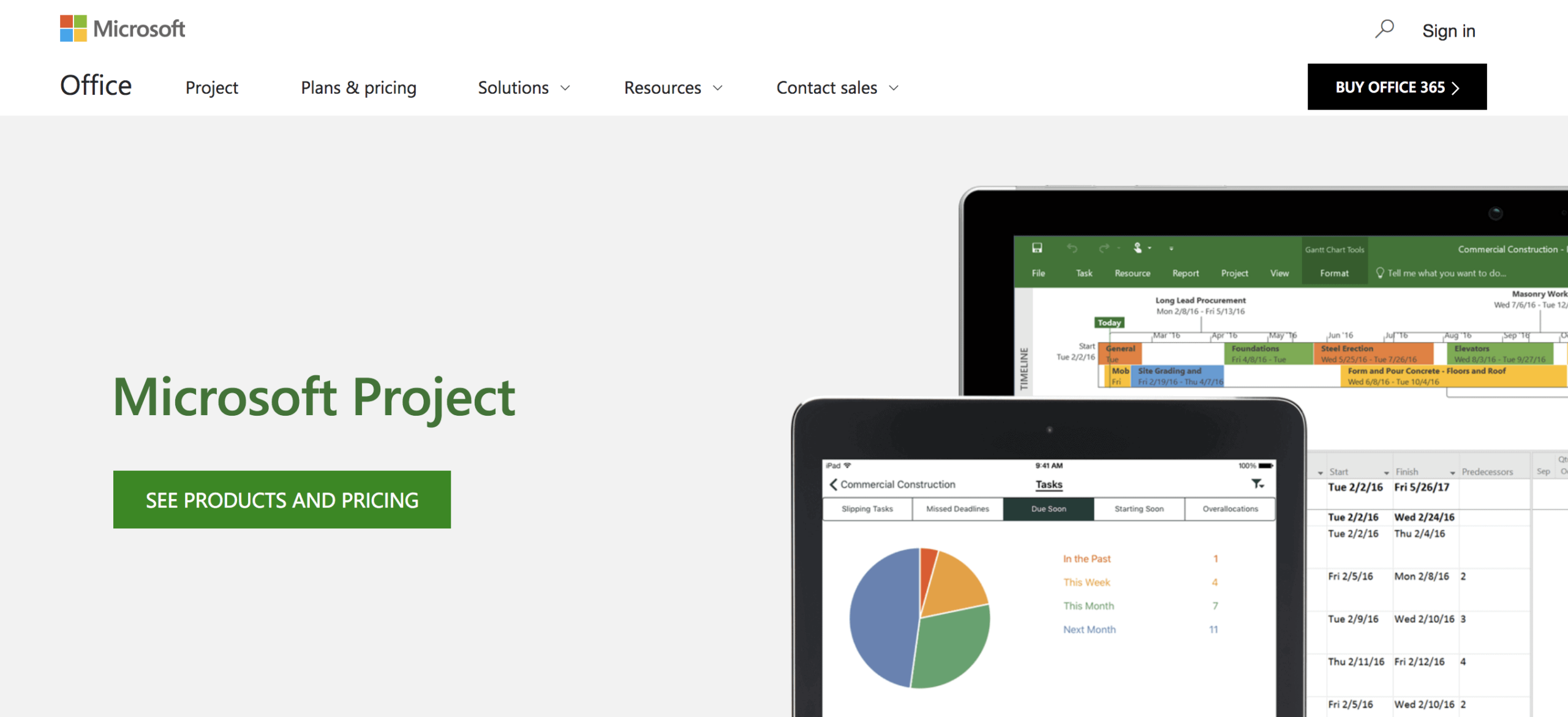 Although Microsoft Project is limited to mostly windows devices, it still packs a heavy punch. It offers an intricate, feature rich software that is very up-front. Project doesn't go wild with fancy designs or multiple colors. It's simple and straightforward, which can be considered a plus or a negative, depending on your style. Here are some reasons why Microsoft Project is one of the best Wrike alternatives:
Project packs a lot of power into its interface. You'll find plenty of tools to help you track your project management more accurately. It's a great option for project managers with experience under their belt.
Not every software is perfect, and Microsoft understands that. They've gathered a team of very knowledgeable technical support gurus who will never fail to help you with your software issues.
The Summary
Toggl Plan is the best all around software. It provides a quick and easy, Gantt style timeline software that is highly customizable. It's perfect for any project manager at any stage of their career.
Trello is great for anyone just starting out or looking to add a little bit more organization to their projects. It's very simple and easy to use.
JIRA is geared specifically towards programmers. It's based on the Agile methodology, which is widely used by program project managers. Although it was created with programmers in mind, anyone can use it.
Microsoft Project ranks high on the list of Wrike alternatives mainly for experienced project managers. It is a feature-rich software that packs a lot into its interface, but those features come at a price. If you're not experienced, or just have questions, there is a very knowledgeable support staff ready to help.
Everyone works a little different, so your software should, too. All of these project management software options have a lot to offer. Finding what works for you isn't always easy. You should take your needs as well as your team's needs into account when looking for Wrike alternatives. It may take a little trial and error, but it's well worth it in the end.