In this shakedown of the top project management tools — Trello vs Asana vs Toggl Plan — find out which tool will work best for your business.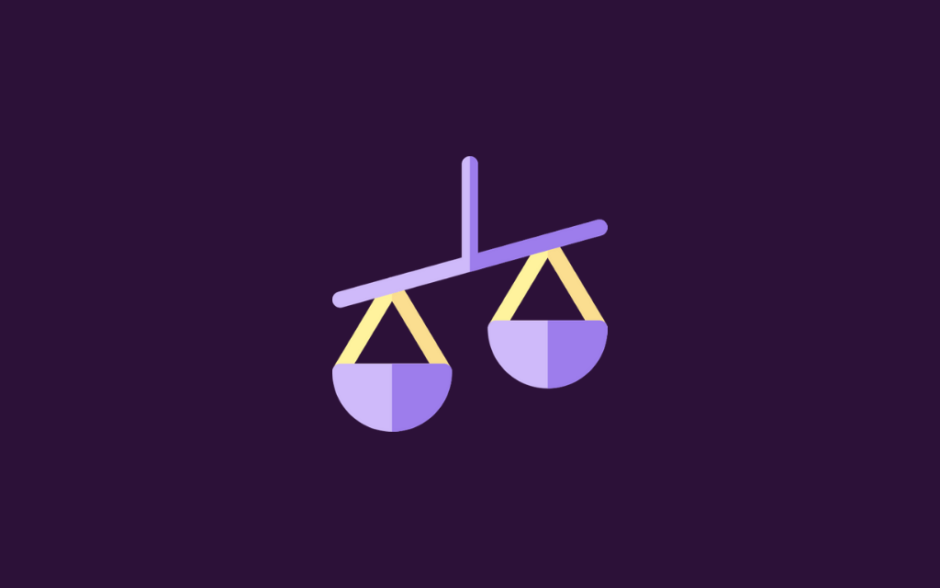 Trello and Asana are two popular project management tools. Yet, both tools are very different and cater to different needs. That's why it's unfair to compare Trello vs Asana head-to-head.
Instead, both need to be evaluated based on:
the size of your team,
your project management workflow,
and the tool's onboarding time and ease of use.
That's what we'll do in this article.
We'll look at Trello, Asana, and Toggl Plan — what team sizes they work best for, how they help in delivering projects, and how easy they are to use.
But before that let's understand what features you should look for before signing up for a project management software.
Essential features in project management tools
Smart project teams strive to deliver projects by eliminating waste and getting things done. Yet, most teams spend over 60% of the time on activities that do not contribute to project delivery.
That's a lot of waste.
Wouldn't you rather focus on shipping software, delivering designs, introducing new product features, or launching marketing campaigns?
To do things that matter, you only need to focus on three types of project activities.
Project planning
What are the deadlines, milestones, and goals?
What sequence of tasks needs to be completed to deliver the project?
Are there any constraints or risks?
Task tracking
Do team members have clarity and know what needs to be done?
How is task progress tracked?
How can the team collaborate to get the tasks done?
Team management
Do team members feel like contributors to progress?
Is the workload distributed in a fair way?
Does everyone know who's working on what and who's on vacation?
Let's take a closer look into how Trello, Asana, and Toggl Plan contribute to activities crucial to project delivery.
Trello — Simple, Kanban based project management
Trello started in 2011 as a tool for software development teams.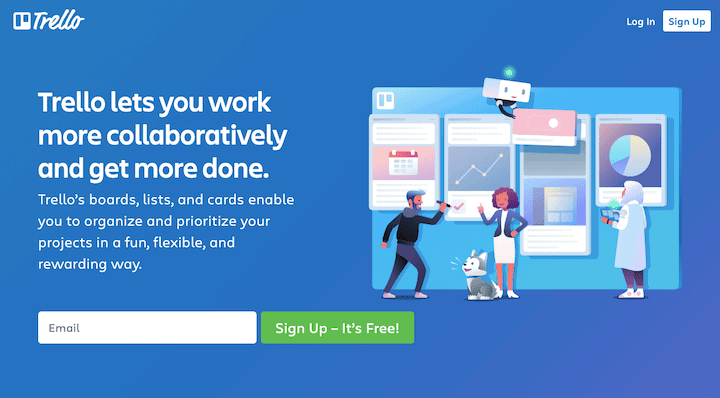 It is based on the Kanban productivity system. Kanban was first introduced by Toyota to improve its manufacturing processes. But it quickly became popular because of its simplicity. Which was why it became so popular among software teams.
In Trello, projects are represented by boards, tasks by cards, and task statuses by lists. Task workflow is managed by moving cards from one list to another.
Trello offers unlimited personal boards in both free and paid pricing plans. Individuals use these boards to improve their personal productivity. That's another reason for Trello's popularity.
Project planning features in Trello
Trello doesn't offer anything inbuilt for project planning.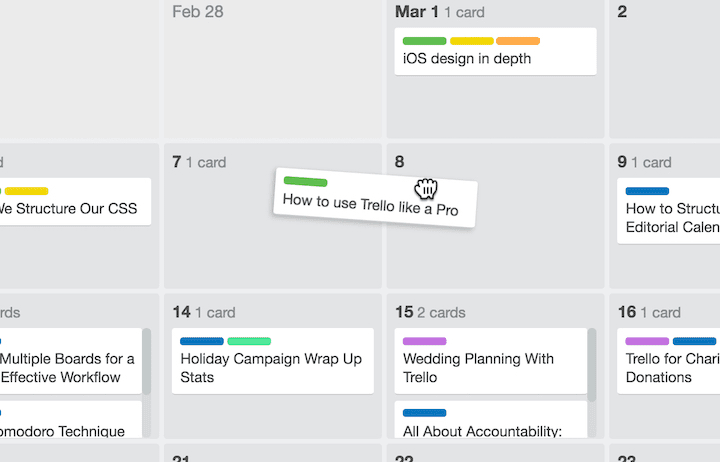 However, on the Business and Enterprise plans, you can add power-ups to your Trello account. Power-ups are add-ons and integrations with other tools.
The Calendar power-up helps you plan tasks for your project in some ways.
Pros
Easily plan and move tasks across due dates.
Cons
There's no way to get an overview of the project timeline.
There's no way to set deadlines or milestones.
Task tracking features in Trello
Task management is where Trello is at its best.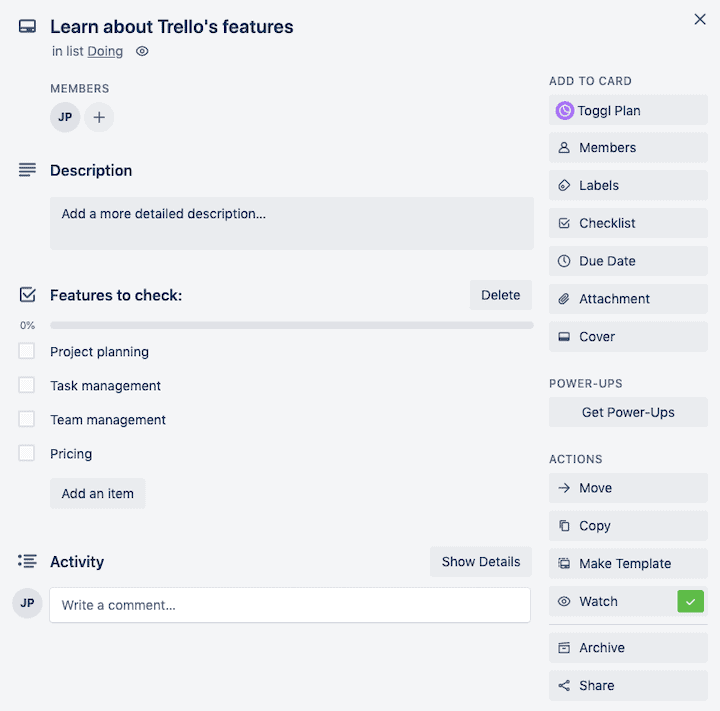 You can assign task cards to one or more team members, add a description, and set a due date. Tasks can be categorized using labels and colors. You can also add attachments and create a checklist for a task. Power-ups can help you do even more.
Managing task workflow by changing the status is easy too. Just drag a task from one board list to another.
Pros
Add multiple team members to a task card.
Categorize tasks with color-coded labels.
Task checklist for each card.
Team members can collaborate using attachments and comments.
Watch critical tasks to get notified if something changes.
Cons
The free plan only allows one power-up per board.
Team management features in Trello
Trello doesn't offer much in terms of team management.
Because it's such a beautiful visual project management tool, some team management features naturally make an appearance.
Team members can visualize the project's progress just by looking at the board. They can also see the tasks they need to do and the due dates for each task. Third-party power-ups further improve the visual experience.
But there's no way to manage team workloads or availability.
Pros
Individual and team task progress is easy to visualize on boards.
Cons
There's no way to see who's available and who isn't.
Managing team workloads is almost impossible.
Trello Pricing
Trello offers three plans. A basic free plan and two paid plans — Business and Enterprise. Here're the major differences in these plans.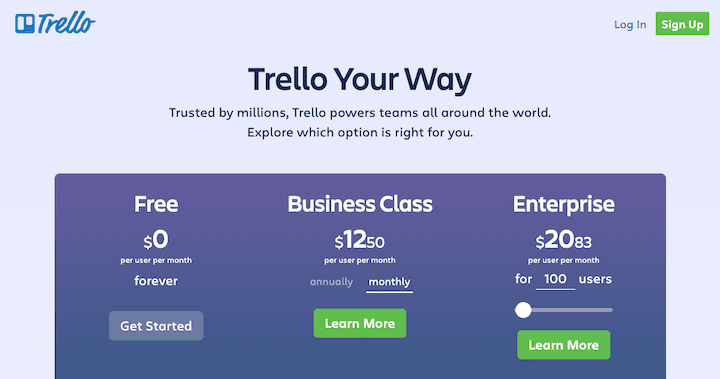 Both free & paid plans come with unlimited personal boards, cards, and lists.
The free plan limits use for up to 10 team boards.
Each board can have only one power-up in the free plan. Paid plans get unlimited power-ups.
Tasks in free plans can have file attachments of up to 10 MB. In the paid plans attachments can be up to 250 MB.
The paid plans also have more Agile features including board collections and list limits.
Is Trello the right project management tool for you?
Trello's biggest strength is its simplicity.
It works really well for small teams with simple projects and tasks. But for large teams working on several projects, Trello can quickly become cluttered.
The second aspect where Trello shines is visual project management. Everyone on your team can quickly see what's happening in the project and what tasks need to be done.
However, Trello falls really short at project planning and team management.
There's no way to see the project timeline or keep track of milestones. You also won't be able to quickly see who's available and who's on vacation.
Asana — Sophisticated project management
Asana was founded in 2008 by ex-Google and Facebook engineers.

Unlike Trello, Asana is a complex and sophisticated project management solution.
For instance, Kanban boards, which are the core of Trello, are just one of the features in Asana. Asana comes with various ways to look at projects — from simple lists, to complex calendar views, and timelines. It also comes with features for workload management and enterprise-level security.
It's fair to say — Asana is a tool for large project teams working on complex projects.
Project planning features in Asana
Asana comes with comprehensive project planning features including timelines, milestones, and task dependencies. The timeline view helps you see how various pieces of the project puzzle come together. And milestones help you keep track of deadlines.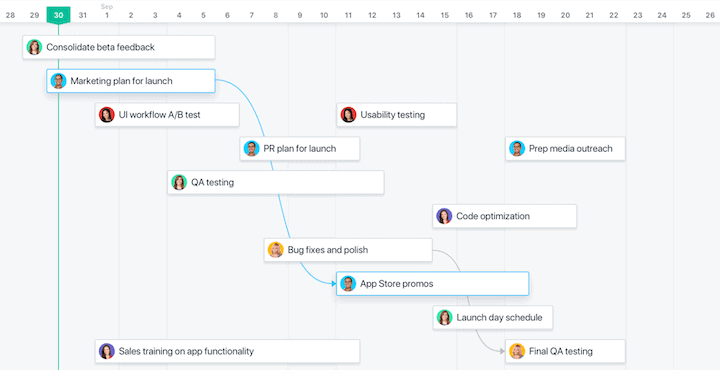 It also comes with a shared team calendar to keep track of who's available and who isn't.
Pros
Projects can be overviewed using timelines.
Ability to track a team's available and off times.
Tasks can have dependencies.
Cons
The complex, cluttered interface can feel overwhelming and take some time to get used to.
Task tracking features in Asana
Asana also has comprehensive task management features.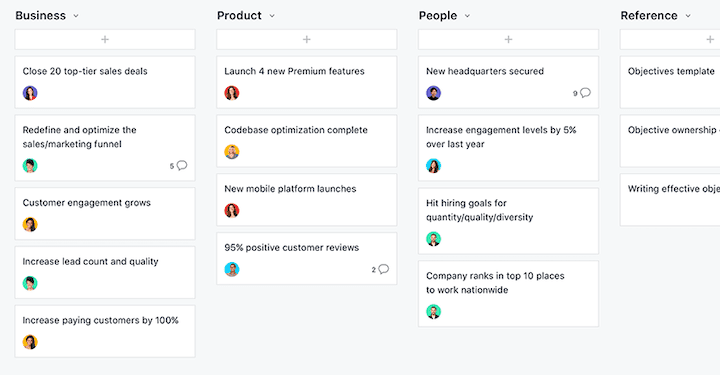 Teams can visualize tasks as simple lists, Kanban boards, or calendars. Tasks can have sub-tasks and dependant tasks. Each task can have a description, a priority, and a due date. You can also add custom fields to tasks.
Task collaborators can work together on a task via comments and attachments.
Pros
Tasks can have infinite children tasks.
Custom fields on tasks make it somewhat easy to manage custom workflows.
Task collaborators get email notifications when something changes.
Cons
There's no way to add a checklist to a task.
The task management interface may feel confusing for simple projects.
Team management features in Asana
When it comes to team management, Asana has a few interesting features such as managing workloads.
These features are very useful when managing large, complex teams.
In such teams, it's very likely that the workload doesn't get distributed evenly. While most employees appreciate occasional crunch times, no one likes to work long term under a heavy workload.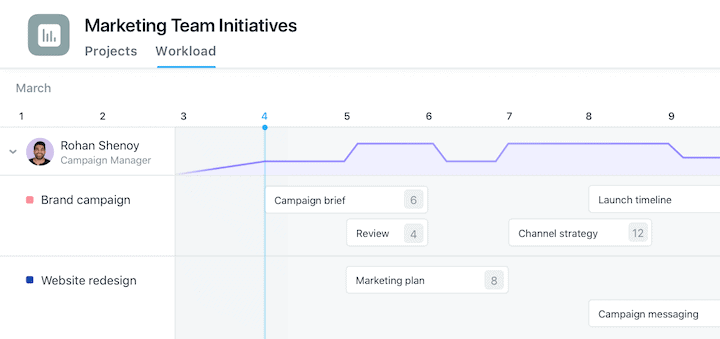 Other than workload management, Asana also offers shared team calendars to keep track of who's available and who isn't.
Pros
Easily manage workloads for large or complex teams.
Track team availability with a shared team calendar.
Cons
May feel like overkill for small teams.
Asana Pricing
Asana offers four price plans, one free Basic plan, and three paid plans — Premium, Business, and Enterprise. Here're the major differences between these plans:
The free plan is limited to 15 team members.
In the free plan your get list, board, and calendar views. The paid plans also have the timeline view and milestones.
In addition, the Business and Enterprise plans have workload management, and proofing collaboration.
The enterprise plan comes with custom branding, priority support, and enterprise-level security.
Is Asana the right project management software for you?
Asana's biggest strength is how it handles complex projects and large teams.
It's very useful for managers who're looking for granular control over projects or want to manage projects with a lot of moving parts.
Asana comes with all the features you may need for managing projects, and maybe more. This makes it a good choice for organizations with large projects or several teams.
However, because of the number of features and the learning curve involved, small teams find Asana confusing, cluttered, and overwhelming.
For small teams, Asana is a bit too much.
Toggl Plan — Results driven, macro project management
Toggl Plan (previously Teamweek) started in 2011 as an in-house project for Toggl Track — a time tracking tool.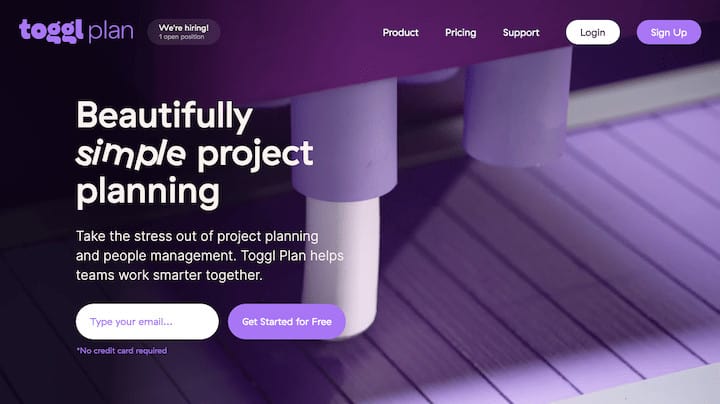 The early goal was to replace Excel as a project planning tool. Today it's a results-driven, macro project management tool. This means with Toggl Plan the focus is on:
Getting things done, not the number of hours put in.
Fostering creativity by giving ownership and independence, not micromanagement.
Projects or Plans inside Toggl Plan are managed simply using three basic concepts — plan timelines, team timelines, and boards.
Let's learn more about these features and compare them against Trello and Asana.
Project planning features in Toggl Plan
Plan timelines are horizontal calendar views, similar to Gantt charts, that help you plan project tasks. Plan timelines can be easily zoomed into a week, month, quarter, or annual level to get a quick overview of your project plan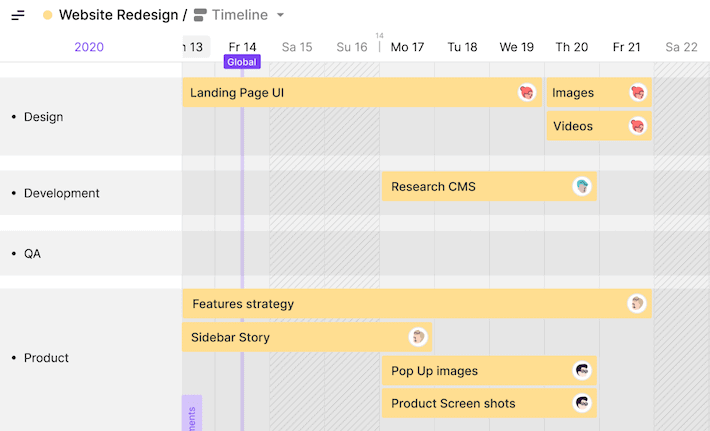 Tasks can be easily categorized by creating task segments and tags.
Important dates can be easily marked to create milestones. Milestones help you keep an eye out for important project deadlines.
A read-only plan timeline can be shared with people outside your team. That way clients can keep track of what's happening in the project.
Pros
Easy-to-use, clutter-free project timeline view.
Zoom into a week, month, quarter, or year to get a quick overview of the project timeline.
Easily create task segments and plan milestones.
Easily share read-only plan timelines when working with clients.
Cons
Task tracking features in Toggl Plan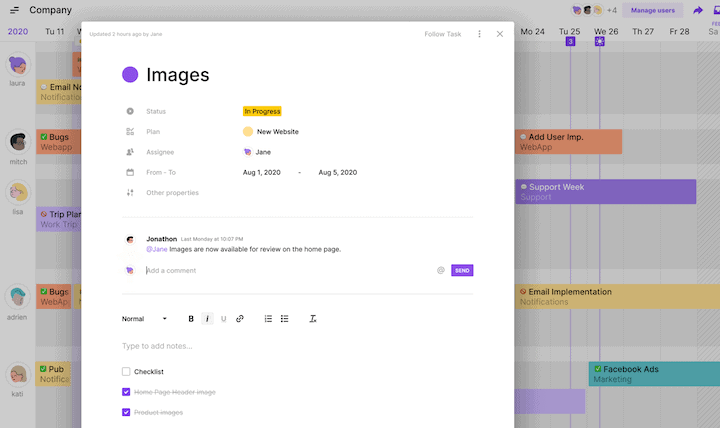 Tasks can be very flexible in Toggl Plan. You can:
Assign a task to multiple members as well as set start and end dates.
Schedule recurring tasks to repeat daily, weekly, monthly, or annually.
Categorize tasks into segments.
Create a to-do list for a task.
Add attachments and comments to collaborate with other team members.
Customize task fields to reduce clutter.
Updating tasks and managing a task's workflow can be done from the timeline view as well as the board view.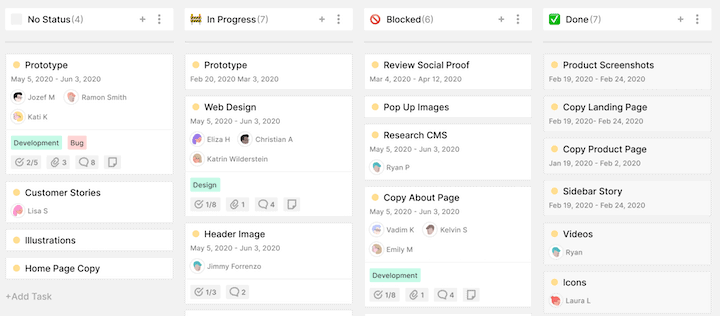 Pros
Manage tasks both from timeline and board views.
Add a to-do list to a task to improve task completion quality.
Assign tasks to multiple members.
Members can collaborate with attachments and comments.
Cons
Tasks don't have custom fields.
Team management features in Toggl Plan
Managing team workloads and tracking team availability is also super-simple with Toggl Plan. A quick glance of the Team Timeline can show you who's working on what and who's on vacation.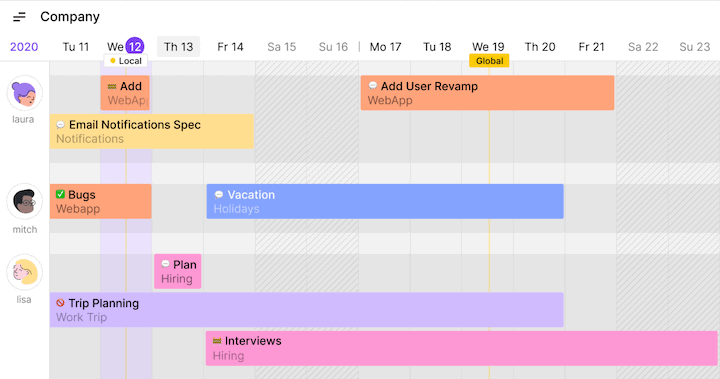 Team timelines make it easy to see if the team's workload is divided fairly across projects. Team members can also add a daily estimate in hours for each task. Looking at these granular estimates helps ensure that team members are not overwhelmed or underworked, and projects are adequately staffed.
Country-wise public holidays are preconfigured and can be set per user. This helps track team availability even in distributed/remote teams.
Pros
Get a quick overview of team availability and workloads.
Create multiple team timeline views for the whole business, project team, or based on role.
Color-coded project plans to manage team workloads across several projects.
Toggl Plan Pricing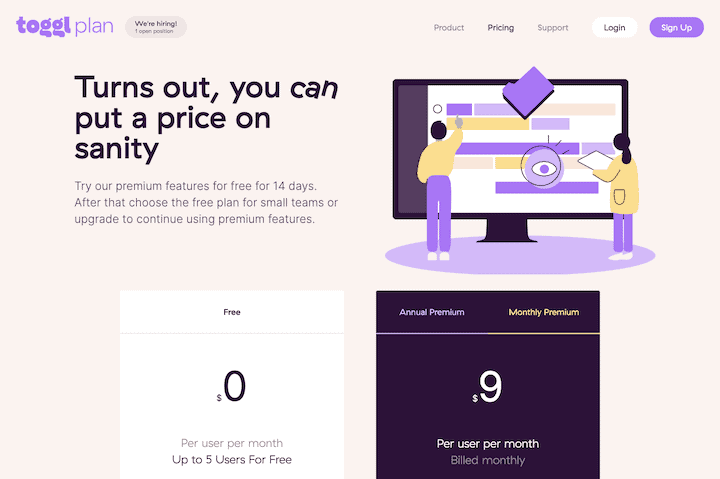 Toggl Plan pricing is as simple as the product.
It comes with a free plan for solo users and a premium plan for teams and businesses. Here're the major differences between these plans:
The free plan is limited to solo users.
Get week, month, and quarter timeline zoom levels in the free plan. The paid plan also has an annual zoom level.
Tasks can be assigned to multiple team members in the premium plan.
In paid plans project plans can be marked as favorites for quick access.
Is Toggl Plan the right project management tool for you?
Toggl Plan's strength is simplicity and visual overview of timelines.
Because it does not overwhelm you with features, Toggl Plan makes it easy to get your colleagues on board and actually use it every day.
But fewer features does not mean that Toggl Plan forces you into using a specific project management process. There's enough flexibility so that you can either use the timeline view, the board view, or both to plan and track your projects.
If you want to micromanage your projects with granular control, Toggl plan may not be the right choice for you.
However, if you're looking for a beautiful, simple project planning, task tracking, and team management tool, Toggl Plan is perfect for you.
Trello vs Asana vs Toggl Plan: Major differences
This battle comes down to simplicity vs complexity.
Trello is great for small teams with simple projects and tasks.
Asana is great for large teams that need to manage tasks and projects at a granular level.
And Toggl Plan works great for small and medium-sized teams that favor ownership and independence over micromanagement.
Here're the major differences when it comes to Trello vs Asana vs Toggl Plan.
Features
Trello
Asana
Toggl Plan
Project Plan Timeline
Week, Month, Quarter, and Year View
Task Dependencies
Manage Tasks on Timeline
Manage Tasks on Kanban Boards
Task To-do List
Task Comments
Task Attachments
Team Workload Management

(sophisticated)

(simple, visual)
Team Vacation Timeline
Public Holiday Timeline
Free Plan
Up to 10 team boards
Limited features, 15 members
For individual users
Paid Plan
$12.50+
per user per month
$11+
per user per month
$9
per user per month
Perfect for
Small teams who only need task tracking
Large teams that need micro-management
Results-driven teams
Summary
Trello vs Asana vs Toggl Plan: what's the best project management system?
Like most tough decisions, the answer is — it depends. All project management tools have their own strengths and weaknesses. The best tool is the one that you and your team can naturally use without wasting time on work about work.
It could be Trello, Asana, or Toggl Plan. Choose what works best for your business.
And to do that, you first need to understand the needs of your business and your team. And then pick the software that best fulfills these needs.
For small teams and simple projects, Trello may suffice.
On the other hand, if you have complex projects that require a lot of work & technical features to manage, then perhaps Asana could be a good fit for you. And maybe worth paying the higher rate per user per month.
Though, if you require fewer features, want to spend fewer hours per week managing & updating your plans, and pay less per user, you definitely want to give Toggl Plan a try.