Going through the seemingly never-ending list of small business software available across the web is staggering and quite frankly exhausting. With thousands of companies out there promising solutions to every problem under the sun, how is a business owner supposed to know where to begin?
Instead of spending entire days on Google looking at each and every small business management software that pops up, take a look at this comprehensive list! Learn about the best five options for project management, accounting, payroll, and customer relationship management (CRM).
Even if you only pick one or two of these to incorporate into your daily operations, you'll immediately see a boost to your productivity and overall business success.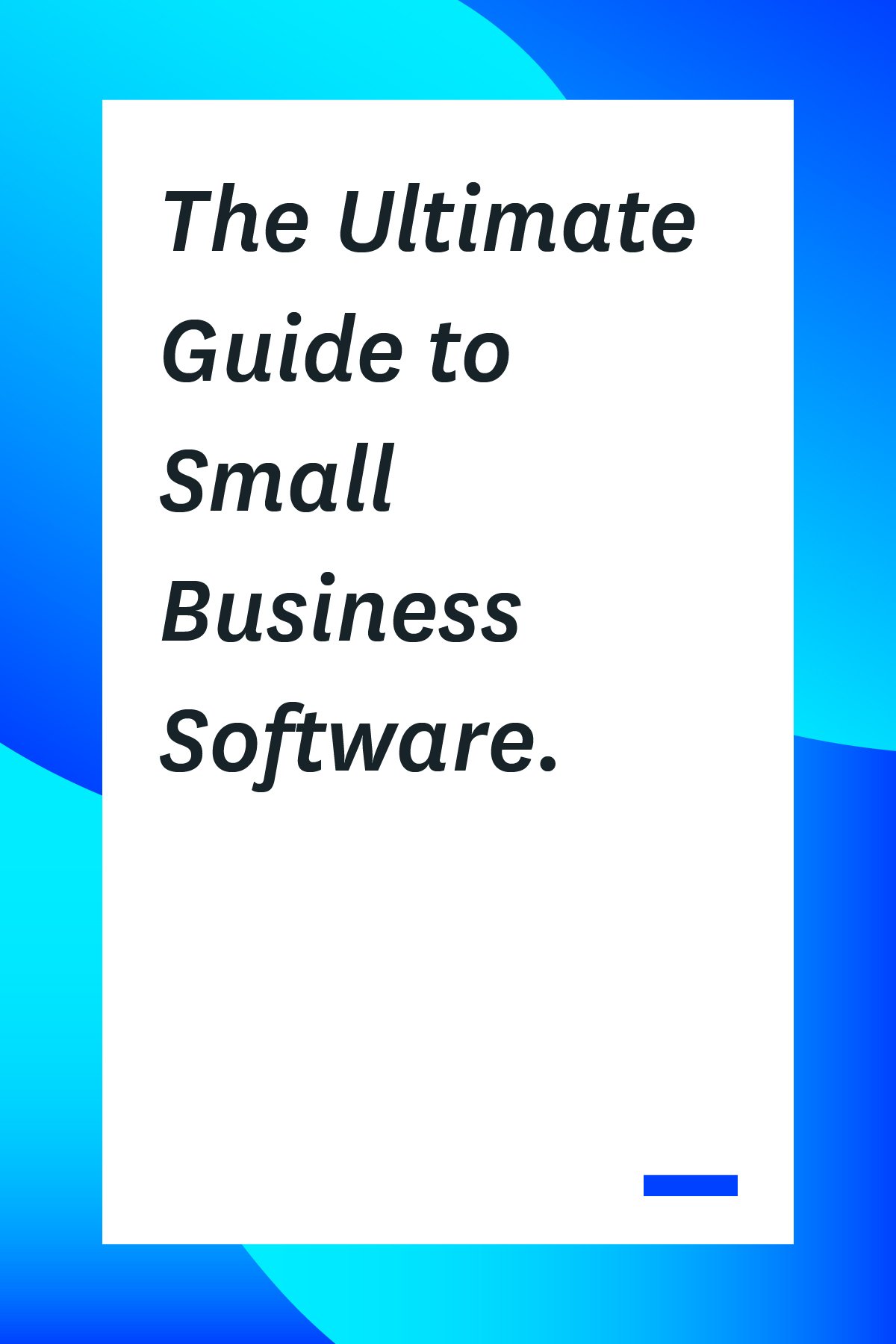 Small Business Management Software
1. Toggl Plan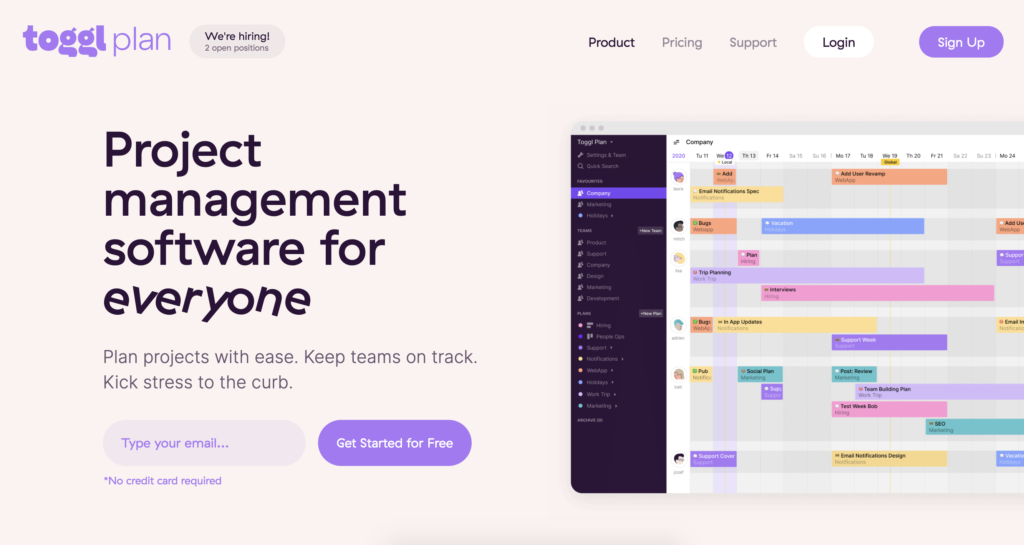 As a top-rated online project management program, Toggl Plan has earned its place amongst the best free small business management software options. With planning tools, checklists, and the innovative overview, this should be a staple of daily use for business owners, managers, and employees. Trusted by thousands of customers already, Toggl Plan is the greatest resource to keep everyone in your company on the same page.
Pricing: Free for solo users. Premium plans and plans for teams of 6 or more people start at $8/user per month.
2. Asana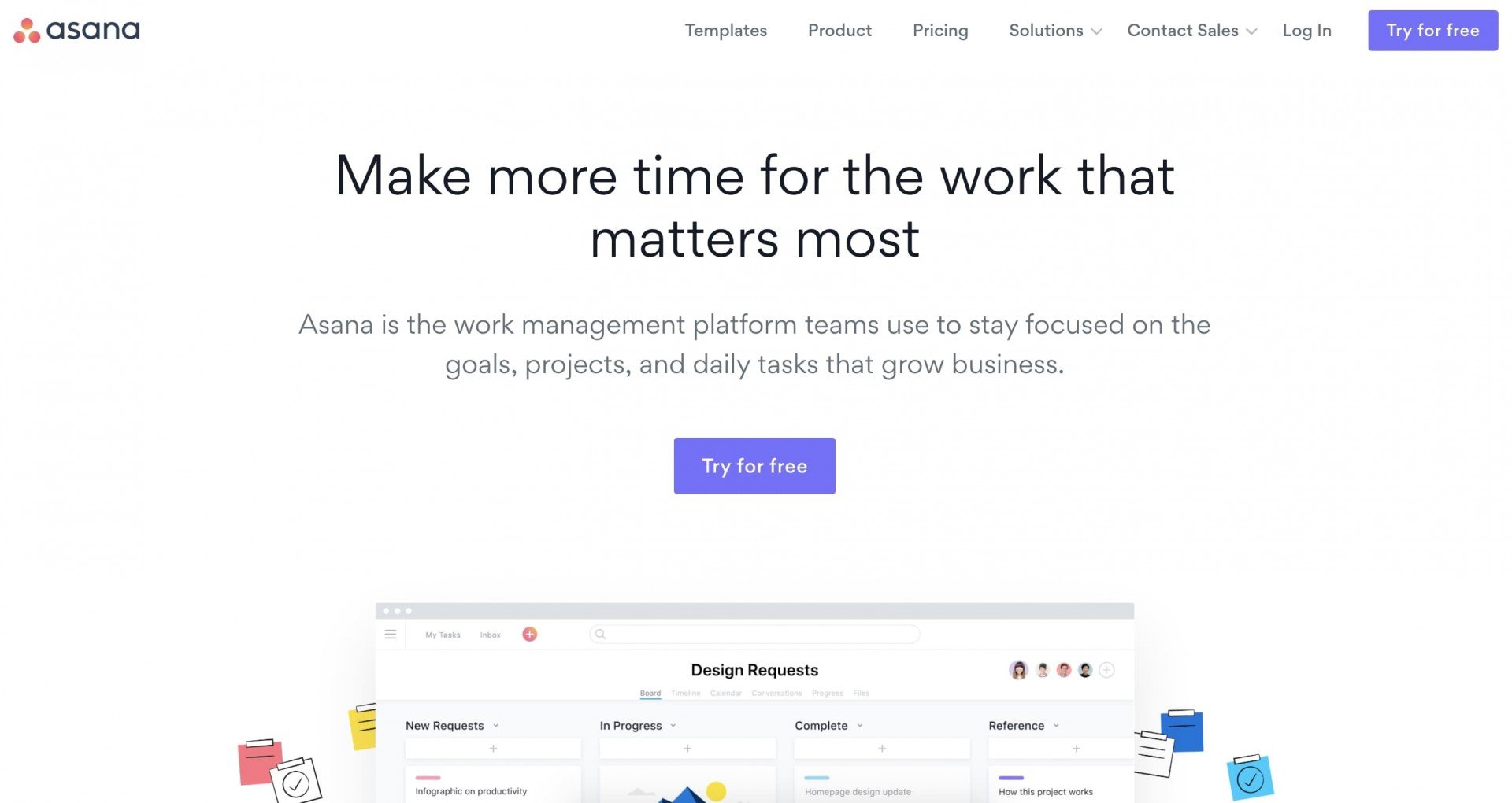 If you're looking for a creative way to set up a to-do list, Asana may be the right choice for you. This unique app has multiple options for organizing tasks and boasts a handful of team features to enjoy everybody knows what they're supposed to be doing. Set up projects, assign them as needed, and mark them as complete once they've been done.
Pricing: Free for basic features up to 15 people. Premium paid plans cost anywhere between $9.99 per user per month and $23.99 per user per month.
3. Wrike

Wrike is a well-known and well-liked option within the world of business management software. Their service boasts detailed reports, simple planning options, workflow systems, as well as internal communication software. It also offers customization features, allowing you to set it up how you want it.
Pricing: Free for teams up to 5 people. Premium plans between $9.80 per user per month and $24.80 per user per month.
4. ProofHub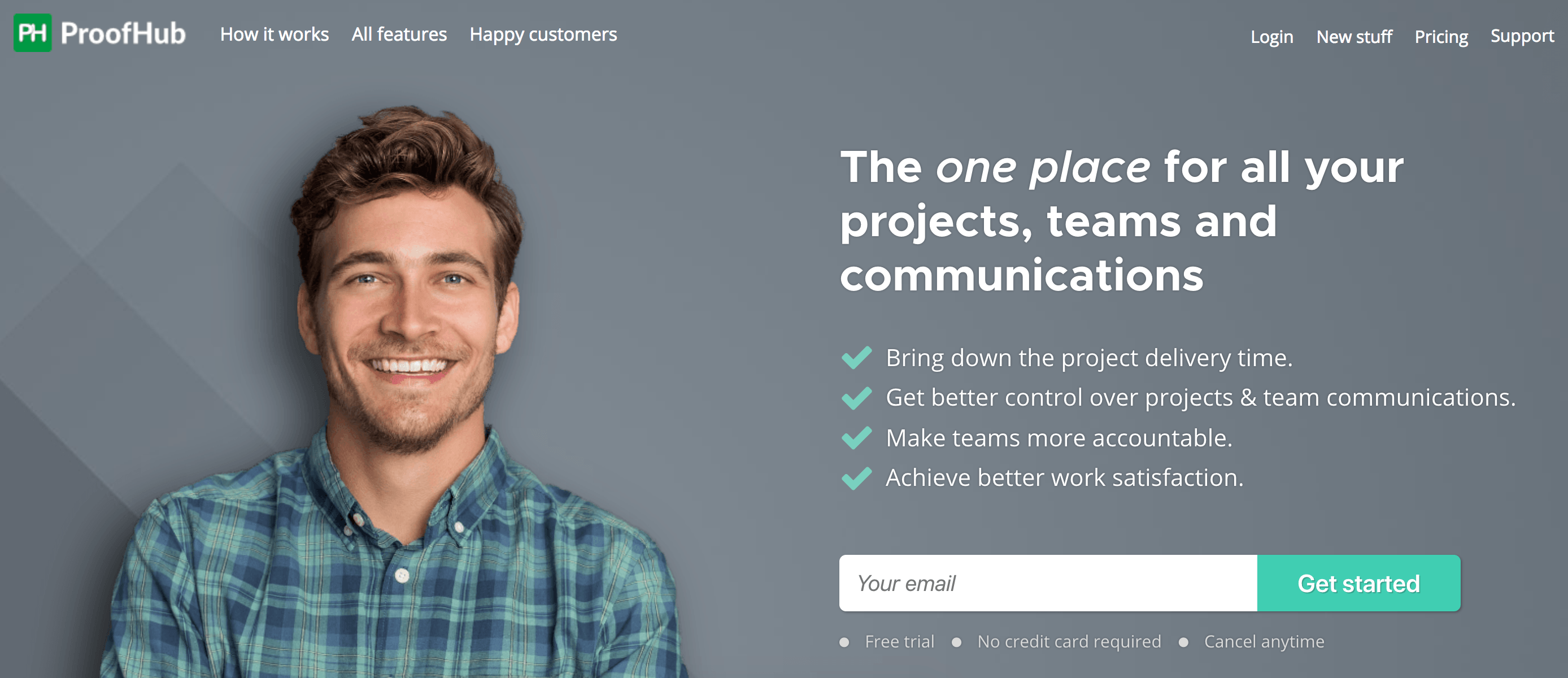 Boasting the bare essentials plus a little extra, ProofHub offers small business software for projects, team management, and group communication. The system allows users to set customized roles for each team member, while also allowing simple personalization features. Get the necessary reports and manage tasks in one place.
Pricing: Free 30-day trial. Basic essential plan for $45 per month or all features for $89 per month.
5. monday.com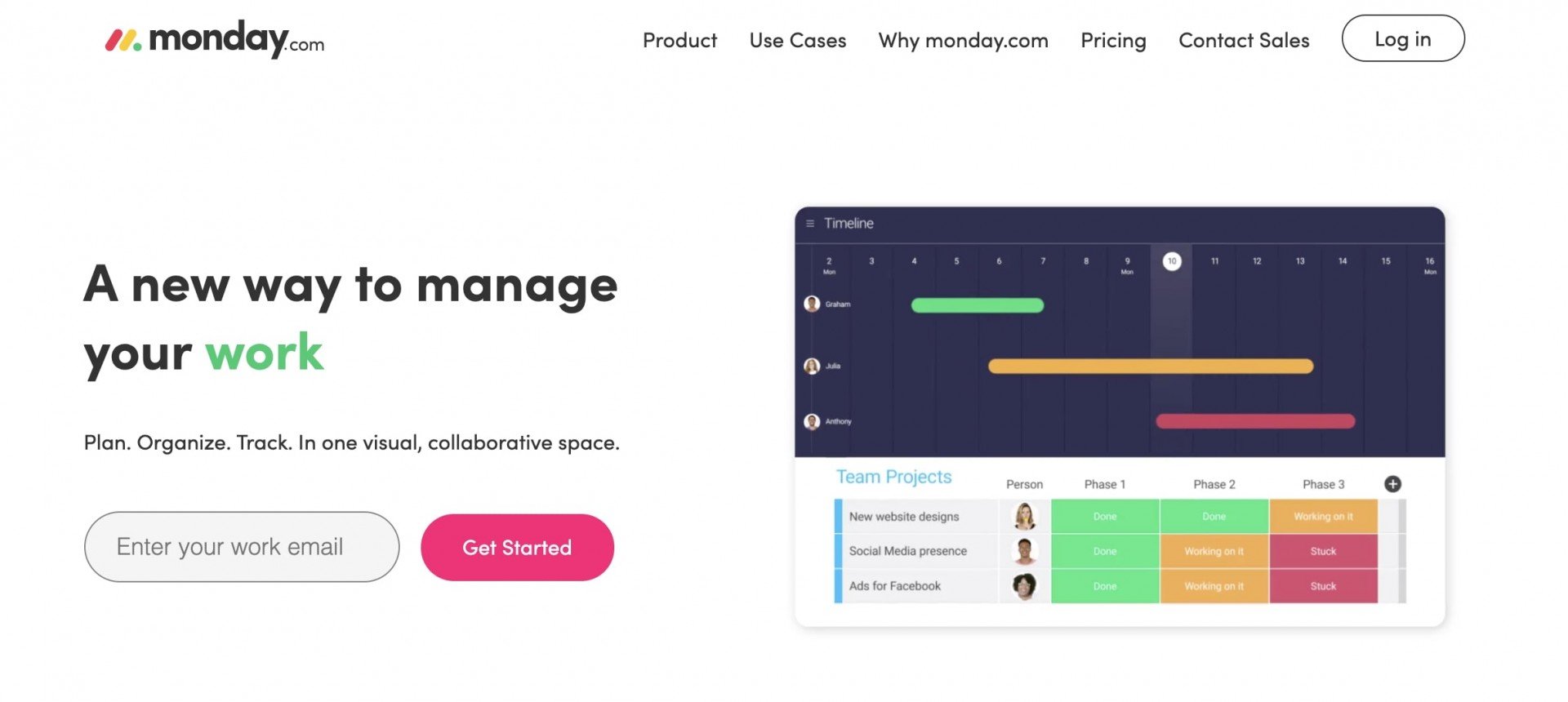 The clean, simple, and basic platform behind monday.com are the features most users enjoy about their software. Set and assign tasks with ease and as your team works on them, simple updates can be shared throughout each step. It offers reports, eye-catching visuals, and unique options for multiple industries.
Pricing: Free trial period. Paid options depend on number of users between 2 – 200, with a price range from $17 per month up to $2,399+ per month.
Small Business Accounting Software
1. QuickBooks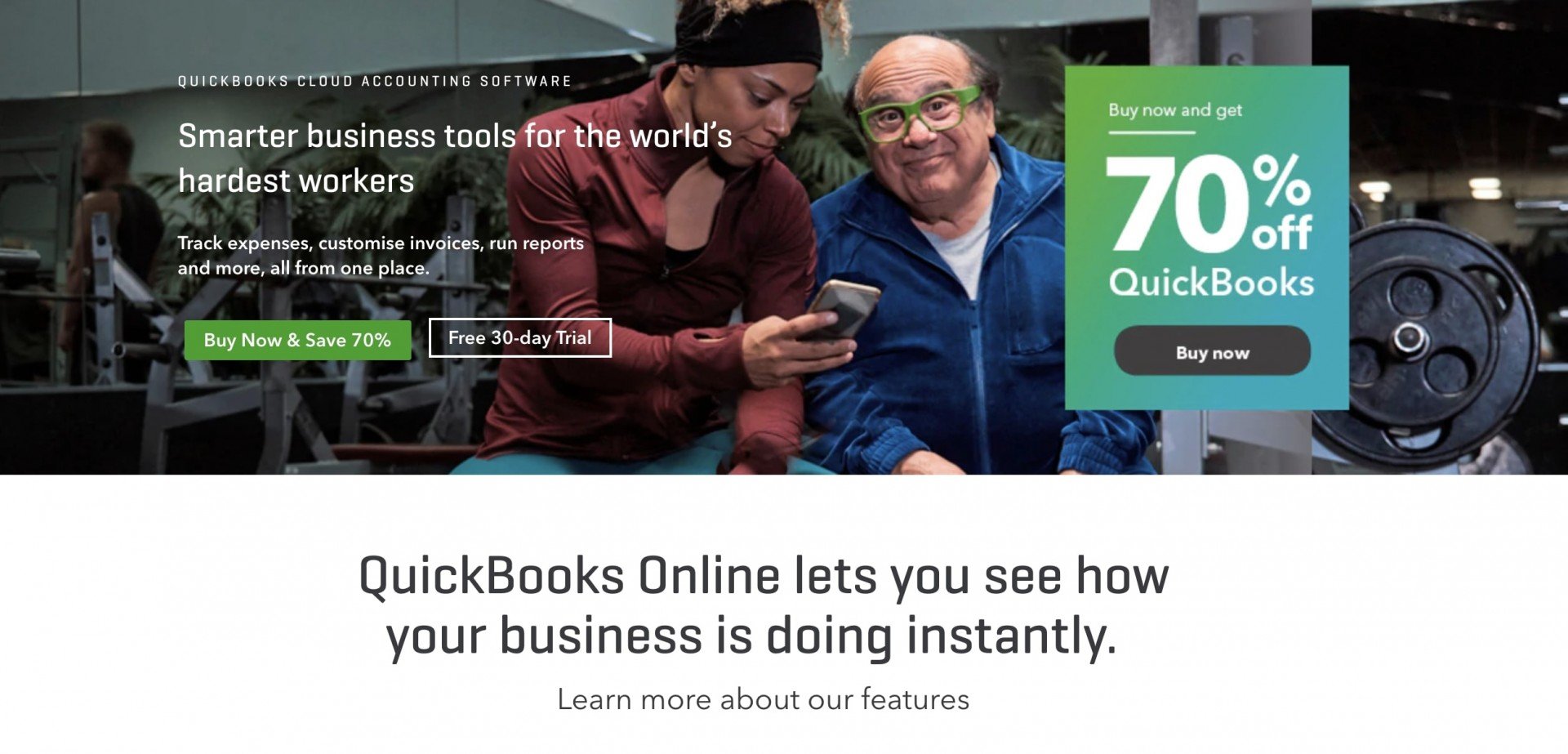 Owned by Intuit, QuickBooks is one of the most popular accounting software for small business across any field. Their system can be directly connected to your business accounts, keeping reporting, payments, as well as invoicing as simple and carefree as possible. Their small business tax software features also allow you to pay estimated taxes quarterly or pay them annually during the usual tax season.
Pricing: Paid plans range between $10 per month up to $150 per month, depending on features and support needs.
2. Wave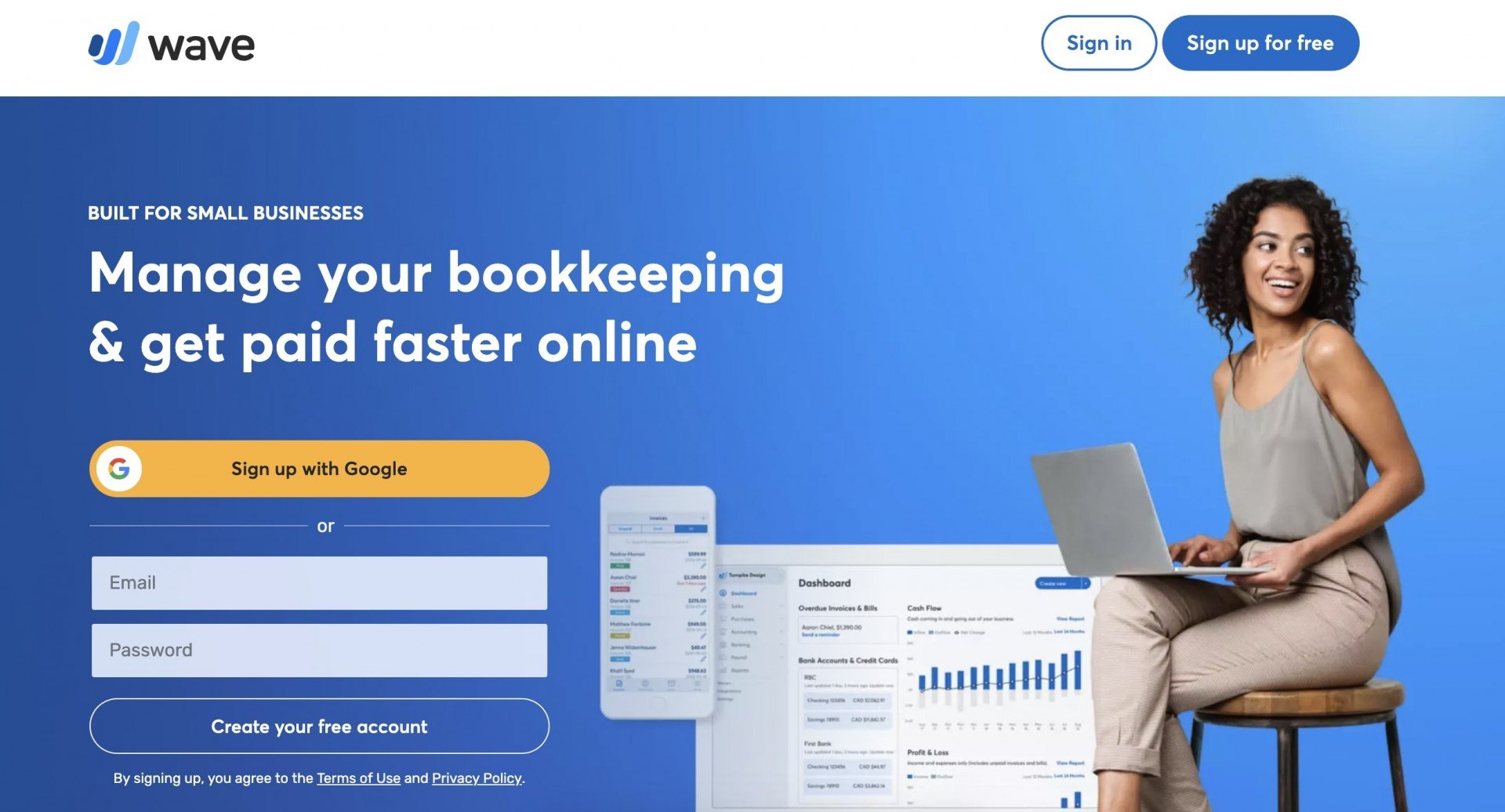 The free accounting services offered by Wave are a reliable and secure option for small businesses. You can manage your cash flow throughout the year to ensure all the information is prepared when tax season arrives. Track everything from income to expenses for free.
Pricing: Free service for accounting, invoicing, and receipts.
3. FreshBooks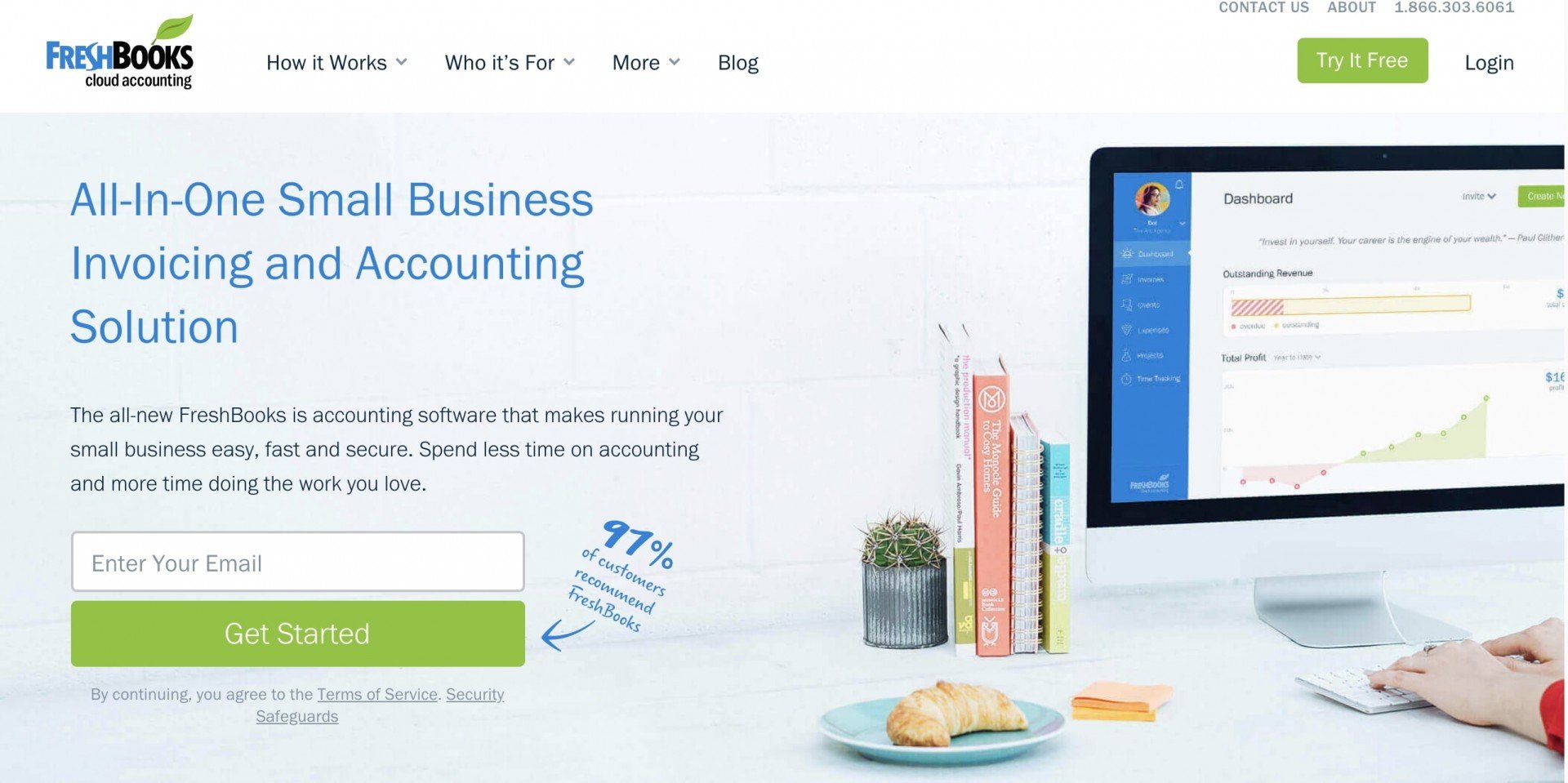 Not to be confused with the first option in this section, FreshBooks is cloud accounting software offering an easy platform for everything from invoicing and expenses to time-tracking and client follow-up. Their secure servers are managed through the cloud, giving you access from anywhere on your mobile devices.
Pricing: Free 30-day trial. Monthly charges vary between $13.50 to $50 per month, depending on your number of clients.
4. OneUp

OneUp is automated small business accounting software which will sync up with your online bank account and routinely update your expenses and income details. After a simple setup, their program boasts the ability to minimize the amount of time your bookkeepers will have to monitor your account processes.
Pricing: Free 30-day trial. Paid plans between $9 per month and $169 per month, depending on number of users.
5. GoDaddy Bookkeeping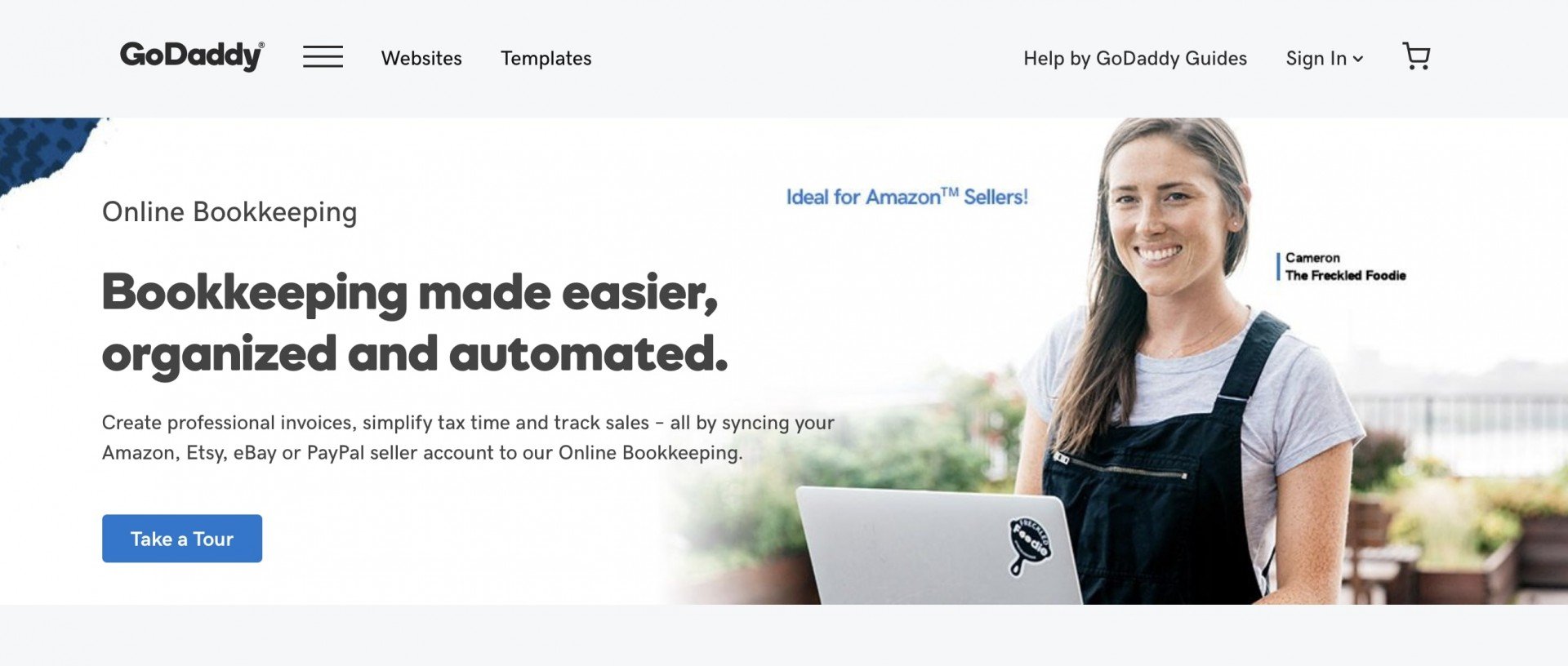 We all know GoDaddy as one of the most popular places to go if you want to purchase a new domain, but did you know they also offer accounting software for small business? Their online bookkeeping allows users to develop high-quality invoices, monitor their sales, integrate numerous sales systems, and more. They make it easy enough that no accounting knowledge is necessary to use their program.
Pricing: Paid plans between $4.99 per month and $14.99 per month.
Small Business Payroll Software
1. Gusto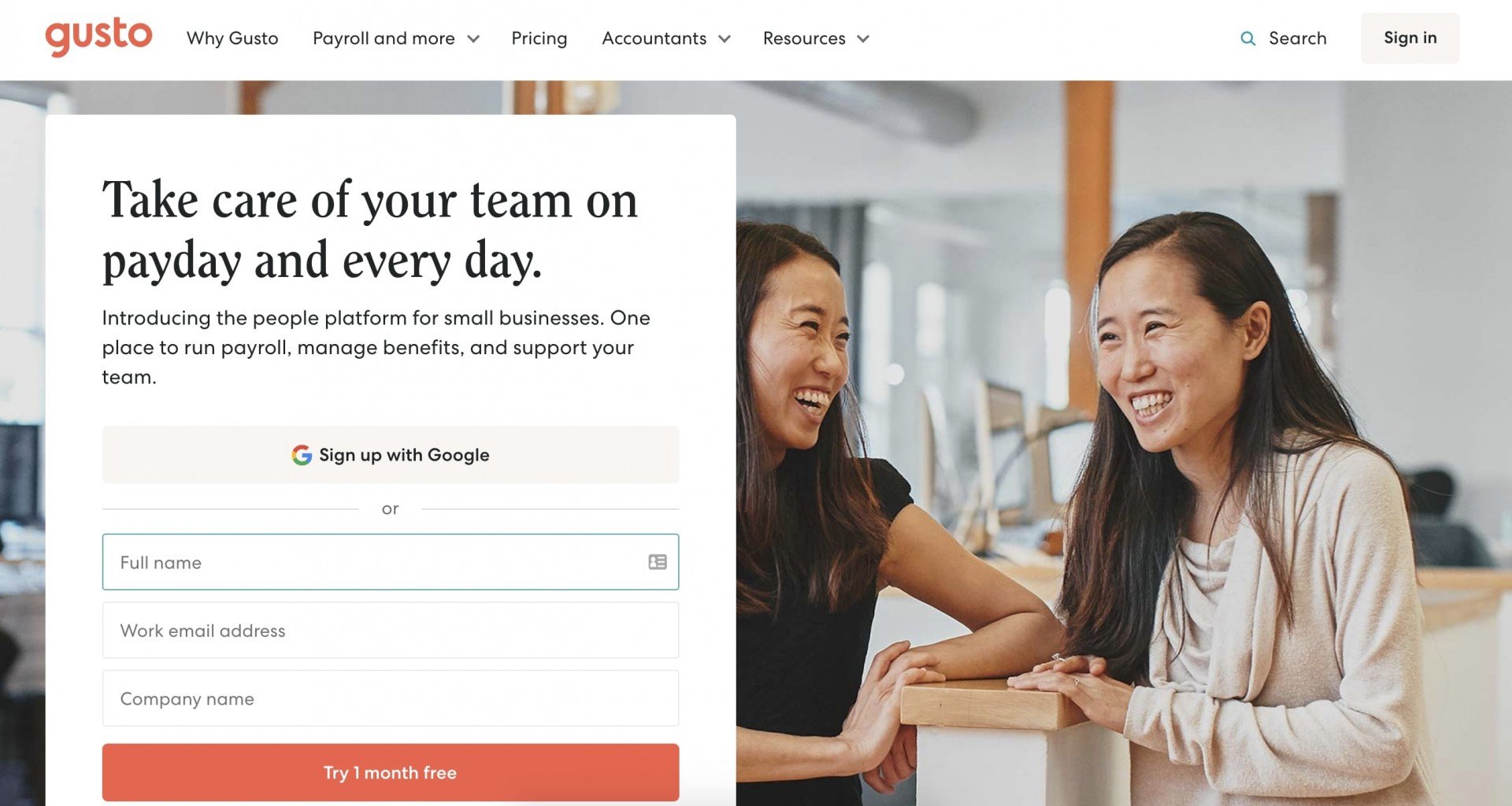 Payroll is often paired with HR, making Gusto a great choice for your team members that handle wage distribution and benefits. This innovative system lets you take care of everything from paid time off and time tracking to other human resources. With a scalable system, a small business can start with Gusto and stick with them as they grow.
Pricing: Free 30-day trial. Base price between $39 and $149 per month, along with a per person charge ranging from $6 to $12 per month.
2. iSolved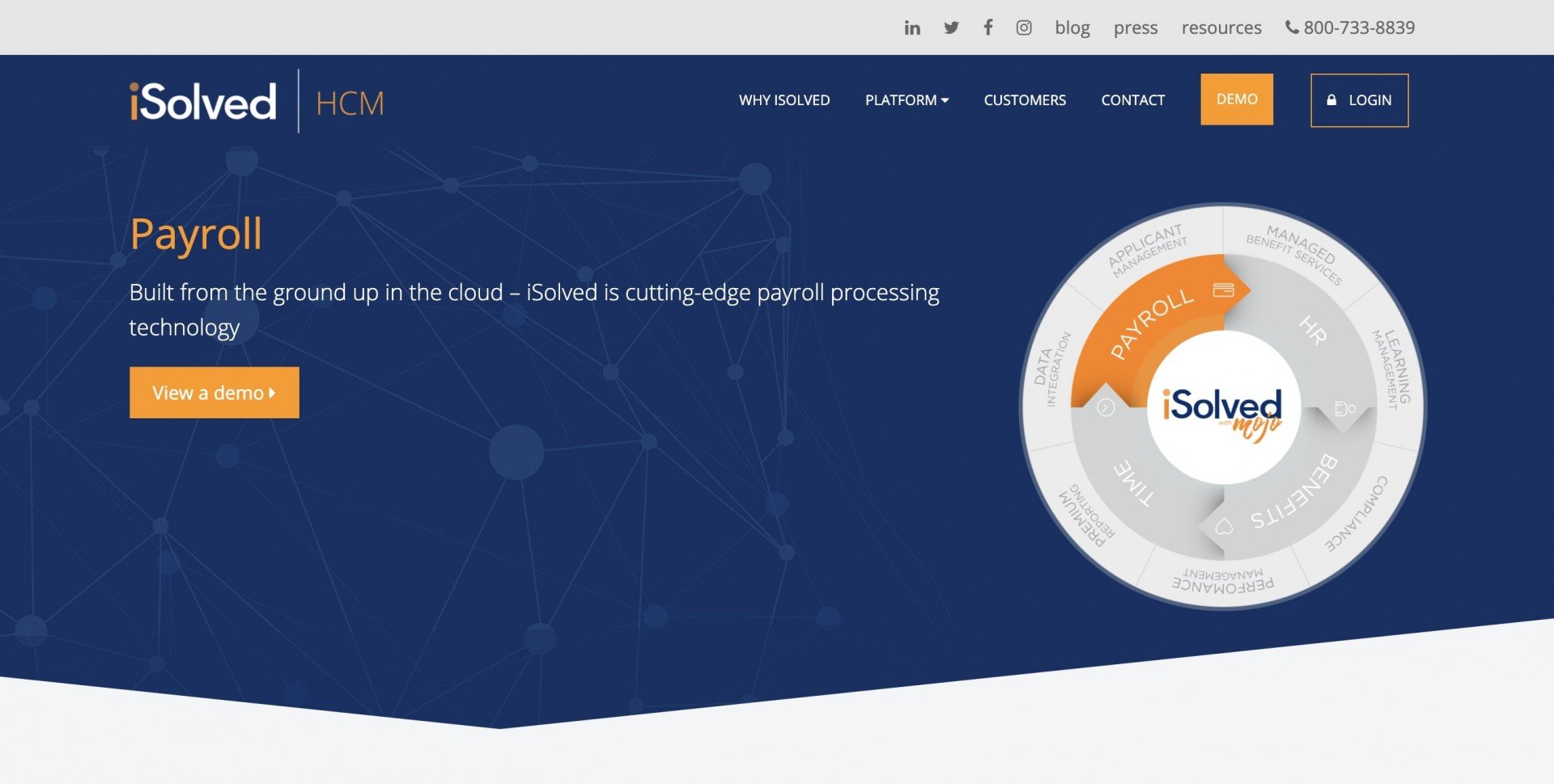 The team at iSolved has been getting bigger recently as they have acquired other payroll service companies like The Sage Group over the past few months. Their payroll software for small business owners has processed more than $200 billion worth of wages and taxes. Users enjoy all the standard features they need including direct deposit, employee self-service options, data security, and more.
Pricing: iSolved doesn't currently have pricing details on their website. You'll need to contact them for information.
3. Paychex Flex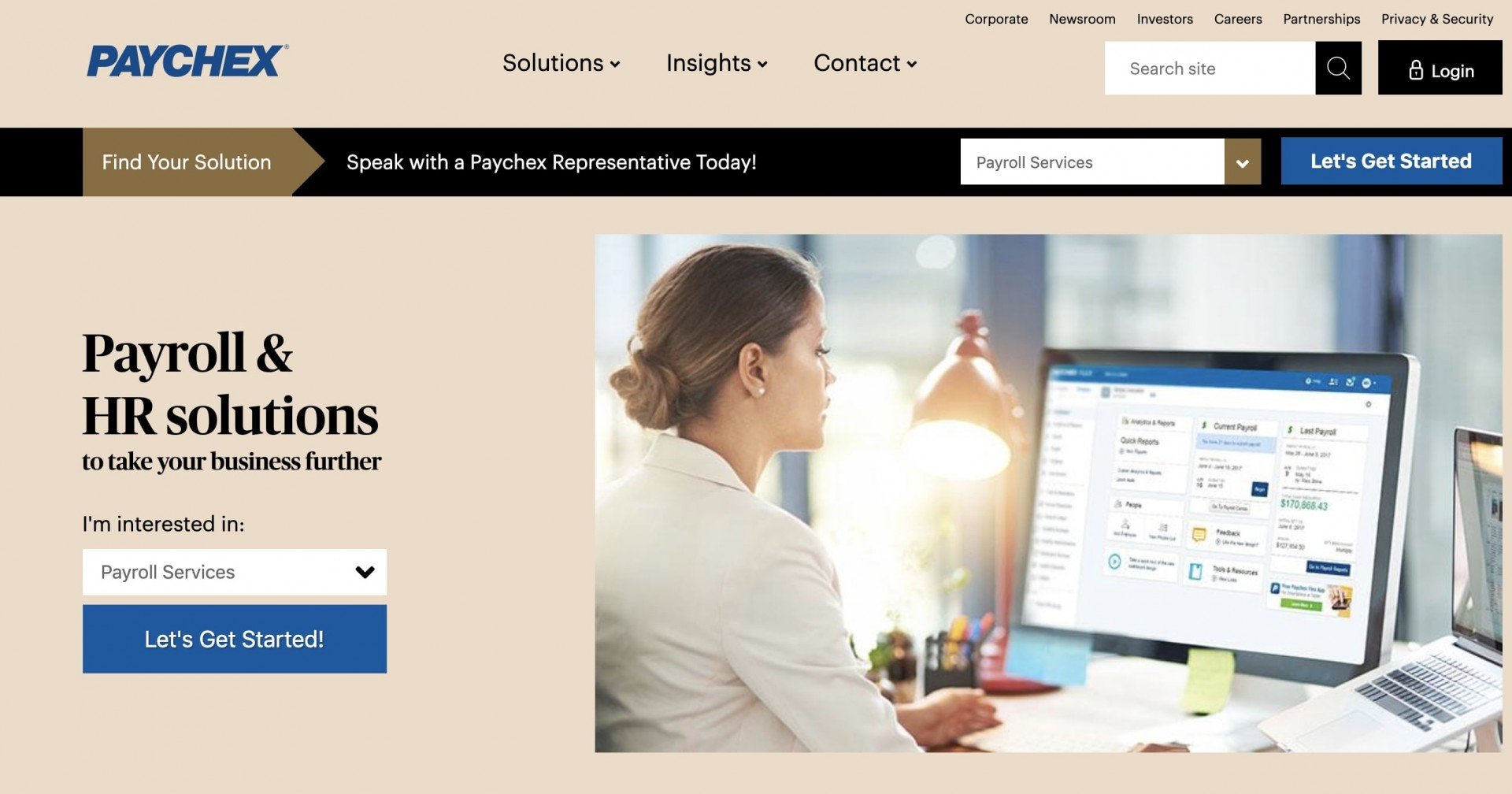 Another payroll option that offers HR management solutions is Paychex Flex, a simple system for quick, easy processing. They provide variable services based on how many employees work within your company to give you a more customized experience. Use it to track time, monitor attendance, observe benefits, and go through the hiring or onboarding process.
Pricing: Free 60-day trial. They have four plans available, but you'll need to contact them for pricing.
4. Payroll4Free.com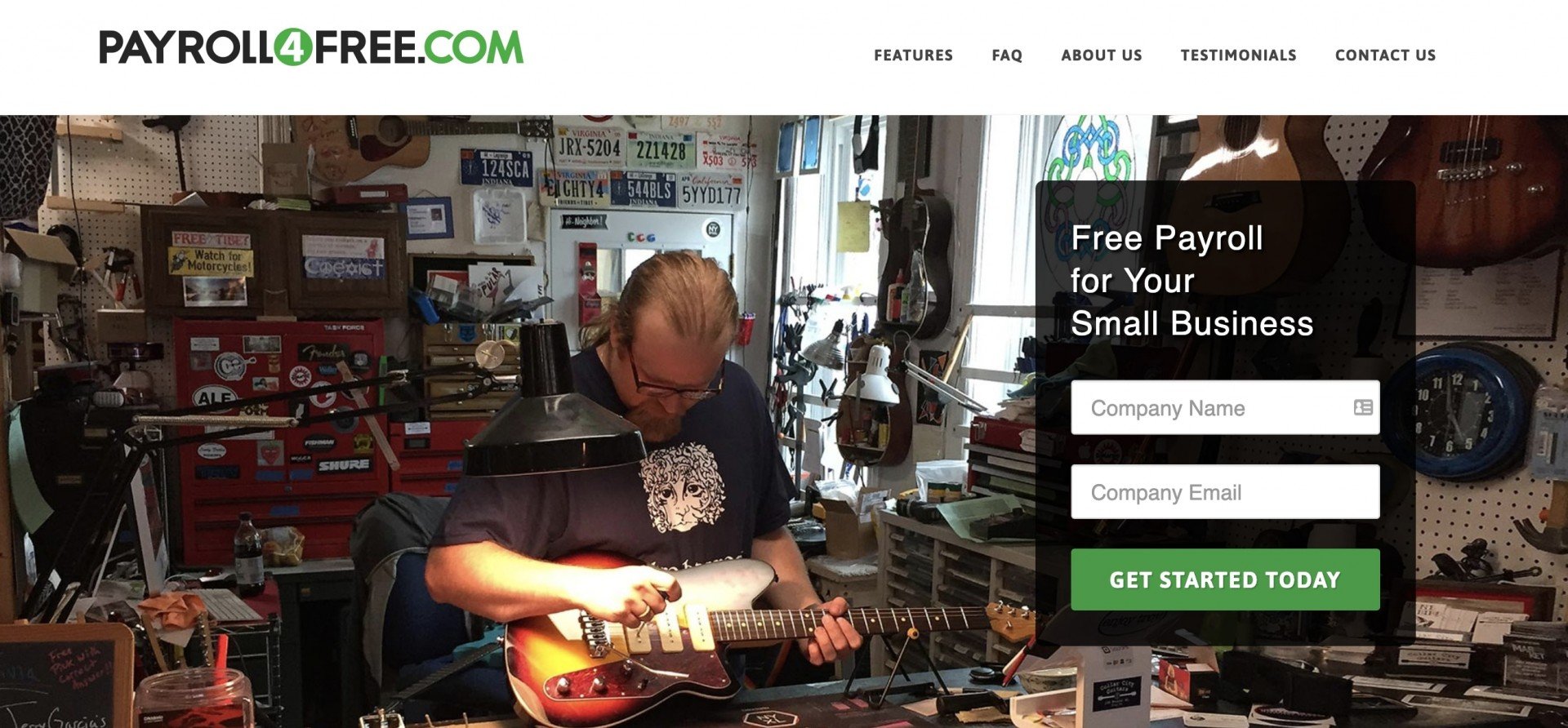 If you still have less than 25 employees, Payroll4Free.com may be the first one to check out since (as the name suggests) it's free. By using ads, other companies pay this company so you don't have to yourself. And all of their features remain free as long as your payroll stays under the necessary threshold of 25 people.
Pricing: FREE. If you want them to file your taxes for you, they charge $12.50 per month during the year.
5. QuickBooks Payroll

If you already use QuickBooks for your accounting, they also offer reliable payroll software for small business as well. It keeps all of your bookkeeping within the same program, making everything easier both during the year and when tax season comes around.
Pricing: Payroll only plans cost between $17.50 per month and $80 per month, plus $4 per employee per month. Discounts are available if you pair Payroll and QuickBooks services.
CRM Software for Small Business
1. HubSpot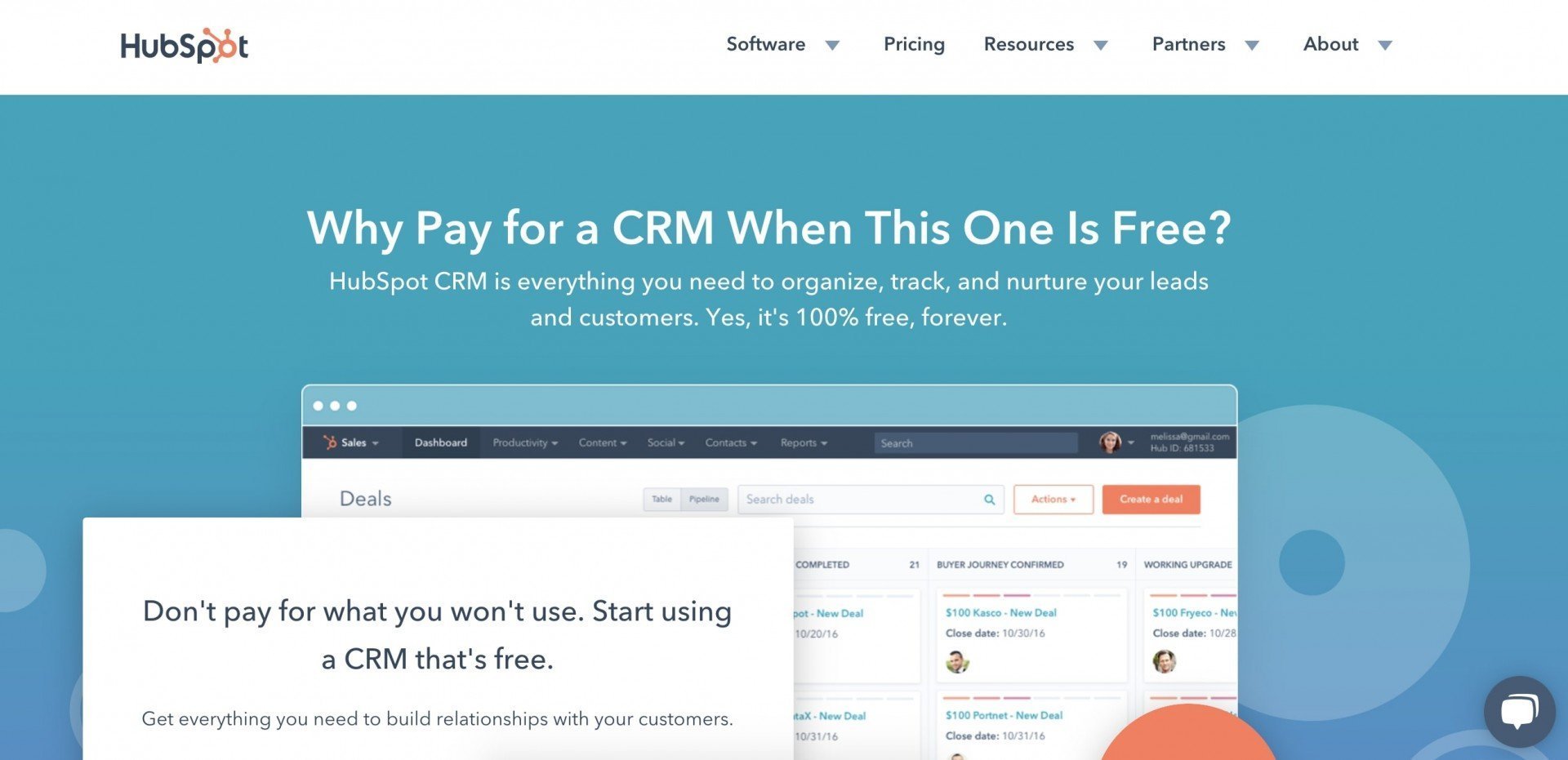 When it comes to running a business, the more things you can get for free, the better. This is why the free version of the HubSpot CRM is an incredibly convenient choice for business owners. Though it is a bit more basic than some other options on the list, it's a great place to start if you're still learning about CRM software or don't need anything complicated.
Pricing: FREE. Period.
2. Pipedrive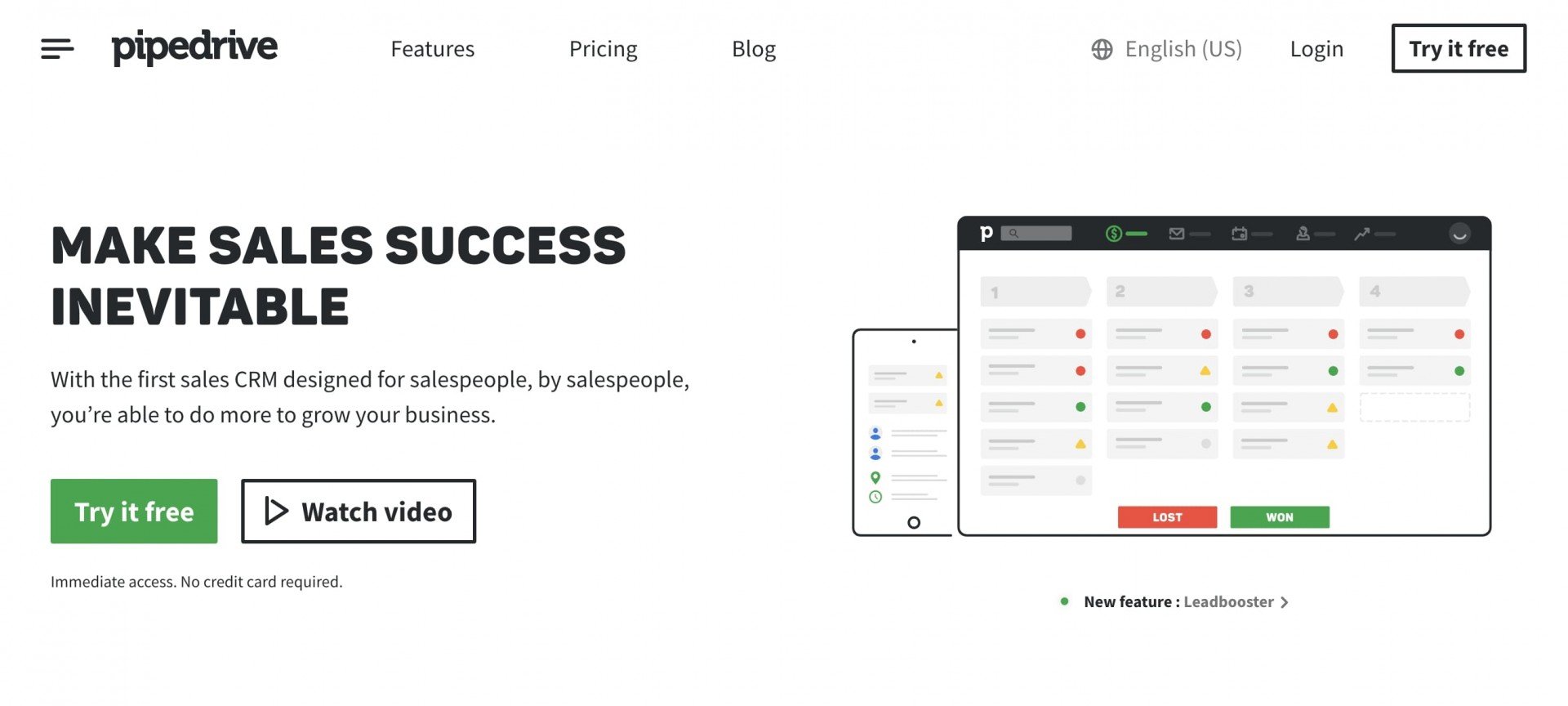 Pipedrive was made to make sales pipelines as simple as possible, while still providing all the key features needed to be successful. The process can be automated for everything from email integration to sales progress. It is one of the easiest tools to implement into the standard stages of a business.
Pricing: Free 14-day trial. Paid plans range between $12.50 per user per month and $99 per user per month.
3. Zoho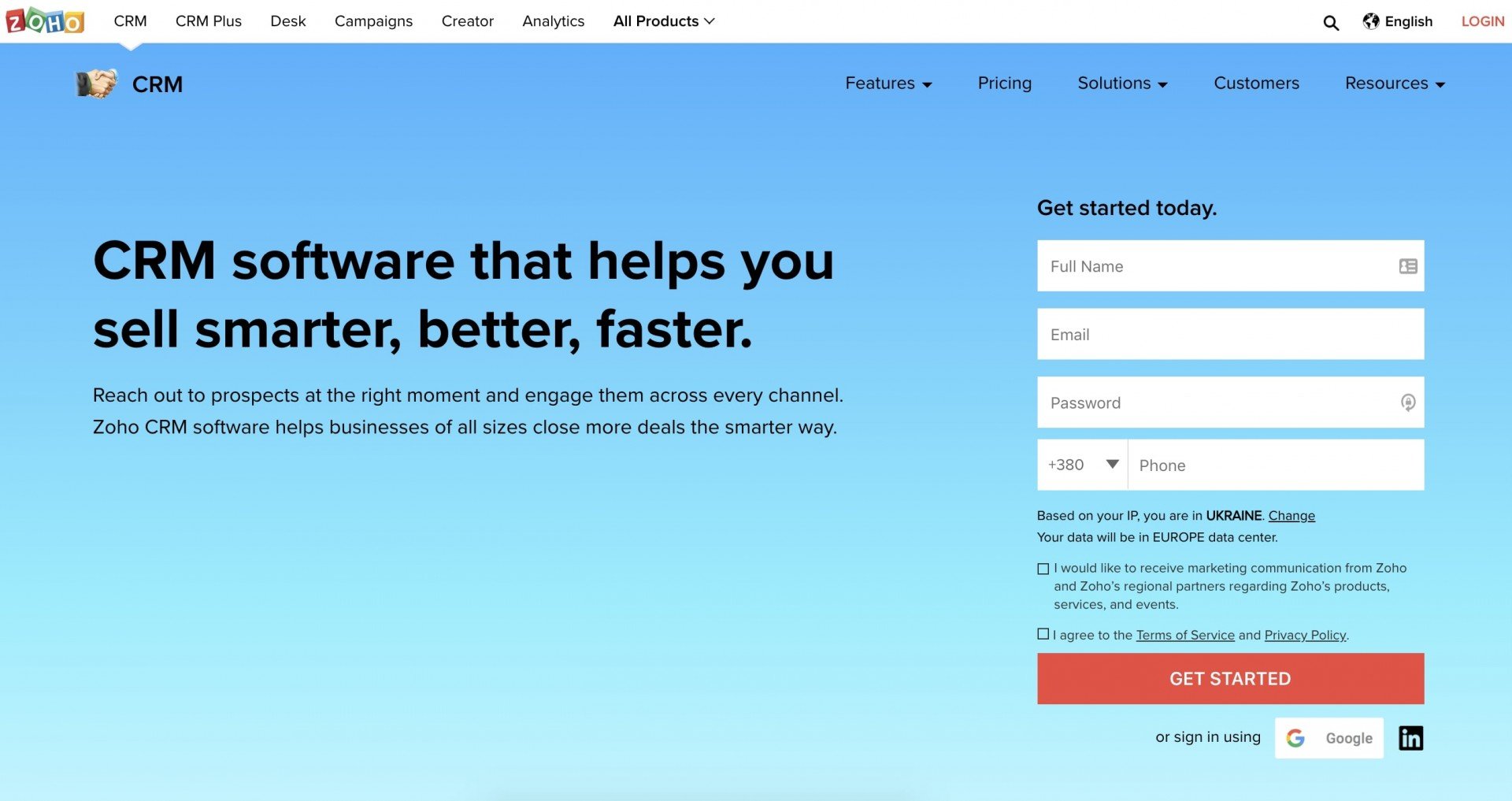 Though Zoho is most well-known for its extensive and comprehensive CRM software for small business, they also offer project management software and accounting software through their website. There is a bit of a learning curve to their programs, so if you decide to go this route, you'll likely want to reach out to a representative or go through their training system first.
Pricing: Free 15-day trial. Paid items for the CRM alone vary between $12 per user per month and $45 per user per month. Pricing for their other services can be found on the Zoho website.
4. Salesforce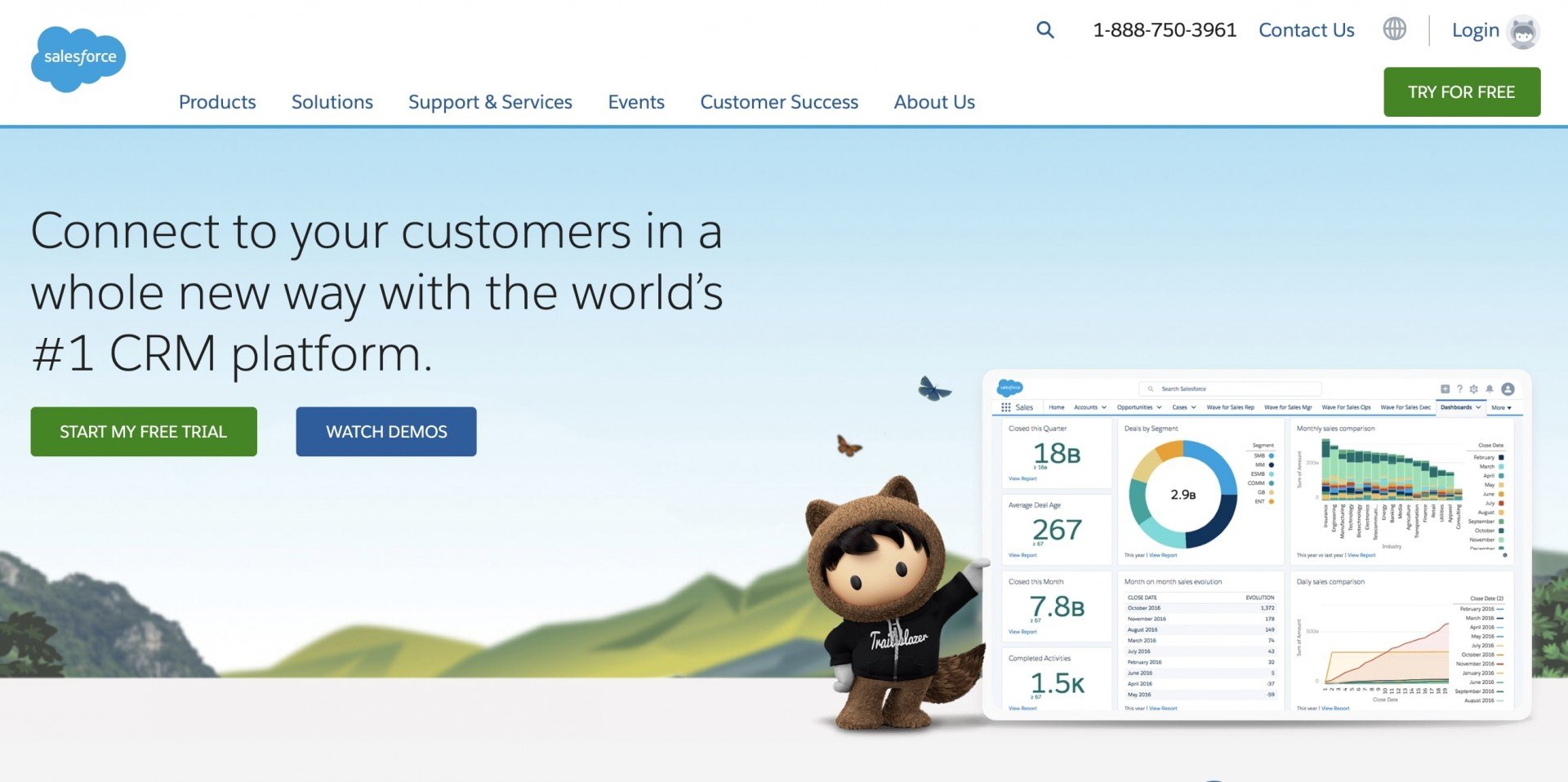 With hundreds of thousands of customers, one of the most recognizable CRM options on this list is Salesforce.com. Their creative solutions help small businesses with marketing, sales, service needs, and much more. The Salesforce website boasts stats claiming it gives companies more leads, happier customers, and quicker app integrations.
Pricing: Payment plans start at $25 per user per month for small businesses.
5. Apptivo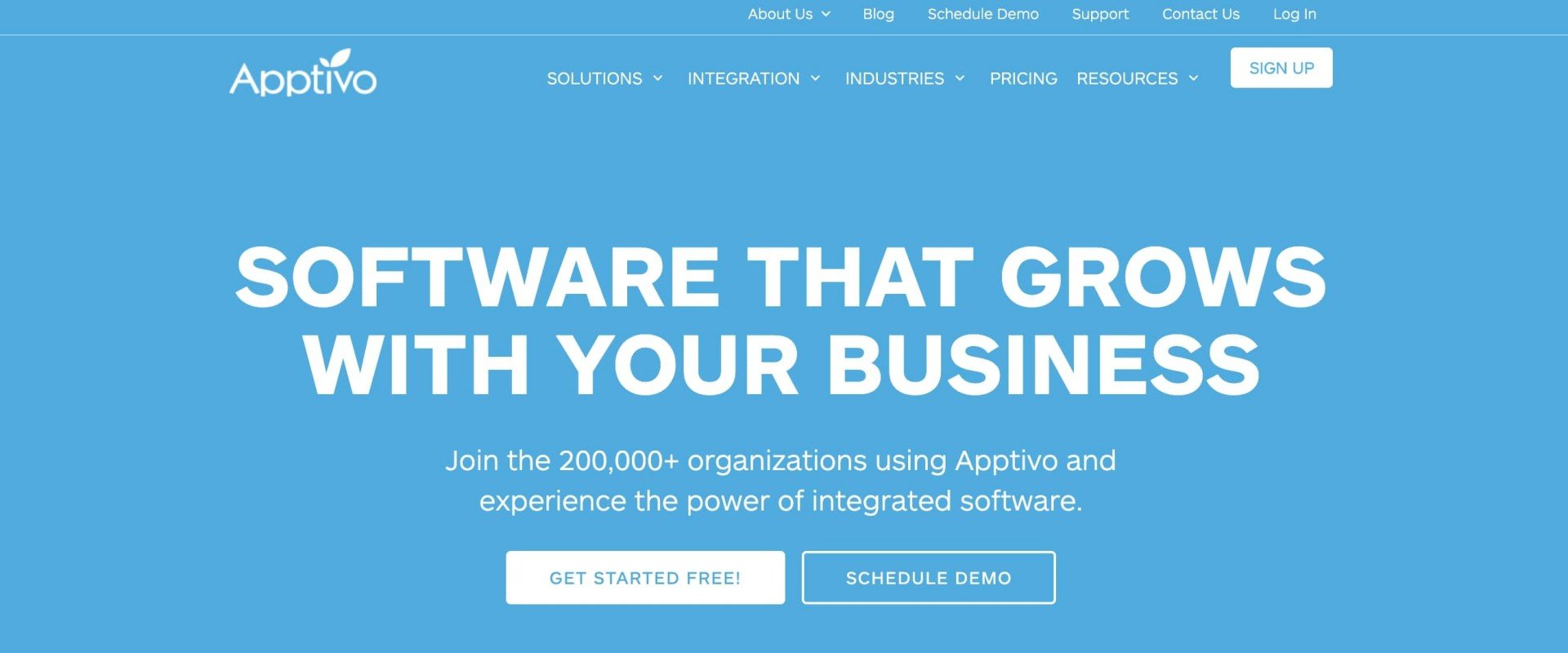 Another small business CRM software option that also provides business management features is Apptivo. But it's the customer relationship management portion that tends to get this app the most traction. The system is clean, clear, and concise, making it easy to learn and even easier to use for managing all of your clients in one place.
Pricing: Free for teams up to 3 people. Premium paid plans cost between $8 per user per month and $25 per user per month.
Tip: if you need to kick start your cold outreach efforts, you can utilize the power of a lead finder such as Fresh Lead Finder to quickly find prospects in any industry. They'll be ready to drop into the CRM of your choice for actioning by your sales team!
Find the Best Small Business Software for Your Company
Now that you know what the ideal choices are when it comes to software for small business operations, the next step is to try them out and see which ones best fit your needs. Since most of them offer free trials, it is possible to give them a shot with no money out of pocket.
And if you'd like to learn about other great software options available to your company, make sure you check out articles on the Toggl Plan blog!
Logan Derrick is a full-time business writer and content marketing strategist. For years, he has worked closely with several project management professionals, learning from them and increasing his own knowledge of the industry. Having held multiple management positions in fields ranging from customer service to marketing, Logan has found a passion for helping others learn about project management, marketing, and the powerful tools available to professionals today.