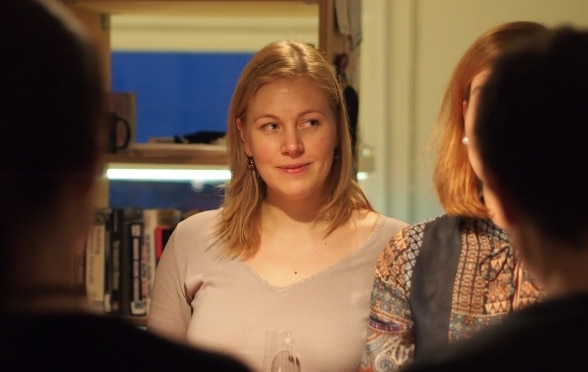 We spend nearly half of our waking hours at the offices and it is fair to say that the people there are like our family. And as you know, we can choose our friends, but we cannot choose our family.
So for productivity's and sanity's sake it is best that the time we spend at work feels like a happy-to-see-everyone kind of family reunion rather than a nightmare holiday dinner where the hostess freaks out over burnt roast and the sugar-high kids test everyone's patience with running around like crazy. Office managers hold many of the cards to keeping peace and maintaining good emotions in the office-family.
So what do I do? It's often said that you know an office manager is working efficiently when you don't notice them working. In my case, this means taking care of personnel issues and contracts, guaranteeing that there is never a shortage of supplies and equipment, making travel plans for conferences and customer meetings across the world, organising monthly team events and handling any emergencies that come up. For example, this week both the toilets and the water cooler were leaking and you can imagine how this affects the morale and productivity at the office, so it was imperative to fix it A.S.A.P. In order to "be invisible" to the team, everything needs to be organised and fixed yesterday, rather than tomorrow.
Sounds like mission impossible, right? Not necessarily. Here are my top productivity principles to successfully handle all these different responsibilities:
1. Make a to-do list… and stick to it.
There are several online tools available for this, but you can also use the old-school planner notebook. But the important thing is that you only have one list. Organize your tasks by priority and deadlines and make an effort to stick to the plan. If you find yourself constantly deviating from the list, you probably need to reconsider how you prioritize.
2. Shop online and avoid going to the store whenever possible.
I have yet to find something that is not available online. I always get everything – office supplies, bread and fruit from the local farmers, nerf guns for some office downtime, catering for seminars and swag for loyal customers – without leaving my computer. Buying things in bulk saves me from having to deal with snack shopping for the kitchen or getting extra copy paper every week. You probably weren't hired to be a driver, so get a courier to deliver the goods to your office door, rather than going to the post office to pick up your parcels. Use the time you save for checking off another item on that to-do list.
3. Master the art of selective ignoring.
This is something every parent out there can probably relate to – you have to ignore the small issues and focus on the big ones. The minor problems often self-correct or become irrelevant with time, so there's no need to jump at everything. Here at Toggl, at least once a week someone comes up with yet another cool gadget or "must-have" toy that they think I should get for the team. Don't tell my office-family, but usually it's just a waste of time and money to fulfil these wishes. Like, can we really not write amazing time-tracking code without without money guns, a wine dispenser or custom face masks? However, in order to not feel like a killjoy without completely spoiling the kids, the trick is to entertain the crowd once in a while by actually going along with some of these crazy ideas. The truth is, it will likely even be fun for yourself.
4. Don't go to the office when you really need things to get done.
It may sound counterintuitive for an office manager not to be at the office, but based on my experience remote work is sometimes the only solution. On days when I need to focus on translating a lengthy document, writing a blog post or work on travel logistics for 30 people, I stay away from the office where I know I will be bombarded with small tasks (or worse yet, with nerf gun fire) that distract from the important assignment. Even at the home office, I am always available online and by phone, so that communication with other team members does not suffer. I just have better control over my time and space.
5. Give clear deadlines and friendly reminders.
You can be the most punctual and effective person on the planet, but it is not of much use if completing some of your tasks is dependant on other team members. When delegating, my trick its to always give clear deadlines and offer friendly reminders when the due dates are approaching. I find it easier to spend a few minutes on giving reminders rather than being frustrated when assignments are late because of the inevitable fact that people are forgetful and usually really busy (you can call that lazy, if you prefer). With critically important assignments, the given deadline should always be closer than the actual time by which things must be finalised. Think of it as turning the clock five minutes ahead to make sure you don't miss your morning train.
These are the tips that have been most useful for me, but there is actually one more that you should consider. So here's one extra trick:
Analyze your time management. This might sound like an up sell pitch, but toggling your time usage and measuring how much time you actually spend on e-mails, ordering supplies, finding a plumber to fix the leaking toilet or taking a smoke break, is the first step to improving your time management. You might discover that booking flights and hotels for conferences all by yourself takes up an unreasonably big portion of your time, and that it would be more cost-effective to pay a small fee to a travel agent to do this for you. You may also find out that you work faster than you think, just like it happened with Mart.
Time is money, which means the more time you save, the more money you will make. I hope some of these tricks will help you get things done in a more efficient and painless way.
Not that Evelin needs much help, but let us know in the comments if you have any other time management tips for managers!
Also, you can help others and share the advice on Twitter!