We are very excited to announce updates to our subscription plans – a name change, new features to our Standard (previously Premium) plan, and a fresh out of the oven subscription choice, Business.
In short, our existing Standard plan users now have access to two new paid features without any changes to billing. People with higher privacy and control needs can opt for the Business plan. Users on our much loved Free plan are not impacted by these changes.
Read on to get an overview of our updated subscription plans and features.
Free for Small Teams With Simple Needs
To clarify, Toggl Plan still continues to be free for small teams of up to 5 users with simple planning needs.
Free plan users have access to all the basic features needed for planning such as unlimited Tasks, Milestones, Team Timelines, Project Timelines and Boards. Free users can also showcase public holidays on timelines, import Plans, share their roadmaps via shareable links and take advantage of many other basic capabilities of Toggl Plan.
Standard Plan for More Volume and Customizations
The Standard Plan (previously Premium) is perfect for heavier use workspaces with more people or more Plans. Standard features are great for collaboration, quick overviews and large workspace organization. Standard plan contains all the features in the Free version and also the below mentioned Standard features.
(New) Recurring Tasks
Recurring tasks makes planning repetitive assignments a simple one click action. Whether it's weekly meetings, monthly reporting or annual reviews, simply choose the best suited frequency and you're all set. The possible options are
Daily e.g., every day
Weekly on that weekday e.g., on Tuesdays
Monthly on that date e.g., on the 10th of each month
Annually on that date e.g., on January 1st of every year
You can also choose to have the task go on forever, end on a specific date or after a set number of occurrences. Recurring tasks don't currently have one-off exceptions so if you've set a weekly recurrence for a task, it'll have the same status, notes, to-do list and other properties on each occasion.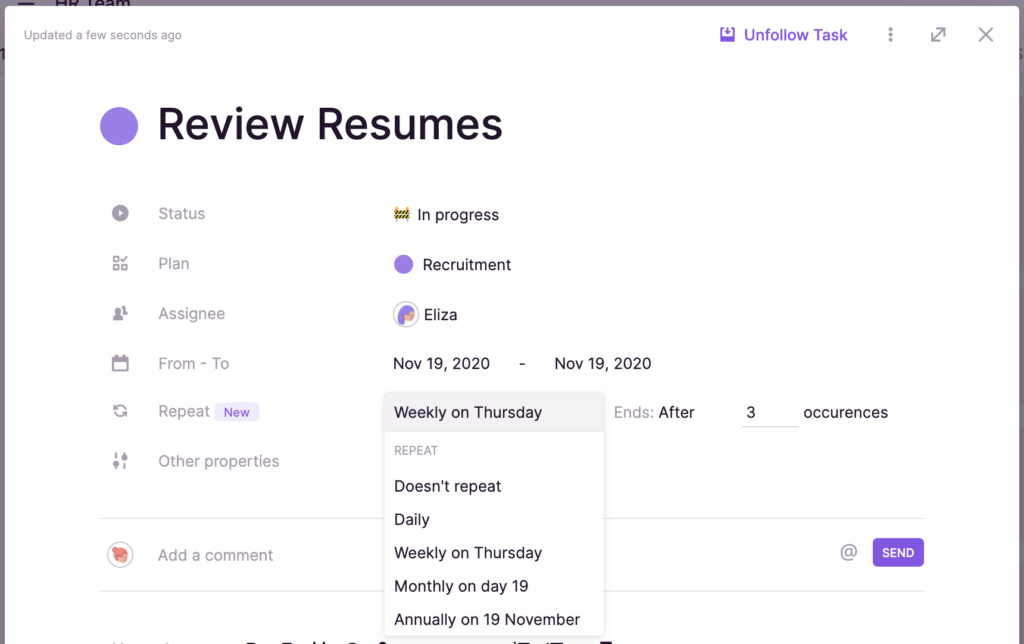 Multi-Assign Tasks
Multi-assigning speeds up managing tasks where two or more people collaborate. By adding multiple assignees to the task, the assignment will be automatically displayed on each person's timeline. This makes sure everyone involved has access to and is updated with the same information. Similarly to recurring tasks, it's the same task content that appears on each assignee's timeline.
File Upload up to 100MB
Increase file upload size from 10MB on the Free plan to 100MB. This is perfect for larger images and video files and to keep all key information and deliverables in one place – right there inside the Toggl Plan Task.
Custom Colors
There are many ways to use colors in Toggl Plan to create clearer visual overviews, communicate priorities or simply make your workspace more aesthetically pleasing. Color-coding can be used in three places:
Every new Task is by default lime-green. However, you can change each Task's color manually and use color coordination to make key tasks stand out.
Plans have a designated color in Toggl Plan. This means every Task created in the Plan will default to the Plan's color, not the lime-green. It is still possible to overwrite the task's color as well.
Milestones can also be given a color, whether to make them stand out or align with a project or client color schema.
While every workspace has access to a set of predefined colors, Standard users can also create their own custom colors. This is especially handy when there are a lot of Plans in the workspace and you're running out of default colors or when sharing your timelines with external stakeholders and wish to match your color-coding with your branding.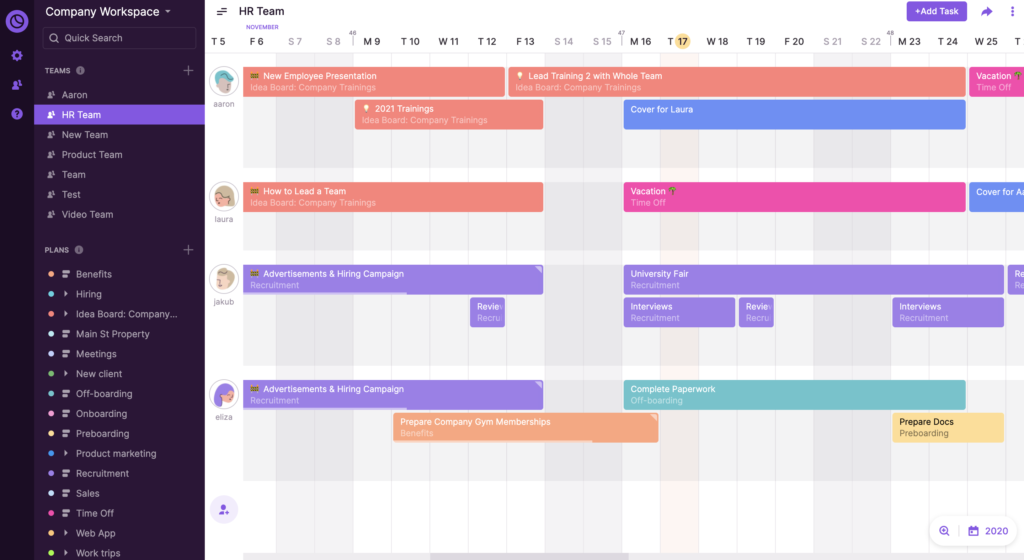 Annual View
Annual view is great for a bird's eye view of everything that's been going on throughout the year. It highlights all tasks that take longer than a week to complete, making it a great place for higher-level planning.
Favorites
Workspaces with a lot of people can become difficult to navigate over time. The sidebar gets more and more busy as everyone adds their own Plans and Teams.
With Favorites, you can organize your sidebar by pinning the Plans and Teams most relevant to you to the top, so they're always there for quick access.
(New) Toggl Track Integration
Since we've learned that many Toggl Plan users are also avid Toggl Track (the time tracking tool) fans, we are extremely excited to have launched a native integration between the two tools.
The new Toggl Track integration provides an easy way to start and stop timing your tasks from within Toggl Plan, and automatically pass the data through to your Toggl Track workspace. You still need separate logins and accounts to use the two standalone tools, but the integration setup to connect those accounts and get started only takes a couple of minutes.

Business for Advanced Privacy and Control
While we are huge fans of openness and self accountability, we also understand that our users' needs may vary depending on the tasks and collaborators at hand.
We've heard that sometimes there's sensitive information that can't be shared with external partners or it's necessary to assure clients' projects remain confidential. Our users have also shared that while we are first of all loved for our beautiful visual overviews, in some teams and client relationships explicit reporting might also be needed. As a result, we've launched the new Business plan for teams in need of a bit more in terms of privacy and control.
Business includes everything in the Free and Standard plans plus also the features described below. We are also working towards adding SSO to this plan in the near future.
Access Rights
All users of Toggl Plan can manage user roles, deciding the actions a person can take in the whole workspace such as changing billing information, editing tasks or taking no actions at all and just viewing information. However with these settings, all users always have access to every task, plan and team inside the Toggl Plan workspace.
Business users now also have access rights, a completely new level of control enabling managers to grant and revoke access to specific Plans and Teams. When inviting a new user to the workspace, Business users can choose if the new person is a Team Member who will have access to the whole workspace or a Guest Member who should only have access to select Teams and Plans. Guest Members will still be billed for according to our per user prices.
We hope these more granular access rights provide some ease of mind when working with outside contractors, multiple clients or otherwise sensitive data.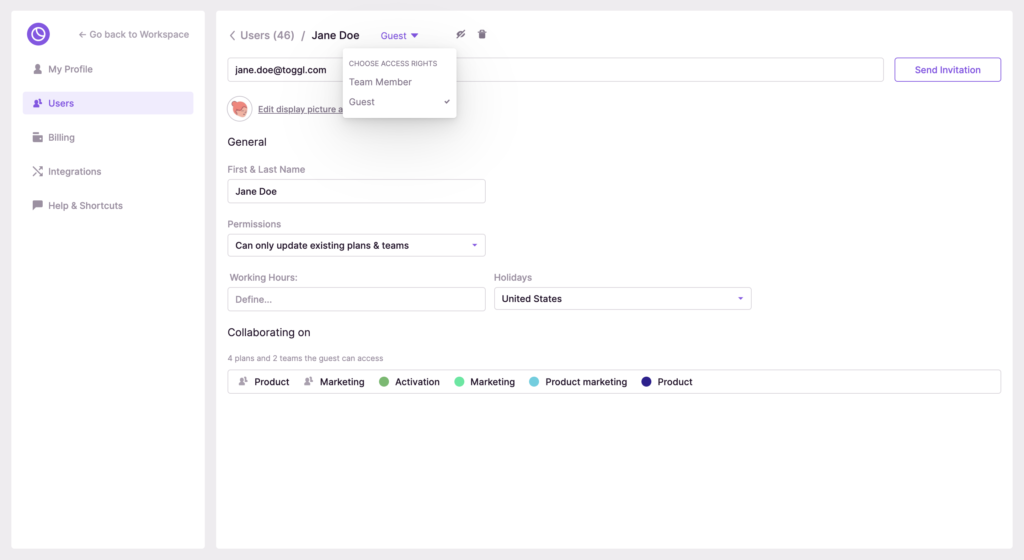 Data Export
All Toggl Plan users have access to reporting on daily and weekly intervals via overview emails that showcase done and overdue tasks as well as what's next up. However, sometimes more customized reports might be required and this is where the new data export feature can step in. You can choose between three levels for data export:
All workspace data for all time – this includes all tasks in plans, teams, archived plans and icebox.
A specific Plan – choose the Plan, the dates and whether you want to include tasks without dates.
A specific Team – choose the Team, the dates and whether you want to include tasks without dates.
The exported .csv files contain information about the task names, dates, start and end times, time estimates, recurrence, Plan name, segments, tags and statuses as well as assignee name and email. The information can be easily used for reporting, creating summaries or working with other tools.
Priority Support
We know it's frustrating to wait for answers to your burning questions. That's why inquiries from Business customers will be assigned highest priority and dealt with first, so you can quickly get on with your work.
Accessing Standard and Business Features
All new Toggl Plan workspaces will continue to trial the Standard plan for two weeks. If you wish to trial Business features, simply upgrade to Business from the billing page during your trial. You'll have to add your credit card details, but you will not be billed for and can still cancel your subscription until the end of the trial period.
In short, there are three courses of action you can take during your trial period.
Choose to upgrade to the Standard plan and add your credit card information. You will continue on the trial for the time being and at the end of the trial period, if you haven't cancelled the subscription in the meantime, you'll be upgraded and billed automatically.
Upgrade to the Business plan and add your credit card information. You will continue on the trial for the time being and at the end of the trial period, if you haven't cancelled the subscription in the meantime, you'll be upgraded and billed automatically.
Decide to go with the Free plan. In this case, you don't need to take any action. The workspace will be downgraded to the Free plan automatically at the end of the trial period. You can continue using Toggl Plan with its basic planning features and up to five users.
Summary
We hope this article has provided some guidance into which plan might be best suited for your needs. To learn more about the subscription plans and prices, please feel free to visit our pricing page.
We will continue to improve our product and features for all users, no matter the plan they're in. Your feedback has a crucial role in what we do which is why we would love to hear your thoughts at support@plan.toggl.com.
Kati Kuustik is a marketing and analytics specialist at Toggl Plan, where she helps the product and marketing teams better understand user behavior in order to translate that into valuable product updates and effective campaigns.