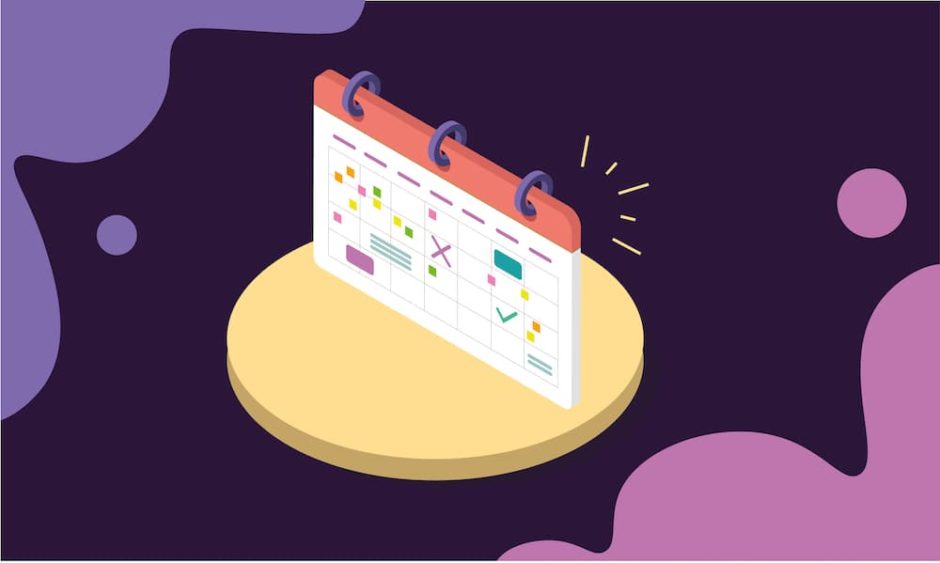 Asana is a popular project management tool. And, while it's great for big teams and complex projects, a lot of teams are looking for Asana alternatives that are simple. On the other end of the spectrum, you'll also find teams that need enterprise features.
In this article, you'll learn about 30 alternatives to Asana — from simple task management tools to platforms that offer enterprise-level functionality.
This article also covers:
Features to look for in a project management tool
And, reasons why you may want to look at Asana alternatives
So, if you're looking to manage your projects more efficiently, this article has got a lot to offer.
Let's begin.
3 Project Management Features That Matter
More teams today work remotely than ever before. That's why micro-managed, industrialized processes no longer work.
While teams still need to deliver on time and within budget, they thrive by keeping an eye on the 'big picture'.
The project management tool you use for your team needs to do just that. That means, allowing your team to get things done without feeling overwhelmed or micro-managed.
1. Ease of use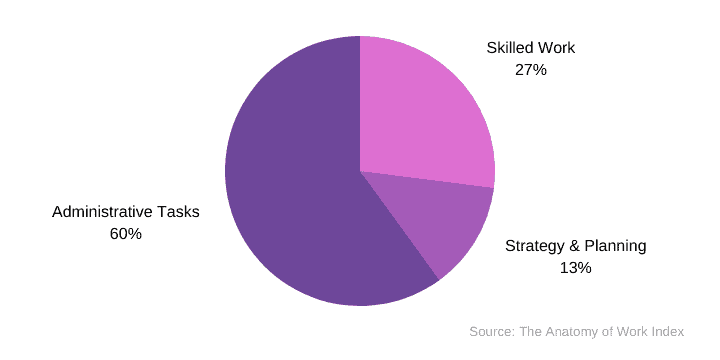 According to a 2013 Harvard Study, employees spend 41% of their time on unproductive work. Today it's even worse. That's because, according to the 2019 survey, employees spend almost 60% of their time on administrative work.
While most tools offer comprehensive project management features, very few of those are actually used by modern teams. Plus, learning about a tool and getting used to working collaboratively using the tool takes time.
A tool that your team can start using intuitively and get things done is all your team needs.
2. Collaboration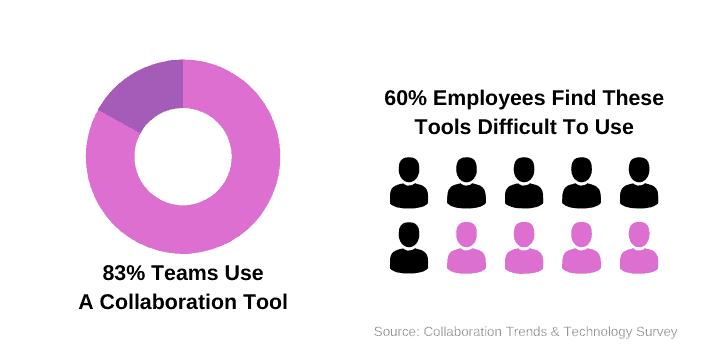 Today, 83 percent of knowledge workers use collaboration tools. Yet, almost 60 percent find it difficult to use these tools.
For remote teams, brainstorming sessions, discussions, and debates are what move ideas forwards. Plus, teams often need to share designs and ideas.
You need a tool that allows multiple team members to work together on a task. Also, you'll need the tool to allow team members to discuss and share work across your team.
3. Stakeholder communication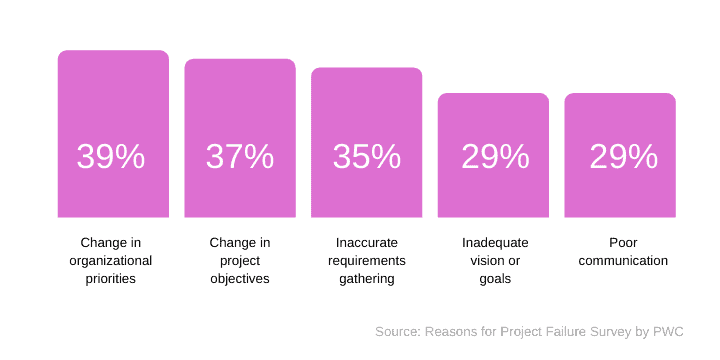 According to PWC, 50 percent of projects fail because of changes in objectives, changes in priorities, inaccurate requirements, and poor communication.
All these challenges can be easily managed by keeping clients in the know and getting approvals at appropriate project milestones.
Your project management tool needs to be able to share project progress with stakeholders, without bothering them about day-to-day activities.
3 Reasons Why You May Want To Look At Asana Alternatives
Asana was founded in 2008 by ex-Google and ex-Facebook engineers with the aim to make team collaboration better. Incredibly, it took almost four years to launch it commercially in 2012.
While really powerful, Asana is not for everyone. That's because these teams find Asana too complex to use, unintuitive, and expensive.
Too Complex
One of the biggest criticisms of Asana is its complexity. It feels like a tool for trained project managers. Most team members have a very basic understanding of project management concepts. And, this is what makes Asana overwhelming.
Here's a review from SoftwareAdvice that sums up the frustration that teams have Asana.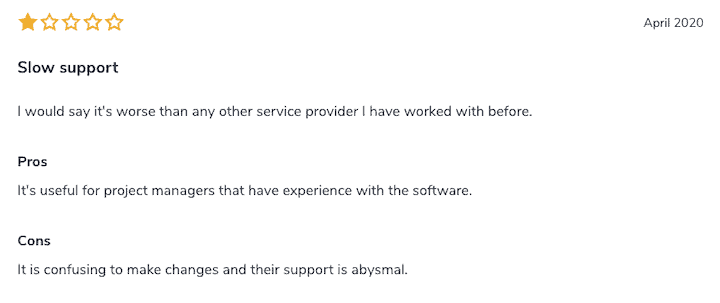 Unintuitive
Because Asana caters to trained project managers, it comes with every project management feature. Navigating between these features can be clunky, unintuitive, and often glitchy.
This Asana review on G2, describes how frustrating it is to navigate across Asana's features.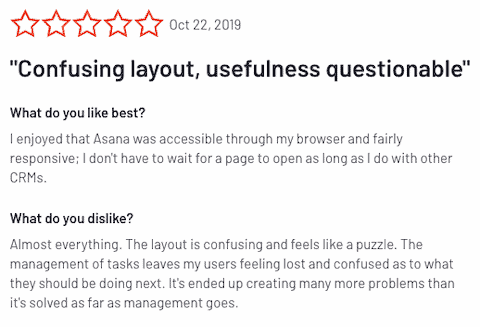 Expensive
While Asana has a limited free plan, the premium plans can feel exorbitant. Particularly, for small teams. And even more when you're not using all the features.
According to Capterra reviews, this is one of the biggest cons of Asana.

A Quick Look At Asana Alternatives
We've compiled 30+ tools that provide project management features like Asana. If you're strapped for time, take a look at the table below for a quick overview of these tools.
| | | |
| --- | --- | --- |
| Tool | Starting From | Pros & Cons over Asana |
| Toggl Plan | $9 per month | As powerful as Asana, but beautifully simple. |
| Wrike | $9.80 per month | Manage approvals and proofing in addition to task management. |
| Nifty | $39 per month | Very similar to Asana, but cheaper for teams with 10+ members. |
| Meistertask | $10.39 per month | Simpler task management and planning. |
| Trello | $12.50 per month | Visual, Kanban-board based task management for Agile teams. |
| Clickup | $19 per month | Simpler than Asana, but more expensive. |
| Airtable | $24 per month | More powerful and flexible than Asana. Also more complex. |
| nTask | $3.99 per month | Great for teams that are looking for basic task management. |
| Todoist | $4 per month | Simple task-based project management. Lacks planning features. |
| Any.do | $5.99 per month | Task management with Kanban and calendar views. |
| Freedcamp | $8.99 per month | Similar to Asana. In addition, you also get the Wiki feature to document project info. |
| Quire | Free | Manage tasks & sub-tasks using simple Kanban boards. |
| Sendtask | Free | Collaborate on tasks with team members and clients. Under development. |
| KanbanFlow | $5 per month | Lean task management with Kanban boards and work-in-progress limits. |
| Hitask | $5 per month | Simple task management, but no planning features. |
| Basecamp | $99 per month | Remote team collaboration and file sharing. Cost the same for any number of users. |
| Notion | $8 per month | Flexible collaboration and documentation. However, lacks planning features. |
| Monday.com | $12 per month | Very similar to Asana. No free plan and requires a minimum number of users. |
| Smartsheet | $25 per month | Spreadsheet like interface and comes with lots of templates. Fairly expensive. |
| TeamGantt | $24.95 per month | Heavily focused on planning. Fairly expensive. |
| Mavenlink | Not available | Enterprise project management tool with custom reports. |
| Clarizen Go | No available | Enterprise project management for Agile teams. |
| Paymo | $18.95 per month | All project management features including financial planning. |
| Zoho Projects | $3 per month | An affordable solution if you already use the Zoho suite of tools. |
| Celoxis | $25 per month | Enterprise project management with custom reports and role-specific dashboards. |
| Samepage | $7.50 per month | All-in-one project management, communication, and collaboration tool. |
| Workzone | $24 per month | Useful for big teams and complex projects. Fairly expensive. |
| Hive | $16 per month | Built-in time-tracking and timesheets with similar project management functionality as Asana. |
| Jira | $12 per month | Great for software development teams. Includes bug tracking workflows. |
| Proofhub | $50 per month | Comes with project management and proofing for any number of users at the same price. |
| Bitrix24 | $24 per month | Comes with a suite of tools to manage the entire project workflow. Fairly complex and expensive. |
Alternatives To Asana Project Management
Make no mistake, Asana is a very powerful tool. But it's not for all teams. Particularly, teams that need a simple, affordable, yet flexible tool to deliver work.
Here is a brief overview of all the tools mentioned in the quick overview table above.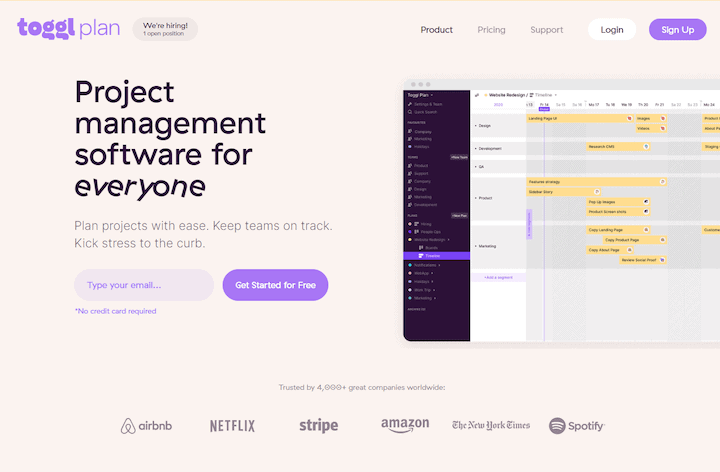 Toggl Plan is the simplest of the Asana alternatives on the list. Yet, it meets all your needs for managing projects. Whether you are working solo or in a team, Toggl Plan helps you manage your projects from start to finish.
It doesn't matter if you're a novice or an expert, getting started with Toggl Plan is easy. That's because Toggl Plan's intuitive, drag-and-drop interface helps you manage your tasks and projects.
And, that's why, Teams at Netflix, Stripe, Amazon, Spotify, Airbnb, and The New York Times use Toggl Plan.
Project Management Features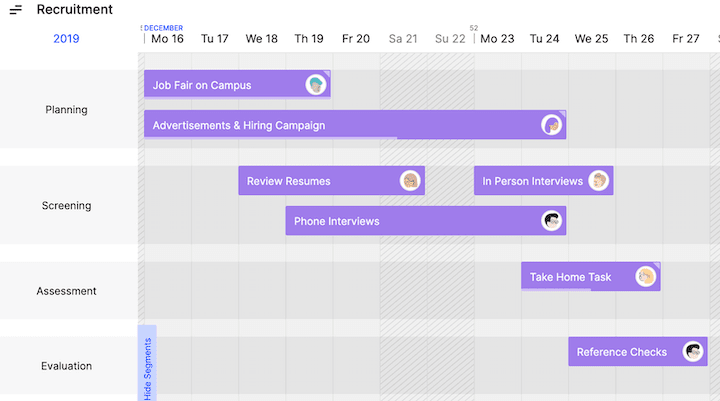 With Toggl Plan, you can create detailed project plans or high-level project roadmaps. Also, you can manage tasks and milestones with both, timelines and Kanban boards.
Task Management Features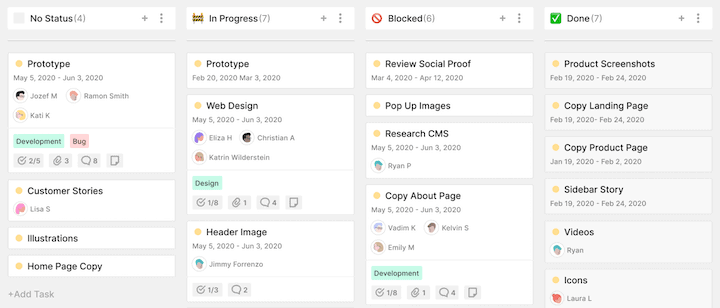 Toggl Plan makes it easy to add and manage tasks to a project for everyone. That's because you can use either the timeline view or the board view to manage tasks.
Plus, you can also schedule recurring tasks on the timeline. Tasks can re-occur daily, weekly, monthly, or every year.
Users can add task to-dos, deadlines, tags, and assign them to one or more team members. Also, users can also attach files and add comments under each task card to suggest changes and approvals.
Team Planning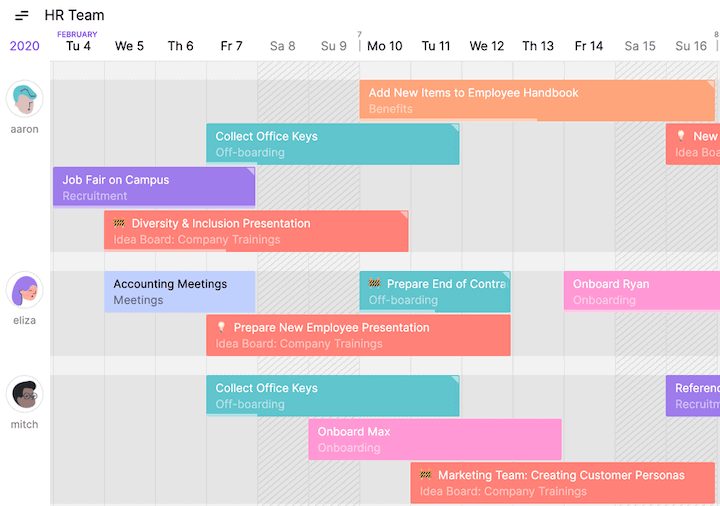 With Toggl Plan you can create a team timeline view to manage team availability and workloads. That way, you can quickly plan tasks based on availability. And, at the same time, make sure that team members are not overwhelmed or underworked.
Pricing
Toggl Plan is also among the most affordable Asana alternatives on this list. That's because it has a free plan for solo users with all essential features included. Team plans start at $9 per user, billed every month.
Get started with Toggl Plan for free
Wrike is one of the apps like Asana in terms of features. This is why, it is favored by IT, product development, and project management teams.
Wrike's collaborative workspace allows teams to manage tasks, workloads, and processes. Also, features like centralized intake and online proofing centralize incoming requests and shorten the review process, respectively.
The biggest shortcoming with Wrike is the steep learning curve involved due to the sheer depth of the application.
Pricing
Wrike offers a free plan for teams up to five members. For full-blown project management, you need to subscribe to their paid plans starting at $9.80 per user, per month.
Nifty is an all-in-one project management solution that although being feature-rich is incredibly easy for teams to use. It has milestones, kanban task boards, embedded discussion channels, workloads, built-in docs, and files – enabling it to act as your remote team's destination.
Pricing
Nifty has a 7 day free trial period and pricing begins at $39 a month for a team of 10, $79 a month for a team of 25, and lastly $124 a month for a team of 50.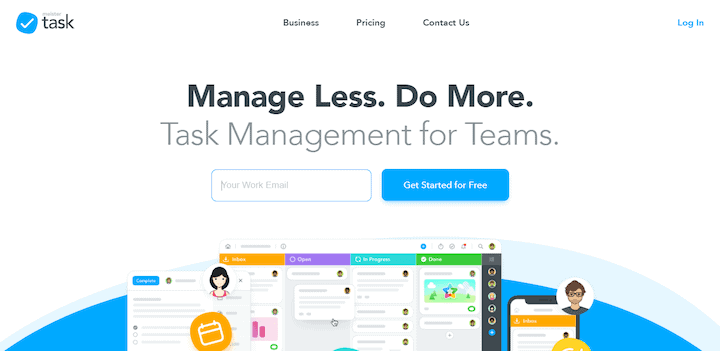 MeisterTask is a Kanban-based task management tool for teams. It is one of the few Asana alternatives that lets you migrate your tasks from Asana. Like other software apps in the Kanban-based tools, MeisterTask also offers a built-in workflow which you can later customize.
Pricing
The free plan allows unlimited team members but restricts projects to up to three. Also, workflow automation, timeline view, and other advanced features are available in their Business plan, starting at $10.39 per user, per month.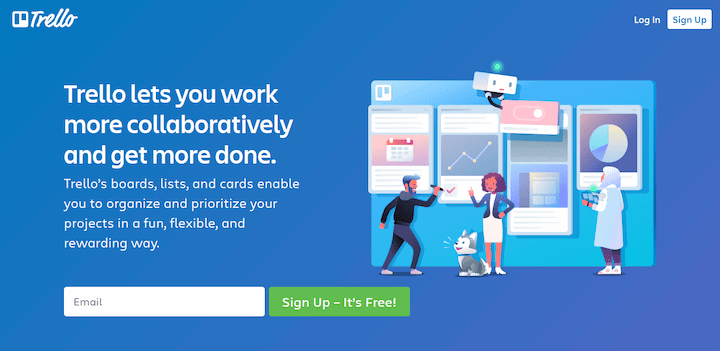 Trello's simple way of using Kanban boards to organize projects has amassed different types of users, right from freelancer writers to seasoned project managers.
However, Trello lacks robust planning and team management features and doesn't support the timeline view.
Pricing
Trello's free plan is sufficient for individual users. However, unlimited team boards, checklists, and advanced automation features come with its Business Class plan priced at $12.50 per user, per month.
ClickUp is one of the top Asana alternatives. That's because of its feature set that helps with managing goals, projects, and tasks. Like other tools, you can view projects in the calendar, box, Gantt chart, and Kanban board formats.
In addition, ClickUp integrates with thousands of other apps. Which in turn makes it complex.
Pricing
You can add unlimited users and tasks under ClickUp's free plan. But, it doesn't offer much. However, you can get the marquee features in the Business plan, starting at $19 per user, per month.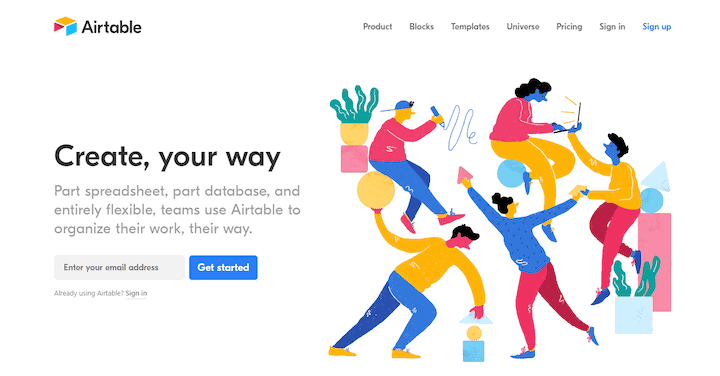 Airtable creates databases in the spreadsheet format. This means you have the freedom to organize your data in various ways. Also, you can plan projects in spreadsheets. And visualize them as a Kanban board, grid, or a calendar. Plus, you can interlink project tables to allow easy access to tasks from multiple projects.
Pricing
Airtable's free plan lets you create unlimited databases but limits 1200 records/base. It also offers essential project management features, but it's advised to subscribe to its Pro plan starting at $24 per user per month to get the advanced capabilities.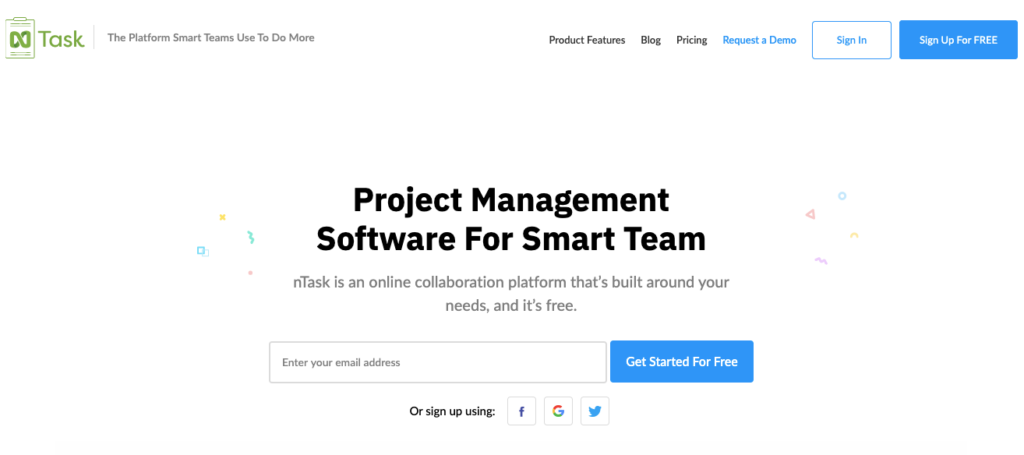 nTask is a free project management tool for individuals and teams. It lets you manage projects and tasks and improve collaboration. You can set up dedicated workspaces, define a budget, assign roles and permissions, and work with team members. Currently, nTask only supports the Gantt chart and calendar layouts.
Pricing
The free plan supports five team members, meetings, timesheets, and unlimited tasks and workspaces. Projects, Gantt chart, custom filters, etc. are available in paid plans starting at $3.99 per user, per month.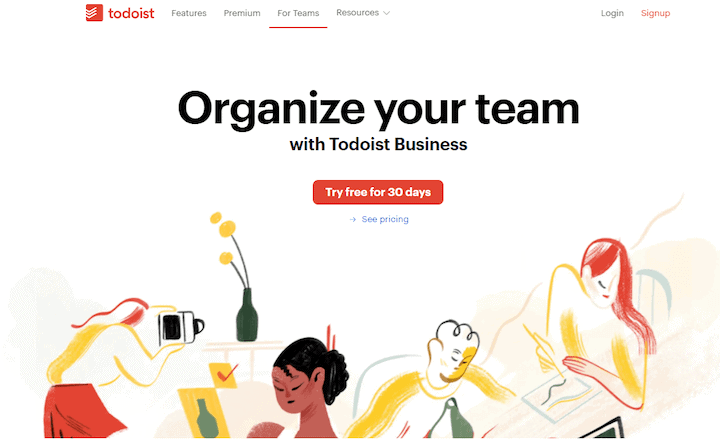 Todoist is like Asana for individuals, which extends for teams as well. Teams can set up projects, assign roles, add tasks, and track progress. Managers can view activity streams of individual team members and filter tasks to check their status.
Todoist is a power-packed task management tool but lacks sophisticated project management features. For instance, you can visualize the project only in the list format instead of a Kanban board or timeline view.
Pricing
Todoist's free plan lets you add up to 80 projects with five people per project. With its premium plans, starting at $4 per user, per month, you can use project templates, set up reminders, leave comments, attach files, and measure productivity.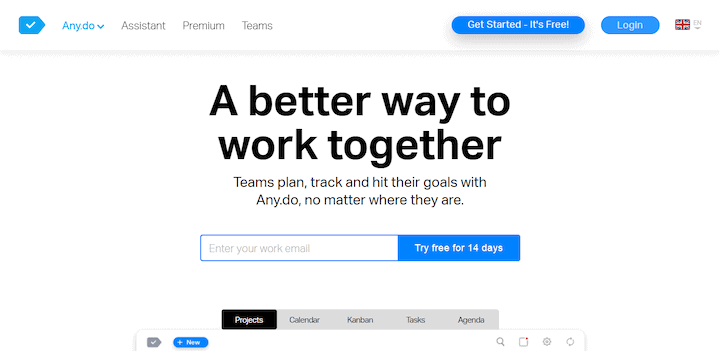 Any.do is another task management alternative to Asana that individuals and teams use to manage projects. This nifty tool allows teams to set up projects, add tasks, segment them into lists, and visualize them in a calendar or Kanban board view.
Pricing
While you can get started for free, for customization, location-based reminders, and advanced collaboration features, you need to buy their paid plan. Their premium plan is priced at $5.99 per user, per month.
With Freedcamp, you can manage personal tasks and team projects in a single interface. You can break down projects into small tasks, set up private tasks, and visualize them in a board or timeline view. You can also introduce milestones, create a wiki, and design a widget board to keep important information in one location.
Pricing
Freedcamp offers unlimited projects, tasks, storage, and users in its free plan. However, issue tracking, Gantt chart, wiki, and project template features are included in its Business plan priced at $8.99 per user, per month.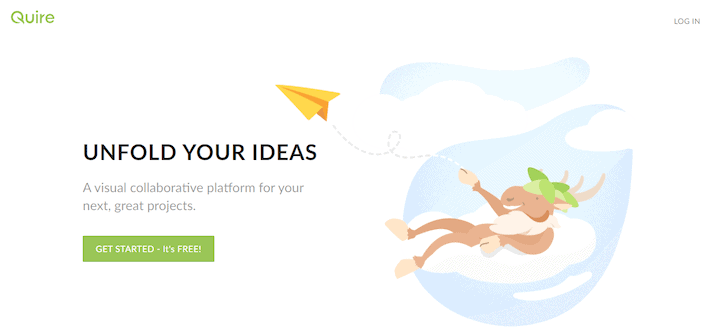 Quire is another free Asana alternative that offers plenty of innovative features. For instance, the nested tasks feature lets you create a hierarchy of tasks. Users can create personalized sublists based on assigned tasks and view projects on Boards. The swimlanes feature segregates individual task allocation via Kanban boards.
Pricing
Quire will be free until the third quarter of 2020.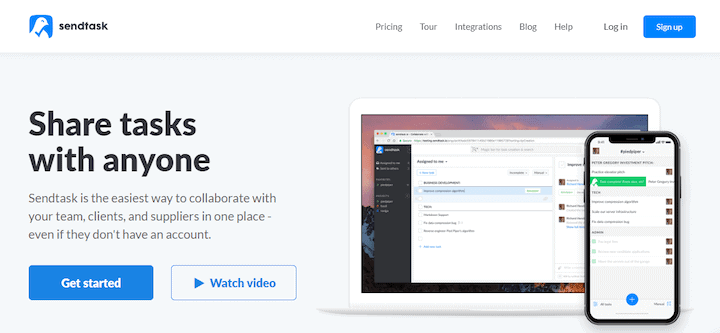 Sendtask allows you to collaborate with your team, clients, or other stakeholders, even if they don't have an account. It is a pretty run-of-the-mill task management software where you can attach files, set due dates, set up reminders, and collaborate with the team. The app currently integrates with Slack, email, and Evernote.
Pricing
Sendtask is free to use as the product is still in the Beta phase.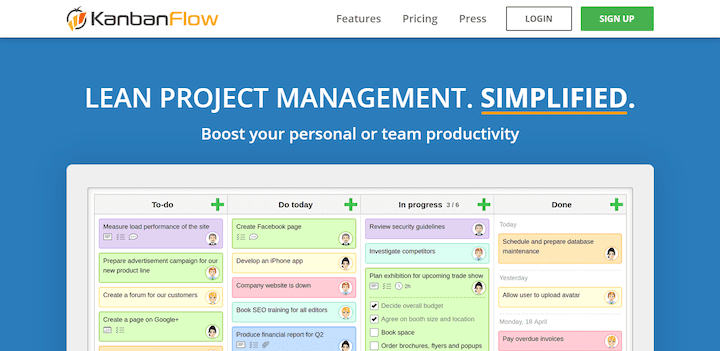 As the name suggests, KanbanFlow lets you visualize your projects with boards. KanbanFlow allows users to restrict the number of tasks a work-in-progress board can contain. This feature ensures that the team focuses on shipping high-priority tasks before anything else. The product also includes swimlanes, filtering, recurring tasks, and task dependencies.
Pricing
The free plan offers unlimited boards and tasks, subtasks, filters, and recurring tasks. Whereas the premium plan, lets you attach files, offers swimlanes, and third-party integrations. And starts $5 per user, per month.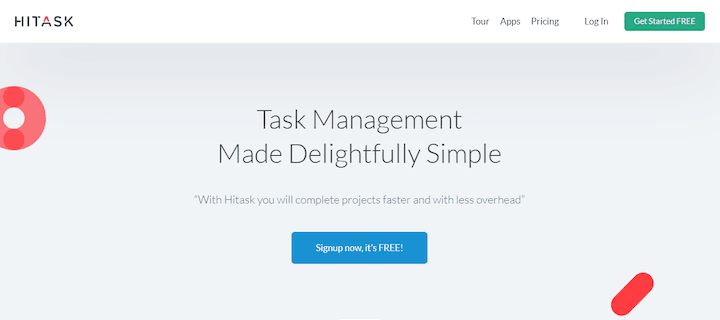 Hitask's dashboard design displays all the information you need on one screen. You can easily set up new projects, create a centralized file system, assign, and share tasks. This cost-effective Asana alternative also provides a time-tracking feature. Although you can filter tasks by various criteria, it doesn't come with sophisticated layouts such as a Gantt chart or board.
Pricing
The free plan lets you add up to five users with unlimited tasks and projects. Shared task lists, projects, and calendars, unlimited storage, and access permissions are included in its premium plans starting at $5 per user, per month.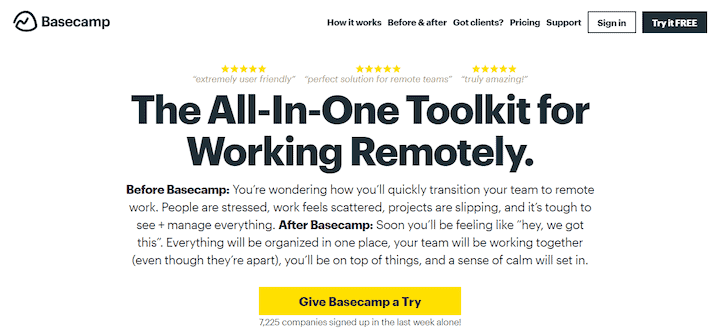 Basecamp is a centralized platform for companies to manage projects and team communication. The Basecamp project dashboard is segregated into modules such as to-dos, message board, project schedule, docs & files, and team chat. The software UI is quite unconventional compared to other tools in the niche, but it works nonetheless.
Pricing
Basecamp offers a 30-day trial, after which you're charged a flat monthly fee of $99/month.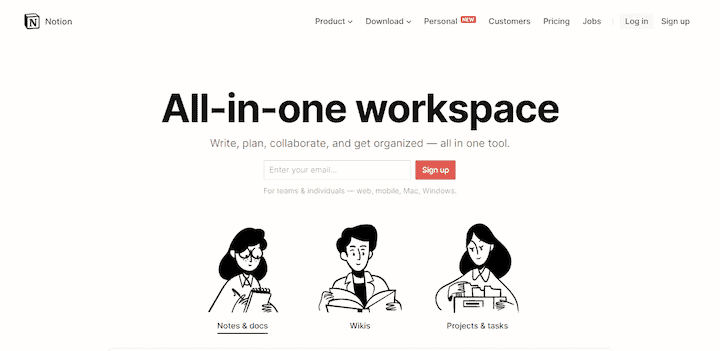 Notion is a mishmash of multiple tools clubbed into one. It acts as a single platform for note-taking, a centralized knowledge base, and project management. Users can embed more than 50 apps inside Notion pages.
While these features seem compelling, Notion currently only supports board view and isn't very sophisticated to manage projects.
Pricing
Notion offers a free plan for individuals. However, teams need to buy the paid plan priced at $8/user/month.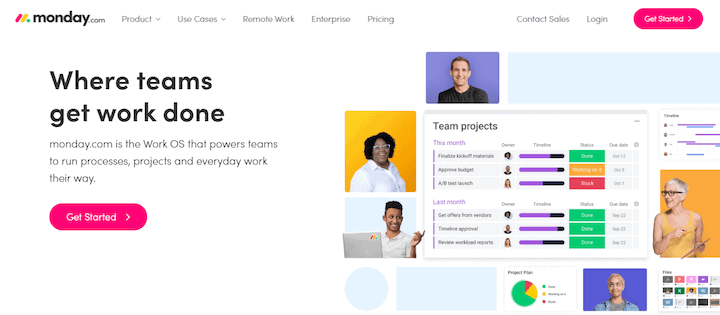 Monday.com proves to be another powerful project management software. Users can create projects, add tasks, track productivity, and automate workflows. It supports table, Kanban, and timeline view to visualize project details. Through the workload and dashboard features, project managers can view resource allocation and project analytics.
Pricing
Although you can try it for free, Monday.com's premium plans start at $10 per user, per month. However, to manage your projects better, you need to get their Standard plan for $12 per user, per month.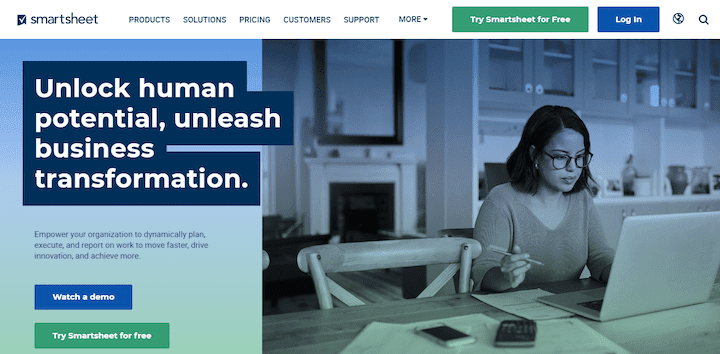 Smartsheet is a project management software for enterprises. The product is similar to Airtable in the sense that you plan things in a spreadsheet and visualize them as per your liking. Smartsheet lets teams automate their workflows based on conditional paths.
Pricing
Smartsheet is quite expensive, considering other Asana alternatives. Its individual plan starts at $14 per month, and the team plan starts at $25 per user, per month.

TeamGantt is known for its easy drag-and-drop interface. Managers can understand resource allocation better by seeing the number of tasks per day allocated to each member. The tool offers calendar and list views, but not Kanban boards.
Its reporting feature shows you how you're faring up against your actual deadlines by showing planned and actual timelines in Gantt charts.
Pricing
TeamGantt offers a free plan that lets you host one project and three members. For anything above that, paid plans are the way to go, starting at $24.95 per user, per month.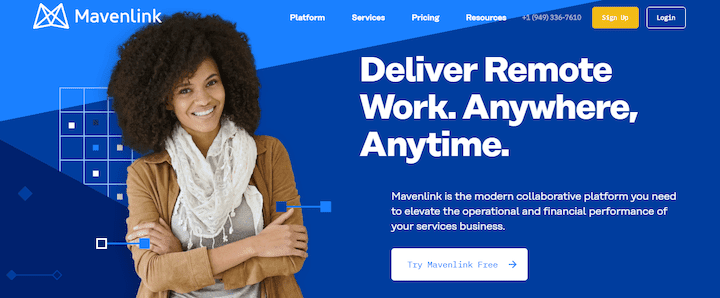 Software teams can easily manage their agile projects through Mavenlink. It offers a suite of tools for project management, team collaboration, project accounting, and business intelligence. The centralized dashboard updates you on the progress of each project on a single screen. Gantt charts, task lists, and threaded communication allow you to understand project details in greater depth. Access rights, budgeting, and third-party integrations let you help you manage your creative projects better.
Pricing
Mavenlink doesn't have a free plan, and paid plan pricing is available on request.
Clarizen Go is an enterprise management tool for agile teams. It lets you customize workflows based on your requirements. You can plan sprints, track progress, and view consolidated project status.
Clarizen Go can be integrated with its enterprise-level software called Clarizen One.
Pricing
Pricing details can be obtained by getting in touch with the sales team. However, you can go for a 30-day free trial before making a decision.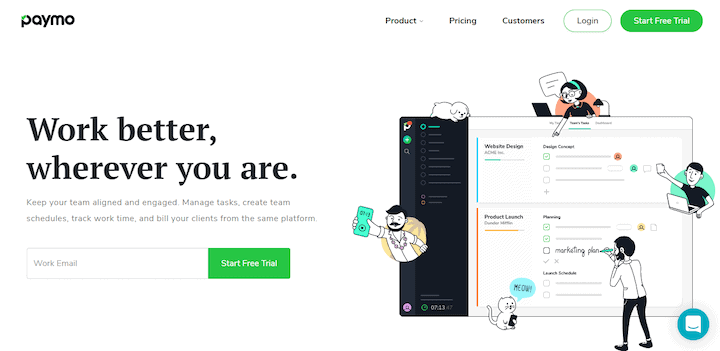 Paymo offers a project management suite of project planning, task management, resource management, financial management, and time management. You can import project templates, set up milestones, identify critical paths to finish tasks faster, track task duration, and visualize projects in various layouts.
Pricing
Paymo's premium plans start at $11.95 per user, per month, but Gantt charts are available in its business plan, priced at $18.95 per user, per month.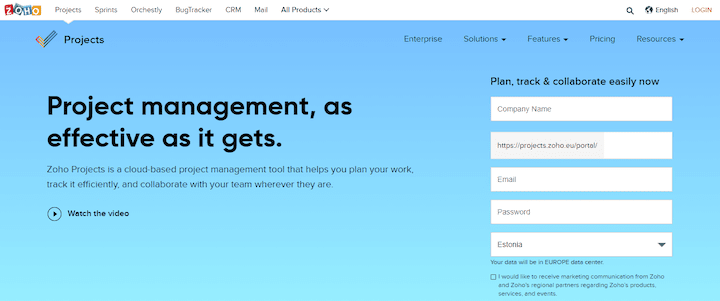 Zoho Projects is another easy-to-use asana alternative. The product offers a wide array of tools such as task management and automation, time tracking, issue tracking, etc. to manage projects. You can map out a project blueprint, identify task dependencies, and set up milestones. Zoho Projects offers Kanban boards and Gantt charts to view projects.
Zoho Project's free plan allows you to add three members, manage two projects, and offer the Gantt chart viewer. Its basic paid plan starts at $3 per user, per month.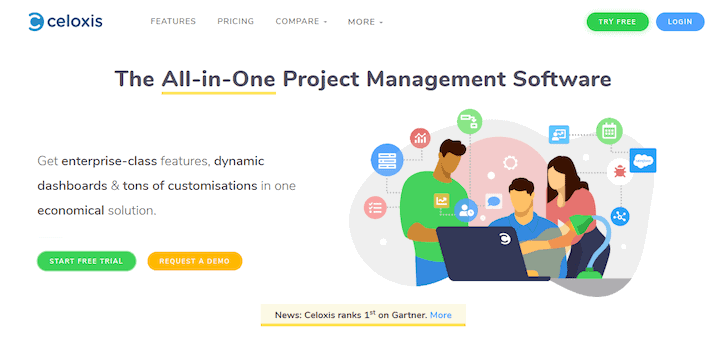 Celoxis is one of the alpha alternatives to Asana that adopts a multifaceted approach to project management. It comes with project, task, resource, and risk management, time tracking, and team collaboration. Users get role-specific dashboards and can drill down on each module to extract specific information.
Pricing
Celoxis offers only one premium plan billed at $25 per user per month with the requirement of five minimum users. The software also provides an on-premise variant priced at $450 per user.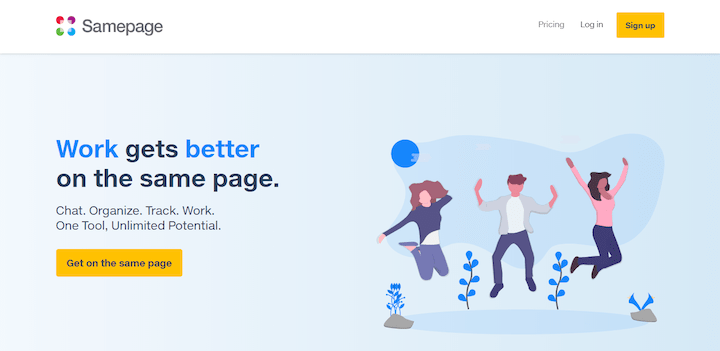 Samepage is a communication, project management, and online collaboration tool. It offers Kanban boards, pages, mindmaps, or spreadsheets to organize projects.
Users can assign tasks to team members, along with their due dates, priorities, reminders, etc. Teams can collaborate through chats and meetings.
Pricing
Samepage's free plan is useful for individuals or small teams. But for better collaboration, their premium plans starting at $7.50 per user, per month is recommended.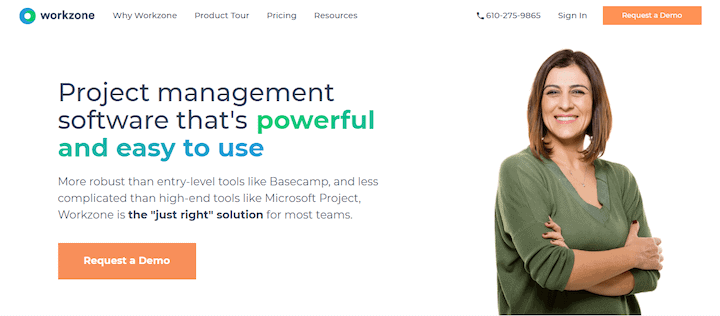 Workzone is useful for teams where a moderate level of complexity is involved. Users can start setting up projects with built-in templates, set up a personalized to-do list, map out task dependencies, and collaborate with team members. Status alerts show the progress/completeness of a task. Users can view projects in Kanban boards, timeline, calendar, and list layouts.
Pricing
Workzone charges $200 per month for team size between 1-4 and offers per-user pricing slabs for more than five users. The basic plan starts at $24 per user, per month. Overall, Workzone can be quite expensive if your requirements are not too intricate.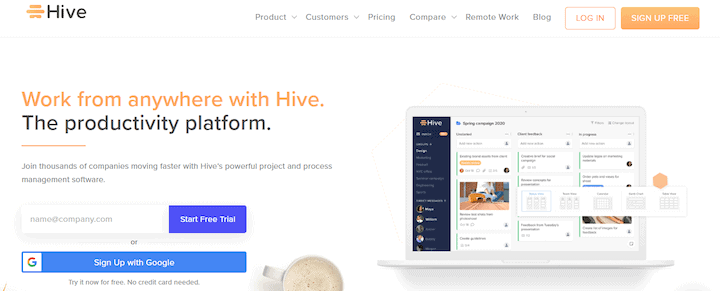 Hive offers tools to plan, execute, and analyze projects. Multiple layouts allow users to switch between Gantt chart, board, table, or calendar. You can create a personalized to-do list and set up automated workflows to streamline daily activities. Users can fill-out timesheets directly in Hive itself.
Hive charges $16 per user, per month for its core features and offers approvals, resourcing, timesheets, analytics, etc. as add-ons. The add-ons cost between $4-$6 per user, per month.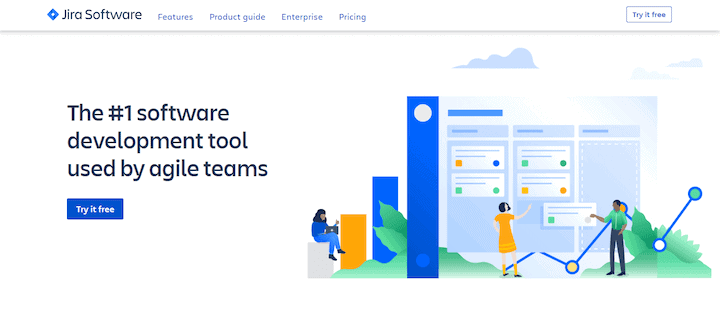 Jira is the least likely tool to be included on this list, considering it is prominently used by agile software development teams. Regardless, Jira consists of features similar to that of Asana, like project management, workflow management, and knowledge management.
Users can plan projects and track their progress using boards and timeline views. To manage your software projects better, you can combine Confluence with Jira.
Pricing
Jira and Confluence's free plans accommodate ten team members each. By combining the pricing for both apps, the basic plan will cost around $12 per user per month.

Considered as one of the closest alternatives to Asana, ProofHub feels like a cross between Asana and Basecamp. This means you can set up a centralized file repository and track version changes to make team collaboration easy. Also, users can leave feedback on files using markup tools.
Pricing
ProofHub doesn't have a per-user plan or pricing slabs. The basic plan costs $50 per month, and the ultimate control plan is priced at $150 per month.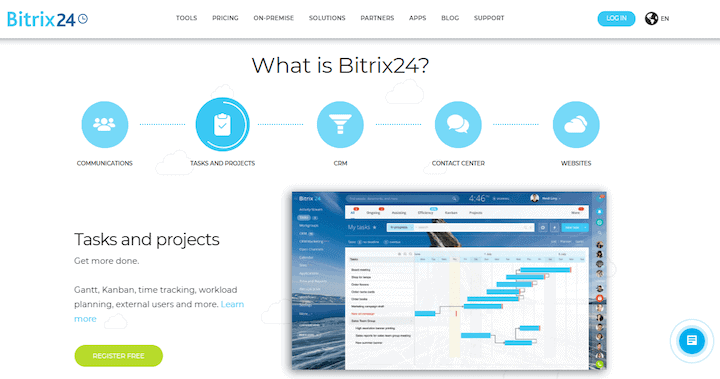 Project management is one of the many offerings of the Bitrix24 suite. The project management feature allows you to plan projects, manage resources, and track progress. It offers both – Kanban and Gantt chart views.
Within task management, you can track time, set reminders, and identify task dependencies. The collaboration module covers workspaces, team chat, document management, and video conferencing.
Pricing
Bitrix24 offers a free plan that lets you add unlimited tasks and projects. However, advanced collaboration features like delegation, team roles, task control, and supervisor view are available in its premium plans. Its paid plans range between $24-$199 per user per month.
Choosing From These Asana Alternatives
Shortlisting a solution from the list of 30 tools is a challenge. That's why, before you narrow down the list of Asana alternatives, weigh the pros and cons of Asana. Then, list down the specific requirements you need in a project management tool. We recommend you try out a few tools that suit your requirements.
Do also give Toggl Plan a try. It has everything you need to manage projects, from project planning to collaboration and communication. Toggl Plan is super-simple to get started with. And we're sure your team will love using it every day.