Whether you're a small team of freelancers or a large agency, your company needs a project management tool that fits your processes like a glove.
But how do you go about choosing one?
Before choosing a specific tool though, you need to decide on the type of project management software you need. And choosing from the many different project management software types can be quite a challenge.
To make it simpler for you, we've compiled this list of 21 different types of project management software and example tools for each type.
Let's dive in.
Types of project management software based on the use case
The first way to look at project management software is based on what you'll use it for.
Some common use cases include:
Project planning
Resource management
Portfolio management
Process management
Let's look at these types of project management software in detail.
1. Project and resource planning software
We've combined project and resource planning because it is necessary for project managers to manage project schedules and team calendars—without having to corroborate between multiple documents.
This is critical for growing digital service agencies that need to balance project delivery and profitability along with team workloads.
Here are some essential features of project planning and resource management tools:
Scheduling: Creating tasks and deadlines, assigning team members, and prioritizing projects.
Milestone creation: Determining the milestone for each project without changing deadlines or task details
Capacity management: Managing the resources and increasing efficiency
Availability and workload management: Checking the workload of each team member and planning deliveries accordingly
Integration with essential tools: If there are features missing such as time tracking, communication, billing, etc. external integration should be available.
Example: Toggl Plan
Toggl Plan facilitates project planning by enabling teams to interact directly with the project plan with drag-and-drop functionality.
As you seamlessly add and assign tasks and set due dates, every team member can see and interact with the plan and see how timelines fit together. This contributes a lot to efficient time management.
Toggl Plan combines all the essential features of an effective project management tool with visual resource planning. At a glance, you can see who's working on what and what's their workload.
As a result, you don't have to go back and forth consulting with other tools to see the availability of team members or plan capacity.
2. Project tracking software
You need to track project progress at a glance—but in a way that you can collaborate with your team, spot potential problems, and compare progress against your project plan or statement of work.
Project tracking software helps you:
Understand if you're on track to meet task, milestone, and project deadlines
Time tracking
Compare estimated vs. actual efforts and costs
Adjust plans quickly if you're not on schedule or within the budget
So you don't have to keep interrupting your team with "When will [task] be complete?" or "Is [team member] finished with that, yet?"
Examples: Toggl Plan and GanttPRO
We've already seen how Toggl Plan helps you stay on top of team and project schedules with visual, drag-and-drop timelines.
Toggl Plan integrates with Toggl Track to help you track the actual time spent on tasks. In addition, you also get a Progress Overview which shows you how your estimated and actual efforts compare.
GanttPRO leverages the Gantt view, where you can see each timeline within an overarching project, who's assigned to it, and its progress status.
The Gantt view enables PMs to zero in on projects and zoom out to get a wider context and maintain the same level of visibility for small and large projects.
3. Task management software
Once your project moves from the planning stage to the execution stage, you need a way to manage your team's tasks.
Task management software helps you and your team:
Create custom task workflows to match your project's needs
Know what needs to be done and when
Work together using collaboration features to get the task done
Task management is crucial for everyone involved in a project—your team needs to see what they're assigned to and when deliverables are due so they can plan their work.
Example: Toggl Plan and MeisterTask
You can manage tasks in Toggl Plan directly from the timeline or from a Kanban board.
Tasks are one-time or recurring and can have more than one assignee. Assignees can collaborate using file attachments, @mentions, and comments.
MeisterTask uses Kanban boards to enable Agile agencies to create, assign, visualize, and complete tasks collaboratively.
The Kanban board is a super useful tool because you can break projects down into granular tasks but also segment your workflow into sections and move tasks between them—for example, "to be assigned," "in progress," and "completed."
4. Project portfolio management software
The biggest challenge with large projects is the complexity of deliverables. This is essentially true for enterprise projects that require distribution among different teams by breaking it down into sub-projects.
In addition, large service companies work on multiple projects for a single client.
In either case, such teams need project portfolio management software to:
Align multiple projects for the same stakeholders
Plan, track, and report the progress of such portfolio projects
Identify where portfolio tasks are competing for resources
Manage timelines across the entire portfolio
Find opportunities to add more projects to the pipeline
Example: Jira Align
Jira Align is an enterprise-level, agile, project portfolio management tool. It comes with:
Connected roadmaps: real-time visualization of timelines
Resource allocation: comparing planned vs. actual capacity for each milestone— for the entire portfolio and individual team member
Work in progress: see a detailed breakdown of what's in the pipeline at the moment
It also features a helpful color-coded system so you can see what aspects of the project are on track or need investigation at the next team meeting:
5. Workflow management software
Your workflow management software is like your mission control. It's your team's daily system for managing their schedules, communicating with their colleagues, and smashing out their tasks.
Choosing the best workflow software means discerning what tool best suits your company's processes.
You want your software to fit your team's workflow like a glove so people aren't having to create workarounds or use arbitrary functions just so the software works.
Example: Process Street
Process Street leverages automation to take care of the mundane admin tasks and scale those repeatable processes—like hiring, onboarding, and creating briefs—so that your team can:
Achieve more in less time
Work more accurately and consistently
Dedicate more energy to the critical, revenue-enhancing tasks
Off-load tasks to junior team members
Methodology-based project management software types
If your team has expertise in a specific project management methodology, you may want to look at the below types.
You'll need to evaluate PM tools based on how well they fit with your approach to project management.
While you can adapt most off-the-shelf project management tools to suit various methodologies, some are more suited to a PM method than others.
6. Agile project management tools
Most PM tools have some Agile features. But there are very few Agile project management tools that truly embrace the methodology. And almost all such tools are built for software project teams.
Agile PM software comes with features for:
Backlog management
Agile estimation tools
Sprint planning
Work-in-progress limits
Burn-down charts
And other features that help implement Agile practices for Scrum and Kanban methods.
Example: OrangeScrum
OrangeScrum comes with all the Agile workflows you'll be familiar with:
Add and set priorities instantly in your backlog
Fuel daily stand-ups with time tracking and task progress available at a glance
Report on Sprints with quick reports
Customer-facing functions so you can keep clients in the loop
7. Kanban tools
Kanban tools are effective, visual task management tools for teams of all sizes, from single freelancers to small teams to large agencies.
They're highly customizable and perfect for remote teams because users can drag and drop tasks onto their schedule, then visually track their progress from "to-do" to "done".
So everyone knows exactly who needs to do what, what's in progress, and what's been completed.
Many project management tools offer a Kanban function. It's just a matter of what works for your company—and whether it costs extra to use that feature.
Example: Kanban Tool (also Toggl Plan and many others)
Get a real-time view of project progress with Kanban Tool by creating groups for each stage of the project, then breaking tasks down into "cards."
Then your team members can be assigned to each card and move the cards themselves as they complete their tasks.
This gives PMs an instant view into progress, making remote work a breeze.
8. Lean Six Sigma project management software
This type of PM software is for companies that follow the Six Sigma methodology to deliver projects.
Six Sigma is a set of management techniques intended to improve processes by greatly reducing the probability that an error or defect will occur.
Project managers, following Six Sigma, use qualitative and quantitative techniques or tools to drive process improvement. Tools include:
Statistical process control tools
Analytical tools for studying failure modes and their effects
Example: Traction
Traction is a leading cloud-based solution that facilitates all Lean Six Sigma capabilities and enables you to generate graphs and crunch data sets without using an external tool.
Project management software types based on industry
Different industries have different project management needs. These depend on how project workflows, visualization tools, integrations, and reporting functions are executed within the industry.
A way to assess whether a PM tool fits your industry is to look for case studies and testimonials on the website: Do those customers run businesses like yours? Do they define their processes using the same language?
Let's take a look at how project management software can support specific industries.
9. Creative and marketing PM software
Creative and marketing project management tools need to be simple. You don't want to spend your time translating PM jargon and figuring out how corporate project workflows work.
Project management software for creative and marketing agencies is:
Flexible to allow for the diverse types of projects your team will be working on at once
Focused on resource planning because your creative teams will be assigned to all kinds of tasks
Templated so beginner PMs can have a strong foundation to start with rather than building from scratch
Capable of initiating client sign-off by facilitating view-only dashboards with space to upload assets for client review
Example: Toggl Plan and Trello
Toggl Plan's simple, visual, drag-and-drop interface means anyone can use it. Plus, there's very little onboarding needed for your team. As a result, you spend more time delivering projects and doing more meaningful work.
Toggl Plan also integrates with Toggl Track. This helps you track the actual time your team spends on tasks and bill your clients accurately. Thus helping you deliver more profitable projects.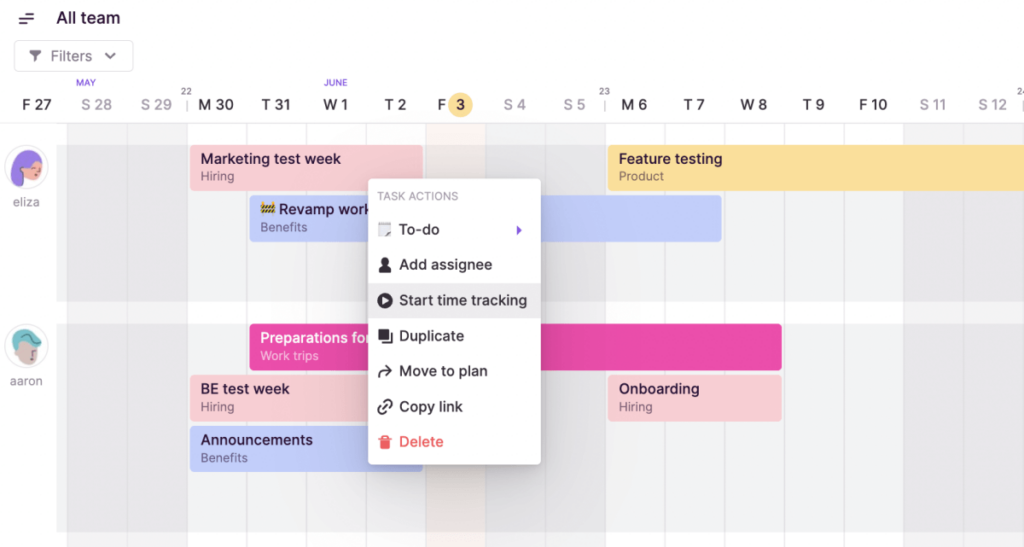 Trello is perfect for creative and marketing teams because it's built for flexibility, visualizing projects, and team collaboration.
Trello boasts a library of customizable project management templates for marketing teams—such as campaign planning, editorial calendars, and email workflows.
This balance between flexibility and out-the-box workflows is perfect for creative and marketing PMs who don't necessarily have formal project management experience.
10. Construction scheduling and management software
A construction project management software facilitates planning, managing, and tracking construction activities with features, such as:
Document management and gathering
Bid and budget management
Accounting, invoicing, and payroll integration
Workflow automation
Resources management
You should aim to integrate as many of these functions into one platform so you're working in one mission control without skipping between programs.
This saves money and keeps your team organized—losing documents in your inbox can spell disaster if you miss the deadline for a bid.
Example: Autodesk Construction Cloud
Autodesk Construction Cloud is a purpose-built project management and scheduling system for construction teams.
Autodesk balances the ease of off-the-shelf software with the fits-like-a-glove nature of custom. So you can choose a solution that fits your business and your role—residential or commercial, designer, or owner.
It connects every stage of your project, from design to planning, building to high-level operations—so you get full visualization of progress, data, and insights from every team.
11. IT and software project management
Whether you're in corporate IT or managing a software build, your PM tool should facilitate your processes such as:
Assigning and tracking tasks
Managing billable and non-billable expenses
Visualizing development stages and roadmaps
Setting up reminders for regular maintenance
And you'll want to find a platform that fits your project methodology, whether that's Agile, Waterfall, Hybrid, etc.
Let's take a look at an example.
Example: Backlog
Software developers will be relieved to find Backlog, a PM tool built solely for IT and software engineering teams.
Backlog features clever project visualization and task management tools, such as:
Gantt charts
Burndown charts
Kanban boards
But also facilitates specific jobs within the platform, such as:
Bug fixing workflows
Code collaboration and storage
It's the perfect tool for remote software development teams to manage their projects without switching between programs and focusing on delivering software.
12. Nonprofit project management software
If you're running a charity, you should build your project management tech stack around:
tracking your budget
managing your resources
tracking documentation to stay compliant
And, of course, you'll need software that is simple to use even for non-technical project managers.
Example: Toggl Plan
A focus on resource planning, time tracking, and effortless billing make Toggl Plan a great project management system for nonprofits.
Here's how our features can help:
Manage multiple project schedules with Gantt charts that integrate tasks, time-tracking capability, and collaboration between remote team members
Use the built-in Toggl Track feature to monitor resources and manage your budget accurately
Plan, manage and track volunteers by inviting them as guest users on a project
Did we mention we offer discounts for nonprofits?
Types of project management software based on business size
It's hard to get a perfect balance, but your project management software should fit your business's size and growth goals.
Don't overcook it. But allow room to grow.
It's a matter of cost efficiency and simplicity. But it's also about thinking ahead to ensure you're happy to pay for more seats and functions as you scale your business.
13. Freelance PM software
When you're freelancing, you're wearing all the hats: worker👷, project manager🎩, accountant 🎓, and CEO🧢.
So your project management tool should help you do all of those things, so you can focus your time on smashing out high-paying projects.
This is what freelancer project management software should include:
Integration of task planning, time tracking, invoicing, and reporting
User-friendly and easy-to-use mobile app so you can update projects on the go
Supportive help desk, so you learn how to make the most of the tool
Free plans and cheap paid plans!
Example: Paymo
Paymo is one of the best freelance project management tools because it puts the working and the "getting paid" parts together.
It seamlessly integrates time-tracking, invoicing, and task management, so you spend less time ducking between apps and more time being a boss babe.
Paymo is the perfect balance between customization and template—you can choose the workflows you like best (calendar, board, or list) without having to sweat over building your own complex project management system.
And in just a few clicks, you can turn your personal timesheets into professional client-facing invoices—and your clients pay you through Paymo using 85+ currencies, online banking, Paypal, Stripe, or Authorize.net.
14. Team PM software
Using project management software as a team is more than just having numerous people accessing the same platform.
Within your team, people have different:
Roles and responsibilities
Schedules and time zones
Levels of access to sensitive company or client information
So choosing the right project management tool should come down to how well it facilitates the collaboration and segmentation of your team.
Example: Monday.com
Monday.com is a tool for remote teams because it enables both controls over access permissions (including file sharing) as well as collaborative communication.
As your business grows and you expand your team, you can add them to your Monday boards and control what boards they have access to and what projects, tasks, and items they can see.
Every item you create on Monday contains the option for teams to comment, "like," and "tag" people in the item to discuss the task or project. It also sends notifications to the team members involved.
This is one of the best collaboration tools for remote teams and projects where multiple people are working together—and as PM, you get a birds-eye view of how your team is collaborating.
15. Enterprise project management software
At the enterprise level, everything happens at scale and with a high degree of specialization: teamwork, project portfolios, tasks, timelines, and reports. At the same time, you need sophisticated security to ensure legal data compliance.
And often enterprise project management tools are for technically-trained project managers.
As a result, you need a robust project management tool that accurately tracks your project costs, budgets, and scope in a way that gives each specialized team everything they need to get on with their work.
Example: Microsoft Project
Microsoft Project suits enterprise-level teams already investing in a suite of Microsoft tools, like Microsoft 365. It makes sense to keep all your tools under the same roof, and that roof might as well belong to Bill Gates.
This is what sets Microsoft Project apart as the best PM tool for large teams:
Backed by Power BI: visualize and interact with projects at a granular and helicopter level
Customizable: build workflows on desktop and mobile that fit your processes like a glove using Azure—the world-class cloud-based system for enterprises
Integrating: all your documents, processes, workflows, and portfolios into one single source of truth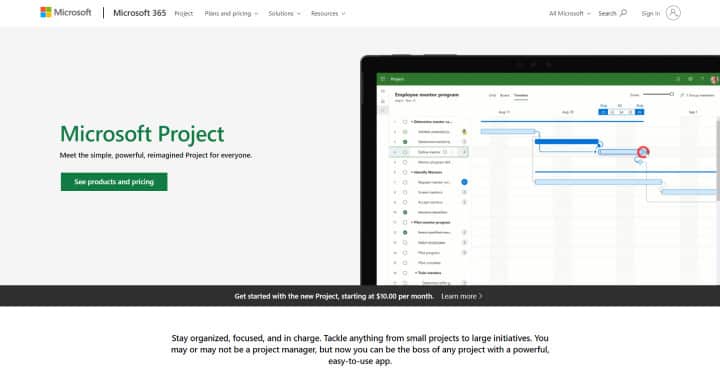 Types of project management software based on P3O guidance
P3O—Portfolio, Programme, and Project Offices—is a framework for managing projects and organizational initiatives that are focused on:
Improving decision-making on strategy, prioritization, and risk management
Optimizing and maximizing business outcomes (it's all about the bottom line, baby)
Delivering projects on time, on budget, and at the highest quality
What that means in real life is that the organization has a person or group responsible for delivering projects in a standardized, consistent, and cohesive way.
P3O guidance tells us there are three types of project management software:
16. Individual project management tools
Desktop software that's only used by one person falls under this category. It's not shared across devices and has no collaboration features.
Microsoft Excel is a classic example of an individual project management tool. Similarly, older versions of MS Project and its desktop-based alternatives can be classified as individual PM tools.
17. Collaborative project management software
Collaborative software tools enable multiple team members to work together on a project from their devices and access a "single source of truth."
PM software with collaboration features comes with the following:
Hosted online or in a cloud so it can be accessed from anywhere
File and document sharing
Approvals and feedback
18. Integrated project management solutions
Integrated project management software works at all levels in an organization:
Project-level
Portfolio-level
Organization-level
Such solutions are hosted on a company server or (more commonly) on the cloud. Users log in using their credentials and access projects according to their access level. Information is presented in dashboards and is often hierarchical.
Project management software types based on platform and device
Most project management software is online, cloud-based, and classed as SaaS.
But some companies are still running on-premise systems. 🧓
It may sound outdated to most of us, but sometimes, there are good reasons to stick to on-premise software. For example:
Solutions custom-built for organizations that don't work remotely
Software for organizations that work on government projects
Project management solutions for research projects
Let's take a look at how desktop, online, and open-source project management match up.
19. Desktop vs. online PM software
Desktop project management tools are single-user applications, so they're only used in teams with just one project manager. While these tools can import/export project data, working collaboratively is extremely cumbersome.
On the other hand, online PM software is hosted either on an in-house server or the cloud. This improves the collaborative capabilities as multiple people can now access project data. However, this comes at a cost—online project tools lack the features and computing capabilities of desktop-based tools.
In most cases, online project management software is a far better option than desktop.
We've broken down the pros and cons in more detail for you:
Example: OmniPlan
Omniplan is a desktop project management tool specifically for Mac and iOS.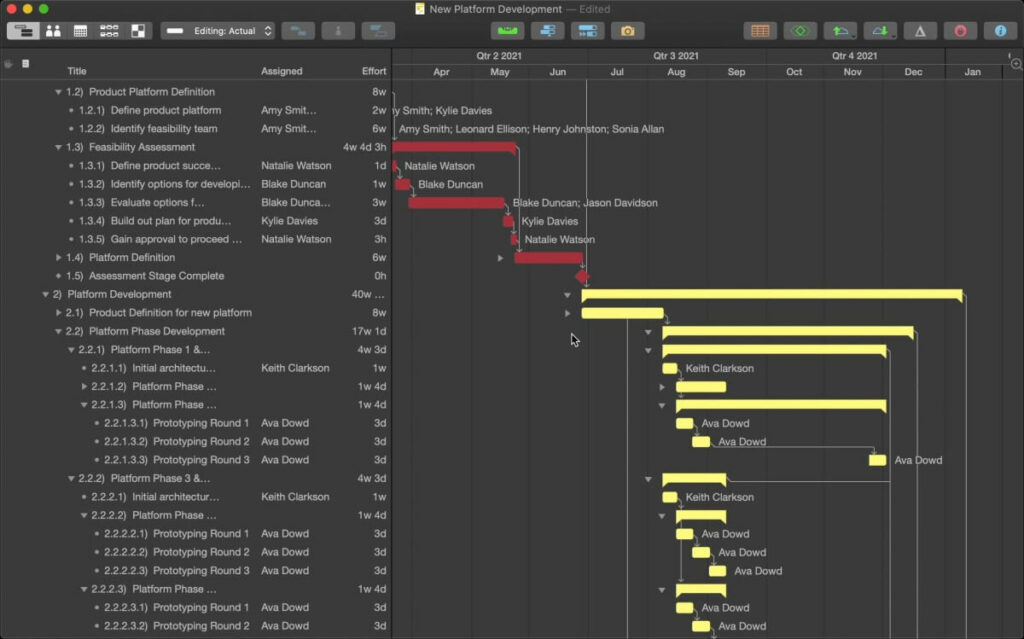 It's a highly detailed project management system with a focus on managing teams and keeping track of multiple projects at once.
Some of OmniPlan's standout features include:
Automated and recurring schedule creation, including tasks, dependencies, constraints, and assigned resources
Capability to automatically identify and resolve impossibilities, like being overcapacity or setting illogical timelines
Track, reject, accept, and collaborate on changes to projects made by others in your team
Synced across all your Mac and iOS accounts—protected by Face ID and Touch ID and integrates with Apple Pencil and Siri
The level of intelligence, customization, and collaboration offered by OmniPlan makes it a solid option for government teams—as long as everyone uses Apple products.
20. Open-source project management software
Open-source technology is publicly accessible, so it can be constantly innovated and improved upon.
By definition, anyone can download and use it, often for free. And they can customize it to suit their unique needs.
However, most open-source PM software is self-hosted.
That means you're responsible for its running and maintenance, so you might need to designate a separate team to maintain open-source software.
Example: OpenProject
OpenProject supports all kinds of enterprise-level project management teams—traditional, Agile, and Hybrid. It's available in over 30 languages and facilitates:
Portfolio management
Project planning and scheduling
Task management
Agile Boards
Feature-wise, OpenProject is fairly standard as a project management tool.
21. Excel project management templates
Ahh, Excel. Old faithful.
Sometimes, instead of using a tool, all you need is Excel for project management.
Home projects, freelancers, and small businesses run on Excel (or Google Sheets) simply because:
It's available—no need to purchase new software
Most people already know how to use it—no onboarding is needed
Comes for free with MS Office/GMail—no need to spend money
Using Excel for project management is a low-cost way to become confident with project management concepts.
However, when you start juggling multiple or slightly larger projects, things can get hairy very quickly. And you can't really collaborate—unless you use Google Sheets, and even then, it's unclear and messy.
What's the best type of project management software for you?
The best project management software depends on your specific needs, so here are some deeper questions to ask to help you further refine your contenders:
Can you afford it and justify the investment based on the potential ROI it will bring?
Do you like the design, and does it make sense right off the bat?
Does it integrate with your current tech stack or with tools you plan on using?
What does your team think?
How long will it take to roll out the new system—will you need to create in-depth documentation, run the new with the old system side-by-side, or make the switch instantly and see how it goes?
Can you see this tool enabling you and your team to do better work, earn more money, and work together in a more meaningful way?
Don't be afraid to reach out to the company's support team, book a demo, or just hit them up via email or LinkedIn to ask them more contextualized questions.