When you're in charge of a busy team, workflow management software is like the amazing executive assistant you wish you had. It acts as a conductor between your plan and the actual workflow, keeping everything flowing smoothly. When the workflow is automated, the project unfolds in a logical order while remaining flexible enough to accommodate unexpected opportunities or changes.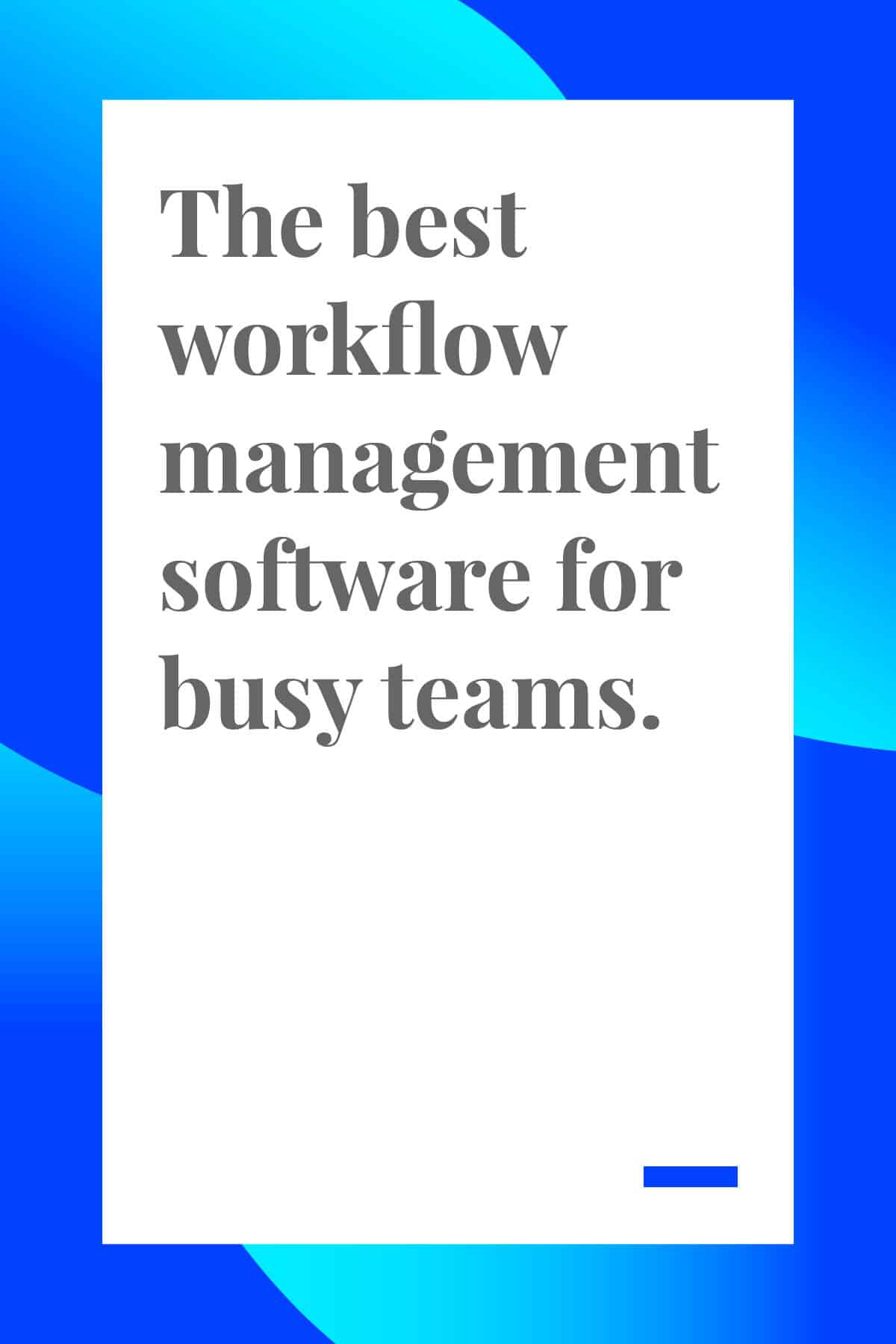 Other benefits of workflow management software include:
Takes over repetitive tasks.

Automated workflow capability frees your team members to focus on more complicated, non-repetitive project tasks, which can increase engagement and keep the project on schedule.
Streamlined workflow.

Workflow management software can provide important insights into process efficiency. For example, color-coded Gantt charts make it easier to spot opportunities to accomplish two tasks simultaneously instead of one after the other.

Better team communication.

Software that produces a clear and easy-to-follow schedule allows your team members to know exactly where they are in the project cycle and what needs to be done next, enabling them to be more proactive. You can also make sure that everyone is immediately aware of any changes in scheduling or guideline updates.
The best workflow management systems make it possible for busy teams (and busy project managers) to produce quality deliverables on time and within the client's budget. Here are some acclaimed software solutions to choose from.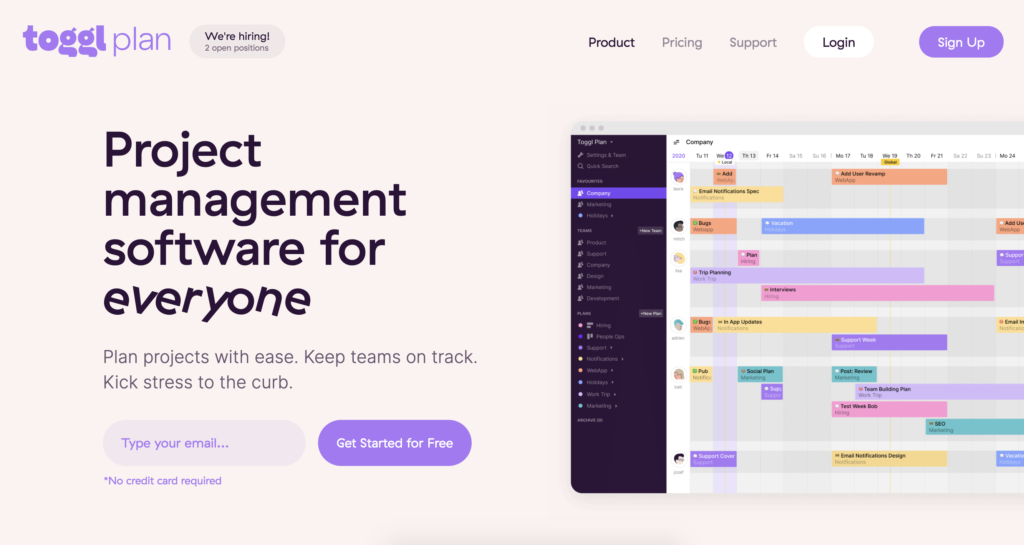 Toggl Plan describes itself as a "lightweight, easy-to-use app", but beneath all the simplicity is a powerful workflow management capability that has benefited project teams from companies like Disney, Buzzfeed, and Spotify. When you're managing a busy team that's working on a complex and high-stakes project, Toggl Plan will:
Provide you with an accurate overview of project status and progress, with color coding for improved visual assessment

Enable you to manage and assign all project tasks inside the

shared calendar

Alert you when one team member is overburdened and needs assistance

Let you change plans quickly via a simple drag and drop interface
Unlike some project management tools that require you to follow its native workflow format, Toggl Plan can be adapted to your scheduling and performance needs. One of its most valuable tools is the online Gantt Chart, which makes task scheduling and changing practically effortless. Updating schedules and informing team members of the changes has never been easier.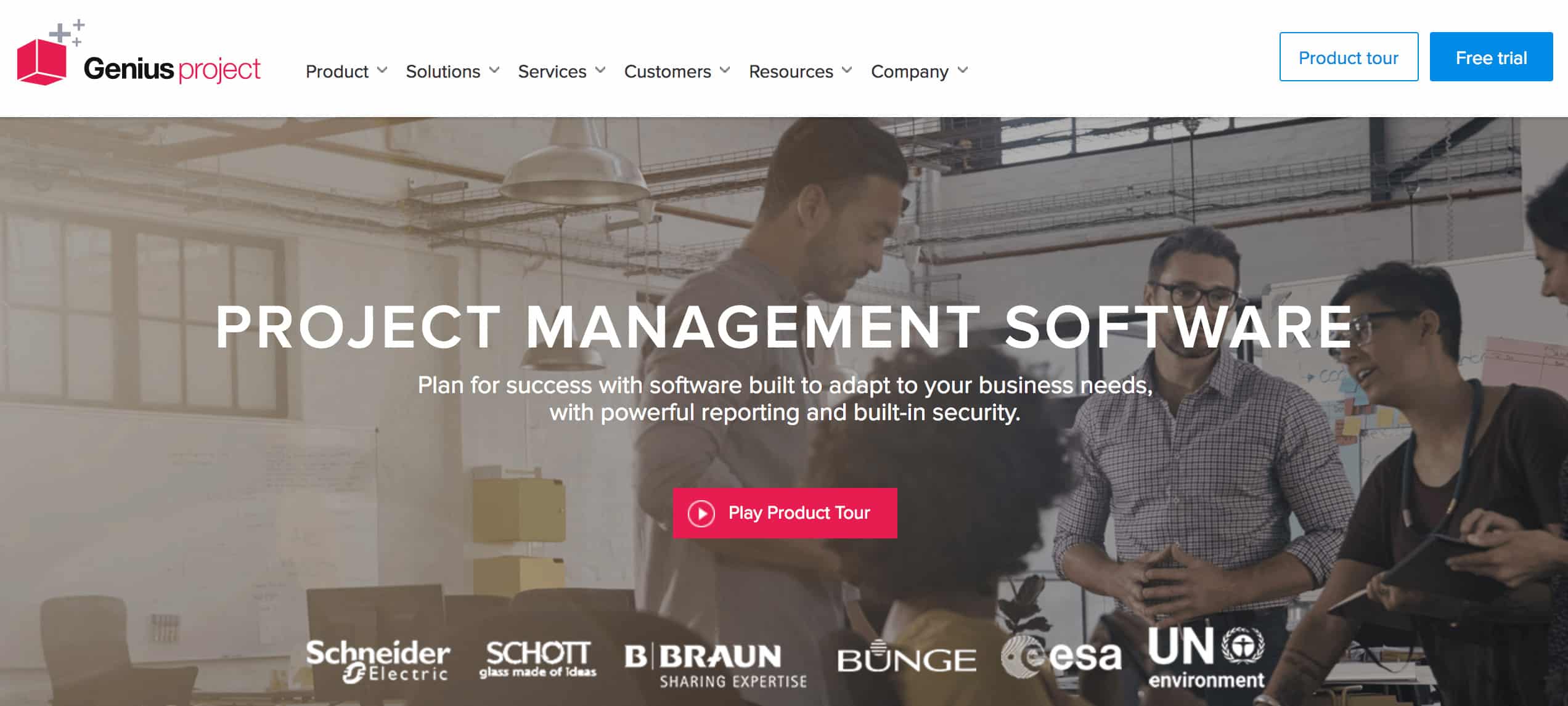 Genius Project is a flexible and easy-to-configure project management software with pre-configured workflows that you can adapt to match your team and project needs. Its role-based workflow manager supports complicated processes such as conditional information transitions, parallel revision and approval, and automatic data and document generation.
In terms of routine workflow management, Genius Project allows you to:
Provide each status category with a label that makes its function clear,

Convey specific instructions on how to progress to the next status level

Specify who will be responsible for a document as it moves to the next status

Create a series of actions that become active whenever a document enters, departs or is saved in a different status
Other useful features include a weekly workload scheduler that allows project managers to specify when each team member will be expected to work on tasks. It takes into account each person's existing workload as well as weekends and public holidays.

ProWorkflow is a web-based project management tool that lets you spend less time actively managing your workflow. Scheduling staff, tracking progress, and even rescheduling a task are all easy to accomplish using the project delivery tools. Other useful features include:
A Gantt-style timeline that provides an overview of all tasks and deliverables

A workload breakdown report that presents each team member's allocated hours, letting you know who is overloaded and who is available to assist them

A dashboard that displays what all logged-in team members are currently working on
One of the most popular ProWorkflow tools is the task template, which you can customize by allocating start and end dates, assigning staff, adding task descriptions, and indicating priority.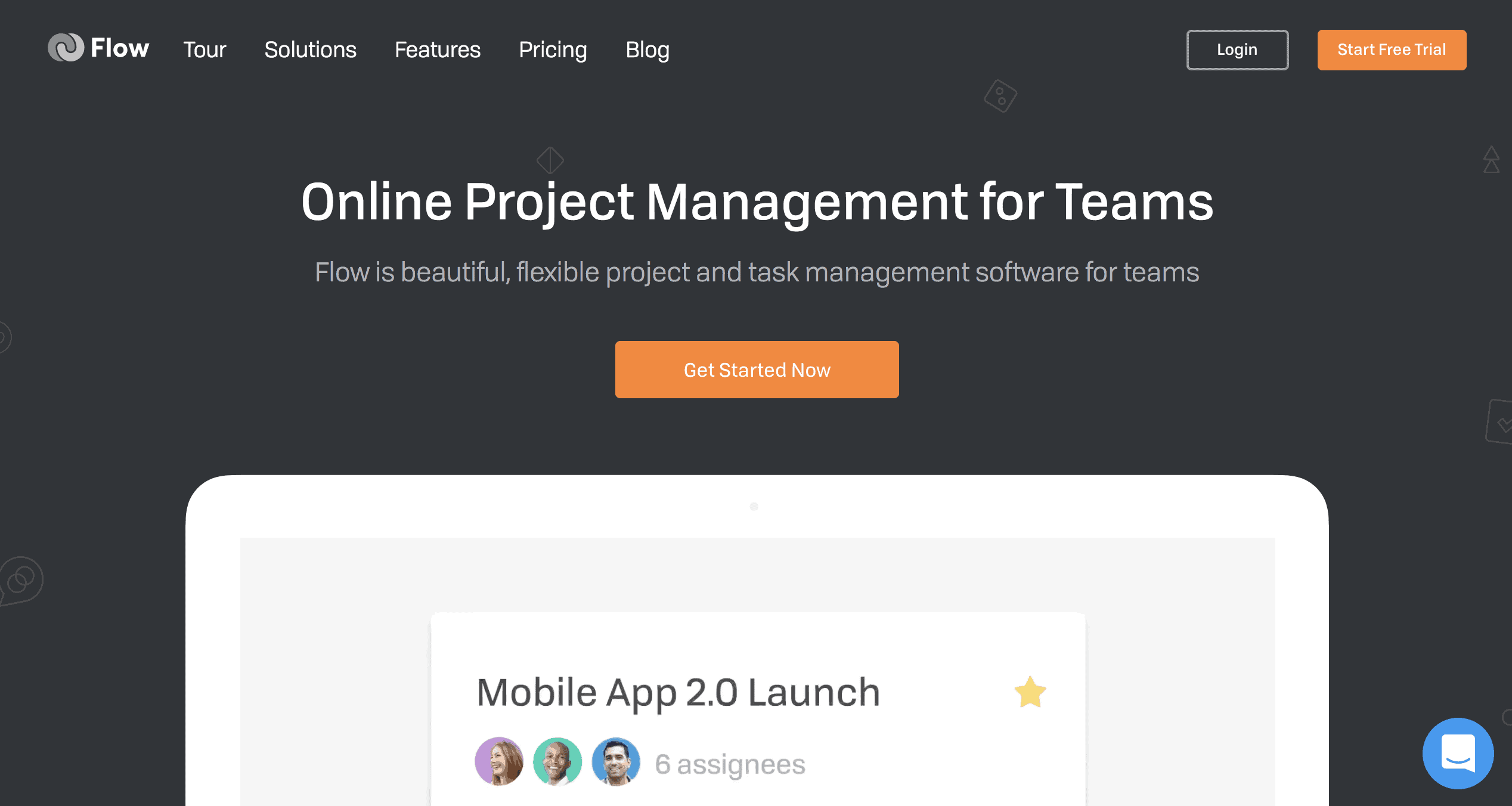 Another popular workflow management software, Flow makes it easier to plan projects, manage your team, and track tasks. From basic checklists to more detailed kanban boards, all workflow types and preferences are effortlessly accommodated. Examples of time-saving features include:
Easy duplication of project templates and recurring initiatives, which saves time if your team regularly works on the same project type

Create tasks that recur daily, weekly, and even monthly, so you don't have to input the same information with each new assignment

Add color to your project overview to categorize tasks, communicate status, and more.
If you are a Slack user, the /flow task command will create and assign tasks, specify due dates, and attach conversations, all from within the Slack app.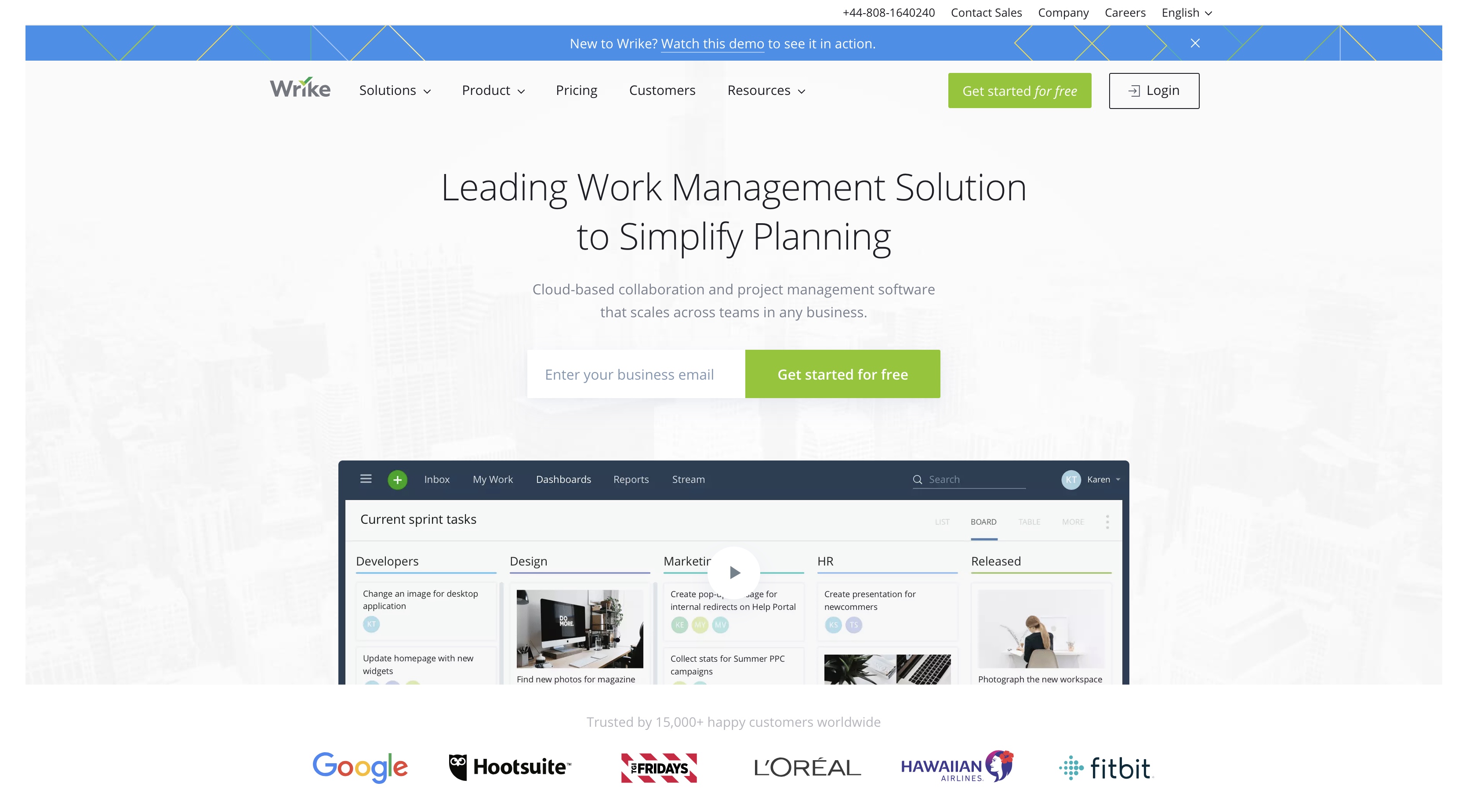 This cloud-based collaboration and project management software has been used by Google, Hootsuite, Fitbit, and other prominent entities. Its popularity is partly due to the flexibility and versatility of its platform. You can divide project goals into manageable pieces, complete with due dates and file attachment capability and use the scheduling feature to utilize resources more effectively and deliver more reliable results.
Some of Wrike's strongest workflow management tools include:
Templates that can be used to recreate common project resources, dispensing with the need to re-invent the wheel every time you receive an assignment

Timelines with tasks that link directly to associated work and keep the information up-to-date

A real-time feed of all project activity updates, providing instant status reports that dispense with the need for non-essential meetings
Wrike presents project managers with the means to turn their ideas and strategies into actionable plans without unnecessary extra steps slowing things down.
What's Your Workflow Management Solution?
If your current system is not accommodating the changing needs of the project management industry and you want to make a change, there's no better time than the present. The right workflow management software can take your career to the next level by empowering productive teams, creating quality deliverables, and exceeding the expectations of clients who will want to trust you with their business again and again.
Rose Keefe is an author and technical writer who has over ten years' experience in supporting project managers in the manufacturing and construction sectors. One of her primary responsibilities was developing product manuals that supported efficient use of industrial equipment. She continues to write on the subject of time management and commercial productivity for trade websites and publications.