Ever wished someone could simply take an idea out of your head and make it real? Well, that's the magic that a product designer brings to a business.
They create a solution for a customer problem and transform it into a product that customers love. And one that keeps 'em coming back for more.
In this article, we'll answer the most common questions asked before hiring a product designer!
What does a product designer do?
Product designers are responsible for the look and feel of a product for a company. These could be physical products, like a new hammock, or digital products, like the design of a new software app.
If we're talking about good product design for physical products, things like a Fitbit, iPhone, or something as simple as a hula hoop come to mind. Looking at excellence in digital product design, think of software like Babbel, Spotify, or Airbnb.
What do all these products have in common? Well, not only are they loved by their users, but they are also useful and simple to use (even for non-techie nerds)!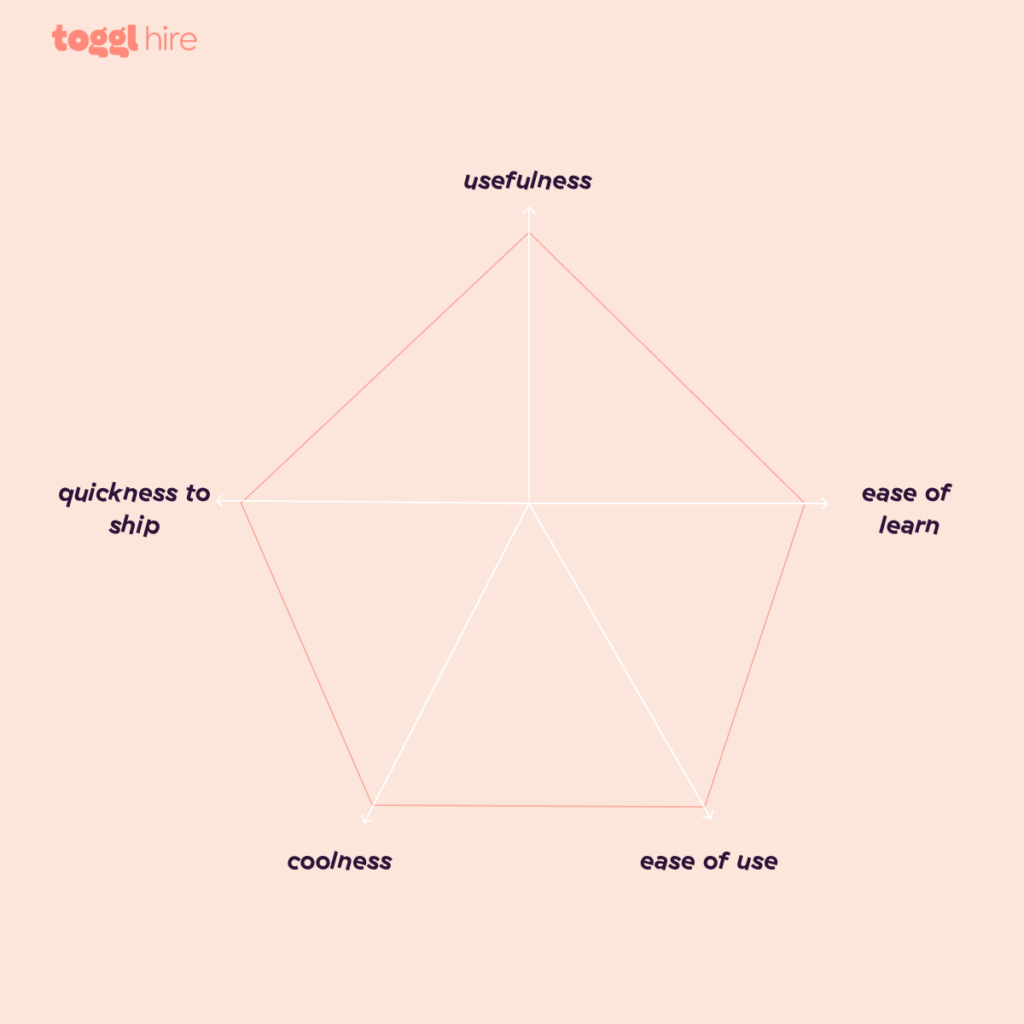 Note: While this blog focuses on digital product designers, many of the principles apply to physical product designers, too.
But what do they actually do?
Product designers will take a product all the way from the idea phase right through to adoption in the market using a blend of technical and creative skills. And, not surprisingly, the design process usually involves a whole team, rather than a single designer.
We led with our conviction rather than rational, because rational said it was impossible.

Daniel Ek, Co-founder, Spotify | Source
So, who does a product designer interact with? Along with working with CEOs (mostly if you're dealing with a startup), they also work closely with product managers, developers, QA and marketing, for instance. Their range of tasks could include things like we've listed below.
Typical product design tasks
Familiarizing themselves with the business requirements
Creating the product's technical specifications
User and market research to ensure customers love it and can use it easily
Creating a user journey map to visualize how users will use the product
Creating the design concepts and wireframes to support design iterations
UX and UI design to create a working prototype that's also visually appealing
Creating a style guide to ensure the whole team is on the same page
User testing to spot any problems faster
Developing a product roadmap to communicate the plan to internal and external stakeholders
Tools or tech stack used in the design process
To create their magic, product designers use various tools throughout the process. Many of these solutions cover more than one core function. Here are a few popular examples of these tools.
Ideation and wireframing: Balsamiq, Brightidea
Design: Figma, ZBrush
Prototyping: ProtoPie, InVision
3D modeling: Blender, Houdini
Manufacturing and engineering: Fusion 360, Autodesk Inventor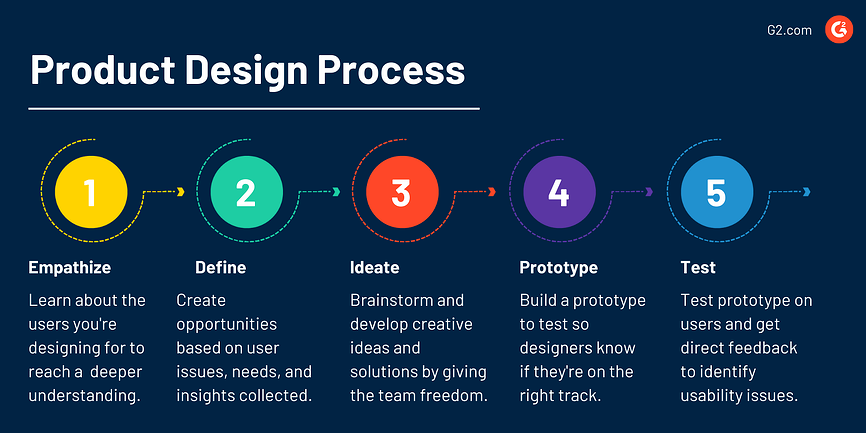 What are the different types of product designers, and which do I need?
There are many different types of product designers each with their area of specialty. Like we touched on earlier, product design usually refers to a team of people, rather than a single individual. Let's explore a few common roles that fall under this banner.
Product designer
A product designer typically encompasses a few of the roles mentioned below. Along with creating designs for the product, they're usually also involved in creating product goals, the product strategy and the product roadmap. And they're onboard from the start of the product idea to the finish of the design process.
UX designer
A user experience or UX designer is hands on during all the phases of product design. They conduct user research to better understand the users needs and ensure the end product leaves the users jumping up and down for more. This role is best to have onboard from the beginning of a project through to the product revision stage.

UI designer
The user interface or UI designer is the person responsible for how the product looks and is organized. It's the face of the product, and should attract users. This component usually fits in after the Empathize and Define stages.
Visual designer
A visual designer specializes in creating pixel-perfect prototypes along with creating visual style guides and icon libraries (similar to graphic design). They're key in the Prototype phase of the design process.
Graphic designer
Graphic design is another skill needed on the product design team. These creatives typically create digital marketing visuals such as logo, blog, social media or eBook designs. For a new product launch, they'll need to work closely with the product designers to create visuals that portray the product in a simple yet compelling way.
The unicorn
When you come across someone that is great at product design, plus another core skill in the process, such as front-end development, you've got a unicorn. They're involved throughout the product design process as they can transform design into live code.
So, do I need a product designer, or a UX designer?
You're not alone if you're not sure whether the business needs a product or UX designer. While both follow the same design thinking process and are involved in creating products, there are a few differences between the roles.
Product designers are involved throughout the design process, while UX designers typically only get their hands dirty with the design portion of the process, in refining the user experience.
Another common distinction between the two is that UX designers usually focus on developing products prior to a launch, while product designers focus primarily on updating products after launch.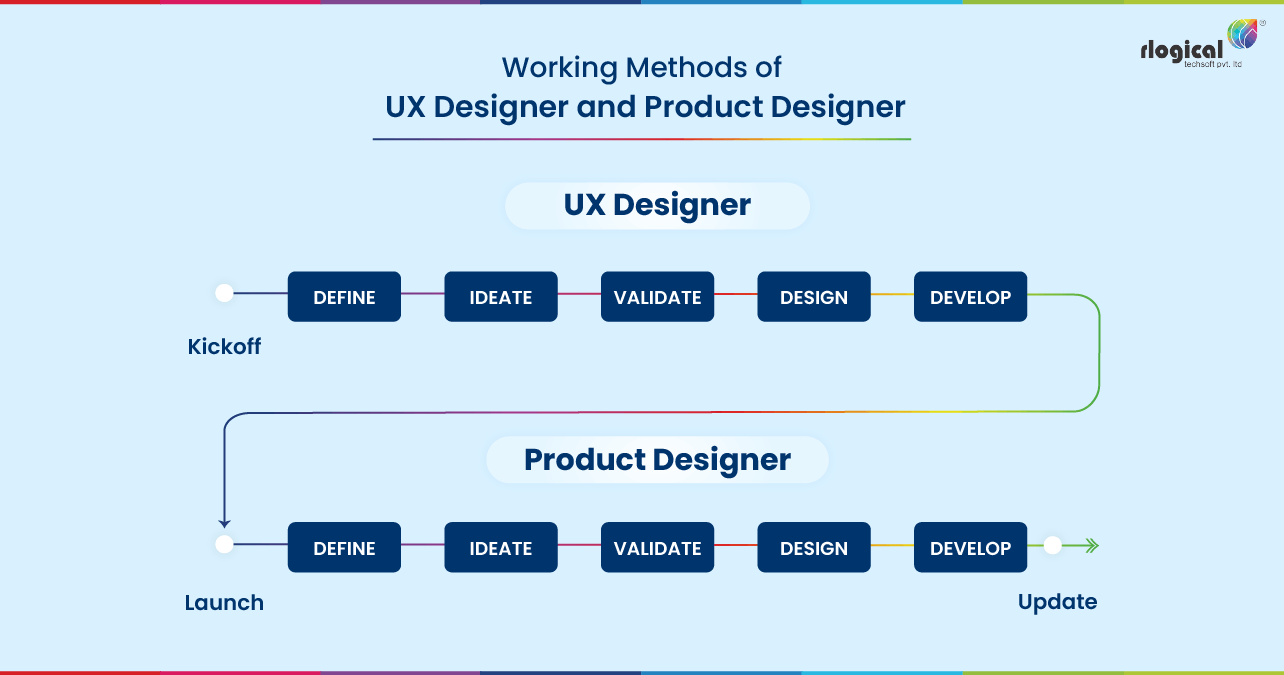 How do you know when you're ready to hire product designers?
That is a great question. Especially considering a lot of founders get heavily involved in creating the product from the very beginning. So it's difficult to know when is the right time to hand over their juicy, jaw-dropping idea!
But, there are a few things to consider that'll help you decide:
The size of your company
The stage of the product
The level of investment
The changing responsibilities of the founding team
Whether your organization is ready for a product redesign
According to Designmatch.io, these are a few common instances when you know it's time to hire a product designer:
You're developing a new product idea from scratch and would like to de-risk the process by working with an expert.

You plan to raise money with your prototype of MVP but have not considered usability in your designs.

Looking to obtain more market share and are planning new marketing initiatives.

Have received feedback around usability from your current customers and want to improve your product.

Do not hire a product designer if you're looking for your development team to make core design decisions.
Should I hire a freelancer or a full-time product designer?
Not only do product designers differ in the type of skills they offer, but also in how they offer those skills.
Depending on your business' requirements and your design systems, you may not need this new addition full-time, in which case hiring a freelance product designer might make more sense.
Hiring freelance product designers
Freelancers are a good bet if you need someone to get started on the project quickly. And you've also got more freedom to choose one that has the right experience and cost for your business. If your organization wants to develop several standalone products, or is revamping an existing product, hiring a freelancer would be a good option.
Pros:
Get started quickly
Can select the exact talent you need
Cheaper as they won't be involved throughout the design phase necessarily
Cons:
May not be as invested in your brand and goals (as someone full-time)
Newbies may need a lot of guidance and many changes to their work
Less control over the work
Cost:
Hiring a full-time designer
So, when would you need a full-time designer? If you've got an ongoing project or you're launching a new product, which you want maximum control over, employing a dedicated resource is likely best.
Pros:
More in tune with your business
More dedicated and invested in the success of the project
Smoother collaboration with the rest of the team
Cons:
Cost slightly more than a freelancer
May not have sufficient specialized knowledge or skills
Cost:
The design agency option
If your organization has the budget, but lacks the internal expertise or time to manage a freelancer, then an agency could be a good way to go. If you're talking long-term projects, you'll get the quality you need, but it comes at a higher cost.
Pros:
Excellent quality
Niche experience and skills
Faster delivery
Professionalism
Cons:
Highest cost option
Less control
Cost: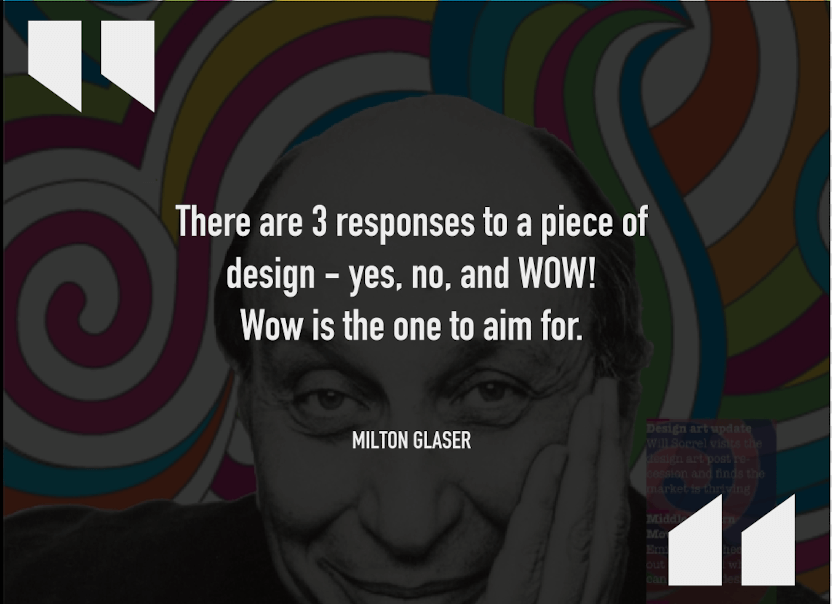 What should I look for when hiring our first designer?
Here's what to look for in that special someone that has the power to translate ideas into successful products:
candidates portfolios
Yes, you're looking for good design but also get info on the impact the designs have had.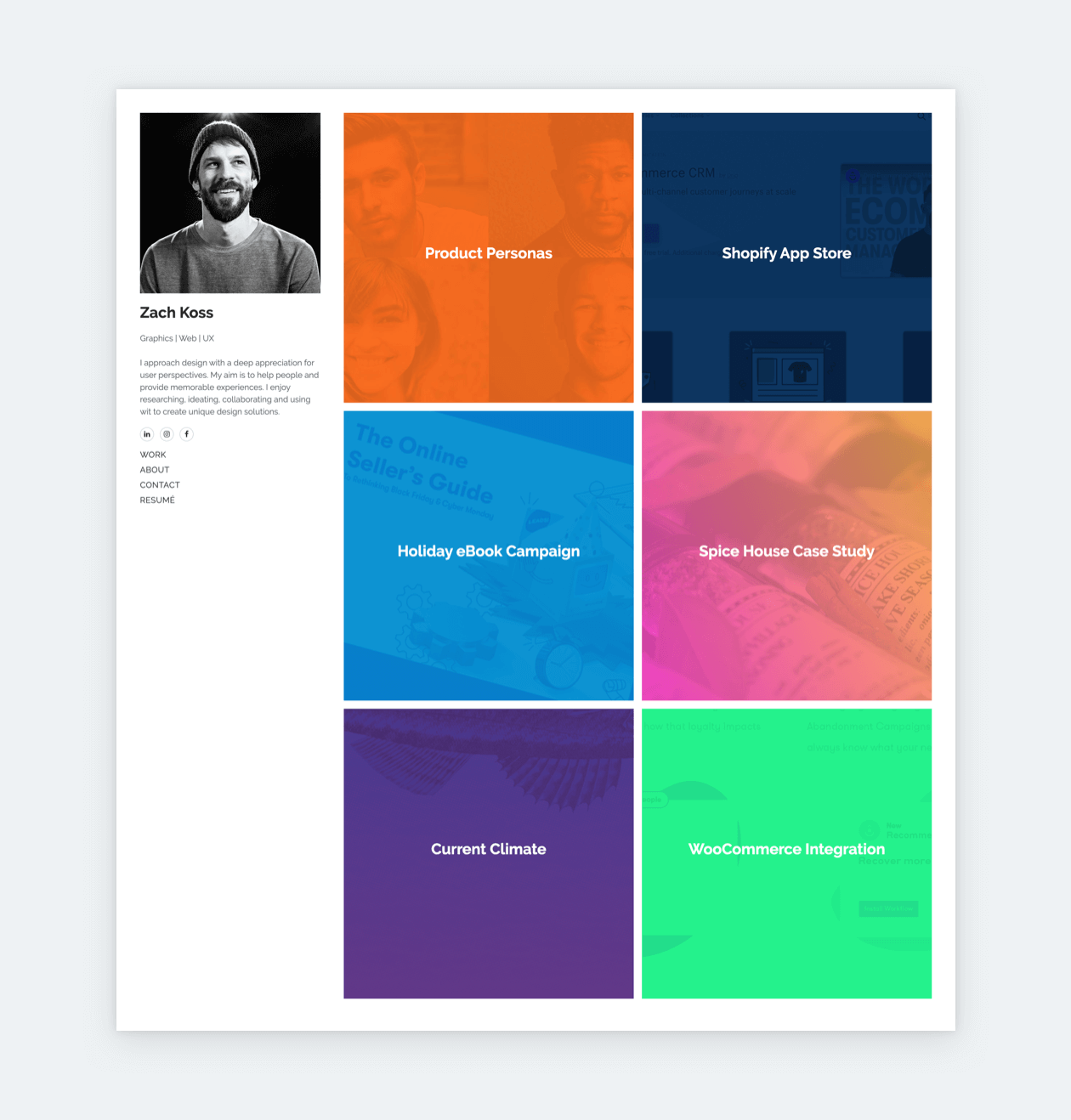 design process
You need to get a feel for their design process and assess their level of design thinking.
personality and culture fit
If you find a candidate that is a good culture fit and has the right soft skills too, they should be able to collaborate and get going quickly.
familiar with your type of business
If they've already done design work for a similar business, that's great news. Less time wasted grasping the core concepts, then.
Where do I find the best designers?
And now, let's take a close look at where these creative wizards can be found, from job boards to design platforms, social media, and more.
Job boards
Since this is a very specific set of skills, specialized job boards, like UIUXjobboard, or more general job boards, like Upwork will be a helpful source.
Design platforms
To get a closer look at their design talents, try design communities like Dribbble, Behance, Portfoliobox and Adobe Portfolio.
Employee referrals
Remember, it's highly likely that the current creatives in your organization know fellow creative geniuses that they can probably refer. Don't forget to lean on them, and reward them if their referral is hired — of course!
Socials
And then, the trusted 'ol social platforms that help with hiring like LinkedIn, Workable, and Recruitee, for tracking down potential product design wizards, creating job posts, and managing applications all from the same app.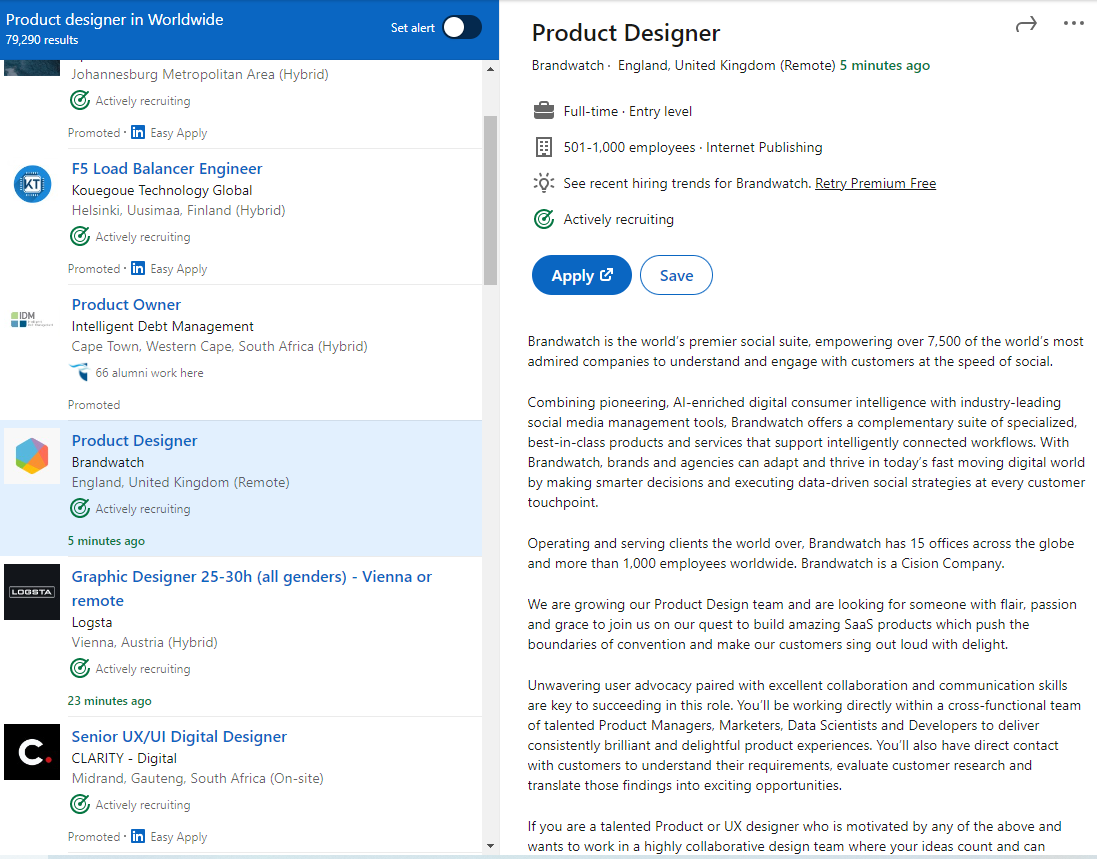 8 Tips when hiring a product designer
Hiring product designers that'll win over your target audience with their creative genius and the perfect product-market fit may seem like a complicated ask. But if you keep these tips in mind, you'll be good to go:
#1 – Craft a clear job description
And make sure you include all the relevant keywords candidates will be on the lookout for in the job description, plus core details like job title, summary, responsibilities, and employee benefits.
#2 – Choose carefully between freelance, full time or design agencies
Evaluate what your company really needs initially, and what you have the budget for.
#3 – Advertise and list the job in the right place
List your job post on social sites, job boards, share with employees, or create paid job ads. And hunt on portfolio sites for any potential design gems.
#4 – Don't expect any freebies
If you choose to work with a freelancer, don't expect any freebies from them. You're using their time, even for that one little small change. So respect their time, and they'll give you their best in return.
#5 – Simplify how you screen CVs and portfolios
When you get to this stage of the hiring process, where the CVs and candidates' portfolios are streaming in, ensure your hiring team has easy-to-use software to streamline the process and manage all the applications.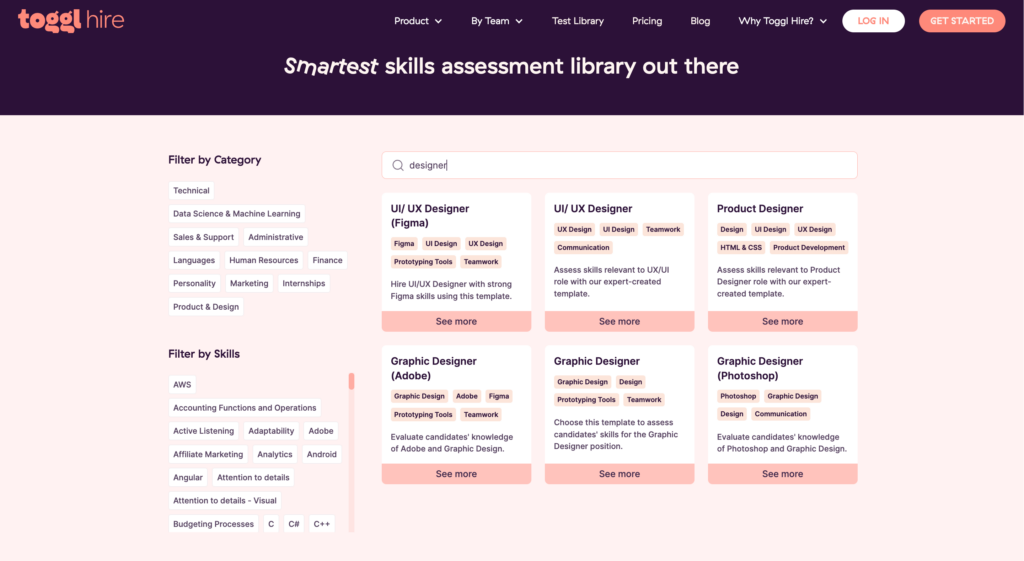 #6 – Don't decide based on portfolios alone
Don't allow yourself to be swayed by beautiful graphics alone. Ask them how their product designs have helped solve a user's problem.
#7 – Conduct skills assessments to speed up your hiring process
You can then filter out the top candidates with skills assessment tests. You should have them complete a design challenge, plus assess their soft skills like problem-solving to ensure your candidate is well-rounded.
#8 – Hire and onboard — fast!
Now the excitement really starts. You're making an offer to that talented product manager, senior designer or other product design specialist. And hopefully you haven't left them hanging for weeks, or practically ghosted them in between your hiring stages!
Design adds value faster than it adds costs. Joel Spolsky, web programmer, writer, and creator of Trello

Source
How Toggl Hire can simplify your next product designer hire
Still think that hiring the right designer for your company is complicated? Take a deep breath. With the right tools, we know your next design hire will be quicker and easier.
You'll get the right person that'll create innovative solutions — ones that transform customer problems into products that your customers can't resist.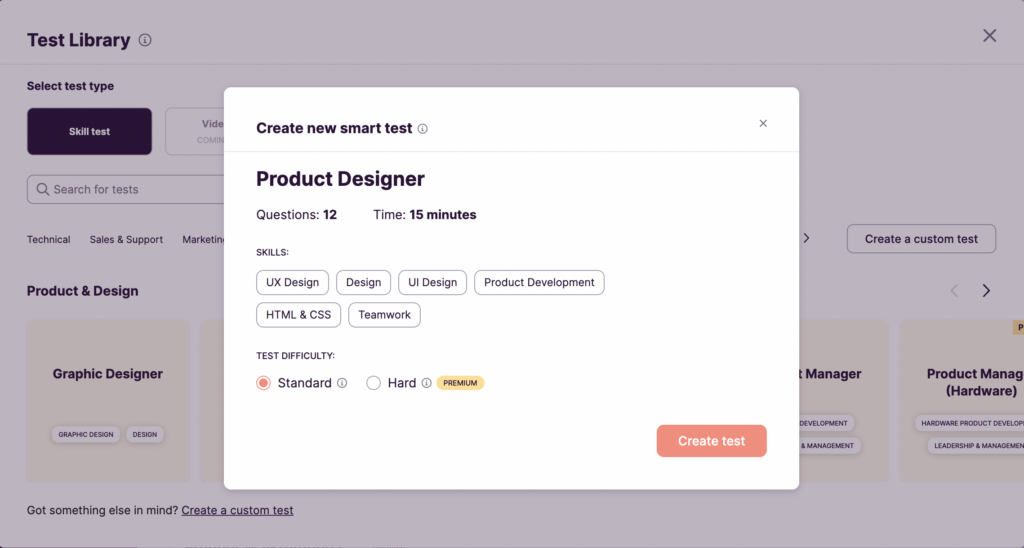 Well, Toggl Hire can help your team save stacks of time and get you closer to the perfect hire with our automated all-in-one skills assessment platform. You can screen, assess and hire in just a few clicks!
Juste loves investigating through writing. A copywriter by trade, she spent the last ten years in startups, telling stories and building marketing teams. She works at Toggl Hire and writes about how businesses can recruit really great people.