Today you'll learn about the top creative project management software tools, their differences, and their pricing options. And if you're looking for a tool to manage your creative projects, you'll have a shortlist to try out by the end.
We've already written about the different types of PM tools. Creative project management tools are one such type.
Creative life carries unique challenges:
Creative work is harder to estimate and evaluate
Resource and schedule changes are a constant
Collaboration is challenging, especially remotely
Project management for creative agencies is different from a manufacturing or software development company. As a result, agencies need flexible tools that enable them to make changes quickly and work together from anywhere without hindering their creativity.
Ready to dive in? Let's go.
Toggl Plan is a flexible planning tool that's a level up from Excel, but not as complex as Jira or Asana. It comes with:
Team capacity, availability, and workload planning
Project and milestone planning and tracking
Flexible task management
Time tracking with Toggl Track integration
How to plan team capacity, availability, and workload in Toggl Plan?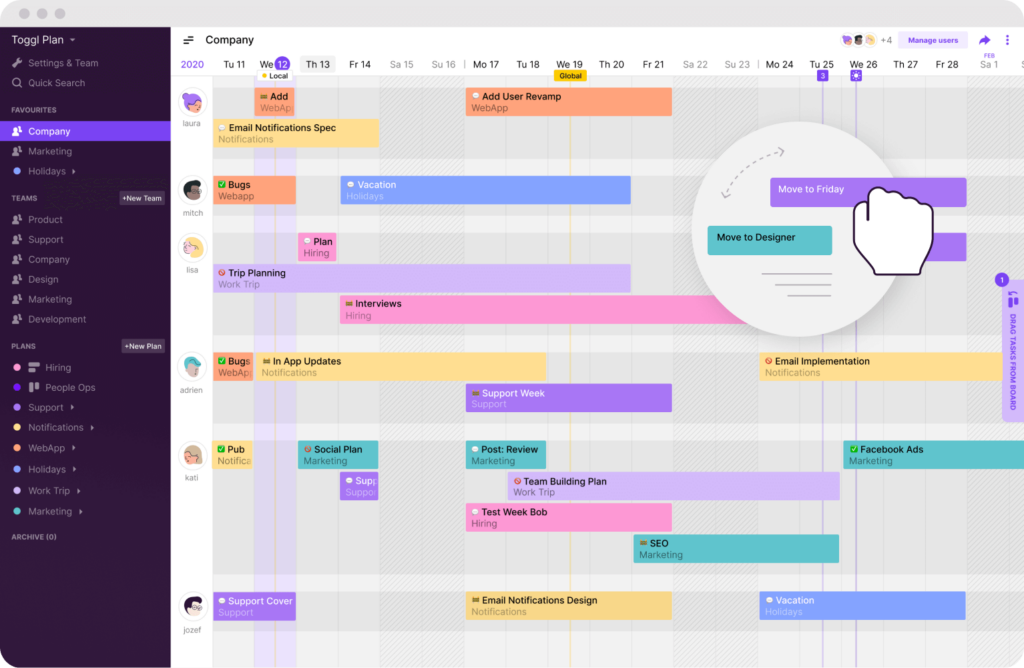 Using Team timelines, you can plan your entire team's schedule and workloads in just a few clicks.
Create unlimited Team timelines to see your entire team's schedule and workload in one place
Visually manage your team's capacity to take on more work
Track your team's availability and avoid scheduling conflicts during off time
See daily workloads and rebalance to ensure no one is over or underworked
Get a long-term view of a quarter or even the entire year
How to plan and track projects with Toggl Plan?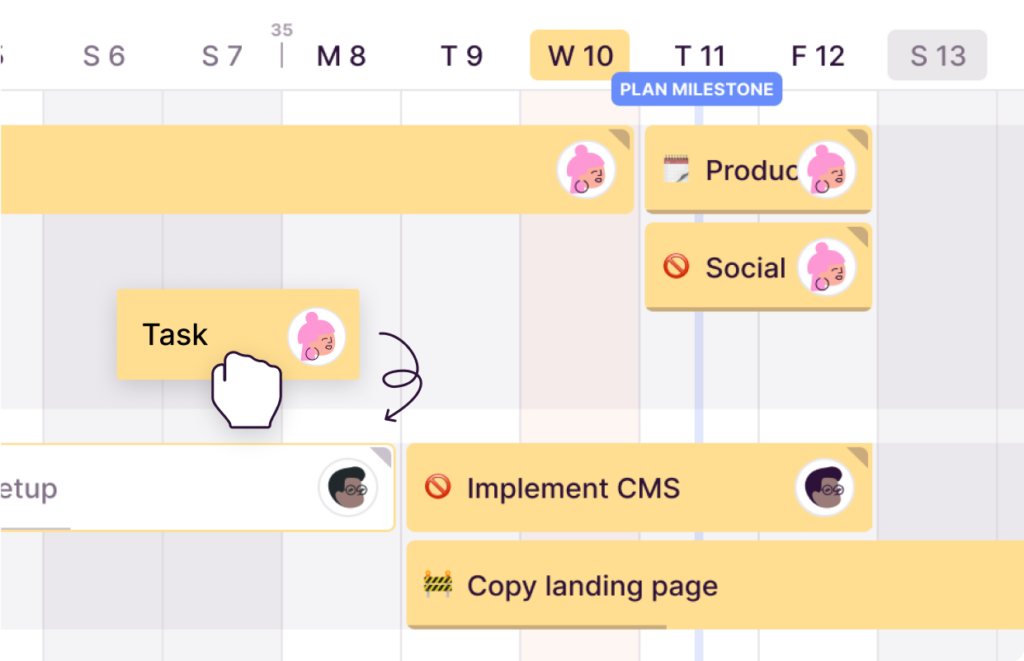 Using Project timelines, you can plan a project's schedule and quickly adapt to schedule changes when necessary.
Create unlimited color-coded Project timelines
Schedule tasks, assign people, and update task status with simple drag-and-drop
Create color-coded milestones and visually track progress
Zoom in on a week or get an overview of a month, quarter, or year
Track planned vs actual efforts and task completion rate to monitor project progress
How to manage tasks with Toggl Plan?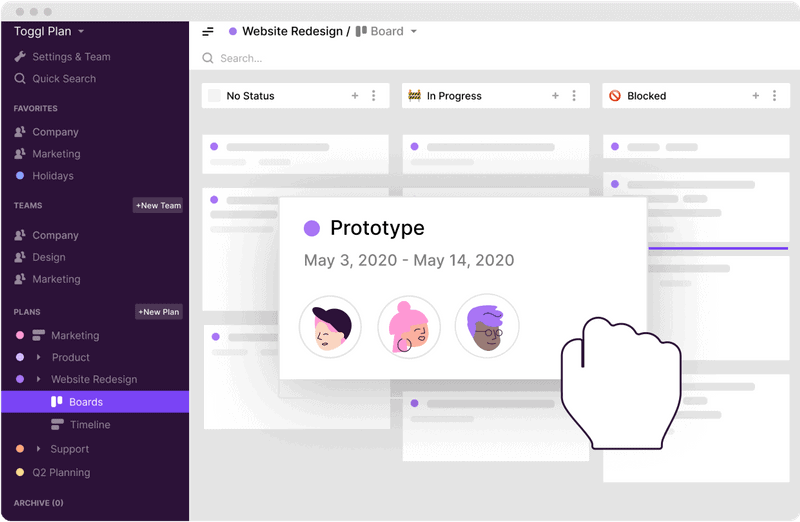 In Toggl Plan, you can manage tasks directly from the Team/Project timelines or use simple Kanban boards.
Create one-time or recurring tasks
Create custom task statuses to customize your task workflow
Drag and drop tasks across columns to visually track task progress
Assign a task to more than one team member
Collaborate using task comments, file attachments, and checklists
How to track time with Toggl Plan?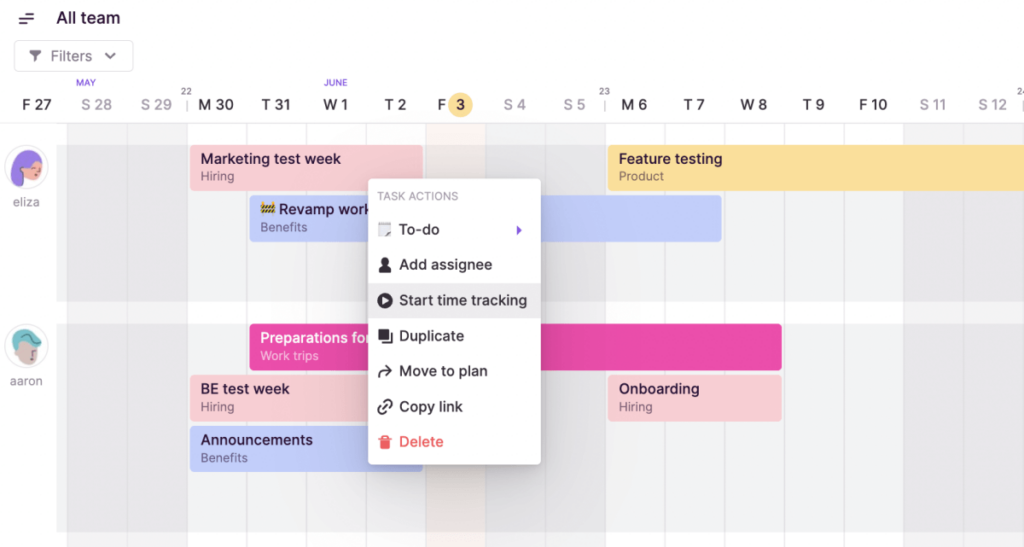 Using the Toggl Track integration, your team can track time spent on tasks. Then you can easily generate reports from Toggl Track and bill your clients accurately.
Here's how it works:
Sync clients and projects across Toggl Plan and Track
Create time entries in Toggl Track while tracking time directly from Toggl Plan tasks
Generate timesheets in Toggl Track.
Toggl Plan pricing
Paid plans from $9 to $15 /user/month with a free 14-day trial
Free plan for solo users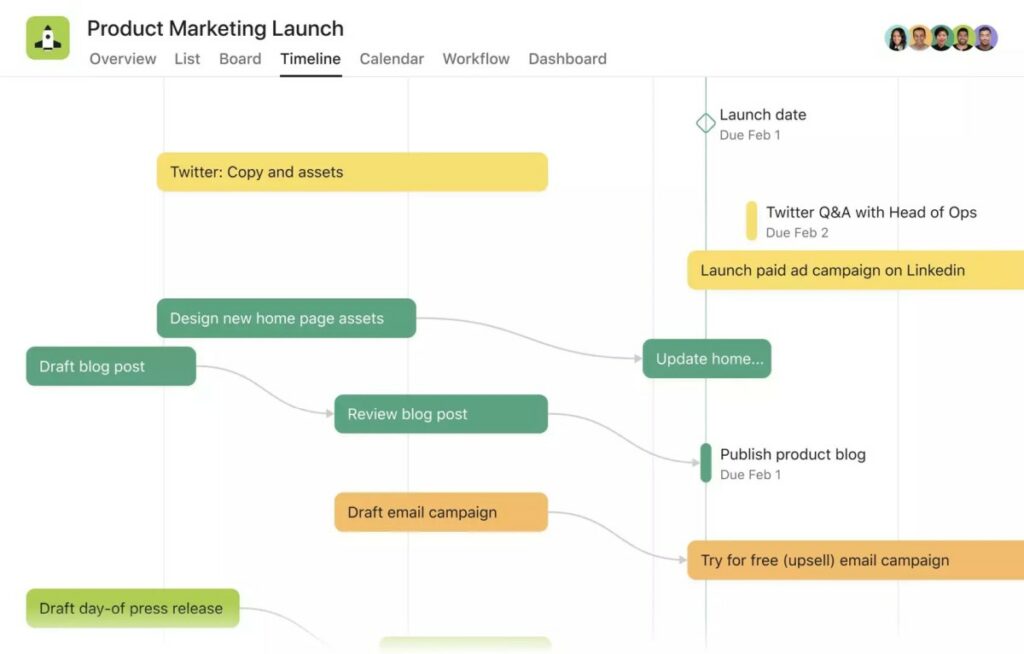 Asana is great for large organizations that need to manage a portfolio of projects and keep track of organizational goals.
It also has multiple ways to visualize a project using the list, calendar, timeline, or board view.
Finally, it has if-then-else task workflow automations which can be triggered when a task property changes.
🔍 Compare Asana vs. Toggl Plan
Notable features in Asana
Visualize tasks using Kanban boards, Gantt charts, calendars, and task lists
Manage sub-tasks task dependencies
Track organizational goals and project portfolios
Integrations with Slack, Google Drive, Zapier, Pipedrive, calendars, and more
Project templates for every team
Task automation
Asana pricing
Paid plans from $13.49 to $30.49 /user/month
Free plan with limited features for teams of up to 15 people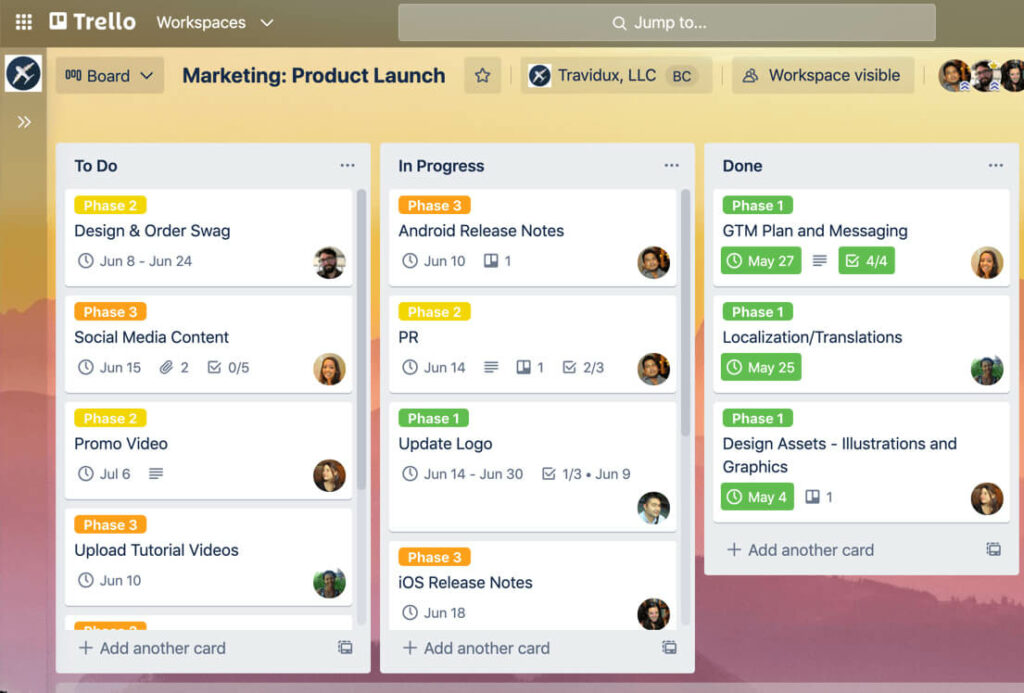 Trello is a simple Kanban-based project management tool with automated workflows. It also comes with enterprise-grade security features and power-ups for integrating with other tools.
Trello boards make it easy to manage project workflows visually. You can customize board workflows to match your team's processes.
While the board is the primary way to view a project, you can also use a calendar, timeline, or map view for visualizing projects.
🔍 Compare Trello vs. Toggl Plan
Notable features in Trello
Visualize projects using Kanban boards, timelines, and calendars
Automate routine admin tasks with powerful automation features for each board
Extend Trello's functionality further with add-ons (called powerups)
Get started quickly with ready-to-use project templates in 10+ domains
Integrate Trello with other apps with hundreds of integration options
Trello pricing
Free plan with limited features for up to 10 project boards.
Paid plans from $6 to $17.50 /user/month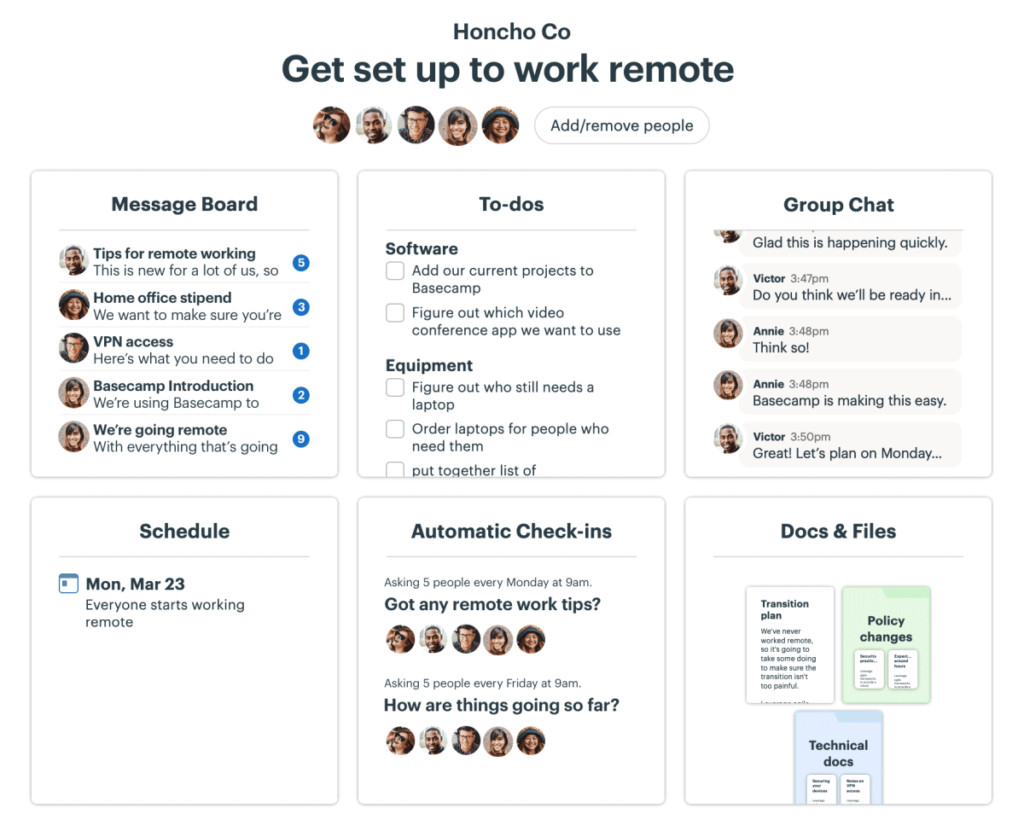 Basecamp is more a team collaboration tool than a project management app. Yet, it is popular, particularly among distributed creative teams.
With Basecamp, you let go of flexibility. You don't get custom task workflows or statuses. Tasks are simple to-do lists that you check when done.
In addition to to-do lists, you also get bulletin boards and team messaging features.
🔍 Compare Basecamp vs. Toggl Plan
Notable features in Basecamp
Manage tasks using simple to-do lists
Collaborate using comments, file attachments, and bulletin boards
Automated status check-ins to make your team more productive
See a unified schedule of to-do items, events, and deadlines in a calendar or a timeline
Basecamp pricing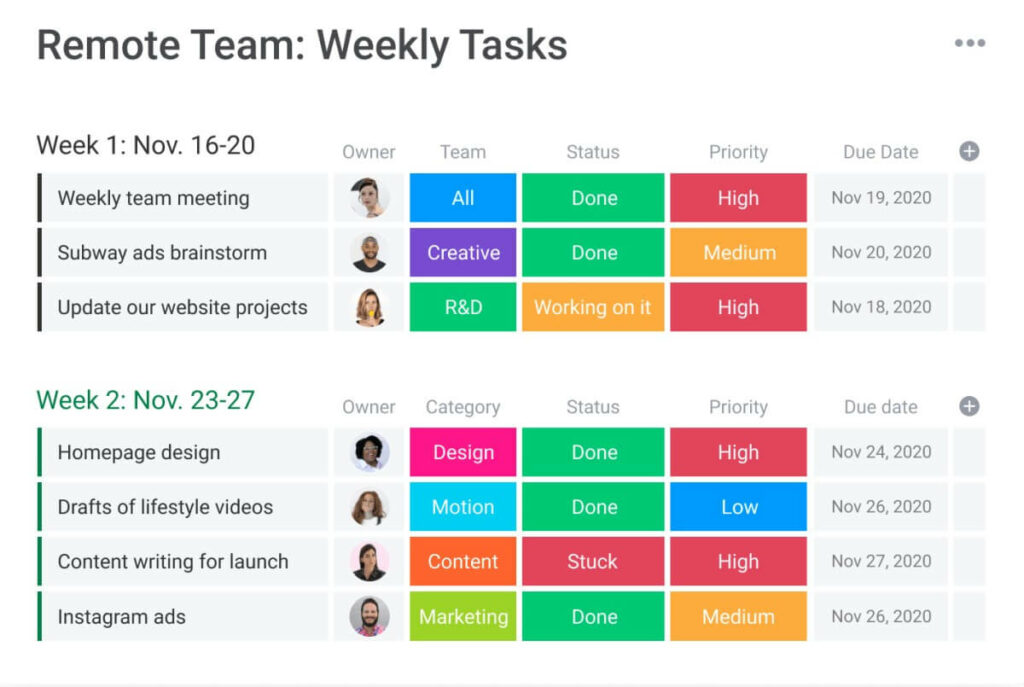 Monday.com is another popular project management tool among creative teams. It's a versatile tool with a colorful and fun user interface.
Unlike other tools on this list, Monday does not come with built-in projects, milestones, or tasks.
When you start using Monday, you start by creating items. Items can be anything—clients, projects, tasks, deals, meetings, or anything else you need in your workflow.
You can customize each item by adding fields and properties the way you want.
Basically, you're building your own PM tool within Monday.
🔍 Compare Monday.com vs. Toggl Plan
Notable features in Monday.com
Create your ideal workflow using customizable items and item properties
Visualize work using Kanban boards, timelines, and calendars
Save time spent on repetitive work with automation
Create custom dashboard views to see real-time insights
Create collaborative documents within Monday.com
Monday.com pricing
Free plan for up to 2 users
Paid plans from $10 to $20 /user/month with a free 14-day trial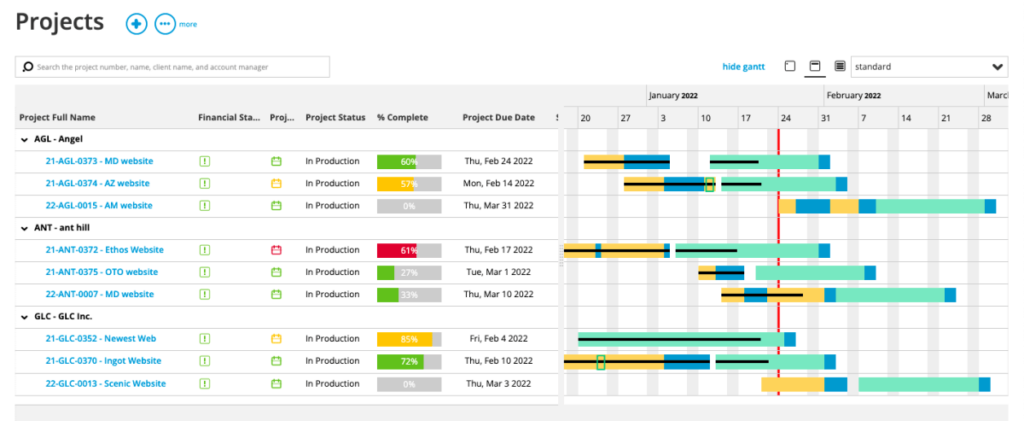 Workamajig is a swiss army knife solution for creative agency management.
Aside from a robust set of project management features, Workamajig also has:
A sales CRM
And resource management capabilities
You can use this software to plan and track your project every step of the way, from proposals to the final invoice.
For complex projects and large companies looking for an all-in-one solution, Workamajig may be the perfect fit. However, if you're a smaller agency, this tool feels too complex.
Notable features in Workamajog
All-in-one marketing project management for agencies
Accounting and financial reporting tools
Track business opportunities and pipelines with a Sales CRM
Plan and track team schedules
Accurate business insights for tracking profitability and cash flows
In-built time tracking
Workamajig pricing
Paid plans from $37 to $50 /user/month depending on your team size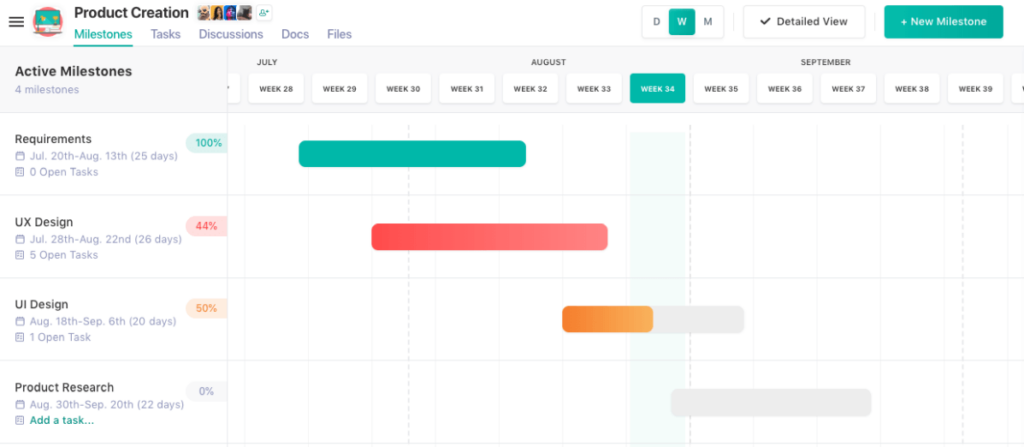 Nifty is your creative team's collaboration and communication hub.
From task management to time tracking, you can use Nifty to manage and automate your project management workflow without being weighed down by a clunky interface.
Nifty also has time tracking which helps you see an accurate breakdown of your time and find the most profitable projects
All in all, Nifty is an affordable and simple creative project management platform that facilitates cross-departmental collaboration for companies of all sizes.
Notable features in Nifty
Simplify collaboration with team discussions
Organize, prioritize, and manage tasks
Get a bird's eye view of your projects with portfolios
Simple time logs to drive efficiency
Dashboard-style visual reports
Nifty pricing
Paid plans from $49 to $499 /month depending on your team size
Free plan for managing up to two projects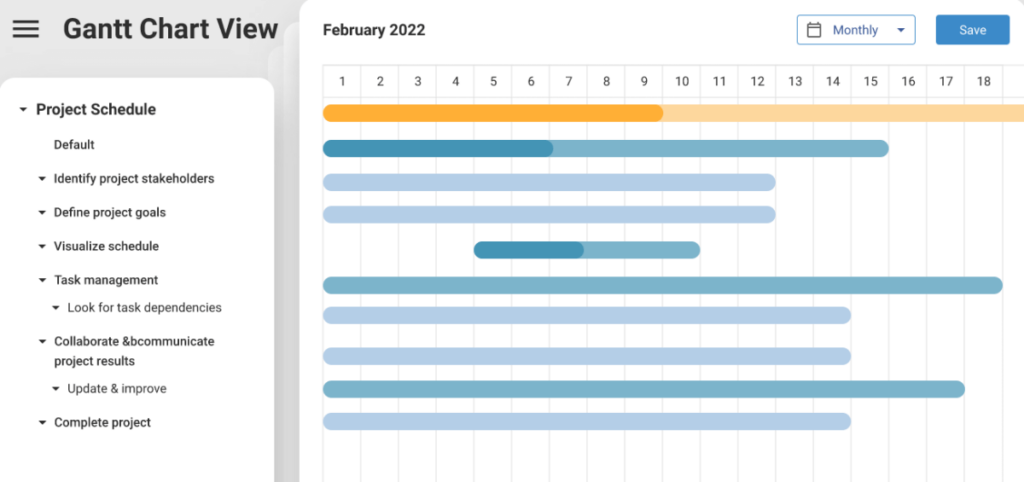 Proprofs is an easy-to-use, online project management tool for creative agencies. It comes with features for planning, tracking, and invoicing client projects, including:
Communication on tasks
File sharing
Relevant notifications
Recurring tasks
It also has project-tracking features to help you spot the differences between your projections and actuals.
Notable features in Proprofs Project
Plan and track projects, tasks, and milestones
Share files and task attachments and collaborate
Discuss projects, tasks & files in one place
Track progress and productivity with reports
Generate instant client invoices by tracking billable hours
Proprofs Project pricing
Paid plan costs $49.97 /month with a 14-day free trial

Wrike is a sophisticated, robust project management solution. Its versatility means all teams, including creative ones, can use it.
With Wrike's Gantt timelines, you can create perfect project schedules, while accounting for task dependencies. Using critical path analysis, Wrike helps you identify bottlenecks. Project managers can also import project plans directly from Microsoft Projects.
Kanban boards make it easy to manage tasks. Plus, you can customize these boards according to your team's needs.
Notable features in Wrike
Visualize tasks, processes, and analytics using Kanban boards, Gantt charts, and dashboards
Streamline proofing with a built-in approval process
Plan and allocate resources for timely delivery
400+ custom integrations
Define automated workflows to save manual efforts
Wrike pricing
Free plan with limited features and no integrations
Paid plans from $9.80 to $24.80 /user/month billed annually

FunctionFox is a timesheet project management software for creative agencies and professionals.
Built specifically for creative, design, and marketing teams, FunctionFox helps you stay on schedule and within budget. This way you can focus on the creative part of the project.
In addition, it also comes with built-in reports to get insights into your project's profitability.
Notable features in FunctionFox
Plan and track project schedules with Gantt charts
Collaborate with internal project blogs
Advanced reporting capabilities with comprehensive reports and interactive charts
Track projects and expenses online and get real-time updates
Check your team's availability and know whether you can take on additional work
FunctionFox pricing
Free plan for teams of three to manage up to three projects
Paid plans from $35 to $150 /month for the first user, then $3.75 – $15 /user/month for subsequent users
What is the best creative project management software?
Creative project management tools need the flexibility to support any creative team, bring clarity to the project planning and progress, and enable team collaboration on each task.
Creative agency project management tools help your team in a variety of ways:
Make better estimates and plans
Adapt to changes in scope and timelines
Keep on top of feedback and change requests
Meet deadlines and milestones
Track project tasks as they move through the (often non-linear) creative process
Track availability and productivity
Collaborate and discuss with remote team members and clients
A quick comparison of the top project management software for creative agencies
Tool
Summary
Pricing (USD)
Toggl Plan
A simple, flexible tool that makes team capacity and project planning a breeze for small to large-size creative teams
$9 – $15 /user/month
Asana
A comprehensive, organization-wide tool to manage goals, project portfolios, and projects
$13.49 – $30.49 /user/month
Trello
A simple Kanban-based task management tool with multiple views and workflow automation
$5 – $17.50 /user/month
Basecamp
A simple collaboration tool message boards, group chat, to-do lists, and event schedules
$11 /user/month
Monday.com
A flexible tool with customizable items and item properties, automation, and built-in time tracking
$10 – $20 /user/month
Workamajig
An all-in-one creative project management solution including sales, financial, and resource management capabilities.
$37 – $50 /user/month
Nifty
A simple, intuitive tool with advanced team collaboration and communication. Suitable for any agency size.
$49 – $499 /month based on team size
Proprofs Project
An easy-to-use software for project visualization and tracking with automated client billing
$49.97 /month
Wrike
A comprehensive project and resource management solution for large, complex teams
$9.80 – $24.80 /user/month
(billed annually)
FunctionFox
An all-in-one project management tool with resource and budget management
$35 – $150 /month for the first user
$3.75 – $15 /user/month for subsequent users
How to choose the right project management software for your creative agency?
Hopefully, you've narrowed the list down based on your organization's size and some key features. Here's what you need to consider when picking a creative agency project management tool:
Factor
Questions to evaluate
Team capacity planning
• Do you get short/long-term clarity in your team's schedule?
• Can you take on more work or do you need to hire?
Project scheduling and tracking
• Can you use the tool to visualize and plan the project?
• Does the tool come with a timeline/calendar for simple planning?
• Does it have milestones?
Task management
• Can you easily update and change tasks?
• Does the tool allow customizing your task workflow?
Collaboration and communication
• Can you share files, and add comments/feedback?
• Can multiple people be assigned to the same task?
Resource management
• Does the tool allow you to visualize and balance workloads?
• Does the tool allow you to track your team's availability?
User experience
• Is the tool easy to use?
• Does your team like the design?
• How much onboarding time would your team need to spend?
Integrations
• Does the software integrate with other tools you're using or planning to use?
Finally, don't forget to consider personal preferences and your team's culture. It's important that you find the tool that lets your team focus on creativity rather than worrying about time management.
Most creative project management software solutions also offer free trials with no credit cards required, so definitely give them a spin before buying.
And good luck on your hunt!