Being a freelancer is like running a one-person show.
You are in charge of drafting proposals and contracts, client onboarding and servicing, training, invoicing, following-up on payments, and legal and tax compliance. And, well, work on the actual deliverables after sorting out the operational work.
Although you may be an extremely organized person, there's a possibility that some tasks might slip when work starts to catch up with you.
To avoid undue anxiety arising from such events, you need a planning and scheduling system, one that is robust enough to help you stay on track and flexible to accommodate unavoidable urgent tasks.
In this article, we will look at the ten key project management software for freelancers.
Table of Contents
What Should Freelancers Look for In a Project Management App?
Top 10 Freelance Project Management Tools
Frequently Asked Questions (FAQs)
Choosing the Best Freelance Project Management Software
What Should Freelancers Look for In a Project Management App?
Freelancers need to schedule their projects to deliver them before the deadline while managing multiple aspects of their day-to-day work. Therefore, the project management tool for freelancers should provide clarity on both – long-term goals and short-term tasks. Here are two essential features freelancers need to look for in a project management app:
1. Timeline Planning
Your freelance projects will have multiple areas besides the default operational work of proposal, client servicing, invoicing, etc. The project roadmap and planning feature allows you to segregate various project areas into buckets for better categorization. You can start adding activities to each bucket as you start creating a timeline for your projects.
Since you will be doing operational tasks only once a month, for the most part, you can batch them together for all of your clients. After doing this, you can add the actual work tasks across the timeline as per the schedule and avoid double-booking yourself.
Having the timeline feature in your freelance management system will enable you to get a 30,000-feet overview of your projects.
2. Task Management
From a macro- to micro-level view, task management software keeps you current on what needs to be done to move the project forward. The project management software for freelancers should enable you to customize your workflow. This way, you can organize your tasks in boards/columns to track their progress as to whether they're still in the pipeline, work-in-progress, on hold, or completed.
Each task should allow you to add its start and end date, notes, attach files, include subtasks, for more granularity on each task.
Top 10 Freelance Project Management Software Tools
In the section, we will look at the top ten freelance project management software apps that offer a diverse set of features. Go through the list, and based on the feature set, pick the one that fits the best for your requirements.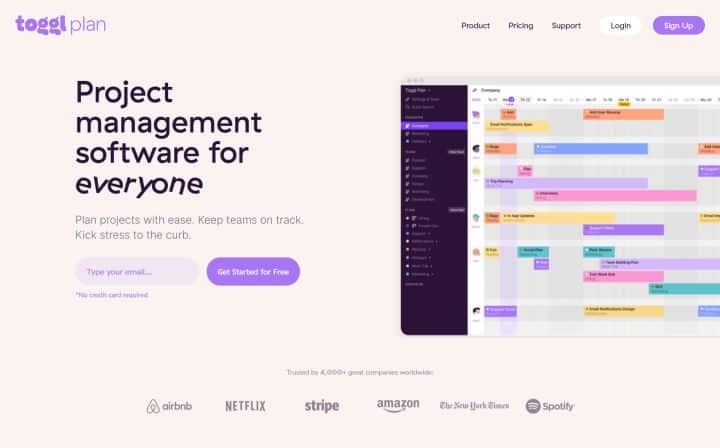 Toggl Plan is a simple project management software applications. It fits the bill perfectly, whether you are looking to manage creative or technical freelance projects. With a minimal learning curve, Toggl Plan helps you to set up and manage your projects within minutes.
Features:
Plan your project's schedule on the timeline view. Categorize tasks into segments and set milestones for better clarity.
Use boards to create customized workflows. Prioritize tasks based on their urgency.
Adjust your plan on the timeline and move tasks from to-do to done on boards with the simple drag-and-drop interface.
Add details to your task with notes, comments, attachments, checklists, tags, and deadlines.
Share guest access with clients using a simple URL to keep them updated on the project progress.
Pricing: Toggl Plan offers a free plan for freelancers that includes unlimited private projects.
You only need to upgrade if you have a team. Or, if you are looking for advanced features like more storage space, multi-assign tasks, and custom plan colors.
2. Trello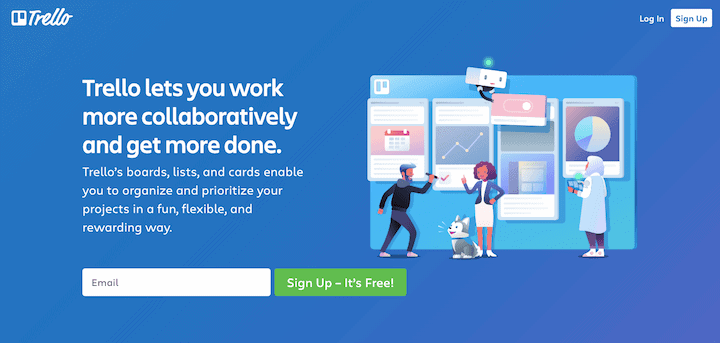 If you are looking for a bare-bones solo project management tool for solo and team projects, you should check out Trello. Trello's simple kanban-based interface makes it perfect for content management and other projects that involve less complexity. However, the lack of a timeline view makes it a bit difficult to visualize the project schedule.
Features:
The collaboration features make it easy to use it with clients
The task card lets you add and display more task details such as comments, attachments, deadlines, checklist, etc.
The power-up feature lets you integrate third-party app features into Trello. The free plan offers one power-up per board
The built-in and user-generated board repositories give you plenty of inspiration to customize your boards.
Pricing
The free plan lets you create unlimited personal boards with basic automation features. The premium plan starts at $12.50 per month ($9.99 per month for an annual subscription).
3. GitHub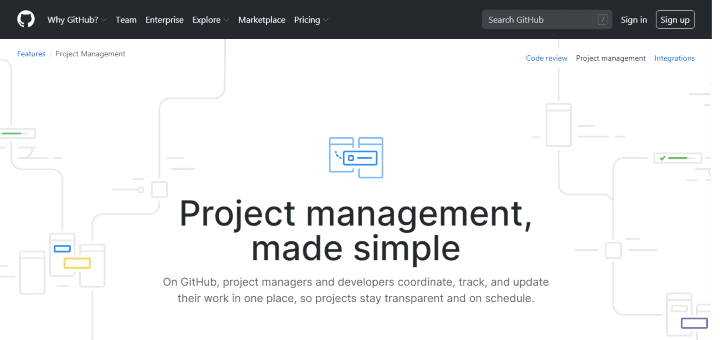 Besides being a code repository, GitHub is a renowned project management app for freelance programmers. It allows you to collaborate with coders across the globe on a solution you're building. The cloud-based platform allows you to contribute to other projects, build a name for yourself, and work with the best in the industry. Here is how freelance programmers can use GitHub to manage projects.
Features:
Host your code in public (open-source) and private repositories. Private repositories let you share your code only with people you grant access to
Create project boards and build customized workflows to track issues, pull requests, and notes
Track bugs, milestones, code improvements, and prioritize tasks
Build nifty websites and documentations/wikis with a little effort
Review code changes visually and integrates them into your existing code with automated status checks.
Pricing:
GitHub is free for individuals with certain restrictions on storage and private repository actions. The premium plan for teams starts at $4 per user, per month.
4. Asana

Asana's project management features enable you to plan, organize, and track your projects. Features like goals, projects, and tasks management, along with agile and scrum methodology, make Asana useful for all types of freelancers. Asana comes with a steep learning curve due to the comprehensiveness of its features.
Features:
Use boards, lists, timelines, and calendars to visualize your projects
The timeline view lets you draw task dependencies for better planning
Set rules to automate critical actions to ensure you don't miss out on important events
Use forms to take work requests formally from your clients or collaborators to streamline task planning
Segment your tasks into different categories and set milestones to indicate the completion of phases.
Pricing:
The free plan accommodates unlimited projects and offers board and calendar views. Subscribe to Asana's premium plan starting $13.49 per month ($10.99 per month when paid annually) to get the timeline view, forms, rules, dashboard, milestones, and provide guest access.
5. Monday.com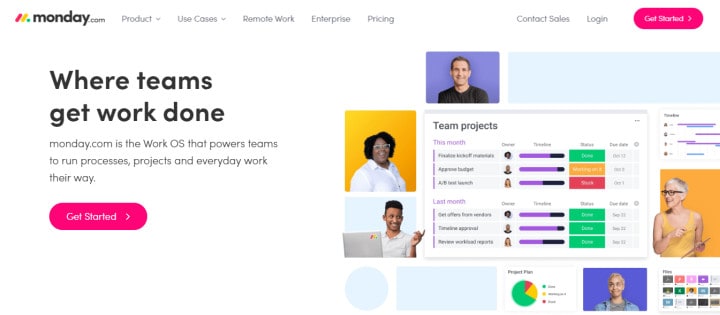 If you are a freelance project manager, Monday.com would be an excellent fit for you. The app provides ample features, considering the wide scope of the project manager's responsibilities. The app's comprehensive scope increases its complexity and makes it less suitable for freelancers looking for apps just to stay on track.
Features:
Plan and monitor goals using the timeline feature
Create workflow automation processes to assign tasks automatically whenever their status is changed
View monthly tasks in the list view to plan work effectively
Integrate with 50+ apps to streamline work
Refer to the built-in repository to draw inspiration for organizing your projects.
Pricing:
Monday.com offers a 7-day free trial. The pricing starts at $10 per user, per month. However, it can get inconvenient for freelancers as it requires to have a minimum of three members.
6. Jira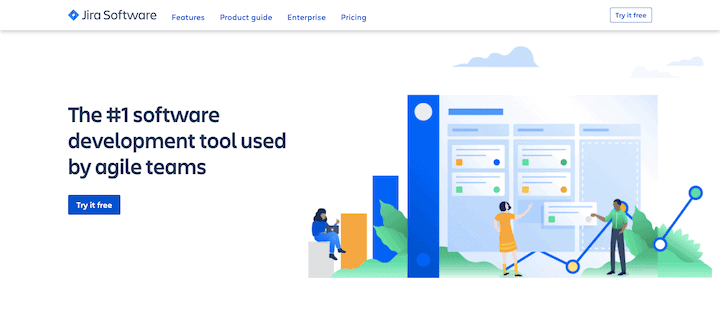 Jira is an Agile freelance project management software for programmers. It lets you stay on track on your solo or client's development projects. Besides agile and scrum boards, you can develop your own workflows, log issues, plan sprints, and allocate work.
Features:
Plan projects and create roadmaps using the timeline feature
Works seamlessly with Bitbucket and Confluence as Atlassian owns all these products
Track the progress of product versions in real-time
The premium plan offers an "IP allow" feature that grants product access to only specified IPs
You can import information from specific version control, build, etc. into Jira and get better insights into the development pipeline
Pricing:
Jira's free plan accommodates ten users. The paid plan starts at $7 per user, per month and offers more users per site, increased storage, and better support.
7. Basecamp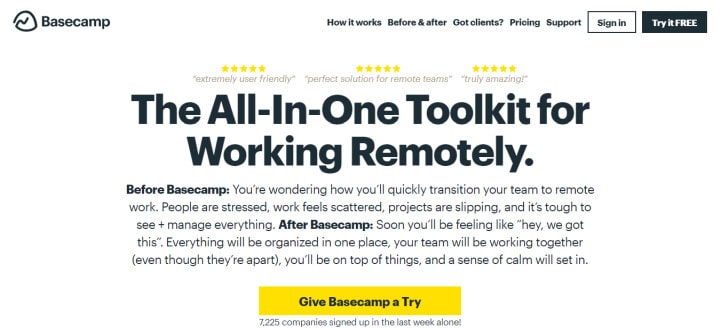 Basecamp is known for being a project management tool with an unconventional interface compared to the run-of-the-mill solutions. It's a great project management software for creatives. It has segregated its features into six categories.
Features:
Set up a to-do list to manage tasks
The message board, group chat, and automated check-ins allow you to interact with your clients
Freelancers can greatly benefit from the My stuff menu that displays their tasks, assignments, schedules, meetings, bookmarks, etc.
Pricing:
Basecamp offers a free plan for freelancers called Basecamp Personal. It offers three projects, 20 users, and up to 1 GB of storage. You need to buy their premium plan of $99 per month flat, which can get expensive.
8. Kanban Tool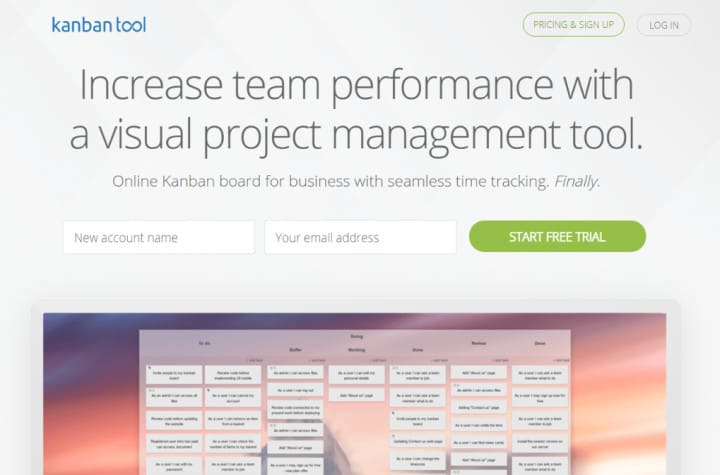 As the name suggests, Kanban Tool is a kanban-based project management app. The tool supports 15+ third-party integrations and offers an on-site solution as well.
Features:
Analyze how long it takes to complete tasks with the time-tracking feature
Power-Ups allow you to add additional functionalities to each board
The analytics feature provides insights into the project progress and predicts the time it will take to complete a task.
Pricing:
Although Kanban Tool offers a free plan, it includes only two boards and users. You need to subscribe to their team plans starting at $5 per user, per month for unlimited boards and attachments.
9. Podio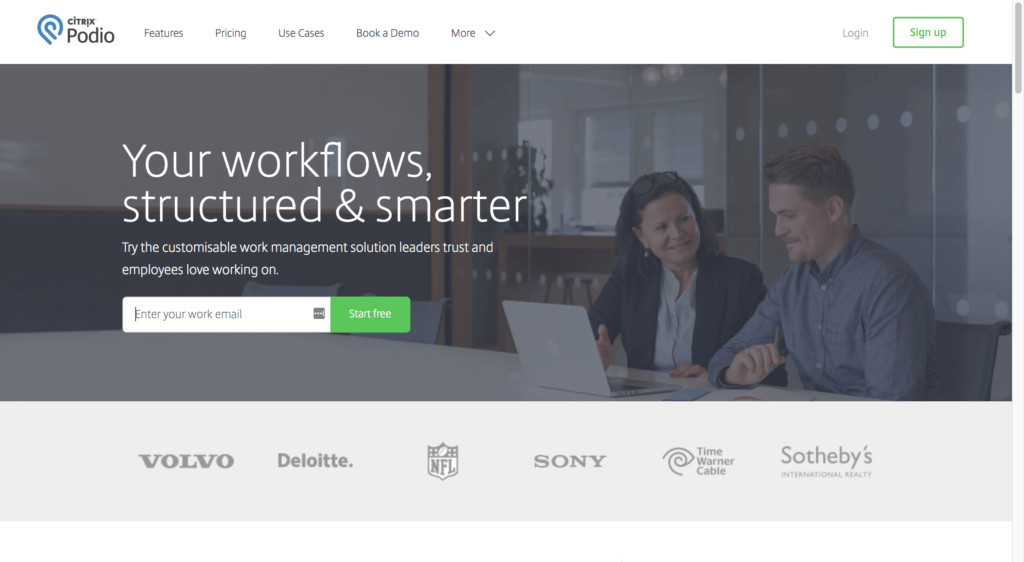 Podio is a project management software by Citrix that provides a comprehensive view of each task. The ease of collaboration makes it a suitable project management software to manage software, marketing, and plenty of other projects
Features:
Workspaces allow employees to connect with each other. Freelancers can use private workspaces to collaborate with clients on the project
Workflows let you automate activities using if-then logic. This way, a comment is automatically added every time you make changes to a task
By integrating web forms on your website or other properties, you can get structured information directly to the app
Sophisticated reporting automates project budget tracking using data from the apps.
Pricing:
The free plan includes five users and provides task management and workspaces features. The premium plan starts at $9 per user, per month.
10. ClickUp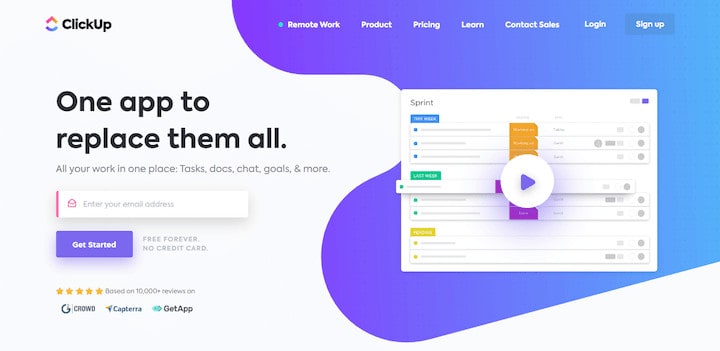 ClickUp offers a vast suite of features that includes process management, task management, time management, collaboration, and reporting. It's the perfect solution for freelancers who like to explore various aspects of productivity.
Features:
Process management lets you set custom statuses, highlight task dependencies, create recurring checklists, and set milestones
Webhooks allow you to connect ClickUp with any third-party app to automate actions
Time tracking, Pomodoro timer, and calendar sync help you improve your productivity
The timeline view helps you with project planning and road mapping.
Pricing:
The free plan comes with unlimited users and tasks. For unlimited storage and more advanced features, premium plans are more suitable, starting at $9 per user, per month.
Frequently Asked Questions (FAQs)
This section answers three of the most FAQs regarding project management software for freelancers.
What Is the Best Free Project Management Tool?
There are plenty of free project management tools you can get started with. Depending on your requirements, you can give Trello, Asana, GitHub, or Basecamp a try to see which works the best.
Toggl Plan is one of the best freelancer project management software apps. The tool is free to use for up to five users. Key functionalities such as the timeline view come with its free plan, which most of the renowned tools don't include in their free tier.
How to Manage Multiple Freelance Projects?
Juggling multiple tasks from multiple projects can get taxing if not appropriately planned. The best way to manage multiple projects is to visualize them in project management software by plotting tasks across the timeline and visualizing them in the calendar. Based on the list of tasks, you need to prioritize tasks based on their urgency and complexity.
By planning ahead, you ensure that you are engaged with the right task you should be doing according to the schedule.
What Is the Easiest Project Management Software?
Toggl Plan is arguably one of the easiest project management software to use. What makes Toggl Plan so simple is the ease with which you can set up and manage your projects. The ability to seamlessly switch between the board view and timeline view to get the important project details makes it easy to integrate it within your existing tool stack.
Choosing the Best Freelance Project Management Software
The right project management tool will enable you to complete the project before the deadline without getting overwhelmed. The programs listed in this article will give you a fair idea of what you should look for in a freelance management tool for your freelance projects.
If you are looking for a hassle-free app, we would urge you to give Toggl Plan a try. It comes with all the features you need to stay on top of your projects.