This article will show you how to create a timesheet in Excel.
We've included a downloadable timesheet template with a step-by-step guide, common challenges with Excel timesheets, and a better alternative.
Download your Excel timesheet template
Using a pre-made timesheet template is the easiest way to create a timesheet in Excel.
Download our weekly Excel timesheet template to get started.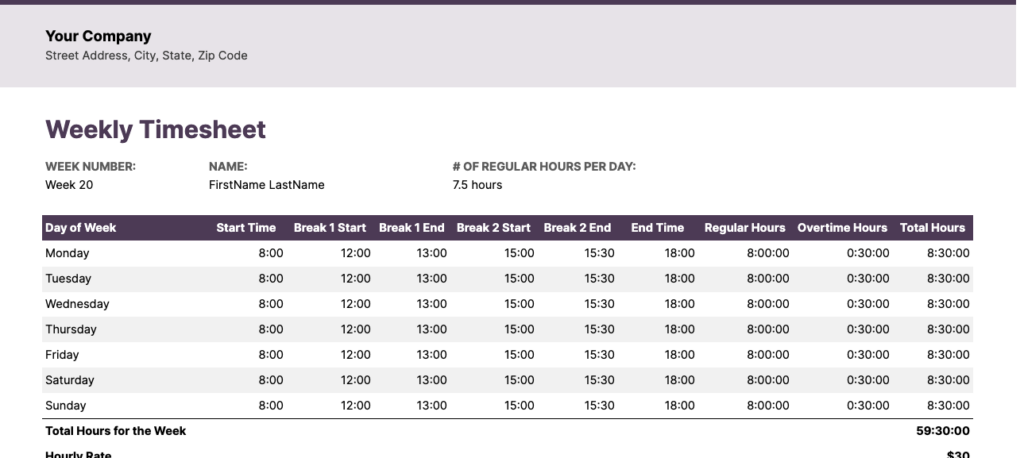 The weekly timesheet template is ideal for tracking how employees, freelancers, and contractors spend their time weekly.
You'll find empty spaces where users can effortlessly record start times, end times, breaks, and overtime.
Template features:
Track time across each day
Automatically calculate total hours worked
Automatically calculate total billable hours worked
Need bi-weekly or monthly templates? Check out our timesheet templates page for more templates.
How to create a timesheet in Excel in 4 steps
Here's a simple five-step process to start tracking time in a spreadsheet.
Prep your timesheet
Add time-related labels
Add financial labels
Add your formulas
1. Prep your timesheet
Download our timesheet template and begin prepping it by filling in the basics.
Start by adding your company name, your employees name, and their number of regular hours per day.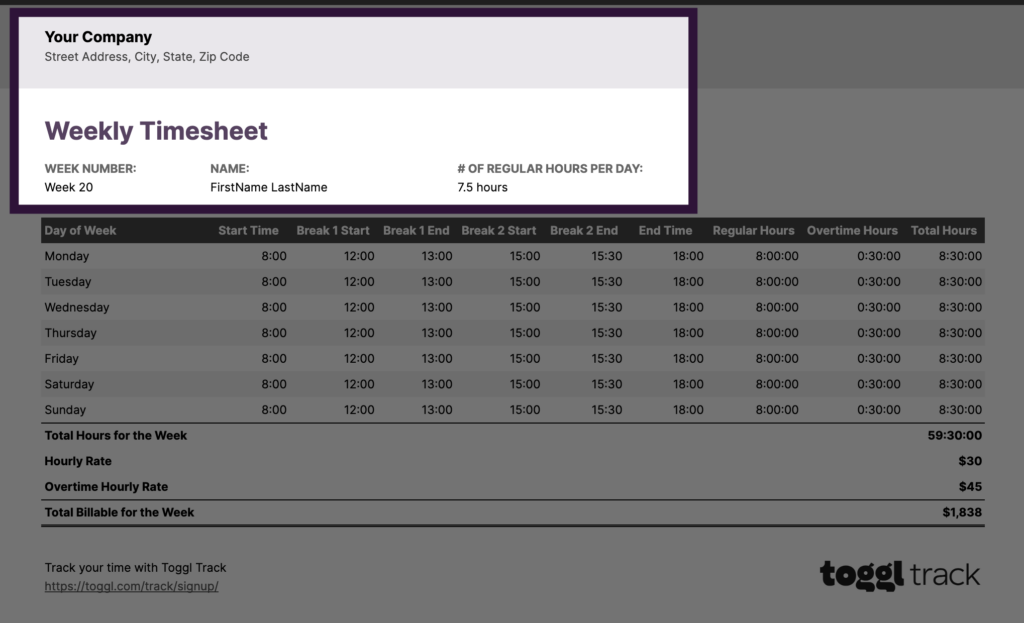 Don't forget to add the WEEK NUMBER, too.
Feel free to change this to "week of" or something similar and add the date.
For example, you may want it to read WEEK OF: August 28th, 2023.
2. Add time-related labels
Next, you will want to add time-related such as:
Day of the week
Start time
Break start and end times
End time
Regular hours
Overtime hours
Total hours
The timesheet template contains all of these fields: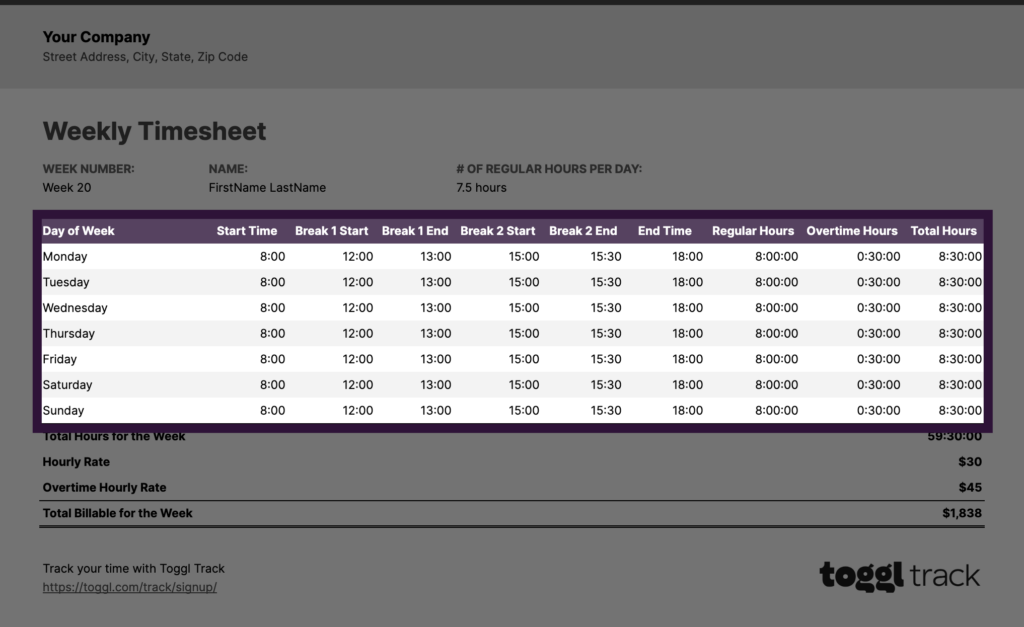 3. Add financial labels
Now, the important fields.
The 💰 labels!
Our timesheet template contains the following:
Total hours for the week
Hourly rate
Overtime hourly rate
Total billable hours for the week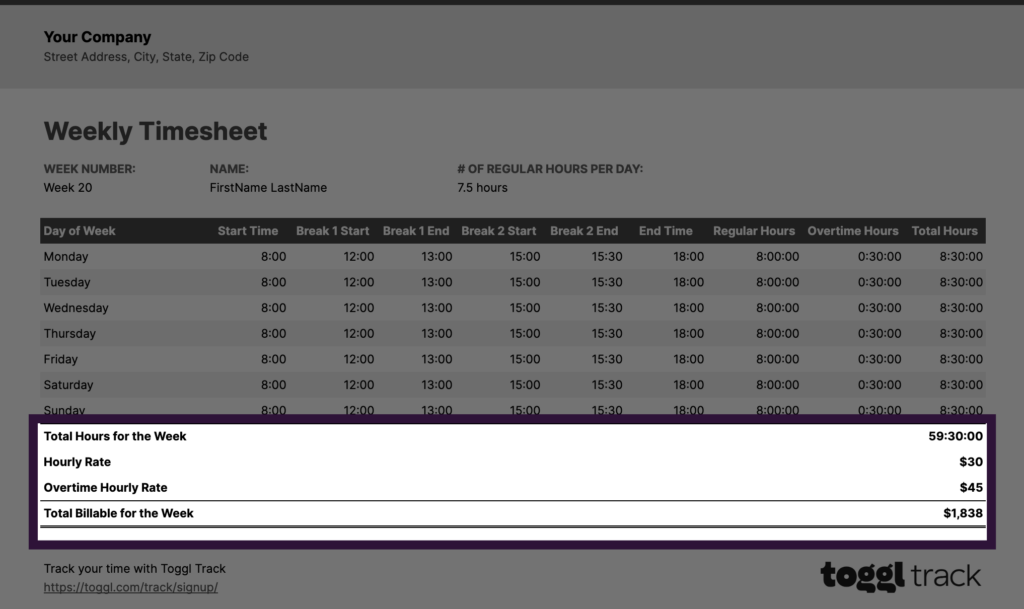 4. Add your formulas
Now comes the complicated part. Spreadsheet formulas. 😢
But don't worry — you can find examples of some basic formulas already used in our timesheet template.
The template will automatically calculate:
Regular, overtime, and total hours for each day
Total hours for each week
Total billable work for the week based on the hourly and overtime rates entered
Your team will then be able to log their hours each day and, by the end of the week, have their total billable owed calculated automatically! 👏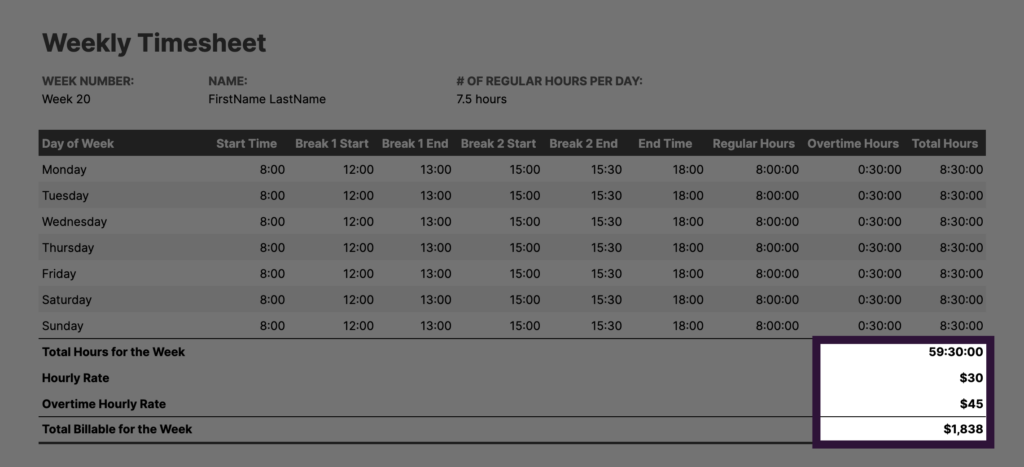 Excel time tracking — is there an alternative?
Don't get me wrong — I think our timesheet templates are solid.
But are spreadsheets your best option?
I've chatted with a few agencies that use spreadsheets to track employee hours — and they always say how chaotic they are.
Files get copied.
Some go "missing."
Formulas are unintentionally edited.
People don't tend to fill them in all that much.
You're unable to quickly get insights you can leverage (more on this later).
You also have to remember that employees generally hate time tracking.
So using a spreadsheet to track their time may not be the best approach.

Are there better alternatives?
Yep! 👇
A modern online timesheet app is the best way to keep track of employees hours — especially for teams that work on client projects and tasks all day.
Unlike spreadsheets, many of the best timesheet software comes with features that help to automate and streamline the entire time tracking process.
Using a time tracker like Toggl Track, you can access a web, desktop, and two mobile apps.
You can quickly start tracking your time by entering a time entry description and hitting the timer button.
It takes a few seconds to switch the timer to a different task (especially if projects and tasks are already set up).
Type in your "time entry description."
Find your client
Select what "project" you're working on
Start the timer
Easy!
Once you or your team start tracking your time, you can access your time tracking data within our Reports Dashboard.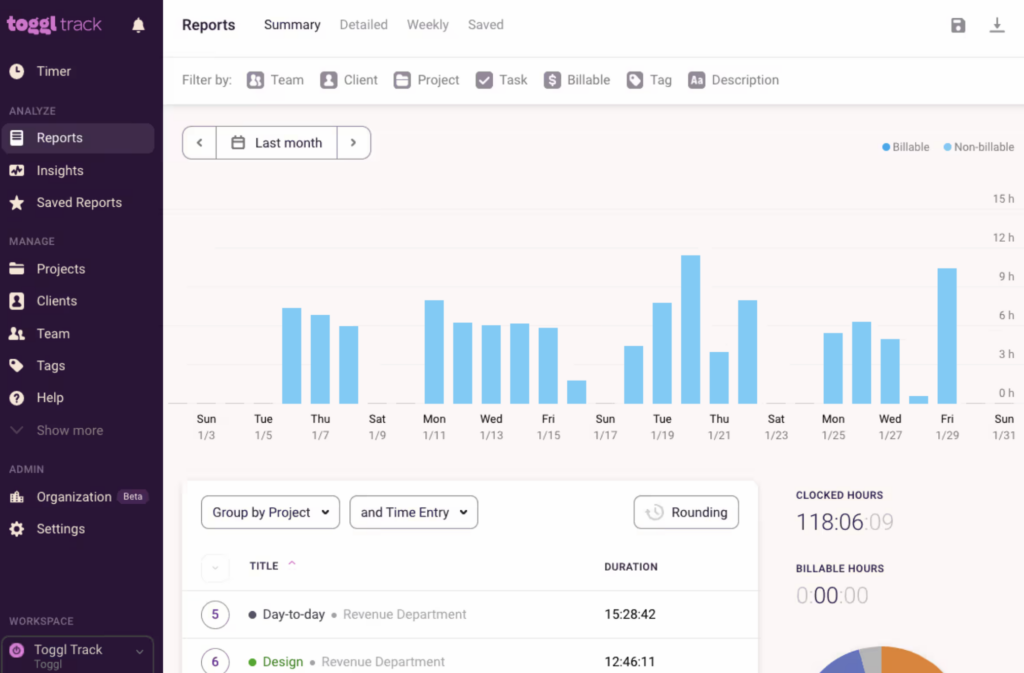 You will be able to view your data using multiple reports
Summary report – Offers an overview of the time tracked. The top half of the report is a bar graph showing time entries by date, whereas the second half includes a grouped list of time entries and a pie chart.
Detailed Report – includes a list of all time entries based on the chosen filters in chronological order. Use this report to go through time entries with a fine-tooth comb using our Audit feature or as an attachment to your client invoices.
Weekly Report – For a weekly overview, use the Weekly Report. This report shows hours tracked by day, split by activity. Users can also sign up for a weekly overview email with their hours on their Profile page.
You can learn more about our Reports Dashboard in the video below.
Remember how I mentioned that spreadsheets couldn't quickly provide data insights you can leverage?
Most time tracking tools should allow you to quickly dig deeper into data you can leverage to improve business processes or increase project profits.
If you're using Toggl Track, you will have access to our Insights Dashboard.
It will give instant access to data such as employee and project profitability, total project earnings, labor cost, etc.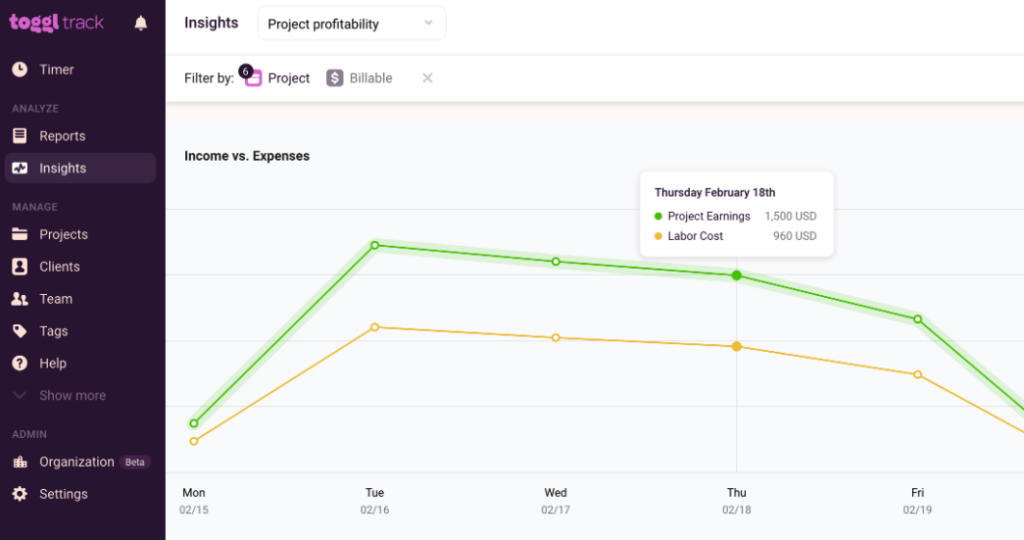 Check out our knowledge base articles below to learn more.
Sean is a Content Marketer at Toggl. He's been involved in SEO and Content Marketing since 2017. Before working for Toggl, Sean ran SEO at a digital marketing agency—so he's all too familiar with time tracking and project management.