An introductory guide to how to use Gantt charts
We already talked about the advantages of the Gantt charts over to do lists or any other classic way of planning the project's activities, but we haven't talked very much about how to use Gantt charts.
Admit it; it's truly hard to stay organized with those right? Having great organizing skills and knowing how to and where to focus your attention can come a long way.
But, not that many of us hone that kind of skillset or even wish to expose the brain and our bodies to this kind of harassment.
If you're like us, you probably wish to get things done in the most effective manner without any nerve wreckages aside. That's where Gantt charts come in handy.
Gantt charts are visual tool for visual people made to make things simple and easy. 
Gantt charts were probably introduced at the wrong time, where some other methods worked better. But we find it to be the perfect organizing tool of the day. That's a strong claim, and we know it!
But no other planning method can be so visually attractive, motivating, informative and at the same time as simple as this one. Creative people need a creative tool for organizing their work, and that's what Gantt charts are here for.
Enough with the words full of praise. We'd like to talk about the real stuff, the tangible that will get you hooked on using Gantt chart even for that trip to Barcelona you had in mind for the next vacation. Placing that kind of image in your head has to make you read this through, right?
Let's get started.
What lies Beyond?
What are Gantt charts?
Gantt charts are project management tools conceptualized around timelines, milestones and the most crucial, general information to keep any project moving. It's the best way to graphically picture your project against the time frame it needs to be done in. Think of it as painting the picture before it's painted.
Visualization is a huge step towards your goal. Still a bit intangible? Bear with us.
They allow your thoughts to take an organized form, making you focused and calm all the way till the end.
Moreover, they will make your team members focused and motivated into reaching their own respectable goals and tasks. Peeling the pressure off right there.
Everyone knows what they need to do instead of being stretched over too many tasks and getting nothing done.
By drawing your project's tasks like timelines, it becomes easier to track the progress. Simply put there's no crossing anything off (like with those lists), what's done is done and stays behind like a well worked and deserved a trophy. Time waits for no one, and those deadlines become an added motivation instead of being a fear striking enemies for everyone involved.
Ease of access and simplicity of information that Gantt has makes it perfect to understand even if you're a team member seeing it for the first time. Remind yourself of anything, anytime and anywhere you need with diagrams and charts available in this tool. Things become clearer in seconds, and there's no need to gather information in several different places.
How to use Gantt charts?
Now it's time to sow and reap all those goodies and benefits. Don't worry, Gantt charts are simple to create, use and keep track of. Here at Toggl Plan, we provide simple and easy-to-use software for your project planning activities. This is our promise of simplicity.
Easy as 123
Yes, just like that popular song by Jacksons 5. There's nothing to it. Gantt charts will be a piece of cake to learn how to make and use, even if you have no previous knowledge about them. As we said, they are conceptualized around tasks (timeframes) and milestones (goals) filled with the most straightforward information you'll need. Okay, so if you ever wondered how to use Gantt charts, all you have to remember is two important aspects that make them work.
1. Tasks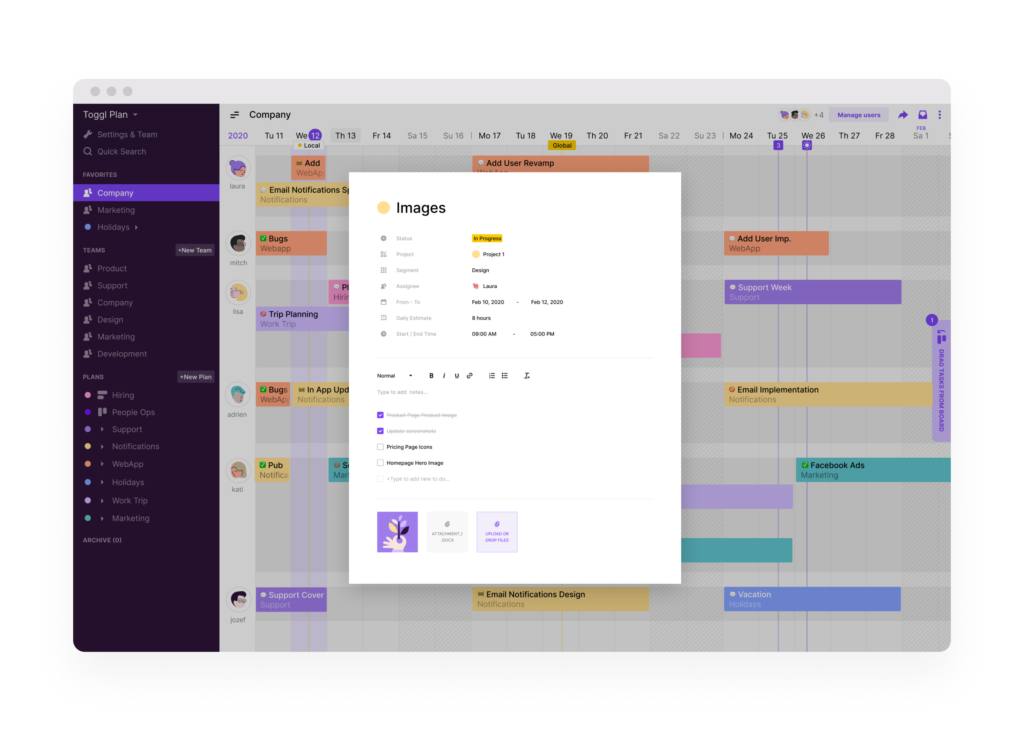 Planning and adding tasks to your project has never been easier. To create a task using a Gantt tool simply pick a time frame (date-to-date) in which your task needs to be done and just draw it by dragging your mouse from the desired beginning date to the end date. Toggl Plan's tool allows you to create swimlanes for every member of your team and adds tasks in the swimlanes of the member in charge with the task.
Just remember, setbacks are possible, and you might want to give every task a day or two extra just to be sure they are completed promptly. Otherwise, keeping your tasks in strict time frames can be a good measuring tool to recognize where the slacking is going on, so you can address the issues for the upcoming projects.
2. Milestones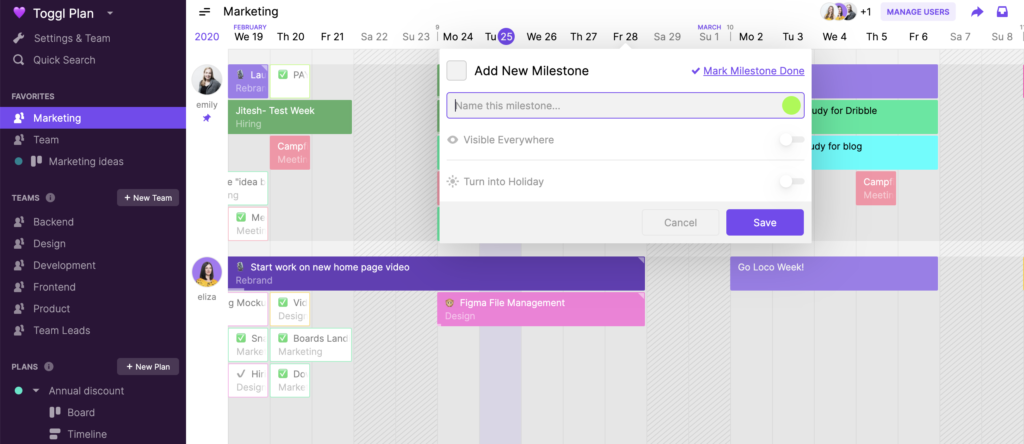 Okay, everybody knows what those are. But when it comes to Gantt charts, milestones are that juicy main points you're achieving as your project is moving forward. Like mini-awards towards the grand finale. Motivation boosts all the way.
To add a milestone to your project, simply pick a date on the timeline and create one. Hey, you can even pick holidays as milestones, to remind that hardworking crew of yours to get some well-deserved break.
Every task and milestone has just a few related information to it. Which is, in the end, all you're going to need to keep everyone well informed (yep, this includes your client as well) and without unnecessary bits and pieces.
Now, you've seen how easy it is we encourage you to give it a shot, see how it fits you and your team. One thing's for sure; you'll never look at the project planning the same way again!
Have fun planning. 
Andrei is a Growth Hacker on Teamweek's marketing team. He is the person behind most of Teamweek's SEO-driven projects, including the budget calculator and the worst productivity tips generator. He enjoys writing about project management, graphic design, and anything tech.