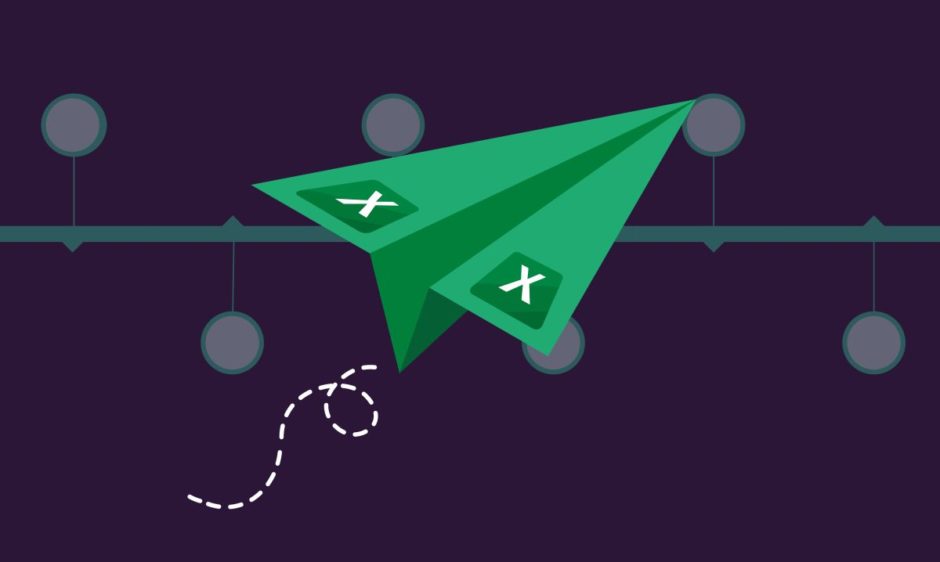 Want to communicate your project's schedule visually? A graphical timeline is a powerful tool to visualize the schedule. In this article, you'll learn step-by-step, how to create a timeline in Excel in three different ways.
These include:
But before we dive in, let's look at the advantages and disadvantages of using Excel to create a timeline.
Pros & Cons Of Excel Timelines
A timeline is a powerful visual tool for project managers.
In the early stages of a project, a timeline helps communicate the project's roadmap. And in the later stages, it helps managers plan and track project schedules and resources.
The most significant advantage of using Microsoft Excel to create a timeline is that it's readily available. Almost everyone has access to Excel.
Second, you don't have to spend anything extra. Most teams already have access to the MS office suite.
Third, Microsoft Excel templates are available freely on the internet. Using these templates, it's reasonably easy to create a timeline in Excel.
Finally, your team members are already comfortable using Excel. So you don't have to spend time on training and onboarding.
But, while Excel is easy and free, it does have a few shortcomings.
Lack of collaborative features: You cannot work with another team member on a project's schedule unless you both sit right next to each other. As a result, it is tough for distributed teams to plan together.
You cannot ensure data integrity: It's easy for a team member to update or delete data from Excel by mistake. So you'll need a way to keep track of the changes.
Version soup: Team members can mistakenly work on different versions of an Excel spreadsheet. Combining data from these versions can quickly become chaotic.
Excel is OK for small, simple projects. But for creating timelines for larger projects, you may want to consider using a project planning tool like Toggl Plan.
SmartArt Graphics Timeline In Excel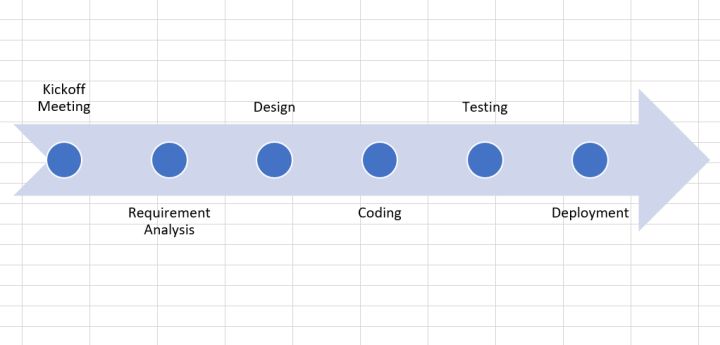 Microsoft Excel's Smart Art feature makes it reasonably straightforward to create a timeline. However, this timeline is pretty basic. And it shows only the sequence of events or steps in a schedule.
Still, it's a valuable tool to communicate a project's roadmap to stakeholders.
How to create a timeline in Excel using SmartArt?
Open a blank Excel document. Click Insert > SmartArt > Process.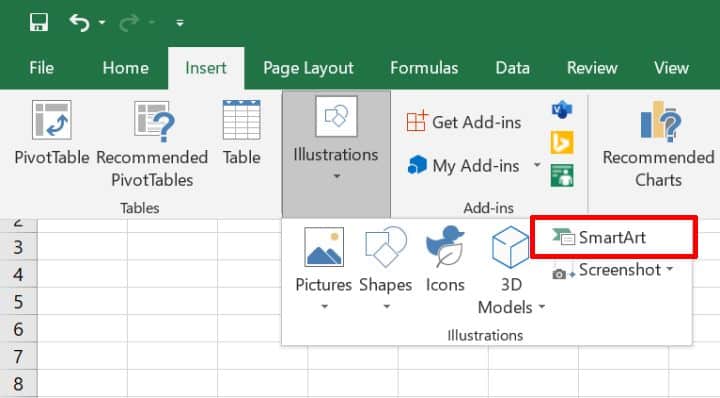 Then select Basic Timeline from the Graphic options. You may also choose other Graphics templates that suit your needs.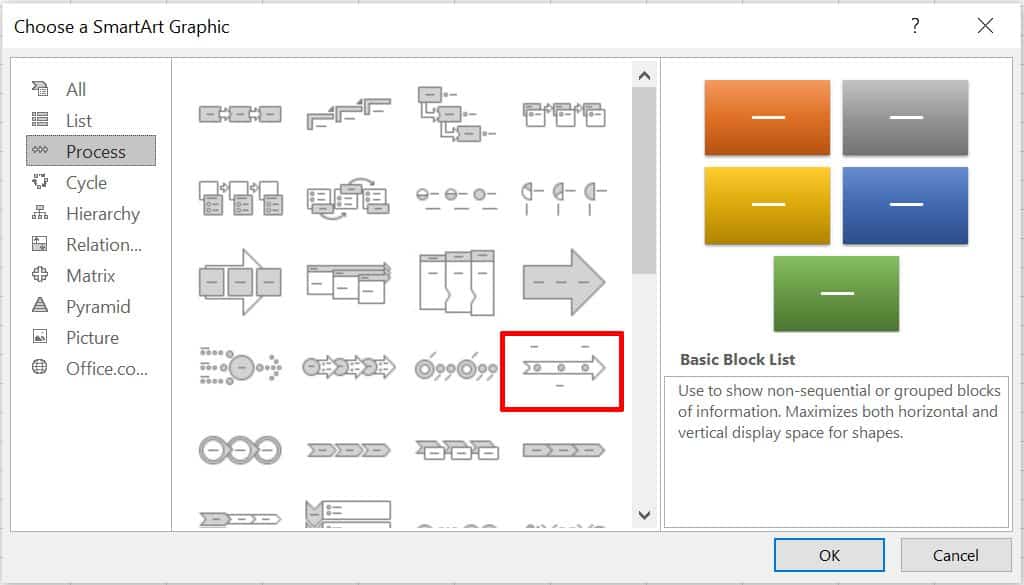 Enter timeline data either in the provided text box or directly on the timeline.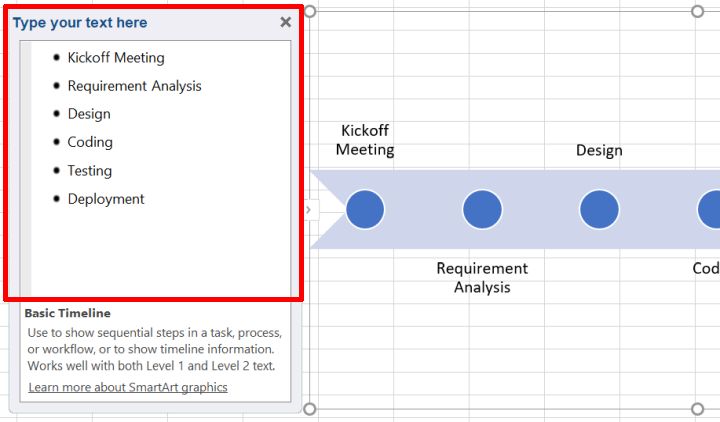 Excel also allows you to change the style of a timeline. Right-click to change the theme style, fill color, and outline styles.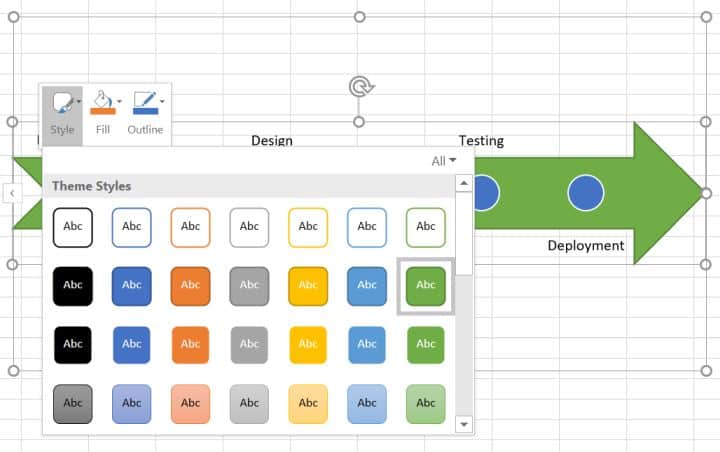 And your simple SmartArt timeline should be ready.
Excel Timeline Using A Scatter Chart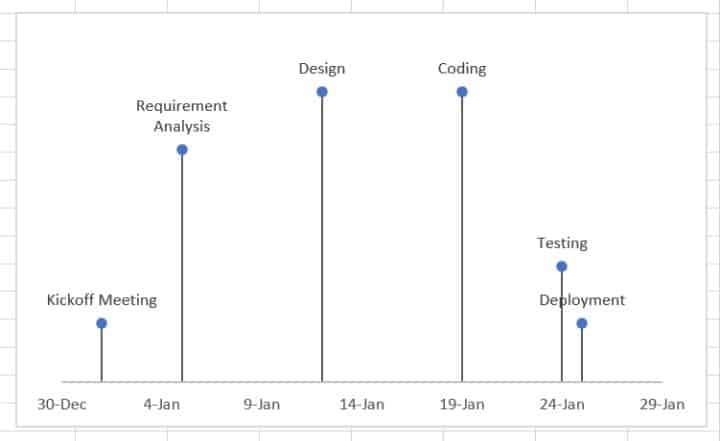 Let's say you also wanted to display the due date for each milestone along with the effort involved. In such a situation, the basic SmartArt timeline doesn't serve the purpose.
Here you can use one of the numerous charts available in Microsoft Excel. You can easily customize these charts to represent a timeline.
We've already seen how to create a Gantt chart in Excel using a horizontal bar chart. So, in this article, we'll use a scatter chart instead.
How to create a timeline in Excel using scatter charts?
First, open a blank Excel document.
Then, prepare chart data. For this chart, we'll use the milestones data from a website design project. Each milestone has a due date and an estimated effort, as shown below.

Next, insert a scatter chart from Insert > Charts. Then select the Scatter option.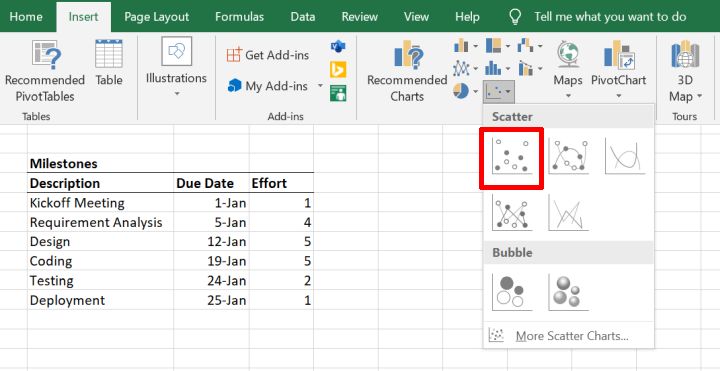 Now, we need to map our prepared data to the chart. Right-click on the scatter chart. Then click the Select Data option.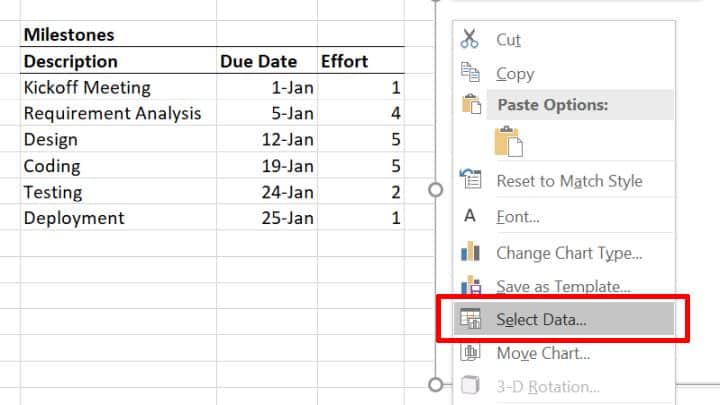 In the dialog that pops up, click on the Add button in the Legend Entries section. Set the Due Dates range as Series X values, and the Efforts range as the Series Y values.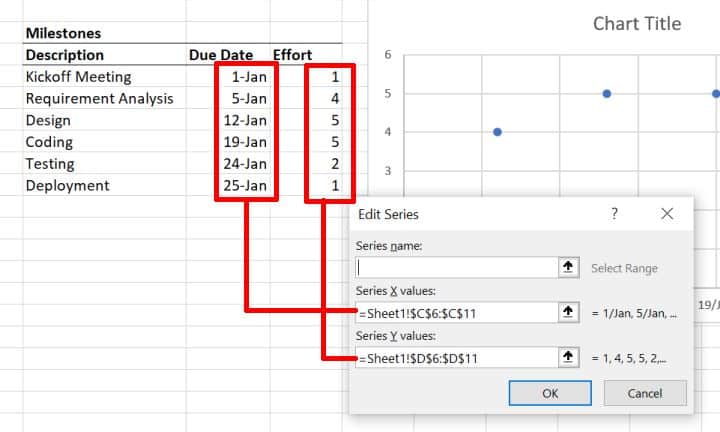 Next, make our chart look like a timeline, disable the Primary Vertical Axis, Chart Title, and Gridlines chart elements.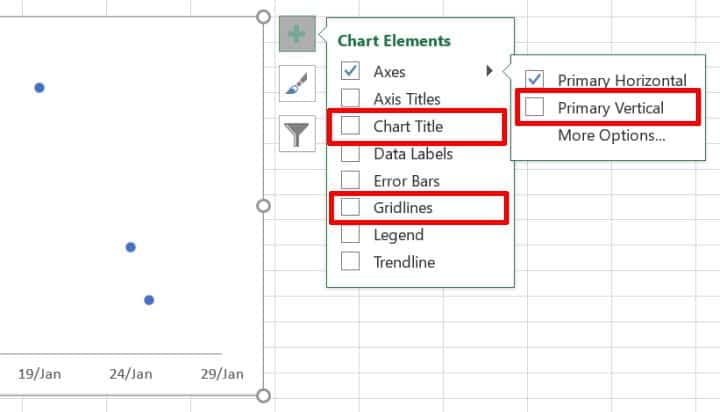 To display the timeline markers, check the Error Bars option in Chart Elements.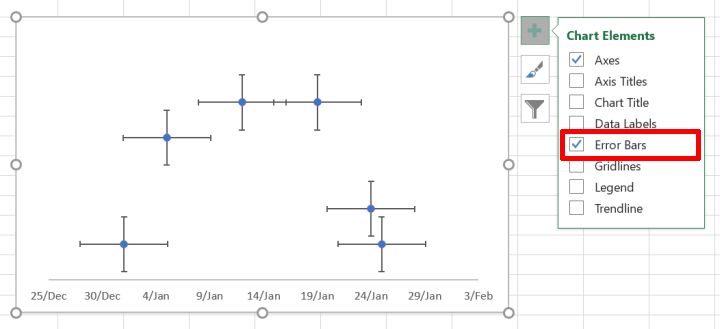 Then to format the error bars, click on Chart Elements > Error bars > More Options. For horizontal error bars, set the End Style to No Cap and the Error Amount > Percentage to 0%.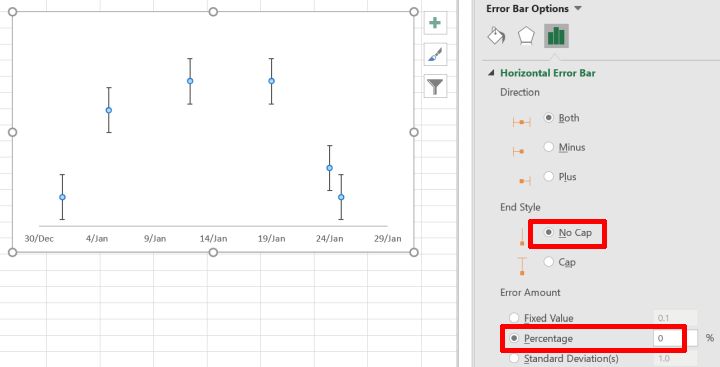 For vertical error bars, set the Direction to Minus and the Error Amount > Percentage to 100%.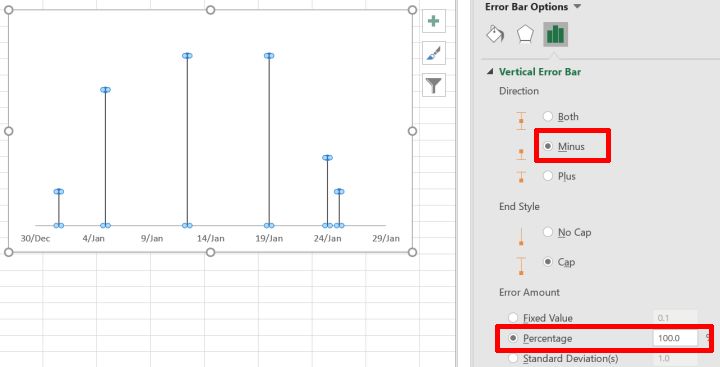 To display the milestone labels, enable Data Labels from Chart Elements > Data Labels. Then click on Data Labels > More Options.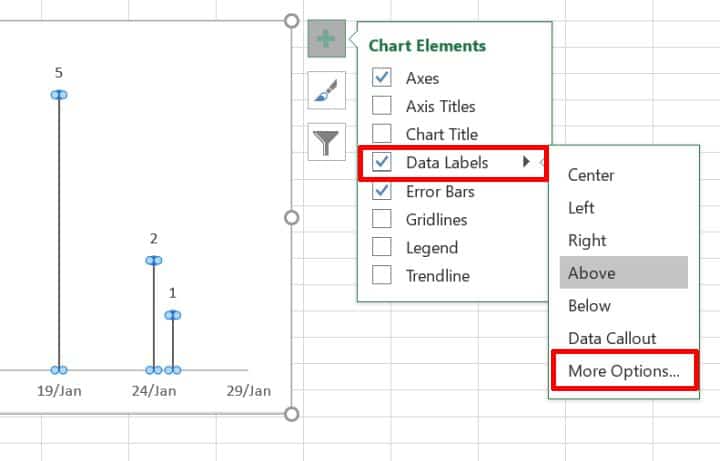 Enable the Value From Cells option and select the range of milestones names from our prepared data. Uncheck the Y Value option.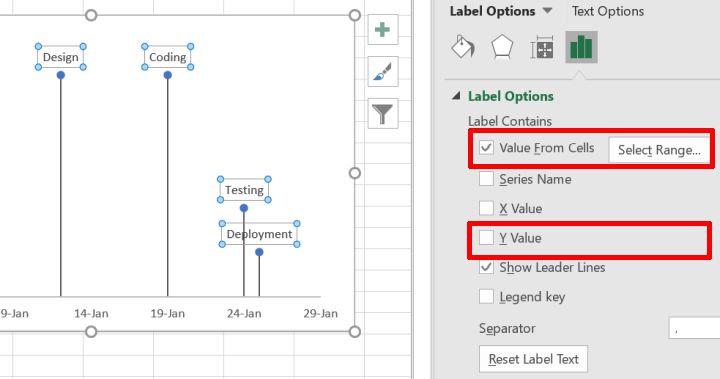 And there you have it. Your Excel timeline using a scatter chart is ready.
Excel Timeline Templates
If creating a timeline using a scatter chart sounds too complex, you can easily create a timeline using Excel templates.
Excel timeline templates are readily available in the MS Office Template Library. Some of these templates are available only after you purchase the Microsoft Office 365 subscription. However, a majority of these templates are available for free.
Let's look at how to create a timeline in Excel using a template.
How to create a timeline in Excel using a Template?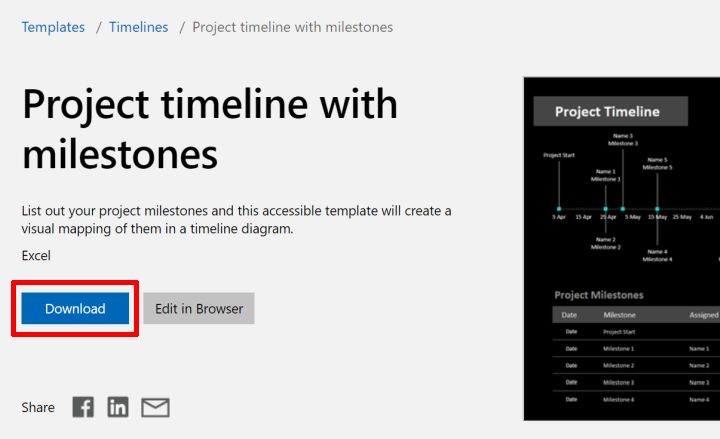 Open the downloaded template in Excel and update your milestone data in the Project Milestones section. Set the milestone due date, milestone description, the person responsible, and the milestone label position.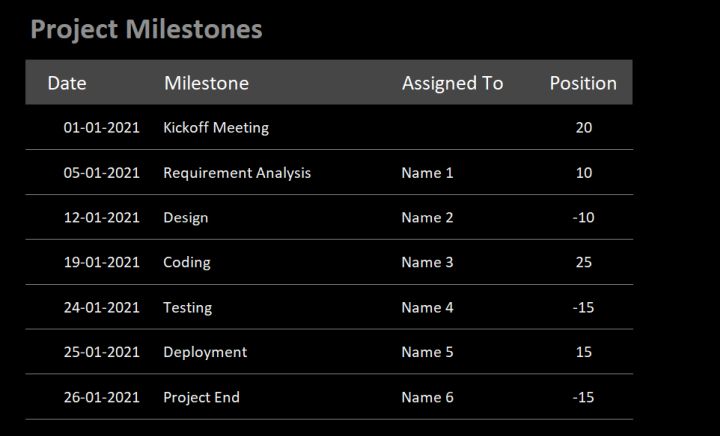 As you update your project milestone data, the milestone chart above automatically gets updated.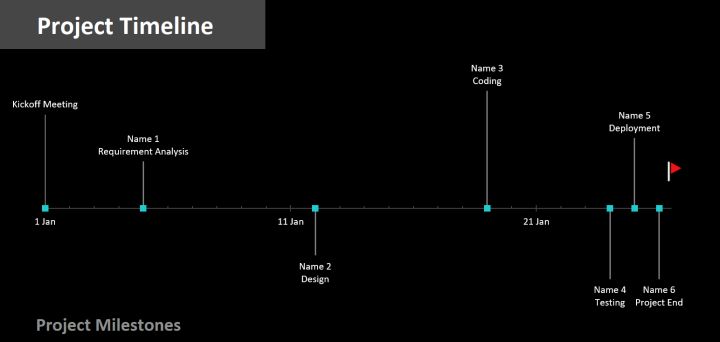 Within no time, your milestone timeline should be ready.
A Better Alternative To Excel Timelines
So far, you've learned about the pros and cons of Excel timelines and three different ways to create timelines in Excel.
Excel timeline templates are too simplistic. It can be painful to manage real-world projects in Excel. Plus, you cannot collaboratively plan a timeline in Excel.
So what's the alternative?
Toggl Plan is a beautifully simple project planning tool. It makes creating a project roadmap or a detailed project plan easy with a simple, drag-and-drop interface.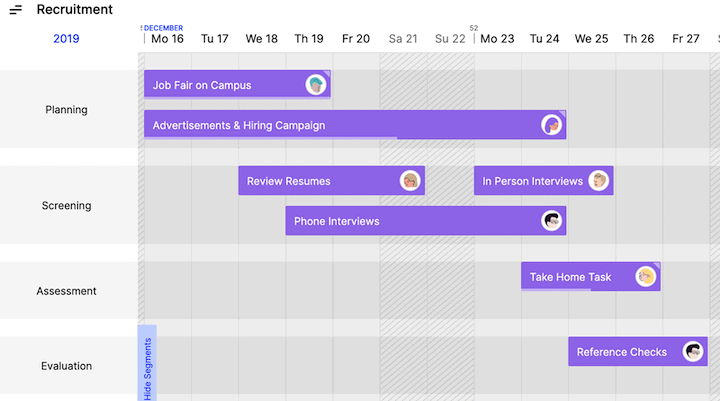 If you're an individual user, Toggl Plan is free forever. And if you work with a team, you can sign up for a 14-day free trial.