To many people, including fellow remote workers, coworking spaces are still uncharted territory. Many prefer to work from home or coffee shops and wonder:
Why should I pay to work at a coworking space?
There are so many shared offices out there – what should I look for?
Where do I find coworking spaces?
Which shared offices are the absolute best ones?
It's not possible to answer these questions properly without taking a closer look at all the options out there. If you're curious about shared offices and remote workplace setups but feel uncertain where to even begin, you've come to the right place.
Over the past three years I've worked from more than 25 different home offices, cafes, and coworking spaces in Europe, Australia and Asia. So sit back and let me share what I've learned. Hopefully, it will help you pick the best shared workspace for your needs.
PS. You don't have to travel to work from a coworking space. They're a great way to spice up your work life in your hometown as well.
Remote Work Office Options
Before we take a deeper dive into the perks and struggles of working from a coworking space, let's look at the alternatives – working from coffee shops and working from home. Though both cover the basic needs of a remote worker (below) there are different perks and quirks to each of them.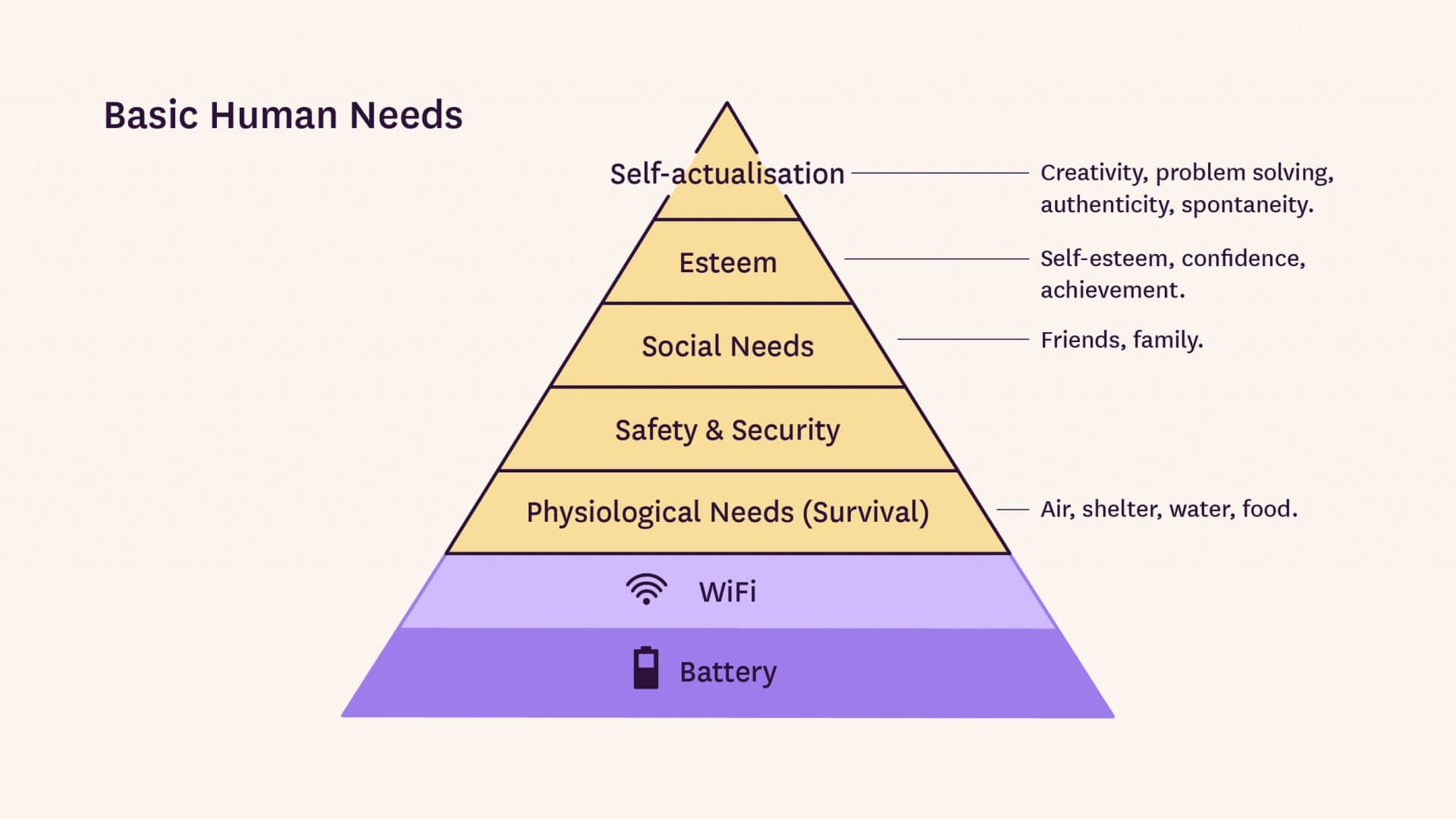 As you may have guessed, I'm slightly biased towards working from coworking spaces, based on my personal experiences and preferences. However, for the sake of variety, I do occasionally switch between my various "offices," even if it's only for a day or two.
Coffee Shops
Technically, it is possible to work anywhere with a good internet connection, a table and a chair. Nowadays, most coffee shops meet the aforementioned criteria and thus have become unofficial offices for many remote workers.
From a cafe's perspective, there are places that dread or even prohibit people working in their shops. Meanwhile, as the trend grows, there are also places that have learned to take advantage of this new way of working, and started promoting themselves as digital nomad-friendly cafes. Whichever one you end up in, there are a few pros and cons to consider when choosing a coffee shop as your place of work.
Pros of Working in a Coffee Shop
An upside of working in a coffee shop is definitely the lack of extra costs. You pay for what you get, be it a delicious muffin or an iced latte. Also, there's no need to waste time finding a place for lunch, as a delicious meal will be served anytime at your convenience.
Since you're not tied to a specific café, it's easy to work from a new space every day. It's a different kind of flexibility for the uneasy or anyone looking for creativity around them.
Depending on the cafeteria chosen, you can vary between a crowded space with a nice buzz around you or a quiet corner for focused alone time. Noise cancelling headphones are also a great help if you would like to have people around you, but need silence to get stuff done.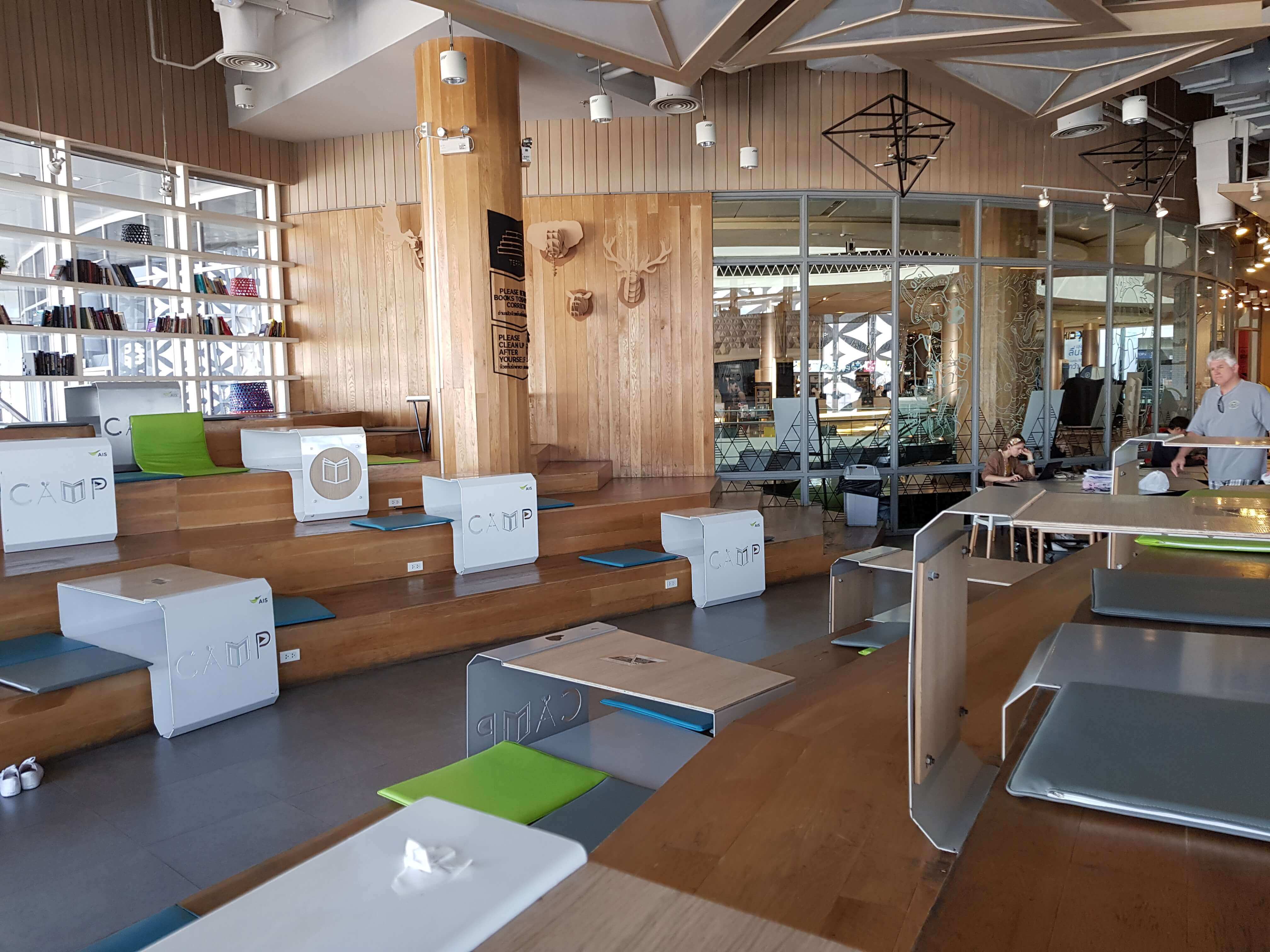 Cons of Working in a Coffee Shop
Depending on the work you're doing and the country you're in, the wifi speed may be good for browsing social media, but turn out to be lacking for getting work done. If all goes well and the wifi works, there might still be a challenge in getting a table next to a power outlet to charge your laptop.
The costs of all those coffees, snacks and lunches out can add up quickly. True, you get the food and drinks in return, but would you otherwise consume so many cinnamon buns and coffees a day? Or did you just crack under the pressure of not wanting to sit in a café at an empty table?
Depending on the coffee shop, how busy they are, and their overall policies, the staff can give you the occasional stink eye if you've been hanging around for more time than usual for your total order value. If it's a busy café, they might be losing clients due to you hogging a desk for hours (think eight hours a day if you're working full time). As a result, I either eat and drink a lot more than my body otherwise needs, or I end up changing cafes a few times a day, resulting in even more time spent on commutes and repacking.
Regarding packing and keeping your spot, there's an extra challenge when one's basic human needs, such as using the bathroom, need addressing. If you get along with the staff, you can always ask them to keep an eye on your laptop for a minute or two. More often than not, you need to pack everything up and take it with you if you're not willing to risk getting your laptop stolen. This might end up costing you your table or, in the worst case, the only place next to the power outlet.
If you have client calls or any meetings where sensitive information might be discussed, cafes are definitely not ideal. Most people go to cafes to chat with friends, so you can't really get upset if they create background noise. However, it may harm your professional credibility in front of clients, coworkers, or potential partners. Also, you never know who might be sitting next to you, overhearing the sensitive information discussed.
I sometimes start my work day from a coffee shop and eat my breakfast there, but due to all the aforementioned cons, I find it challenging to see a coffee shop as a regular place of work for a full-time employee. However, a coffee shop can be a great place to go to get out of the house and add variety to the usual home office routine.
Home Office
Setting up a proper home office is a great way to be the boss of your own workstation of your dreams. The experience depends on if you're living a stable life in one place or travelling the world every few months. In the first case, all you need is an initial investment and you're good to go for life. In the latter case, you need to make sure you have everything you need (desk setup and quality internet) every time you move to a new place.
Pros of Working in a Home Office
Probably the biggest perk of a home office setup is the freedom to make it your own. You can set it up just the way you like and where you find most suitable. Better yet, no need to pack and unpack.. ever!
Providing you live alone, your family leaves the building for the day, or you have a spare room to turn into an office, your usual desk also works out perfectly as a private quiet space for calls.
Another huge win is the lack of commute. Working from home definitely gives you another level of freedom to start work whenever and wherever you wish and to spend more time with your family. In addition to the time saved on commuting, working from home also enables you to be more flexible with when you get stuff done. It's easy to take hour long breaks to go for a jog and finish the days work after kids' bedtime. As long as you can maintain your productivity and accountability, it's a great freedom.
Unlimited coffee, healthy foods, and snacks are available at little extra cost right in the next room. Well, that is unless you're like me and feel compelled to not stop eating until there are no snacks left. Still convenient, but a little less healthy.
If you're staying put in one place, a home office requires just a one-time setup fee to get started. After that, all you have to do is remember to pay your usual bills.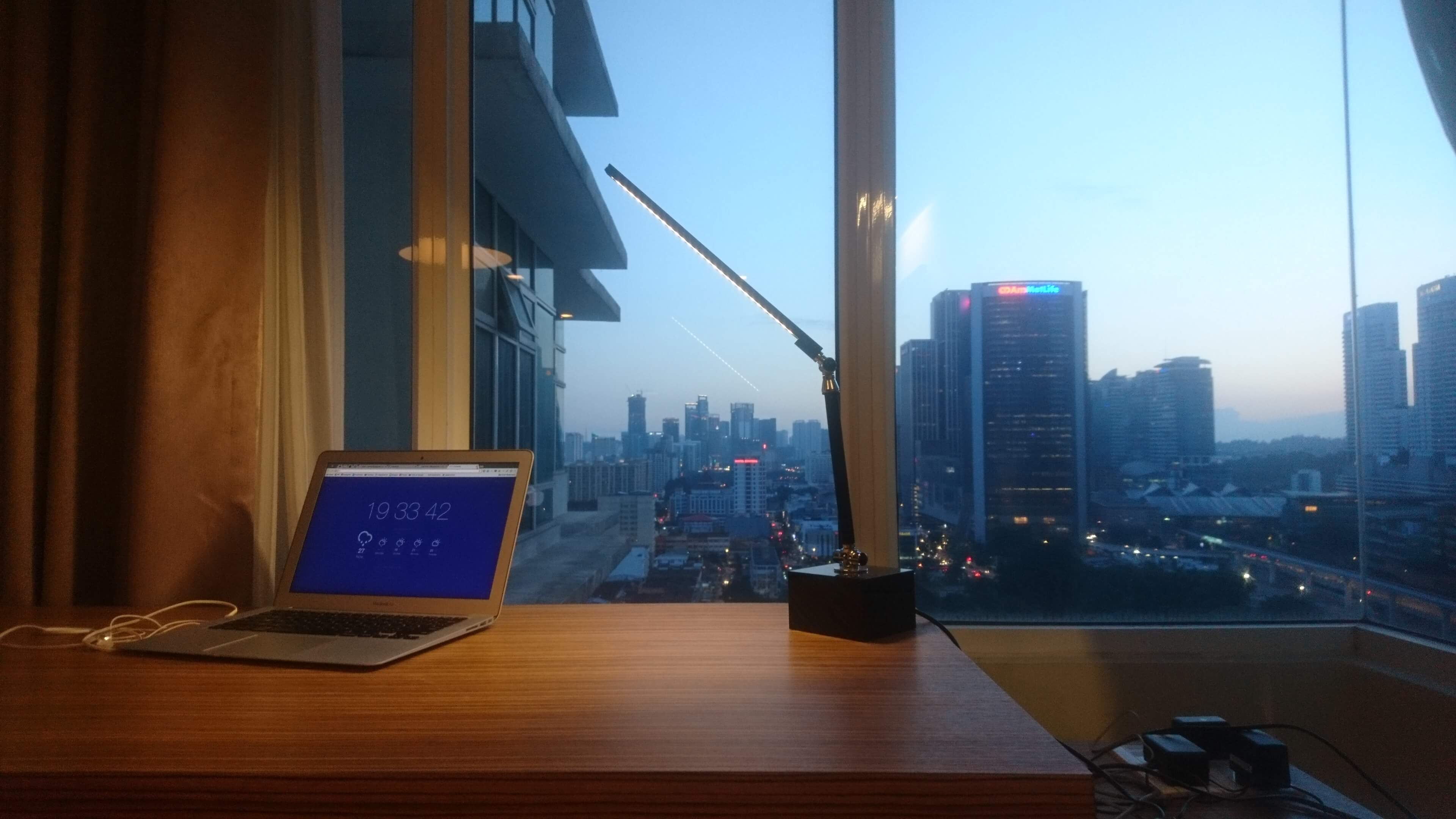 Cons of Working in a Home Office
One of the biggest challenges with home offices I've experienced is being "always on" and struggling to separate personal time and space from work. With the flexibility to finish work whenever and get chores done during the day, it's easy to spend more time behind your laptop working rather than pursuing other hobbies or just taking the evenings to relax. The more you love what you do, the easier it is to forget to keep a balance in what you spend your time on. Don't get me wrong, diving deep and spending more time on work isn't a bad thing, especially sporadically when needed. However, long term, it can result in burnout, loss of productivity and happiness.
I believe working from home needs the most discipline out of all options. Especially when you're working on a gruesome task you might not enjoy that much. Suddenly, all the chores you usually hate become crucial to be done right away – there's a pile of dishes waiting in the sink, dust bunnies to be vacuumed and a pantry to be reorganized. In addition, if you have kids or other family members at home, it might be hard for them to understand that even though you're home, it doesn't mean you're free to play house any time. In cases like this, a spare office room (rather than working from a common area such as the living room) might come in handy.
On the other hand, working from home can sometimes offer too much solitude. In an office environment, coworking space, or even a café, you have people around to interact with. At home, you might spend a lot of time in solitude. It's less of an issue if you're living in your home country or in a place where you already have a group of friends to hang out with during your free time. But if you're a digital nomad who regularly travels to a new country where you don't know anyone, the lack of human connection can pose a bigger issue. There are always other ways to meet people, but it takes an intentional effort.
Finally, while when living a stable life, the lack of extra costs related to a home office setup is a perk. But if you're a nomad, making a home office setup work for you can be a challenge. This includes two main considerations – finding an apartment/hotel with a proper desk setup and making sure the wifi connection is strong and stable. I've often found that even if an apartment lists that it has wifi, it doesn't guarantee that the wifi is strong enough or fast enough for work tasks. Depending on the country, organizing quality internet at home can cost as much as a coworking space fee.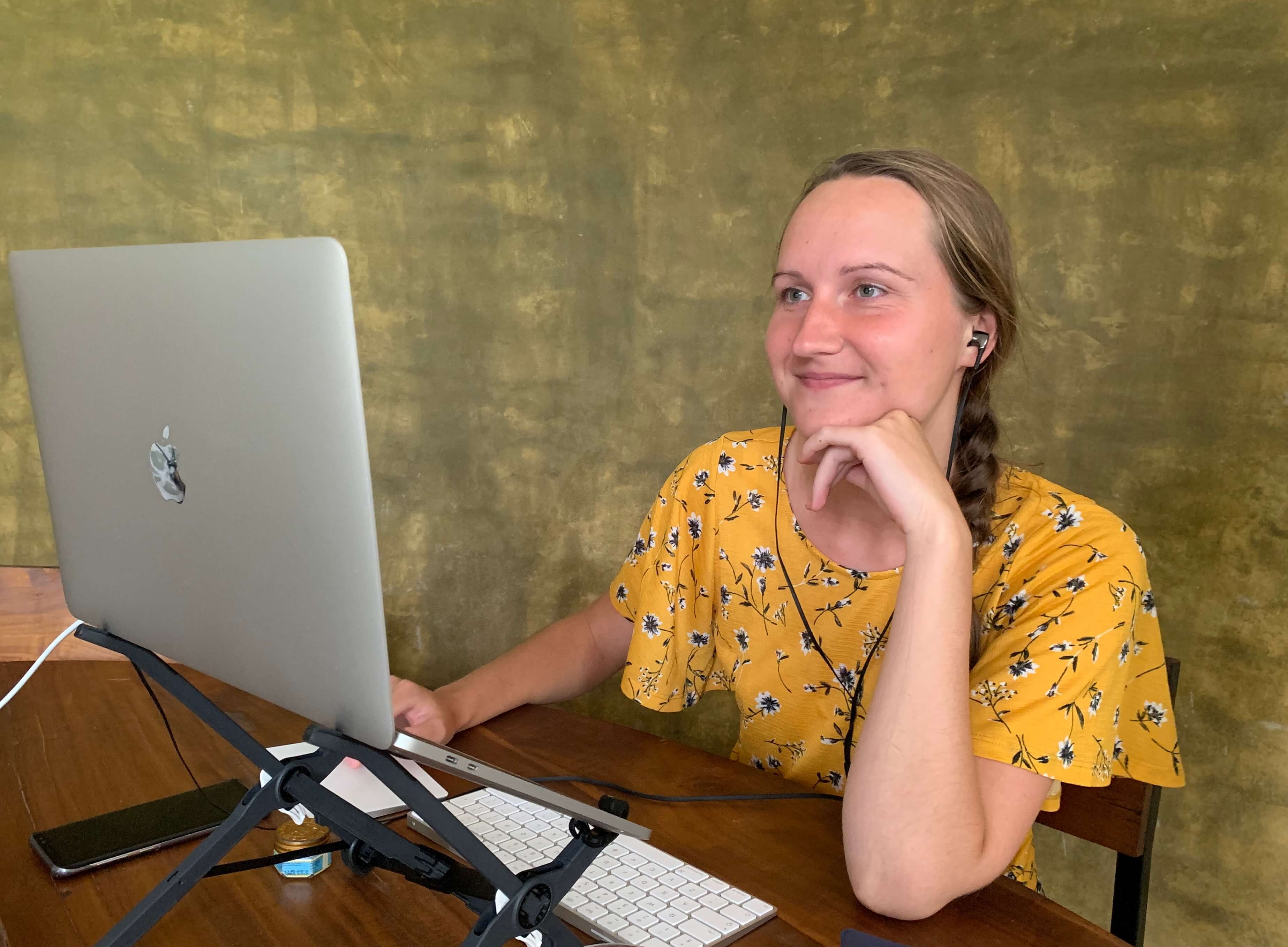 Coworking Spaces
Coworking spaces or shared offices are usually work-oriented environments where one can rent a space on a daily, weekly or monthly basis. No two spaces are alike and the overall atmosphere and vibe of an office can vary depending on the type of the coworking space and the target audience. Whether the shared office is aimed at local businesses and employees, startups, or digital nomads greatly impacts the communal events or lack thereof. Also, since it is oftentimes easier to make meaningful connections with likeminded people, being a young digital nomad in a corporate shared office might be a less of an exciting experience.
Overall, there is a lot to consider when looking into shared offices.
Pros of Coworking Spaces
Easy to form new friendships, especially handy when working abroad. Many coworking spaces also have Slack or Facebook groups where members can communicate, share events and get to know each other better.
Possibility of finding new clients and/or partners, though I'd suggest not entering a coworking space with the mindset of pitching your services to everyone. Most people come there to work, not to be sold to. But shared working spaces create a high likelihood of finding like-minded people whom you'd connect to organically.
Events for learning, networking and fun – great for meeting people, honing your skills or acquiring new ones, and getting to know the destination country.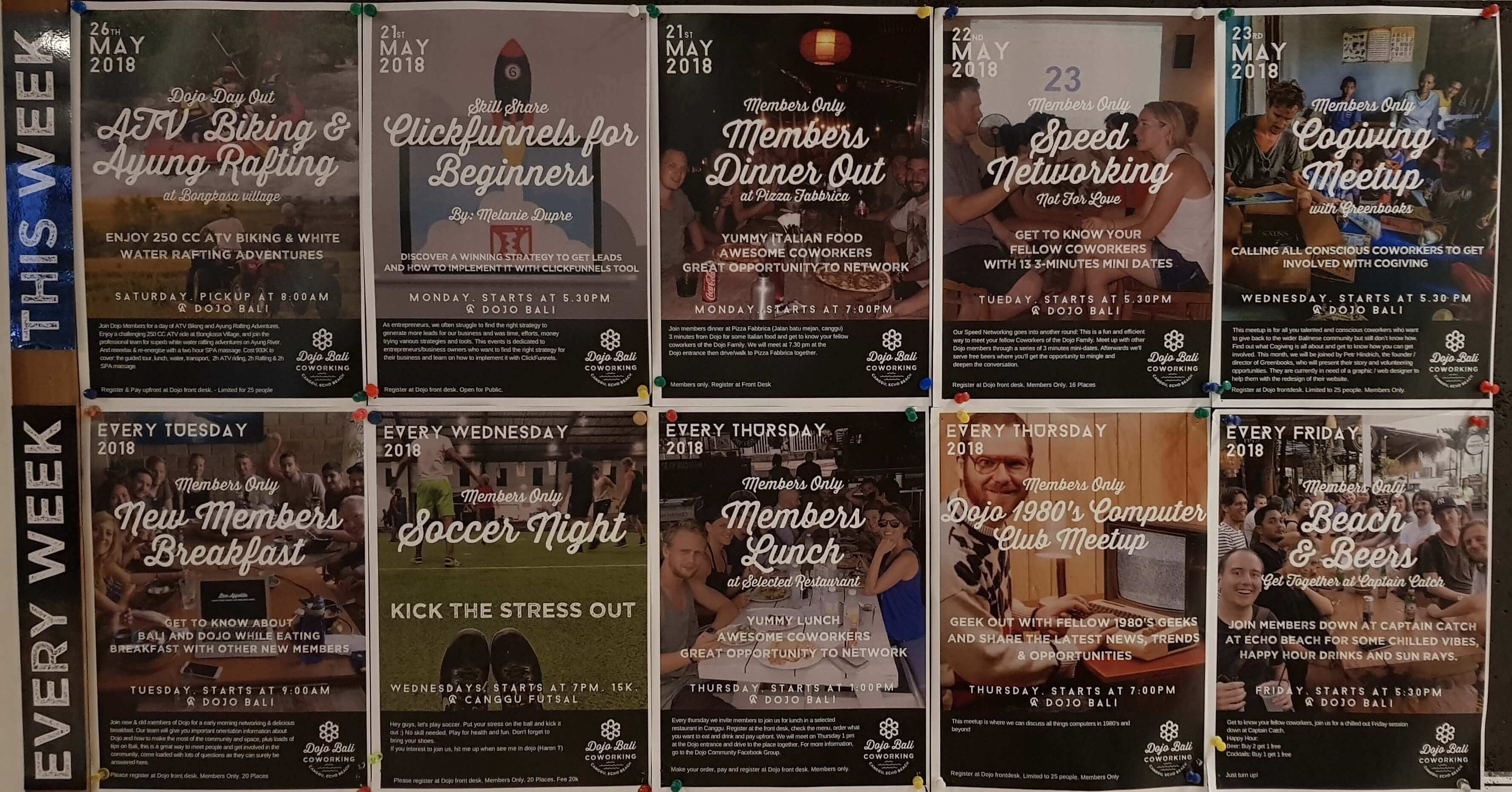 Productive environment – there's usually a quiet room for focused work, call booths and a comfy yet ergonomic workstation option. For me personally, having the office vibe of other people around me getting stuff done also motivates me to be more productive.
There's a great variety of coworking spaces styles out there from traditional cubicle style to poolside open-air offices. Personally, I didn't escape the traditional 9-5 office life to continue working from a cubicle.
In many developing countries, coworking spaces provide the best chances of a stable internet connection. Most shared offices put an extra effort into making sure they meet high-speed wifi expectations by having multiple service providers and backup generators in place to guarantee their members can carry on working no matter what.
When you're just spicing up your life with a day of working elsewhere, the actual table and chair in use matter less than the creative environment around you. But if you're using a coworking space on a daily basis, it becomes more and more important that the tables and chairs are ergonomic and your workstation doesn't hurt your posture. Many coworking spaces also have standing desks or bosu balls for extra variety.
Carrying on from the previous point, I usually carry a foldable Roost laptop stand and a wireless keyboard and touchpad with me. This enables me to raise my laptop screen to my eye level and not hurt my neck. For me, this is all the equipment I need to feel comfortable and be my most productive. But many people also need to rent monitors and keyboards, borrow various wires or use printing and scanning equipment. These are all things that can often be found in coworking spaces for your use.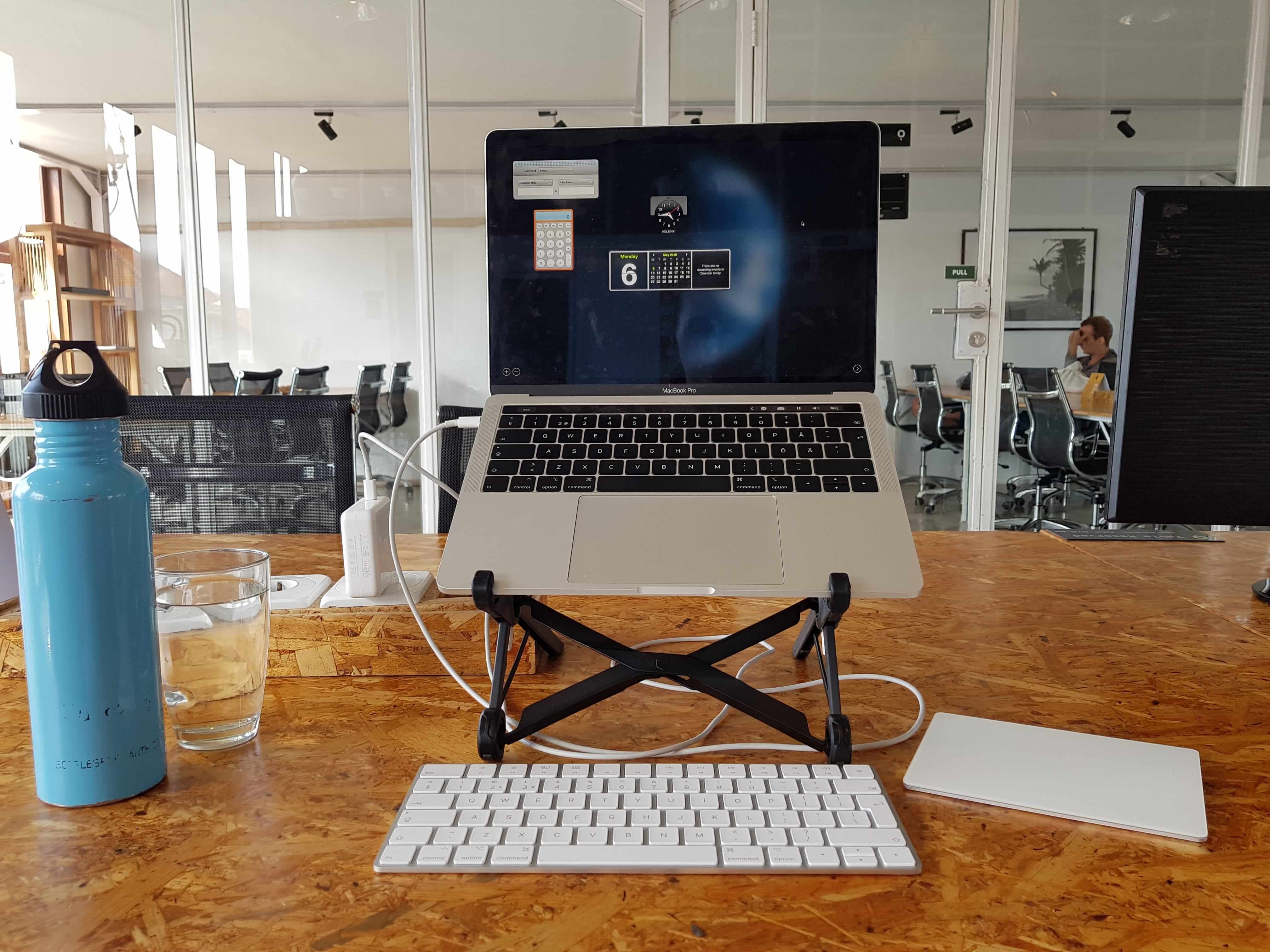 Whether for client calls, team meetings or 1:1s with your team members, it's important to also have a space where to have undisturbed calls without strangers listening in. Call booths and meeting rooms are designated areas in coworking spaces just for these purposes.
While there are plenty of coworking spaces open 9 to 5, there are more than a fair share that also provide 24/7 access to its members. This is more relevant to people with flexible work schedules or those working from a different time zone. Not having to worry about closing times is something I've grown to value a lot.
Free coffee, snacks and drinking water have become an industry standard in traditional offices, and have also made their way to many coworking spaces. In addition to the aforementioned, many coworking spaces have a cafeteria attached to them, serving a delicious lunch right to your workstation. Often, there's also a fridge and a microwave provided on the spot for those who prefer to bring their lunch box along.
Cons of Coworking Spaces
The biggest argument against coworking spaces is usually the accompanying price tag. Due to the variety of other options, not joining a coworking space is one of the easiest ways to cut costs. A shared office space rental for a month can require anything between 50-250€ depending on the country you're in and the facilities provided. However, I see this as an investment in my work productivity, health, overall happiness and work-life balance, as well as the new experiences and friendships I make. As a result, I also don't see it tying me to a coworking space for daily use, so I feel free to occasionally work from home or a coffee shop if I feel like it.
Working from a coworking space, essentially just another office, usually requires a commute, which according to many people (myself included) is a huge nuisance. To minimize this when travelling abroad, I usually do the research in advance and choose a place to stay in close proximity of the office.
Finding a suitable coworking space can be a hassle as the quality of shared offices varies a lot from the facilities provided, ergonomics of workstations, community events as well as overall welcoming vibes. A few times I've also experienced that the social media presence of a coworking space is much more lively than what is actually taking place in real life. Also, in bigger cities and with the most well-known shared office chains, sometimes the coworking space is fully booked.
Coworking and Coliving
In addition to just offices, e.g., coworking spaces, there's an additional option of a coworking and coliving space. The main difference is, that when travelling abroad, you can get everything, your workstation and accommodation, sorted through one place. Sometimes it means having your room, shared kitchen and an office all under the same roof. Other times you might get a hotel-style bedroom in close proximity of the office.
Coliving is definitely a good soft-landing option when going somewhere for the first time. Often though, after getting more familiar with the area, it becomes clear that the same quality of accommodation can be found with a significantly cheaper price tag if you arrange everything yourself. Also, after a while I start to miss the privacy an apartment provides.
Despite the steeper price, I do think a coliving setup is worth trying when you're getting settled in a new place. Some of the most fun and the coolest people I've met have been the ones I've lived together with in a small coliving and -working space. It's definitely been my luck, as you can just as easily end up living with people you have little connection to. But in addition to luck, there are some factors, such as the size, location and existence of communal areas, that have an impact on the experience as well.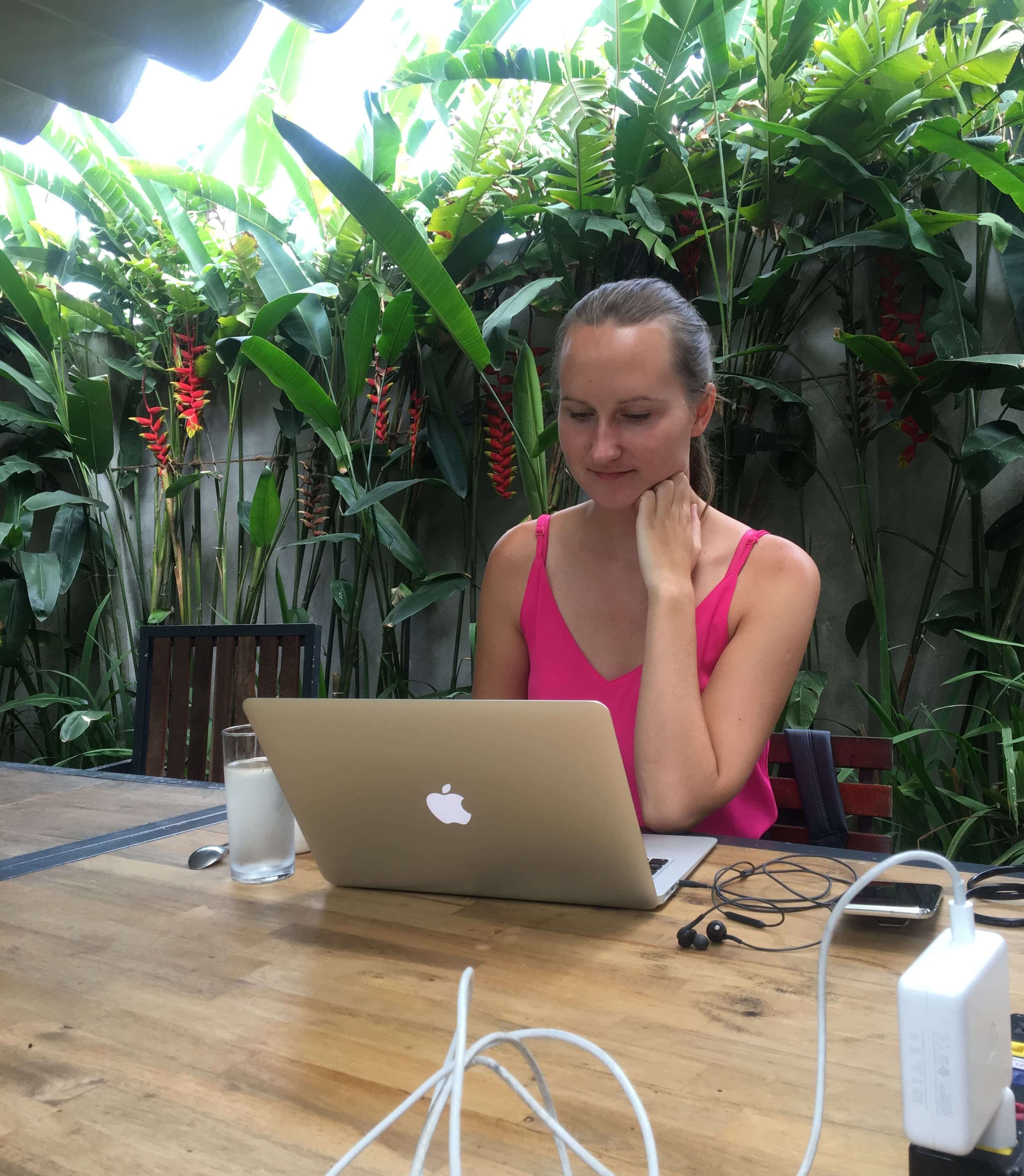 I've noted that the smaller the group of people in the coworking and -living space, the closer the bunch usually grows. You'll be sure to find plenty of like-minded people as well in a group of 50, but there's a different kind of family dynamic magic that takes place when there's only 15 people sharing a home and an office.
Second, based on my experience, working and living in the same building is a great premise for creating a strong community and bond among the members living, cooking and working together. At the same time on a personal level, it's in a way more similar to working from a home office, blurring the distinction between work and leisure time.
Finding a Coworking Space
When looking for a coworking space in my home town, my requirements are usually less demanding compared to searching for a shared office in a foreign country. Great internet and 24/7 access are my personal absolute minimum anywhere, as I prefer to work flexibly and not be limited to office hours. But in my hometown, that coupled with just a nice cozy atmosphere might be enough.
When travelling, choosing a coworking space is one of the first decisions I make, even before making up my mind on where to go. I want and need the destination to have a coworking space with an active community and a variety of events to be able to easily settle in and get to know my destination.
I usually have a few countries in mind that I'd like to visit and then I use www.coworker.com to find out if and where there are any shared offices. While coworker is a nice place to get to know your options, it's often not giving me enough certainty.
Therefore, I find a few options from coworker and then visit the official websites of the shared offices, their social media profiles (including checking if they have Facebook events and recent posts) and also read reviews on public profiles. Once I've decided on a specific office, I start looking for a place to stay as close as possible to minimize the commute required.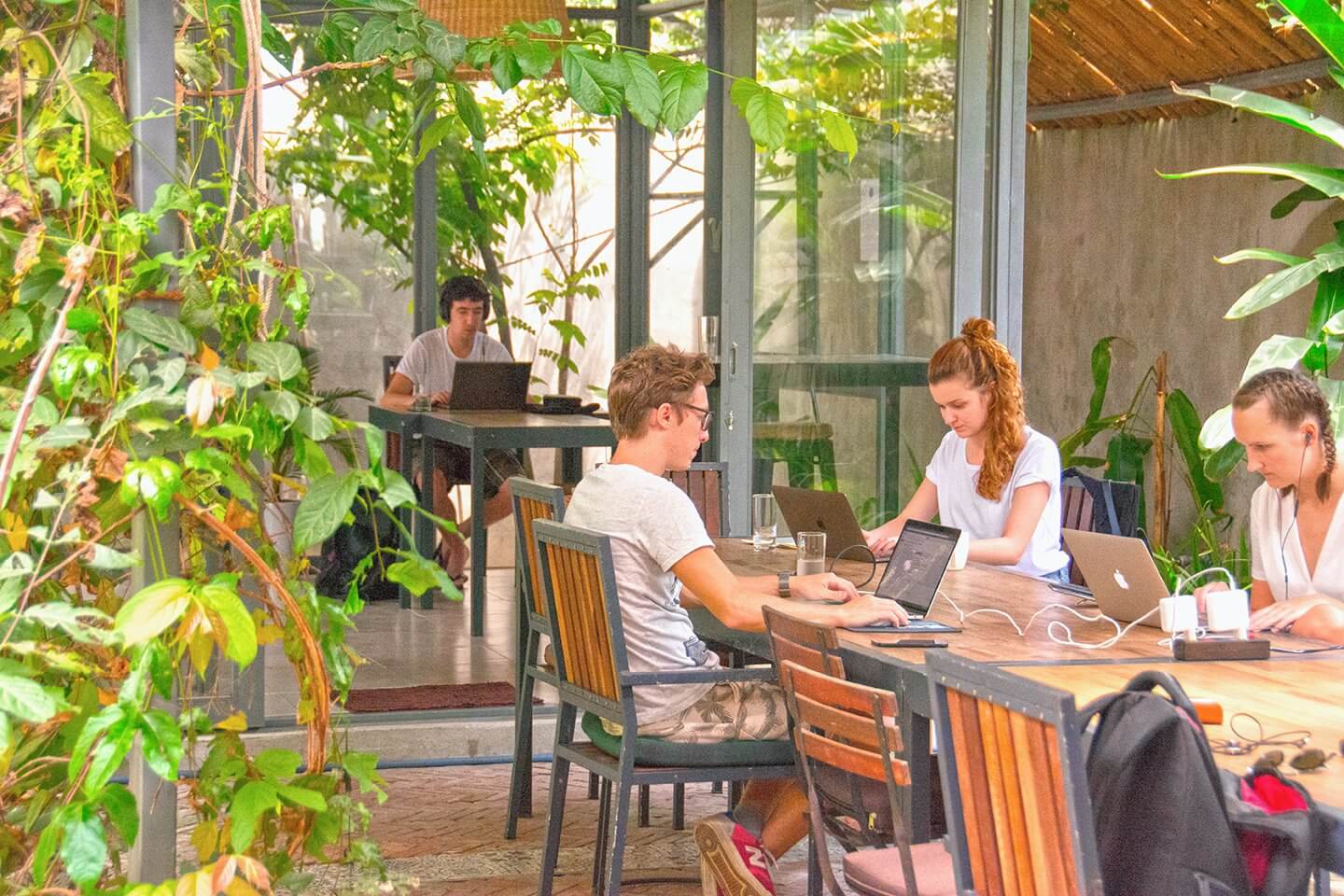 I often get asked which coworking spaces have been my favorite ones so far. It's a tricky question, as my personal reply is always in line with the places I've enjoyed as a visitor. There are two quite different places that I'll always look back on fondly though.
One is Hub Hoi An in Hoi An, Vietnam. It's one of those small coworking spaces with a tight group of people, board games nights and the sweetest owners and staff possible. Hoi An itself is an adorable town in the middle of rice fields with a nearby waterfront.
The other one is Outpost Canggu in Canggu, Bali. It's a bigger chain of coworking spaces, but with great amenities, welcoming people, natural light-filled comfortable workstations and plenty of self-development workshops. While I love Bali and have made countless great memories in Indonesia over the past years, it has become more and more crowded there, which might suit some, but can also be a turnoff for others.
In addition, there have also been places that were great just because of the people that were there, and some that looked great but I simply didn't stay in long enough to get to know the people and make long-lasting memories in. It's never only about the features of the coworking space, but also about the environment you're in and the people you meet.
Conclusion
There are many unofficial offices one can work from, and there is no single best option for everyone. In the end, it depends strongly on your personality and lifestyle, but it's good to consider the pros and cons of the choices out there.
Coworking spaces often get thrown off the list way too easily for cost cutting purposes, without considering what you get in return. It's not only about having a productive environment that draws me back to discover new shared offices. It's also the people I meet, the workshops and community events I attended as well as the overall comfy and creative feel of many of the offices visited. But hey, no one is obliged to choose just one and stick to it. That's the beauty of remote work – you can choose your own setting on a daily basis!

Kati Kuustik is a marketing and analytics specialist at Toggl Plan, where she helps the product and marketing teams better understand user behavior in order to translate that into valuable product updates and effective campaigns.