As two out of three companies expect employees to work-from-home permanently or at least in the long-term, teams are looking for ways to make remote work simpler.
Project planning is no different.
However, unlike other work, planning is a unique activity. First, it needs all essential stakeholders — customers, partners, managers, and workers — to work together. And second, it involves a lot of ideation, discussion, clarification, and approval.
As more people prefer working from home, teams can no longer site face-to-face to chalk out a plan. Instead, they have to work virtually to overcome project management challenges including working across timezones to communicate and collaborate.
As a result, 73 percent of teams see the need for more collaboration tools.
Thankfully, today we have a rich set of tools that help teams collaborate and plan projects remotely. This article shares the top online project planning tools to help remote teams plan and manage projects effectively.
Let's dive in!
Project planning activities
Project planning activities include everything from gathering requirements to creating a timeline. In between, teams identify activities, prioritize tasks, estimate costs, and seek approval from stakeholders.
Planning activities can be summed up into:
1. Ideation and Brainstorming
All essential stakeholders come together to capture, prioritize, and organize project ideas. These ideas include project goals, outcomes, activities, and risks.
These help finalizing the project requirements, timeline, and scope.
2. Planning a Task Timeline
After identifying the activities and their outcomes, the next step is to identify project milestones. Milestones break a project into manageable phases and help reduce unseen risks.
Next, teams identify tasks for each milestone. Finally, tasks and milestones are added to the timeline based on priorities and dependencies.
3. Resource Allocation
Last but not least, managers identify the resources and assign them to tasks. Based on resource availability and risks, managers often need to re-adjust the task timeline.
You can learn more about resource allocation here.
Online project planning tools help managers overcome remote planning challenges. The end result is a clear plan that outlines:
What needs to be done,
When,
And by whom.
Top project planning tools for remote teams
So far, we've looked at the activities involved in project planning. Next, let's look at the tools that can make planning easy.
Ideation and Brainstorming Tools
As discussed earlier, this is the stage to ideate on project outcomes, activities, and risks. At this stage, visual techniques such as sketching, mindmapping, and idea boards help. These techniques help teams better understand stakeholder needs. As a result, teams are able to refine existing ideas as well as discover new ideas.
Here are three ideation and brainstorming tools to kick-start the project planning process:
1. Toggl Plan's Idea Boards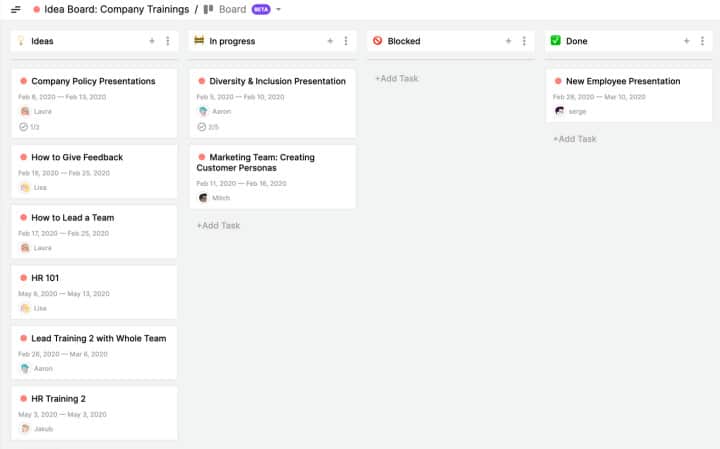 Toggl Plan is a simple project planning and execution tool. It offers a flexible project timeline to plan your projects.
In addition, Toggl Plan also has flexible boards tool. Using this boards tool, teams can visually manage tasks as well as organize ideas.
Features
Capture and organize ideas on a virtual idea board. For example, you can organize ideas by status, roadmap phase, iteration, feasibility, etc.
Create a custom ideation workflow with customizable board columns. Drag and drop idea cards into columns to visually track progress.
Include a detailed description for each idea. Plus, attach files and discuss them with other team members.
Classify and filter ideas using color-coded tags.
Add start/end dates to convet an idea into a timeline task.
Pricing
Toggl Plan comes with project planning, task management, and workload management features.
You can use it for free if you're a consultant or a freelancer. If you need more users, Toggl Plan comes at $9 per user, per month.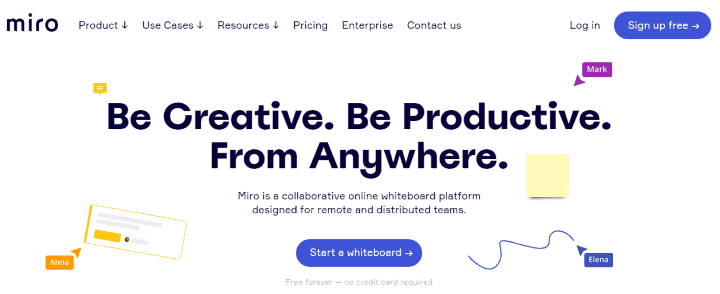 Miro is an online whiteboard tool for remote teams. Teams can collaborate using Miro to plan projects using its extensive set of features.
Features
Mindmaps, video conferencing, screen sharing, and presentation mode enable team members to brainstorm and plan projects in real-time.
Users can attach PDFs, documents, and spreadsheets to a task (sticky note)
The Stickies Capture feature enables you to capture handwritten sticky notes and convert them into their digital counterpart.
Apart from Miro's built-in template library, it also consists of community-generated templates.
Miro offers native apps for both – desktops and smartphones.
Cons
No timeline feature to translate ideas into plans.
The day pass for one-off collaboration costs $3 per user, per day, which is expensive.
Pricing
Miro's free plan offers three editable boards and unlimited users. The paid plan starts at $8 per user, per month.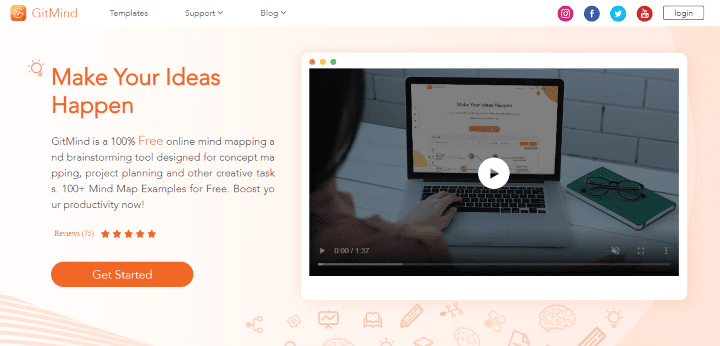 GitMind is a free brainstorming tool. You can create mindmaps to brainstorm ideas. Also, you can flowcharts to draw process maps.
Features
Straightforward user interface and experience (UI/UX).
The tool lets you create mindmaps, flow charts, organizational charts, UML diagrams, swimlanes, and analysis charts.
It consists of an exhaustive template library, with over 100 templates for mindmaps alone.
Users can export their work in PDF, TXT, SVG, and other formats.
Cons
Limited set of features compared to other tools on this list.
Pricing
Gitmind is completely free tool.
Gantt Chart and Timeline Tools
Gantt charts play an important role when planning a project. You can create a high-level project roadmap or a full-fledged task timeline. With tasks and milestones laid out on the timeline, everyone in your team get a clear idea of what needs to be done.
4. Toggl Plan's Project Timeline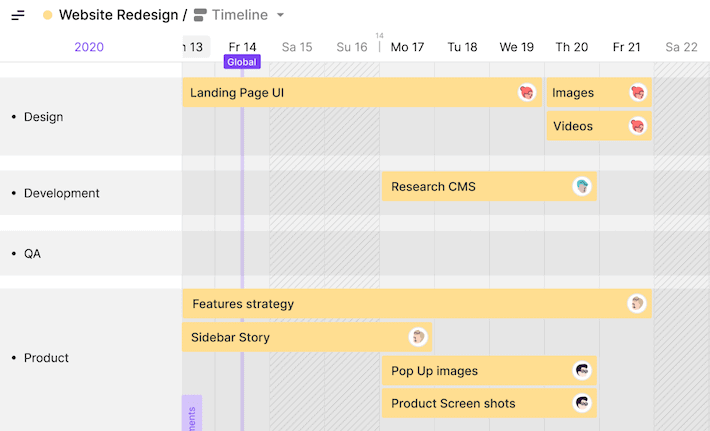 Toggl Plan makes it really easy to plan a task timeline. It's simple drag and drop interface helps you create plans quickly. Plus, adjusting your plan is easy as well.
Features
Create color-coded project timelines with milestones.
Bulk import tasks using a CSV file.
Duplicate tasks with one click.
Easily drag and drop tasks to accommodate plan changes.
Drag task endpoints to change start and end dates.
Zoom in on a week, month, quarter, or year to see all planned tasks.
Share a read-only view of the timeline with clients and stakeholders.
Assign a task to multiple team members.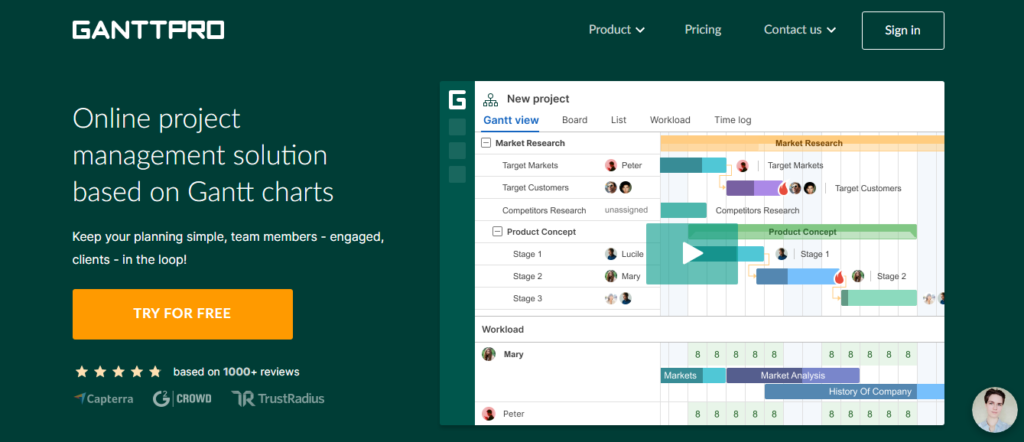 GanttPRO is a Gantt chart-driven project planning tool. It's great for teams looking for a solid project road-mapping tool.
Features
Automatically reschedules a plan whenever you change the date of a task.
Powerful user trail and auditing. Track every activity and change in the project made by anyone in the team. And, revert the changes if necessary.
Powerful filter and bulk edit features let you make changes to projects quickly.
Cons
A common complaint found on review sites is that the GantPRO UI can be slow and cumbersome.
Pricing
The team plan starts at $8.90 per user, per month for a five-member team. The cost goes down as the team size grows.

Asana is a familiar name in the list of top online planning tools. Its timeline view helps teams plan tasks and milestones.
Features
Import tasks on the timeline using a CSV file.
Get all updated in a centralized communication inbox.
Set up automation rules for common task activities.
Asana integrates with over 100 third-party apps.
Cons
Complex, confusing user interface.
Can be expensive, starting at $13.50 per user.
Pricing
The timeline view is not available in the free plan. You need to upgrade to Asana's premium plan, starting $13.50 per user, per month.
Resource Allocation & Capacity Planning Tools
Every project needs resources — people, tools, and budgets. That's why every manager needs a capacity and resource plan.
With the right resource management tools, managers can optimize resource allocation. Plus, it also helps identify over-worked employees. Thus, prevent burnout.
Here are three tools that can help you plan your resources better.
7. Toggl Plan's Team Timeline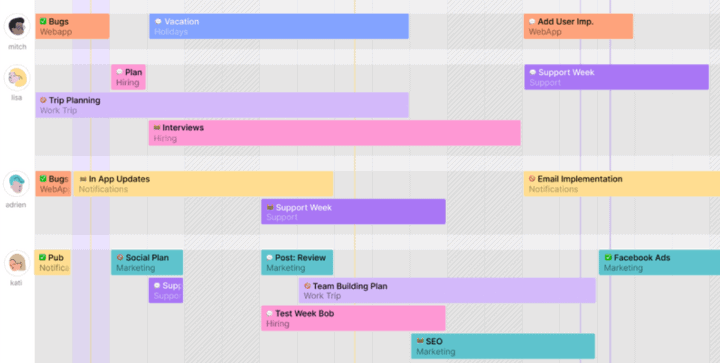 Toggl Plan's team timeline feature makes it easy to see what each team member is working on. That way, you can easily identify overwhelmed team members.
Features
Get a quick, visual overview of your team's capacity.
Understand what each team member is working on across projects.
Quickly see who's on vacation, who's available, and who's overwhelmed.
Add team members to multiple teams.
Automatically syncs changes across project timelines and boards.
Cons
Only tracks people resources.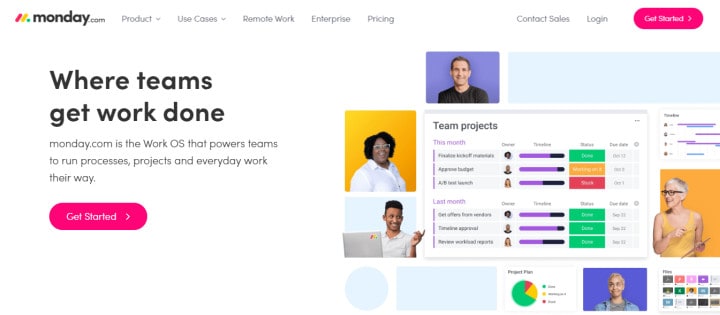 Monday.com is a popular visual workload planning tool. It comes with an optional Workload view. You can add this view to your board to visualize team members' workloads.
Features
Get a clear overview of your team's workload distribution.
Use this tool to allocate resources such as rooms and resources.
Customizable working days and work hours.
Pricing
The basic plan starts at $10 per user, per month, with a minimum of three users. The workload view feature is available in the $20 per user, per month plan onwards.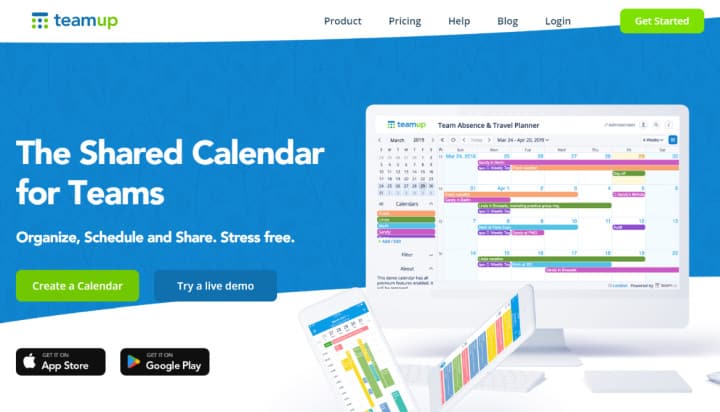 Teamup is different than other work planning tools on this list. You can add tasks to a Teamup calendar and share it with your team. A color-coded view visually shows the capacity of each team member.
Features
Get a visual view of who is working on what in the team calendar.
Create sub-calendars for people, tools, and other resources.
Organize calendars in folders for easy management.
Cons
Doesn't have as many features as some of the other tools on this list.
Can become cluttered for large and hierarchical teams.
Pricing
The free plan is useful for small teams and allows up to eight sub-calendars. Premium plans start at $8 per month.
Agile Planning Tools
Agile is a popular methodology among software teams. However, in recent years, non-software teams too are embracing Agile management. The Agile method involves incrementally delivering projects in short iterations.
Agile planning is very different compare to timeline driven project planning. Here are three tools that help plan Agile project iterations.
10. Toggl Plan's Kanban Boards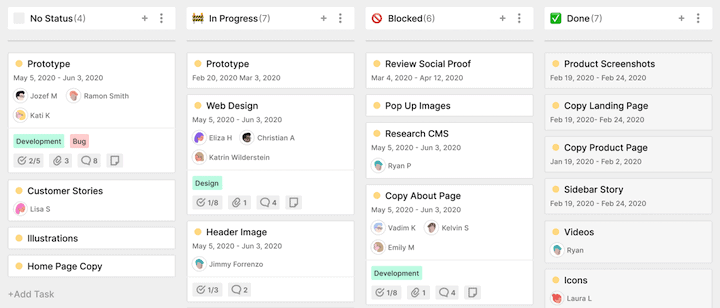 Toggl Plan's boards are extremely flexible. As we saw earlier, you can use a board to manage ideas. In addition, you can also use a board to plan a sprint or a scrum iteration of your Agile project.
Features
Easy drag and drop user interface to visually manage tasks.
Collaborate on tasks via comments and file attachments.
Create custom board columns to match your team's workflow.
Improve delivery quality by adding a checklist to the task.
Classify and filter tasks using color-coded tags.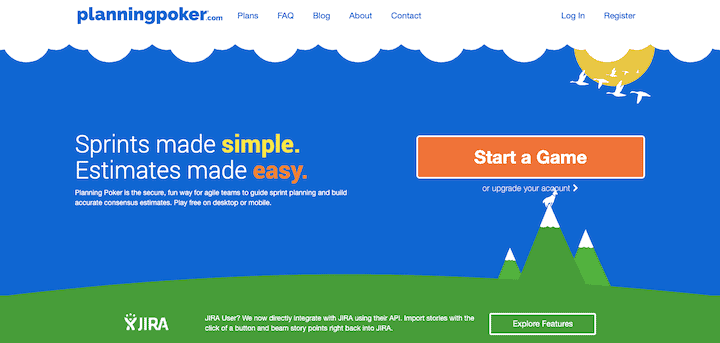 Planning Poker is a sprint estimation tool for agile projects. The planning tool gamifies the scrum estimation process.
Features
Using effort pointing, the team can identify the level of effort needed for the development of each backlog item
You can integrate with Jira to import tasks/stories
Allows you to export data in the CSV format.
Cons
Other than sprint planning, the tool has very little to offer.
Pricing
The tool is free for up to five users. The paid plan costs $14.95 per month for ten users, whereas the $49.95 per month plan accommodates unlimited players.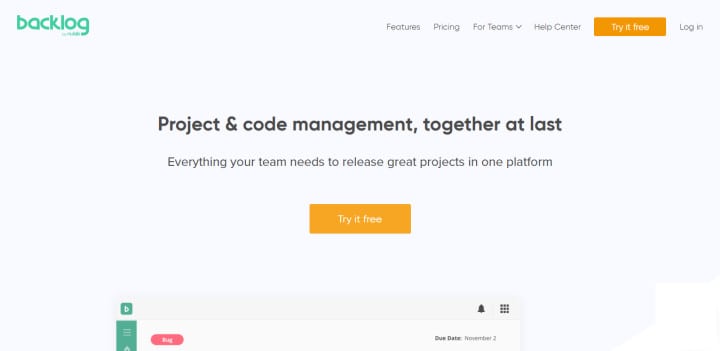 Backlog is an Agile project management tool. It has all the features you might need to plan and manage a project using Agile methods.
Features
Use Kanban boards to track task completion.
Also support a basic Gantt chart timeline feature.
Support for code management and bug tracking features.
The progress bar graphically shows a burndown chart, along with the number of tasks remaining and completed.
Collaborate with your team with robust role-based access controls.
Cons
May feel overwhelming for non-software teams.
Pricing
The free plan comes with one project and up to ten users. Premium plans start at $35 per month and includes 30 team members.
Software Planning Tools
The software development niche is unique. To create a plan for a software project, managers need brainstorming, timeline, and resource management features. In addition, they also need code and bug management features.
We've already looked at Backlog. Here are three more tools you can use to plan a software project.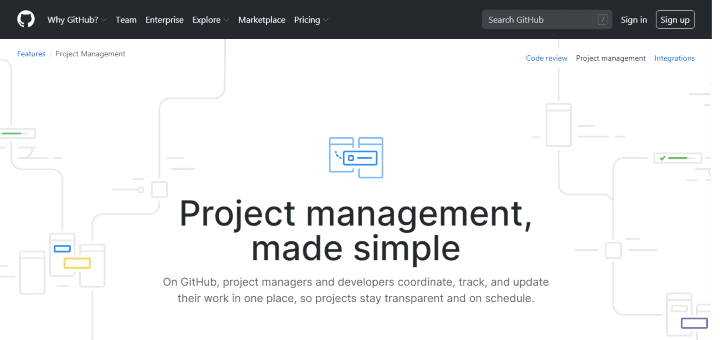 GitHub is a popular code management tool. Its project management tool is simple, yet is useful for planning software development projects.
Features
Set up milestones for big features or monthly tasks. The progress tracker keeps you updated as you check off tasks
Manage projects via kanban boards
Assign tasks up to ten members. Mention other team members to keep them updated
Integrate apps like CodeTree, Stale, Zube, and ZenHub to expand the product usage.
Pricing
Offers a free plan with basic features. Team plans start at $4 per user, per month.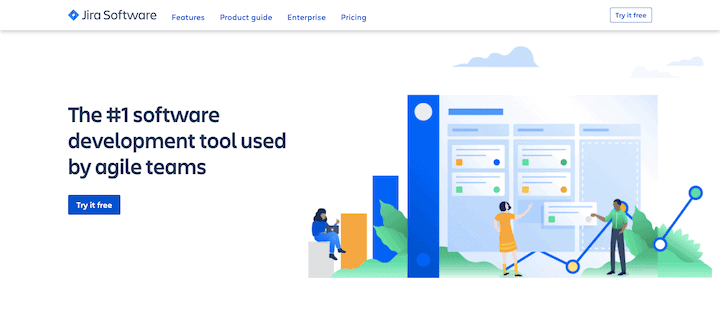 Jira is another popular Agile project planning and execution tool. You can further expand its feature set with integrations.
Features
Teams can visualize the project in both – Kanban boards and timeline views
Custom workflows help you cater to your customized software development process
Detailed reports shed light on the user workload, the average time required to resolve an issue, newly created issues, etc.
Highly useful for bug tracking.
Cons
The user interface feels slow and cumbersome for large projects.
Pricing
Free for up to ten users. Paid plans start at $7 per user per month.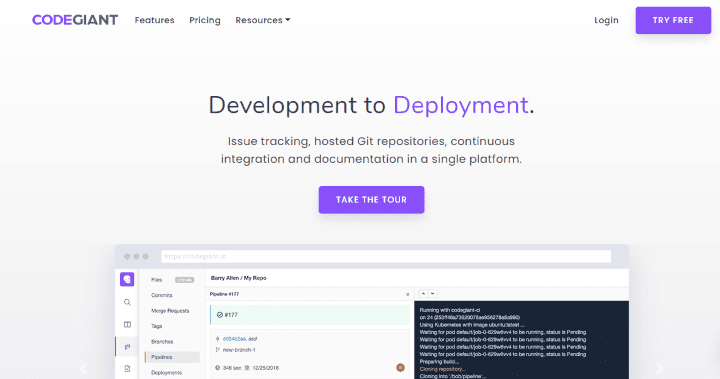 Codegiant is a comparatively newer addition to the software project management tools list. However, it has the cleanest and most modern-looking user interface.
Features
Track issues using kanban board and scrum templates
Collaborate on code via inline comments, threaded conversations, and mentions
Add documentation, project roadmaps, etc. for end-users and other developers.
Pricing
Codegiant offers a free plan with limited features. However, premium features like merge approvals, roadmaps, etc. are only available in the paid plans. Paid plans start at $3 per user, per month.
Conclusion
Project planning is a collaborative activity. Teams and stakeholders need to:
Ideate and brainstorm,
Plan task timelines,
And, plan resource allocation.
Most project planning tools focus on doing one thing really well. However, there are a few which can help you manage a project end-to-end. But, often these tools are saturated with features. Thus, become confusing, and cumbersome.
Toggl Plan is a simple project tool that helps you visually manage projects. With Toggl Plan, you can:
Plan project roadmaps and task timelines,
Track task progress using boards and timelines,
And, manage team member workloads across teams using the team timeline.
If you need a tool that your team will actually use every day, you may want to give Toggl Plan a try.