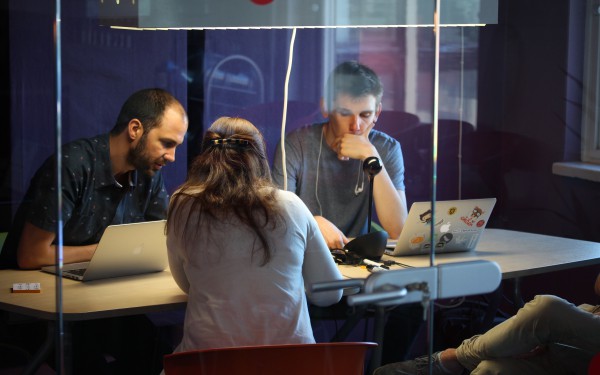 Toggl currently has 37 employees – 11 of them work remotely from other countries. That number is only going to grow in the future, as we're steadily but surely working towards building a global team.
The main reason we're moving towards a remote team is to have a hiring pool much much larger than our immediate geographical area.
What we are not building a remote team for, is cost-cutting or trying to get by as cheaply as possible.
Building a remote team is not about cutting costs.
In fact, we spend well over 40,000 Euros per year on our remote team meeting trips and team challenges. And this is not including the 30+ annual client meeting trips and other company events.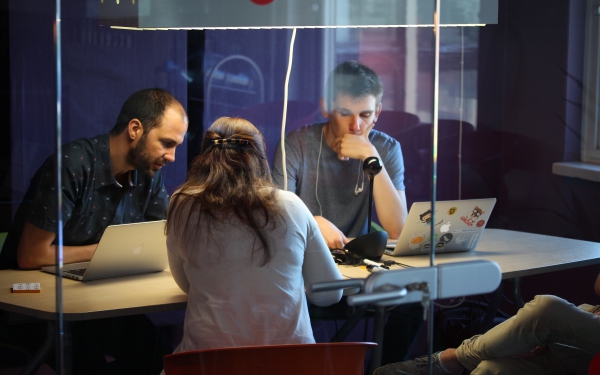 Toggl Track team members from Spain, Belarus and Estonia working together in Tallinn (August 2015).
A lot of business people have asked me if there is any tangible benefit we get out of these meetings and trips? Is there a real and immediate monetary value that we can take out of it? Where is the ROI?
There are two ways you could answer that question.
In terms of costs, our calculations have shown that it is indeed more cost efficient for our teams to travel, rather than have established offices in different countries. That difference is expressed by an order of magnitude. We've done the math and according to our estimates an office in New York would equal at least 200 trips per year. As for the travel option – we're currently doing about 30 client trips and 20 team meeting trips per year.
But the bigger question is – and that's what people usually have in mind when they ask the question – do remote teams need to have offices or physical meetings at all?
This is where long term thinking comes in, as you need to look beyond maximising your immediate positive cash flow.
The ROI of a handshake
The idea of doing regular team trips wasn't our own. The inspiration for the model came from remote work "giants" like WordPress, Github and 37Signals. We carefully analysed their experiences before starting out with the remote system, and quickly noticed one striking conclusion shared by all these companies.
Each of them found that having regular face-time is an absolute must have.
Every Toggl team member makes hundreds of small decisions about Toggl and its business each month. I am absolutely certain (and our experience also shows it), that these decisions are better informed and motivated if people have a better, more personal understanding of not just their teammates, but also their customers.
It's very difficult to get to know another person via video or a Slack channel – let alone learning to trust that person. Building a team without trust is very difficult, if not impossible. The only way to build that trust and gain a deeper understanding of the other is to physically meet on a regular basis.
The remote mindset goes much, much deeper than basic costs.
It's true that when done right, you can operate more efficiently than with a traditional office setup. But ultimately, the real benefit lies in having access to people with different language skills, viewpoints and cultural backgrounds, covering different time zones – all that without the hassle of setting up offices all over the world.
Do you manage a remote team? We'd love to hear from your experience in the comments below.
Or you can read how one Latin American company abandoned their office, what went missing with it, and how they got it back.