Making plans is an essential part of everyday life. Iconic New York Yankees baseball player, Yogi Berra, once said that "if you don't know where you are going, you'll end up someplace else." This applies perfectly to the concept of preparing a strategic plan for your business.
A strategic plan encompasses everything from a company's vision, all the way down to each individual team members goals. Having a solid strategic plan is key to every employee understanding their part in the day-to-day process of reaching "where you are going" as a business.
To make this process easier, there are loads of strategic planning software programs available online.
Before you go out and pick the first one you can find, it's important to understand some key features it should have:
Ready-made software

Analytics

Project management tools

Key reports
These are a few of the most necessary attributes these programs must have to be a useful choice for your team. Now that we know what to look for, let's check out ten of the best strategic planning software options that have all these features.
1. Toggl Plan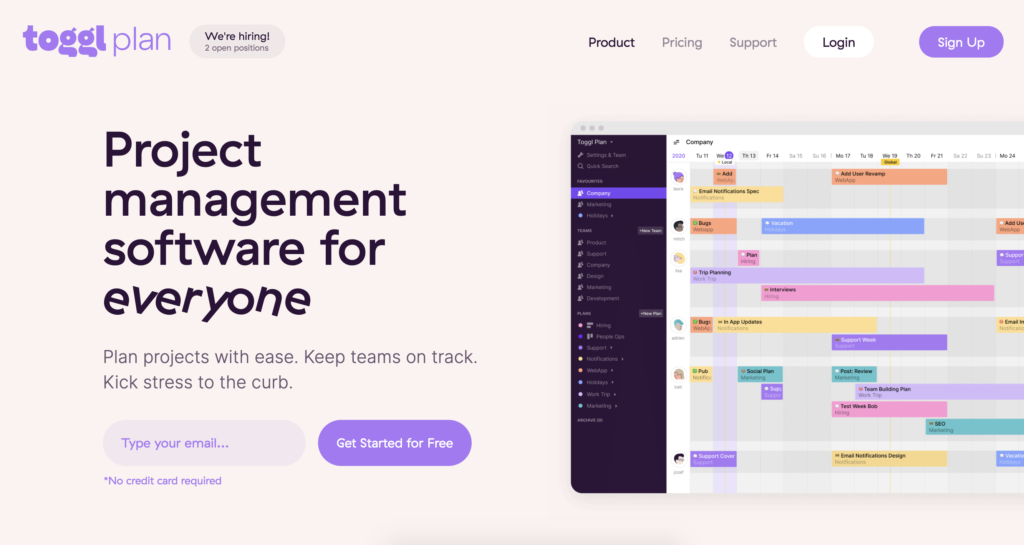 How could you go wrong when the word "team" is in the name? Toggl Plan offers streamlined project management solutions such as timelines and roadmaps, which make it easier to manage tasks, track progress, and reach deadlines. This strategic planning software is user-friendly and will help your team keep their eyes on the company vision.
Being able to communicate as a team is essential to accountability, so Toggl Plan has included real-time collaboration features to ensure everyone is always on the same page. Along with useful data analytics and reports, Toggl Plan has everything your team will need to incorporate its strategic plan.
2. Cascade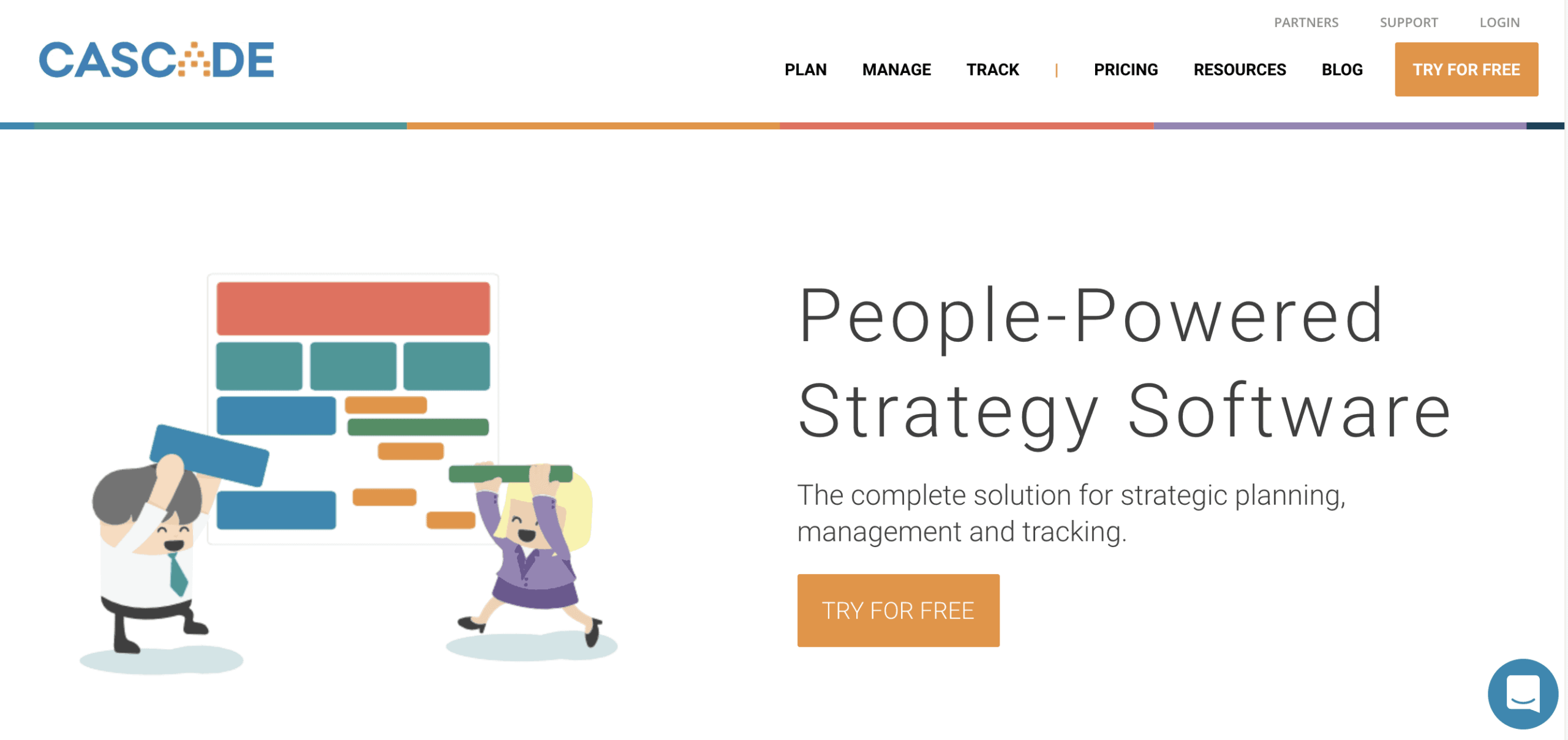 Cascade's strategic planning software focuses on developing plans using their drag-and-drop strategy builder. Users are able to create Key Performance Indicators (KPIs) and organize them into monthly, quarterly, or annual goals. Their customizable dashboard offers widgets ranging from task updates to project summaries.
The AI-powered framework makes it easy to manage your goals as well as potential risks and issues. Cascade also has an engagement tracker system which monitors the involvement of each member on your team and can generate reports on those stats.
3. Results.com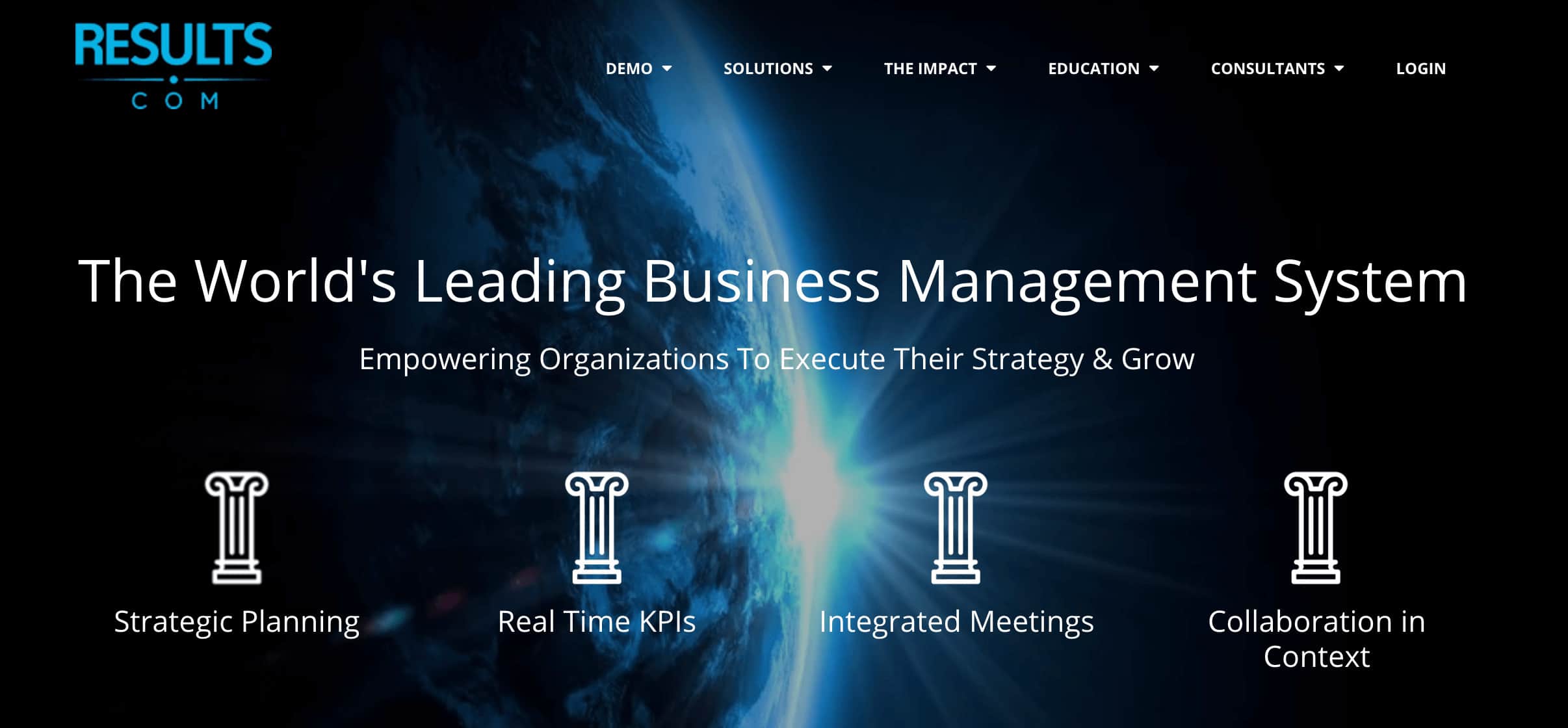 In what they dub "The Four Pillars", the first pillar of the Results.com system is their one-page strategic plan. They try to set companies up for success by making the process simple and ensuring everyone in the organization is aware of their role. With the other pillars focusing on KPIs, their Integrated Meeting software, and other collaboration features, they are designed to help businesses grow.
By offering their clients a handful of management training courses, users can improve their knowledge of modern management, strategic planning, quality metrics, and more.
4. StrategyBlocks

With an emphasis on visuals, StrategyBlocks is a strategic planning software that gives a "complete view of execution performance enterprise-wide." Designed with customization in mind, strategic plans can be modeled however the user prefers. Real-time updates ensure all departments have the most updated information at all times.
The software has the flexibility to adapt to changing environments within the company, so it can always keep up with new developments. KPIs, risk management, and team workload can all be monitored and analyzed with the multiple reports the StrategyBlocks system provides.
5. ClearPoint Strategy

ClearPoint Strategy has a different approach to strategic planning by instead calling it a balanced scorecard software. Their priority is in the reporting aspect of the strategic plan process. Users can build auto-updating scorecards, customized reports, and share the data via email or through the community dashboard.
ClearPoint's API can also pull data from other software to prevent the need for manual entry and limit this time-wasting responsibility. Keep up with the status of each project by monitoring your balanced scorecard.
6. Envisio

When designing a strategic plan, it is crucial to align your day-to-day actions with achieving your goals. Envisio can help your team stay more engaged by implementing plans and tracking their performance. A unique feature is their govBenchmark software, which local governments can use to monitor their KPIs with government performance standards.
Visual dashboards can be customized with key reports, goals, and other tasks. With a goal to help teams fulfill their vision, it is a good option for executing strategic plans.
7. OnStrategy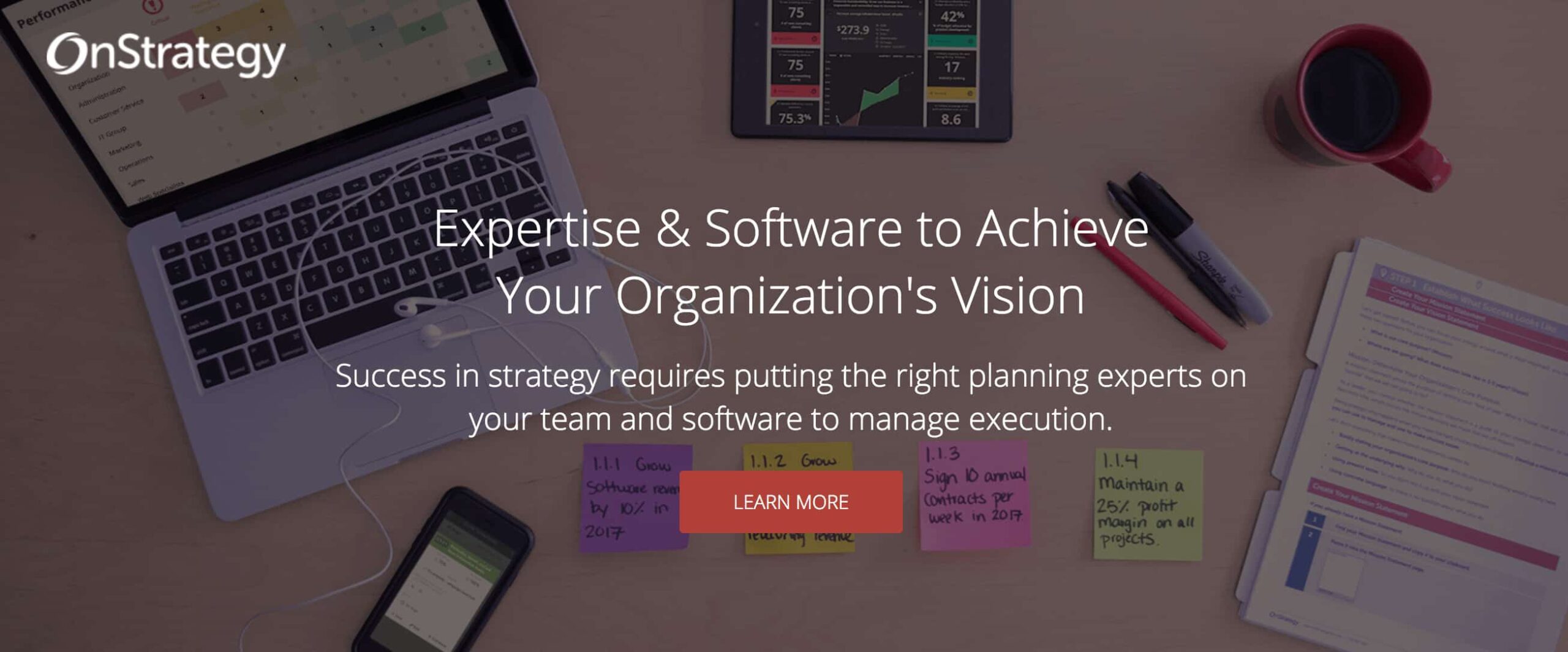 OnStrategy's homepage makes a good point that to effectively execute a good strategy you must have the right team members, as well as a quality strategic planning software. They offer custom solutions with the intent to quickly boost growth, coordinate a corporate strategy, and keep track with real-time dashboards.
They focus on each company's needs and budget to either plan a full-service strategy or to point businesses in the right direction for self-guided planning. By helping teams design and execute strategies, OnStrategy claims to get strategy done right the first time.
8. Planview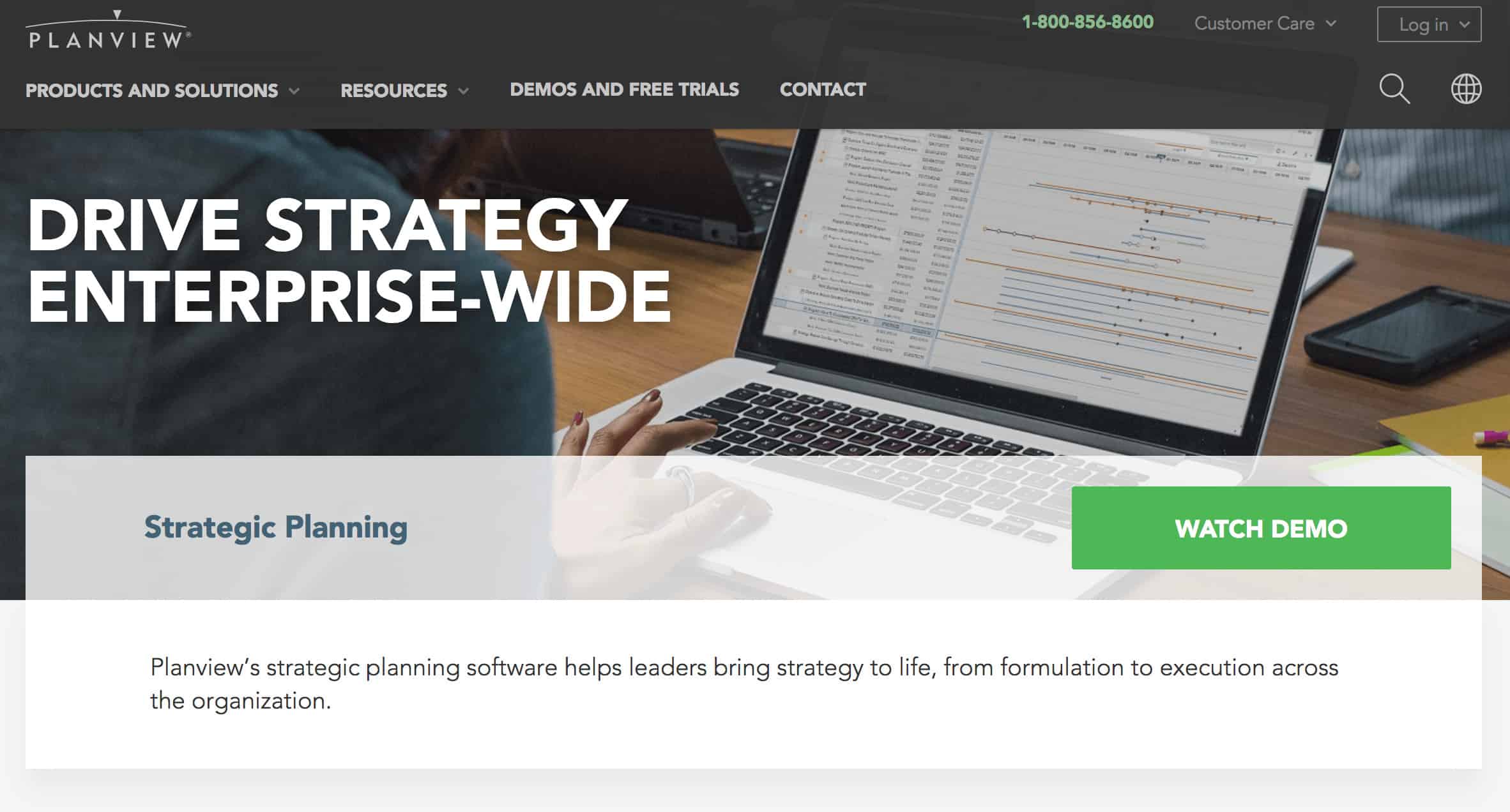 Boasting more than just strategic planning software, Planview also provides their customers with other resource management tools like portfolio assistance, product innovation, agile delivery, and more. Their strategic roadmaps are centered around enterprise growth and connect strategies with products and other applications.
The ability to monitor costs and revenue makes it easier to plan and manage strategic funding for projects and other goals. As a one stop shop for strategic performance, Planview allows users to focus on progress analytics, trend identification and strategy acceleration.
9. Khorus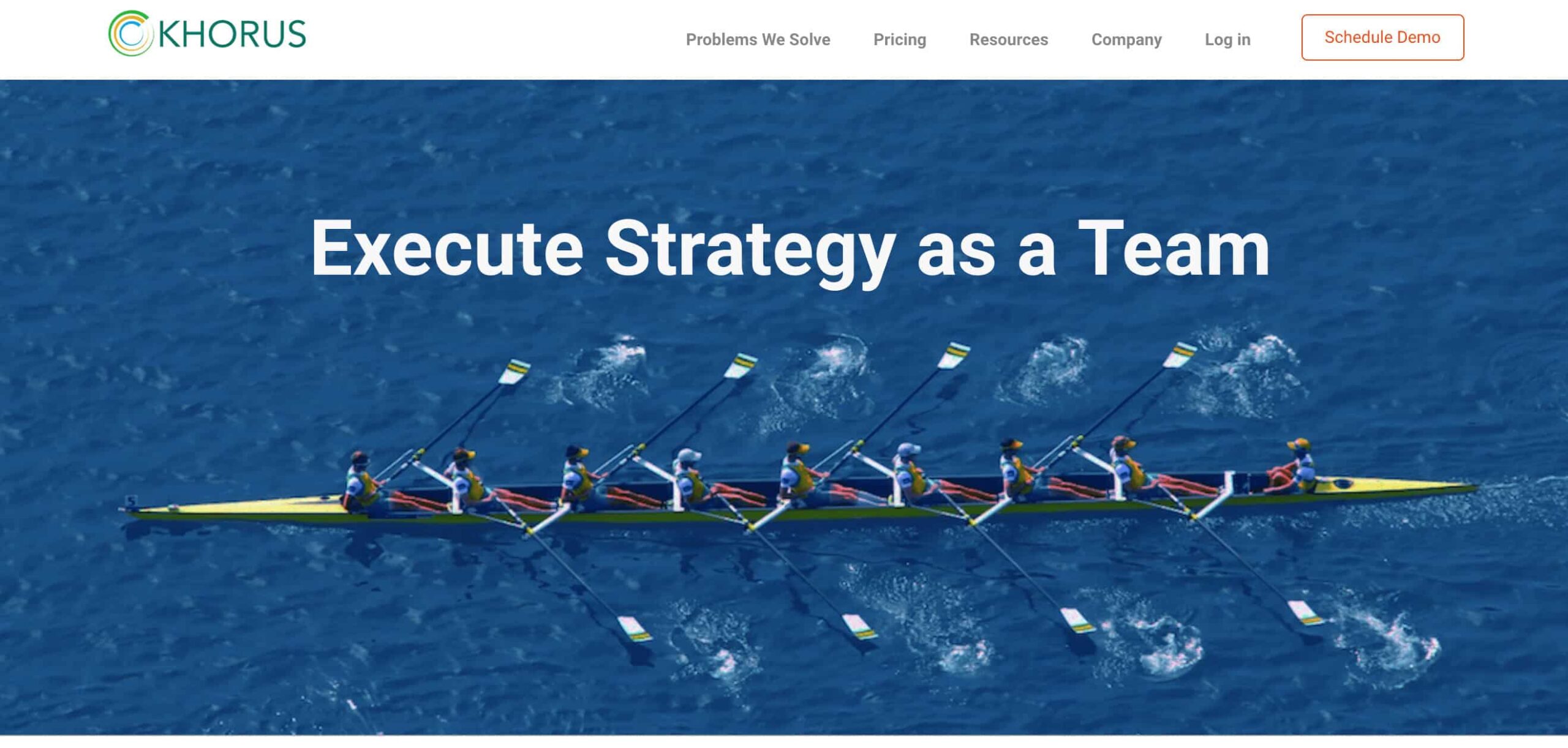 Another strategic planning software provider with an emphasis on team strategy execution is Khorus. Everyone can see what one another is working on as an incentive to boost accountability across the board. Their website claims to help teams achieve 80% of the objective entered into their system due to the visibility of the goals.
Team members can easily be assigned tasks, added to an interactive org chart, and receive talent reviews through the software. These added benefits help to align a team's objectives and boost productivity.
10. iPlanner.net

iPlanner.net is known for its enterprise-level business planning tools. It allows larger corporations to generate online business plans, business models, and financial reports. Included in these features is their Strategy Designer™ software.
The iPlanner dashboard updates in real-time and has collaborative document management for easy sharing. With sample plans to review and supportive planning tools, teams will have access to all they need to produce a solid strategic plan of their own.
Choose the Best Strategic Planning Software for Your Team
Each of these strategic planning software applications have their perks and benefits. But one of them may be better for you and your team than another. Be sure to take a look at Toggl Plan and enjoy its additional project management features. Whether you use the computer software, the mobile app, or both, it will keep your entire company on track every day.
Logan Derrick is a full-time business writer and content marketing strategist. For years, he has worked closely with several project management professionals, learning from them and increasing his own knowledge of the industry. Having held multiple management positions in fields ranging from customer service to marketing, Logan has found a passion for helping others learn about project management, marketing, and the powerful tools available to professionals today.