If you asked 100 organizations whether they had the skills they needed in their workforce, you'd be surprised at the answer. With the rapid growth of technology and the impacts from events like the pandemic, many organizations are suffering from a talent gap.
This problem is compounded by the fact many organizations don't even realise they have a talent problem. That's because the issue isn't isolated to individual businesses. In fact, Deloitte predicts that over the next decade, the US economy will see $2.5 trillion worth of impact staff not having the right skills.
In this article, we're going to help you solve your talent gap problem through proper identification, analysis and execution of a talent gap rescue plan.
Ready to hear more? Well, let's get started!
What is a Talent Gap?
Put simply, a talent gap occurs when an organization's workforce doesn't have the skills it needs. You'll likely see this written elsewhere as a 'skills gap' but don't worry, they're essentially the same thing.
All organizations will have an inherent level of skills gap. If they didn't, there would be no need for recruitment or talent professionals in the first place. But that stems from the classic employee turnover cycle and isn't the root cause of the talent gap.
If instead, a company has a sustained skills gap over the long term, it can really hamper business performance and growth plans. This can occur when a business simply doesn't understand the skills and expertise it needs to run its operations as effectively as possible.
In situations like this, organizations need to step back and analyze their workforce to identify where the real gaps exist.
How to Complete a Talent Gap Analysis
To fully understand the shape and size of your skills gap, you need to implement a talent gap analysis process. Much like a traditional business gap analysis, this process will allow you to effectively map out the skills you're missing in your business.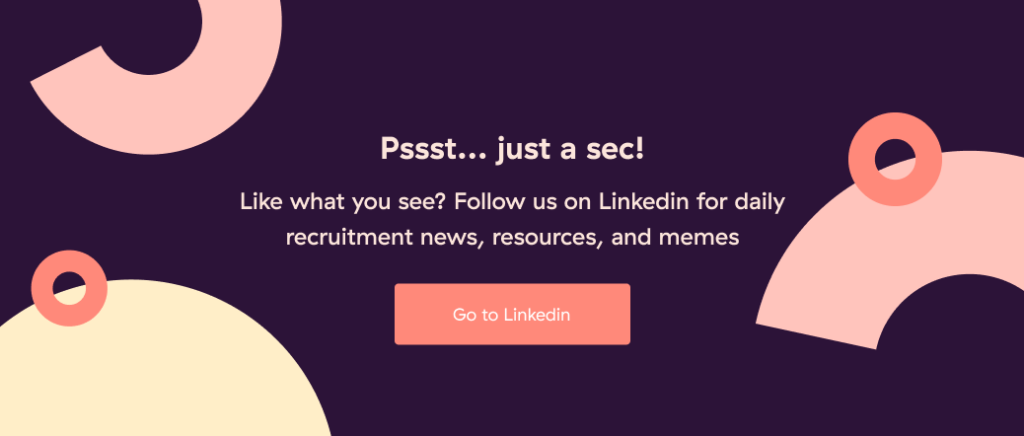 Step 1 – Start with the End
To understand the skills your business needs, it's best to start at the end of your business processes to understand the key outputs, products and services you need to deliver.
Understanding what each department and their subsequent people have to do gives you the foundation to understand the skills needed to deliver.
As an example, a marketing department needs to deliver a marketing strategy to ensure customers are exposed to their products. Someone like the Head of Marketing will therefore need skills in strategy design to come up with a way to meet that objective.
Step 2 – Map out The Perfect Skill Set
For each department, team or individual, it's now time to map out the exact skills they need to deliver those business outputs. Remember that soft skills, such as communication and planning, are as equally important as hard skills, like Excel knowledge.
Where possible, it's also worth ranking the skills which are the most important for the role. While in an ideal world, an employee would tick every single skill, in the real world, it's not always the case, and you may need to prioritize.
Also, think about the level of mastery needed in that skill. Especially for senior individuals that are responsible for high-priority outputs, they will need expert-level skills rather than just an entry-level understanding.
Step 3 – Compare to Your Current Situation
Now that you've identified the perfect set of skills each of your departments, teams, or individuals need to possess, it's time to compare them against what you actually have within your business.
Understanding current skill levels may not always be easy. There's a range of options you can use to try and get a read on the situation. These range from simply asking line managers to fill out a survey or utilizing a formal skills assessment.
You'll quickly start to identify some gaps between what you need and what you currently have. These could be isolated skills that specific individuals don't possess or a broad range of skills an entire team lacks.
A great technique to help you visually compare your skills is called skills mapping, which will help you map out your skills gap in a logical and standardized way!
4. Get on With Plugging Your Talent Gap
To fix your talent gap, you're going to have two options – train or recruit.
For teams or individuals that lack a small number of skills, training will be the best option. Not only is it likely to be cheaper than recruiting, but developing your internal staff is great for the wider business and can help you protect against more skills gaps in the future.
If you have large scale skills gaps, you'll need to bring in external hires. Armed with the knowledge of your business skills gaps, it will be fairly straightforward to build a job spec based on the attributes a new hire needs.
What's critical when recruiting is to make sure the candidates you look to hire actually have the skills you're missing. Naturally, a candidate can document these on a resume, but we'd recommend using dynamic skills tests to assess this in practice.
At Toggl Hire, of course, we're biased about the power of skills testing, but if you're planning on eliminating your talent gap, skills tests offer a route to success!
How to Bridge a Talent Gap with Toggl Hire
Toggl Hire is all about making it quick and easy to run skills tests. Toggl Hire can be used at any time to test relevant skills for any job role in a way that's dynamic, fun and in tune with your brand.
Here's how it works!
Step 1 – Create Skills Tests in 2 Clicks
You can create skills tests in just two clicks within Toggl Hire using our role-specific templates. Our role-specific templates cover hiring across every department of your business, including technical, marketing, sales & support and leadership!
And with over 6000 questions in our skills test library, every test is unique for each participant, so there's no chance of cheating. Best of all, those questions are quality-checked by our team of Community Experts to ensure they assess the exact skills needed to perform a job role!
Step 2 – Customize To Target Your Skills Gaps
If you've identified some bespoke skills from your talent gap analysis, you can customize any Toggl Hire assessment to fit your exact needs.
Simply jump in and add customized questions in the format that's right for you, whether that be free text, single choice, multiple-choice, picture choice, numeric input or code input.
If you'd rather not get so granular but still would like some customization control, you can amend the selection of skills being tested for your job opening.
With Toggl Hire, you have the power to create a truly bespoke test and to ensure you fully understand each candidate's ability to deliver on niche skills.
Step 3 – Analyze the Results
With your tests created and your candidates assessed, you need a quick and easy way to compare the results and find the people who have the skills you need.
The candidate dashboard is your best friend here. Easily see your candidates ranked on performance, with the ability to quickly search or filter on particular score percentages or customizable tags.
You can even export the results in several different formats if you need to share the information with your wider business teams.
Step 4 – Execute The Hire to Plug Your Skills Gap
Use Toggl Hire to manage the rest of your hiring cycle with customizable workflows that fit your internal process.
It's as simple as drag and drop to move a candidate through the process while collaborating on candidate notes directly within the system. When you bring all this together, it creates the perfect environment to identify, assess, and offer the perfect hire to plug your skills gap!
In Summary
The talent gap is a real problem for businesses across the globe. Without even knowing it, businesses are underperforming because they don't have the right people with the right skills working for them.
Through the talent gap analysis process, you can systematically identify, assess and plug the gaps in your team's skills profile to ensure your teams perform to their maximum potential.
At Toggl Hire, we know a thing or two about assessing people's skills. Using Toggl Hire, we can help you evaluate candidates for the skills your business needs to not only ensure you make a great hire but you find your next superstar employee!
Interested? Start with free pre-built assessment templates now!

James Elliott is a Strategy Manager and Writer from London, UK. When not working on the day job, James writes on a variety of business and project management topics with a focus on content that enables readers to take action and improve their ways of working. You can check out James' work on his website or by connecting on LinkedIn.