It has never been more challenging for organizations to find great talent. Sure, there are lots of candidates out there, but you always run the risk of a bad hire when trying to find the perfect one. The solution? Talent assessments.
This article will give you the full low-down on talent assessments. We'll look at what they are, the benefits they can drive for your business, and how to implement them within your hiring process straight away.
No time to waste, let's get into it! 
Definition – What are Talent Assessments?
It's always best to start with a definition. Here's what talent assessments actually are:
"A talent assessment is a process that companies follow to identify and assess candidates' suitability for a particular role."
When talking about talent assessments, most people actually mean talent assessment tests. These comprise of various questions, job simulations, exercises, or group working assessments designed to test candidates for specific knowledge, skills, or experience.
More and more, these tests are becoming automated using digital software. This not only helps talent assessments become fairer (by removing bias), but it also allows recruiters to assess candidates at scale and delivers a streamlined and consistent candidate experience.
Read on to find out why talent assessments are so great!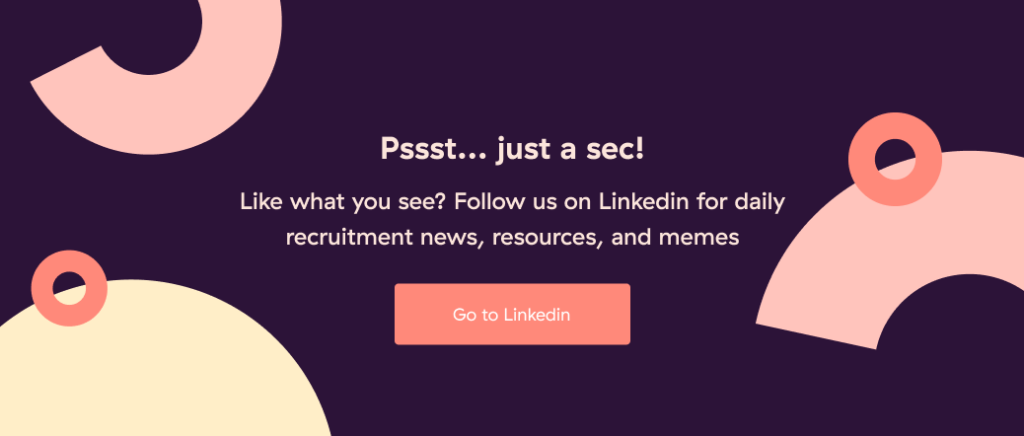 The Hard-to-Ignore Benefits of Talent Assessments
Now that we know exactly what talent assessments are, you're probably asking, 'so what?' – what will talent assessments really do for my business?
Let us assure you, the benefits are there to be had – both for you and for your candidates!
Here are 5 of the most significant benefits of talent assessments:
The Types of Talent Assessments You Can Use in Your Hiring Process
The good news for recruiters is that there is a wide range of different talent assessments out there. Depending on the role you're hiring for use any combination of these talent assessment tests to truly get to know your candidates. 
#1 – Skills Assessments.
Also known as Skills Tests, skills assessments are essentially quizzes used to test a candidate's knowledge on a particular topic or their aptitude for particular skills. Skills assessments may be targeted at an individual skill, such as SEO, or tailored for a particular job role, such as a digital marketing manager.

#2 – Cognitive Tests.
These tests focus on a candidate's critical thinking, verbal reasoning, numerical aptitude, problem-solving, and decision-making skills. Cognitive tests are often referred to as soft skills assessment tests and are generic to many different job roles.

#3 – Personality/Behavioural Tests.
Personality tests help understand what sort of a person someone is, focusing on moral traits, motivations, and preferences. These tests don't need to be work-focused either, but they do help hiring managers understand how an individual may fit into a team or organization.

#4 – One-Way Video Interviews.
These types of talent assessments focus on understanding a candidate's soft skills, such as communication and presentation skills. At Toggl Hire, our Video Intros deliver a one-way interview capability, with hiring managers using them for customer-facing roles such as sales and customer success.

#5 – Work Samples.
A work sample is pretty simple, with recruiters asking candidates for an example of previous work. These types of talent assessments are heavily used in creative roles, such as photography, graphic design, and copywriting.

#6 – Job Simulations.
And lastly, recruiters may use job simulations as part of their talent assessment strategy. Job simulations may be 'mock' exercises, such as an in-tray task, or could be more in-depth, like a case study assignment. 
As a generic rule, you'll hear talent assessment referred to as many different things, including pre-employment tests or hiring assessment tests. Whichever term you hear, just know it refers to a whole host of ways to assess candidates on the critical skills required for the role.
How Do Online Talent Assessments Work?
So now that you know what talent assessments are, why they're so great, and the different types available, it's time to find out how they work in action. If you're wondering whether talent assessments are right for your business, once you see how easy they are, we're sure you'll be ready to go!
Here are the crucial steps:
#1 – Create the skills assessment
As the employer, it all begins with you. If we use Toggl Hire as an example, it's up to you whether to go for a bespoke assessment or use a pre-built skills test based on a particular role or skill. Whichever path you choose, it's simple and easy to build an assessment that asks the crucial questions you need for your role!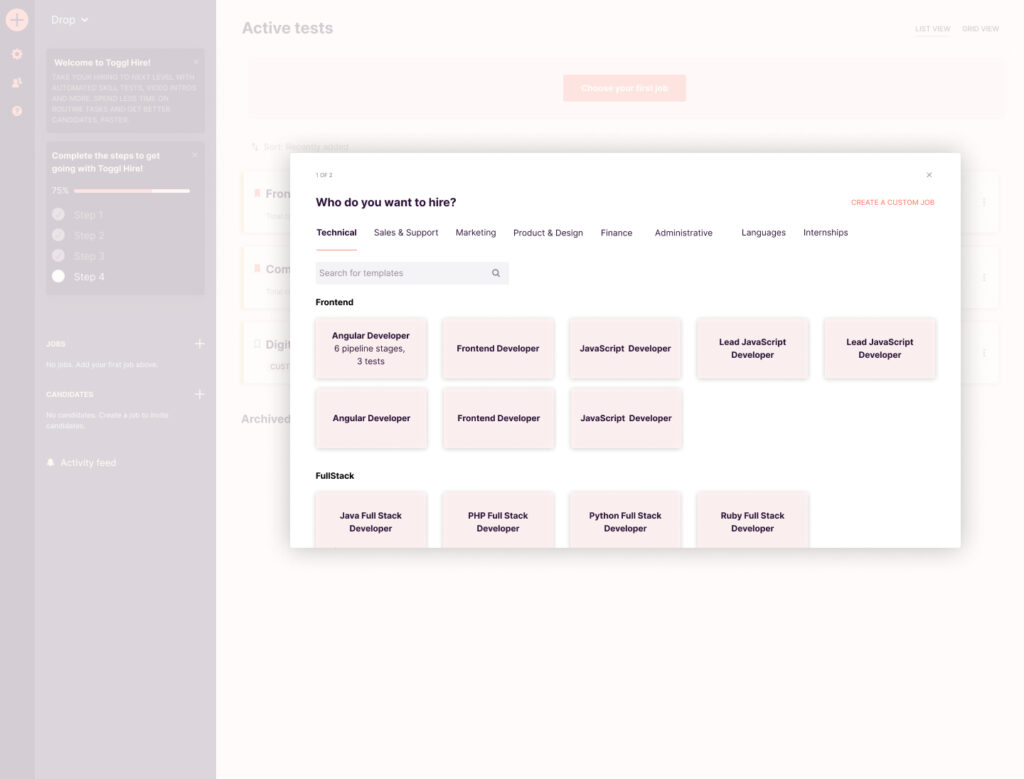 #2 – Invite candidates to take the test
If it's a pre-screening test, you'll usually add your assessment to the job description, funnelling all applications directly to the test. While you'll also have the option to collect CVs, most talent assessment platforms will automatically sort candidates for you.

Again, take Toggl Hire as the example. Automatic pass thresholds sort candidates for you, instantly rejecting everyone under a certain score – this saves you a lot of time and effort!

If instead, you decide to use assessments in the later stages of the hiring funnel, you can handpick the candidates you want to assess and invite them directly via email.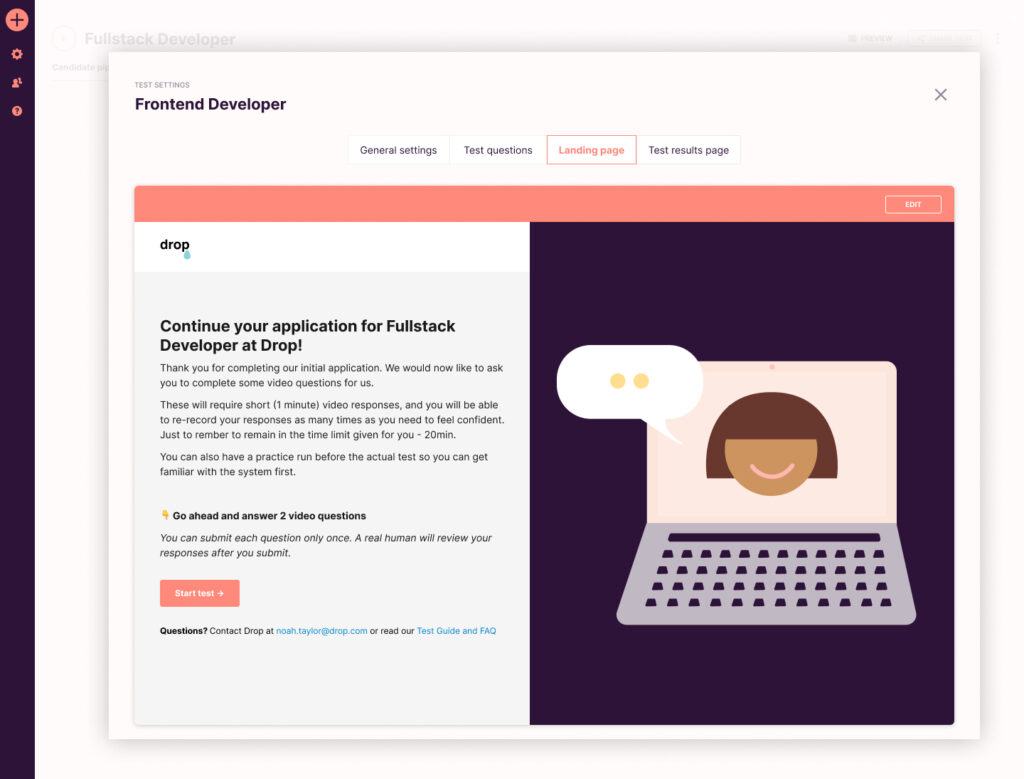 #3 – Leverage a cheat-proof environment
We're not big fans of online proctoring, it feels too much like spying. But the great thing about talent assessments is they're all about integrity and fairness, thanks to built-in anti-cheating tools.

This includes flagging candidates that copy-paste answers, use emails that look too similar, or try and re-take tests from a similar IP address….see more of these features below 👇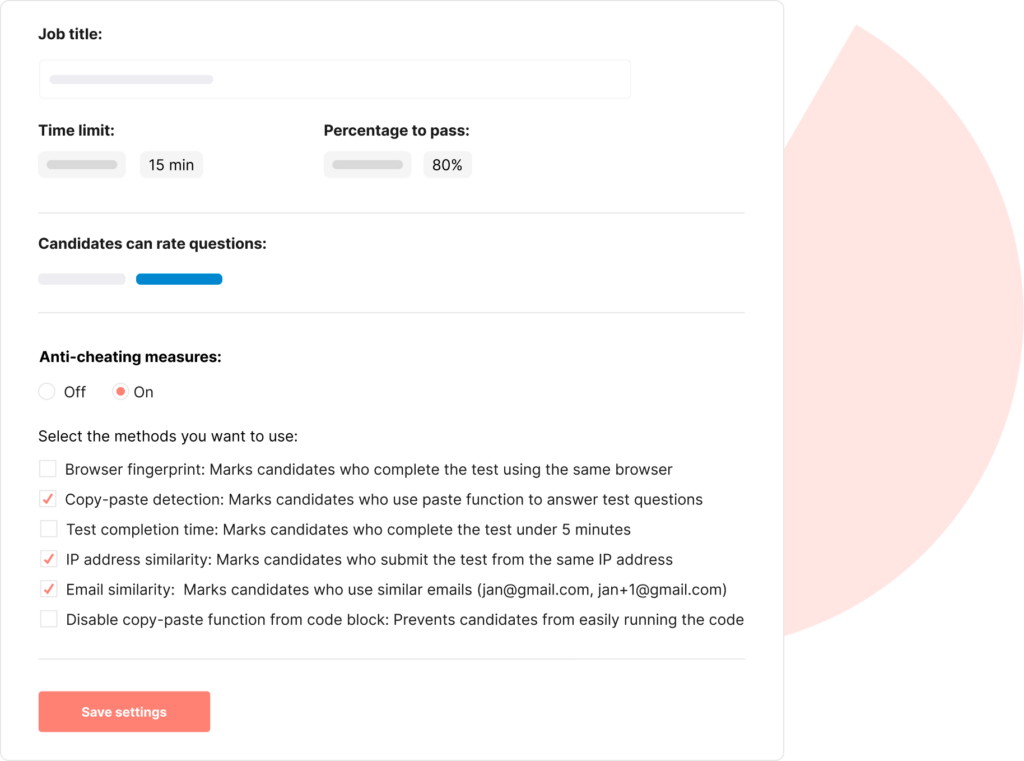 #4 – Optimize the test-taking experience
Talent assessments should be simple and optimized to take as little time as needed to respect candidates' time. However, the length of the test can be optimized by you.

You can select from a whole range of question types (including everything from multiple choice to direct code input), brand the tests with your own colors, and even include a personalized introduction message. And like most things online, while all Toggl Hire tests are optimized for mobile, candidates have a better experience when using bigger screens.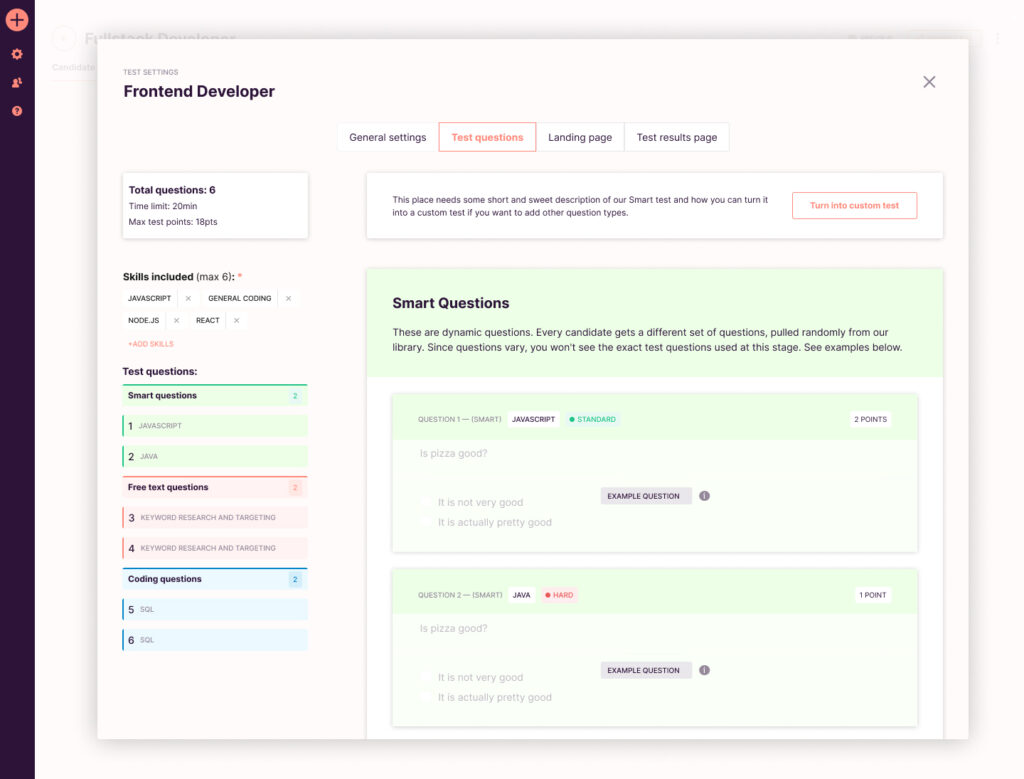 #5 – Provide instant feedback and generate granular reports
Online talent assessments aren't just about fun tests and fancy design, they deliver you and the candidate real-life benefits.

One of the biggest advantages of pre-screening skills tests is the automatically generated results page, giving candidates instant feedback while providing you, the recruiter, with comprehensive insight reports on every candidate.

If you use talent assessments in the later hiring stages, answers may need to be evaluated by a human. However, with team-wide collaboration, pipeline automation, and instant follow-up actions, everything can be streamlined to save you and your team valuable time!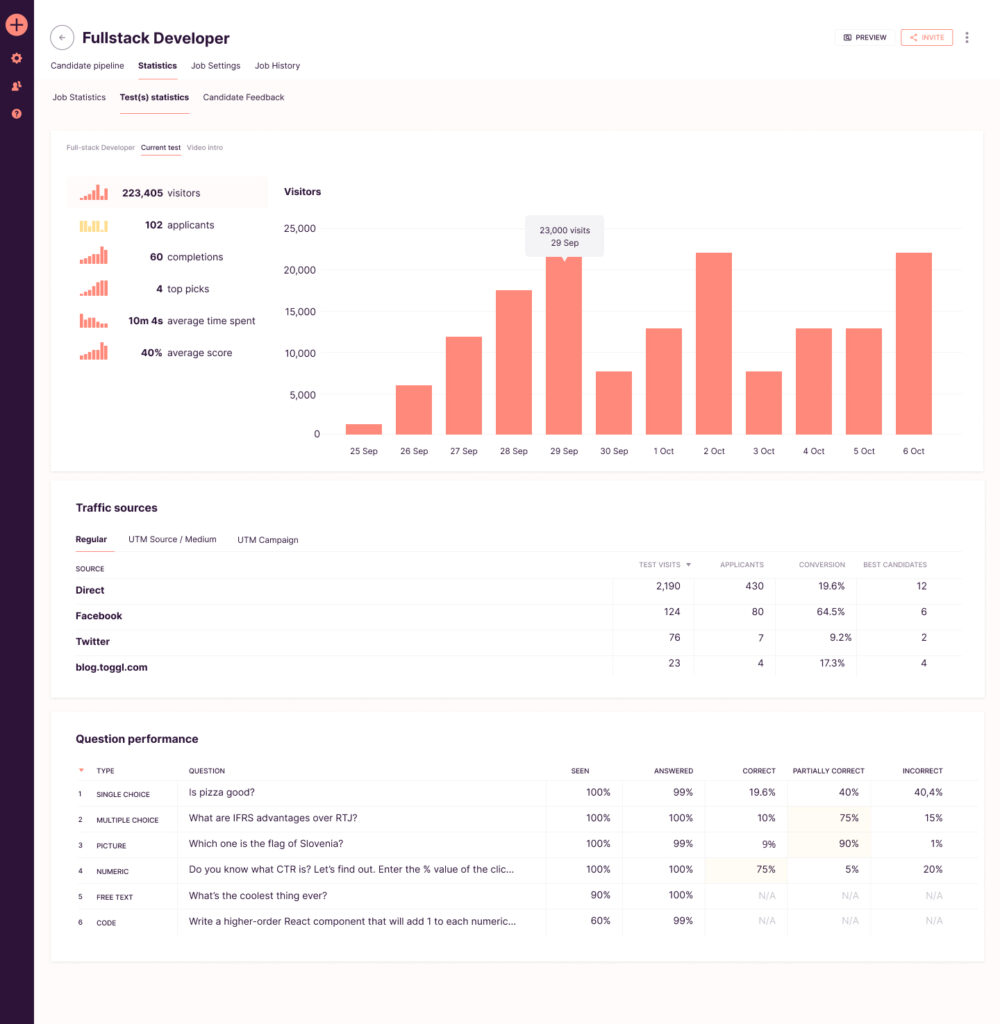 How To Create a Talent Assessment Strategy That Scales With Your Company
But, of course, you don't want to deploy talent assessments tactically. Instead, you want to create a talent strategy that scales with your business and delivers excellent hires time after time. 
Now that you know how talent assessments work, let's step back and plan out a long-term strategy using these five key steps: 
First, for each role you hire, take the time to define what top talent means to you. Set out a clear set of must-have and nice-to-have skills alongside any critical experience or qualifications. From there, write up a neutral job description, free from jargon, acronyms, and gender-biased language, to appeal to the widest possible audience.

Next, ensure that your hiring process is efficient. Aim to automate the pre-screening process to weed out poor-fit candidates quickly and focus your time on high performers. We've already seen how talent assessment, such as skills tests, and one-way video interviews, can help here, so don't fall into old habits of screening CVs or conducting phone interviews.

Third, always have a thought for your customer brand. While this starts with confident and creative branding, it's truly built with consistent candidate communication. Use your online talent assessment platforms to automate communication, helping you create a positive connection with each and every candidate.

Take a long-term view and use talent assessments to build talent pools of qualified candidates. Talent assessments may unearth more than one great candidate, so nurture relationships with those who miss out the first time so that you don't have to start sourcing from zero ever again.

Lastly, use data and analytics to continually assess and improve your talent assessment performance. Whether it's the type of talent assessment, the questions you ask, or even the layout of your landing page, it's the fine details that can make all the difference with your candidates.

Take a strategic view on talent assessments, and we're sure you'll see results – whether that be optimizing your recruiter's workloads, boosting candidate satisfaction, or reducing the risk of bad hires!
The Right Tool for Effective Talent Assessments
You'll have probably guessed by now, but we think that our skills testing platform is one of the best for talent assessments.
Our customers love Toggl Hire because:
We've got a comprehensive library of questions to test for over 180 different skills, be they technical skills, soft skills, hard skills, language skills, and more! 📚

It's not just questions on a screen – our Video Intros support a scalable, asynchronous video assessment strategy, giving you fantastic insight into your candidates! 📹

We support the entire hiring funnel. Everything from pre-screening skills tests to discovery interviews to homework assignments (plus, a lot more to come in the near future!) 🤫

Pipeline automations will speed up your hiring process. Companies use Toggl Hire to build a lean and efficient hiring process that saves time and reduces risk ⏱️

It doesn't cost the earth. With four different packages (Free, Basic, Premium, and Business), monthly or annual payment options, and customization options, there's a Toggl Hire solution that's perfect for your budget 🚀
If you like the sound of that, check out the 1-minute video below to see exactly how we do talent assessments at Toggl Hire.
Wrapping up
At a time when it's never been harder to find great candidates, talent assessments are the go-to solution for unearthing the next gem for your business. Whether it's a skills test, a video interview, or a job simulation, there are loads of great ways to dive into your candidate's skills. 
And with benefits such as greater efficiency, reduced risk, and improved candidate satisfaction, we think you'd be crazy not to invest in talent assessments as part of your 2023 recruitment strategy. 
So, what are you waiting for?
James Elliott is a Strategy Manager and Writer from London, UK. When not working on the day job, James writes on a variety of business and project management topics with a focus on content that enables readers to take action and improve their ways of working. You can check out James' work on his website or by connecting on LinkedIn.