Internal mobility is no longer about crawling up the corporate ladder from the bottom to a managerial role after a decade or two of hard work. Phew!
Now, instead of resorting to job hopping to advance a career, employees have another option — internal mobility.
During unpredictable economic times, an internal mobility talent strategy helps HR retain talent and save on hiring costs. And employees win too, as internal mobility is about developing humans in human capital.
In this article, we'll cover:
What is internal mobility?
How to develop a strong internal mobility program
Metrics for measuring success
How to promote internal mobility
What is internal mobility?
Internal mobility refers to an employee's ability to advance their career within their organization, either with a lateral shift to another department, an upward move, or a functional move.
What are the different types of internal mobility that you get?
The HR community has identified three types of internal mobility: vertical, horizontal and functional. Yet, there's a common thread that runs through all three types. And that commonality is change.
The change could be drastic, like a total career change or a new challenge for the employee. Or more traditional — an upward move to advance their current career path. It can also be a temporary functional change driven by business needs.
Ultimately, it's all about change, and the employee's appetite for managing, and hopefully thriving, under those new conditions.
#1 – Vertical mobility
An employee moving up in the ranks from their current position to a higher position in their department that requires more responsibility. For instance, a content writer becoming a content manager or head of content.
#2 – Horizontal mobility
An employee shifting to a position that's in a different department, but at the same level of responsibility. Consider a graphic designer shifting from the marketing department to the product design team.
#3 – Functional mobility
Sometimes an employee needs to spend a short stint with another team or department to help them complete a project. This could be a coder that's roped into a project to overhaul their company's website.
The benefits of internal mobility — why is it essential today?
In times like these, when the future looks a little muddy, businesses and employees need all the help they can get to succeed. And companies that realize humans are at the heart of their human capital have the right idea when it comes to resilience and the other rewards of internal mobility.
By focusing on the support, growth, and development of their existing employees, HR teams empower their workforce and, as a result, improve the company's overall efficiency and productivity levels.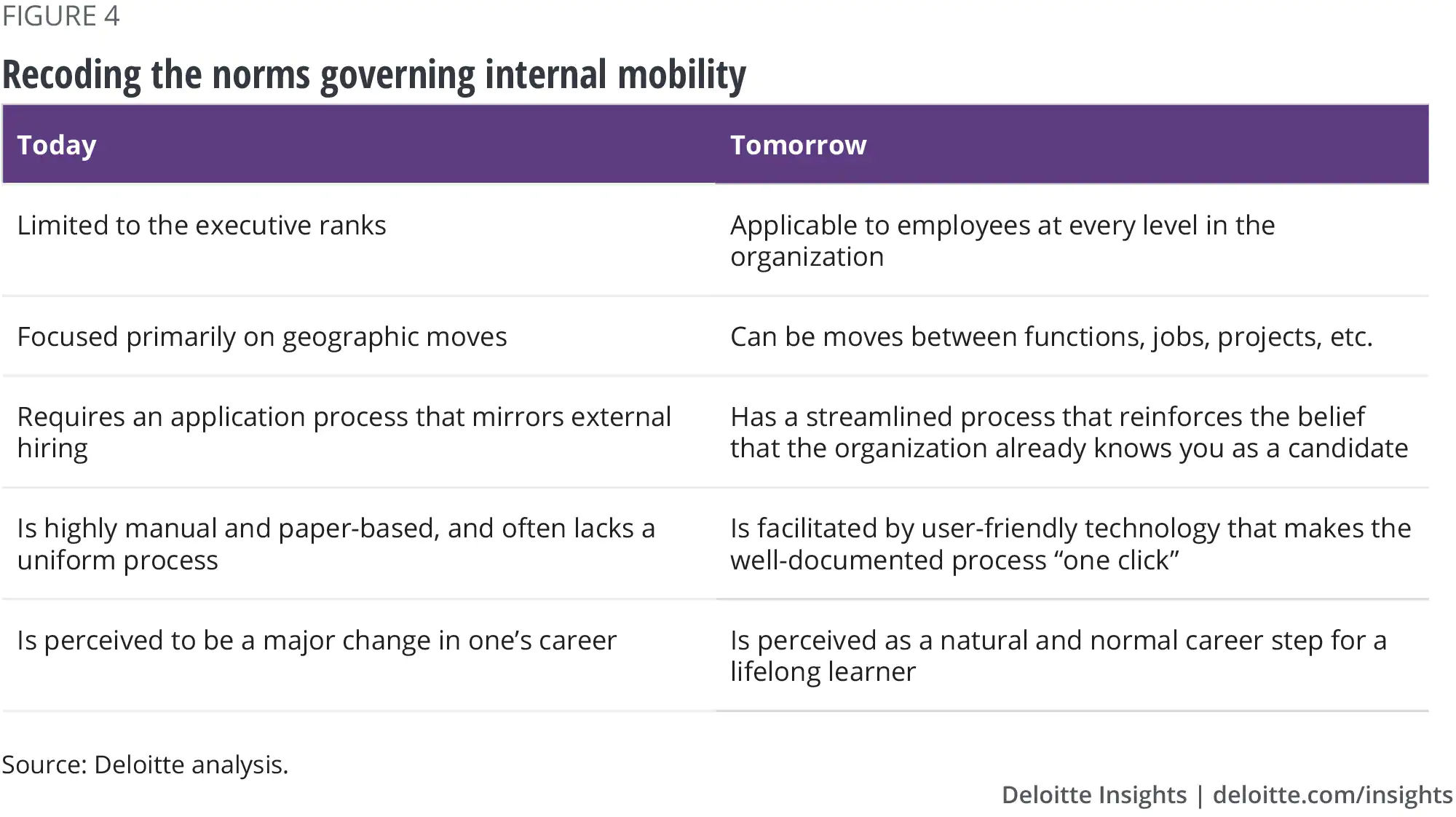 Why you can't leave internal mobility out of your talent strategy
Here's why internal mobility is like a rocket that'll send your talent acquisition efforts to the stars.
First off – employee engagement. Internal mobility prospects help keep employees engaged and motivated, by providing opportunities for career development and growth. These new career paths can help to reduce turnover and increase employee retention rates, saving the organization valuable time that would otherwise be spent on recruiting and training newbies.

Internal mobility can be an effective way to build up the skills and capabilities of the organization. By upskilling employees with new skills and competencies, they gain experience in different areas of the business. This can help to ensure that the organization has the talent and expertise for long-term resilience and success.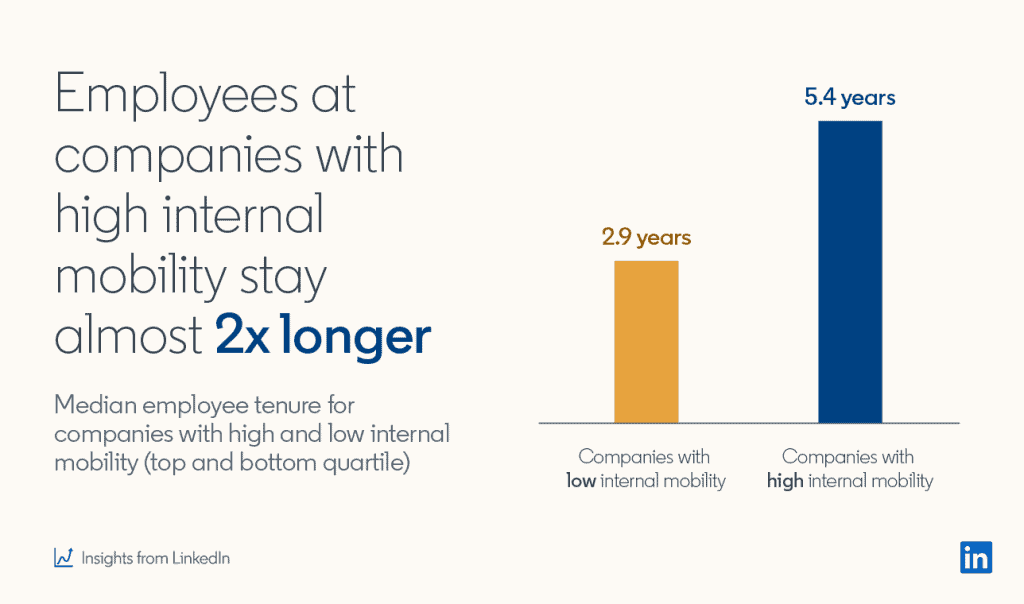 Hiring internal talent can help facilitate diversity and inclusion within the organization, by providing opportunities for employees from different experiences and backgrounds to take up new roles and challenges. And this in turn boosts innovative thinking, and potentially attracts quality external talent to employ at a viable time.

Internal recruiting also reduces hiring costs since the time and cost of an external hire far exceeds an internal move.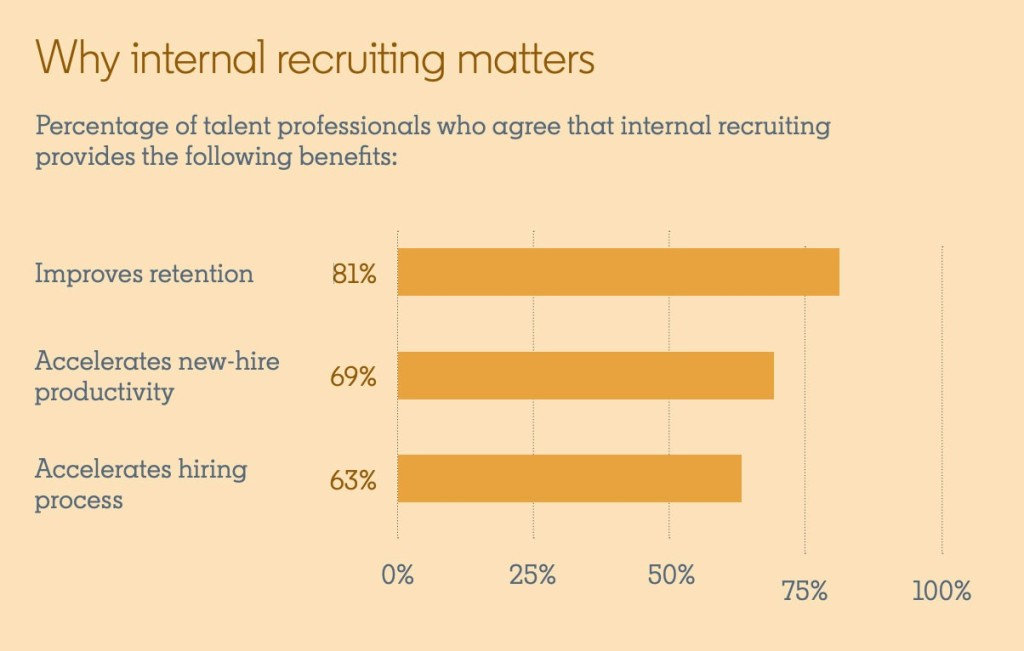 Internal mobility from an HR perspective
Hiring managers that prioritize internal mobility create positive change that includes:
cost saving for the talent acquisition team by filling posts internally before advertising externally
nurturing internal talent and boosting employee retention rates
filling urgent skills gaps quicker with internal candidates that are already familiar with the business and industry
aligning employees' personal growth objectives with the organization's so everyone works smarter
With Gen Z's set to make up 30% of the workforce by 2030, it's important that HR managers cater to the needs of this growing cohort.
A new study by Amazon finds that almost three-quarters of Millennial and Gen Z workers are planning to quit their jobs in 2023 due to a lack of skills-building opportunities.

Source
What do employees gain from internal mobility strategies?
A successful internal mobility program is a core part of creating a positive employee experience. Together with more flexibility and impactful work, the rising band of employees want the opportunity to grow and develop their skills in a company.
For employees, the benefits of internal mobility include:
Unlocking new opportunities
For those that have been with a company for more than a year or two — and are at the cusp of leaving for a new challenge, or growth opportunities — internal mobility opportunities can fulfil those same needs. Plus, provide more job satisfaction, motivation and reward as a result.
Less effort than starting from scratch
What's more, your internal talent already understands the company, its products or services, and how things get done. Basically, they can hit the ground running, boosting their confidence and levels of productivity.
Career Futureproofing
Today's workers need to keep a close eye on their future. And build the right skills to ensure they're able to add value long into the future.
People accumulate a large amount of human capital abilities through education, but then through work experience, people learn to do new things, so they continue to accumulate human capital: they acquire new skills and find new ways to deploy those skills. One of the most surprising findings was that human capital is closely related to change, dynamism, and mobility, moving to new roles, performing new tasks, and learning new skills.

Source
How to create an internal talent mobility strategy that works
Let's look at a few internal mobility best practices you should consider to build a strong, relevant internal mobility program.
#1 Get Buy-in
Ensure you have buy-in from all key stakeholders, including the top brass. Without their buy-in, your efforts will not be as far-reaching or long-lasting. Remember, you will also be steering people in the organization away from counter-productive habits, such as talent hoarding and continually defaulting to hiring external talent as the only solution.
#2 – Review current processes
Review your company's current internal talent mobility procedures, including any tools the company uses to facilitate the process – if any. But keep this in mind too, to ensure broad success:
Internal mobility is not technology-dependent; it should be woven through an organization's culture and entire talent management lifecycle.

Source
#3 – Assess your organization's skill gaps
Take a deep dive into the most in-demand skills and competencies in your organization, across all departments. Your interactions with managers will also help boost awareness of leveraging internal talent. Read on how to assess skills gaps in your company.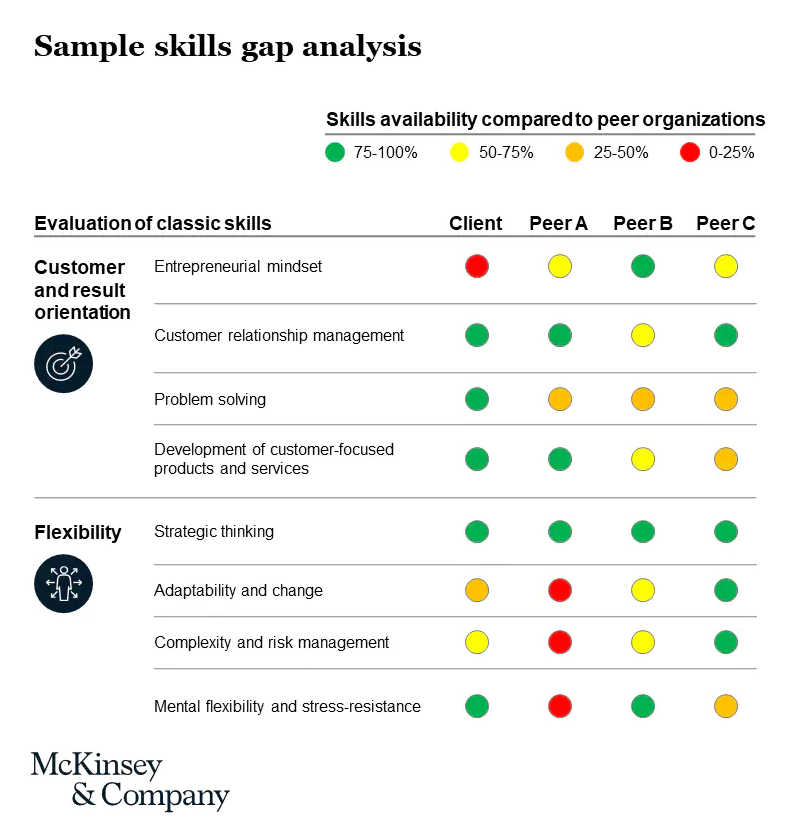 #4 – Market your internal opportunities
Don't expect employees to get excited and apply just because you advertised the roles. You'll need to share the benefits of internal mobility with them too, to boost their interest.
According to LinkedIn, only 20% of employees believe their current company offers the right conditions for them to grow and develop their careers. So, you're going to need to get the word out there about internal opportunities and let them know what's in it for them.
#5 – Measure the success
Measure how successful your internal mobility program is so you can course-correct as needed. Your team should track metrics, such as employee retention rate and the number of internal hires.

Top tip:
Your performance reviews should be development-focused and explore any internal mobility aspirations an employee may have.
#6 – Training and development for internal candidates
Those shifting to new roles in the company will need a varying degree of upskilling. This could be formal professional development, or a more informal approach, such as providing them with a mentor or coach. Without this type of support, they could run aground, and this could damage the company's internal mobility drive.
–––––––––––––––––––––
Ultimately, creating an effective internal mobility talent strategy is similar to other business processes. Get the right people on board, establish the core needs, review the current procedures, implement, and continuously review and improve the strategy.
However, to get the most from all stakeholders, including employees, bear in mind that human capital is about humans. Putting them first will deliver the best results every time.
It's important to ask, "What really matters?" We can hire people with all sorts of degrees—for example, someone with a master of fine arts. But if a potential hire is clever, passionate, and a participant, leadership has the opportunity to see them as a good fit. People who are hiring must think more broadly about what they actually need for an open position, particularly when it comes to knowledge, instead of defining a person's value based on their degree alone.

McKinsey's report | Source

Top tip:
With a clear idea of what skills your organization needs, you can launch strategic initiatives to close the biggest gaps. One of the most effective strategies for closing the organizational skills gap is skills-based hiring.
How to promote your internal mobility program
Once you're in the know about what'll get your program off the ground easily, you need to make everyone in your organization aware of it, and educate them on the benefits.
Get the word out to everyone from juniors to your executive teams, as it impacts the whole organization. You could include info on your intranet, in an internal email, on your communication channels, like Slack, and even on a post-it note on the company fridge… why not!

It should form part of an employee's development plan, so team leads should bring it up during their one-on-ones with their team.

Ensure the HR team champions the initiative at every opportunity, especially in meetings with other departments.

Celebrating the success of employees who've successfully transitioned to another role within the organization. You could even promote their story on social media and boost your company's employee value proposition.
Promoting internal mobility may take a bit of effort, but your efforts will definitely go a long way. Much like advertising, it can take time for the message to sink in. But when it does, you'll be opening up innovative opportunities for your workers to grow and thrive.
Measuring the success of your internal mobility program
Getting started with internal recruitment is a great feat alone. Once you've got a bit of traction with your initiative, it's important to measure the success, so you can improve the internal mobility process based on the feedback you receive from workers and managers.
Consider keeping track of metrics such as:
Your employee retention rate, comparing the retention rate of external hires vs. internal employee shifts.

The level of employee satisfaction with the program. A short survey could provide the feedback you need.

The number of internal employees who made use of the program vs. the total number that were eligible.

The level of success reached by participants, such as further promotions.

The overall business impact of the internal mobility program, such as improvements in workflow efficiency, productivity, and cost savings.
When HR managers keep track of these metrics, they can drive the success of their internal mobility strategy, and ensure that the benefits for the company and employees continue to grow.
Strengthen your internal mobility program with skills testing
Internal employees may not necessarily have all the skills and experience needed for their new role, yet. And that's ok. The focus of an internal mobility program is on developing their skills. But how do you know what level their skills are at, so you know how much support they'll need?
You can create customized skills tests with Toggl Hire to determine which internal applicant is the most suitable. And get an idea of the areas that need the most development. With the Toggl Hire platform, it's easy to get started. Simple drag-and-drop functionality means anyone on your team can help find the right gem among your current workforce.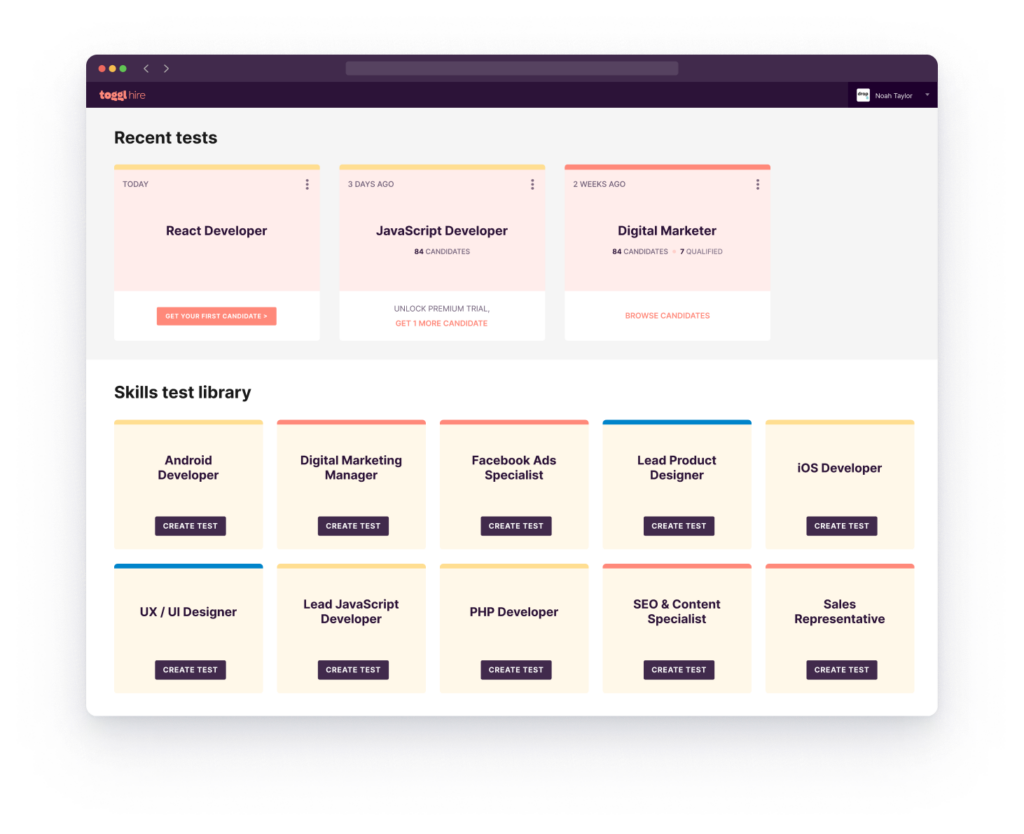 Learn more about simplifying your hiring process for internal or external candidates with Toggl Hire today.
Juste loves investigating through writing. A copywriter by trade, she spent the last ten years in startups, telling stories and building marketing teams. She works at Toggl Hire and writes about how businesses can recruit really great people.