From small teams to large teams or remote teams to co-located teams, there seems to be one challenge that plagues all of them: keeping everybody on the same page – even with the best team collaboration tools.
Project milestones, deadlines, updates, notes, feedback, questions, invoices… it's all important, yet can all easily get lost in the shuffle and result in major setbacks (not to mention plenty of headaches and frustration) for your team.
Fortunately, this is yet another area where technology can swoop in and significantly improve the way that you work.
That's right—there are plenty of collaboration apps and tools that you can implement for your team in order to streamline your workflows, improve your communication, and all around just work smarter (instead of harder!).
So, what sorts of tools should you consider implementing in 2021?
We have a great roundup right here.
Finding the Right Team Tools
Before we dive into the nitty gritty of what each tool has to offer, you first need to take a moment to acknowledge the importance of finding the right tools for your team.
With so many options out there on the market, it can be tempting to fill your plate full with all of the best collaboration tools that you see stuffed into all of those different advice articles.
However, this approach can quickly result in even more exhaustion, confusion, and bloat on your team. It's called tool fatigue—and it's yet another trap that many teams fall into.
At the rate shiny new tools are released, they soon find themselves with tool fatigue—too many tools and not enough time to figure out what to use and how,
– explains a post on the subject from ClientFlow.
Remember that your tools should exist to help your team members—not slow them down or overwhelm them.
So, with that in mind, when evaluating what collaboration tools you should implement as part of your standard workflow, you should start with this one basic question:
What are our needs?
By taking a magnifying glass to the areas where your team is struggling, you can zone in on those issues that actually need to be addressed.
Is communication constantly breaking down?

Is there a major bottleneck in one of your processes?

Are team members complaining that there isn't one centralized method of organization?
When you start thinking about apps and tools in terms of what team problems you actually need to solve, you'll land on solutions that serve to improve the way you work—rather than falling victim to the siren song of the latest and greatest hack or dashboard.
Team Collaboration Tools: 11 You Should Know About
When it comes to online collaboration tools, there's no shortage of options. In fact, the number of choices you're presented with can be almost paralyzing.
Much like with anything, some tools are better than others. So, in an effort to help you separate the wheat from the chaff, we've pulled together 11 different tools that we think are great right here.
Communication Tools
Instant messaging is back in a big way. And, arguably, there's no solution more popular than Slack, a cloud-based team messaging tool.
More than just the simple instant messaging you'd expect with free collaboration tools, Slack is highly organized and incredibly robust.
Conversations are grouped into different "channels" that you create. This empowers you to organize your team communication in a way that makes the most sense for you—whether it's by specific project, department, or even topic (such as onboarding, for example).
Another thing that makes Slack so powerful?
It integrates with nearly all of the different apps your team might already be using.
Notifications from Trello or files from Google Drive will all flow into that designated conversation, meaning all relevant information is in one, centralized place.
Every single message is indexed and searchable, so team members can always get their hands on the information they need. And, we haven't even touched on the automated reminders and other helpful features you'll get through Slackbot.
Put simply, Slack is a must if you're looking to make group collaboration effortless—and even fun!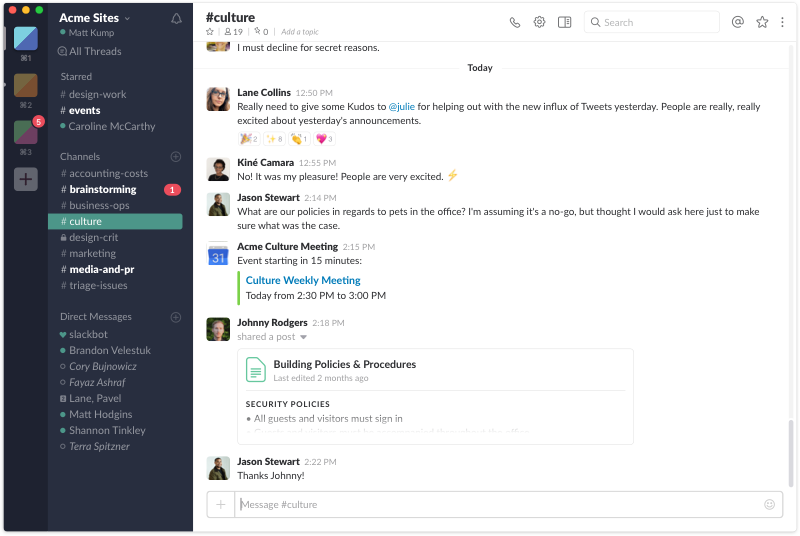 Image Source
Price: Free, with premium versions starting at $6.67 per active user per month.
Instant messaging is always helpful, but occasionally your team needs to chat face-to-face (this is especially important for engaging remote workers!). Enter the magic of video conferencing software.
The software that rules them all is Zoom, an incredibly user-friendly video conferencing and web conferencing service. The concept itself is simple—Zoom enables you and your team members to have face-to-face meetings, even if you're across the globe from each other.
However, Zoom has plenty of other additional features for larger businesses that make it one of the top conferencing choices today—from scheduling displays to the option to use touchscreens to enhance team understanding.
Even if you just want to implement Zoom for just basic video conferencing or webinars, the user-friendliness of the platform and the call quality really can't be beat.
Price: Free, with premium versions starting at $14.99 per host per month.
Project Management Tools
When it comes to staying organized and keeping projects on track, your team's project management tool will be one of the most important items in your toolbox.
Many opt for the ease and intuitiveness of Trello, a project management tool that uses the Kanban style to visually track progress on different projects and initiatives.
Trello has all of the features you'd hope for—from setting deadlines and leaving comments on specific projects or tasks (called "cards" within Trello) to the option to include attachments and directly integrate with apps like Google Drive.
But, what separates Trello from many other project management solutions on the market is how incredibly user-friendly and visually pleasing it is.
With an intuitive design, it won't take long for your team to get used to successfully managing a project within Trello. They'll be sliding cards between columns, adding searchable labels, and pinging other team members in no time!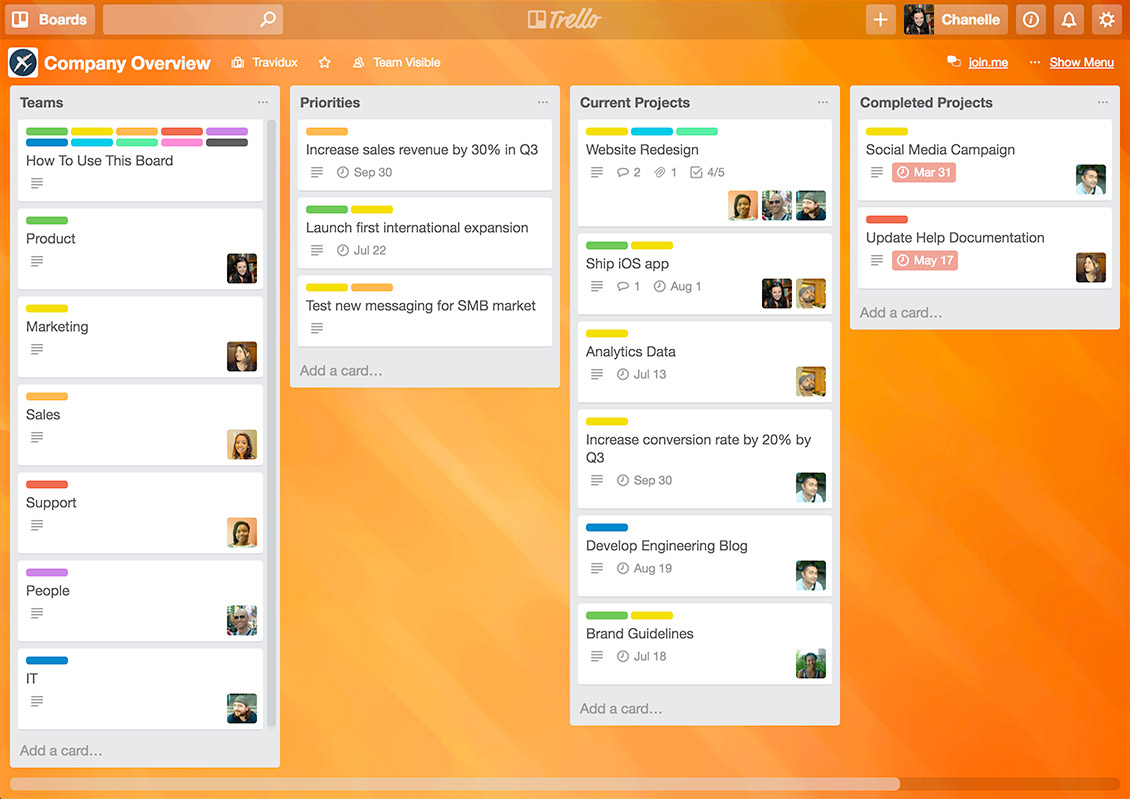 Image Source
Price: Free, with business class plans starting at $9.99 per user per month.
Call it humble bragging, but you didn't think we could do an entire team collaboration roundup without including ourselves, did you?
There's no productivity hack more powerful and effective than tracking your time. When your team members know where their hours are going, they're empowered to grab the reins and use their working time even more effectively.
This is why implementing a solution like Toggl for your team can be so helpful. If you've attempted to use a time-tracker before, you likely have complaints about the fact that it was a pain to use—meaning your team never actually did so.
That's not the case with Toggl. With a button that appears directly in your browser, it's easy for your team to log their hours with just a single click.
With easy-to-read reports, you and your team members are empowered to understand where time is going and make improvements from there.
Additionally, Toggl integrates with tons of different apps and tools—from Wrike to Google Drive—that makes it simpler than ever to assign time to specific projects.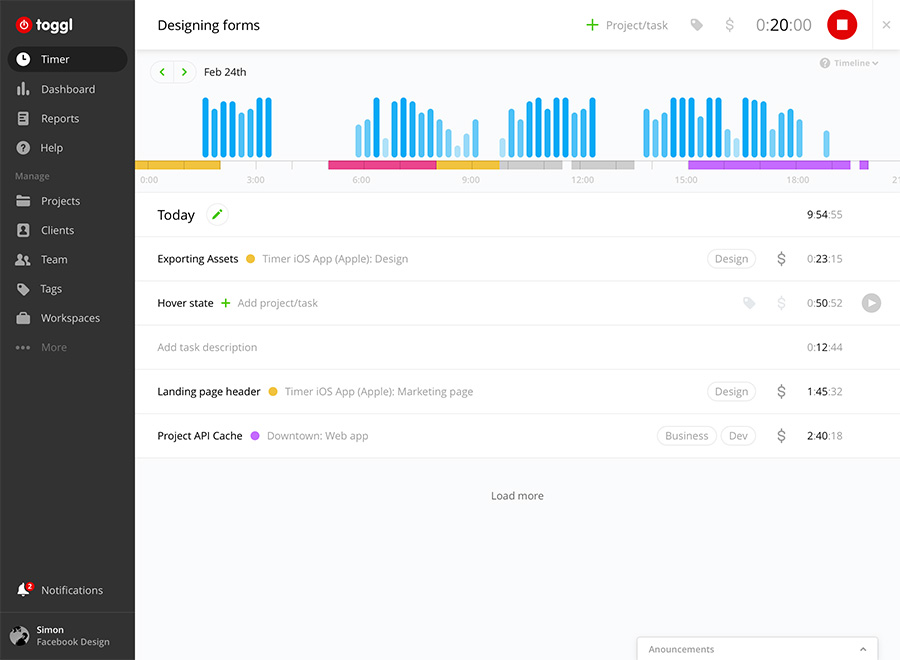 Price: Plans starting at $9 per user per month
Asana is another great project management option to keep your entire team in the loop.
Once you get your organization or your workspace setup, it's easy to track different projects by creating checklists. Different team members can be assigned to each item within that list, with a different deadline associated as well.
Much like you'd expect, you can tag team members in comments in order to keep project-related communication organized. And, by using Asana's "project view" you can quickly glean the status of the project and get an understanding of how much more needs to be done.
It's another user-friendly option for teams who are eager to be a bit more organized!
Image Source
Price: Free, with premium plans starting at $9.99 per member per month.
This tool empowers you and your team to plan out projects and workflows using a timeline. Compared to other apps and tools, it gives you a bird's eye view of all that's happening on your team.
With this timeline-centric approach, you're able to better manage your resources and your team's time.
And, if you need to share a plan or a timeline with a client? Toggl Plan allows you to do this on a project-by-project basis—meaning everybody (both your employees and your clients) will be in the loop on what's going on.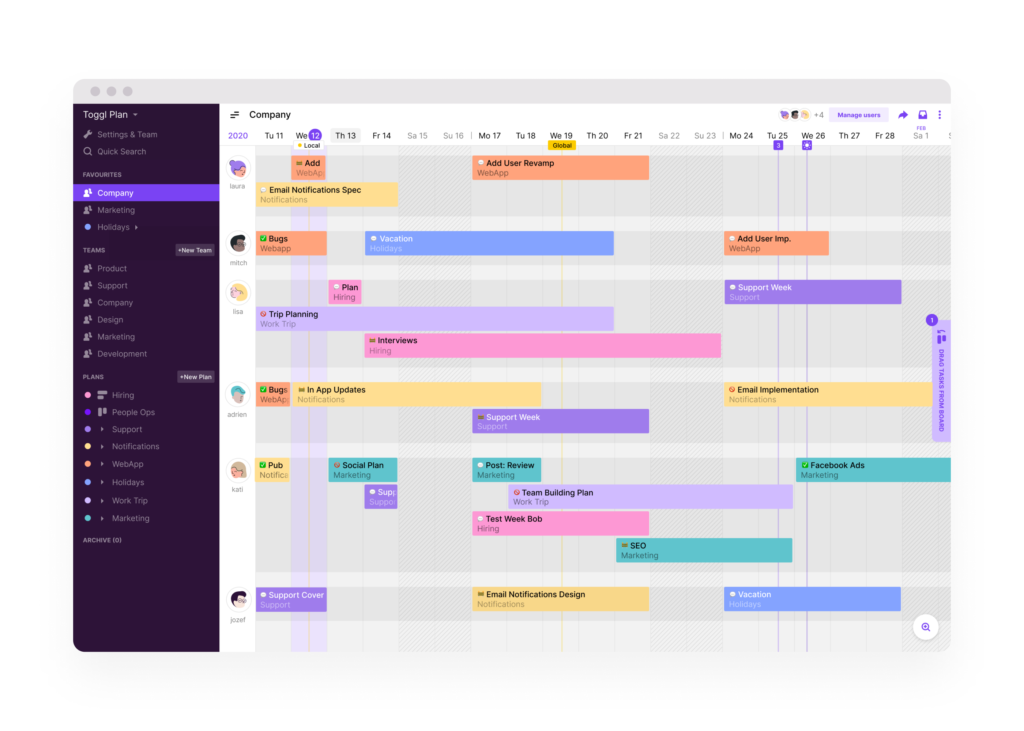 Price: Free for teams up to five people, with upgraded plans beginning at $8 per user per month.
For teams who are focused on design-centric work, you really can't beat Invision. It's a project management tool that's created specifically for designing.
Within InVision, your team can upload design files and add various animations and transitions in order to create interactive and clickable prototypes.
Additionally, you can simplify your design feedback process by allowing clients, team members, and other stakeholders to comment directly on designs.
Within InVision, you can also take care of numerous other tasks, such as creating stylesheets and real code for various design elements. There's also a Freehand feature where you and your team can draw and sketch in order to share ideas.
Price: Free, with premium plans starting at $15 per month.
Organization Tools
Your team has plenty of documents, files, ideas, inspiration, and other random scribbles to keep track of. If you aren't a fan of random sticky notes and jumbled notebook pages, Evernote will be your team's new best friend.
With Evernote, you can collect everything that matters—from images to checklists to reminders—in one centralized place.
That's not all.
You can enhance those things you save with things like links, checklists, attachments, and audio recordings.
The best part? It's all searchable.
Yes, even the handwritten notes you store within Evernote can be searched within the app.
With that in mind, plenty of teams use Evernote as their central hub to keep projects organized all the way from ideation to implementation. You'll never go searching for something you need again!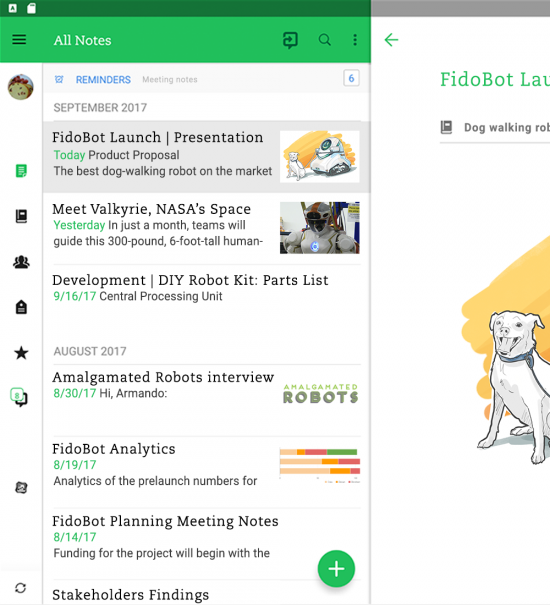 Image Source
Price: Free, with upgraded plans starting at $34.99 per year.
Chances are, you're already familiar with all the perks that the various Google apps have to offer—so, we won't insult you with an elementary explanation.
But, put quickly and simply, G Suite from Google Cloud is the package of all of those apps that you know in love—including Gmail, Docs, Drive, and Calendar—specifically for your business.
With G Suite, you can manage various mobile devices, email addresses, and security settings for your team from the Google Admin console. This means that your team is able to effectively collaborate, while not having to worry about keeping your data and information safe and secure.
Needless to say, G Suite empowers seamless collaboration for your entire team—using the Google apps you likely already use and love.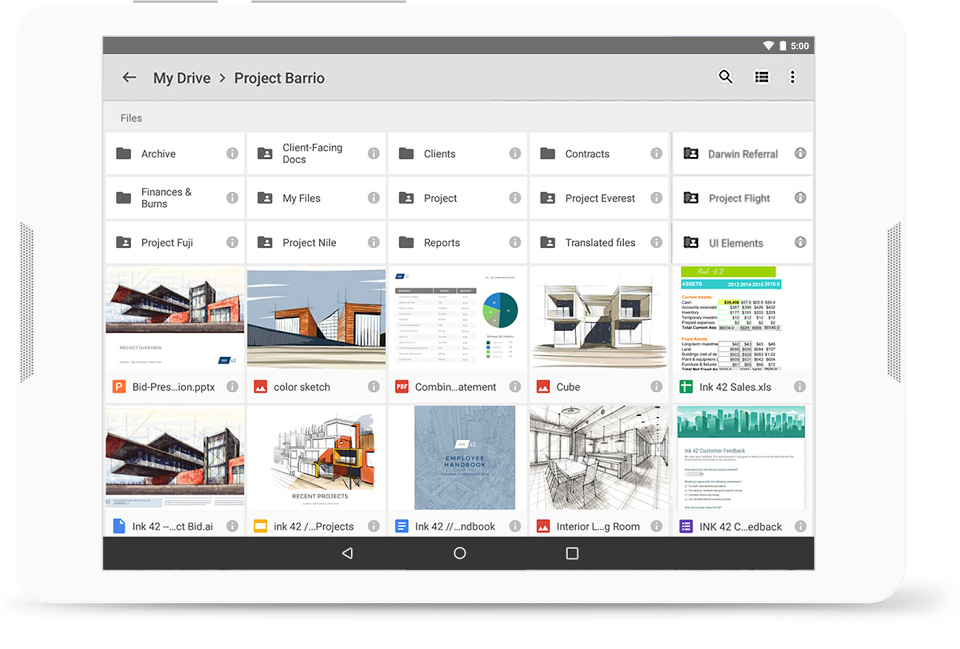 Image Source
Price: Plans start at $5 per user per month.
If you're familiar with the pain of trying to share a file with another team member or stakeholder only to be met with those annoying file size limits, you're sure to love Dropbox.
Using Dropbox, you and your team can keep all of your files organized in one place and synced across your devices.
Dropbox also empowers great team collaboration. You can share a file (no matter how large!) and your team can comment with feedback, questions, and other tidbits that might be important to that piece of work.
Additionally, with a feature like Dropbox Paper, your team can brainstorm, review, revise, and iterate on ideas all in one streamlined space.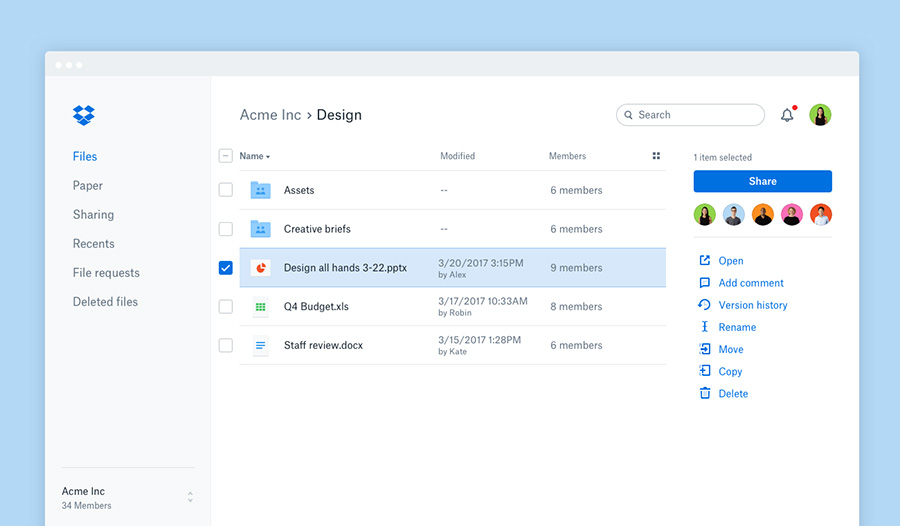 Image Source
Price: Free, with upgraded plans beginning at $99 per year.
One thing we haven't touched on with these other collaboration tools? Accounting.
But, it's an important aspect of your business that you'll want to make sure to stay on top of.
This is where a tool like FreshBooks can help. It's an accounting solution that's incredibly simple to use. Within the platform, you can do things like send invoices, track expenses, and even follow-up with clients about payments.
FreshBooks lives in the cloud, which means you can access that important financial data wherever you are.
So, if you've been searching for a way to better stay on top of the numbers side of your business, FreshBooks is definitely worth a look!
Price: Plans start at $15 per month.
Over to You
Finding the right collaboration tools can work wonders for the organization and productivity of your team. But, with so many options available, finding the ones that work best for you can be a challenge.
Remember to start by thinking about the specific needs of your team. From there, consider any one (or several!) of the 11 great tools we've included above, and you're sure to get your team started in the right direction in 2018.
Kat is a freelance writer specializing in career, self-development, and productivity topics. She's passionate about being as efficient and effective as possible—much of which she owes to her 114 words per minute average typing speed. When her fingers aren't flying on the keyboard, she loves to bake, read, hike, or tackle yet another DIY project around her home.