If you've ever tried to collaborate with people from several different teams, you know that cross functional collaboration can be challenging. Sometimes, the team members don't communicate well. Sometimes, the team members are inadvertently working towards opposite goals. Sometimes, the team just doesn't "gel." If you're experiencing some issues with cross functional collaboration, rest assured that there is a solution.
What is cross functional collaboration?
Cross functional collaboration is the collaboration between a group of people that are working towards a common goal.  For example, a cross functional team may come together to launch a new product, create a new customer service experience, or implement new technology systems for the company. For each of these projects, team members from marketing, product design, and customer service work together to achieve a specific goal.
For a single function team, collaboration usually isn't as big of an issue simply because the team members are already used to working together regularly. In cross-functional teams, that's not always the case. Each person on a cross-functional team comes from a different part of the company. Each of these people are used to a specific way of communicating and working in their "home" team. Joining a cross-functional team can mean starting from scratch.
Sounds a little tricky, doesn't it? The reality is that it can be quite tricky. If you're not prepared, or you don't have much experience in this subject, it can be not only difficult, but confusing.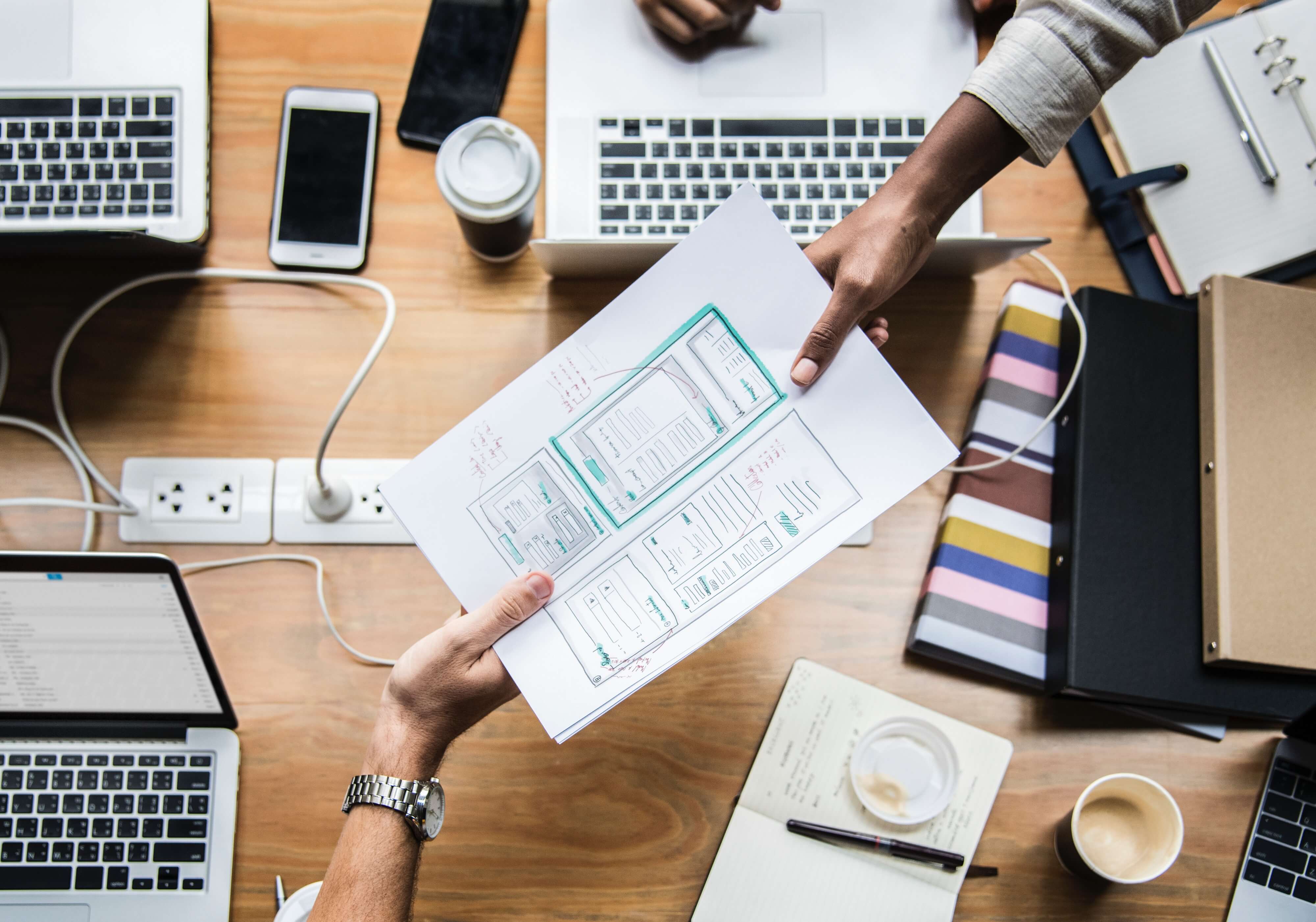 The problem
According to Harvard Business Review, nearly 75% of cross functional teams are dysfunctional. That number is concerning considering that cross-functional collaboration is becoming more and more essential. So, why are teams failing to collaborate left and right?
Here are a few of the potential pitfalls cross-functional teams face:
Cross functional collaboration, by its definition, involves people from  more than one team. In these situations, not every team will have the same goal, even for the same project. One team member might be involved for just a few tasks, and in that case, she may not be concerned with the overall outcome of the project. Meanwhile, the team member who's in charge of finishing the project may be much more committed and driven. Frustration can build when team members don't feel like they're equally invested in the project or working towards the same goals.
Different means of communication
For any team, communication is the life of the project. If you're working with people from  multiple teams, communication preferences and norms can vary. People may communicate on different channels or less frequently than the rest of the team expects, which can slow down the project.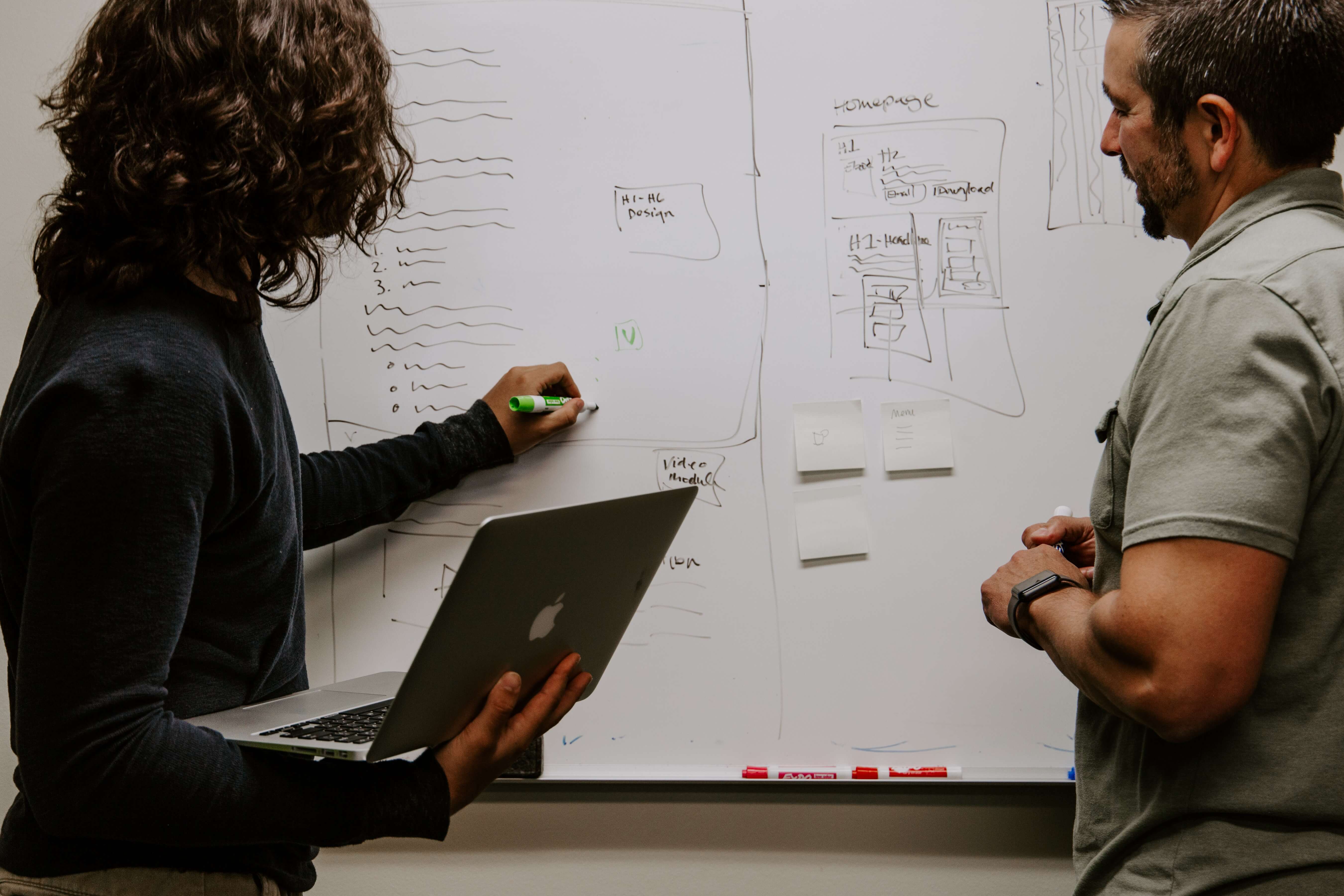 Understanding everyone's roles
When you work with people from several teams it can be hard to know who to go to if you have questions or need help. Not understanding everyone's role can result in missed communication and ultimately missed opportunity.
This one is probably the most damaging. When you work with different teams, odds are that they go about the way they complete projects in a different way. Even if the difference is slight, it can cause big problems. For example, let's say one team uses the Agile method, and the other team doesn't. Your schedules might start to go a little off track if one team isn't taking the time to stop and assess the project at each milestone.
Because each team does things differently, team members may use different online tools, too. This can make things incredibly tricky because it's impossible to see what everyone is doing, and what there is to do next.
The solution
As daunting as the issues above may seem, rest easy knowing that there's a simple solution: using a simple project collaboration tool like Toggl Plan. Let's review the list above to see how Toggl Plan makes those problems disappear:
Toggl Plan is a team timeline, where each person's workload is clearly laid out on the timeline. With this level of visibility, there's no guessing where the project is heading and who is working on what. The end goal of the project, and the project deadline is clearly, which makes it easier for team member's to stay on the same page.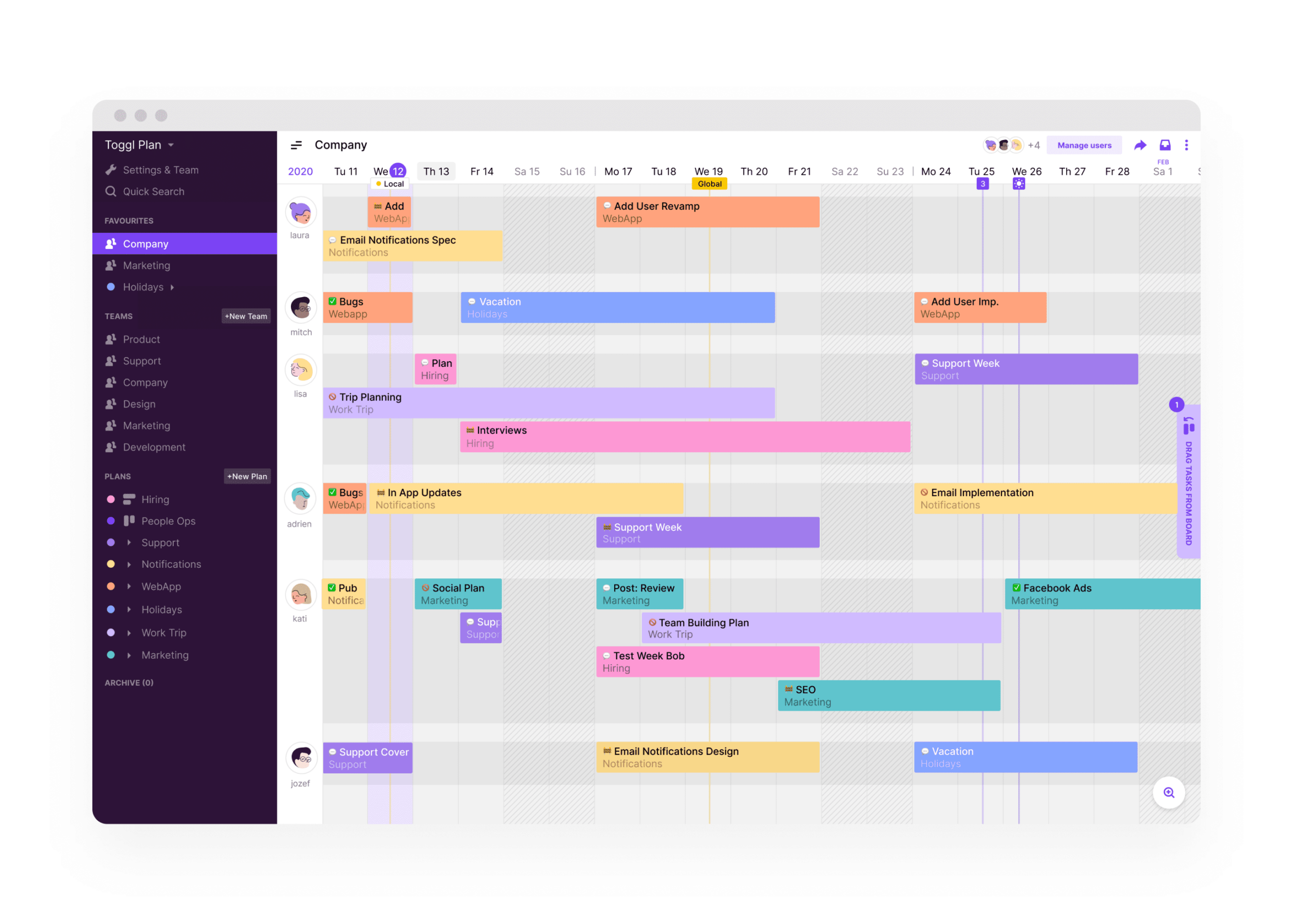 Different means of communication
Integrations are a massive part of anyone's tech life, and Toggl Plan is no exception. Toggl Plan allows you to integrate with all of your favorite tools, including Slack, GitHub, GitLab, Toggl, Trello, Podio, Asana, JIRA, and Bitbucket. Once your cross functional team decides on a suite of communication tools, you can easily integrate them with your timeline to keep everyone in the loop.
Understanding everyone's roles
Toggl Plan is a Gantt chart solution that lays everyone's responsibilities right out in front of them. Since Toggl Plan uses team timelines, everyone will get the same view when they log in, so they all know who's working on what part of the project.
Toggl Plan has a beautiful and clean interface that's easy for anyone to use. With features like milestones and checklists, it's never been easier to understand your deadlines and make sure that you're on track to complete your tasks.
All of that sounds great, but it doesn't help if you can't share your timeline, right? Well, Toggl Plan thought about that, too. Toggl Plan has a quick timeline sharing feature that lets you share with anyone at any time. Because Toggl Plan is cloud-based software, team members can check the progress of the project on any device and in any browser.
With Toggl Plan, everyone is on the same page. From start to finish, you get clear visibility of everyone's schedule, deadlines, and roles. If more teams used tools like Toggl Plan, then that staggering 75% failure rate would diminish. You would see teams thriving and succeeding.
We shouldn't limit our success based off of our differences with other teams, but rather embrace those differences and face them with Toggl Plan. Cross-functional collaboration has too much potential to let it fail so often. Those who take on this challenge and inevitably overcome it will be rewarded with a group of people that are driven to do their job and achieve greatness. It's all about teamwork!
Like many other people, Zach McDaniel gained his knowledge of management and project management through research and necessity. He believes that the most interesting thing about project management, management, and productivity is that there are so many different strategies, so there's always something new to learn and share.