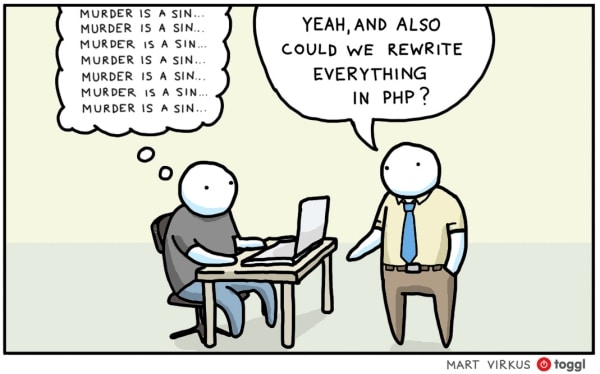 We have a lot of different people working at Toggl, doing so in a lot of different ways. So we thought we'd shed some light into what their days look like – and kindly invite you along for the ride.
First things first – we're looking for developers to join our global family! If you're up for it, head on over to our jobs page and take one of the Toggl job tests. 
Because I (nor any other non-developer here) knows what developers do exactly, I asked them to fill in a short diary detailing what they get around to during their work days.
They also agreed to send in one picture each depicting what they were doing exactly at 14:30 on Monday.
Because I was expecting the worst, I am not terribly displeased with the results. Here they are:
A Day in the life of…
1. …Margus, our friendly backend engineer
He sent in two versions of his day, this is actually the nicer one.
08:30 – Hear the phone go off with the most pleasant wake up sound one can imagine – an SMS from PagerDuty (again, the damn boss re-enabled my profile, I keep on telling him I'm not a human before noon).
10:00 – Arrive at the office (a couch in my mother's basement, where else?), answer a few support e-mails. A 17-ounce cup of coffee.
11:30 – Head of support calls in, she's not happy. She reviewed my answers to customers, says there is a petition in office forbidding me to do ANY kind of work related to support. Seems the 2 weeks of being my usual self is paying off (now, if only I could get the boss to understand I don't do anything reasonable before noon?).
13:00 – Lunch. Another 17-ounce coffee, do a bit of coding for my pet projects (monitoring the internal climate inside the basement – I'm not getting any younger and that coke-engery drink diet isn't helping).
14:30 – Time for the picture!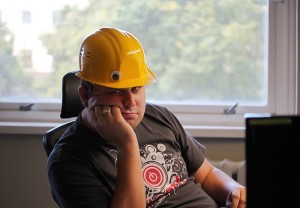 "Can you put this on so you look more like an engineer?"
15:30 – Boss calls, has some issues with a project being 2 months behind schedule – I tell him that I'll get right on it. Uncomment a line, deploy to production, boss calls again – is happy, commends me for my fast response time. 3-4 more jobs like this and he'll be eating out of my palm!
17:00 – Time for an early evening beer. A Sam Adams goes wonderfully with support tickets and late-day coding.
19:30 – Watching broadcasts on tech news, chatting with US support people. This slowly morphs into a quick round of CS:GO.
04:00 – stop playing CS:GO.
2. …Paul, the Dutchman
Paul works remotely from his home in the Netherlands. He likes sarcasm, so I am surprised to find his answers relatively straightforward and quite insightful.
07:30 – get up, check e-mails and social media (fancy word for Facebook – ed.). Also check Slack and respond to unanswered support queries from the night.
08:00 – Go over the todo list for what's planned for today.
09:30 – busy with work on new features – writing the user interface for the Toggl Desktop auto tracker. Also bug fix sprees, summoning ancient ones – generally the most productive time.
11:00 – since the Toggl offices are in another country, I go to Google Hangouts for our virtual team meeting. Wait until the team lead fixes his audio issues. Discuss progress, plans and anything else that has come up.
12:00 – check the fridge for edibles.
12:03 – fail to find edibles, return to work.
13:00 – Breakfast? Lunch? Brunch? Eeating and watching Youtube videos to reset the brain.
14:00 – back to work – fixing bugs!
14:30 – Paul sends in his picture:
He asked me not to edit it, so I didn't.
16:00 – take my racing bike outside, to fulfill my duty as a Dutchman to live in the saddle every day. Putting on an audiobook or a podcast.
17:00 – close up the day. Helping out the support team with a particularly tricky case, respond to a user on Github. Also go over the next day's todo list, because most likely some plans have changed.
19:30 – close down Slack for the day (the equivalent of leaving a remote office), start working on a project of my own.
3. …Indrek – Toggl Desktop chief (and former bodybuilder)
Indrek has been with Toggl since forever. He can usually be seen around our Tallinn office, or when the weather gets cold – at home.
08:30 – Morning run. I'm on 30 day running challenge. Today was day 21 – still going strong!
10:00 – Investigate Toggl Button issues – seems like some integrations are not working as expected. Maybe the integrations have updated their web apps and this has broken Toggl Button?
11:00 – Have a video conference with Paul. Wait until he fixes his audio issues.
11:30 – Test the Windows Desktop app. Version 7.2.313 has been in beta for a few weeks and it seems that there are no issues with it. Will evaluate if it's ready for a stable release.
13:00 – Lunch. Went to local street food joint called "Burks" (Estonian short for "burger"). One crispy chicken Salsa burger please!
14:30 – Indrek sends in his picture, it makes me feel slightly uncomfortable: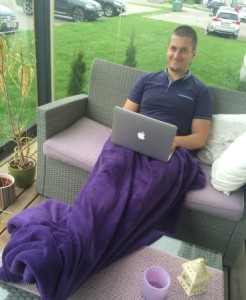 In entomology, they call this a "pupa". In human, they call this a "no."
15:30 – Write the Toggl Desktop for Windows changelog. You can see what I came up with at https://toggl.github.io/toggldesktop/
17:00 – Wrap things up. Checking if there are any support tickets that need my attention.
19:30 – Enjoy a couch massage with the family. It's time to relax and enjoy the life offline. Actually I'm going to fix the washing machine. I'm handy like that.
4. …David, the we-have-no-idea-which-country-he's-in-right now
David took the longest to send in his diary report, saying he was gonna work extra hard on it. This is what he sent me:
08:30 – work
10:00 – work
11:30 – work
13:00 – work
work?
15:30 – work
17:00 – uni
19:30 – uni
I have a feeling he did not take it seriously.
As you can see, the Toggl family is a mixed bunch, all with their different personalities and whims.
But as we say at Toggl – you can't choose your family, but you can choose your working hours.
Just kidding – they're allright. But if curious characters, flexible work time and the chance to work from anywhere around the globe sounds like your cup of tea, take the job test, and take the leap.
We'll be waiting!