Besides product and brand, successful businesses compete by continuously improving their processes. Improved processes result in cost savings, better productivity, and efficient operations. Having the right workflow and task management software helps streamline and speed up business process management.
In this article, we'll look at the best workflow management solutions, including:
Before we compare these workflow tools, let's go through some basics.
What Is Workflow Management Software?
A workflow is a series of steps that helps you get work done. Workflow steps happen sequentially. You can represent these workflow steps using timelines, flowcharts, or even a simple checklist.
A workflow can be of three types — project workflow, process workflow, or case workflow.
Workflow management software helps you create, execute, and manage workflows. Some workflow tools come with features to automate work processes. And, others can help you identify bottlenecks to improve your workflows.
Workflow management solutions help you manage work your way. With workflow software, you can:
Create custom workflows and workflow stages.
Standardize execution by integrating task lists with workflows.
Get tasks done by moving them across workflow stages.
Follow up and track task progress across the stages.
Adjust or improve workflows.
In this article, we look at the top five options each in project and business process workflow management solutions.
Best Project Workflow Management Software
A project workflow determines how the project's activities are executed.
Every project is unique. As a result, every project can have its workflow. But, within a project, all activities or tasks progress along the same workflow stages.
Because a project workflow software is customizable, you can also use project workflow tools to manage process and case workflows.
Most project management tools come with project workflow management features. Let's look at top project workflow tools.
Toggl Plan
Toggl Plan is a beautifully simple project management tool. For each project, you can create a custom task workflow using Toggl Plan's Boards feature.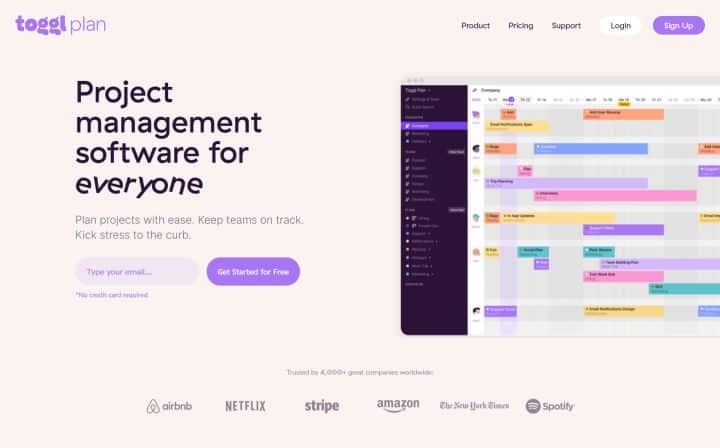 With Toggl Plan, you can create unlimited boards. Each board represents one project workflow. You can easily customize a board to match your workflow.
Vertical columns divide boards. Each column represents a workflow stage. You can create any number of workflow stages. Plus, you can rename a column or change their order by simple drag and drop.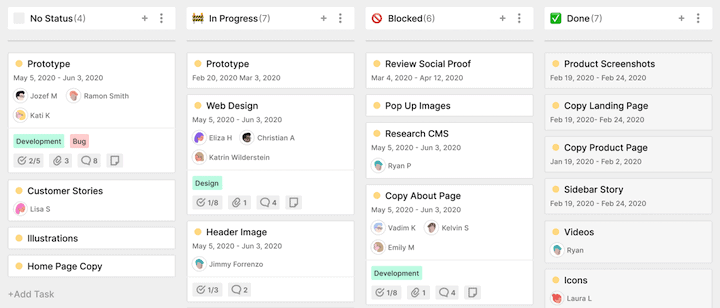 You can create a task card to manage the project task list. To move a task card from one workflow stage to another, simply drag and drop it.
You can assign a task to one or more team members. These team members can then work together on a task using comments and file attachments.
You can also add the estimated effort on each task card and set the scheduled start and end dates.
Finally, you can also add a checklist to each task card. The checklist helps improve the task quality before it moves to the next stage.
Additional Features
In addition to task and workflow management, Toggl Plan also has the following features:
Visualize workflows on a timeline.
Edit tasks from the timeline as well as from the board.
Share a read-only view with stakeholders.
Keep track of your work with a personal dashboard.
Manage team availability and workloads.
Get in-app notifications when something changes.
Toggl Plan Pricing
The free plan is perfect for managing freelance or consultant projects.
Paid plans range from $9-$15 per user per month. Upgrading to a paid plan gets you recurring tasks, custom colors, role-based access, and in-app notifications.
Get started for free with Toggl Plan.
Asana
Asana is a flexible project management tool. It comes with task lists and boards to manage project workflows.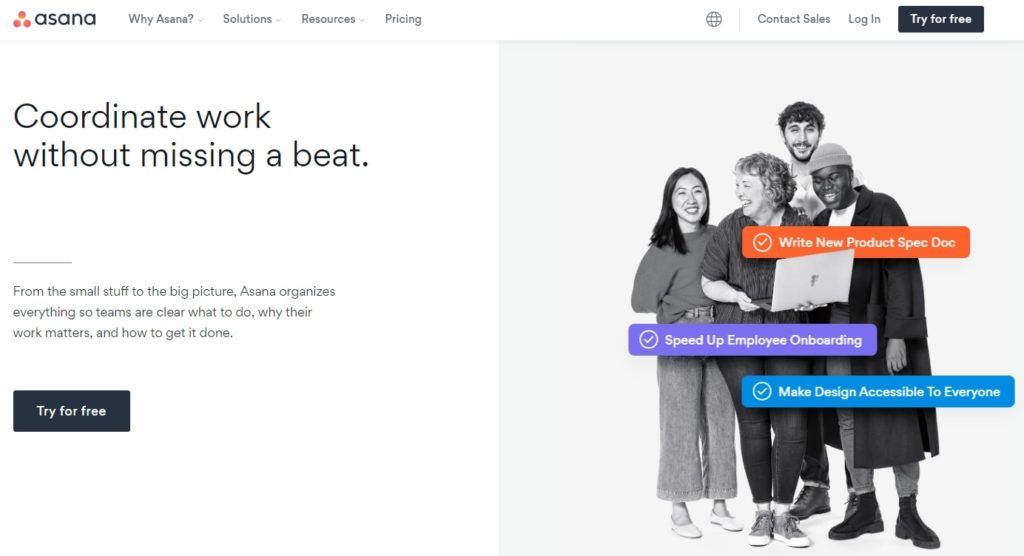 Boards represent a workflow. And, each column on the board (called Section in Asana) represents a workflow stage. You can add, edit, or delete workflow stages easily.
Task cards represent project activities. Each card can have custom fields, sub-tasks, and one or more assignees. Assignees can collaborate on tasks using comments, notes, and file attachments.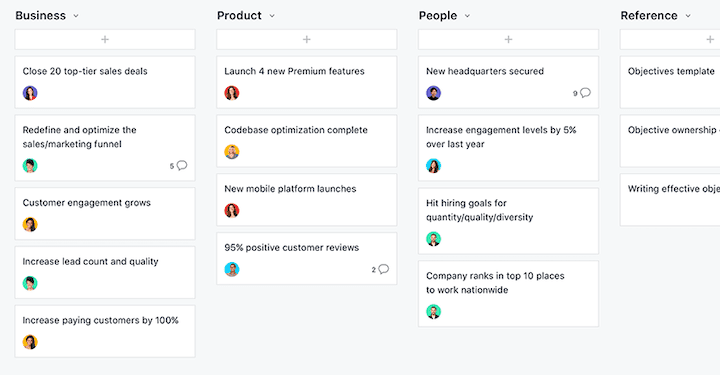 With Asana, you can also create automation rules to get mundane tasks done faster. For example, you can assign tasks to a specific team member based on the task status.
Additional Features
Asana has more features, including:
Visualize workflows on a timeline or a calendar.
Track multiple project workflows.
Create work request forms.
Asana Pricing
With the free tier, you can manage unlimited project workflows with up to 15 team members.
Paid tiers range from $13.49-$30.49 per user per month. When you upgrade to a paid tier, you get access to workflow automation, timeline views, workload management, and approval workflows.
Trello
Trello is a popular Kanban-based project management tool. As with Toggl Plan and Asana, you can use Trello boards to manage project workflows.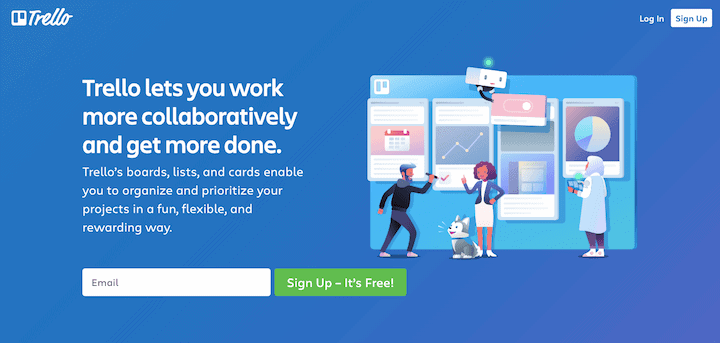 Boards are where the workflow action happens in Trello. Create a new board to start managing a project workflow. Then create columns (called Lists in Trello) to manage workflow stages.
Task cards help capture, organize and track project activities. Like other project management tools, you can drag and drop task cards across workflow stages.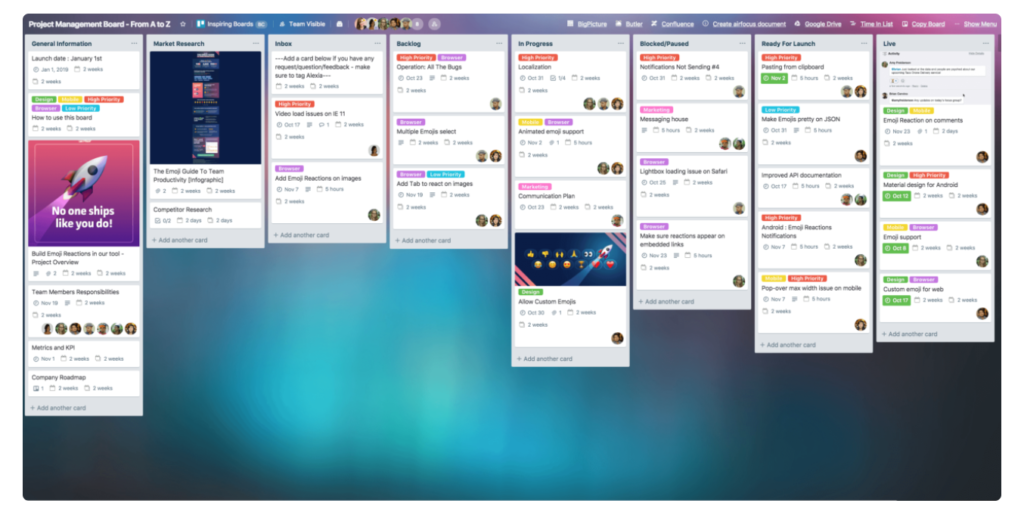 You can attach files and docs to task cards. Plus, you can also add checklists that help improve task completion quality. Task cards can have custom fields, multiple assignees, and color-coded labels.
Like Asana, Trello also supports workflow automation for repetitive tasks.
Additional Features
In addition to Trello boards, you can also:
Visualize projects on a calendar, timeline, or map view.
Add unlimited powerups to extend the default board functionality.
Organize boards into collections to manage workflows better.
Trello Pricing
With the free plan in Trello, you get unlimited personal boards and ten team boards.
Paid plans range from $12.50-$17.50 per user per month. If you upgrade to a paid plan, you get unlimited team boards, unlimited powerups, and other project views.
KanbanFlow: Free Workflow Management Software
If you're looking for a free and simple workflow management software tool, Kanban Flow may be right for you. As the name suggests, Kanban Flow is based on the Kanban methodology.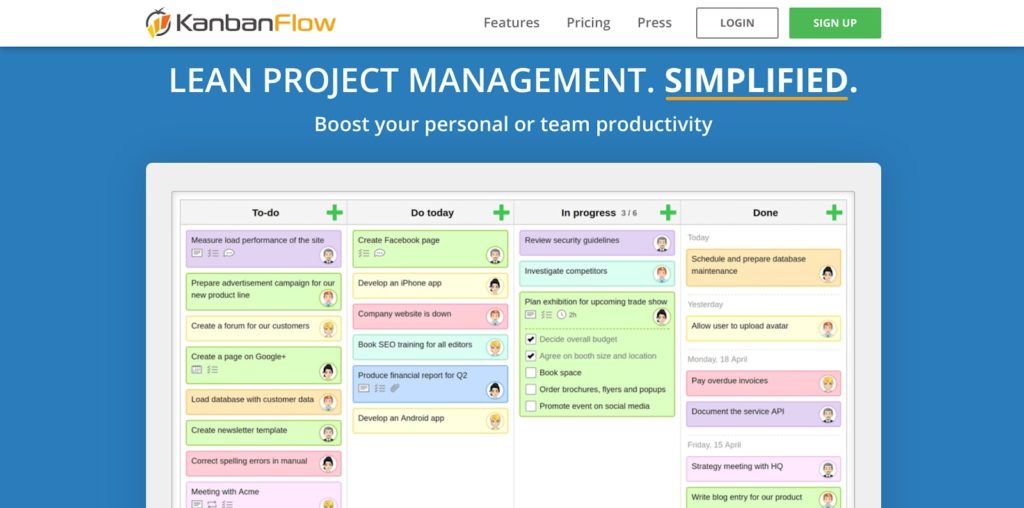 Even if you sign up for the free tier of Kanban Flow, you can manage unlimited boards and tasks.
Like other tools on this list, workflow boards and stages are entirely customizable. Moving a task across workflow stages is as simple as drag and drop.
Tasks in KanbanFlow can have sub-tasks and file attachments.
KanbanFlow also supports horizontal swimlanes to segment your workflow by departments or teams.
Additional Features
KanbanFlow comes with the following additional features:
Set work-in-progress limits to prevent team members from multi-tasking.
Set up recurring tasks.
Track time spent on tasks.
KanbanFlow Pricing
With the free tier, you get unlimited workflow boards and tasks.
The paid tier plan costs $5 per user per month. Upgrading to the paid tier gets you time tracking reports, horizontal swimlanes, file attachments, and two-factor authentication.
Jira
If you want to manage software development workflows, Jira is a great option. It comes with task boards and bug management features that help manage agile development workflows.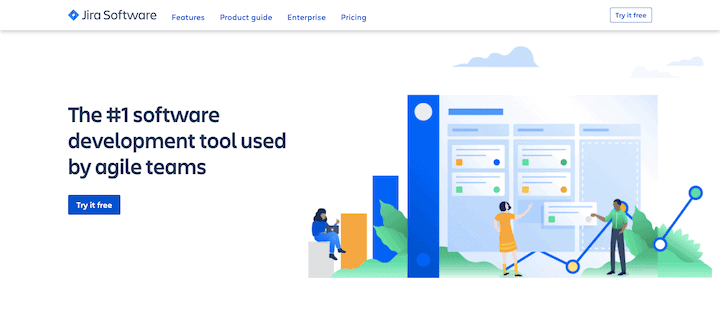 Depending on your project methodology, you can use Jira boards as either Scrum boards or Kanban boards. Boards are customizable and easy to use. You can move tasks between workflow stages using simple drag and drop interactions.
With Jira, you can also create custom workflows for bug and issue tracking. Jira also has integrations with development tools. Because of which you can easily trace development workflow issues.
Additional Features
Along with software development workflow management, Jira also has the following features:
Capture, organize and prioritize ideas with project backlogs.
Generate reports to get insights into how your team is performing.
Integrate with 3000+ other business applications.
Jira Pricing
If you're looking for an always-free software workflow management solution, Jira has a free plan for up to 10 users.
Paid plans range between $7-$14 per user per month. Upgrading to a paid plan gets you role-based access, workflow automation, release tracking, and capacity planning features.
Best Business Process Workflow Management Software
Process workflow software helps manage repetitive processes for businesses. For example, onboarding new employees, purchase requisition approvals, etc.
Systemizing the process workflows using software helps businesses standardize processes, improve productivity, and reduce mistakes.
Let's look at some popular workflow solutions to manage business processes.
Kissflow
Kissflow is an end-to-end workflow management system. It handles both case and business process management workflows.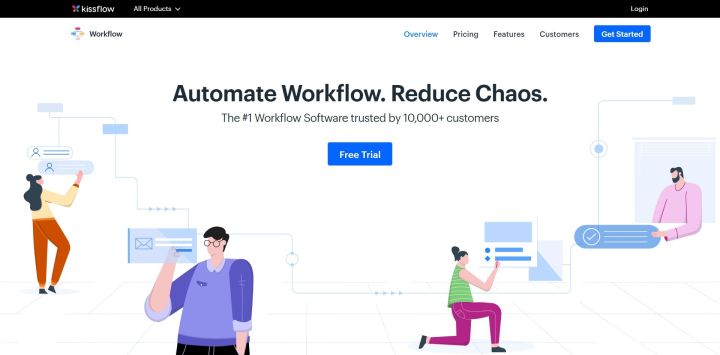 With Kissflow, you start by creating no-code request forms. Once users submit a request, it enters your workflow.
Creating a workflow is easy too. Kissflow has a visual workflow editor, which makes it easy to drag and drop workflow stages. You can also add if-then conditional logic to route requests through your workflow.
Kissflow also has robust reporting capabilities. You can get insights into your processes and eliminate bottlenecks with custom reports.
Additional Features
Additional features in Kissflow are:
Create dashboards with real-time information about all processes.
Get an audited trail of all the steps in a process.
Monitor and ensure that team members meet SLAs.
Integrate with thousands of third-party applications via Zapier.
Kissflow Pricing
You get two plan options with Kissflow — Workflow Lite and Workflow Suite.
Workflow Lite has a free plan that can handle up to 1000 cases. This plan is good enough for most small businesses. For unlimited cases, you need to upgrade to the Starter plan that costs $9 per user per month.
Workflow Suite has more advanced features than Workflow Lite, such as automation, request forms, SLA policies, and more. Its costs range from $15-$22.5 per user per month, depending on the number of users.
Process Street: Free Process Workflow Management
Process Street is a simple, free, and powerful tool to manage process workflows. It helps you manage your team's repetitive processes using checklists.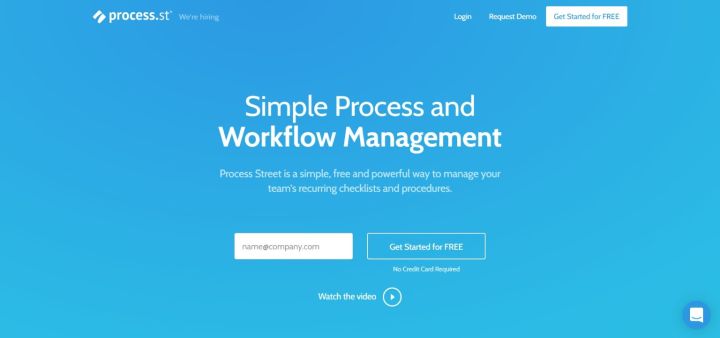 To start managing your workflow, you first create a procedure document template. The procedure document is a step-by-step breakdown of the business process.
Using Process Street's simple interface, you can easily re-order the steps or make changes. You can also add if-then logic to create dynamic procedure documents.
Once the procedure document is ready, you can share it with your team. Team members can then run the documents as checklists.
Additional Features
In addition to process checklists, Process Street also has the following features:
Create custom dashboards to monitor checklist progress.
Set up one-off, recurring, or sequential approvals in the procedure document.
Integrate with 1000+ tools to automate tasks.
Process Street Pricing
The forever free plan limits you to five active templates and checklists.
Paid plans range from $15-$30 per user per month. When you upgrade to a paid plan, you get unlimited templates and checklists. You also get advanced features like conditional logic and all the integration options.
Learn more about Process Street.
Process Bliss
Our next process workflow application is Process Bliss. It is a workflow management platform that comes with built-in process improvement.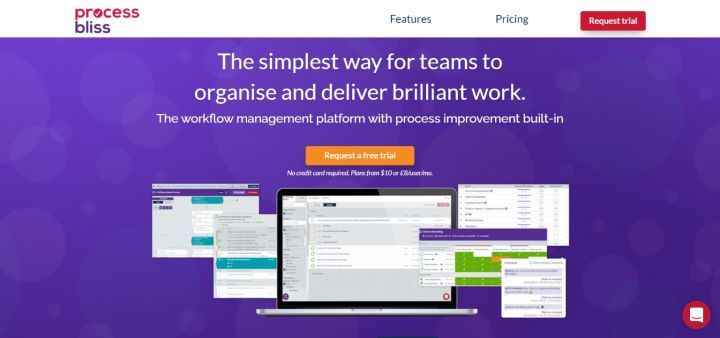 With Process Bliss, you can organize your process templates in folders.
Process templates are step-by-step procedures. You edit or re-order these steps and can even add conditional logic. Plus, you can easily visualize the process flow using a flowchart.
Once the template is ready, your team can execute it as a checklist.
Finally, the best feature in Process Bliss is template usage analytics. As your team uses a checklist, Process Bliss records step-wise data to see template usage. These insights help you improve the process template.
Additional Features
Process Bliss comes with the following additional features:
Comply with ISO, GDPR, HSE, and other compliance requirements.
Get an audit trail of all activity.
Track procedure issues and resolutions.
Pricing
Process Bliss does not have a free plan. However, it comes with a 14-day free trial.
The paid plan costs $10 per user per month for small businesses. Charities, educational institutions, and startups can get a 40 percent discount on the paid plan.
Learn more about Project Bliss.
Groupe.io
Group.io helps you digitize and automate manual process workflows in your company. It also supports approval workflows.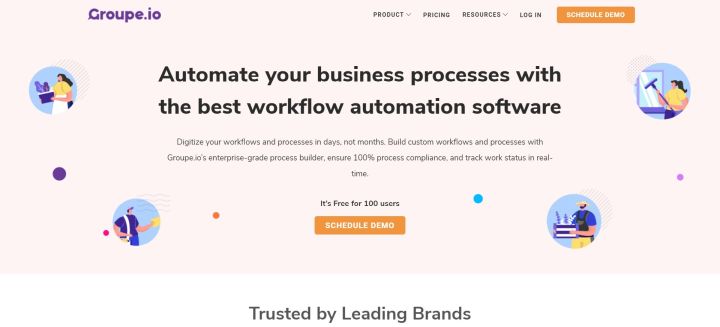 With Groupe.io, you can create and automate customized, multi-step workflows. Also, you can automate routine tasks to improve business productivity. Plus, for each workflow, you can track work status in real-time.
Groupe.io also has approval workflows. Because of this feature, you can automate routine approval workflows such as leave, travel, and expenses.
Additional Features
In addition to process and approval workflow management, Groupe.io comes with the following extra features:
Get tools for task management, team collaboration, and internal communication.
Get data-driven insights to improve your process workflows.
Customize interface colors to match your brand.
Integrates with hundreds of other applications that you use every day.
Group.io Pricing
The free plan is very generous and is suitable for up to 100 users. However, it does not come with process designer and workflow automation features.
Paid plans that include workflow management features start at $3 per user per month.
Cflow
Cflow is a visual workflow builder. Using this no-code tool, you can quickly create business process management workflows.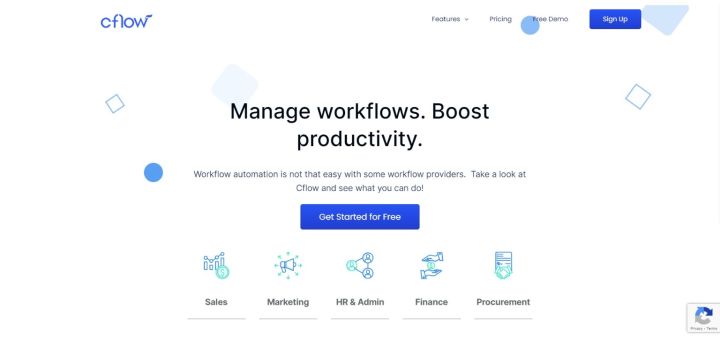 With Cflow, creating a process map is as easy as making a flowchart.
But you don't have to start from scratch. Cflow has ready-made templates that you can modify to adapt to your business workflows.
Cflow ensures that your team completes the process checklists on time. You can set a deadline for each process step.
Optionally, you can also send email reminders for critical deadlines.
Additional Features
Along with visual workflow management, Cflow also offers the following features:
Customize email notifications for email reminders.
Set up automatic backups for workflows and rules.
Integrate with thousands of apps using Zapier.
Pricing
Cflow has a 14-day free trial for all its plans.
Pricing tiers range from $9-$18 per user per month. There's a small rider, though. You have to subscribe for a minimum of ten users.
What's The Best Workflow Management Tool For Your Needs?
Now that you know your workflow solutions, how do you find the best one that fits your needs?
First, choose between project and process workflow management options.
Most project workflow tools can do both. Based on your needs, decide what category of tools you want to try.
Second, determine the complexity of workflows you want to manage. Is a simple checklist good enough? Or do you need a board to manage your workflow? Maybe you also need conditional logic and automation?
Based on your needs, shortlist 2-3 tools that offer these features.
Finally, most tools offer a free plan or a free trial. Try the shortlisted tools along with your team. Review what works best for everyone and then invest in it.
By the end of this exercise, you should find the best workflow management solution for your needs.
Jitesh is an SEO and content specialist. He manages content projects at Toggl and loves sharing actionable tips to deliver projects profitably.