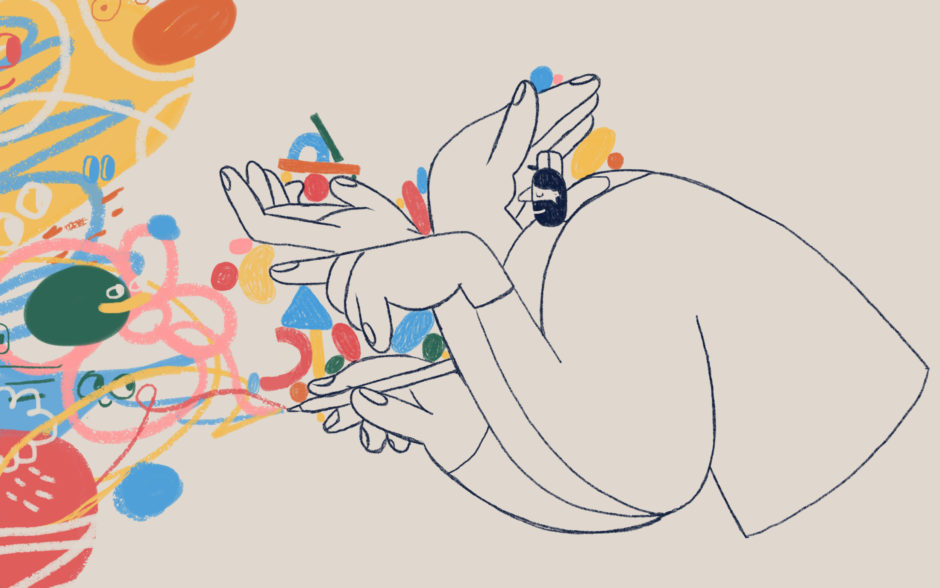 Illustration: Bernardo Henning
When the coronavirus pandemic shut down workplaces and schools with little notice, I suddenly found myself in the position of working from home with kids.
Working parents like me had to scramble to figure out a way to be efficient employees and mindful parents. Kids threw an endearing wrench into the works. Suddenly, I was given no other choice but to homeschool.
As the school shutdown rolled into summer, and with camps being canceled left and right, I made the decision, along with many parents I knew, to keep our kids sheltered at home in light of coronavirus fears.
Other families have faced the same dilemma: 19.5 million American children will not go to day or overnight camps this summer, according to the American Camp Association. Normally, the number of youths attending camp is closer to 26 million.
Adapting to working from home with kids
Given these circumstances, I had to step back and rethink my virtual work life.
For me, the key to successfully working from home with kids was in treating them like my new office mates.
I tried to embrace the new reality rather than fighting it or being frustrated by it, however challenging it was.
And I reminded myself that at the same time, these were the little people that I loved with all my heart, not some newbie that was hired by a hotshot human resource consultant. These mini-mes would not be going anywhere soon–it may take years to develop a successful coronavirus vaccine, and it also definitely takes years for kids to grow into happy, well-adjusted adults.
Being successful at working at home with your kids is a struggle, but the following practices—and advice from other working parents—helped smooth the way in my own home office. Hopefully, it can also help other working parents grappling with unexpected new office mates.
8 key tips for working from home with kids
1. Establish a schedule with time blocks
Writing out a schedule is good for kids and adults alike. I've found that kids crave routines so they can rely on stability in this time of sudden disruptions and disconnections from friends, teachers, and extracurricular activities.
In our house, our calendar is displayed on a whiteboard in the kitchen. You can write it out the old-fashioned way or print it out. Cobbling together a schedule now that school is out requires a lot more planning. We have a few virtual classes scheduled throughout the week, so the kids' schedule varies daily.
For example, Isabelle, my 10-year-old, is signed up for Pre-Algebra class on Tuesdays and Magical Potions: A Chemistry Class on Wednesdays. Every couple of weeks, she'll enroll in a one-off class, like a theater workshop taught by a Broadway star from her favorite show, Wicked. Next month, she'll have a week of STEM (Science, Technology, Engineering, and Math) camp followed by a week of UNICEF's Climate Camp, all virtually.
Meanwhile, my 15-year-old, Ella, is enrolled in an online AP World History class, which she works on during the day, and also participates in a virtual internship program with high schoolers in Thailand and California. In addition, she exercises daily with a solo workout sent from her high school field hockey coach or practices her pointe ballet class, which switched over to YouTube classes for part of the shutdown.
Keep in mind, our schedules are basically guidelines for our days. Kids still need a lot of unstructured time, no matter what age they are.
2. Gauge the right time for the right task
As a working parent, I also need some sort of daily schedule, so I can arrange my work priorities. Juggling big projects and small tasks requires knowing when you're going to tackle which job at which time. Slotting work assignments in the optimal time blocks helps me work more efficiently—and believe me, I need all the help I can get!
When you're working from home with kids, starting major projects in the time blocks before lunchtime may not be the wisest move. Rumbly tummies most certainly lead to restlessness in my hungry offspring.
Instead, I save the deep-dive projects to do first thing in the morning or after lunch so I have a bigger chunk of uninterrupted time to work.
Also, when it's time for my bigger projects, my younger daughter sets aside time for journal or story writing so we're both in a reflective space together. She has different notebooks with special colorful pens for different stories that she's working on while I'm banging away on my computer.
3. Assign daily or weekly tasks for the kids
Just as working parents have a list of tasks they need to work through, it helps if kids have a corresponding list of their own.
Amy Hsiao, head of marketing at a specialty food company and mother of a seven-year-old, "brainstormed activities together as a family in the buckets of brain, heart, art, chores, athletics and community/social so the younger kids can stay occupied and stimulated." Amy starts the day by laying out an array of activities that her daughter, Olivia, can choose from, including a math workbook, mindfulness meditation, and artwork that will be made into a book.
For me, Isabelle knows she should progress through the 5th-grade math course on the Khan Academy app, read her book for an hour, and work on the weekly Google slides that our school district has assigned over the summer.
4. Keep a to-do list
With kids at home, I get a little harried when it comes to taking care of multiple tasks. Lists, lists and lists are key. I've always used lists, but during this unprecedented time, I've had to rely on lists for a wider array of categories. A few of the lists include tasks I've always had to do: pay bills, review credit card balances and check bank statements at the end of the month.
But now I have lists for additional tasks that have popped up on my radar. Now my lists include items such as: signing up for a smattering of virtual classes for my kids, refinancing my home, reconfiguring my stock portfolio and most definitely not checking my 401(k) balance!
5. Make time for lunch
Just as you might meet your work colleagues for lunch, make a lunch date with your kids. Remember those days in the office when you would look forward to getting away from your cubicle and meeting your work friends for a quick bite to eat at your favorite eatery? Reawaken that sense of anticipation even as you're working from home.
Lunch is an easy midday break to look forward to, and it also fulfills a basic parental obligation: providing sustenance for your progeny. To celebrate this extraordinary time of pandemic nesting, I sometimes make my kids special lunches, such as shrimp vegetable chow mein noodles or cheese quesadillas and fresh guacamole.
I remind myself to be grateful that this shelter-in-place situation is a once-in-a-lifetime gift, in a limited sense, in that I get to see my kids in the middle of the workday. In pre-COVID days, when I was working in an office, I regularly didn't see my kids from 8:30 a.m. until 5 p.m., or sometimes not until the next morning if I had an evening event or long reporting day. When will there be another opportunity like this again as the school years fly by, faster than the speed of (bickering) sounds from your children?
6. Take a short walk or exercise after lunch
Taking a short walk or playing a game outside after lunch can be a rejuvenating way for you and the kids to get fresh air. Even a stroll around the block, a quick badminton match and tetherball round has helped break up the day for me and my kids.
7. Don't be afraid to close the door
For me, being completely alone is necessary if I want to focus on creative ideas and take my thoughts to a deeper level. So from time to time, I've needed to work apart from my kids.
But shutting the door on your kids is not shutting the door on them in life. You're not ignoring your kids, so don't feel guilty.
"It's important to set boundaries because it actually sets a good example for your kids. They will understand that work is crucial to getting the things they want out of life, even when things are topsy-turvy, "says Peter Adams, my husband and a scientist who runs a cancer and aging research lab.
While I grapple with prioritizing my work while balancing the needs of my children, I admire Peter for ignoring a parent's inner voice about their perceived needs. The kids are not starved, neglected or abused in any way, shape or form so I have to remind myself that acting like a hovering helicopter parent isn't doing our kids any favors.
8. Define rewards, like Minecraft or TV time
Kids need incentives and bonuses just like real employees do. If your child is begging for time on the iPad, make it a reward for them when they accomplish certain tasks. An hour of intellectual stimulation for a kid does merit a reward of mindless entertainment. They're laughing and relaxing with their friends, albeit virtually, releasing the endorphins in their brains to make them happier during this tumultuous period.
At the end of the day, your children are children.
But given the reality for working parents, who have to cope with the fact that both their work and their children are at home, it might help to think of children as coworkers. I've embraced the idea that my kids are permanent fixtures in my home office.
Because my kids continue to be there while I work, it helps to make sure they have "job" expectations just like my coworkers would. Unlike coworkers, you're not leaving them at the end of the day, and an unexpected hug can quell any annoyances you might have felt over our current circumstances.
Hopefully, a few of the above tips will make the road ahead less rocky as parents continue to navigate the new reality of working from home with new office mates.

Read more: The Toggl guide to working from home