Do you ever have one of those moments where nothing seems to be working right, and you just want to pull your hair out? We all have those moments, but we shouldn't let them bring us down.
For project managers, one of the most brain-straining tasks is often scheduling. Whether it's employee scheduling, appointment scheduling, or project scheduling, it can take a lot of effort if you don't know what you're doing. Luckily for you, there are tons of scheduling software options that can make your life a little less insane.
Here, we're going to go over a few scheduling software options that might pique your interests. These tools can help you with employee scheduling, appointment scheduling, or project scheduling, and sometimes all three. Without further ado, let's get this going.
1. Toggl Plan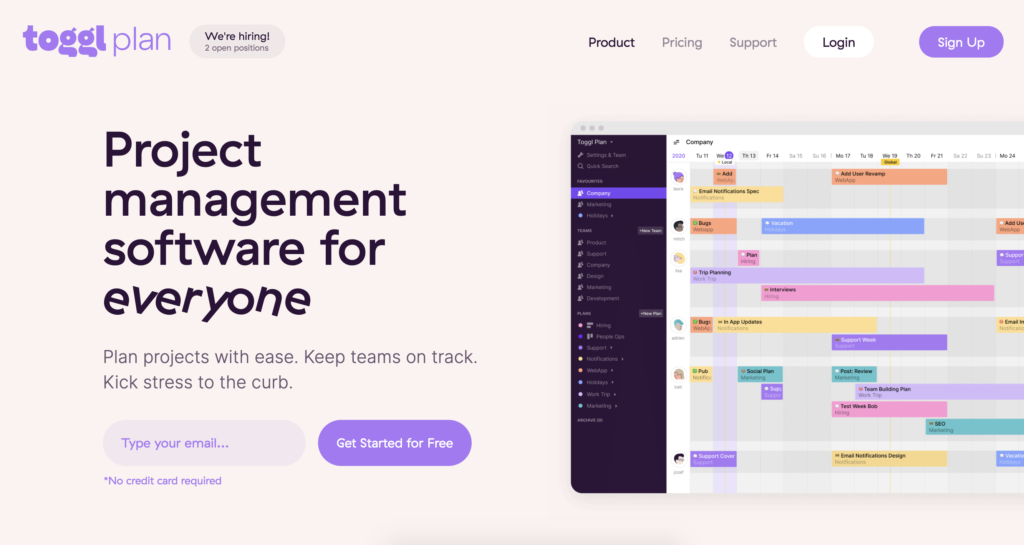 Toggl Plan makes the top of this list because it's a great option for project scheduling. Toggl Plan is beautifully designed and easy-to-use, which puts the user in charge.
Toggl Plan not only makes scheduling a project simple, but keeping up with its progress easy, too. Throughout the project, you'll be able to get real-time updates on who's doing what, and check each task off as it's completed with the checklist feature.
If that wasn't enough, Toggl Plan's built-in calendar automatically marks important holidays so that you won't have to worry about keeping track of your remote team's schedule. If a team member has a few days off, you can quickly mark them as on vacation for the whole crew to see.
Toggl Plan has a healthy list of features that make project scheduling a breeze. Here's a small taste of what you'll have access to:
The zoom feature allows you to zoom out of your short term plans and get a better grasp on what's to come. You can zoom all the way out to a week, month, 3 months, or even a year. It makes project scheduling much easier.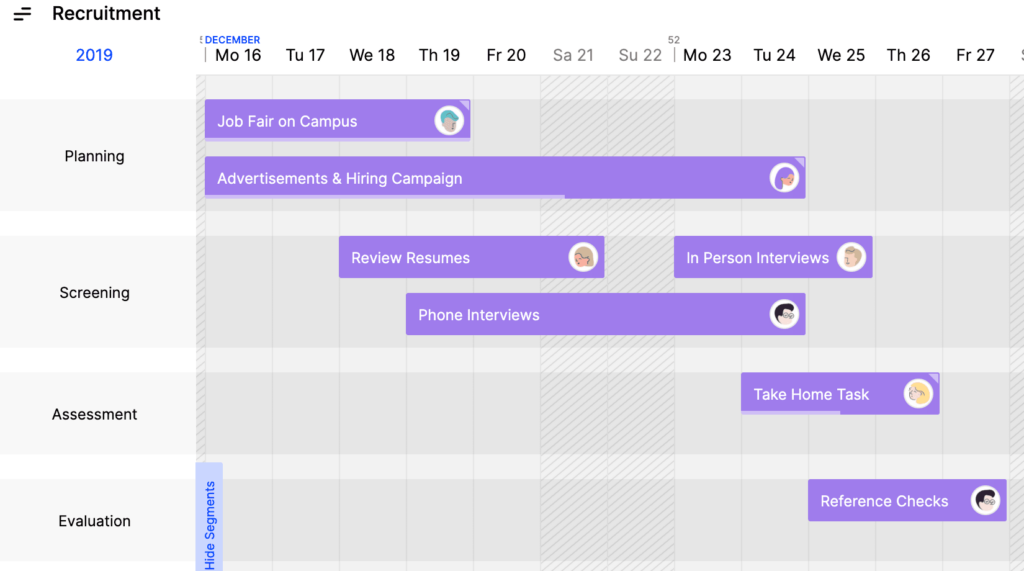 With Toggl Plan's software, you can create as many checklists as you'd like for any given project. As time goes on, you'll get a quick understanding of what's been done and what still needs to be done.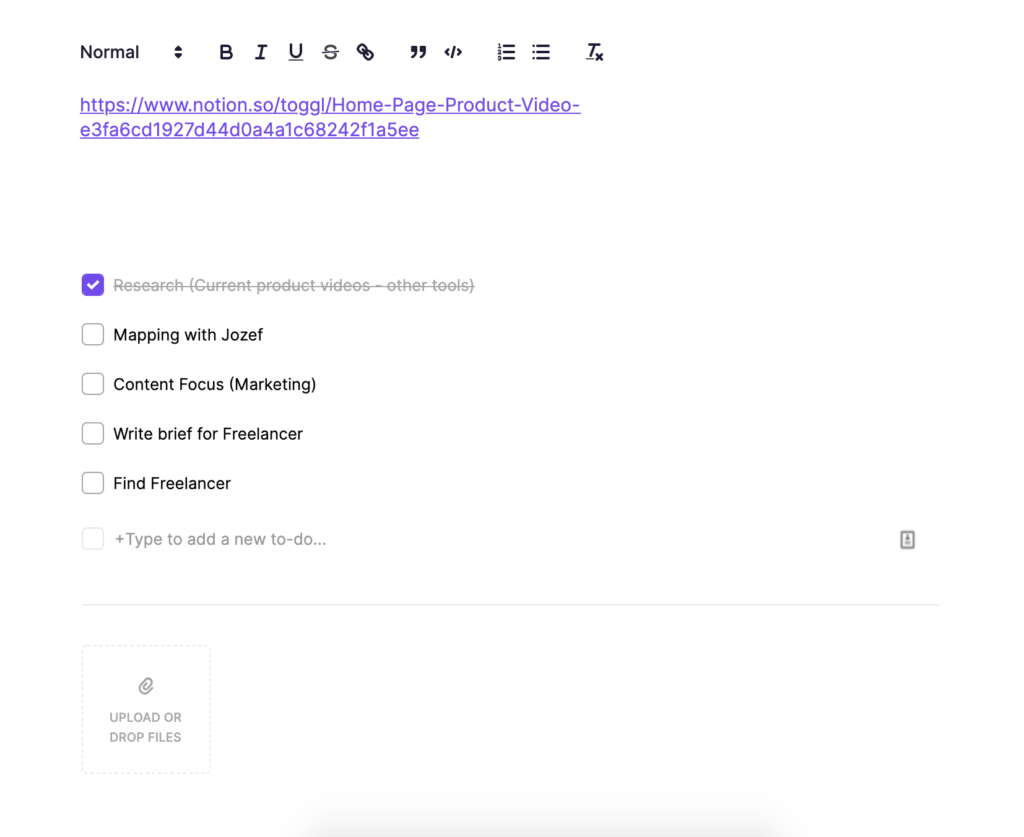 With the milestone feature, you can break any project down into more manageable pieces. It can be any date on the calendar, not just holidays.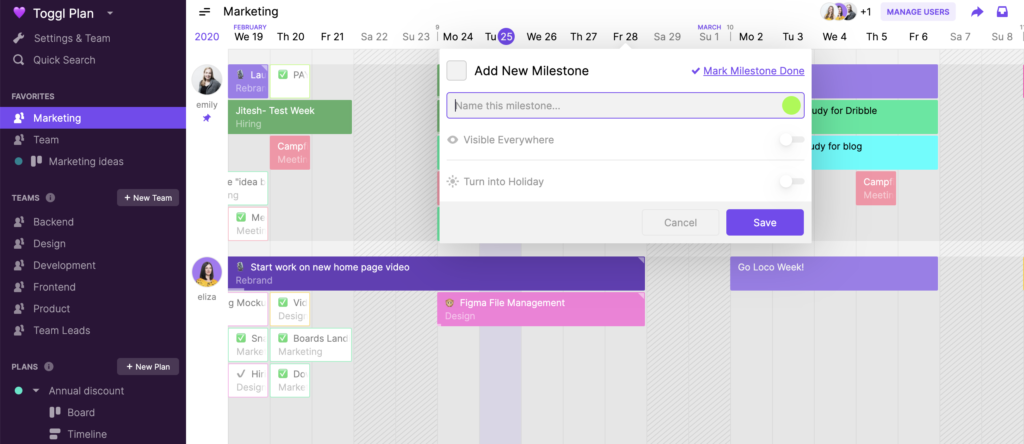 Of course, there are loads more helpful features for you to use, so definitely sign up for a free trial and give them a try!
2. Trello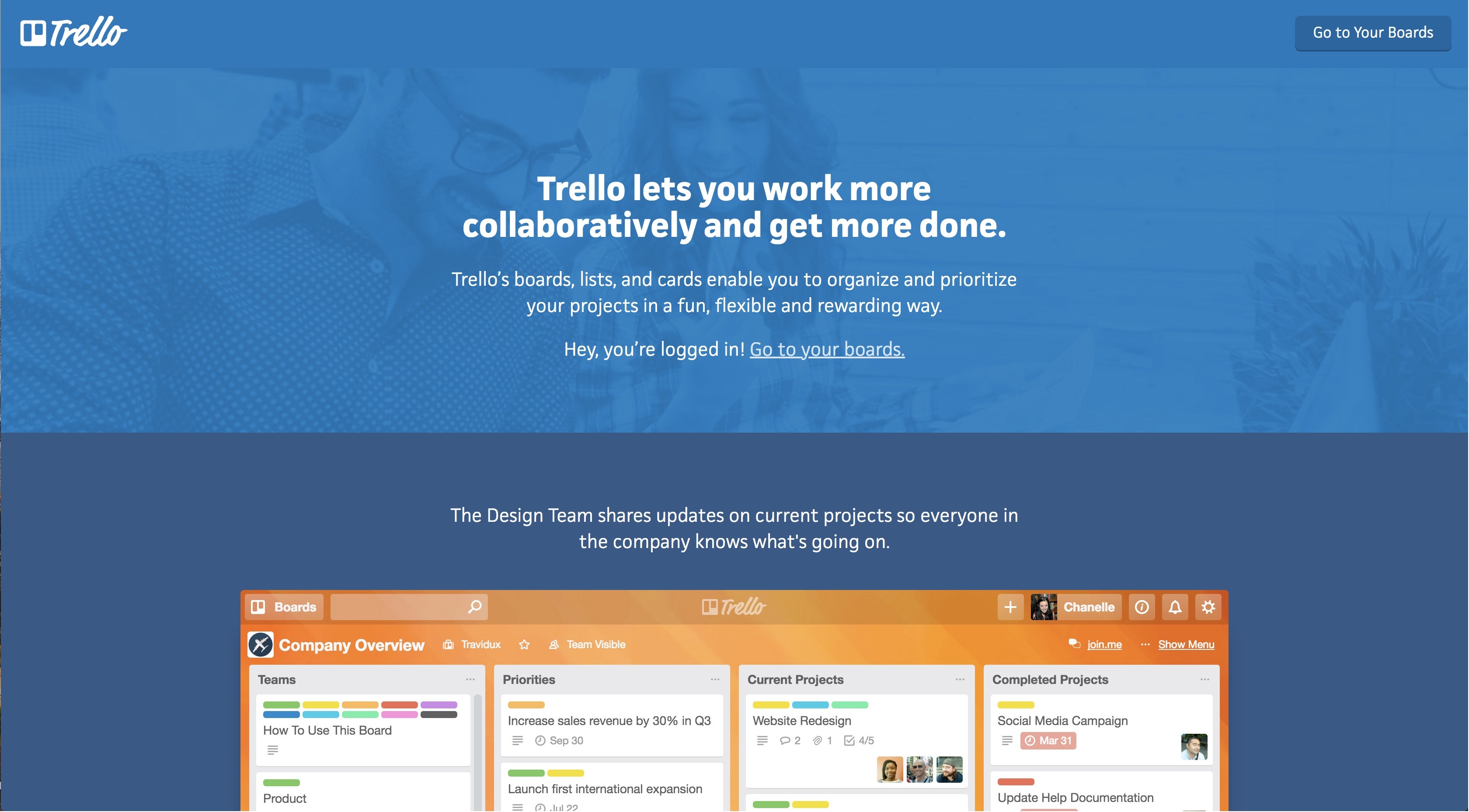 We're going to stick with the project scheduling theme on this one and mention Trello. Trello is talked about a lot among the project management community, and it's for good reason. Trello offers many packages at various prices, but the base package is completely free to use.
As a project manager, you'll appreciate this software's simplicity. Once you've placed the task on the dashboard, or assigned it to a capable team member, they can then drag and drop it from left to right according to its progress. It's a very simple way to not only assign tasks, but to make sure they're getting done on time.
3. Zoho

The Zoho project management software offers a unique application that's dedicated specifically towards appointment scheduling. The dashboard is very robust and gives you a detailed timeline of upcoming appointments.
The entire software is fairly automated, and lets you know when an appointment is coming up soon. Instead of calling and cancelling plans, you can simply log onto the app and cancel as well as set appointments well in advance.
4. Deputy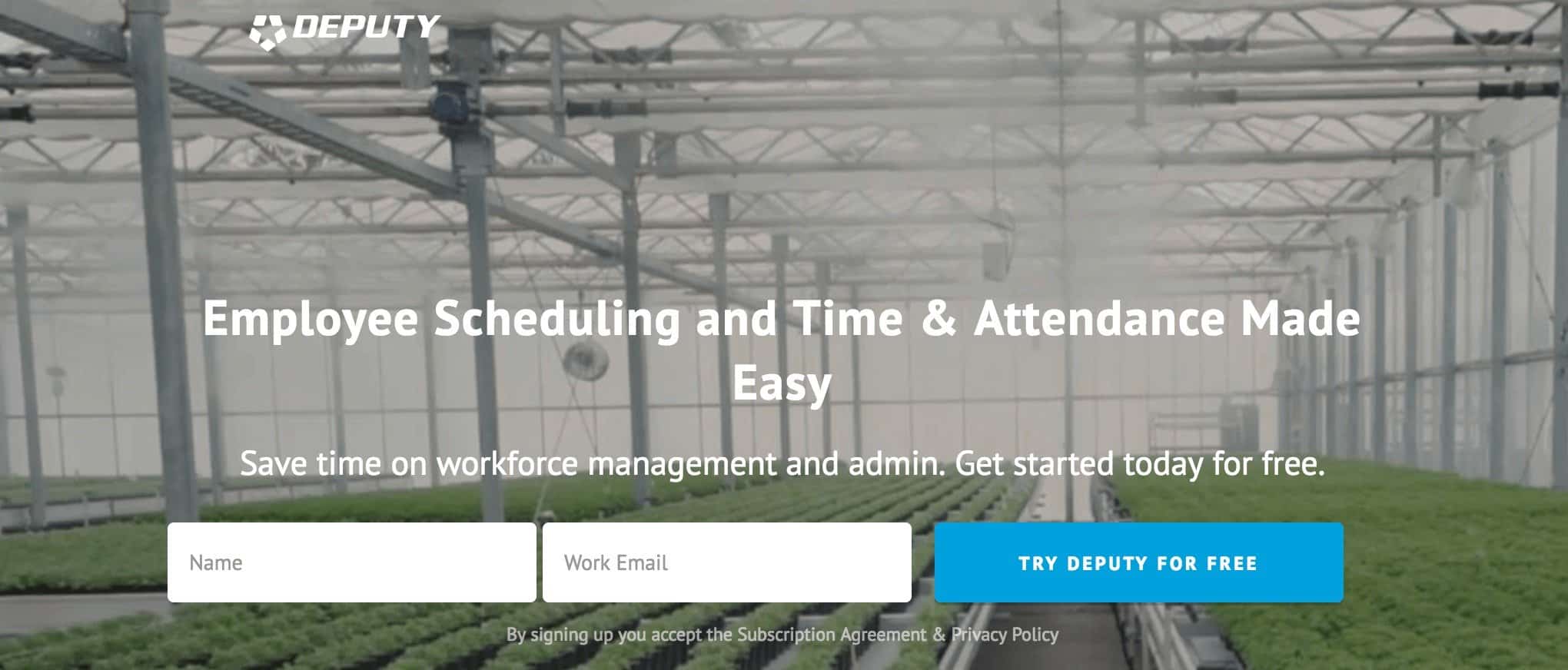 Deputy employee scheduling software isn't often talked about for some strange reason, but it's great, nonetheless. The software focuses on employee scheduling and offers many tools that you might find useful for effectively managing their schedules. It's up-to-date, looks good, and mobile friendly. Here's a little more detail:
Create fully costed employee schedules easily. You can notify the whole team with a simple click, and quickly export to payroll software.
Everyone can better track their time for more accurate paychecks, increased productivity, and improved future time estimates.  
The software has a built-in mobile communication tool that will notify anyone the moment a message comes through.
Assign and delegate tasks amongst your team with ease. You even get a notification when they've completed their task.
5. When I work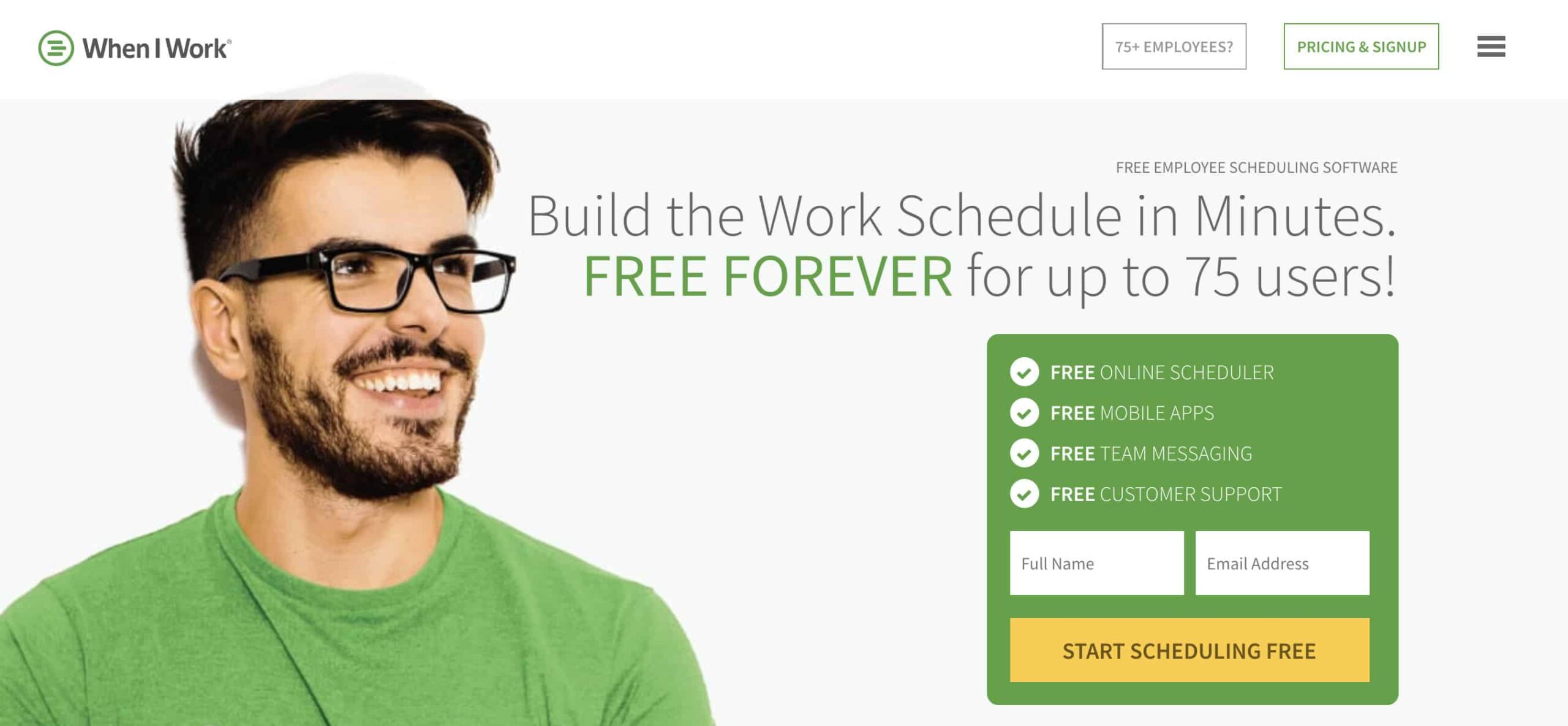 When I Work is an extremely close second to the Deputy scheduling software. There are two major reasons that this software made this list. Firstly, it has most of the features that the Deputy software has, minus a few simple ones, and secondly because of its intuitive user interface that's backed with ample training and support.
Since this software is similar to Deputy, and we've already gone over the major features, let's talk about the ways these features can help you:
On their main page, they boast that the scheduling software is so easy to use that it'll save you an average of 8 hours per week on scheduling and attendance. Everyone knows that time is money, but it's also nice to have extra time to catch up or get ahead if you need it.
Increase employee accountability
You can send your team members instant updates on their schedules so they'll never have to wonder what they should be doing. They also estimate that employee accountability will increase by about 25%.
We all know that things come up. At the very least, projects don't always go as planned. With this software, editing and maintaining schedules is as easy as it gets. You can approve time-off requests and employee sick days in real-time.
6. ZoomShift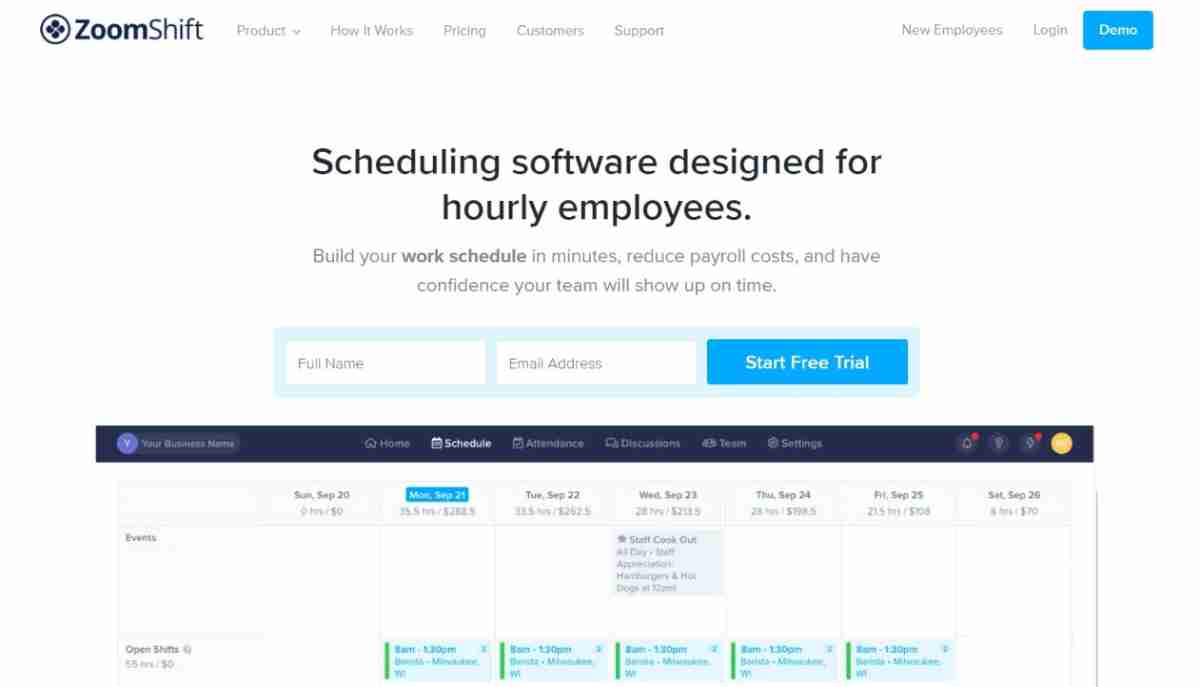 ZoomShift is an employee scheduling software designed for hourly employees. It enables business owners to track employee time, swap shifts with ease, prevent timesheet errors, and run payroll in minutes. ZoomShift is best for small to medium businesses that want an easy way to schedule and communicate with their employees. Here are some of the key features:
Create Work Schedules Faster
Have everything you need in one place – availability, time offs, shift swaps. There are built in templates to build schedules, fast and correctly.
Have confidence that your staff is clocking in and out from the right location. The GPS will alert you if an employee tries to do so, so you never worry if someone is clocking in from home, again.
It's hard to know if you are overspending on payroll. Without the schedule, you're not able to see how to forecast better. With ZoomShift, you can compare scheduled and actual hours to find errors, and see see late or missed shifts, adjust missed or late punches, and visually scan and approve timesheets in bulk.
ZoomShift's timesheet app makes it easy to track time and export to payroll. It automatically calculates wage and hour totals for all employees. You can export all timesheets and send them to your payroll provider. It also allows you to view timesheets by day, week, and month.
You don't have to pull your hair out
These software choices are just a few of the many ways you can reduce the stress caused by scheduling. It's certainly no walk in the park, but these tools make work a little less overwhelming and a little more rewarding. Remember to always do your research before investing into any software, and definitely take advantage of those free trials when you can.
Like many other people, Zach McDaniel gained his knowledge of management and project management through research and necessity. He believes that the most interesting thing about project management, management, and productivity is that there are so many different strategies, so there's always something new to learn and share.